An Illustrated History of Old Sutton in St. Helens, Lancashire
Part 24 (of 92 parts) - Transport in Sutton (St.Helens)
An Illustrated History of Old Sutton in St.Helens
Part 24 (of 92 parts) - Transport in Sutton
An Illustrated History of
Old Sutton in St.Helens
Transport in Sutton
Improvements to the transport infrastructure during the 18th and 19th centuries, hugely benefited mining and industry in Sutton township. The Sankey Brook Navigation reached north Sutton during the 1770s and connected it to the newly created
Sankey Canal
. Then in 1828,
Ellen Hughes
of Sherdley Hall, the widow of
Michael Hughes I
, agreed to sell land at Lea Green, so the planned Liverpool to Manchester railway could cross her Sherdley estate.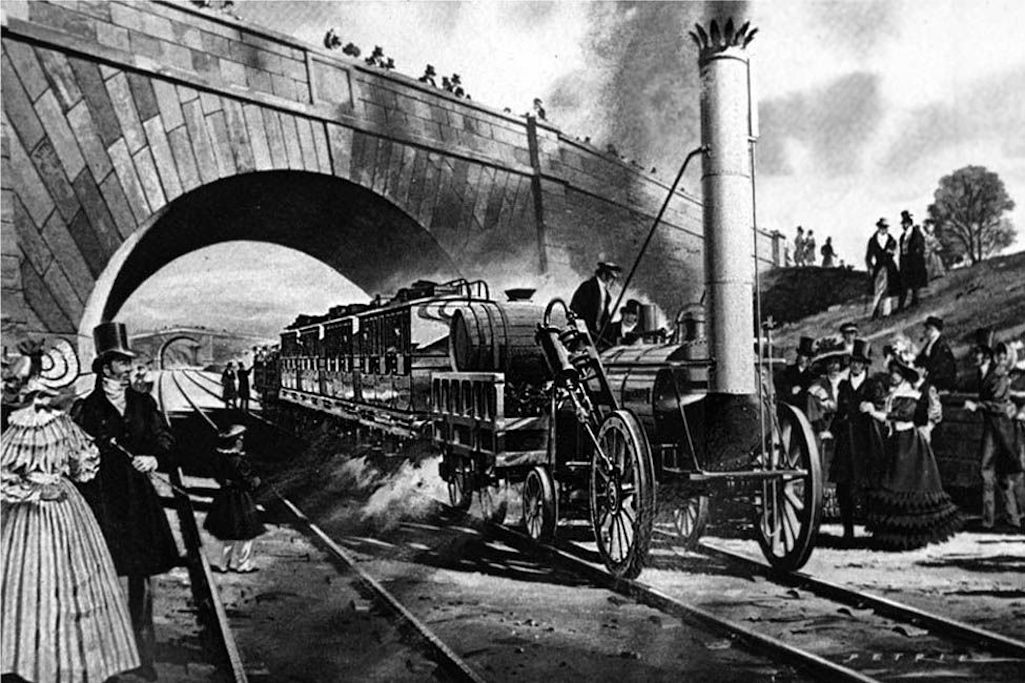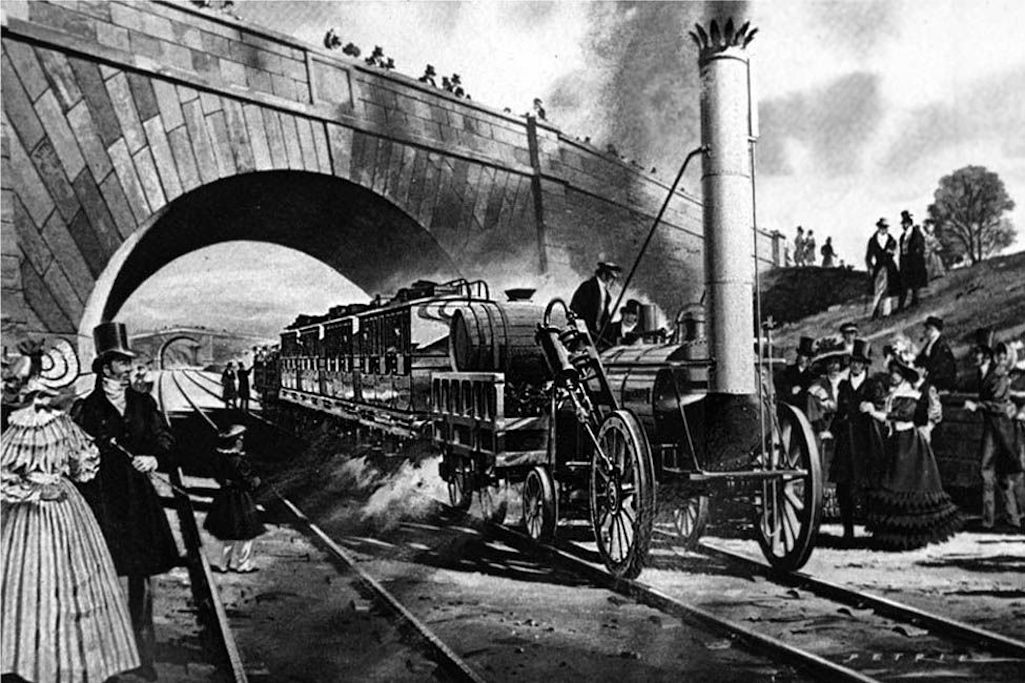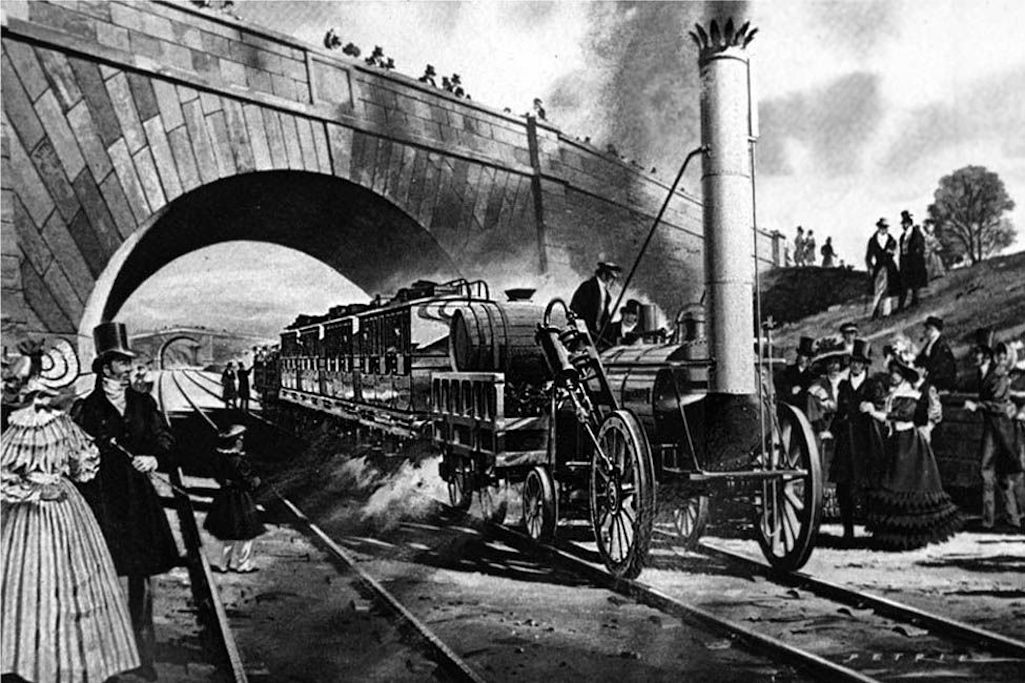 In 1829 the
Rainhill Trials
took place on a two mile level stretch between Rainhill and Sutton. A prize of £500 was on offer for the winning steam locomotive and the five competing engines ran the equivalent of 70 miles backwards and forwards. The Rainhill Trials were, of course, won by Robert Stephenson's 'Rocket' and he and father George, received the contract for the new railway. A ceremonial opening of the new line and station took place at Lea Green in September 1830. Sutton's main station was
St.Helens Junction
which was opened in 1833.

Although England's first fully-fledged railway cut through the perimeter of Sutton township, it largely bypassed what was to become the borough of St.Helens. The Sankey Canal provided a means of transporting St.Helens coal to Liverpool markets and beyond, but the railways were a much faster and more cost-effective alternative. They also didn't become impassable during cold, icy winters. The new Liverpool and Manchester railway created a handy distribution network for Elton Head and Whiston collieries, however other St.Helens' pits were excluded. Their owners wanted a speedy connection with their customers, so in February 1833 the
St.Helens and Runcorn Gap
railway was officially brought into service. The new line ended at Spike Island at Widnes and from there coal could be conveyed to Liverpool using the Mersey and the Cheshire salt fields via the River Weaver.

Although intended for freight, the St.Helens and Runcorn Gap railway was also popular with passengers who could use the line for connecting to trains throughout the north-west. It served passenger stations at Sutton Oak (first appearing in a timetable in 1852), Farnworth, Bold, Peasley Cross, Union Bank and Clock Face. Sutton Oak station was originally known as 'Sutton' station, gaining the 'Oak' prefix in 1864. The bridges in Sutton, especially near Reginald Road, reveal that up to ten tracks crossed them.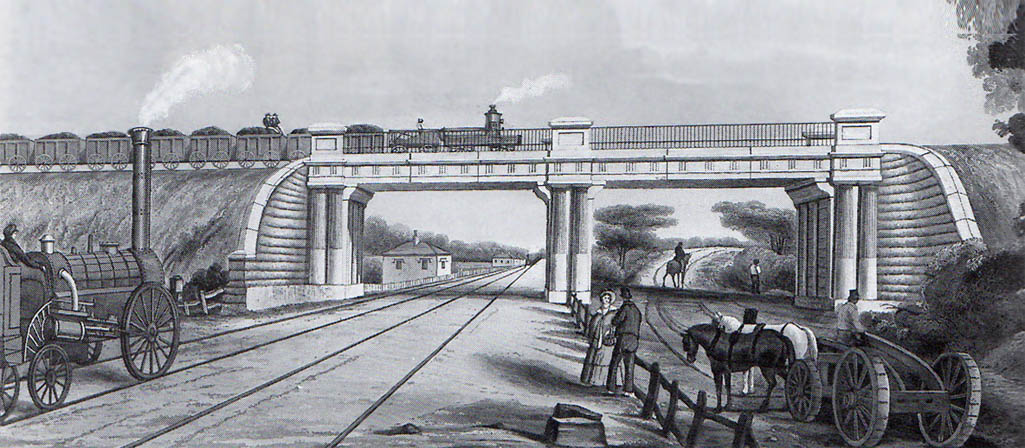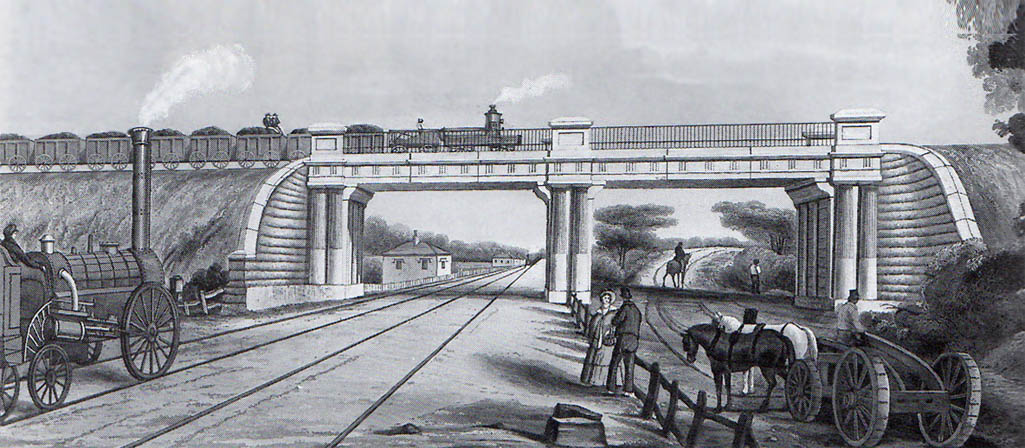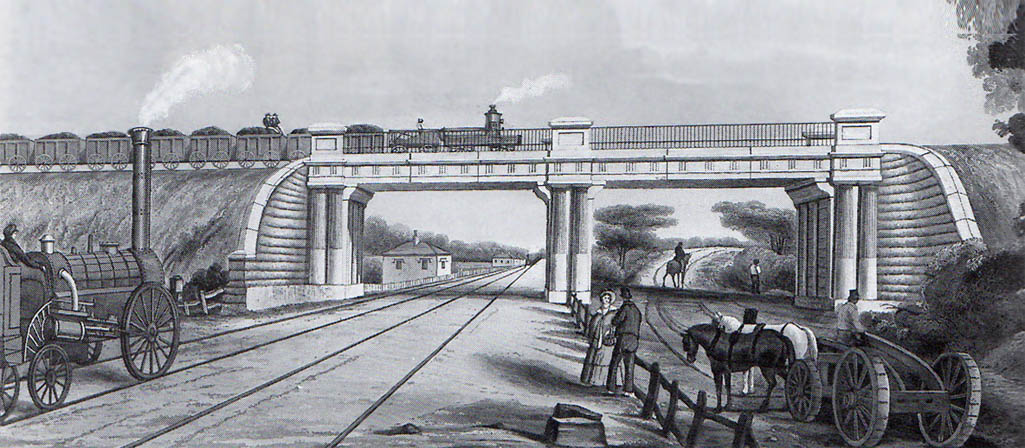 In the above postcard picture from a painting by
S.G. Hughes
, a locomotive of the 'Novelty' type on the St.Helens and Runcorn Gap railway crosses the Liverpool and Manchester Railway over Sutton's two-span
Intersection Bridge
. This was the first bridge in the world where a railway crossed another railway. The locomotive is hauling coal wagons to the docks at Widnes and beneath it, heading towards Manchester, is a 'Rocket' type locomotive. The district where the bridge was located was described as 'Toad Leach' in a November 1829 newspaper advertisement announcing the plans for the St.Helens and Runcorn Gap railway. These days it's known as Sutton Leach and to the right of the picture is Leach Lane, then Penlake Lane.

The two sets of railway lines meant that some residents of St.Helens Junction in Church Street (renamed Woodcock Street in 1902) and Railway Terrace now found themselves living in a triangle with just one way in, which became known as '
Pudding Bag
'.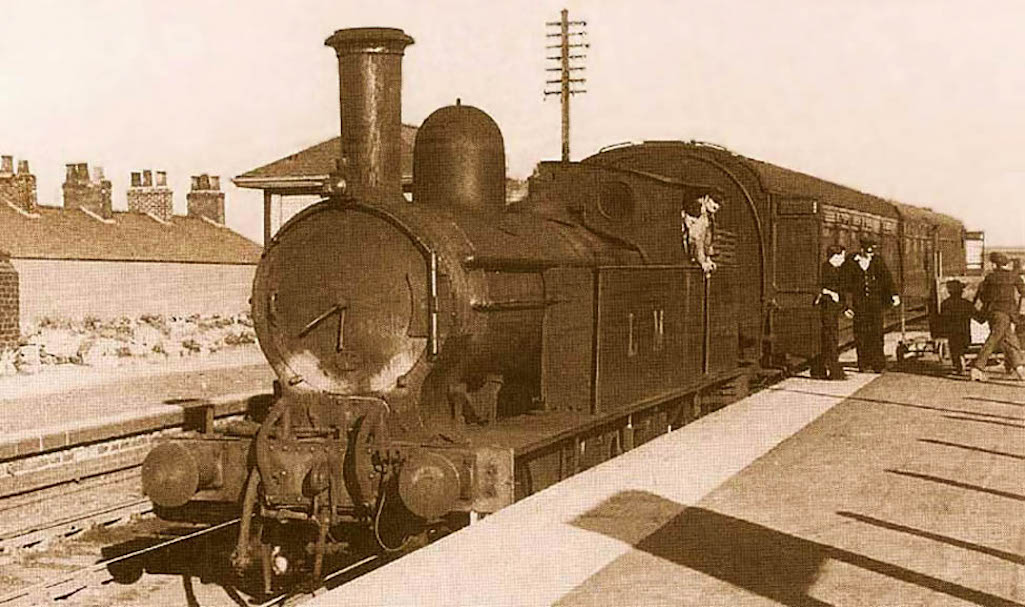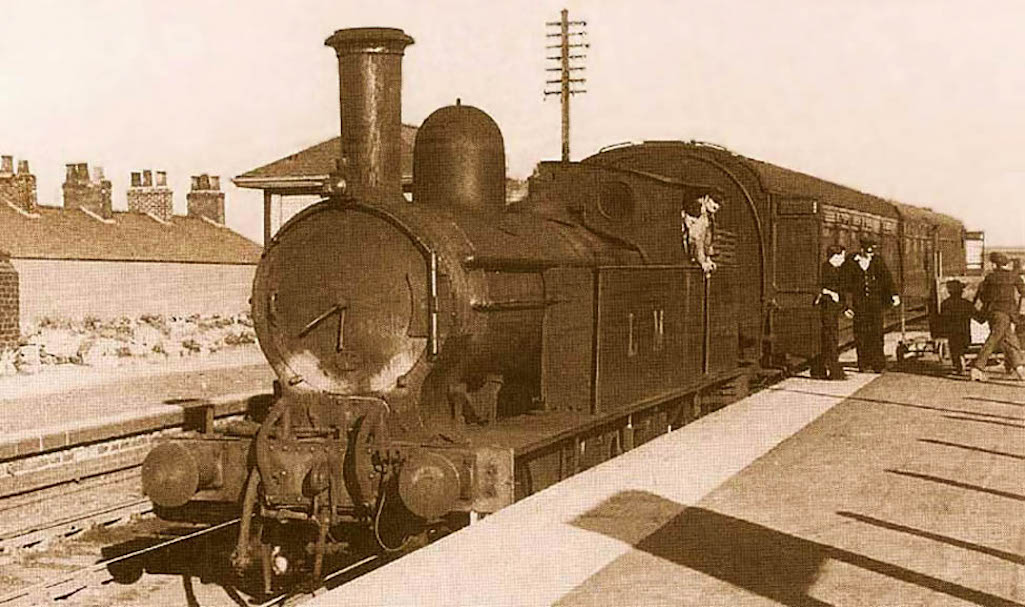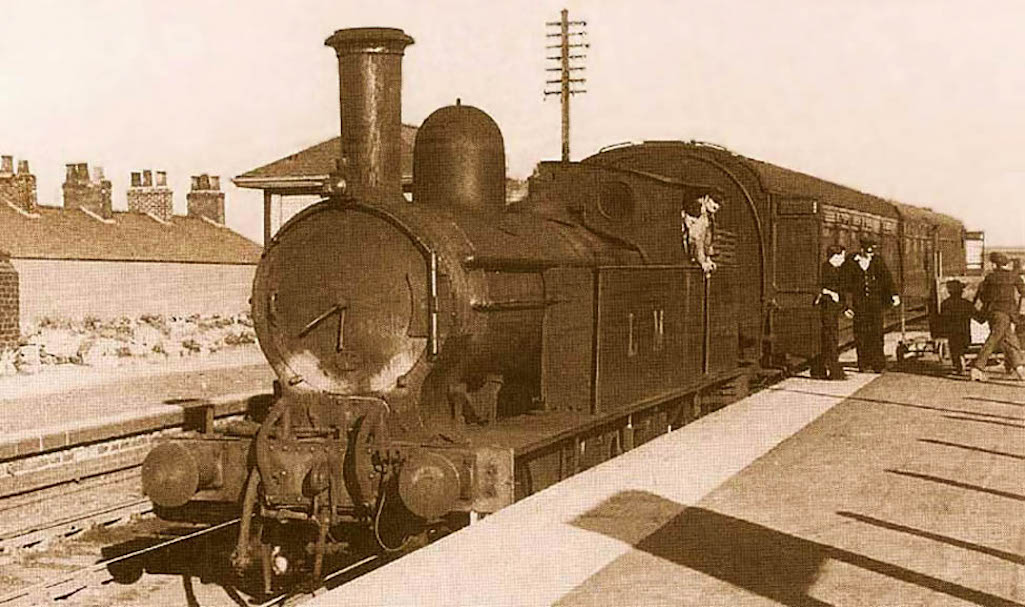 In the early days of railways there were many inclined planes on journeys. At these points passengers were forced to disembark while the carriages were hauled up the incline by a stationary engine working an endless rope. Both sets of railways near St.Helens Junction Station contained steep inclines but the 'Sutton Incline' was on the St.Helens and Runcorn Gap line. Engine driver
Ralph Thompson
may well have been the first person to have been killed by a train in Sutton, dying on February 28th 1835 at the foot of Sutton Incline. Gatesman
John Murphy
had failed to switch back the points after he'd allowed a St.Helens train to pass and so the locomotive of Thompson's Manchester-bound train was derailed. The engineer was thrown from his engine and killed on the spot when its wheels ran over him. Murphy, who had a house provided by the L & M Railway 50 yards from the spot, was charged with causing the manslaughter of Thompson through negligence. However, the 46-years-old was cleared at the Lancaster Lent Assizes when his excessive workload was explained.



In 1845 the St.Helens Canal & Railway Co. was created by the merger of the canal and the L & M Railway companies. At its AGM on 1st August 1848, it was revealed that a large-scale 'alteration of the Sutton inclined plane' was nearing completion. However, the improvements didn't seem to include the station. In a critical article in the Manchester Courier of July 13th 1850, it was revealed that Suttoners had previously petitioned the railway company about the 'incommodious' St.Helens junction station. Their 'memorial' had been ignored and the newspaper complained that no attempt had been made to increase the accommodation or 'remove the dangerous place of landing for passengers'. This is the first newspaper reference that I've found for 'St.Helens junction' station, which was described as being 'miserable' in wet weather with no waiting room.

Until 1872 passengers from St.Helens to Liverpool had to transfer at St.Helens Junction station, with an average journey duration of 1 hour. The article in the Courier described how 16 passenger trains from St.Helens arrived each day and on Sundays 400 to 500 persons took short trips from the station. Newton races was probably the most important social occasion at that time and the Courier reported how at the last event, 16,000 persons had gone up the junction from St.Helens over two days between transferring trains. The power of the press seems to have worked, however, as on September 20th 1851 the Manchester Courier reported that 'The St.Helens Railway Co. are about to erect a commodious new station at the junction with the main line at Sutton.'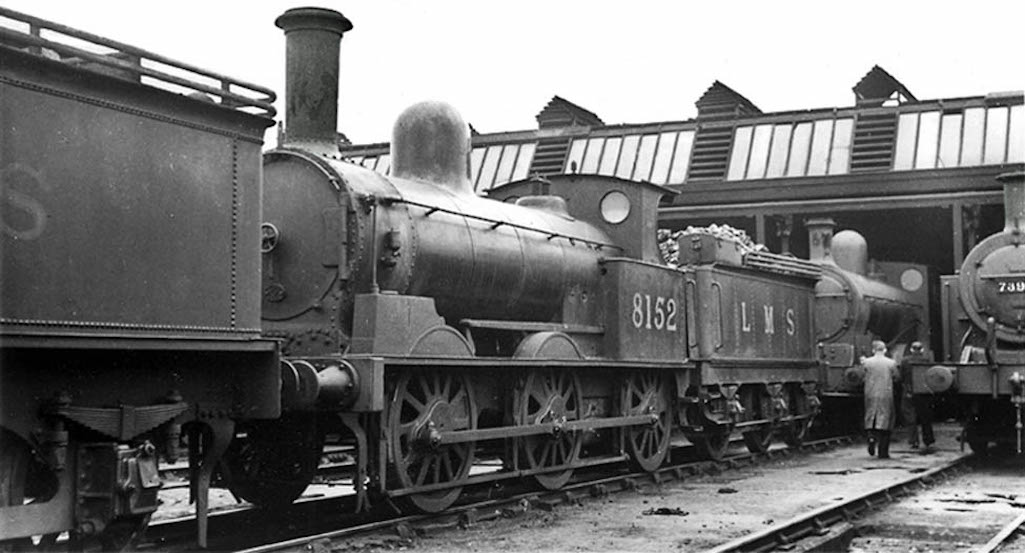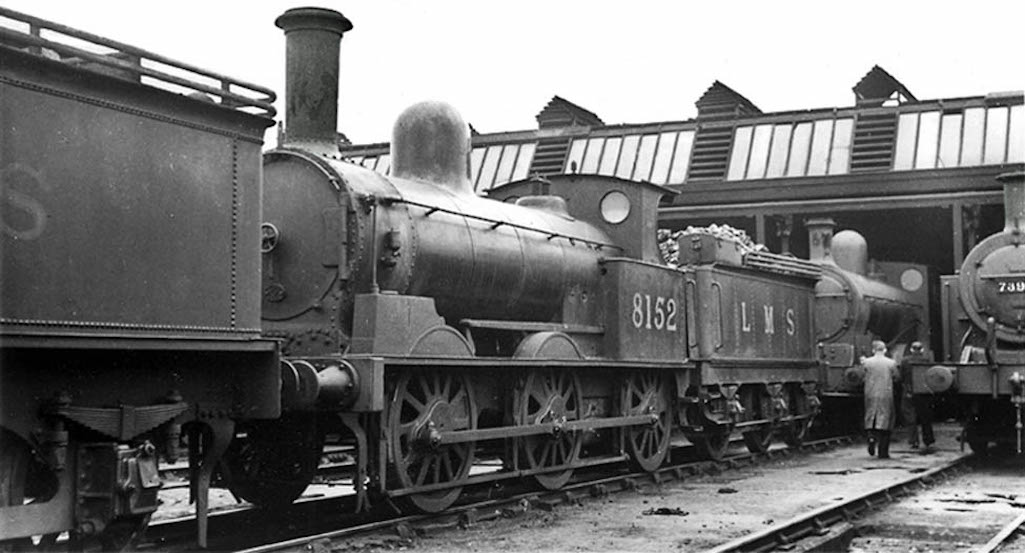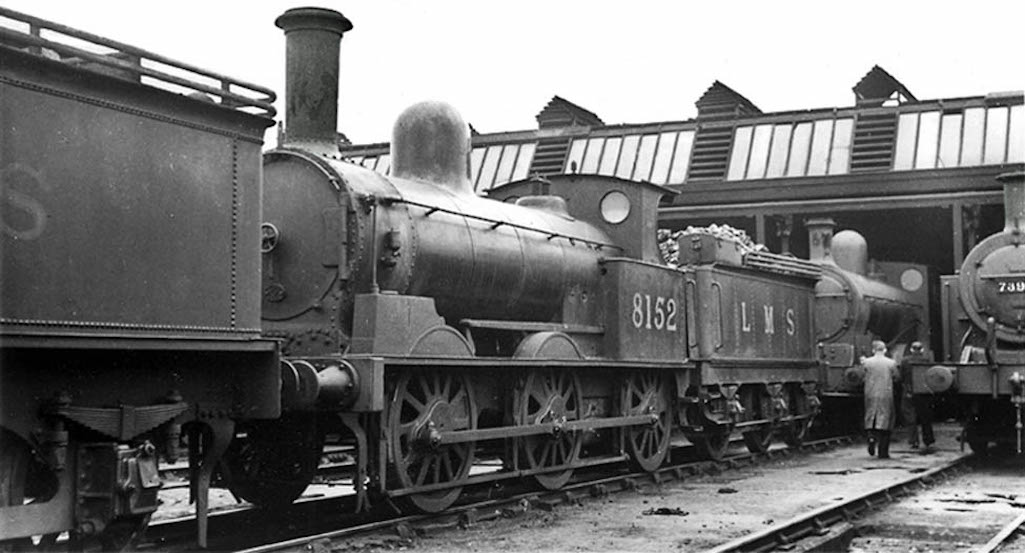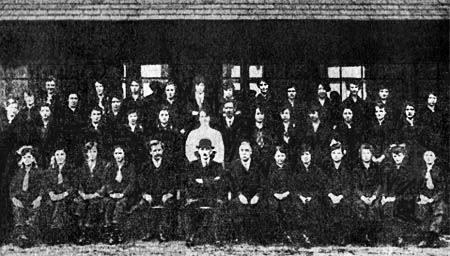 The St.Helens Junction / Sutton Oak district was also the location for locomotive manufacturers, engine sheds and sheeting works.
Edward Borrows'
company built about 50 locomotives at their Providence Foundry in Pecker's Hill. You can read about the history of the Borrows' works and fellow loco makers
John Cross & Co.
here
. In Baxters Lane, where Morrison's supermarket car park now stands, engine sheds stored and maintained locomotives.
Sutton Oak Shed
was located adjacent to the Widnes line in the fork of the Sutton Oak Junction / Broad Oak Junction / Marsh's Siding lines. This was about 250 yards up the St.Helens to Runcorn Gap line from Sutton Oak station and they were a magnet for many a small boy.

The sheds originated in the 1830s at Sutton Oak Junction but they soon became inadequate and about 1859 they relocated to Penlake Lane at St.Helens Junction. From 1872 until the 1960s, this site was used as
Sheeting Sheds & General Stores
, making tarpaulin sheets for railway wagons and street carts. Women made the sheets out of hessian on sewing machines. They were then sent to the dressing shop and a large machine dressed the sheets with a mixture of boiled linseed oil and black paint. This was known as black dressing, although cart sheets had a green dressing. The sheets were then placed in a large tank and stirred. Marking gangs marked each sheet with the letters LNW plus a number and then the sheets were hung up and dried prior to being despatched. Repairs to damaged sheets were also made at the works.

It was a large establishment as the building also served as a general stores for all of the London & North Western railway stations. Every Monday a train was dispatched full of railway supplies for the stations and railway depots. Many of the 'Sheeting Shedders' lived in Railway Terrace in the so-called
Pudding Bag
with access to the sheds from there over a bridge that went over the main line or alternatively from Lionel Street. From 1881 the General Stores & Sheeting Dept. Cricket Club held an annual athletics festival where what was described as 'valuable prizes' were awarded to the winners of flat, hurdle and bicycle races. These took place on a cinder path on the cricket ground. Special trains were run from Liverpool to St.Helens Junction.

Writing in his memoirs
Clog Clatters in Old Sutton
, Frank Bamber recalled the Sheeting Shed bell ringing every workday at 8 o'clock, 12 o'clock, 1 o'clock and half past five.
Henry Stones
served as the superintendent in charge for many years during the later part of the 19th century. The works were ahead of their time, as women were said to enjoy the same pay as men. On October 24th 1874, a serious fire almost completely destroyed the sheeting works. It started in the drying shed and also destroyed a storehouse and workshop containing 'vast quantities of goods'. The smoke and flames was said to have been visible for miles around. Another fire occurred in the tarpaulin sheds on November 4th 1953, which caused more than £10,000 of damage and took the life of 57-year-old
Jack Evans
.


In 1880 a replacement engine shed was opened at Sutton Oak. This was originally a 10 roads (aka track) 'northlight' brick-built shed, later reduced to 9 roads, with a coal stage and water tank above. There were two water columns and a 42 feet turntable. A signal box at Broad Oak Junction controlled movements from and to the shed.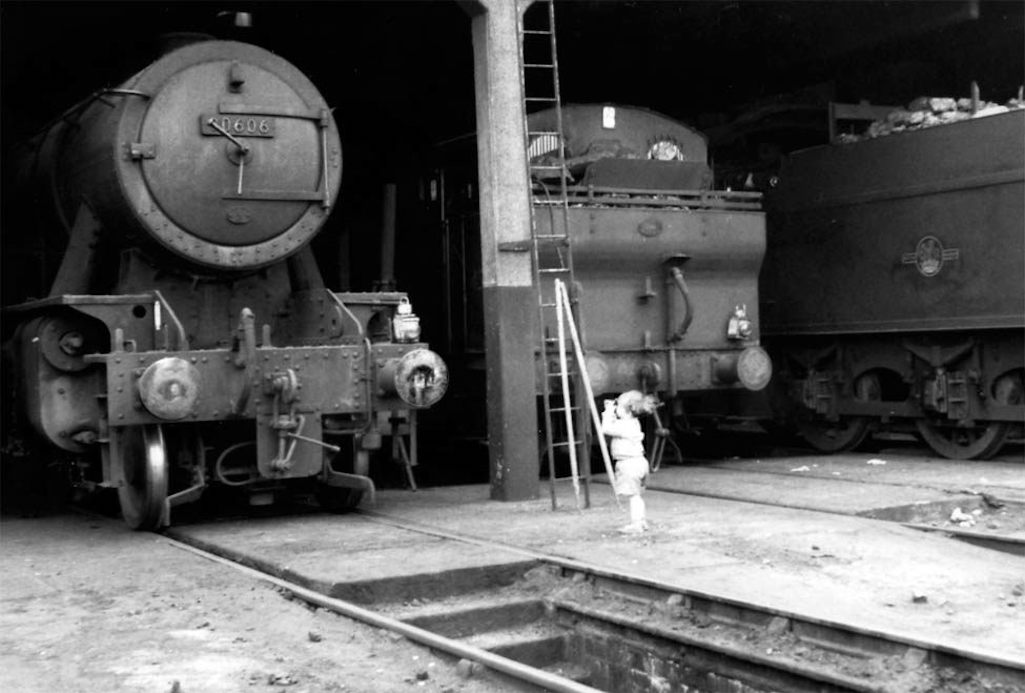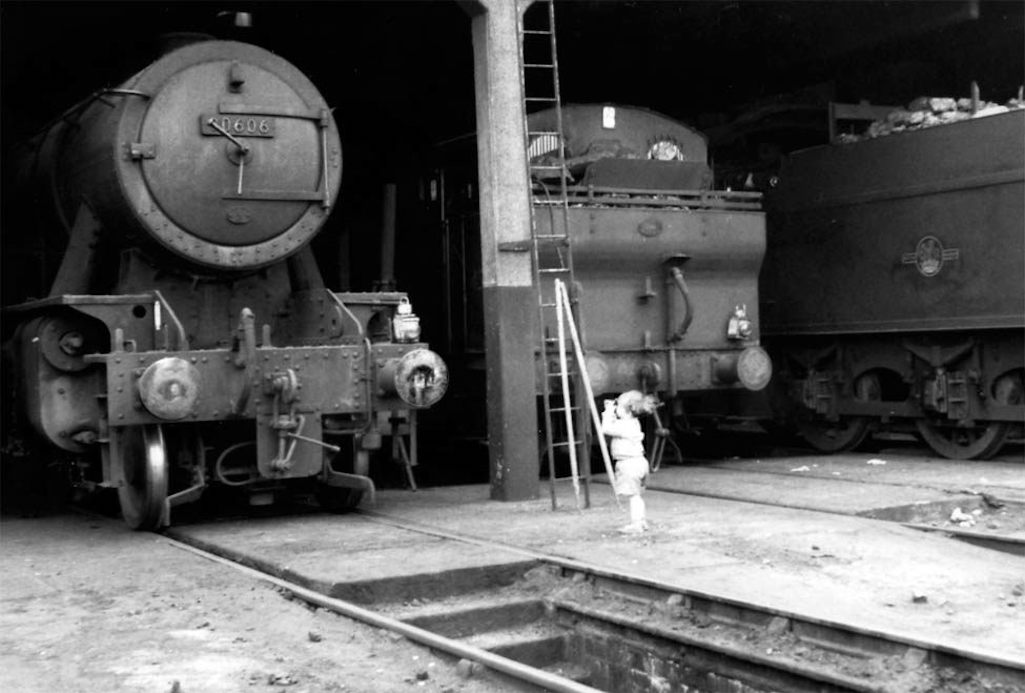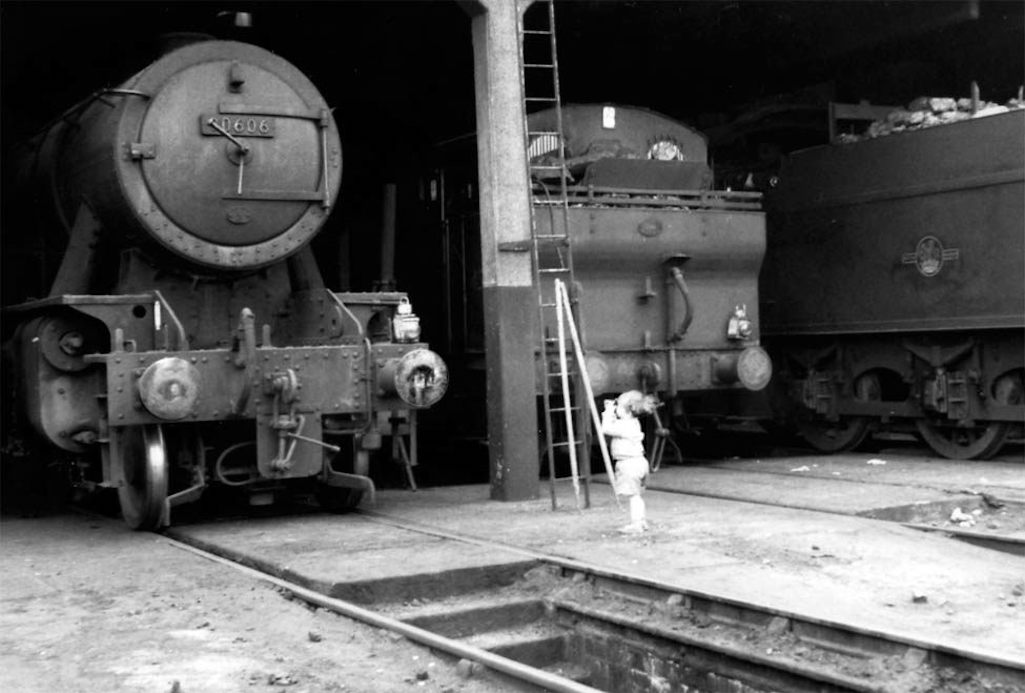 In 1920 the office accommodation was rearranged and in 1937 a 60 feet turntable was installed. A new sand drying plant was added in 1944 and in '46 the roof was replaced by a louvre-type. Coaling facilities were basic but in latter years these were improved by the installation of an elevator-type conveyor belt. During the 1950s, there were about 170 workers at Sutton Oak Sheds under a Shed Master. These included 56 drivers, 56 firemen and 25 cleaners dealing mainly with freight business.

The advent of diesel locomotives saw the end of the sheds, although an initial plan to close it in May 1964 was temporarily rescinded. The last steam loco left the Sutton Oak shed on December 4th, 1967. However the train drivers and guards, who had transferred from the former Sutton Oak station in 1964, still booked on and off duty at the shed until 1970.

During the 1970s, Sutton Oak Shed's turntable, track, water tank and pump were removed. However, its well-structured building, with concrete pillars and roof built in 1957, was retained. Whelan Discount Stores operated a supermarket out of the site (which footballer Emlyn Hughes opened) and in 1979,
Dave Whelan
- who would later own JJB Sports and Wigan Athletic – sold his chain of stores to Morrisons. They closed their Baxters Lane store in 2000 and the engine shed was demolished in May 2002 and is now the car park of a new supermarket.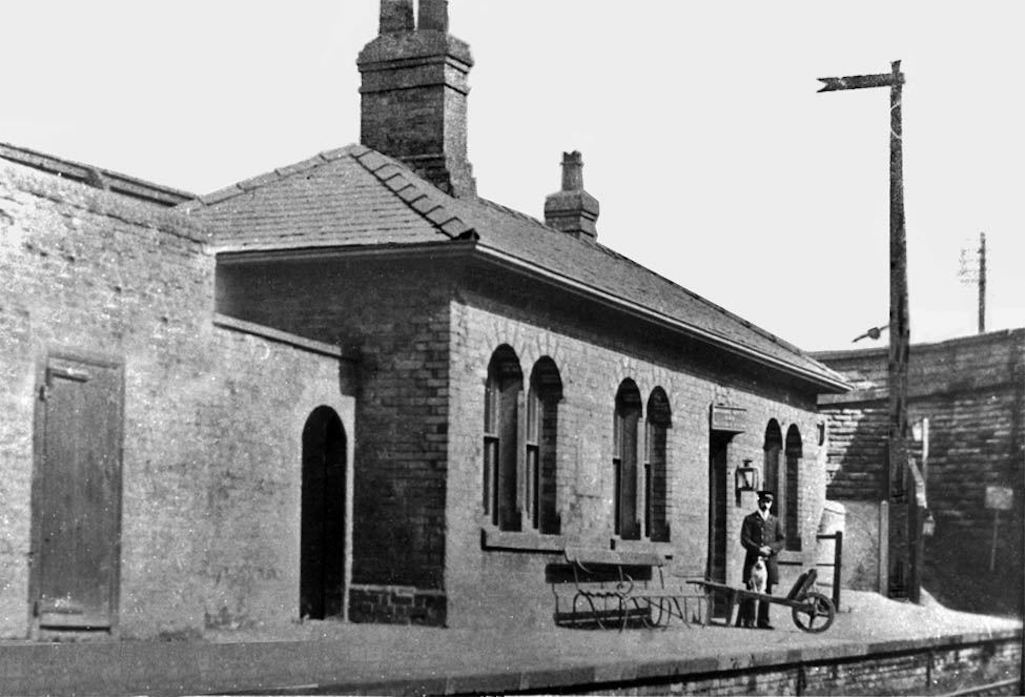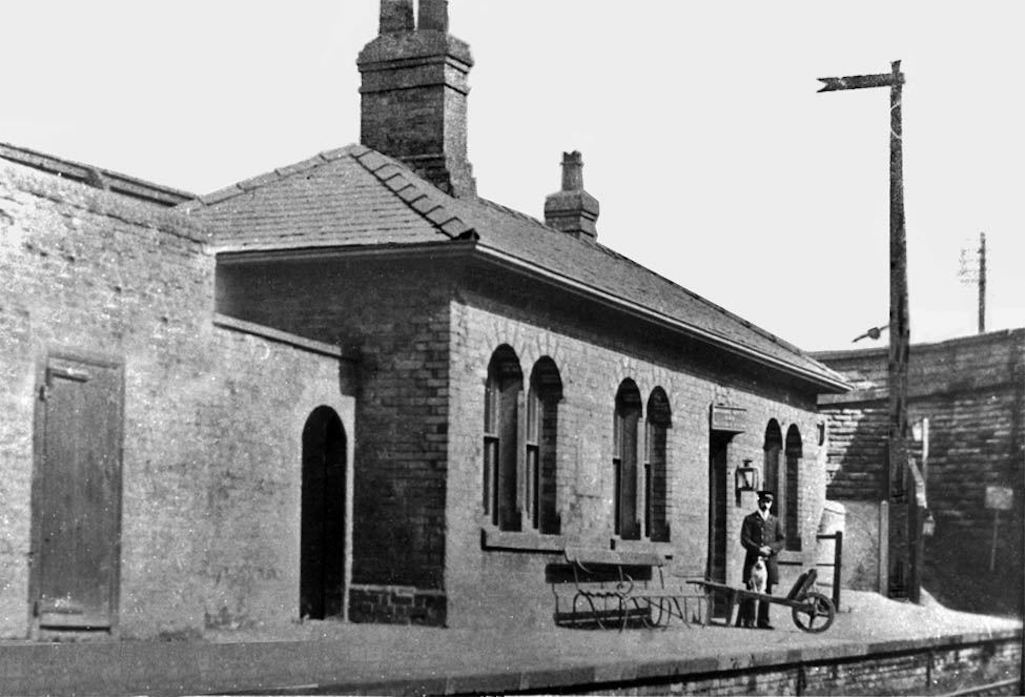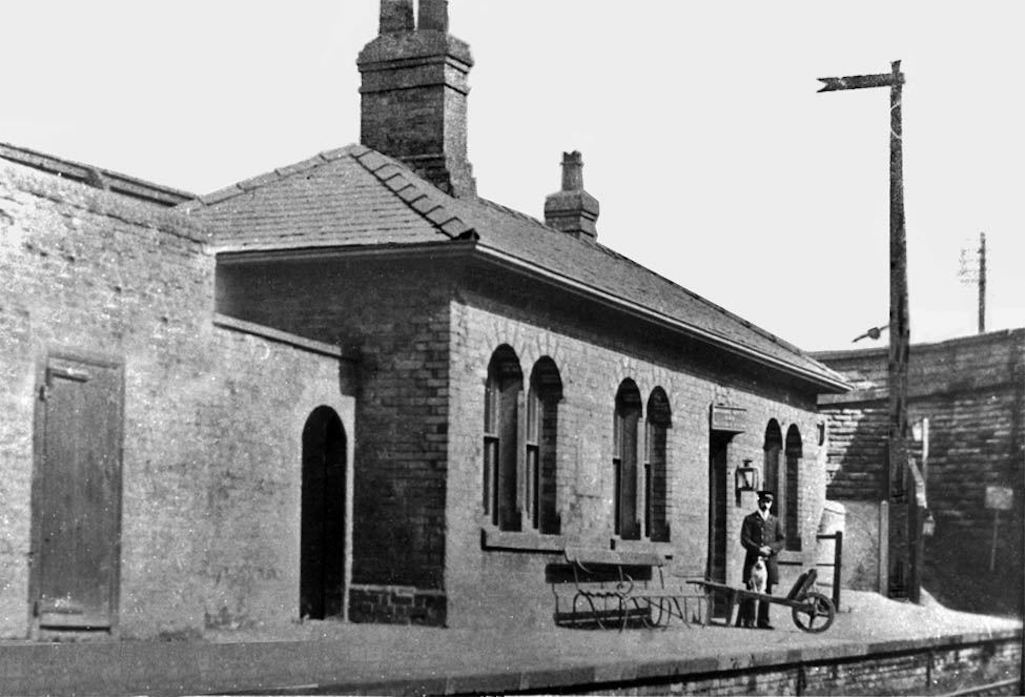 Clock Face Station
was opened about 1845, after the easing of some steep gradients on the St.Helens and Runcorn Gap line. Clock Face first appeared in a timetable in 1852 and was situated on both sides of a small road over-bridge in a cutting by the junction of Gartons Lane and Clock Face Road. The Widnes platform was located to the north of the bridge with a small waiting shelter and the St.Helens platform was south of the bridge by the main station building. In the above photograph of a porter at Clock Face station, it seems that passengers would also be greeted by a station dog! Until the opening of Clock Face Collery, the vicinity of the station was sparsely populated and the line was more heavily used by goods trains. At a meeting of St.Helens Town Council in 1900 there was criticism that Clock Face was the only station in the district where trains didn't stop on a Sunday. However, during the first half of the twentieth century, a steady passenger service developed between St.Helens and Widnes, running to Ditton Junction, where connections to Liverpool, Crewe, Manchester and even London could be made.



However, the cost of train travel was a deterrent to many poorer people. Tram and bus services were embraced more enthusiastically but were slow in reaching much of Sutton. In 1879 an Act of Parliament incorporated
The St. Helens and District Tramways Company
in which single-track, standard gauge tramways were authorised. One was intended to connect St.Helens town centre with the outskirts of Sutton, or more precisely
Marshalls Cross, at the corner of Robins Lane.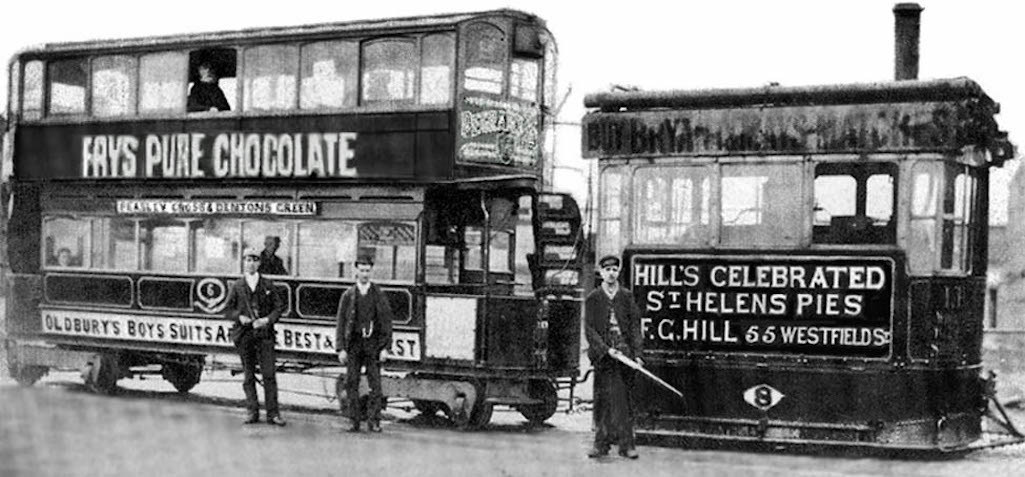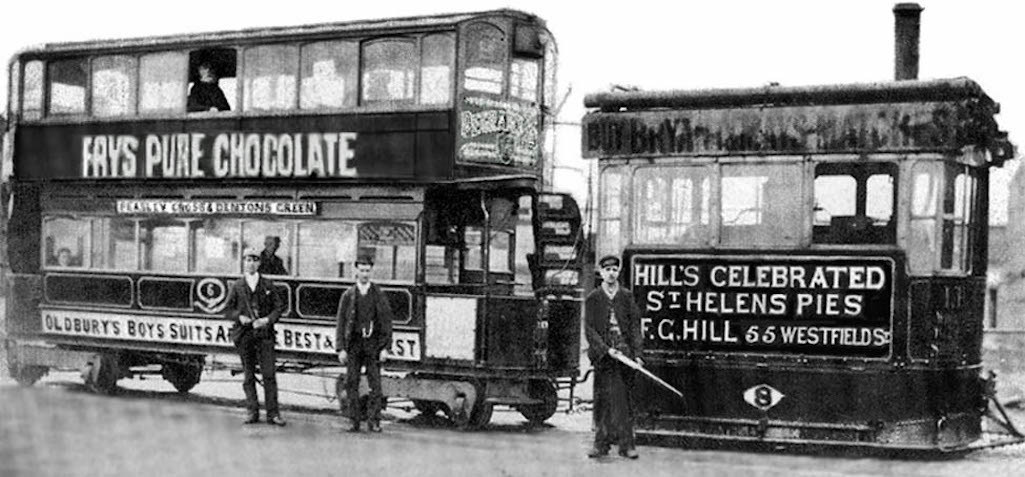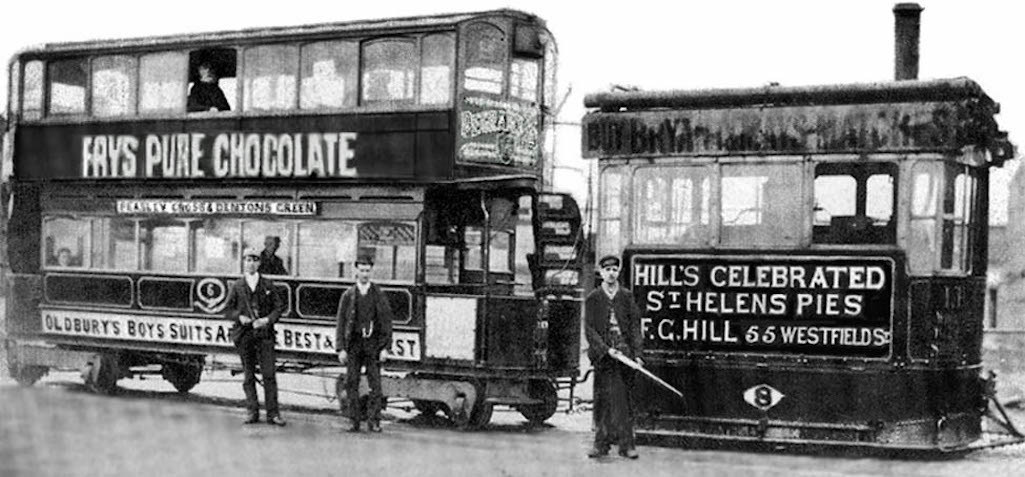 Construction work began on November 8th 1881 with the first tram running on the line in May 1882, although the terminus became the corner of
Sutton Road
in
Peasley Cross
, 700 yards short of Robins Lane. In April 1890 steam trams replaced the unprofitable horse-driven service and in 1899 electrification of the St.Helens tramways took place. Of

A one mile extension from Peasley Cross to St.Helens Junction was constructed during the summer of 1900, opening on September 5th. However, due to disputes the terminus became
Peckers Hill Road
, some 200 yards short of the Junction station until 1925. At St.Helens Town Council's meeting of December 5th 1900, the Electric Supply and Tramways Committee reported that they'd received a petition - known as a memorial - from residents in the expanding district of Clock Face requesting an extension of the tramways from Robins Lane. The committee said they'd bear it in mind, although there was probably an insufficient population at that time to make tram services commercially viable.


There were a number of complaints about the high speed of the electric trams - as they were then called - with some said to be dangerously exceeding 10 mph! On 12th April 1903, a tram from St.Helens Junction collided at full speed with a steam tower-wagon which was undertaking maintenance work on overhead wires, which caused severe damage to both vehicles. Bridges could also be problematic, especially in Peasley Cross Road. Not only was the bridge there prone to delays through severe flooding, but it was fully capable of decapitating unsuspecting standing passengers on the top deck of open-top trams! So a large warning sign was erected on both sides of the Peasley Cross bridge.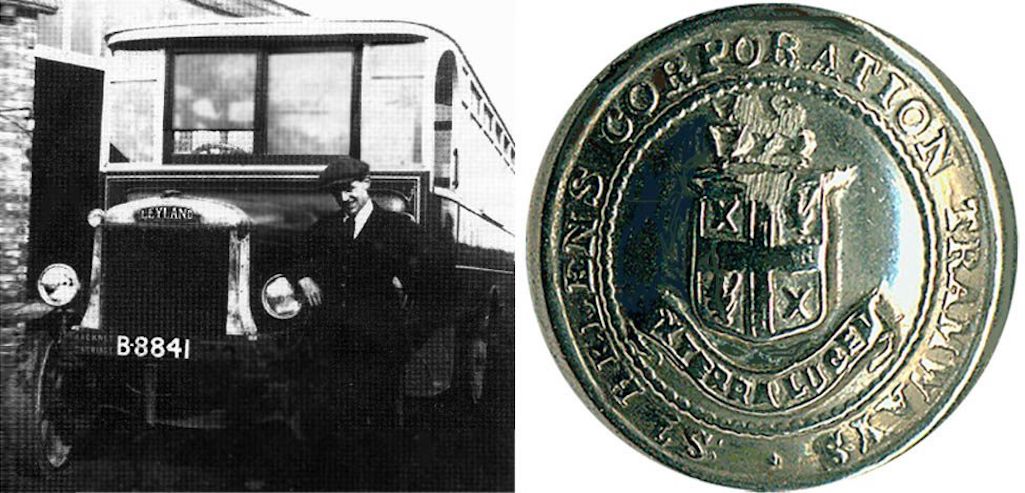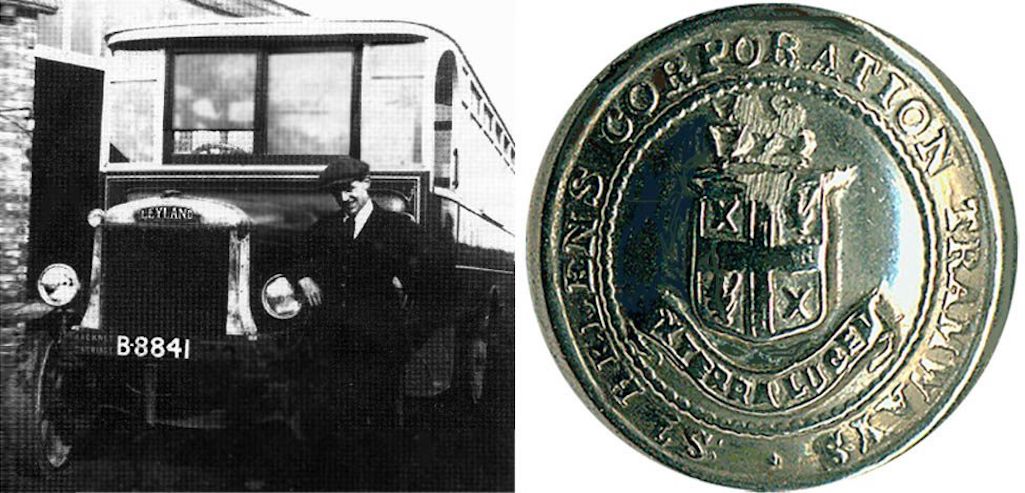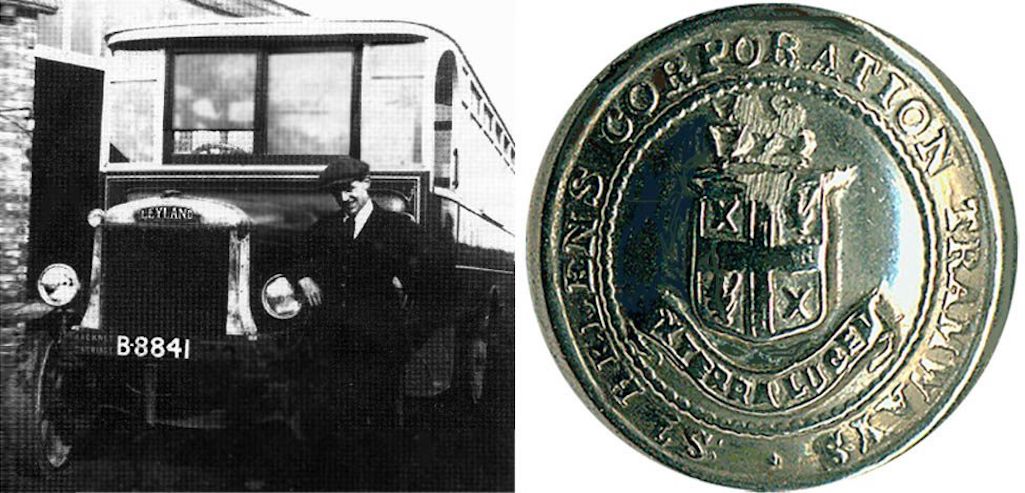 I
n 1914, St.Helens Corporation was concerned by the absence of transport facilities between St.Helens town centre and Sutton Manor and Clock Face. These were expanding mining communities, which were outside the tramways network and weren't served all that well by the railways. So
Councillor Thomas Abbott
was charged with doing something about it and he persuaded County Carriers, a firm controlled by the Dromgoole family, to begin a bus service between Sutton Manor and Market Street. This began in June 1914 and became the first bus service in the town. According to a 'Whalley's World' article in the St. Helens Star, the single-deck 'boneshaker' (pictured above) was part of the old Sutton Manor fleet. This was used by the St.Helens & District Motor Service Co. Ltd which took over from County Carriers and was acquired by St.Helens Corporation in 1927.


Edie Carter
was a regular contributor to Alan Whalley's column, who moved into the newly-built 109 Mill Lane in 1929. Edie recalled in one edition of 'Whalley's World' that there was no bus service passing their house at that time. So she had to walk to the bus stop at Marshalls Cross bridge to catch the bus to Clock Face shops or get the returning bus when she wanted to shop in St.Helens. Alternatively Edie could walk to Robins Lane for that service into town. The large-scale building boom that started to take place in Mill and Leach Lanes, Old Mill, Crane, Belverdere, and Clovelly Avenues, in the period from 1930 to 1934, brought hundreds of people into the area, and the provision of a bus service for them was easily justified, commencing in about 1935. Further major building developments after WW11, led to a much enhanced services.


In Part 2 of their trilogy 'Industrial Railways of St Helens, Widnes and Warrington',
C. H. A. Townley
and
J. A. Peden
describe how workers at Clock Face and Sutton Manor collieries were also able to use the railway to get to work. The workmen's trains began after WW1 with day shift workers leaving St Helens station at 5.50am on Mondays to Fridays and at 5am on Saturdays. Stops were made at Peasley Cross and Sutton Oak stations to collect more passengers with the night shift train departing the town station at 10pm. Carriages were separately designated for Clock Face and Sutton Manor mineworkers, with separation taking place at the Clock Face Colliery Sidings. Here a loco attached itself to the rear of the train and conveyed the Clock Face workers to their colliery. Then a Sutton Manor loco picked up the remaining coaches and hauled them in the opposite direction to the Manor. A simple but ingenious system that enabled workers not living in the colliery houses to get to work and which relied upon the collieries' own private railways.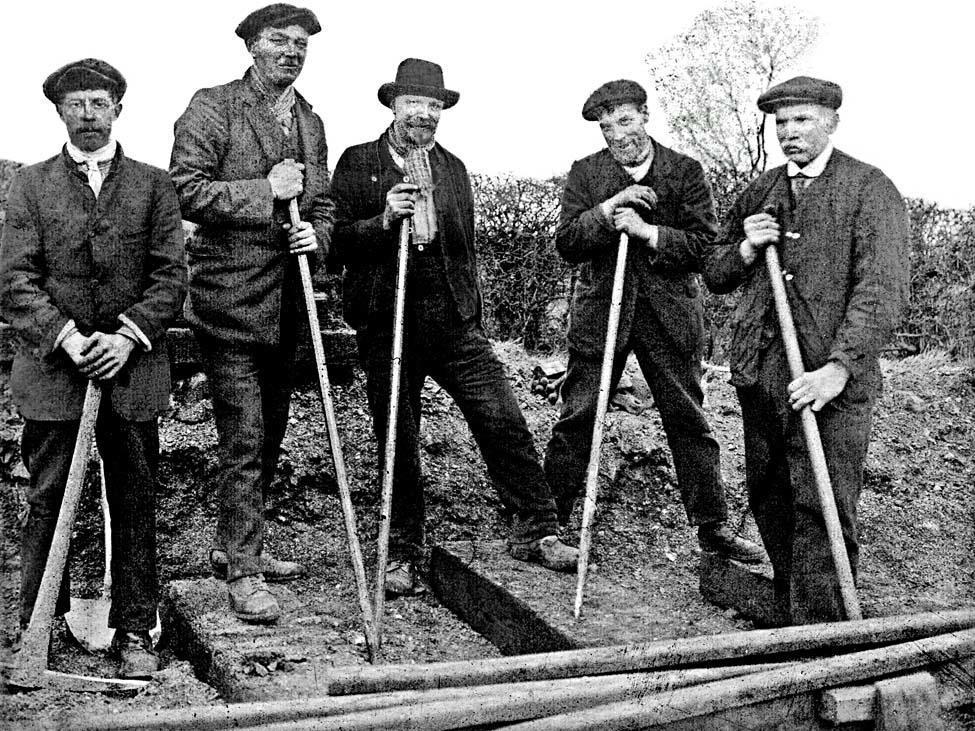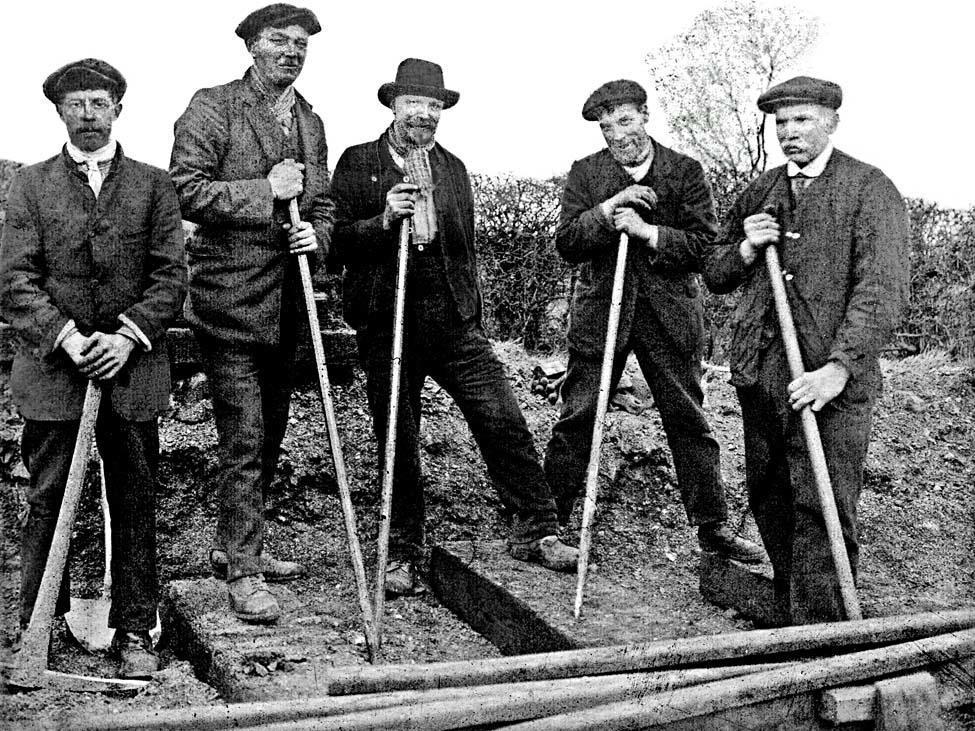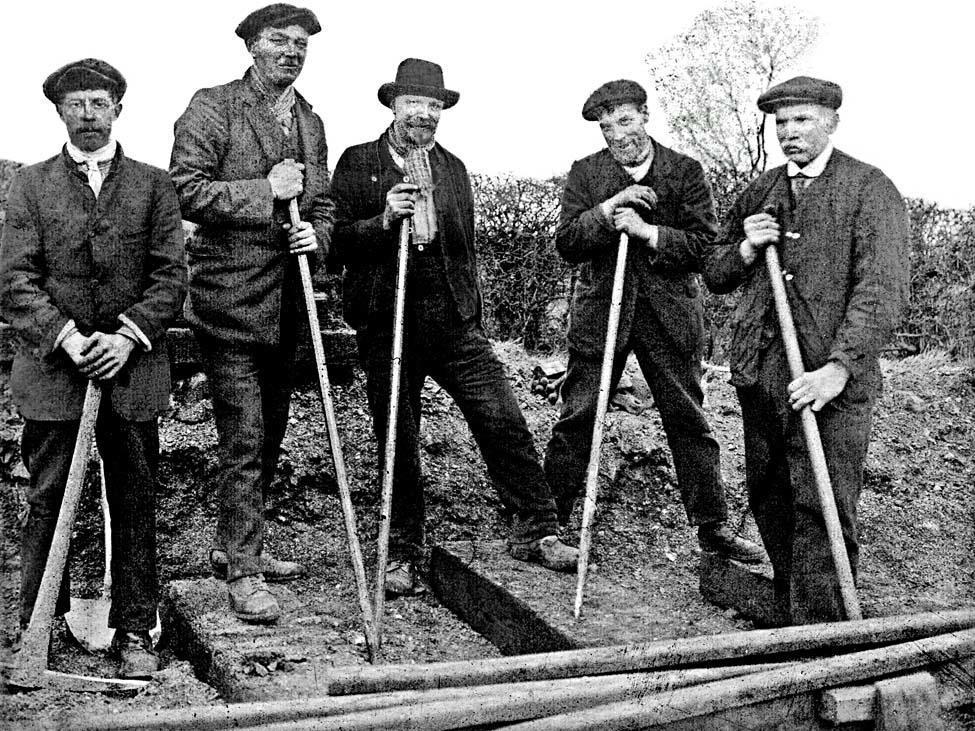 This photograph of railway platelayers, contributed by
Terry Callaghan
, was taken in 1905 at the 'white gates' railway crossing at the bottom of what is now Cranshaw Avenue in Clock Face. Platelayers were responsible for looking after a particular length of railway track in the district, including all its features, such as the rail line itself, points, connecting levers, rods, plates, bolts, greasing and sleeper firmness, to ensure they were of the highest safety standard. Many of these activities could be carried out on an individual basis, but on many jobs, such as major installations of new sections of track, they formed gangs under the direction of a 'ganger' or foreman.

In the picture the gang, holding pinch bars, are installing the points and lines to connect the pits - that the newly-formed Sutton Manor Collieries Ltd. were planning to sink - with the St.Helens and Widnes line at Clock Face Colliery Sidings. This was under an agreement with the LNWR railway company made in May 1905. The connecting line would not only be vital to take the coal away in the future, but would also be invaluable to bring in supplies for both sinking and mining operations. Clock Face Colliery had itself been connected to the line just years earlier under an agreement dated September 22nd 1896. An expansion of the rail layout at Lea Green Colliery had also taken place around this time, which like the Bold and Collins Green collieries, connected the mine to the Liverpool and Manchester line.



For much of the 20th century, the Sutton district hosted an extraordinary tapestry of railway lines and marshalling areas, that served the pits, brickworks, glassworks and other industries. The sights, noise and smells of the steam locos permeated the lives of people in old Sutton and also created numerous jobs, both directly and indirectly. Many relied upon the railway for employment, with jobs such as engine drivers, guards, engine shed cleaners, signalmen, station porters, platelayers and shunters. Also many workers at the factories and pits knew that their employer was highly dependent upon the railway to take their goods to market.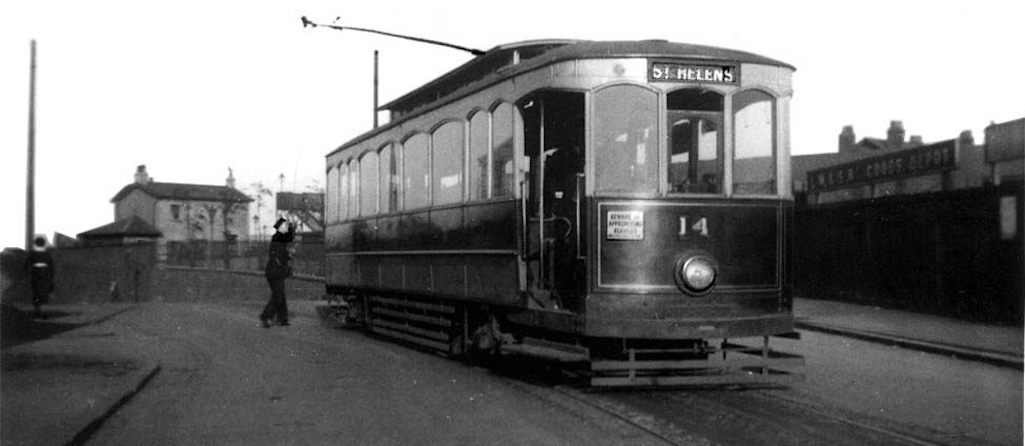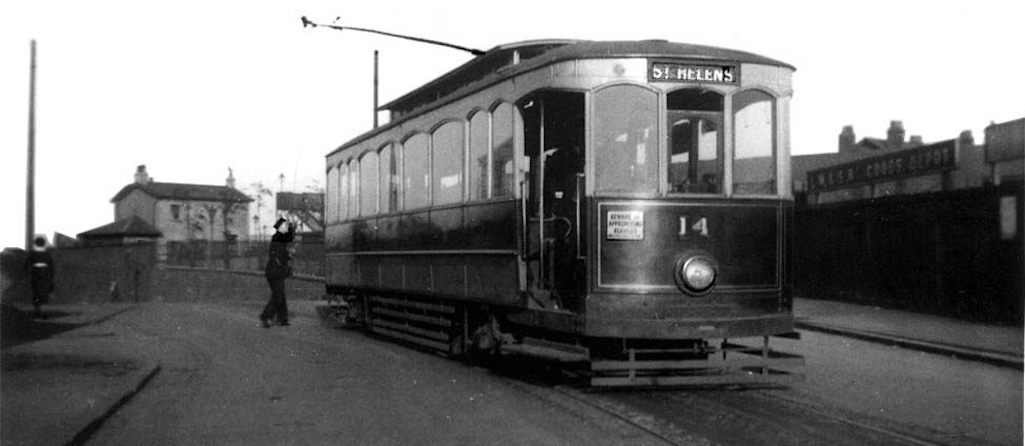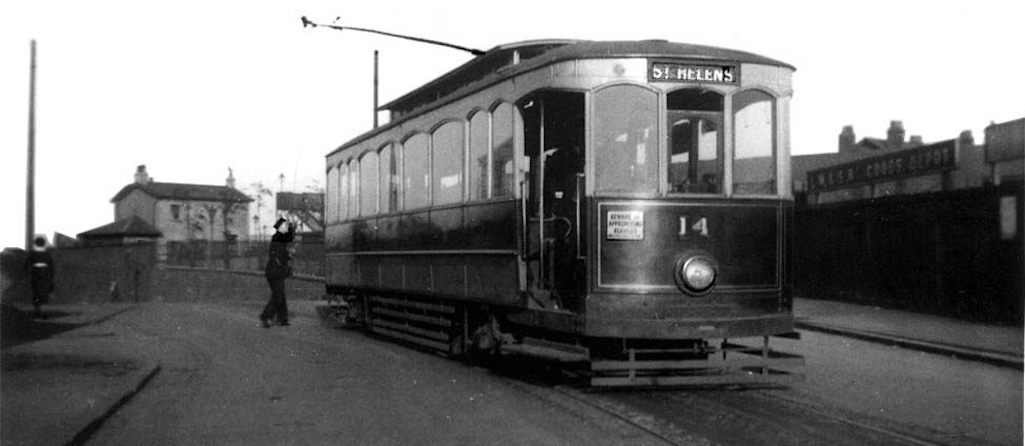 Post WW1 the mix of transport opportunities available within St.Helens was on the increase, although trams dominated.
The above photo of a single deck electric tram at St.Helens Junction was taken in 1933. An unnamed driver of this tram later commented on the overcrowding on the route to the Junction:
During my younger days I was a tram driver and I remember we bought two second-hand trams from Wigan - two long ones, single deckers. I was on this tram and when I got to Peasley Cross Hospital, which wasn't very far from St. Helens, I had 114 passengers on. There was an Inspector on and I wouldn't let a lady get on at Peasley Cross Hospital, I thought I couldn't carry no more. So he said to me, "Let that lady get on." I said, "I will if you get off - or if you let me get out, she can get on. I've 114 on now." He doubted my word and stayed on until we got to St. Helens Junction Station and, although he grumbled at me, he apologised. He said, "You were right, you'd 114 passengers on." Think about that then, 114 passengers on one deck!
On May Day 1935, trolleybuses - initially known as trackless vehicles - replaced trams on the St.Helens Junction route. However there was no extension of services further into Sutton, despite authorisation having been obtained to extend the route half a mile beyond the existing terminus to Bold Road. A turning loop did extend the route a little, with the trolleybuses turning left from Station Road into Peckers Hill Road, then right into Junction Lane and then back into Station Road.

The trolleybuses had first appeared in St.Helens in 1927 and their vehicles and infrastructure were slowed rolled out throughout St.Helens. Despite people's familiarity with them, the trolleybuses still caused a stir when the Junction route first began. People were especially impressed by their silent running and punctuality. In an article entitled 'The Pride Of St.Helens Junction', the St.Helens Newspaper of May 10th 1935 described the effect that they were having on both passengers and passers-by:
Little chuckles of satisfaction; beaming glances on the fellow passengers, and supercilious smirks to wondering passers-by was the lot of a traveller since last week. Night workers crowded to the windows of the road-side houses, in their night shirts, pyjamas and "what-nots" to gaze in glee on the silent newcomers. Pneumatic tyres do not make as much noise as the steel rimmed lumbering giants. What are we talking about? Why, the new trackless buses on the St.Helens Junction (via Peasley Cross) route, of course! Not very far from mid-night one night last week, a huge monster, illuminated by ghostly interior lights, rumbled, roared, groaned and creaked its way haltingly from the Junction along Robins-lane, Marshalls Cross-road, Peasley Cross-lane, Church street, Shaw-street, and Corporation-street, and after a veritable circular tour rolled with a last defiant roar into its lair. Next morning, very early, before the sun was up, a bright new red monster slid sleekly and silently from the same lair. The new "trolley bus" service had commenced...Several times have we been told that many people living on and around the old car route have had to speculate money on alarm clocks since last week! No longer can time be judged to that nicety of a minute which counts so much in the morning in our rush to begin the daily grind, for it is necessary, now, to be on the spot waiting for the bus. These new fangled ideas.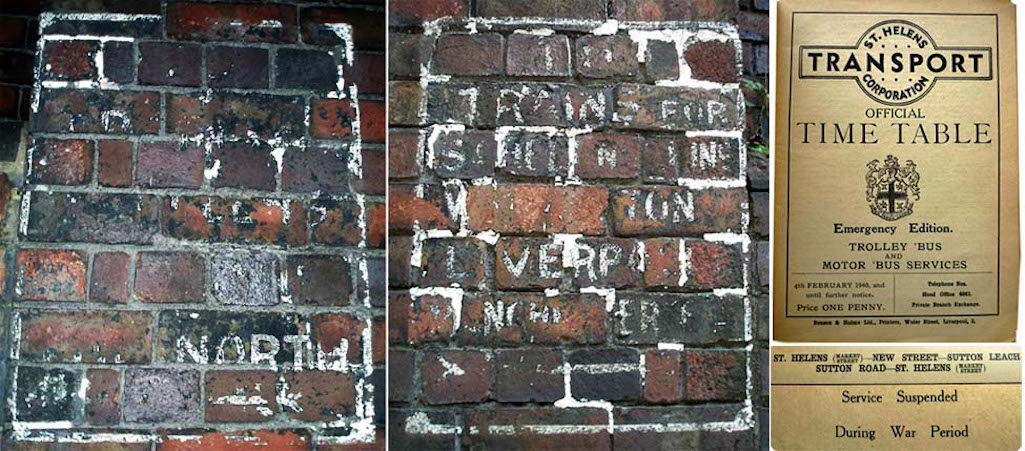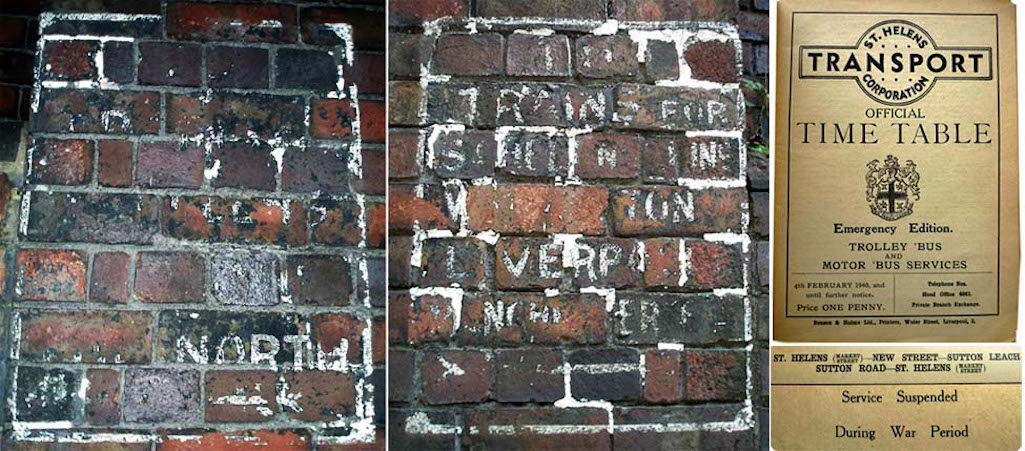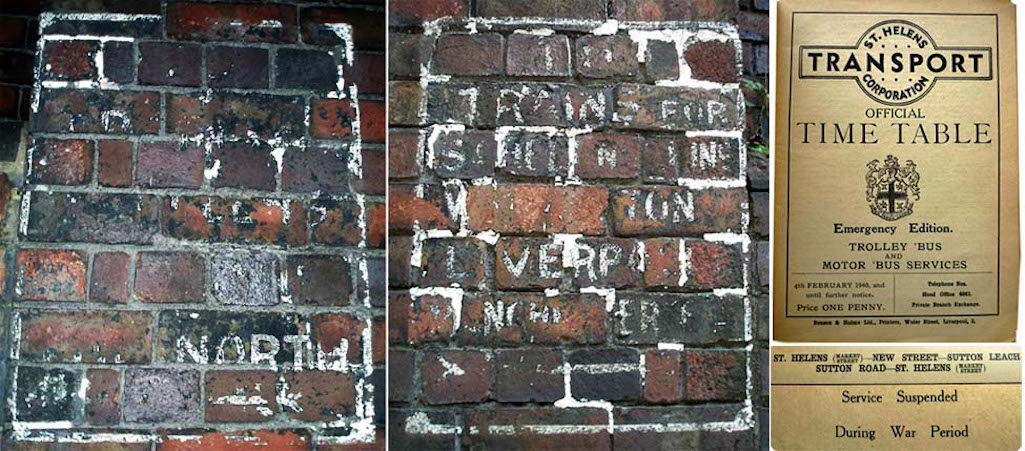 Although much of the former township was bypassed by the tram and trolleybus networks, the expansion and popularity of motor buses, plus the trolley bus services up to the Junction, were starting to hurt the train operators. An early indicator of how the transport infrastructure in the town was being repositioned, was the ephemeral railway station at
Robins Lane Halt
. It opened on 12th October 1936, situated on the line that connected the Widnes and Runcorn Gap railway with the Liverpool and Manchester line. The halt was opened as part of a policy to address the drift of passenger traffic to motor and trolleybuses by creating new, convenient railway stations close to residential areas. However, the station was closed just two years later
(26/9/1938)
due to insufficient passengers. The only remnants of its brief existence are part of the two station entrance signs which directed passengers to its north and southbound platforms. These can still be discerned underneath a Robins Lane bridge by Ellen Street (pictured above in 2008).
W
ith the onset of war in September 1939, the contingency plans for rationing of motor fuel that had been drawn up during the summer, were put into operation. Motor bus operators were ordered to cut their timetables by 40% to reduce demand for fuel, which was likely to become scarce. St.Helens Corporation was given just three weeks to implement swingeing cuts and the Sutton and Bold districts were badly hit. The Sutton Leach circular and a service to Prescot via Sherdley Road were completely withdrawn and the Gorsey Lane and Bold Heath services were left with just one early journey. Plus Sutton Heath was only allowed buses on Fridays and Saturdays.


Before long there was some easing of the service reduction and some buses were run to Sutton Leach and Sutton Manor. With collieries and many factories in full production, it was realised that extra bus services were required to transport workers. Additional services included St.Helens to Warrington via Clock Face and Bold Heath plus St.Helens to Widnes via Bold Heath, as well as Sutton Manor. In December 1943, with Britain's fortunes in the war improving, there were increased services to the Manor.

Post-war, the growth of new housing estates in the Sutton district led to pressure placed on St.Helens Corporation's transport department for new and extended services. In September 1946 a new service to Sutton Leach was launched which was extended to Clock Face and Bold in the following February. This brought frequent daily services to the district for the first time. In 1950 the Bold and Gorsey Lane routes became linked to Clinkham Wood and the Sutton Heath service was extended to Sutton Manor.



In 1952 all trolleybus services ended and were replaced the following day by motorbus services. The spread of new housing estates required a widescale expansion of transport services and further investment in trolleybus infrastructure was not cost-effective. Motorbuses were much more flexible and as electricity had been nationalised and no longer municipally supplied, it was not as financially beneficial for local authorities to provide electric transport for their citizens.


From 1958 St.Anne's RC Church boasted its own Sunday bus service. Worshippers were ferried to the church in St.Helens Corporation buses, which would wait in Monastery Lane during the service and then take the worshippers home. However, by this time bus numbers were starting to decline through an increased use of private transport and the growth of television. People were staying in more at night and not travelling as much to the cinema or theatre. The peak year for bus transport was in 1955-6 when 60 million passengers were carried in St.Helens.
The changing times were also causing problems in staffing, as drivers and conductors were taking up employment in sectors that offered better hours and more pay. One-man bus operation was seen as the solution and in April 1967 the 22 route between Lancots Lane and Eccleston became one of only two routes in St.Helens to begin using one-man vehicles.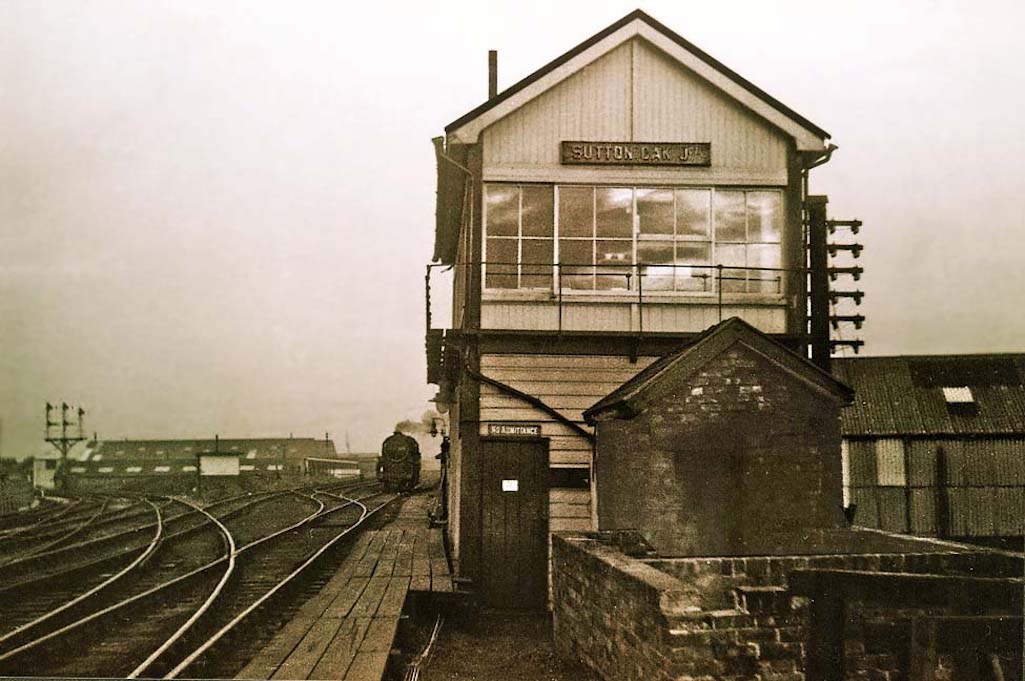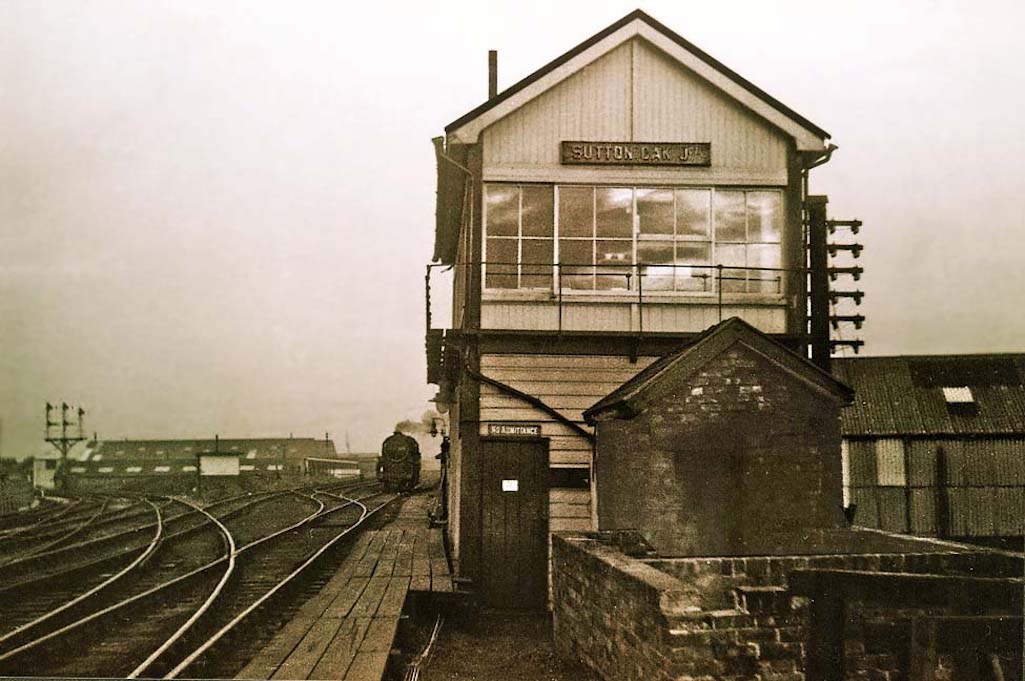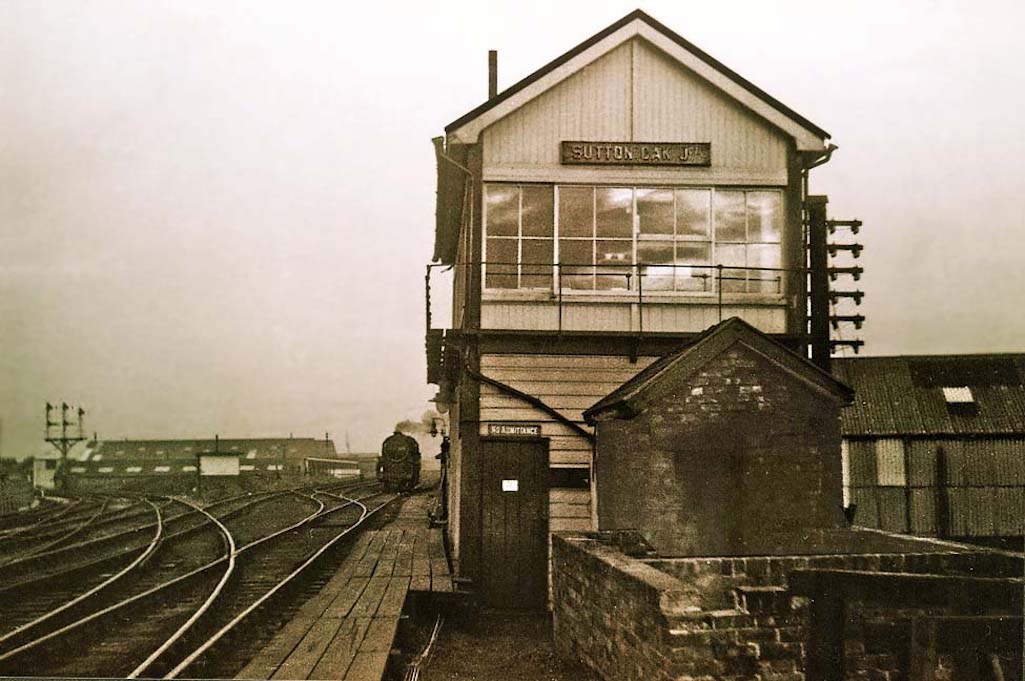 The train stations at
Sutton Oak
,
Clock Face
, and
Lea Green
all closed down during the 1950s. The photographs above and below show the exterior and interior of the Sutton Oak Signal Box, which was thought to be unique as it boasted three signalling systems. On the left of the interior photo are the levers that controlled the semaphore signals. It also employed the token system for regulating the single line to Widnes and it was also linked to Warrington Power Box's modern lights system. The latter managed stretches of the Liverpool to Manchester route.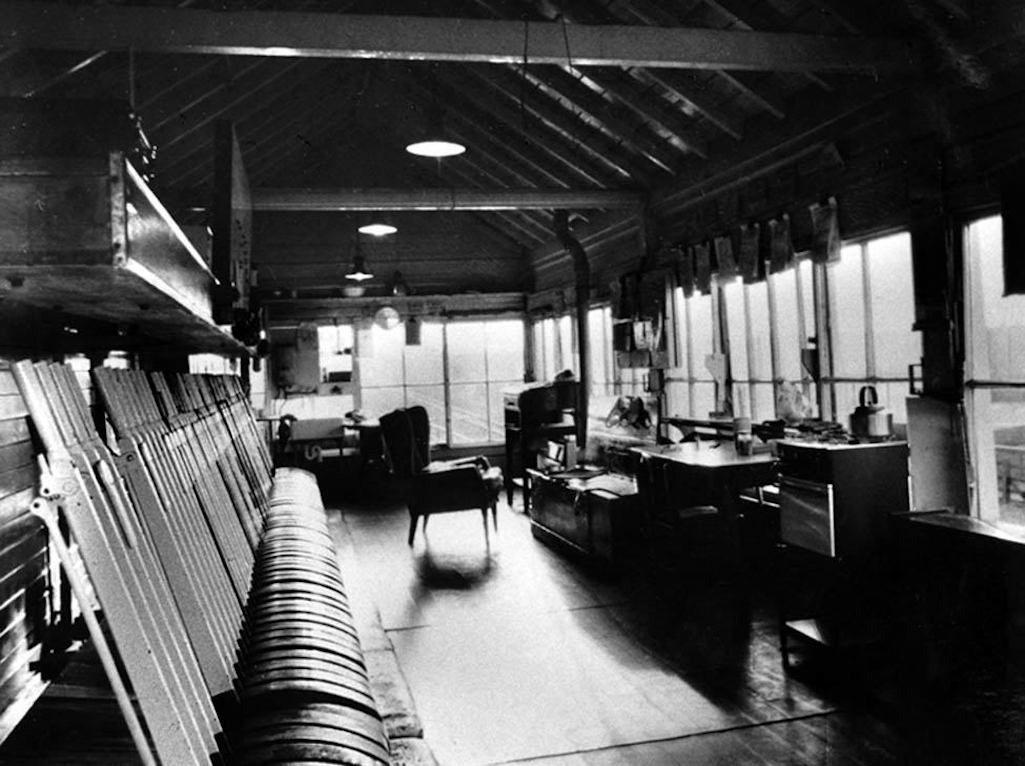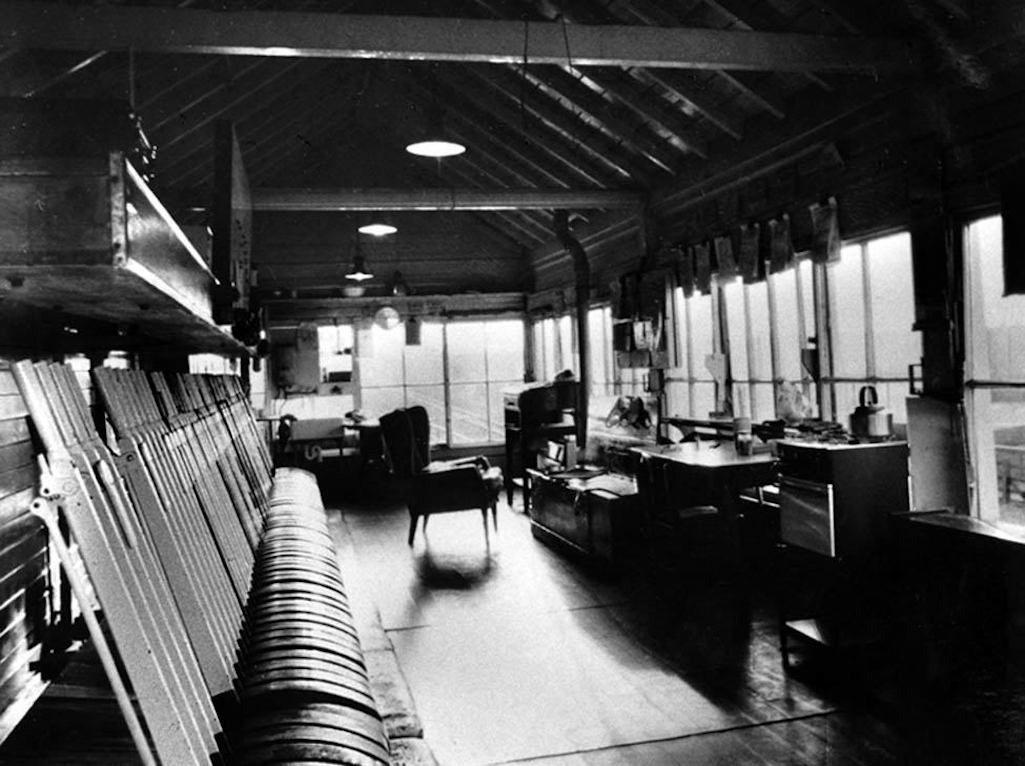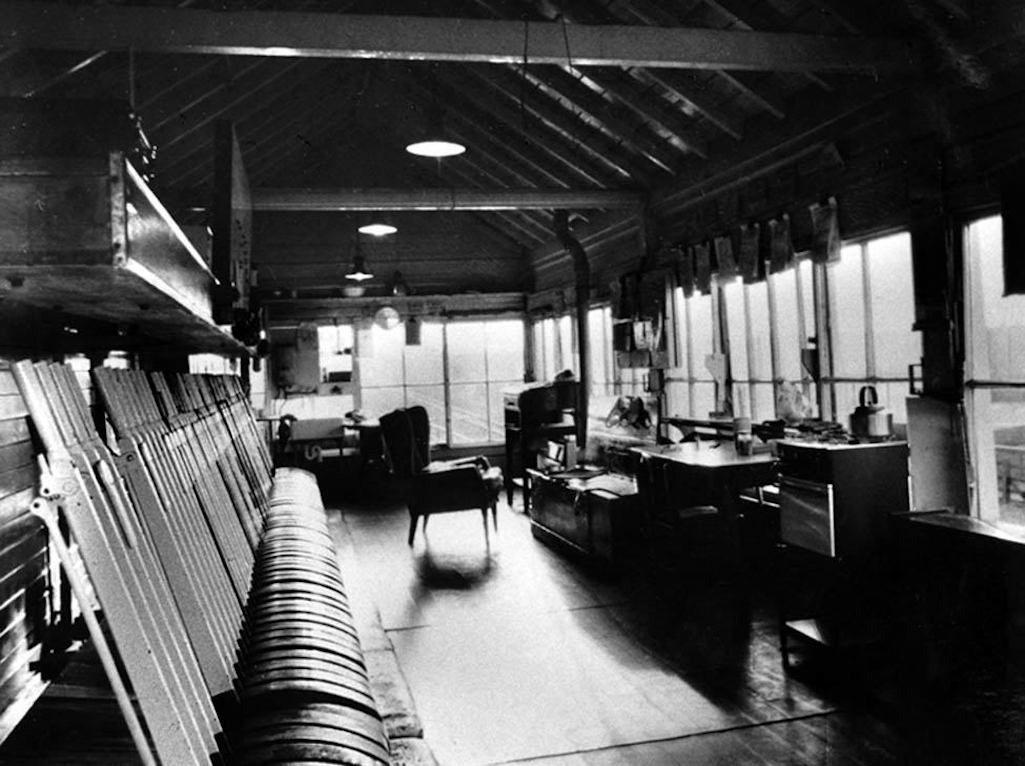 After the line was closed, British Rail agreed for the signal box to be removed and placed in Pets Corner in Sherdley Park but vandals got there first and burned it down. The co-founder of Sutton Historic Society,
Eric Coffey
, rescued the Sutton Oak Junction sign and placed it over his garage in Mill Lane where it was displayed for many years. Eric had a special interest as he'd spent many years of his working life as a signalman inside that box. Once he'd been awarded a £50 bonus for his vigilance in foiling vandalism on the railway line.



The first two photographs above were taken on October 31st 1981 and show the last locomotive to travel on the route between Sutton Oak Junction and Ditton. Eric Coffey is pictured accepting a token from a Wigan locomotive driver for the very last time. The tokens were a simple safety system for single line working that prevented more than one train occupying the same section of track. As long as the train driver retained his token, the equipment at either end of the line would not release another.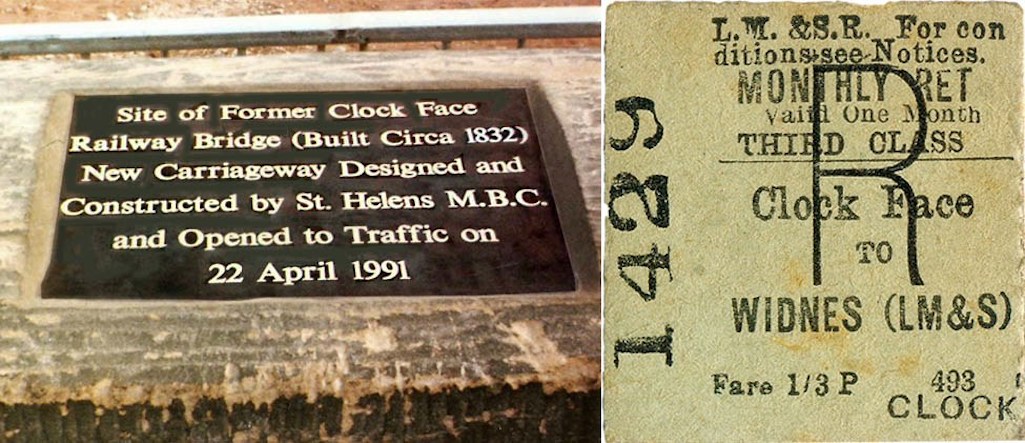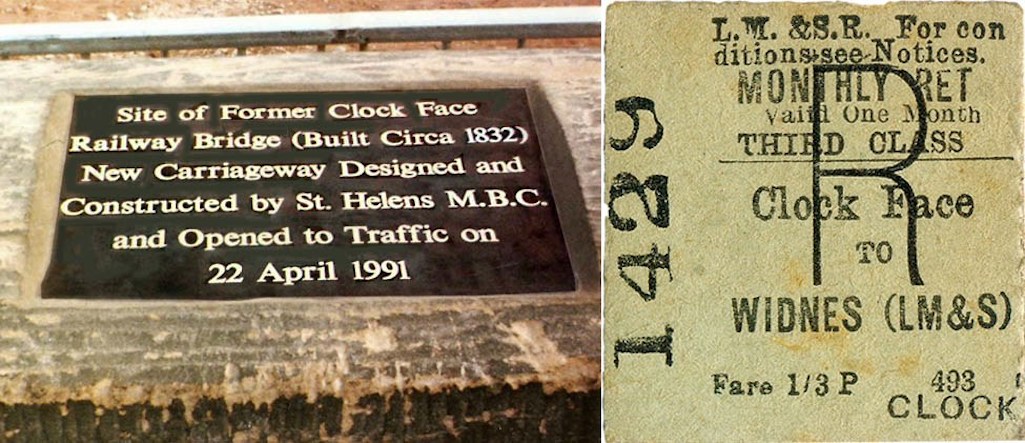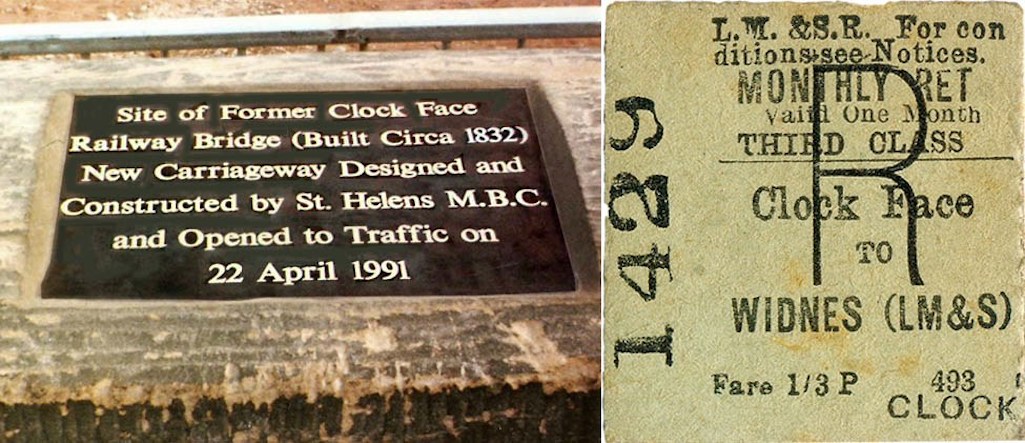 Clock Face closed as a passenger station on June 16th 1951 and the line closed as a through route on November 1st, 1981. The section through the site of Clock Face station survived for a few more years as the connection between Sutton Manor Colliery and Sutton Oak Junction was retained. After the closure of the colliery, the line was cut back to Sutton Oak Junction. Today nothing of the station remains and the cutting has been filled in.


Lea Green station closed to all traffic on September 25th 1958. However, a new station was finally opened at Lea Green in September 2000, a few hundred yards to the east of the original and adjacent to Sherdley Park and the Bull and Dog. Interestingly this new Lea Green station had first been announced almost sixty-four years earlier
t
o service an expanding residential population and compete with the motor buses which were becoming increasingly popular. However, the failure of Robins Lane Halt seems to have caused a rethink by the railway bosses.


As well as a new railway station at Lea Green there's also recently been new investment in the station at St.Helens Junction to improve facilities and service the resurgence in train travel. Public transport by bus and train is now firmly established and with concerns over the environment, both are likely to retain their popularity within Sutton and St.Helens for the foreseeable future.
Other Relevant Pages and Articles on Sutton Transport:
Other Relevant Pages and Articles on Sutton Transport:
Copyright Notice / Factual Accuracy Statement

This website has been written and researched and many images photographed by myself, Stephen Wainwright, the Sutton Beauty & Heritage site owner. Individuals from all over the world have also kindly contributed their own photographs. If you wish to reuse any image, please
contact me
first as permission may be needed from the copyright owner. High resolution versions of many pictures can also be supplied at no charge. Please also contact me if you can provide any further information or photographs concerning Sutton, St.Helens. You might also consider contributing your recollections of Sutton for the series of
Memories
pages. Sutton Beauty & Heritage strives for factual accuracy at all times. Do also get in touch if you believe that there are any errors. I respond quickly to emails and if you haven't had a response within twelve hours, check your junk mail folder or resend your message. Thank you!
SRW