An Illustrated History of Old Sutton in St. Helens, Lancashire
Part 47 (of 92 parts) - Sutton at War Part 5 - War Diary of Harold Emblem
An Illustrated History of Old Sutton in St.Helens
Part 47 (of 92 parts) - War Diary of Harold Emblem
An Illustrated History of
Old Sutton in St.Helens
Sutton at War Part 5
Harold Emblem War Diary
The story of Lieutenant Harold Emblem
is somewhat different to that of other Sutton 'Tommies', as the young man from New Street kept a diary. Harold's record of his time in France has survived and documents the final seventeen weeks of his war. These were also the last weeks in the life of the member of Sutton Parish Church's Young Men's Bible Class. Harold's last diary entry of April 23rd 1918 refers to sniping, ending with "Hope for relief". It didn't come and he was shot dead later that same day, whilst bravely attempting to seize ground from the enemy.


Harold's diary offers many insights into the life of a young soldier. The three and a half months of military service, documented by the Sutton lad, weren't spent continuously in trenches. His battalion was quite mobile and journeyed to many French villages and towns, all of which were perfectly spelt by Lt. Emblem in his journal. Interspersed with fighting there was training, lectures, gas courses, work parties, patrols and reconnoitring, football, shopping, church services, runs and inspections. There was also the most prized of all, time off to relax. As Harold wrote in one diary entry: "Rest. Lucky dog."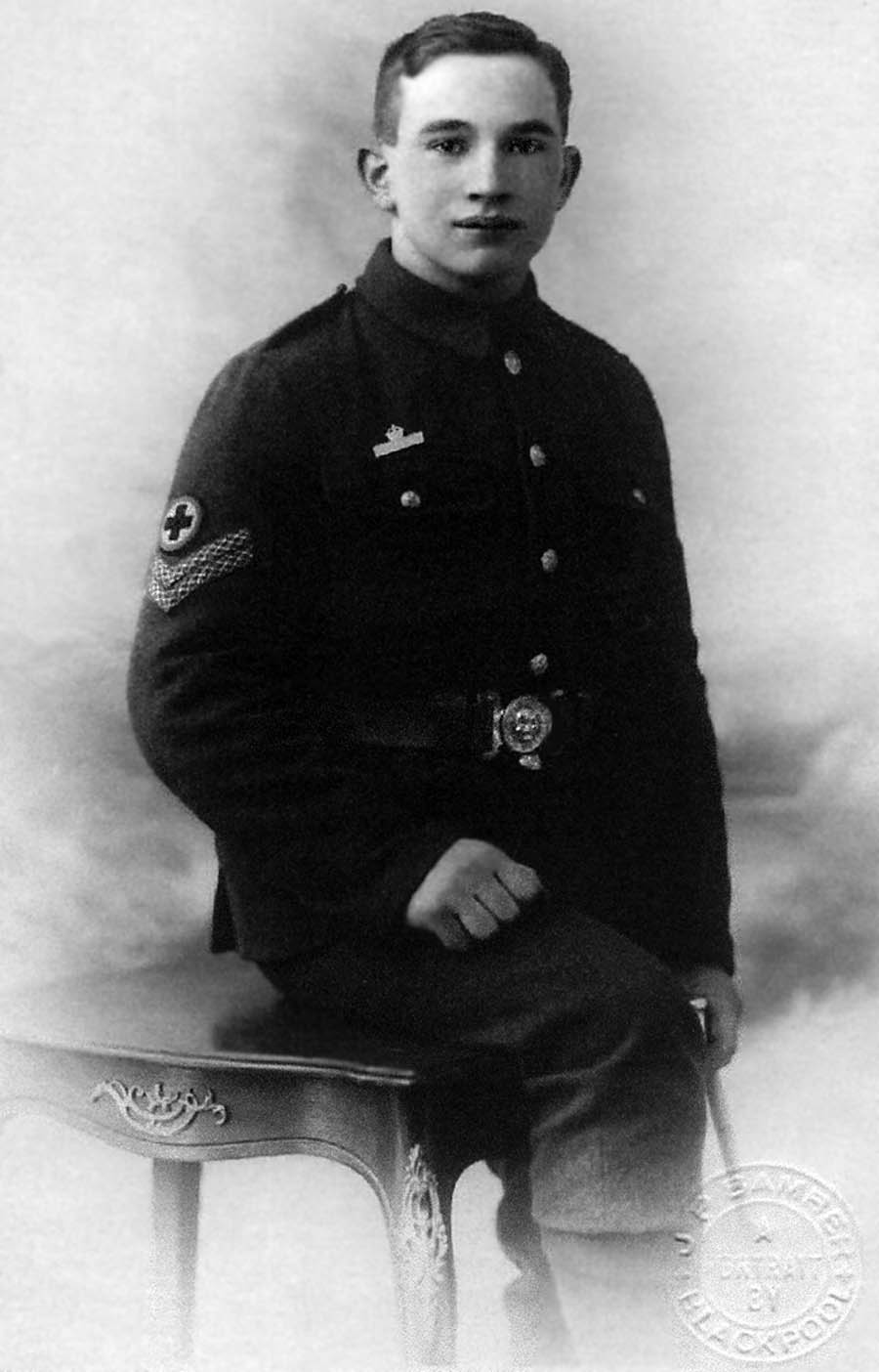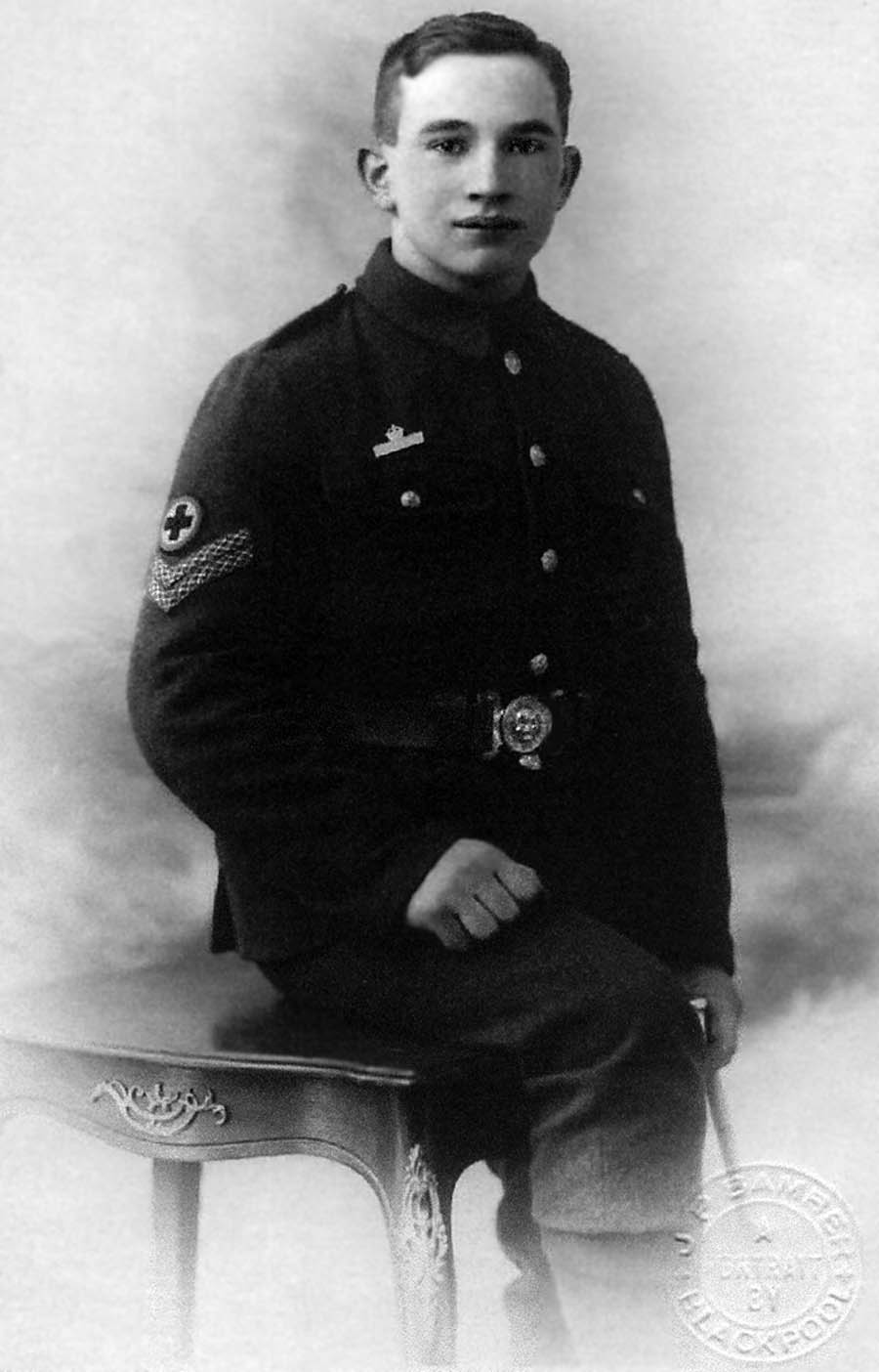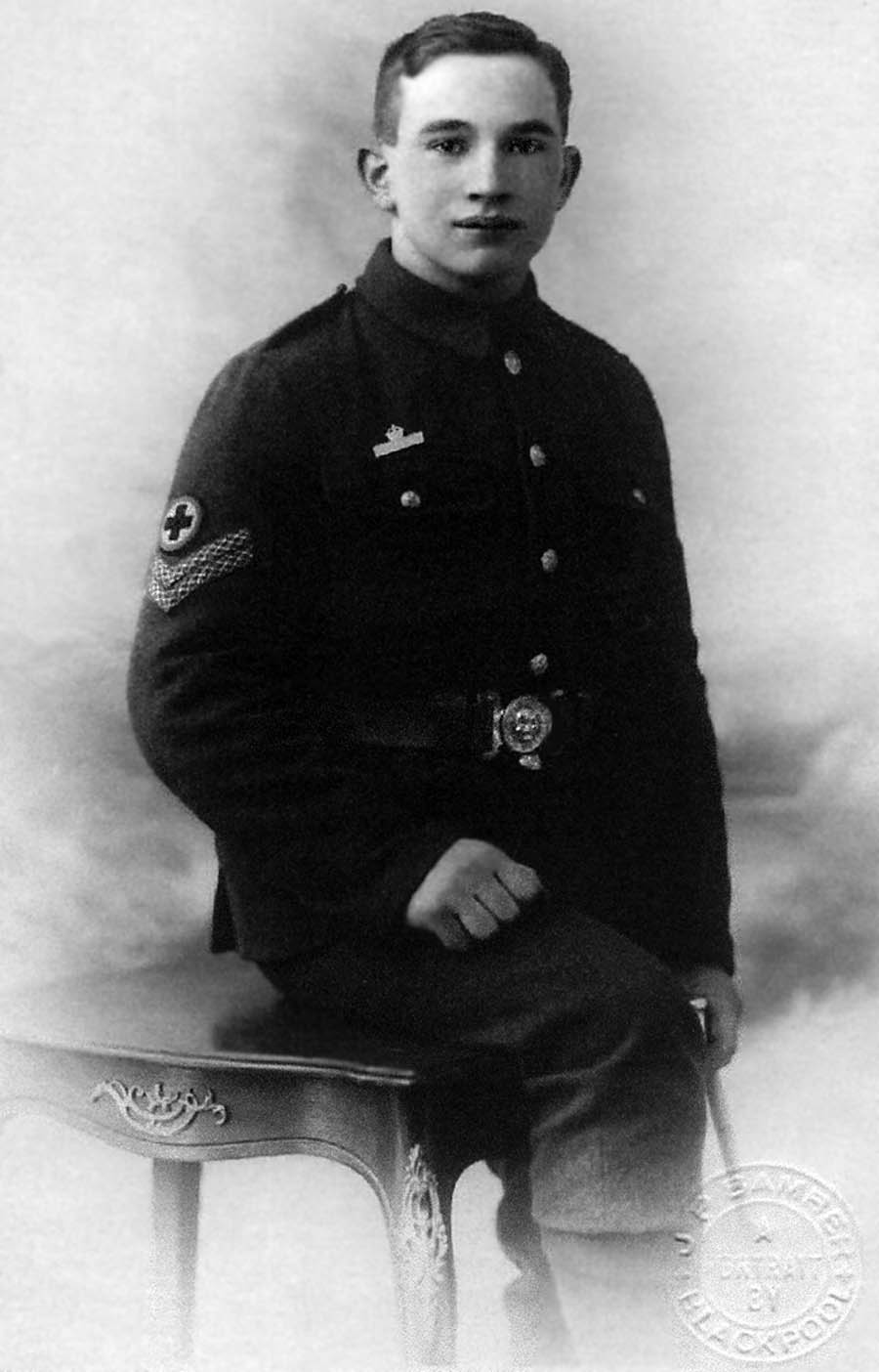 Harold was born in 1897 to steam engine fitter father
William
and mother
Annie Mason Emblem
. They were then living at 37 Highfield Street in Sutton but at some point moved to 133 Baxters Lane. Prior to joining the army, Harold seems to have left home and taken up residence at 122 New Street. He chose to enlist in the Royal Army Medical Corp. of the 8th battalion of the
Nottinghamshire & Derbyshire Regiment
, known as the Sherwood Foresters. Records show his date of entry into the war was October 12th 1916 and a year later, on October 30th 1917, he received promotion. Harold was made a 2nd Lieutenant and attached to the 1st battalion of the Sherwood Foresters. Promotion from a medic to a young officer in an infantry unit was a very unusual move and hasn't been explained.

Harold's surviving diary begins on January 1st 1918 when the 20-years-old was enjoying home leave. On that New Year's day he was in
Blackpoo
l and he wrote in his diary "Good time. Started well", a reference to the year. Harold clearly enjoyed the theatre and on January 2nd attended a performance at Blackpool's Grand Theatre.

Then on the Saturday he visited Liverpool Playhouse. "Good" he commented in his diary. On the following Monday, his last full day of leave, Harold visited the Hippodrome in
St.Helens
. By Friday he was back with his unit in
Calais
after recording a "rough night" on the trip. On Monday 14th at 3am, Harold reached
Arras
and over the next week visited various French villages. Some football was played and fitness runs were undertaken. After one on January 21st, Harold wrote "Awful run, nearly dead".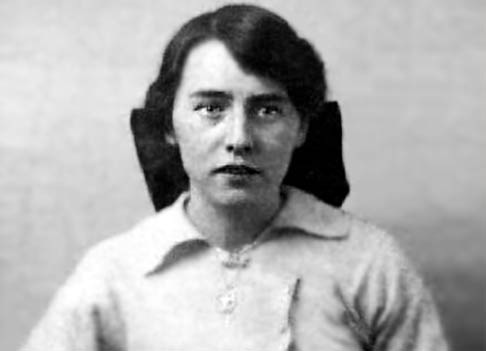 On Wednesday 30th the battalion entrained to
Godewaersveld
e near the Belgian border and then marched onto
Steenvoorde
. On the Thursday Harold wrote in his diary "Running smoothly. Easy time." and on Saturday he did some shopping in the town.

The Sherwood Foresters were quite mobile throughout Harold's final months of service. From Steenvoorde they moved three miles south to the small village of
Eecke
, where on Sunday 10th February, a church service was held in a marquee. They then moved onto
Wieltje
where Harold bedded down in a tin hut at the so-called
California Camp
. Initially his duties were reconnoitring but then on Ash Wednesday 13th, Harold was in the thick of it. His diary entry reads "Shelled by gas & field guns".

On the following day, Harold's troops entered the front line at night, although it was very quiet. This was probably through the weather as Harold wrote he was "rotten wet". Friday was "Fairly qt" although there were gas shells and some sniping to contend with. Saturday 16th was not a good day as Harold was hit by shrapnel in his left shoulder. He notes the injury in a factual way but makes no further reference to it in his diary. On Sunday 17th, the first day of Lent, the battalion moved onto
Kronprinz Farm
at Passchendale. That day was recorded as quiet, as was much of the rest of the week. On Thursday 21st, Harold wrote "shelled but quiet", a contradiction in terms but no doubt a relative comment.
The following week was also fairly quiet although there were patrols, inspections and work parties to occupy the Tommies. On Monday 25th February, Harold wrote just three words, "Rest. Lucky dog." On March 1st the Sherword Foresters were back at California Camp and over the next week made return trips to the town of Steenvoorde. On the 7th Harold wrote "Training commences. Pretty easy time & billet good."

The following day was noteworthy as British Expeditionary Force commander
Field Marshal Douglas Haig
held a battalion inspection. On Sunday March 10th, Harold left his battalion for Steenvoorde to undertake a week's training. A gas course took place later that day and on the Monday and Tuesday he had lectures and drill. More gas training was undertaken on Thursday and Friday. On Saturday 16th after completing his courses, Harold returned to his battalion, now at
St. Omer
, and on Sunday he attended a church parade. The following week was devoted mainly to battalion training and on Friday 22nd at 2am, they entrained at St. Omer for the village of
Nesle
. On Palm Sunday March 24th, Harold wrote that they'd marched to their transport under fire.

There was much fighting over the next week around the district of
Vermandovillers
and in a fluid situation, the battalion repeatedly repositioned itself. Harold made reference in his diary to a series of dug-ins, withdrawals and counter-attacks. This was the period of the German Spring offensive of 1918 and the Allied 5th Army was being driven back over the former Somme battlefields by overwhelming enemy numbers. Saturday 30th March was Easter Saturday and Harold wrote that they'd "Retired fighting towards Caix. Rallied & returned afterwards ordered by Brigadier to Moreuil." The battalion entered
Moreuil
on Easter Monday, April 1st, after the French had cleared the village of the German "Bosche". However, their withdrawal was temporary as Tuesday's diary entry reveals: "Bosche returns to village & attacks". Relieved by the French, the Sherwood Foresters then marched to the small town of
Hangest-sur-Somme
for some much-needed respite.

On Friday 5th April, the battalion arrived in the village of
Abbeville
. On the following day reinforcements arrived and there was another troop inspection by Field Marshall Haig. On Sunday Harold was the Orderly Officer, the officer of the day. It seems to have gone well as he wrote "Everything A1". On Monday 8th, Lt. Emblem prepared for a battalion parade which took place on the 9th. Harold wrote "Inspected & congratulated by Div. Commr." For much of the week they trained in the village of
Hangest
, before moving onto
Querrieux
via
Amiens
on the 12th. Harold added "Air raid – wind vert." to his diary entry.

Saturday involved reconnoitring and on Sunday 14th, Harold attended a church service at Querrieux. "Very tame day" Harold noted in his diary. He wasn't to know that that would be the last church service he would ever attend. Monday was devoted to "Continuous training" with "Nothing of importance" happening on the Tuesday. There were more troop movements over the next two days which ended at the Front Line near
Villers-Breton
on Friday 19th, where the Sherwood Foresters relieved other troops.

Saturday 20th March was another "fairly quiet day" although they experienced "gas into village" and Harold remarked that he was on patrol duty that night. On Sunday, Harold's unit patrolled to the front where they "met gas at Bosche line." He wrote in his diary that it was a "rum job". On Monday 22nd, Harold's penultimate day, he wrote how he'd pushed his platoon forward 100 yards, adding that it had been a "rough passage". Tuesday April 23rd 1918 was St. George's Day and it was the day that 20-years-old Harold was slain. His last poignant written words prior to being shot were "Sniping! Hope for relief."

Harold Emblem was posthumously awarded the Military Cross for his bravery. His citation, published in the London Gazette of July 26th 1918, explained what had happened on his last day:
For conspicuous gallantry and devotion to duty during lengthy operations. On the occasion of the front line retiring he went out of his trench, rallied the men, and then advanced with them for about 400 yards beyond the front-line trenches, causing a check to the enemy and delaying their advance for twenty-four hours. On many other occasions he has displayed great courage and fine powers of leadership.
Harold's heartbroken parents received several letters from his former colleagues, including one from
Lieut. Colonel R. H. Moore
who wrote:
He was a fine fellow, and he is a great loss to the battalion. I can assure you he did more than his duty during this last month of terrible war. I would so like to relate some of his magnificent deeds, but I am afraid that the censor would not allow them to go through.
In
Captain W. Weston's
letter he said "I loved him as well as my own brother". He also explained to William and Annie Emblem of Baxters Lane, Sutton, that he was with their son when he died. "His remains were buried under my supervision, and the spot marked bearing his rank, name, and regiment." However Harold's parents were never able to visit their youngest son's grave. They wrote to the War Office on March 12th 1919 requesting details of its location and on May 3rd received a response from the Graves Registration and Enquiries department. They said that Lieutenant Emblem is 'reported as buried at a point in the vicinity and on the West side of the Villers Brettoneux-Aubercourt Road, about 600 yards South of Villers Brettoneux Station.'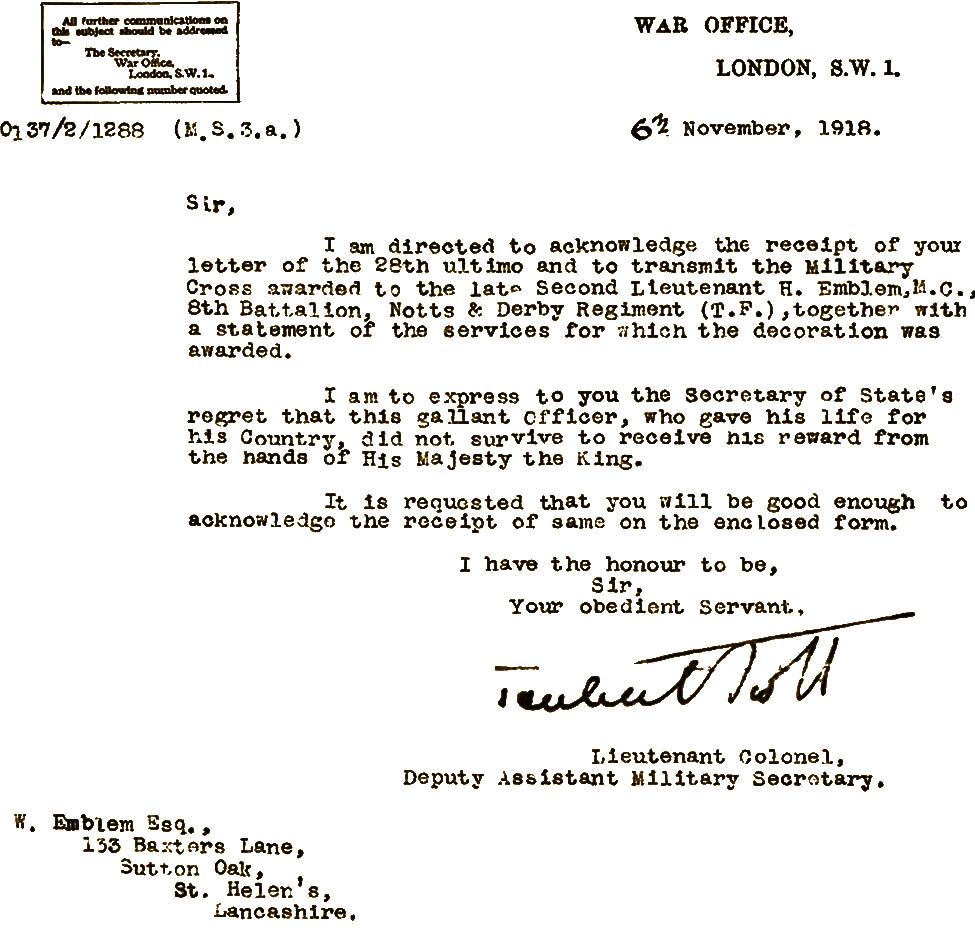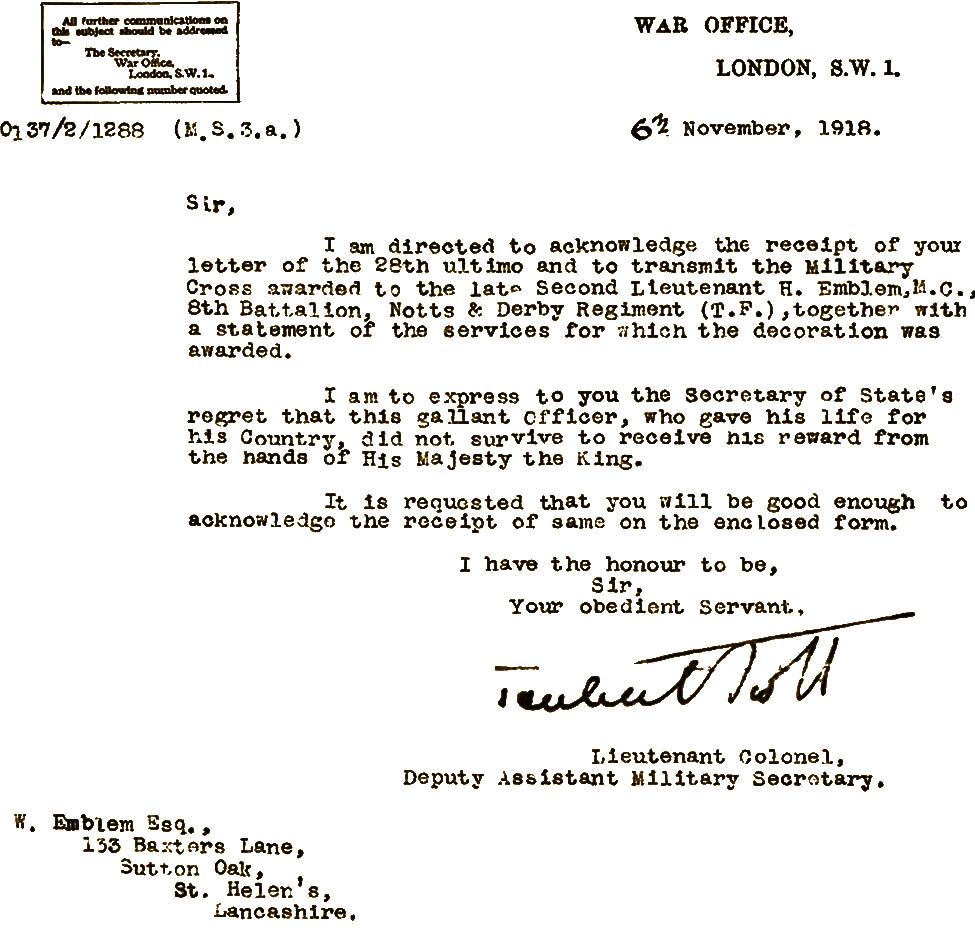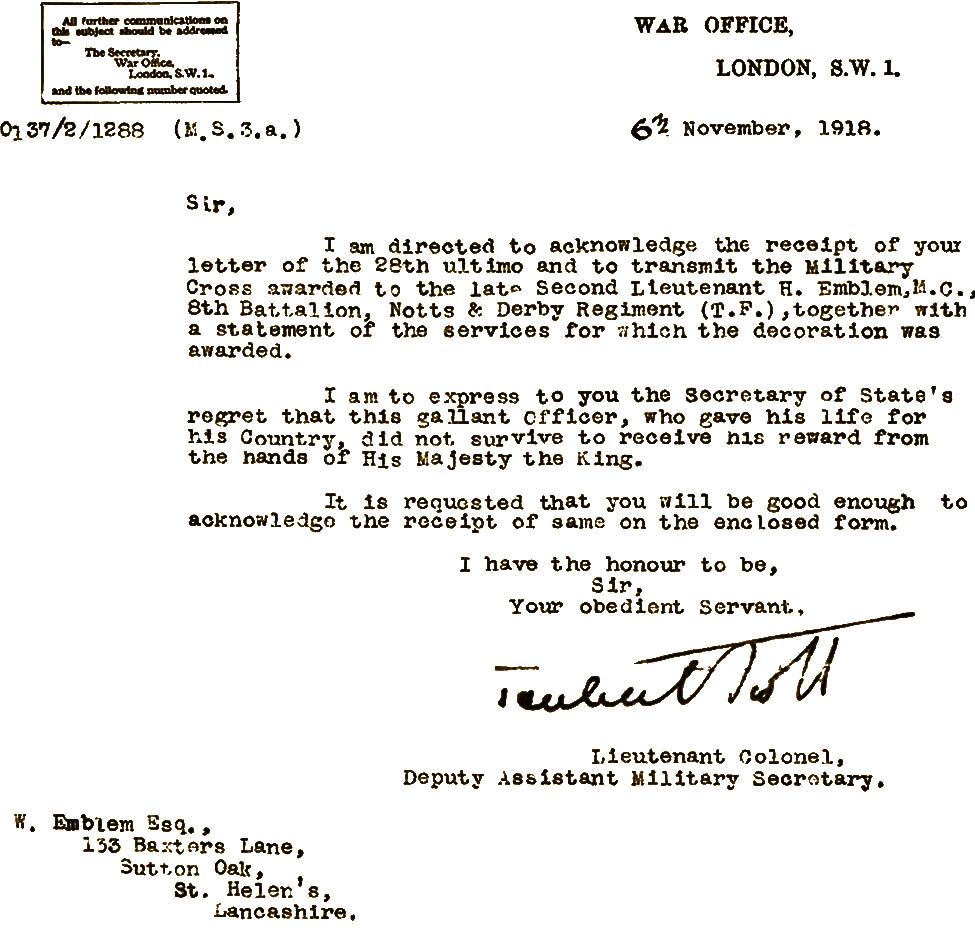 Like many other soldiers, his remains that were hurriedly interred and marked in the heat of warfare, were never recovered. Harold is instead commemorated on the
Pozieres Memorial
in France where many others who also gave there lives in the so-called 'Great War' are remembered. The young man from Baxters Lane and New Street is also commemorated on the memorial to fallen members of the Sutton Parish Young Men's Bible Class inside St.Nicholas church.
Thanks to Jim Lamb for contributing the Harold Emblem memorabilia
Copyright Notice / Factual Accuracy Statement

This website has been written and researched and many images photographed by myself, Stephen Wainwright, the Sutton Beauty & Heritage site owner. Individuals from all over the world have also kindly contributed their own photographs. If you wish to reuse any image, please
contact me
first as permission may be needed from the copyright owner. High resolution versions of many pictures can also be supplied at no charge. Please also contact me if you can provide any further information or photographs concerning Sutton, St.Helens. You might also consider contributing your recollections of Sutton for the series of
Memories
pages. Sutton Beauty & Heritage strives for factual accuracy at all times. Do also get in touch if you believe that there are any errors. I respond quickly to emails and if you haven't had a response within twelve hours, check your junk mail folder or resend your message. Thank you!
SRW