An Illustrated History of Old Sutton in St. Helens, Lancashire
Part 28 (of 92 parts) - Pubs & Beerhouses in Sutton & Bold Part 2 (M - Z)
An Illustrated History of Old Sutton in St.Helens
Part 28 (of 92 parts) - Pubs & Beerhouses Part 2 (M - Z)
An Illustrated History of
Old Sutton in St.Helens
Sutton Pubs Part 2 (M - Z)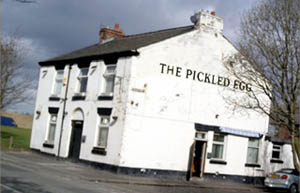 Manor Arms / House
-
351 Sutton Road - Renamed 'The Pickled Egg'
a
fter pub-goers' nickname for the hostelry - In April 1873 the licence was transferred from Maria Lecomber to Thomas Bullen and in July 1877 from James Rigby to James Milne. - In August 1878 it was transferred from James Mitre to Samuel Burrow - In March 1880 the licence was transferred from James Clough to Paul Rigby. Then in August 1881 it was transferred from Rigby to Andrew Moody. - The Manor Arms was put up for sale in June 1890. It was then occupied by a Mr. Moody and the freehold property was said to comprise 273 sq. yards. - In December 1892 it was transferred from Charles Green to Thomas Waywell and in February 1894 from Waywell to Valentine Walls - The licensee in 1901 was William Middlehurst and in 1911 it was Henry Brown with Minnie Jackson the publican in 1939 -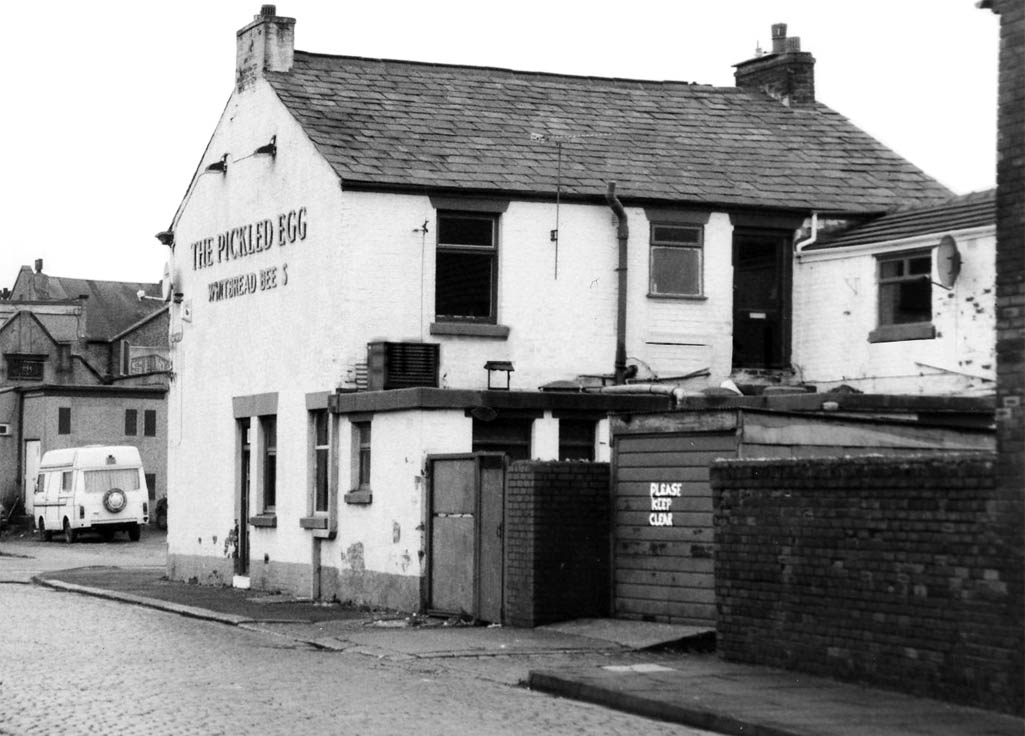 Mechanics' Arms
-
Beerhouse at
38
Ellamsbridge Road (originally 38 Peckers Hill) - Nicknamed 'The Staffordshire Knot' - In 1870 John Critchley became licensee. In 1874 he sued lodger Joseph Greenough for breach of promise and seduction for getting his daughter Margaret "in trouble" and changing his mind about marriage. Critchley was awarded £150 damages. - On September 6th 1875, John Critchley and wife Jane summoned Thomas Brown of the Victoria Vaults for assault. They alleged that Brown with others entered their pub and began fighting, violently striking Mrs. Critchley over a table and causing much damage to glasses and jugs. Brown was fined a total of £4 5s. for the assaults and damage. - In July 1877 the licence was transferred from James Milne to William Tickle. - George Dootson was publican in 1881. - In August 1882 licence transferred from Alexander Laird to James Felix then to Joseph Ehrat in June 1884 - On October 31st 1892, licensee Alfred Stockton appeared in St.Helens Police Court charged with selling beer during prohibited hours. Customers John Williams of 132 Herbert Street, John Hogg of 44 Ellamsbridge Road, Thomas and James Ward of Leach Lane and Michael Murphy of Junction Lane were also summoned for being on licensed premises during prohibited hours. The bench dismissed the case. - Licence transferred from Alfred Stockton to Samuel Mason in August 1893 - In February 1894 licence transferred from Samuel Mason to Edward Williams - In November 1899 transferred from Edward to Margaret Williams - In the 1911 census, 38 Ellamsbridge Road had become a chip shop.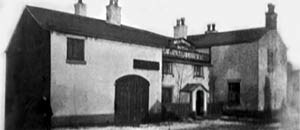 Mill House Inn
(now known as The Millhouse) - 172 Mill Lane - The Mill House was built by John Binns, who also constructed Bold Bridge - The inn takes its name from the former
water corn mill
that was located on the opposite side of Mill Lane - During the 1840s / 50s it was owned by a William Cross, a lawyer practising in Prescot, and brewer John Birchall, who also owned
Leather's Brewery
. - In 1841 the landlord was William Liptrot and his daughter Sarah had married Sutton miller Silas Lamb two years earlier - The landlord in 1851 was Robert Bolton, who was also a gardener and in 1871 it was Joseph Ball - On December 29th 1881, 77-year-old labourer Samuel Helsby of Marshalls Cross burned to death in the taproom at the Mill House, having accidentally fallen into the fire. - William J. Cope became licensee in May 1889, taking over the licence from John Roscoe. Cope was also a successful tent and marquee maker and lived in Mill Brow in the house also known as Mill House (more details on Cope
here
) -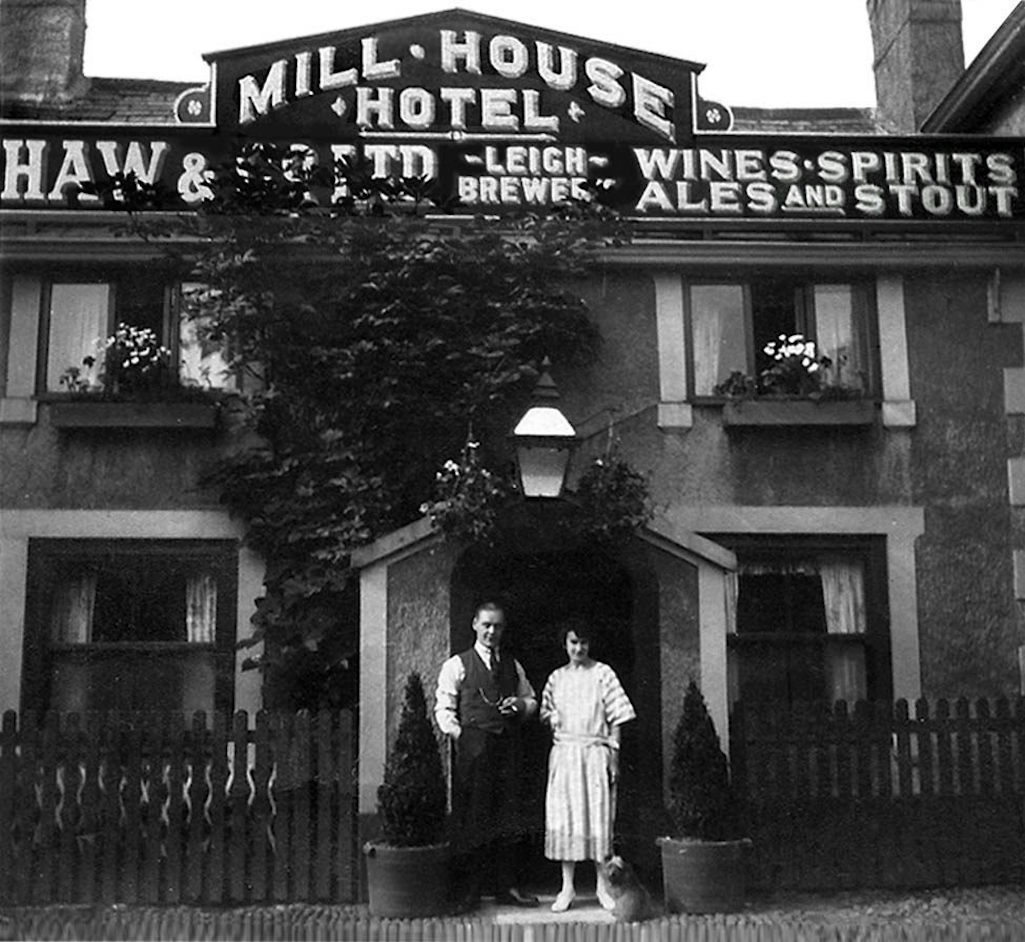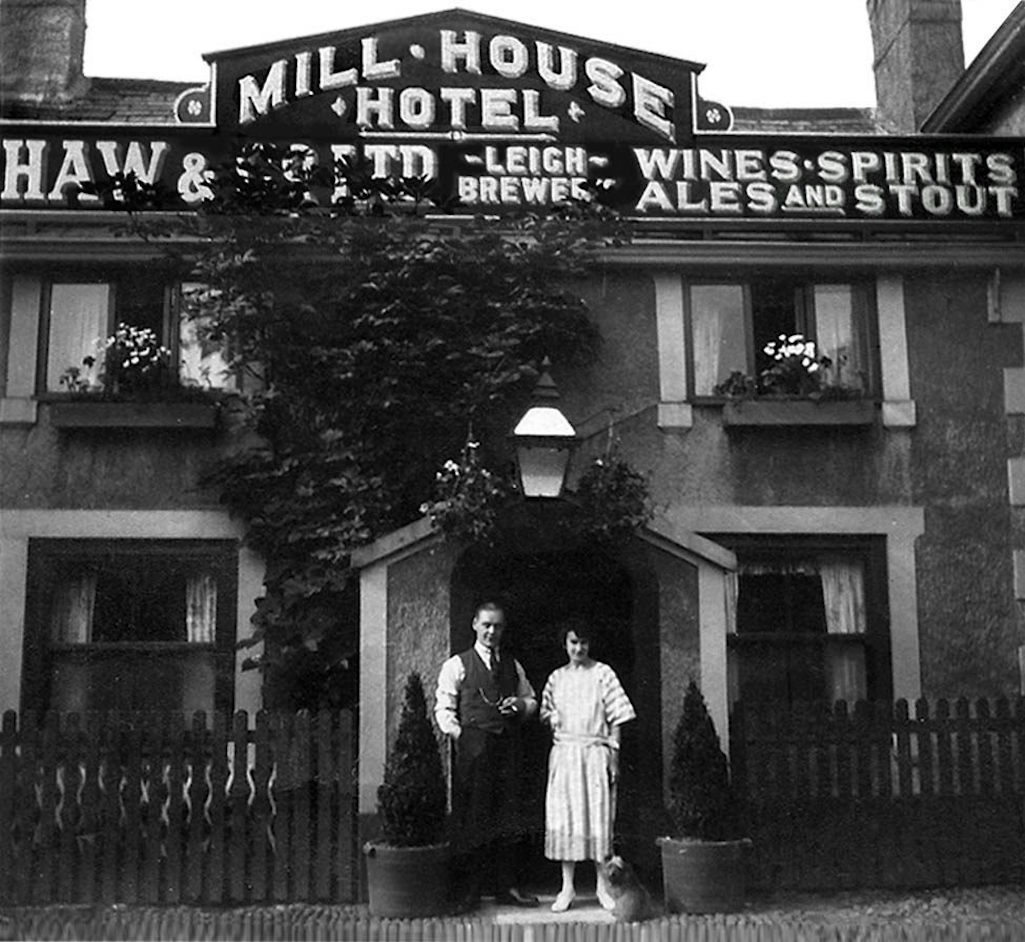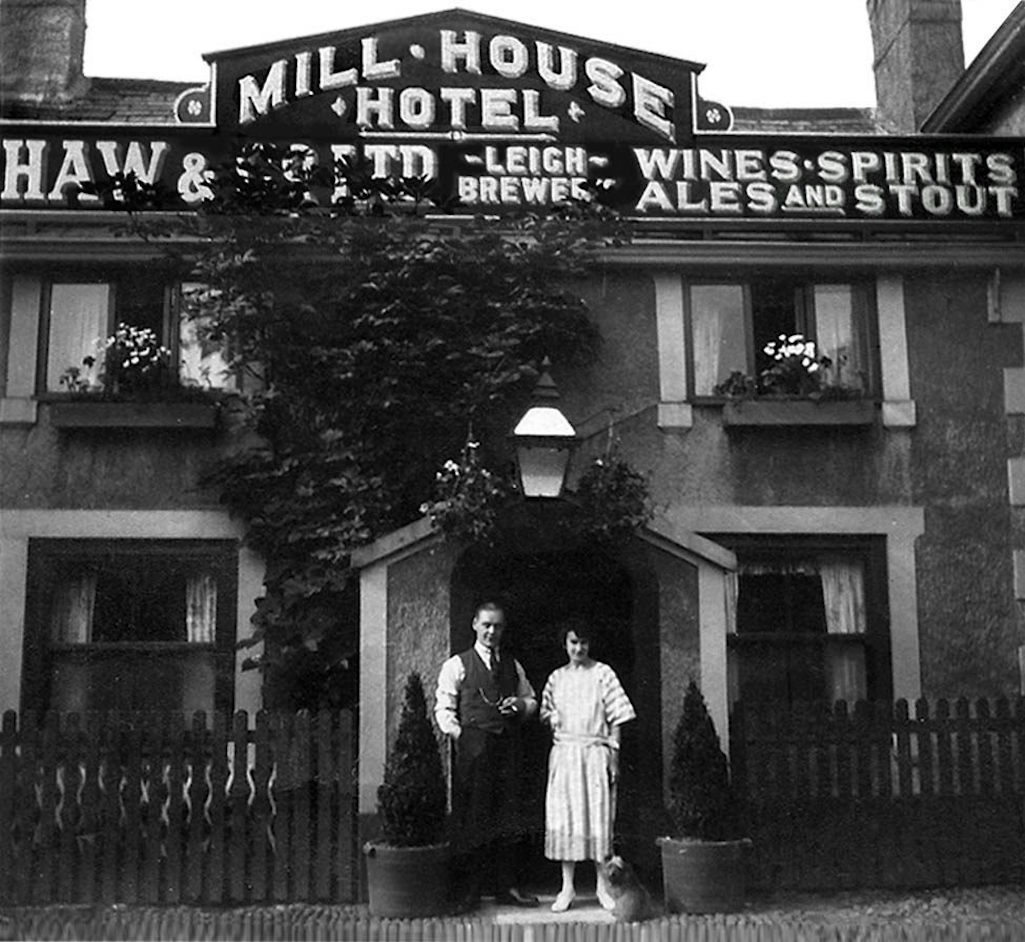 James Walls succeeded Cope as licensee in May 1899 but was quickly replaced by John Latimer. In November 1899 brothers-in-law Thomas Holland and Ambrose Price were convicted of wounding Latimer by breaking a poker over the landlord's head. Holland was fined 15 shillings in St.Helens Police Court. - In 1906 the licensee was Valentine Walls who was fined £5 in October by St.Helens magistrates for not having a licence for his landau (4 wheeled carriage with top) - In June 1914 the licence was transferred from Samuel Tickle (who was also an engine winder) to Henry Greenall - William (Billy) Lawrence took over the licence of the Mill House c. 1922 after marrying Gladys Jones. Billy was the son of William Lawrence (Snr.) who had kept the Junction Inn. - During the late 1930s the Mill House underwent a complete modernisation and refurbishment by Walkers Brewery. This was probably motivated by the opening of the Wheatsheaf Hotel nearby and the building of a significant number of new houses in Mill Lane and its surrounds. These increased the number of potential customers, which would help to support the cost of the refurbishment. - Billy Lawrence died c.1940 and his widow persuaded the brewery to let her have the licence. Gladys Lawrence left the Mill House in 1956 after over 30 years as mine host to become licensee of the newly-built Woodlands Hotel in Haresfinch. - It was renowned for its piano singalongs and was said to have been very popular with the Americans stationed at Burtonwood. - By the 1970s there were four separate rooms: bar, snug, central area by the counter and jukebox room, replacing the piano.

In 1983 £70,000 was spent by Tetley Walker in refurbishing the Mill House. After a period of closure it reopened on December 6th with new landlord Alec Humphrey. The alterations included the relocation of the bar and the creation of a new kitchen area. An article in the St.Helens Reporter from December 2nd 1983 said: 'The concept of the new interior layout is clearly established as a single-roomed pub with a variety of alcoves, each with its own characteristics. Split level lounges, feature fireplaces and Chesterfield settees all help to produce a more exclusive atmosphere. The exterior of the Mill House has also had a facelift and the car park is to be extended and resurfaced. A traditional beer garden is being created to the rear of the premises which will take in swings and slides. This will help to develop the Mill House into a good family pub.' - It was again extensively refurbished during the Summer of 2015 and after a period of closure, reopened at the end of August. In a prospectus published prior to the refurbishment, Star Pubs & Bars wrote: 'Currently, the Millhouse is a substantial two bar operation. It is divided into a large lounge, which can accommodate up to 60 covers and a separate games room. There is also a large patio with wooden benches to the rear of the property and a car park at the front with room for 40 cars. The venue currently enjoys a busy evening and weekend trade with customer numbers driven by live music and other entertainment.' Their refurbishment included new exterior feature lighting and signage based on a windmill. Inside new floor to ceiling folding glass doors were installed, leading out into the garden. A bar servery has been revived and the back bar reconfigured and a new meeting room / private dining room created to cater for business meetings and clubs. - (Also see
Memories of Sutton 9
)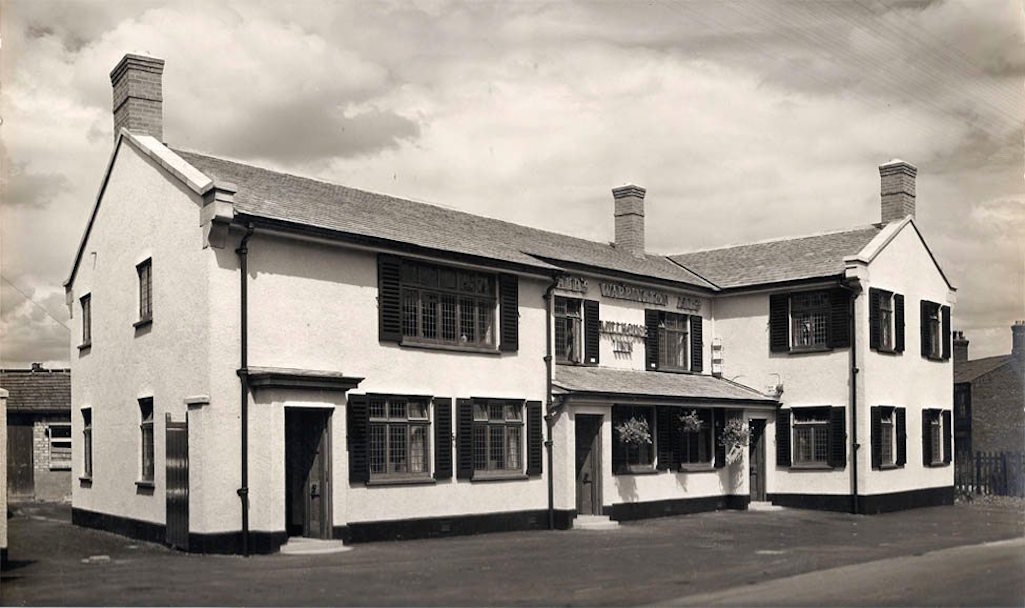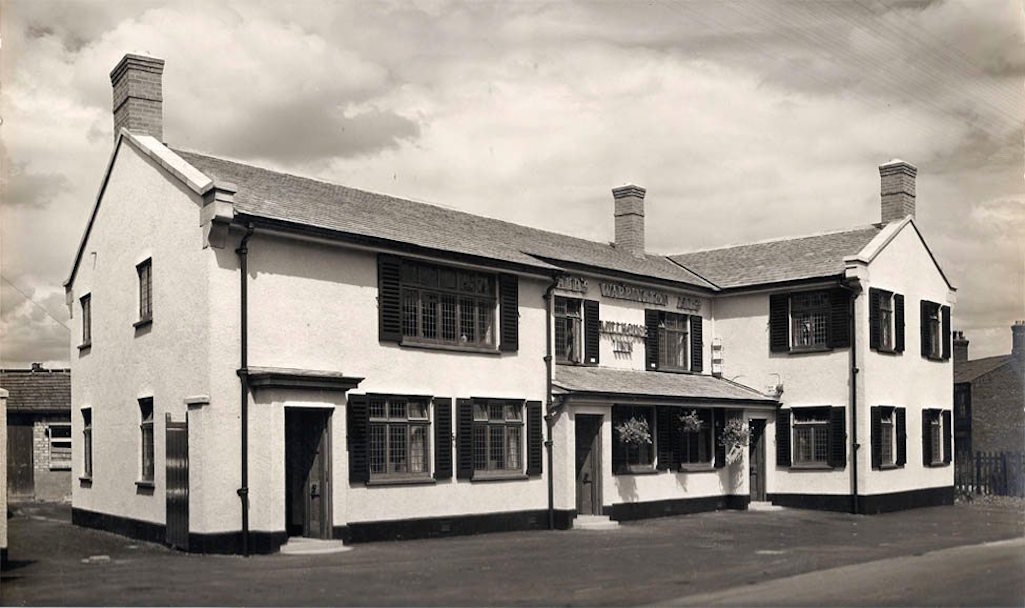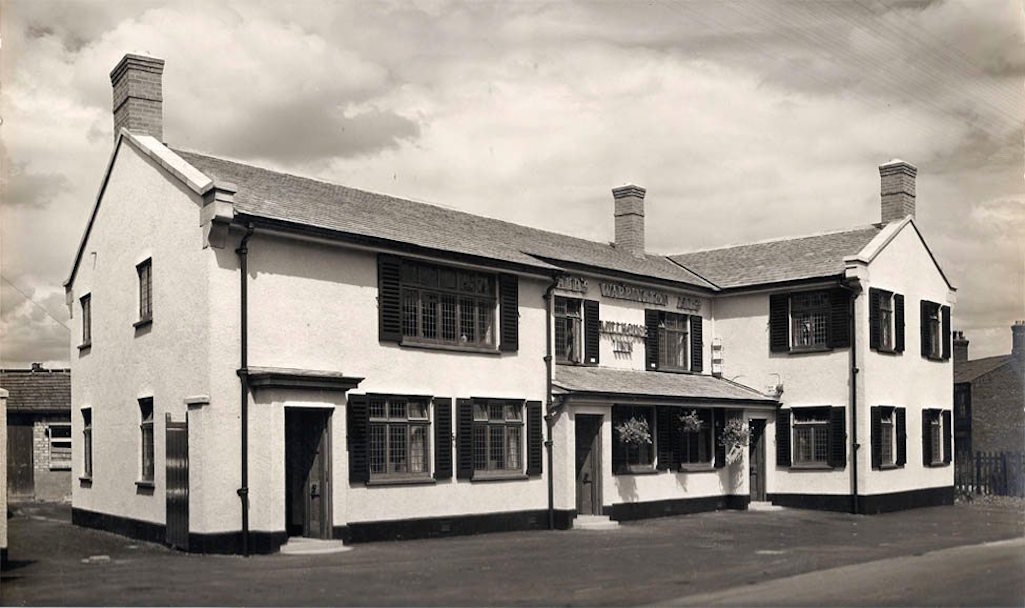 Navigation Tavern Inn
-
William Bate licensee in 1800, Elizabeth Hollihead in 1851 and George Nortcliffe in 1863 - Numerous inquests were held at the pub during the 19th century - It was in close proximity to St.Helens Canal and many suicides or accidental drownings took place there. For example, on December 10th 1866, the unfortunately named Mary Death fell in and on June 20th 1868, 50-year-old William Gillibrand of Greenough Row, Sutton threw himself into the canal by the tavern. On November 11th 1850 a woman described as an "itinerant female vocalist", accidentally walked into the canal but survived. - In 1876 new, larger premises were built closer to the canal with the then licensee Miss Vortcliffe. -



New Vaults (Inn)
-
90 (or 94)
Peasley Cross Lane - listed in Worrall's 1871 Directory - John Wilson licensee in 1881 census - James Moyers licensee in 1891, vacated in August 1899 - J. T. Greenall was licensee in 1911 - Thomas Rennie was licensee in 1939 -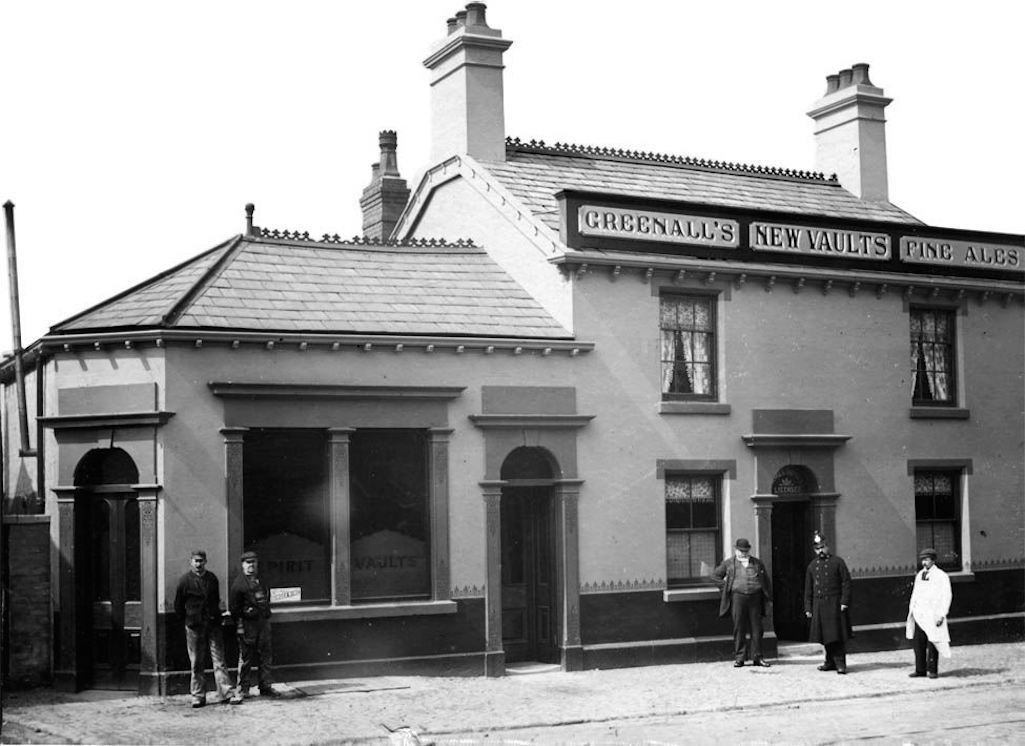 Oak Tree Inn
-
8 Gerards Lane - major building contractor
John 'Bally' Whittaker
, who was 31 stone, was licensee c.1880 -

Pear Tree Inn
-
Collins Green - built by John 'Bally' Whittaker -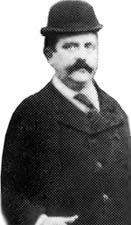 Phoenix Brewery
-
78
Peckers Hill Road - it supplied ale both to pubs and (from 1892) direct to the public - Founded by Jane Barrow, by the 1860s it was run by Thomas Barrow. It was later owned by the Wilcock and the Finlay families. - Proprietor Charles Wilcock also owned a wholesale provision and provender warehouse at the corner of Baldwin Street and Cotham Street in St.Helens and a wholesale wine and spirit business in Barrow Street. Wilcock represented Sutton on the Board of Guardians for four years prior to his death on January 28th 1877 aged 58 years. According to the St.Helens Newspaper's account of 3/2/1877, he died in his carriage on his way home from Sunday mass at Lowe House: '…he suddenly threw up his arms and exclaimed "The Lord have mercy on me," and fell towards Mrs. Wilcock and expired'. Wilcock was a benefactor to the poor and was said to have given gifts to 50 people each week. - On August 31st 1892, Phoenix Brewery was granted an off-licence in addition to its wholesale licence. It promised the magistrates that there would be no 'jug' sales. The brewery was moving into the bottling business but would not make any sales to the general public of less than a dozen bottles. It was then run by Thomas Charles Wilcock, who was also an Alderman, Lieutenant-Colonel and Chairman of the St.Helens Committee managing the Saints rugby club. C. Wilcock and Son also owned a number of public houses, including the Railway Inn in Worsley Brow and the Bowling Green Inn in Moss Nook. - In February 1894 the Phoenix Brewery retail licence was transferred to Ann Wilcock.

Albert Davenport ran the brewery until his death in February 1907 - Henry Finlay bought the brewery later that year for £500, plus an agreed price for stock and in 1911 made it into a limited company. Finlay owned £500 of shares and a Mr. Halesworth, a maltster, held a further £500 shares, plus a £1000 debenture. In July 1912 Henry Finlay was made bankrupt. In a hearing at the Liverpool Bankruptcy Court, the brewer said his predicament was caused by patenting a non-intoxicating beer. He had wrongly thought that it did not require a licence due to its low alcohol content. However the Excise authorities had prosecuted one of his customers and Finlay had financed an unsuccessful appeal to the Court of King's Bench. This had cost him almost £300, after his solicitor had told him it would only cost £30. - On November 10th 1914 Phoenix Brewery was auctioned as a going concern by J. B. & B. Leach. - During the 1930s the brewery was owned by Arthur Vaughan who also also had premises at 41 Duke Street, St.Helens and owned Birkdale Brewery of Southport. On May 27th 1937 after the death of Vaughan, the Phoenix and Birkdale breweries were sold to Catterall and Swarbrick's Brewery Ltd. of Blackpool, who then appear to have closed the Sutton business.On November 3rd 1972 this article on Phoenix Brewery was published in the St.Helens Reporter: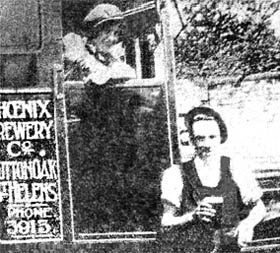 The old Phoenix Brewery has risen from the ashes of the past. And the man who has stirred the embers is 63-year-old Tommy Hand from Whalley Avenue, St. Helens. Tommy read my earlier piece about the old time boozing scene around St. Helens region and chipped in with his recollections of the Phoenix, which bubbled and frothed in Peckers Hill Road, Sutton, until the mid Thirties. It was then demolished after being in existence for something like a century. Tommy, who worked there for 12 years after leaving school in 1923, remembers two standards of beer…four old pennies a pint and five pennies a pint. They brewed mild, "Old English," extra stout (oatmeal) and Indian pale ale. "The old slate vats and copper vats were kept spotlessly clean," says Tommy, who began at the Sutton brewery as a 14-year-old bottle labeller. For his three-days-a-week labours, he got the princely sum of 37½p. Tommy went full time, was promoted drayman and next stepped up the ladder to become working brewer and cellarman.

It was one of the true family outfits, when Tommy began at Phoenix. It was owned by a man named Davenport – there's a familiar beery name for you! – who emigrated to South Africa to brew "joy water" out there. A man called Cowley (an old Sutton brewer) was next owner. Then it passed from Harry Findley to A. C. Vaughan, the last boss of the Sutton beers. Says Tommy: "There was a showground behind the brewery where fairs and circuses were held. Next door, in Phoenix House, was a doctor's surgery." Which was very handy, I suppose, if you got a drop too much of that pre-war full-strength liquid and fell off the cocks and hens!.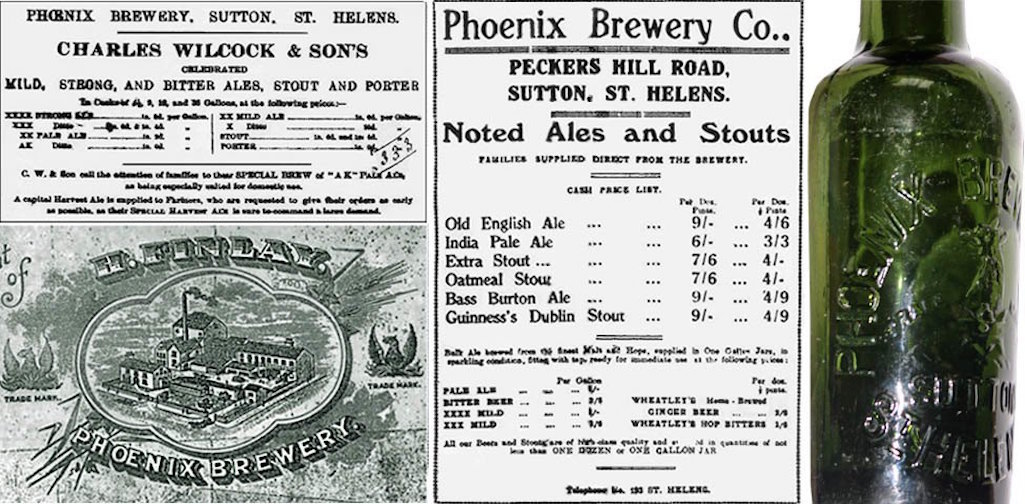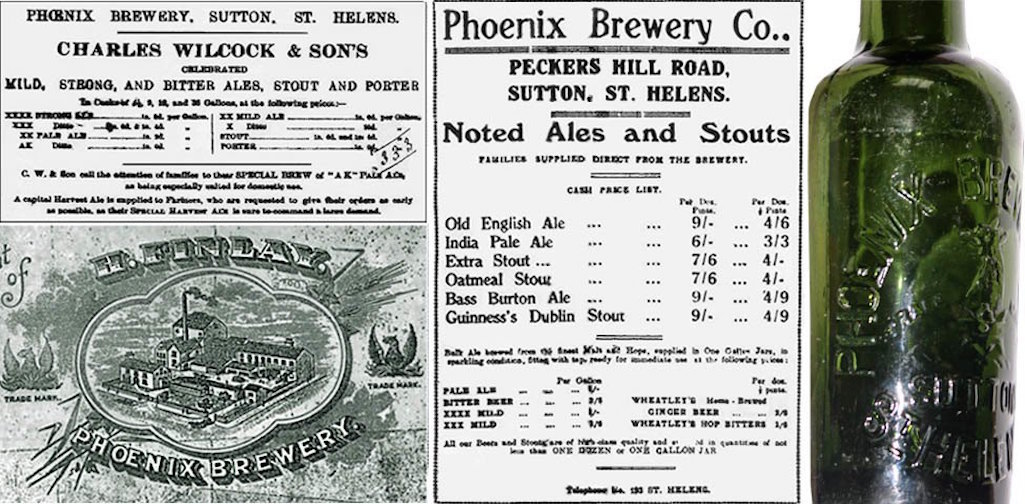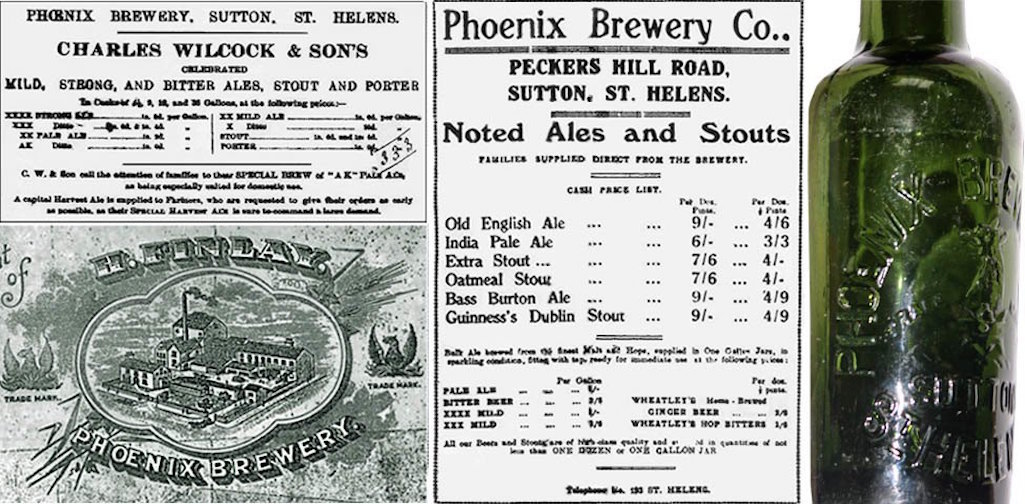 Pickled Egg
-
see Manor Arms

Pig and Whistle
-
Ell Bess Lane (later 148 Sherdley Road) - In August 1879 its licence was transferred from James Marsh to Peter Marsh. - On Sunday September 25th at 10:15am, Sergeant Brooks was watching the rear of the Pig and Whistle when he saw a little girl come out. He entered and found a man named Thomas Lyon of Sutton Street in the kitchen with a pint mug of beer at his side. Landlord Michael Duffy claimed at first that Lyon was his brother, but then admitted his guilt, pleading to the officer "For God's sake don't report me; it will ruin me". Duffy was fined £1 and costs for selling beer during prohibited hours and Lyon was fined 7s. 6d. - In July 1892 the licence was transferred from John Molyneux to Albert Edward Johnson - In 1911 it was David Wilson as licensee although the beerhouse seems to have been run by his son Harold - Peter Arnold was the publican in 1939.
Plough Inn
-
Hoghton Road - Closed September 1912 -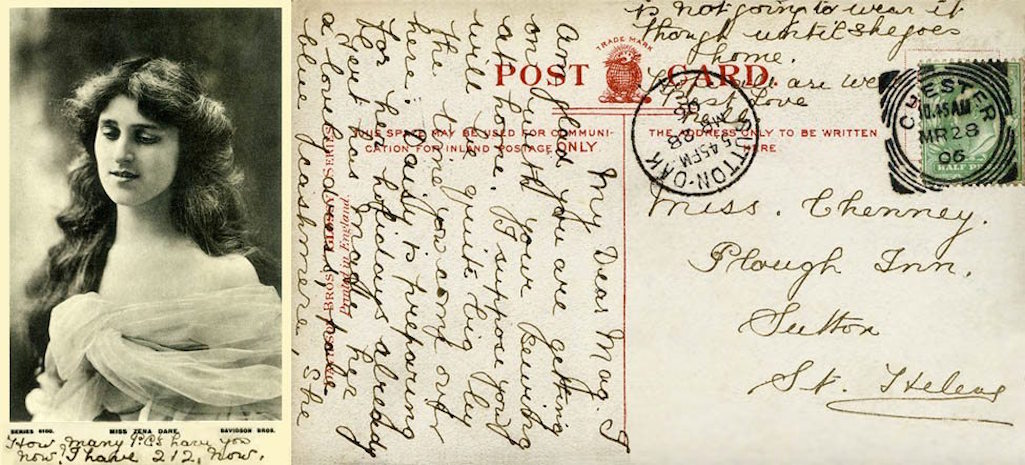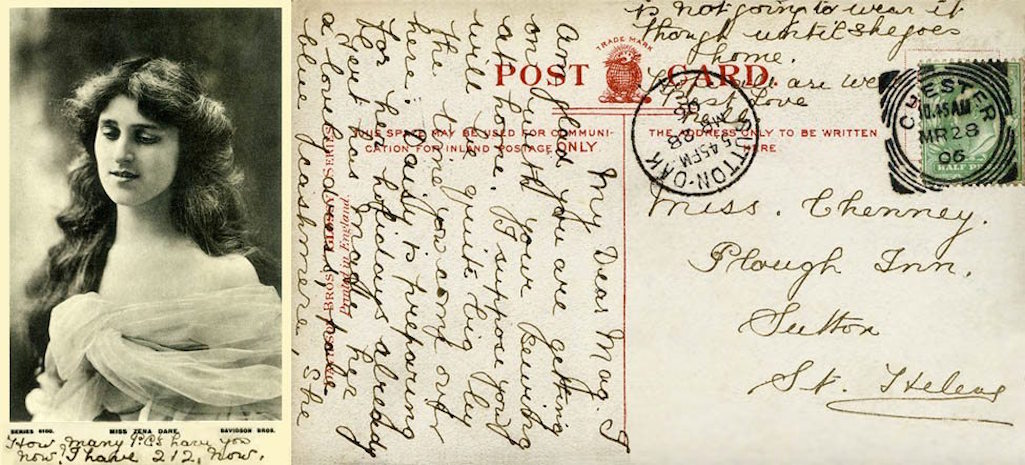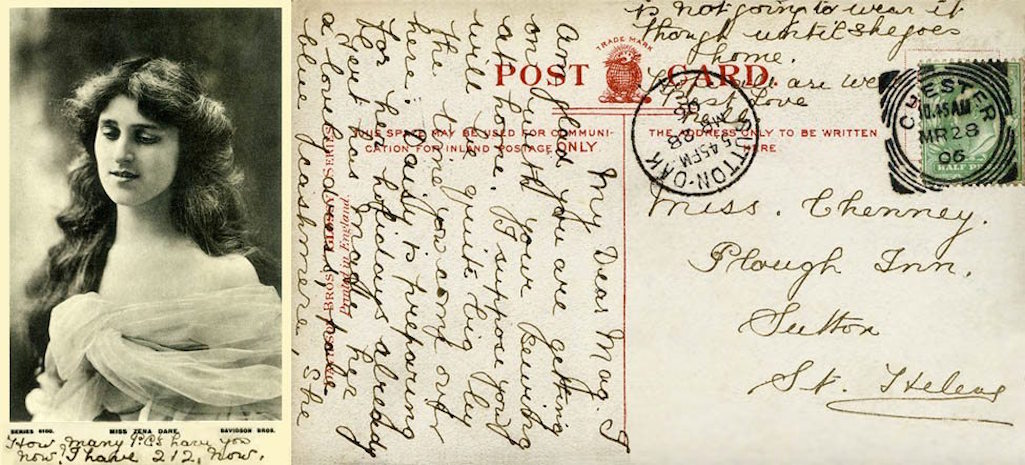 Prince of Wales Hotel
-
2
Junction Lane - In December 1868 the pub's licence was transferred from Lionel Swift to John Hamblet - In April 1874 licence transferred from Margaret Houghton to Ellen Kenyon who in the 1891 census was listed as the 78-year-old licensee with Ellen's grandson John Houghton as manager and later licensee. He died on January 7th 1907 and his widow Julia Houghton became the publican and is listed as so in the 1911 census. - Michael King got into a fight with a man named Kennedy on April 9th 1916 at the Prince of Wales Hotel. Patrick Goodison went between the pair to separate them but later discovered that his watch, chain and medal were missing. Police Sergeant Harvey went to King's lodgings at 8 Alice Street in Sutton, and found the items inside King's pockets. On the following day the colliery daywageman appeared in court denying the charge and saying he'd no idea how King's possessions had found their way into his jacket. The magistrates fined him £1. - Norman Edwards wrote in Whalley's World in the St.Helens Star
(3/8/2006)
, that every Sunday his grandfather preacher Lot Kitts and his mission would position themselves in Junction Lane in front of a small police-box to "blast anyone entering or leaving the Prince of Wales pub" with fire and brimstone warnings for "anyone sober enough to listen".

Meetings of the Greenall Whitley Darts League of St.Helens were held at the Prince of Wales. - Charles Hustwick was listed as licensee in the 1939 Register - Gerald Barnes was licensee during the 1940s and '50s and he also obtained licenses to serve alcohol at functions in St.Helens Town Hall. - On October 3rd 1945 Barnes gave evidence at the inquest on a newly-born child, who he had discovered in a locked wardrobe of a room in the hotel. Ellen Carney of Lowe Street, who had been barmaid-general at the Prince of Wales for 5 months (and lived in for 3 months), had occupied the bedroom. Barnes said he found the child in a parcel in the wardrobe with its legs visible. Police surgeon Dr. Archibald Ferrie told the coroner that he thought it was a still birth, although he couldn't be sure. - In July 1949 the Prince of Wales's first annual trip by male OAP customers to Frodsham and Chester took place. They were each given £1 spending money with the cost of the trip coming from subscriptions and collections. Lunch was had in Frodsham with tea enjoyed in Chester and upon their return to Sutton, the group were entertained by a concert party in the Prince of Wales's large singing room. The pub's committee who organised the annual event during the '50s were J. Fallon (secretary), Mrs. Barnes (wife of licensee, treasurer) and chairman Ralph Fairclough / E. Burrows. From 1952 women were allowed to go on the trip, which only visited Chester. - The building is now used as Thrifty's Convenience Store (pictured below) and with a cash machine on its exterior, is regularly visited.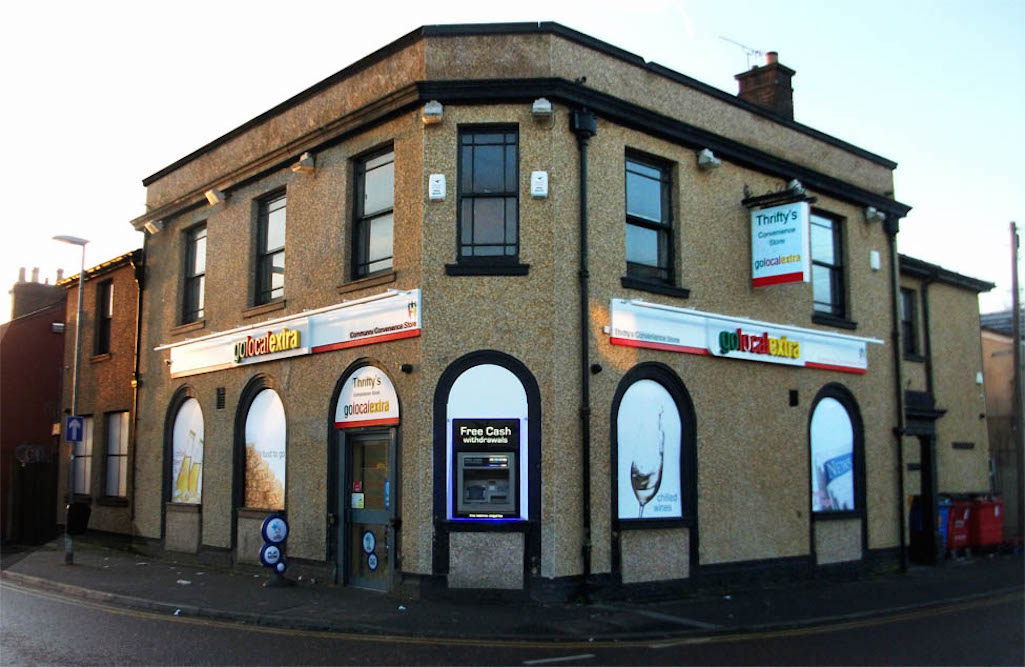 Prop and Pony
-
Elton Head Road, Sutton Heath
- It became Yanks (see listing below) on July 4th 1983 with its last manager being Dave Williams, who became the first manager of Yanks.
Queen's Arms / Head Inn
-
17
Worsley Brow
- Listed in Worrall's Directory of 1871 - In June 1878, William Whittaker was granted a music licence. On January 24th 1885, Whittaker took part in a pigeon-flying match from St.George's Hall, Liverpool against another St.Helens publican, William Houghton. Whittaker's pigeon returned to the Queens Arms seconds after Houghton's bird arrived at his pub, losing Whittaker a £25 bet. - Mr. Horrocks was licensee in 1911 - Landlord Thomas Dean was fined £12 in February 1917 for selling whisky in an unlabelled bottle during prohibited hours to undercover PC's Maddocks and Perkins. Dean also allowed the constables to buy drinks for each another (known as treating), which had been made illegal under the Defence of the Realm Act. He told the court that he had been in the business for nearly 40 years. - Closed 10th March 1931.


Railway Inn / Hotel
-
10 / 12 Worsley Brow - The licensee in 1861 was 44-year-old James Thompson - Listed in Worrall's Directory of 1871 - In April 1876 the licence was transferred from G. Aspey to Thomas Mills (or Milne) and in July 1881 from Mills to William Burrows, who was licensee for 15 years. - The Railway was owned by Thomas Wilcock, who also owned Phoenix Brewery. - Colliery owners and manufacturers paid for an annual dinner that was held at the Railway Inn for brakesmen, shunters and signalmen who worked in the various sidings that connected their works with the main line. The men of the London and North-Western Railway Company's traffic department also held their annual dinner at the Railway. - The inn was put up for sale by auction in April 1896 and was said to cover 250 square yards including outbuildings. - The Liverpool Mercury of October 24th 1896, reported that during the previous day, William Burrows, who had been unwell, had 'suddenly expired' after going for a walk. - In February 1897 license transferred from William Burrows to Ann Burrows - On January 5th 1900, Ann Burrows was convicted for permitting drunkenness on her licensed premises and fined 40s. - Licensee Thomas Taylor was also prosecuted in September 1906 for serving a drunken person, Enoch Austin of 2 Watery Lane, but was cleared of the charge. - Closed 18th January 1935 -


Red Lion Inn
-
Originally listed in censuses as being in Ditch Hillock then in later censuses as 194 Robins Lane. - The Red Lion has been nicknamed 'The Glass Barrel' as such a barrel hung over the doorway of the original inn. - In December 1871 the licence was transferred from George Sutton to John Hamlet Norris (1828 - 91). After the death of Norris's wife Jane in 1876, the licence was transferred to James Stevenson and then to Thomas Lunt in July 1877, who was made bankrupt in 1879. - In 1881 the publican was Elizabeth Rigby. - By 1888 the licensee was James Baldwin and during the Sutton Glassworks strike in late 1888 / early 1889, Baldwin distributed soup and other food once a week to stricken families. - On December 23rd 1889 James Baldwin appeared in court charged with selling adulterated whisky. Inspector Steele and a constable had purchased the spirits from the Red Lion, which the landlord had bought from Wilcock's wholesalers. As the whisky was only just over the permitted water level, the case was dismissed upon payment of costs. - During the night of December 10th 1891, the Red Lion was severely damaged by a storm. A chimney stack crashed through the roof into a room occupied by James Baldwin and his family who had a narrow escape
.
- In 1892 an application was made to transfer the Red Lion's licence from Baldwin to James Pilkington. However, doubts were raised as to the moral fibre of Pilkington with the Liverpool Mercury (14/6/1892) reporting allegations that he was a ladies man:
Chief Constable Wood stated at the last transfer day that he had been informed that Pilkington had got five women into trouble, and he opposed the granting of the licence until he had made inquires into the matter. Since then one young woman had taken out a summons against Pilkington, and it would come on for hearing on Friday next. He had not heard anything further as to the other four women. In answer to Mr H. L. Riley who appeared for Pilkington, Chief Constable Wood stated that he knew Pilkington denied the paternity of the child. He also knew that the girl had made the same charge against a member of the police force. Mr Riley addressed the court on Pilkington's behalf, stating his sister would attend to all the domestic arrangements of the house. Pilkington had received a testimonial of the highest possible character from his former employers Messers (sic) Pilkington Brothers for several years service.
Pilkington did win his licence but in February 1893 it was transferred to Charles Nicholson - In August 1893 the licence was transferred from Nicholson to Peter Webb and in November 1894 from William Lythgoe to William Albert Battersby - The pub was put up for sale by auction in April 1896 and was said to cover 351 square yards, including outbuildings. - In September 1896 permission was granted by licensing magistrates to convert two rooms into one - Sarah Battersby, widow of William, was granted the licence c.1896 and in 1898 she married railway labourer John Armstrong. He was dismissed by LNWR as they wouldn't allow him to live in a pub. Sarah was forced to give up her licence after getting into arrears with payments to the brewery. John Charles Armstrong who acted as her manager, was declared bankrupt in February 1900 after borrowing a total of £70 from four moneylenders to help develop the business. - Sutton Harriers met at the Red Lion and in October 1899 their 'first annual smoking concert' was recorded by the St.Helens Newspaper - Charles H. Rainford granted licence in February 1900. - On November 15th 1900 James Shepherd was fined 40 shillings for stealing 7s. 6d. from the Red Lion's till after ordering a pint. - James Catherall was licensee in 1911 - Elizabeth Cole was granted a temporary licence in June 1916 as her licensee husband had joined the army - Charles Asson was in charge in 1939. - The St.Helens Reporter announced on April 6th 1963 that the Red Lion Hotel was going to be demolished and a new pub would be built on land at its rear. At a licensing session on April 1st an application for the provisional transfer of licence from the old hotel to the new one was granted. The present day car park was built on the site of the old premises.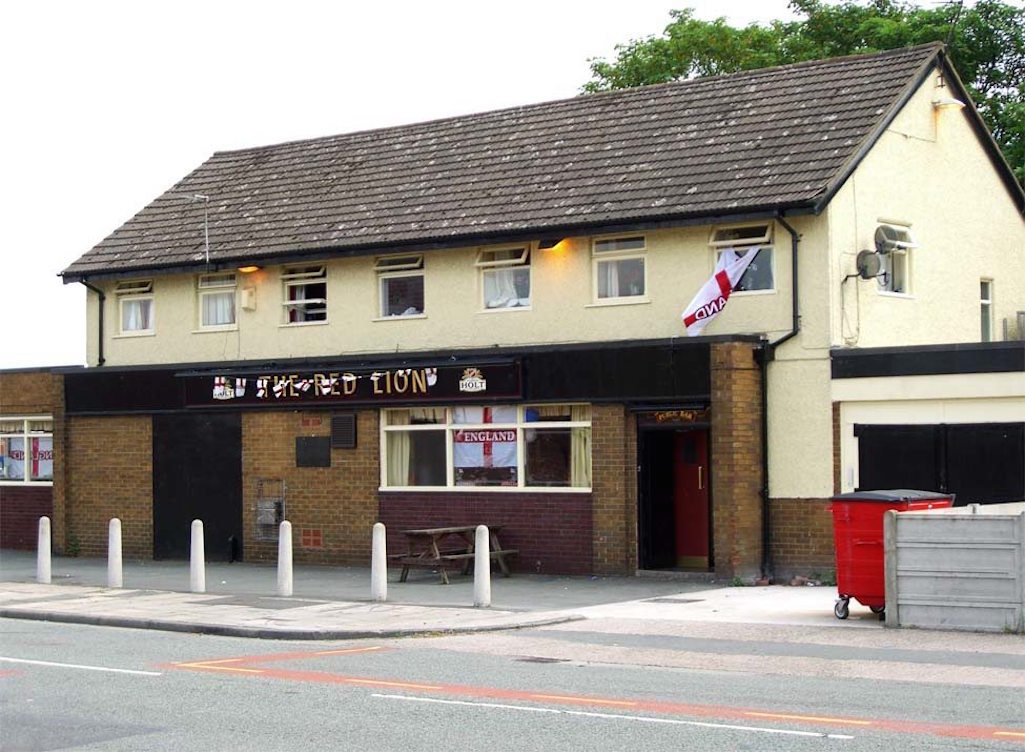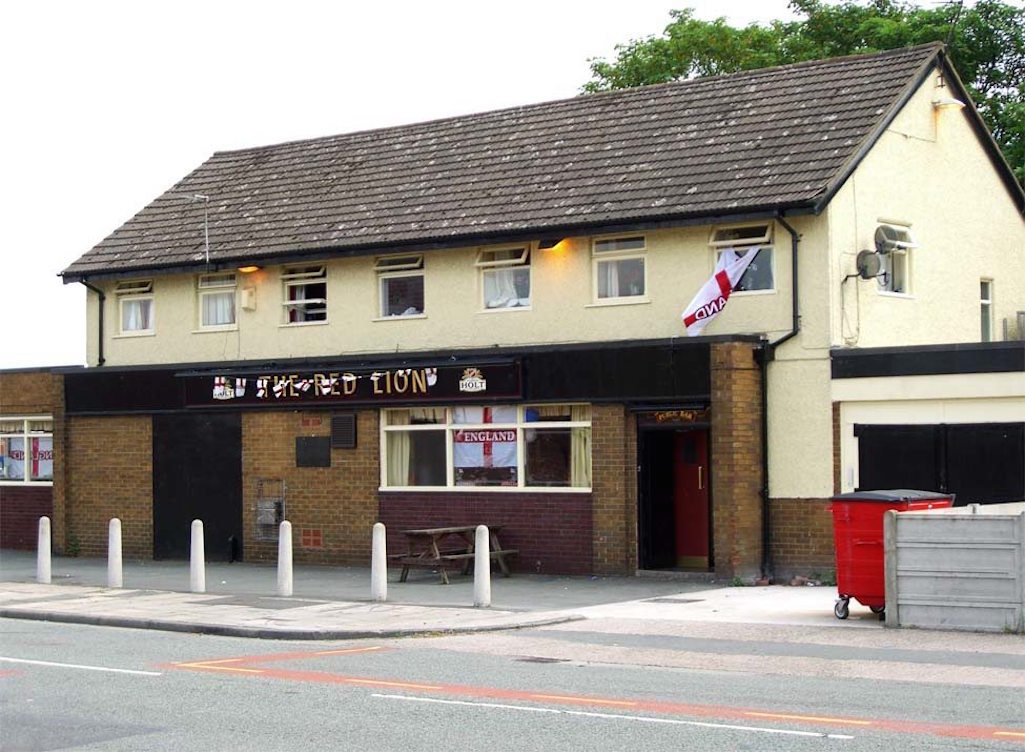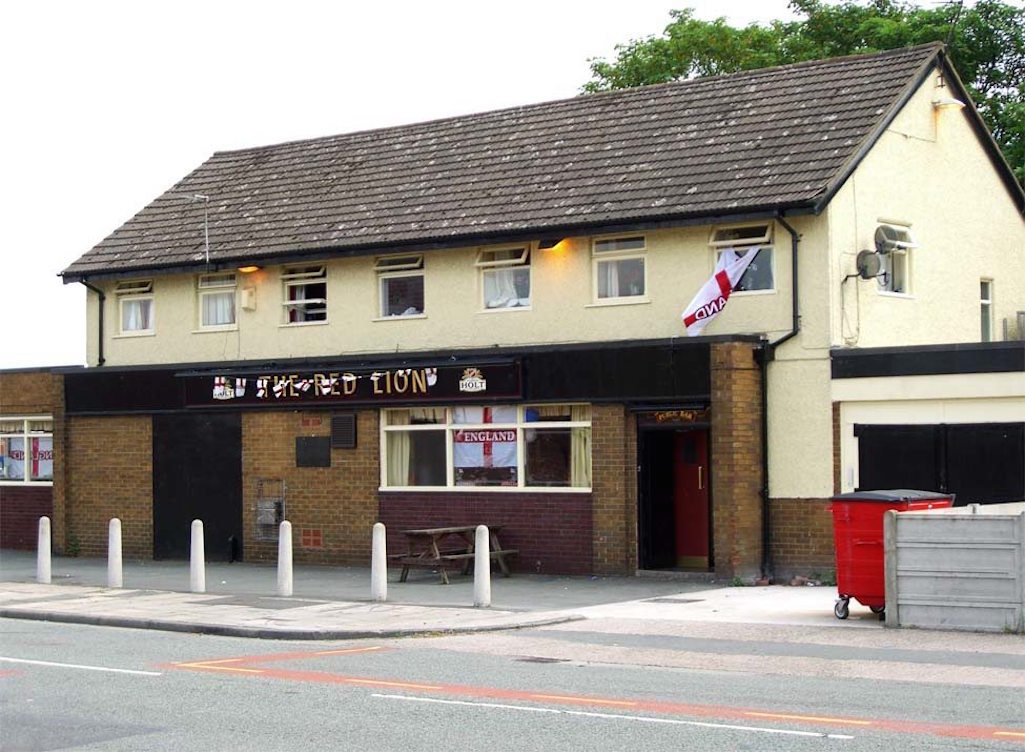 Red Rat
-
2
Ellamsbridge Road (at the end of the road, adjoining the brook) - Opened around 1850 - In March 1880 the licence was transferred from Ralph Unsworth to James Barton. Upon his death James's wife Mary Barton ran the beerhouse until the 1920s. In February (and again in April) 1908 there was an attempt to prevent the renewal of the license on the basis that there too many licensed houses in the district. It was stated that in Ellamsbridge Road there were six beerhouses and two fully-licensed houses serving a population of 190 within the street. It was claimed that the taproom measuring 12 feet by 14 feet was the only drinking room within the Red Rat, although this was disputed. The police confirmed that they had made 25 visits over the previously few months with the total number of customers being 65, averaging under 3 per visit. However licensee Mary Barton claimed that three barrels of beer were consumed each week in her house. It was also claimed that the beerhouse was in a damp and dilapidated condition, with the paper coming off the walls in several places. - John Rimmer was the last licensee. The Red Rat closed on 29th January 1927 but not demolished until 22nd August 1960. - In Frank Bamber's 'Clog Clatters of Old Sutton', he states his belief that the pub was so named because of the residues of rouge used in glassmaking, which when discharged into the Sutton Brook, coloured the water and the creatures in it red - This was corroborated by a Whalley's World article in the St.Helens Star (date unknown), which also claimed that in a national survey of 60,000 public houses, the Red Rat was found to have been the only one in Britain with that obscure name. In another article published in the St.Helens Star on July 7th 1983, John Owen, the verger of St.Helens Parish Church, was quoted as saying he had been born in the Red Rat, which had been kept by his grandparents John and Elizabeth Rimmer. John said the pub was famed for having its own bowling alley. -

Roe Buck
-
Bold - listed in an 1800 directory of Victuallers and Ale House keepers - Samuel Oldwright kept the house in 1800 -

Rolling Mill Tavern
-
31 Watery Lane - A beerhouse in 1884 when beerseller Richard Leadbetter's application for a spirit licence was refused. He was a coal miner and still licensee in 1901 - Kept by Michael and Louisa McDermott from 1910 until 1932 and nicknamed 'Snig's Foot' - See Memories of Sutton 5 article '
The Rolling Mill Tavern and the Junction Inn
' by Alan McDermott - In 1932 Michael McDermott moved to the Junction Inn and his brother Patrick McDermott was said to have took over the Tavern's premises, running it as a coal delivery business. However the 1939 Register still shows the Rolling Mill Tavern at 31 Watery Lane, run by Mary and Michael Caulfield, the latter also being a coal miner (hewer).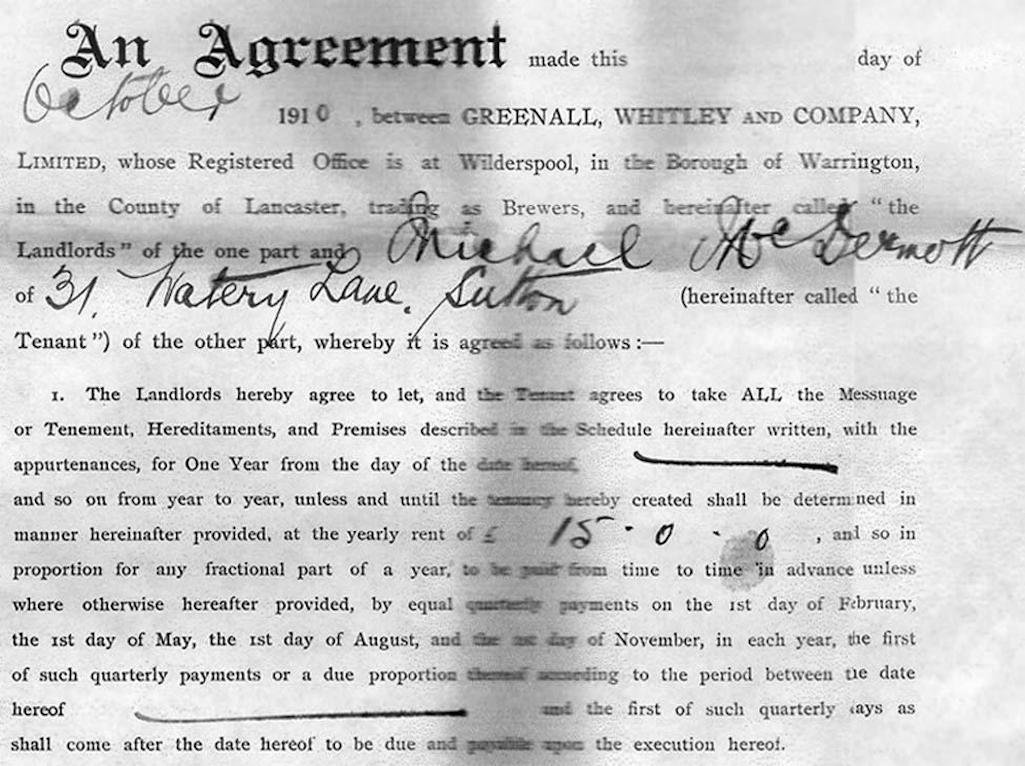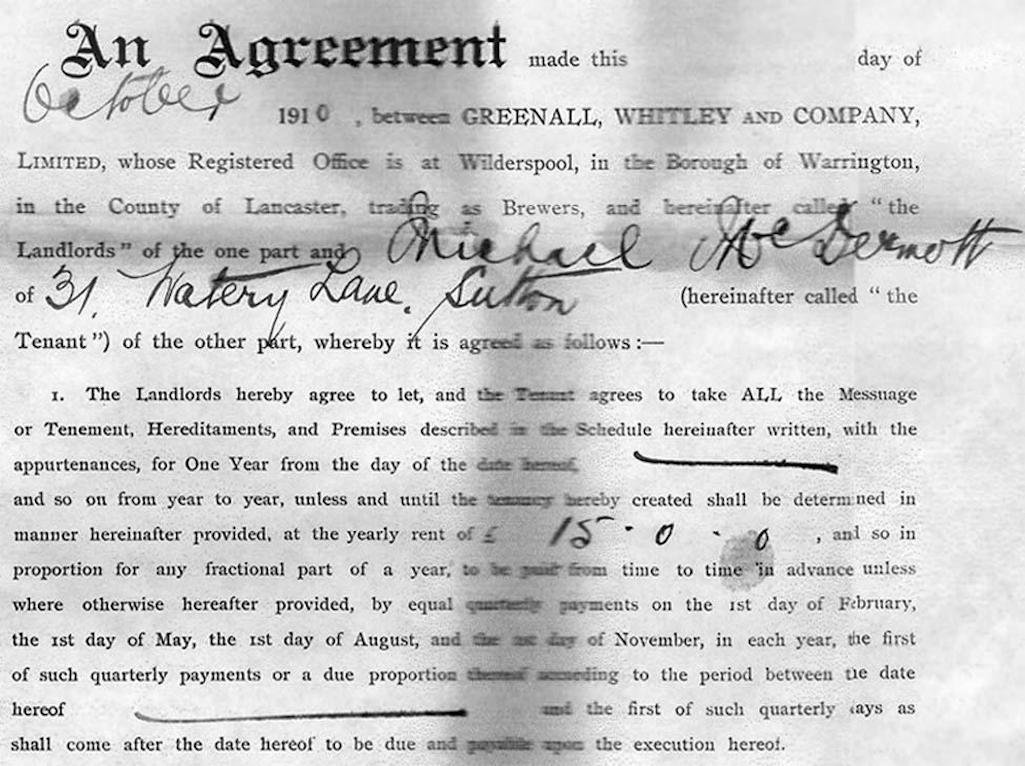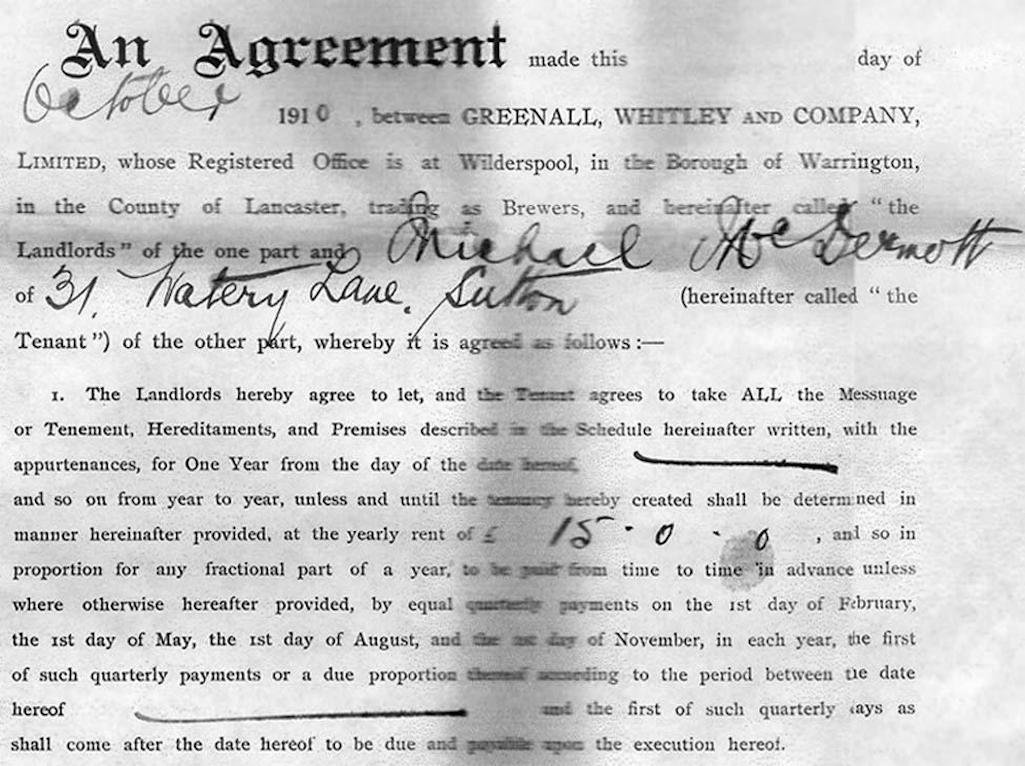 Sherdley Park Tavern
-
This was owned by St.Helens Council and its Leisure and Recreation Committee took the decision to close it in February 1984 as it had been losing money for some time. There were changing room facilities underneath. -
Ship Inn
-
William Houghton licensee in 1800. Closed by 1820 -

Smithy Manor
-
Jubits Lane, Sutton Manor - Opened in 1959 as the Sutton Manor Institute or Welfare Club financed by a Lancashire miners' welfare grant. In the late 1980s it was sold to a consortium that included ex-Liverpool FC player Tommy Smith and reopened as the Smithy Manor under the Burtonwood Beers umbrella. The former footballer featured on the pub's sign and Gerry and the Pacemakers played on the opening night. -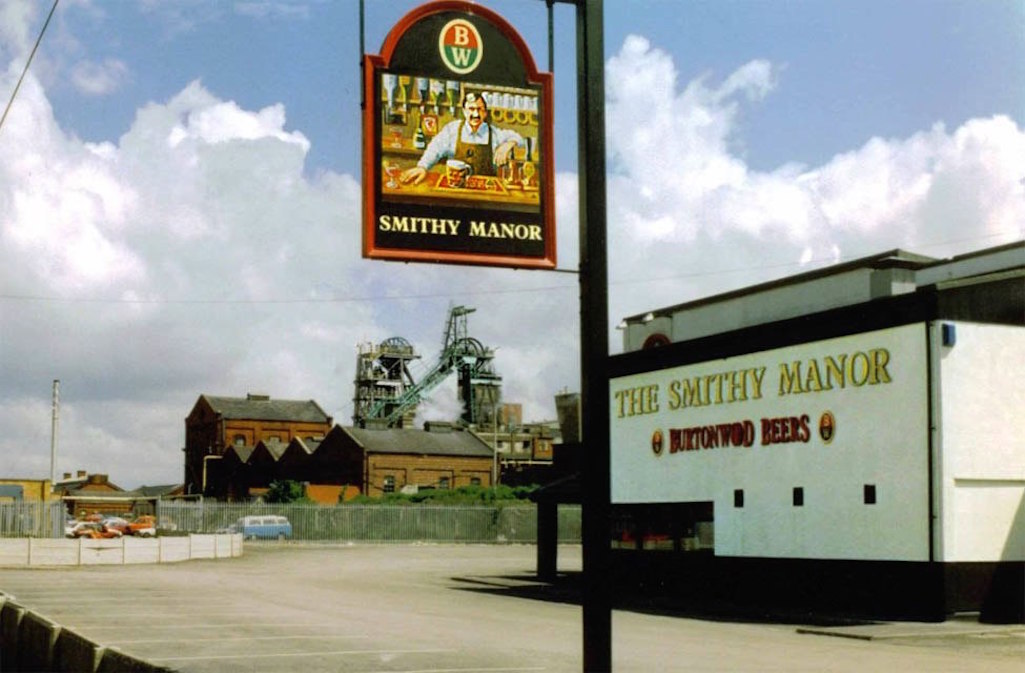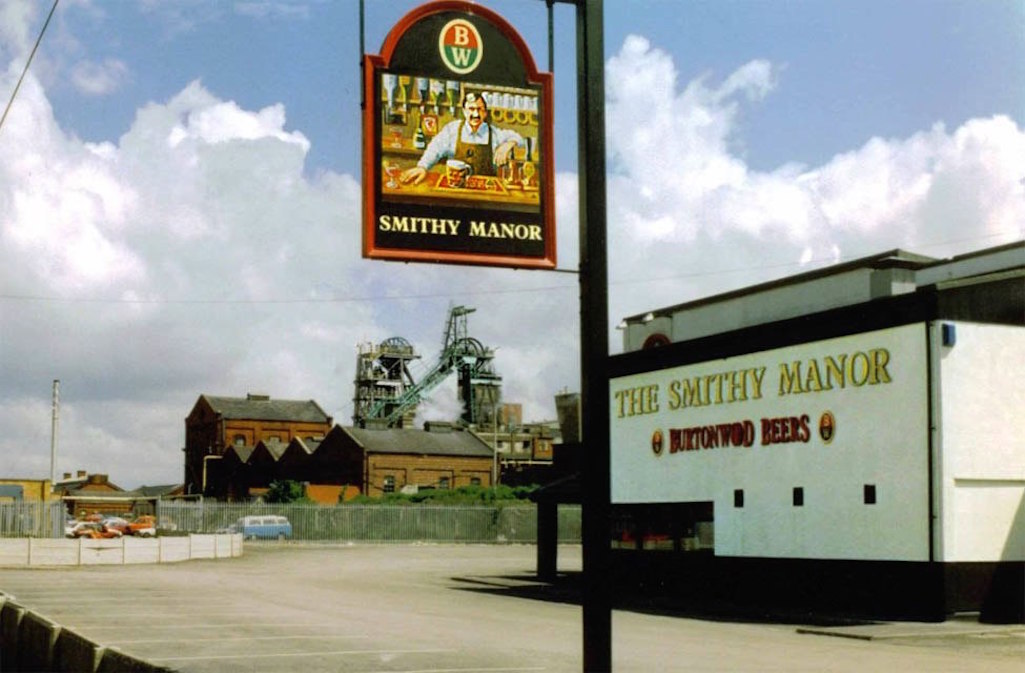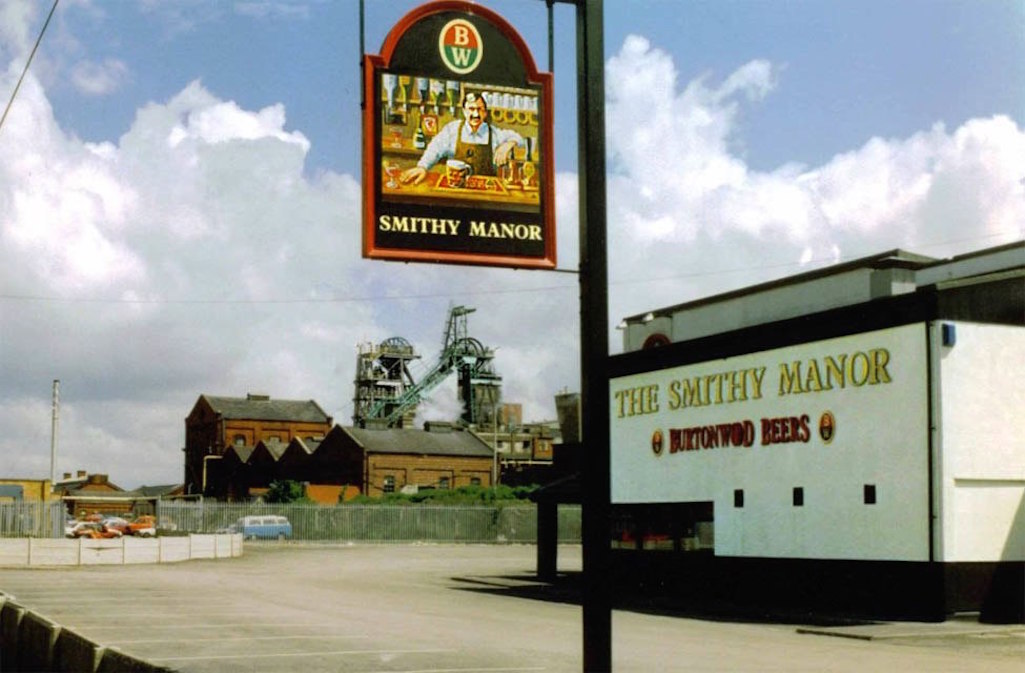 Snig's Foot
-
Watery Lane - There is a reference to this beerhouse in the Warrington Guardian of May 21st 1859 when this advertisement for a sale of the property by auction was published: 'All that well-accustomed BEER-HOUSE, with the Out-buildings and Appurtenances thereto belonging, situate in Watery Lane, Sutton, near St. Helens, known by the sign of the "Snig's Foot," and now in the occupation of John Ashton as tenant, at a rental of £16 per annum. The site of this lot contains 21 perches of land or thereabouts, and is freehold of inheritance, and free from chief or ground rent. It is believed there are valuable mines of coal under this property, and which will not be reserved.'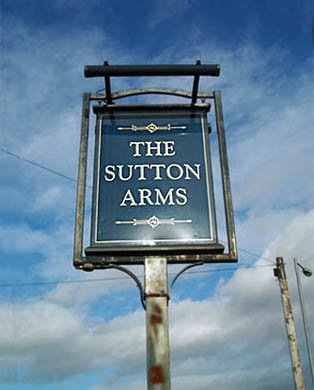 The Soldier
-
21/23
Peasley Cross Lane - In March 1889 The Soldier was put up for sale by auction with adverts stating that the beerhouse was let to brewers Greenall's, who had sublet it to Samuel Mee. The auction was held on April 2nd and The Soldier was sold to Greenall Whitley for £650. - In December 1905 the licence was transferred from Joseph Hull to Thomas Finney with the former moving to the Stanley Inn. - Closed 1906

Stanley Arms / Inn
-
Bottom of Peasley Cross Lane facing Warrington Old Road - Listed in Worrall's Directory of 1871 - Jacob Grayson was publican in 1881 - Thomas Knowles was landlord in 1883 and was summoned on November 12th for selling alcohol during prohibited hours but the case was dismissed - Edward Holland took over the pub in September 1884 after it had been placed on the licensing 'blacklist' for breaking the law - On November 26th, 1890 coal dealer and carter George Eccleston sued landlord William Duxbury for £50 damages as a result of Duxbury's fox terrier biting him on his thigh while he was delivering coal to the pub - A new pub was built in 1894 - On July 10th 1896, the licensee John Webster was fined 10 shillings for being drunk on his own premises. On June 19th he had been discovered by PC Adams stripped to the waist in his yard, preparing to fight his son-in-law. His solicitor said Webster wasn't drunk but was "suffering from excitement". - On August 10th his licence was transferred to John Cunliffe - In May 1900 licence transferred from Cunliffe to William Chadwick - In December 1905 the licence was transferred from John Almond to Joseph Hull - Closed March 7th 1932 -

Swan Inn
-
88
Baxters Lane - Thomas John Sharrott was beerhouse keeper in 1881. On April 11th of that year he was summoned to the St.Helens Petty Sessions for selling beer to a man during prohibited hours. The case was dismissed after his defence solicitor stated that the beer was a gift. However a year later Sharrott was fined 5s. for permitting drunkenness on his premises. - Blacksmith Thomas Leyland was granted licence of the beerhouse in 1890 from Edward Burrows and he was also the publican in 1901 - Closed 1910 -


Sutton Arms
-
Corner of Sherdley Road and Elephant Lane - The Sutton Arms was opened in 1967 by Greenall Whitley after a new estate was constructed on land opposite the pub, formerly belonging to Jack Goodison. In fact it catered for over 2000 people from three housing estates and was granted its licence on April 3rd 1967. The licensee was Roy Willis, who had been a draughtsman employed by Greenall Whitley. - The Sutton Arms closed in 2011 and suffered severe fire damage by suspected arsonists on April 13th and May 20th 2012. It was demolished shortly after the second arson attack.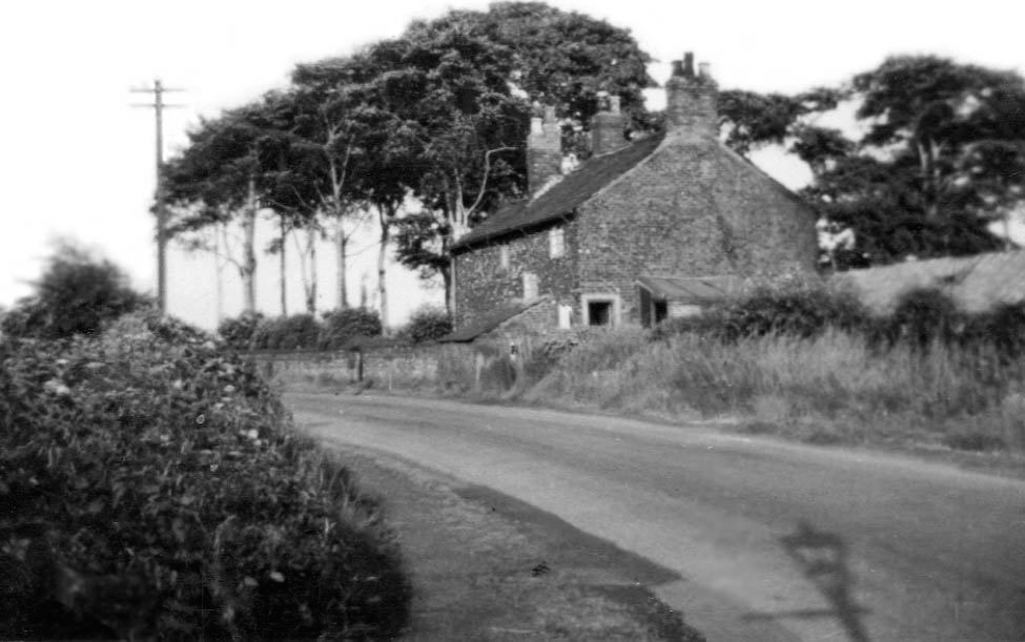 The above photograph, contributed by Robert Brown, shows Sherdley Cottages in Sherdley Road in 1964, which became the site of the Sutton Arms. One cottage was occupied by Ernie Kirkman, who was reputedly the tallest man in St.Helens, with the nearest cottage in the picture by the Fairhurst family.


Sutton Oak
-
See entry for
Boundary Vaults
in Part 1


Tanners Arms
-
106 Peasley Cross Lane - In 1871 it was managed by Joseph Woodward who died about 1873 (thanks to Brian Woodward for the details) - In 1871 census Joseph Woodward was licensed victualler -


Three Tuns
- Jane Finney was licensee in 1800


Tipping Arms
-
See entry for the
Griffin Inn
Tropical Fun Club
-
Gerards Lane - The club opened on September 2nd 1985 as a restaurant, fun pub and disco owned by Mike Hollington and Reza Azimy, who invested £250,000 in their new venture. The funding came in part from Mr. Azimy selling his pizza restaurant in Warrington. It was situated in Waterdale House, formerly the home of William Blinkhorn, Arthur Sinclair and Sutton Convent. In more recent times, Cloisters Country Club had occupied the premises. Although the building had been transformed, a notable historic statue in the grounds was retained. Downstairs there was a 100-seater restaurant, decorated in white and open from 7pm to midnight. Members and guests could dance in the disco, which for the first few weeks was DJ'd by John Barry from Manchester. The fun pub featured entertainment, which included comedians, snake-acts, fire-eaters, steel bands etc. The total capacity of the building was 400 people and at its opening, co-owner Mike Hollington told the St.Helens Star that he believed that his new establishment was the only fun club in Britain of its type.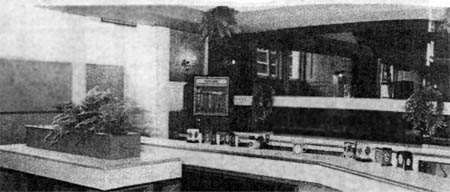 Victoria Vaults
-
See entry for
Little Pig
Volunteer Inn, Sutton
-
Listed as such in a Liverpool Mercury report from December 20th 1871 when the licence was transferred from Joshua Platt to George Sephton -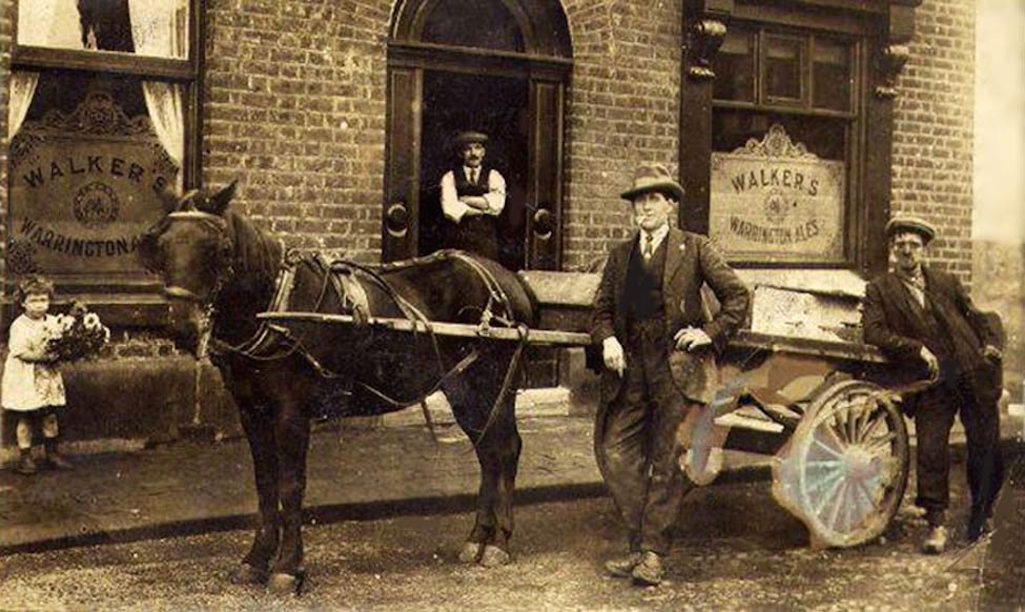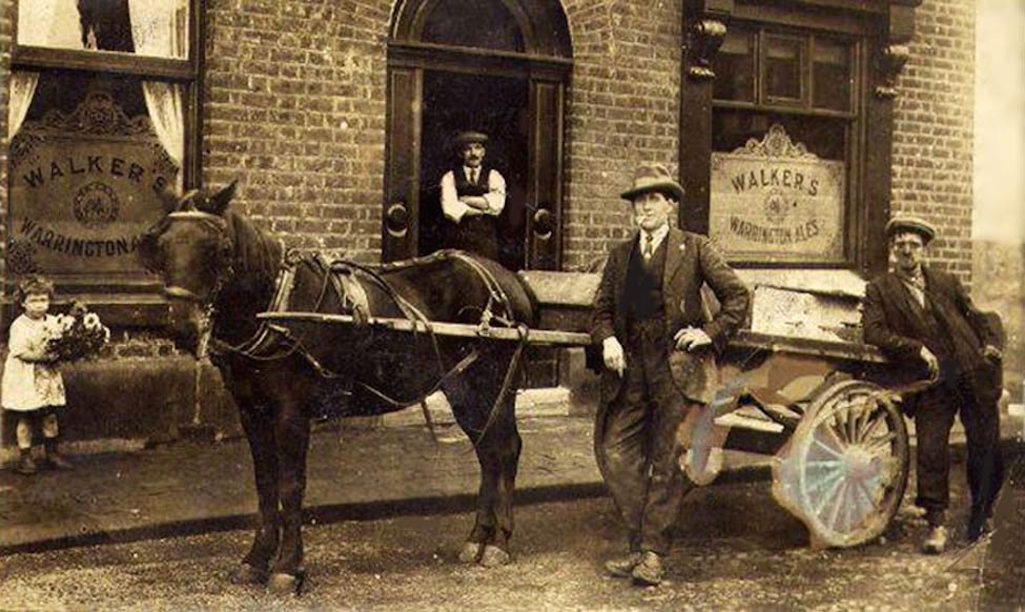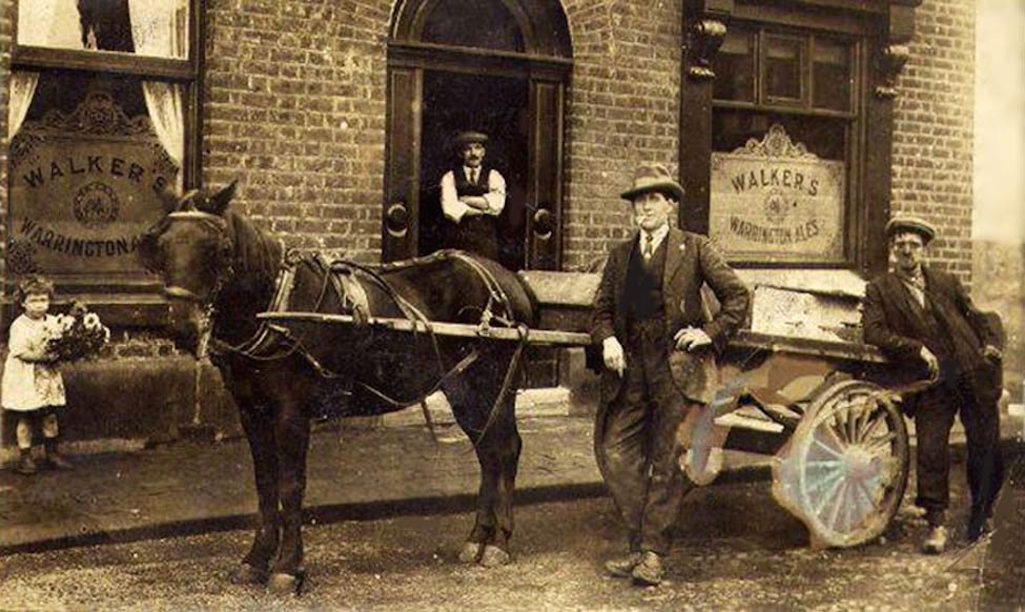 Vulcan Inn
-
243 Robins Lane on corner of Peckers Hill Road - In April 1874 the licence was transferred from George Sephton to Thomas Appleton - An application for a music licence made in June 1878 by licensee Maria Bradbury was granted. - The Sutton Enginemen and Firemen's Philanthropic Sick and Burial Dividing Society was registered at the Vulcan until it was dissolved in April 1889. - In February 1893, Charles Nicholson's licence was transferred to John Makin. An application for a music licence made in February 1896 by Makin was refused - The pub was put up for sale by auction in April 1896 and was said to cover 276 square yards including outbuildings - Around 1900 the Sutton Horticultural Society held their meetings in the Vulcan - The licensee in 1901 was boilermaker John Martin and in 1911 it was William Holbrook. - A new pub sign was introduced in late 2012 which was mentioned in the February 2013 edition of the heritage aviation magazine, Flypast. The new sign incorporates an AVRO Vulcan bomber.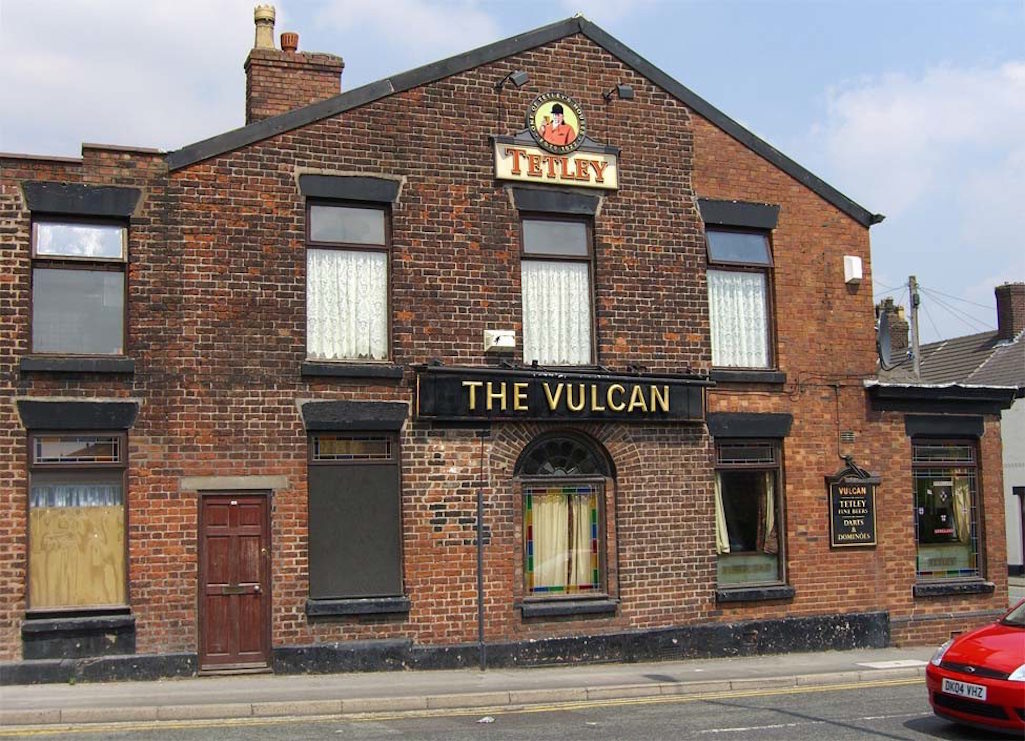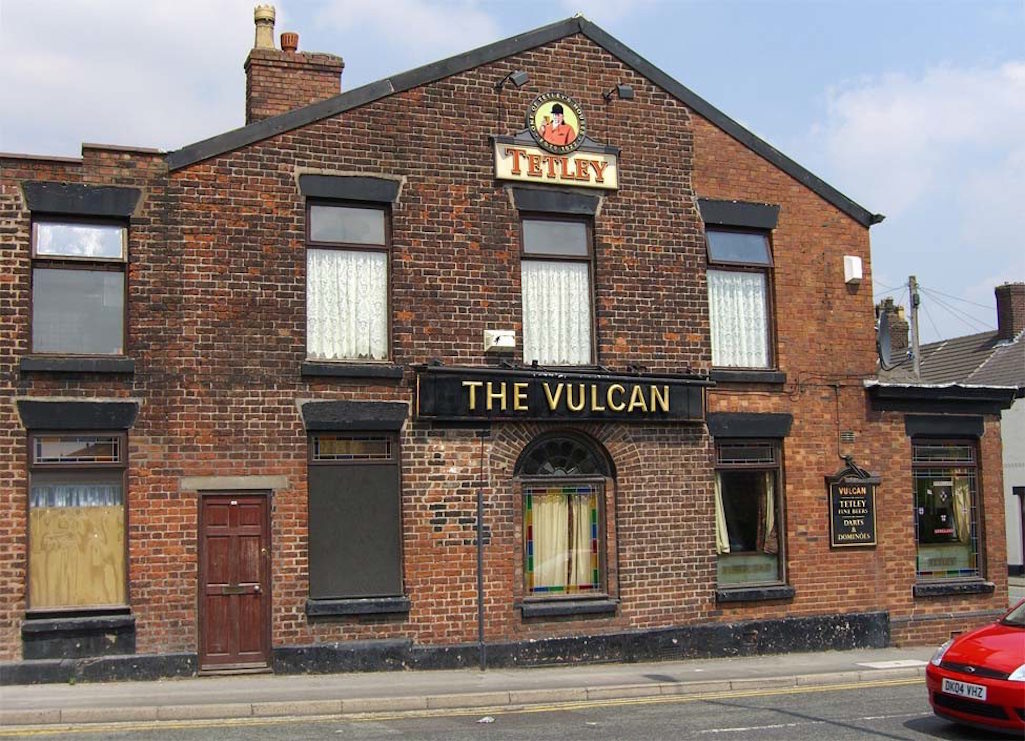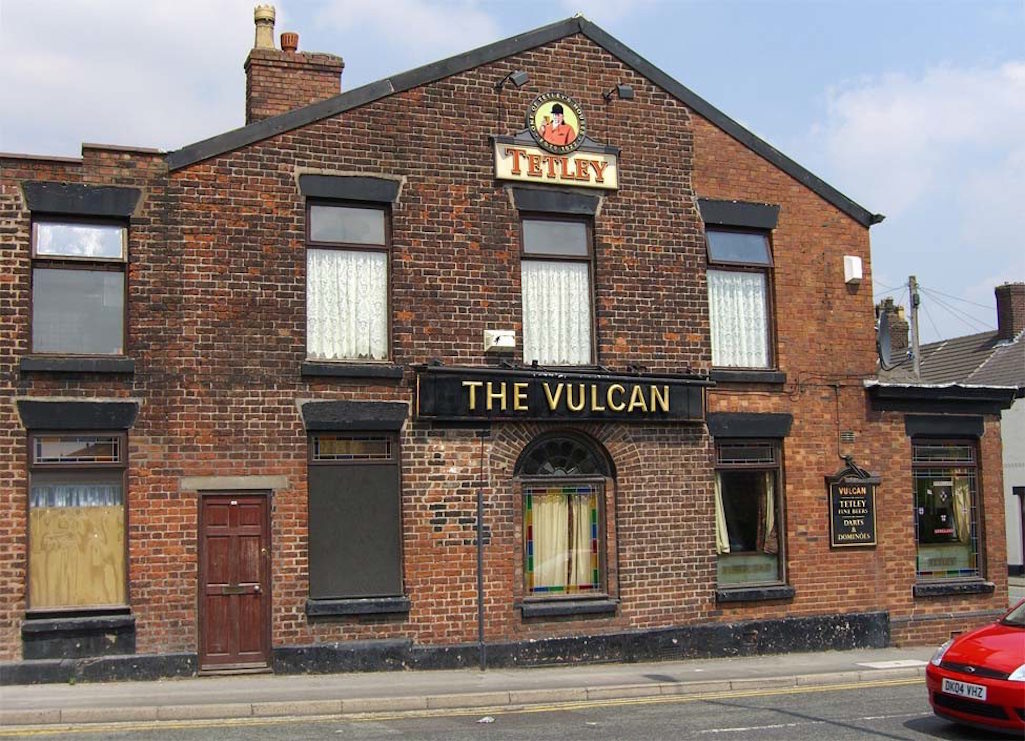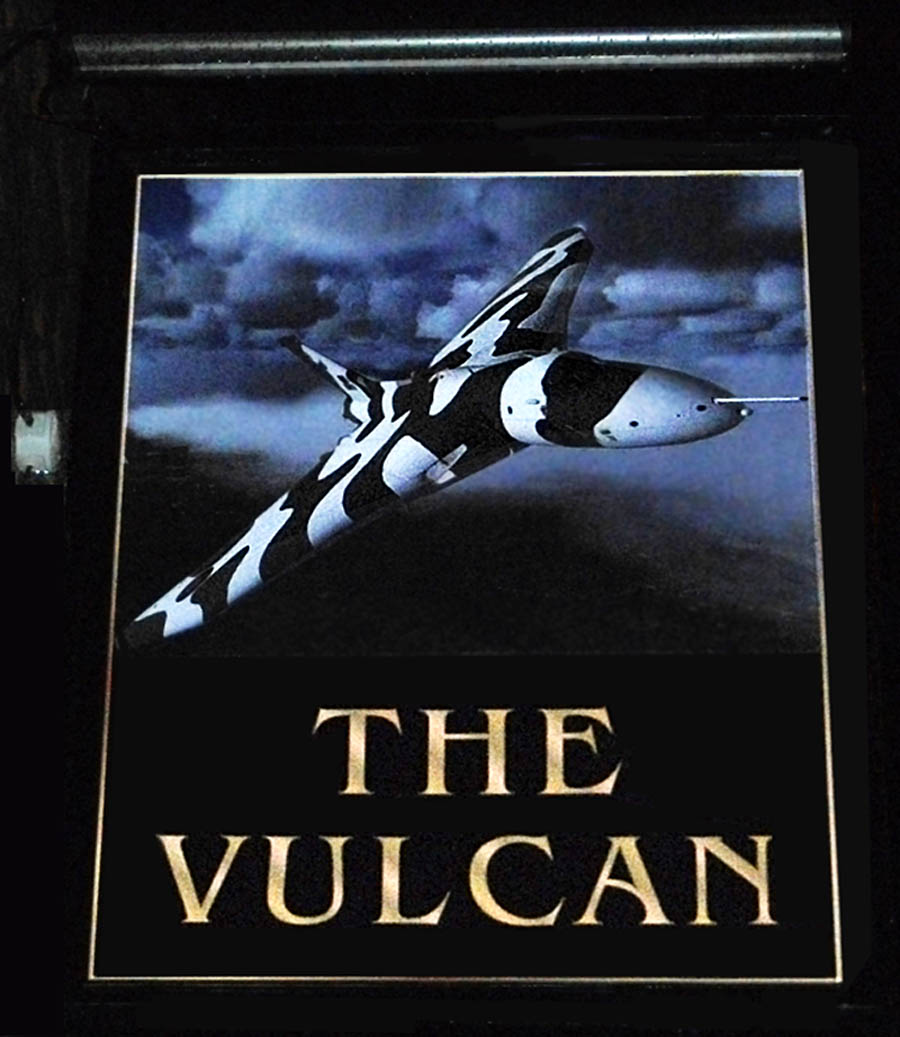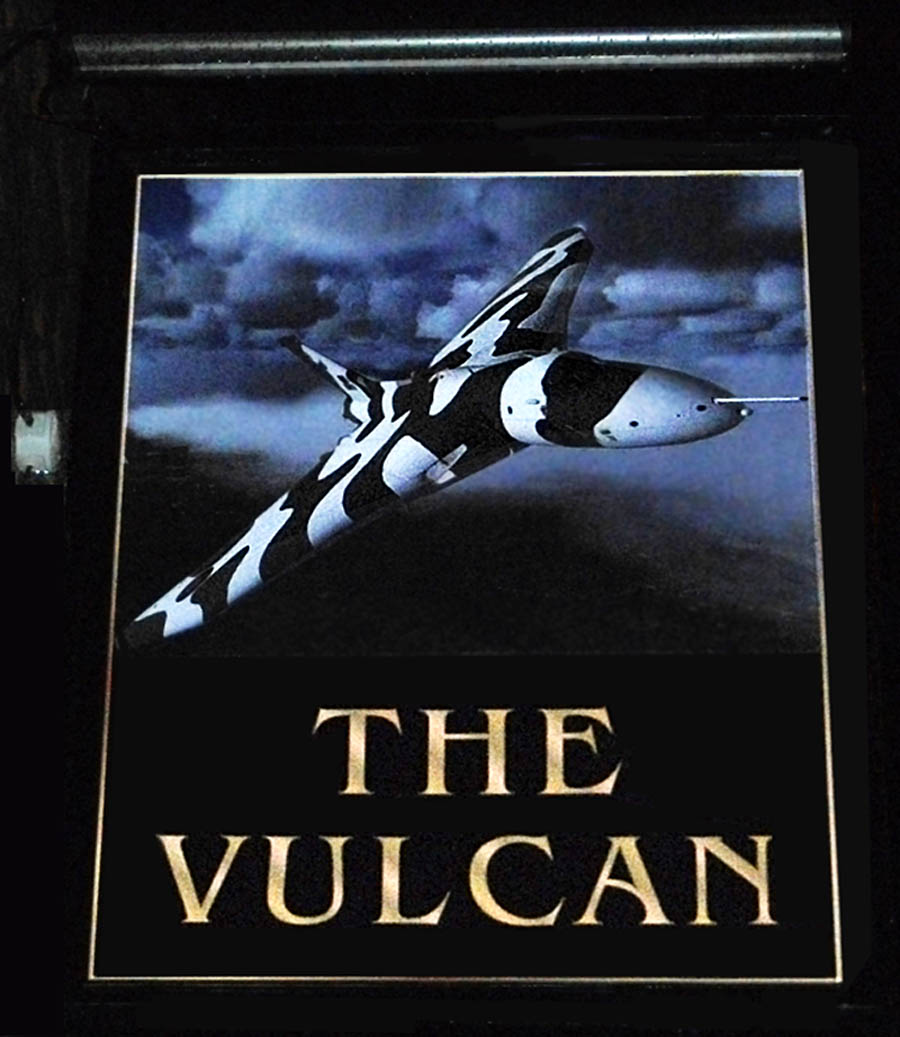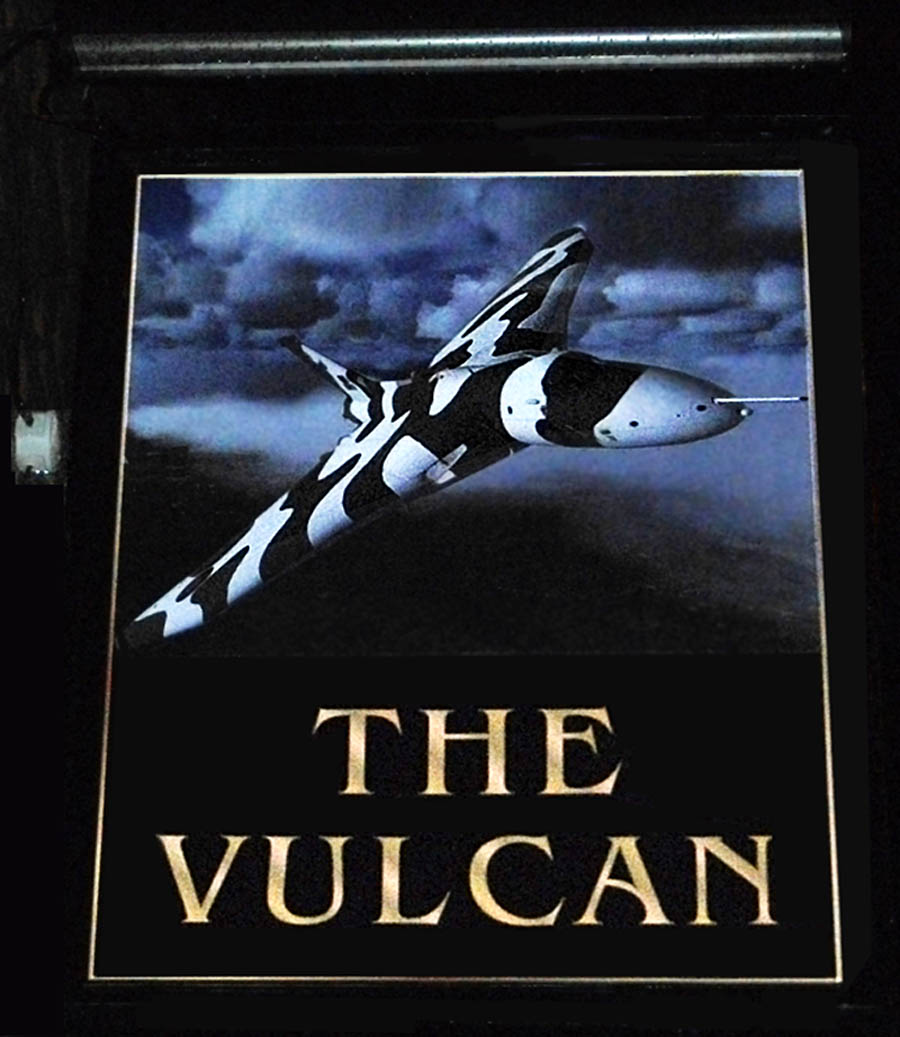 Wheatsheaf Hotel
(1st)
-
2
Lionel Street by the Junction Station (listed as 2 May Place in 1891 census) - Built c. 1830 - On September 19th 1854, 52-years-old Richard Gibson was killed when he fell down the pub stairs. Gibson was employed at the Wheatsheaf as a brewer for landlord Thomas Barrow. - James Thompson kept it in 1856 - Peter Fisher of the
Fisher
builder family was 'licensed victualler' in the 1871 census and Jane Burrows was 'public house keeper' in the 1881 census - Robert Silcock was another publican listed in the 1891 census - Alteration plans were approved in May 1895. - The Wheatsheaf used to have an external wooden gallery on its gable-end. New recruits to the Boer War used it for shooting practice, aiming at targets in front of the Battery Cob rifle butt. - The Victoria Philanthropic Sick and Burial Dividing Friendly Society was organised at the Wheatsheaf until November 1905 when it was closed - The licensee in 1911 was William Taylor. - Sam Tickle was at one time a landlord of the Wheatsheaf, as well as being a colliery winder at Bold Colliery. The last landlord was demolition contractor Dave Rothwell. - The Wheatsheaf closed in 1938 - The building still exists and is owned by Riverside who have turned it into six flats. It is grade 2 listed and a painted sign that reads 'Wheatsheaf Hotel' is visible on the north side of the pub adjacent to St.Helens Junction station. The listing status reads 'Former Public House, now house. c.1830. Brick with stone dressings, concrete tile roof. 2 storeys, 3 bays, central bay breaks forward. Stone base, 1st floor sill band, wide eaves and verges; central bay has gablet. Windows have wedge lintels and are sashed with glazing bars; central 1st floor window has pointed arched head. Central pointed arched entrance has inset Tuscan doorcase with fluted columns and blind fanlight. Returns have high pointed windows. Probably built in connection with the St. Helens Junction station to north.' -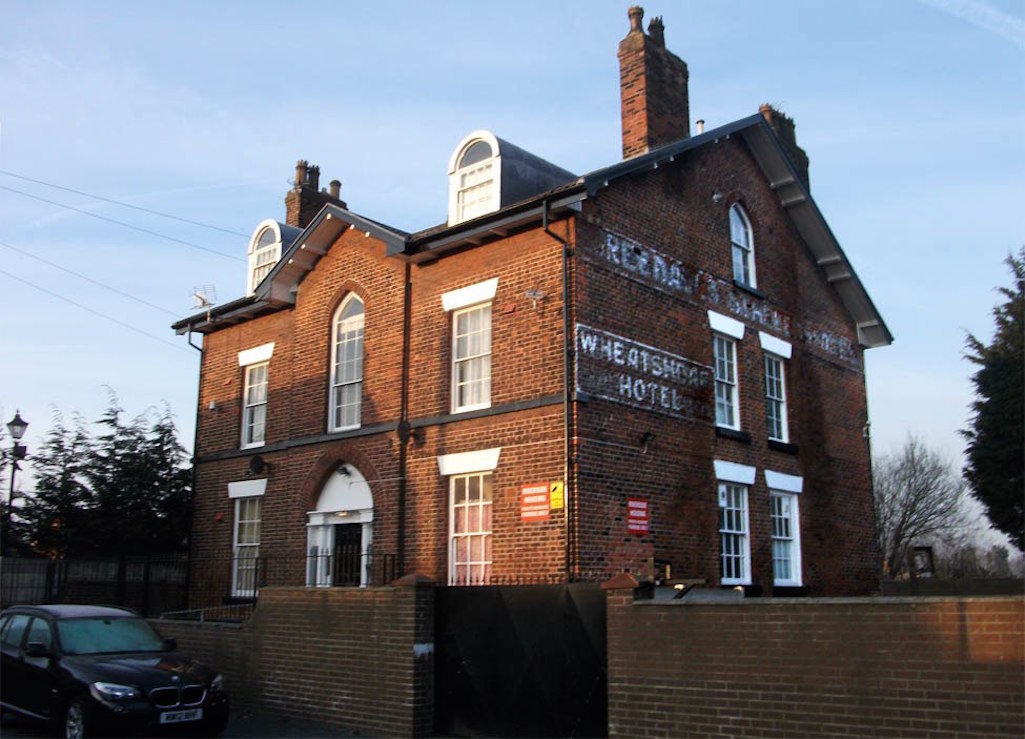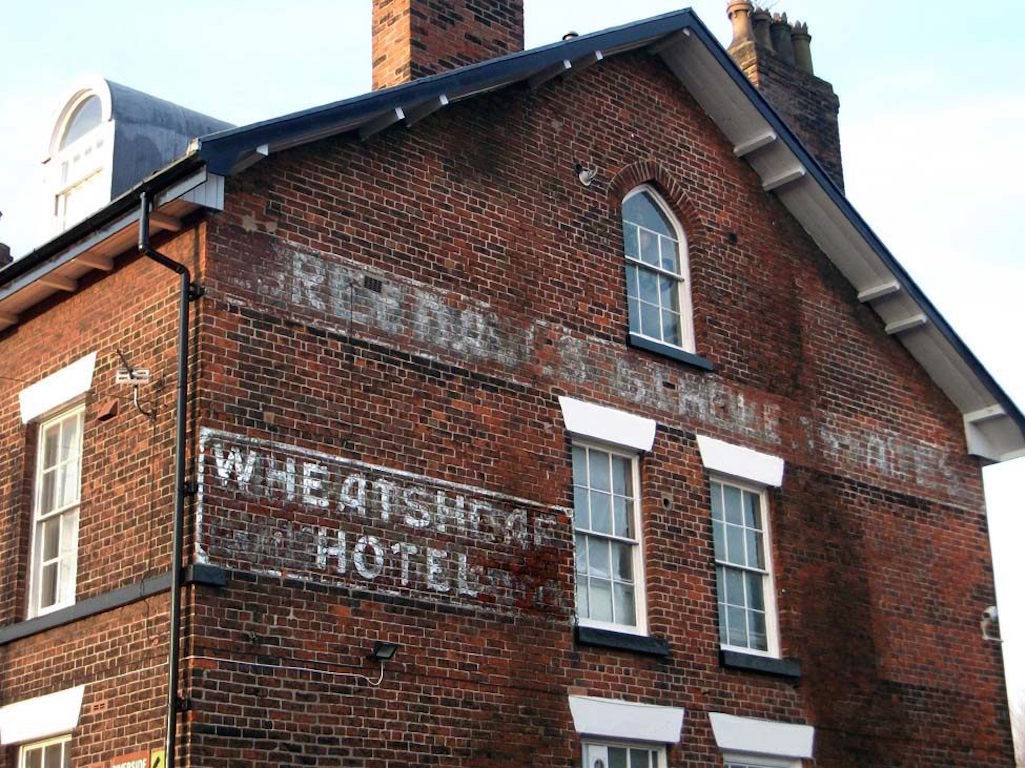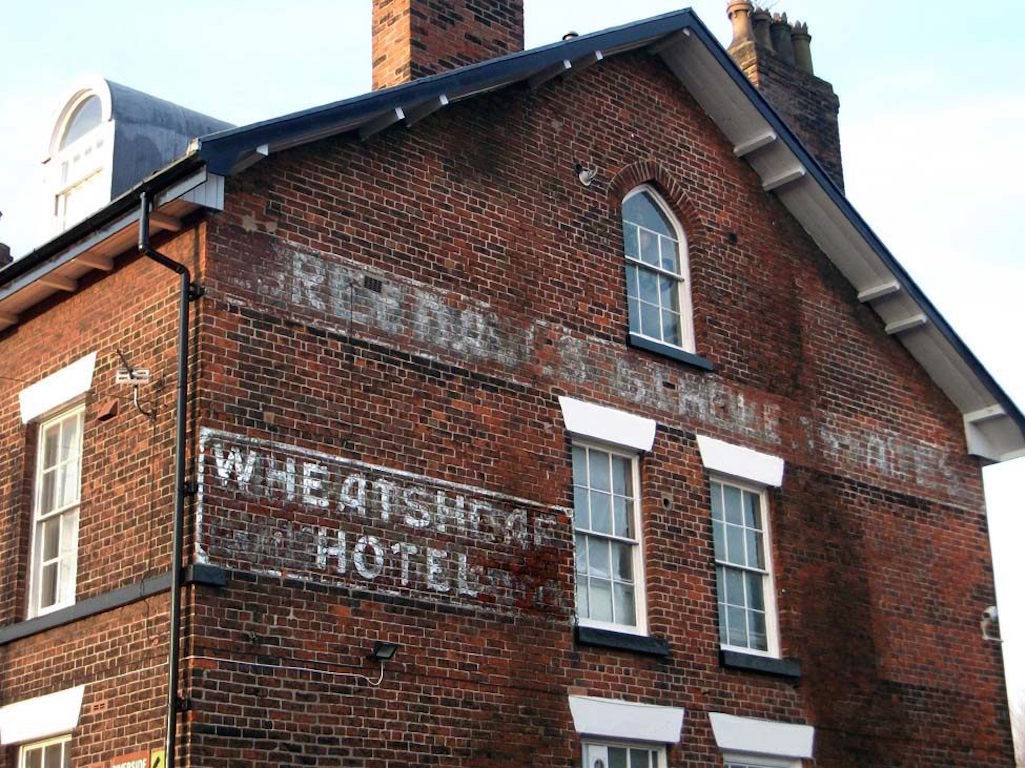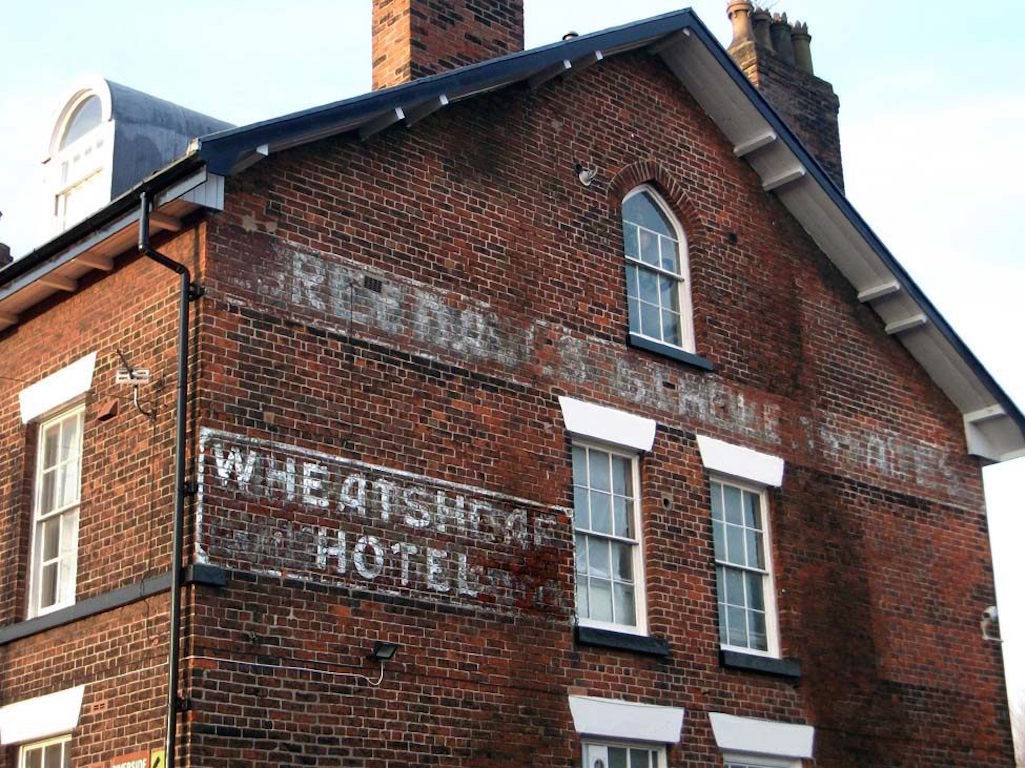 Wheatsheaf Hotel
(2nd)
-
Mill Lane, Sutton Leach built in 1938 under the designs of architect W.A. Hartley, originally with three prominent Willow trees in front - When brewers Greenall Whitley asked for permission in the late 1930s to open the new Wheatsheaf, it was made a condition that three existing pubs should close. These were the Crystal Palace, Engine and Tender and the first Wheatsheaf in Lionel Street. Frank Bamber in his memoirs 'Clog Clatters in Old Sutton' described how brewers Greenalls gave a free pint to all who attended the opening with local preachers John Kitts and Billy 'Chippy' Southern unsuccessfully attempting to stop a large crowd from entering the new pub, warning that it was "the House of the Devil" - It was originally going to be called the new Engine and Tender but after the landlord of the old pub, farmer Edwin Garton, turned down an offer to manage it, the pub was offered to David (Dave) Rothwell who in accepting took with him the Wheatsheaf name. In the 1939 Register he is also described as a 'master coal mine sinker'. Dave died on September 12th 1940 aged 59. By 1945 Dave's daughter Cecilia (known as Cissie) was licensee under the name of Mary C. Williams after marrying Joe Williams. He was then in the army and after returning home took over the reins of the pub. Joe had a distinctive lemon coloured two-seater American Dodge car. - The Liverpool Evening Express published this article about the Wheatsheaf on August 7th 1942:


'A cat which came back from the grave is the pet of the bar of the Wheatsheaf Hotel, Sutton, near St. Helens. Last week-end "Nobby", a two-years-old mouser, suddenly fell ill. Poison was suspected. Growing steadily worse, "Nobby" passed away. His cold and rigid body was interred in the soft soil near the bowling green. Later in the day, his "ghost" walked into the bedroom window, and descended to the bar. To general amazement, "Nobby" was back right enough, and though a trifle groggy, not much the worse for his death and burial.' - During the 1940s pianist Len Owen of 263 Mill Lane entertained the crowds. - John Leather was listed as licensee in 1950 - The pub has a renowned sloping floor and is very prone to flooding. The slope was caused by subsidence after the introduction of long wall mining at Bold Colliery (or possibly Clock Face Colliery) during the 1960s. This tilted the building from front to back. - Fred and Evelyn Worrall ran the pub in the late 1960s. The couple advertised bed and breakfast in the St.Helens Reporter, adding that chicken in the basket was their lunch speciality. - Phil and Jane Banks were landlord and landlady from 1994 to Phil's death in September 2016 and once displayed the F.A. Cup in the pub. - Named St.Helens & District Camra Heritage pub 2012 and considered an historic pub interior of national importance (see
webpage
) - On August 28th 2015 it was announced that the Wheatsheaf had been awarded grade 2 listing status by the Department for Culture, Media and Sport following an effort to recognise some of England's best pubs that had been built during the interwar years. View listing status
here
. - Writing in the St.Helens Heritage Newsletter of October 2015, Wally Ashcroft commented how the Wheatsheaf had originally been one of only two pubs in St.Helens that had its cellar on the first floor. This was accessible from the outside by a lift, situated behind ornate, wrought iron gates at the front of the building. However this distinctive feature was removed from the Wheatsheaf some years ago.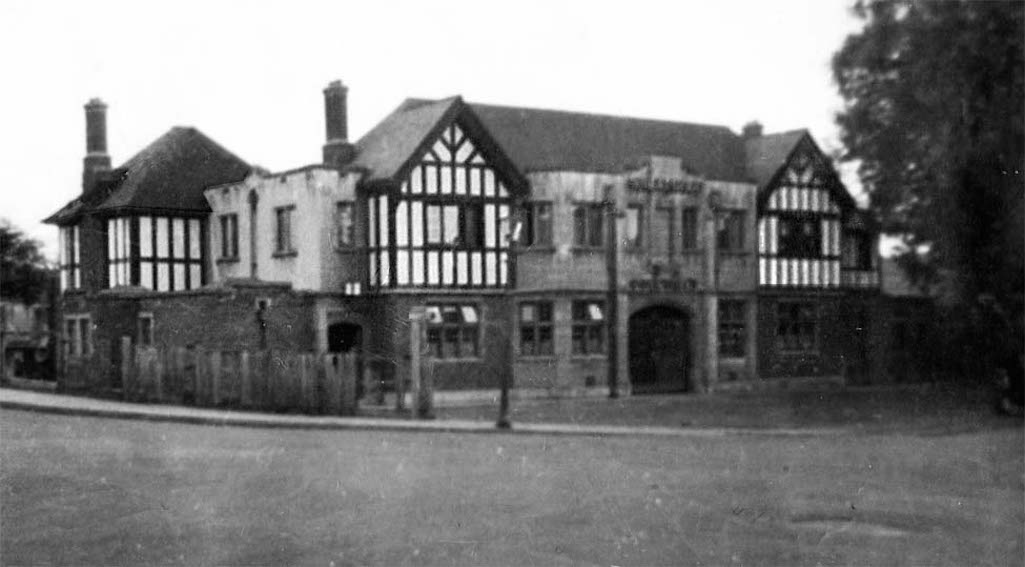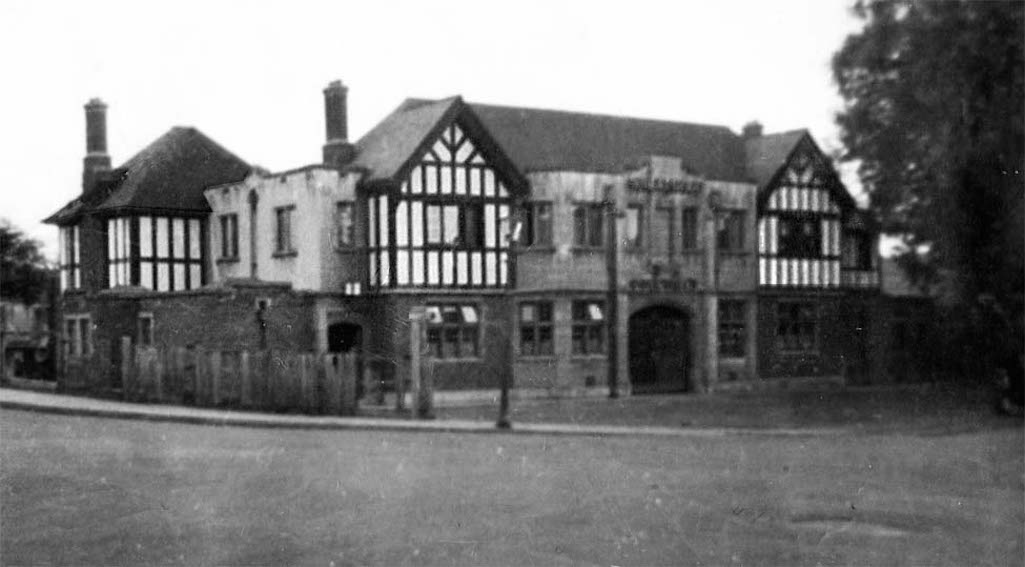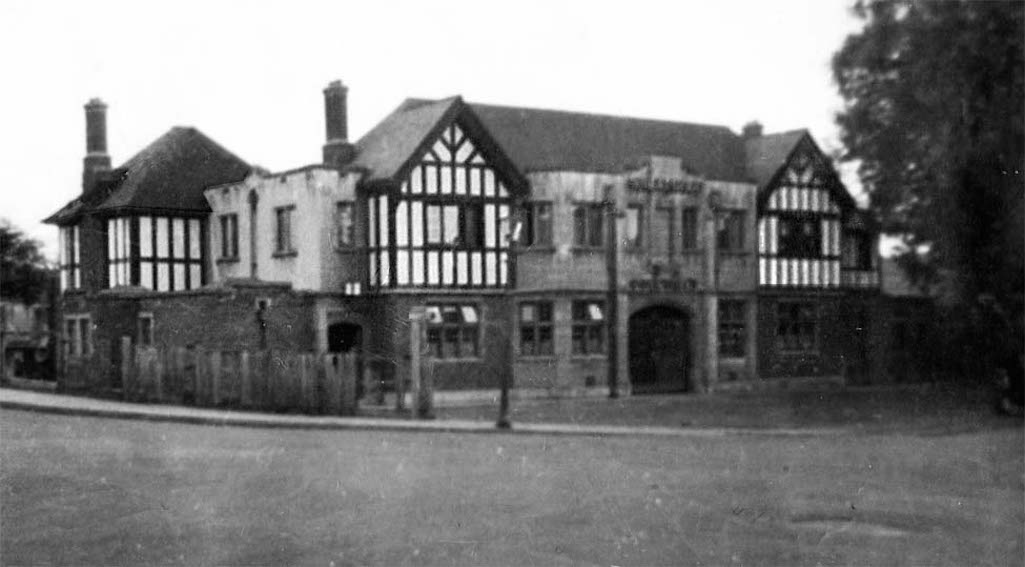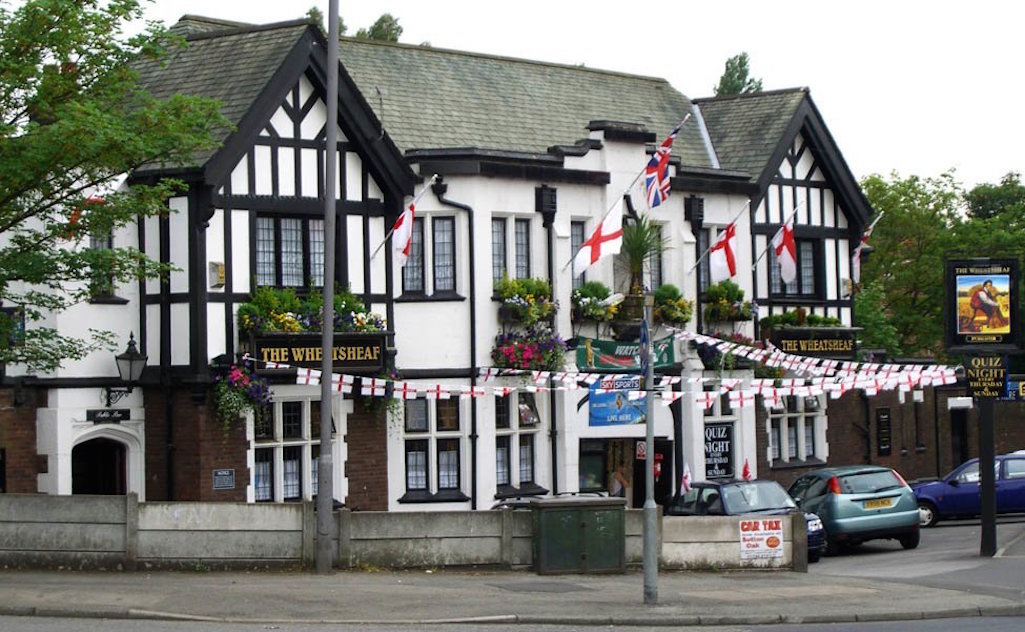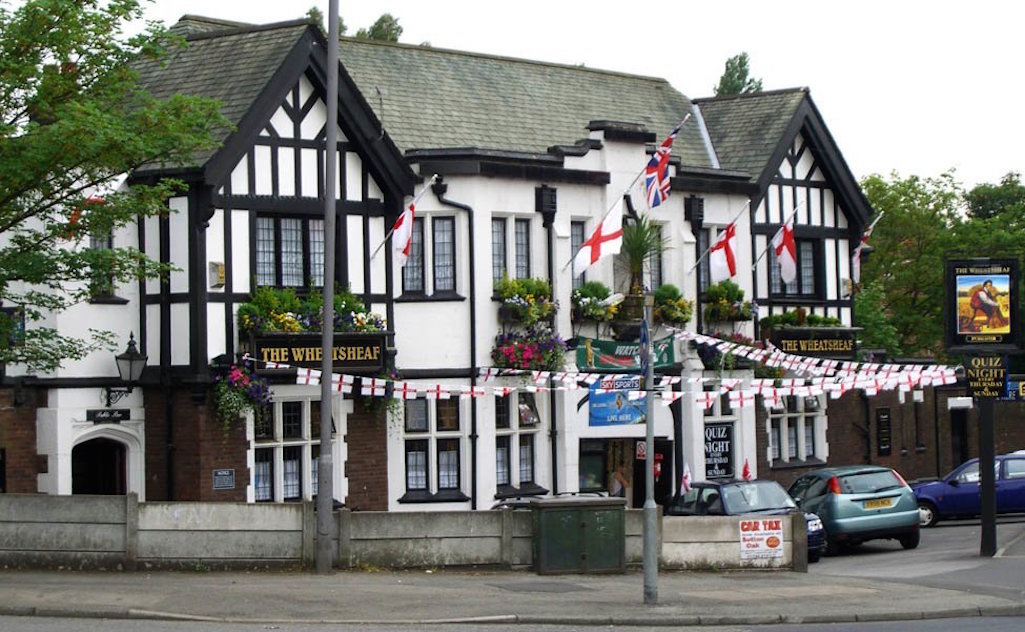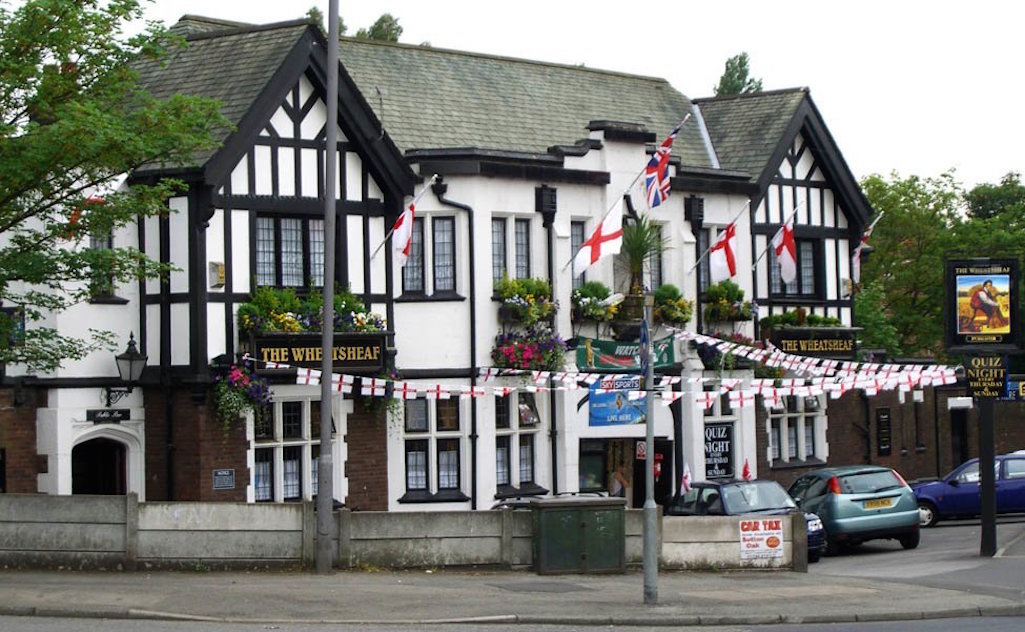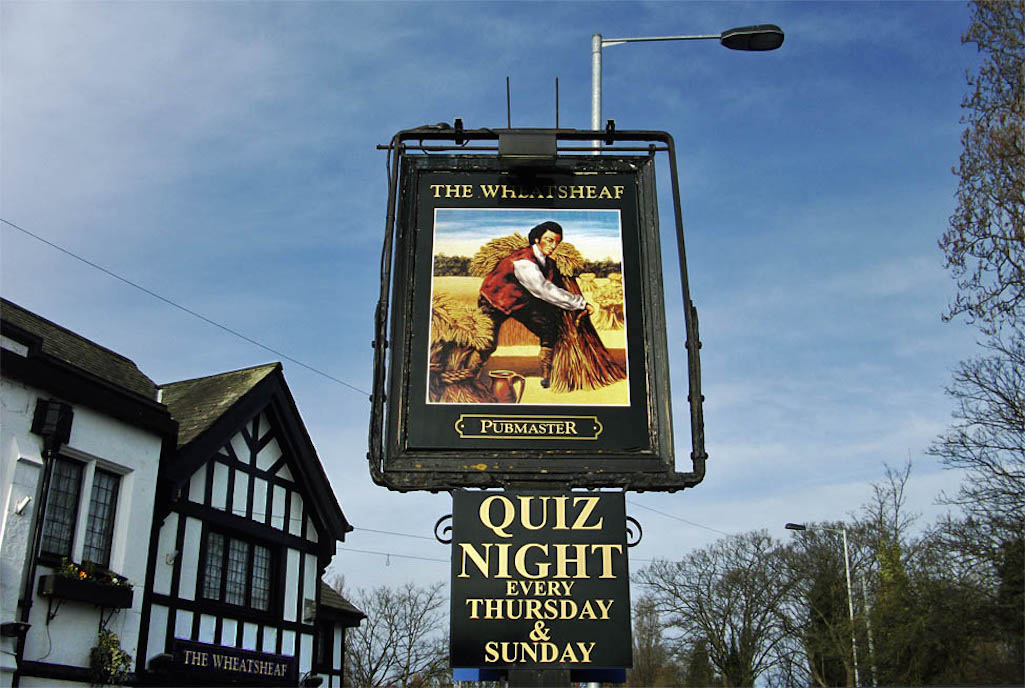 White Angel
-
Nook Lane - nicknamed 'The Blazing Stump' - built in 1762 - Described in a newspaper report of 1902 as "Mr. Barrow's Old White House" -

White House
-
Sutton Road opposite Helsby Street
-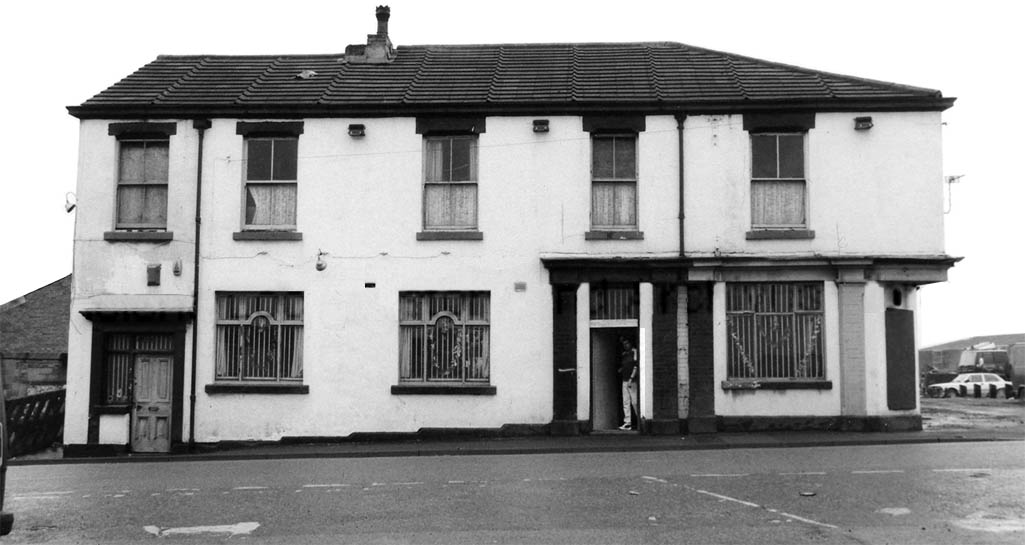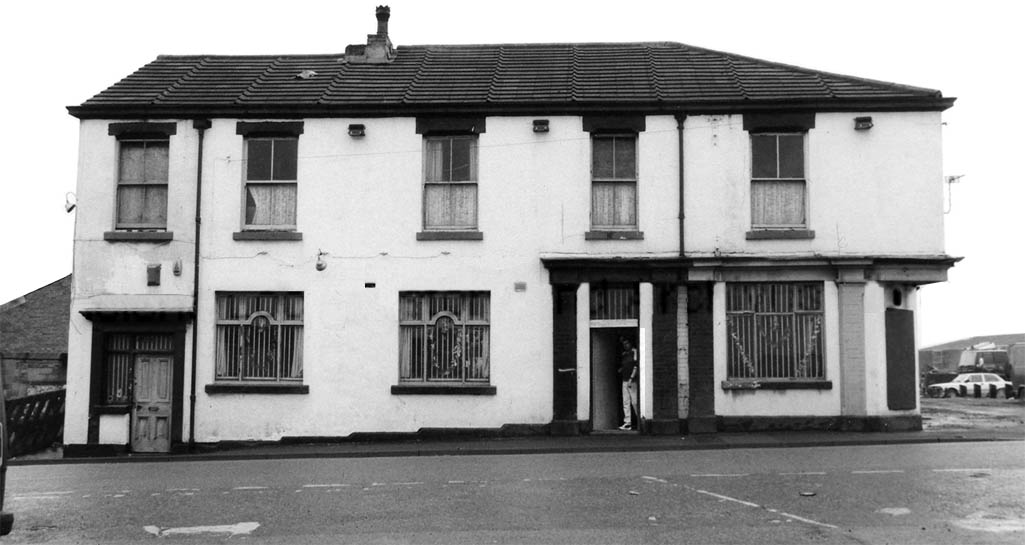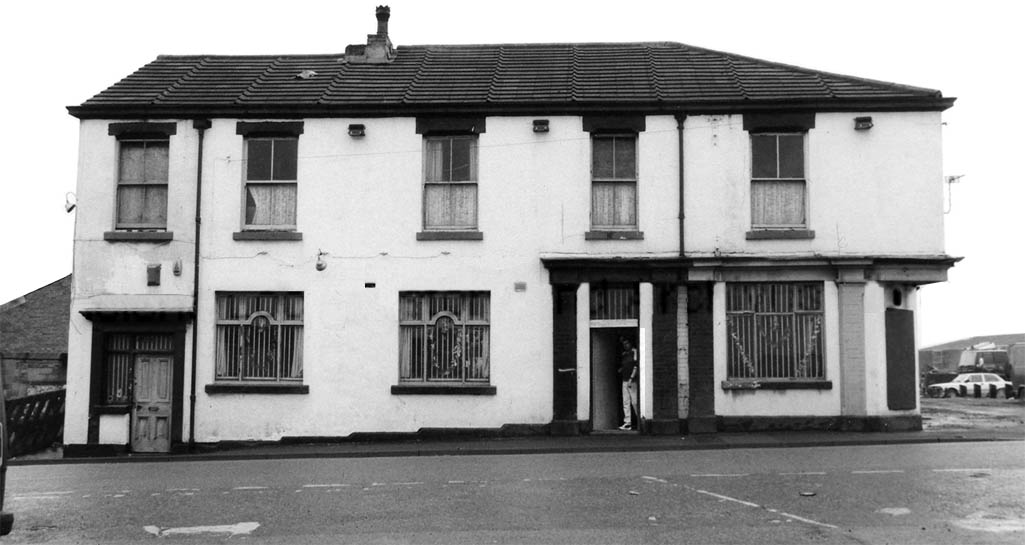 White Swan
-
Listed in a Liverpool Daily Post newspaper report from May 14th 1875 concerning the prosecution of Charles Lee for being drunk and riotous at the pub. The licensee was Mr. Farrow -

Wind Mill
-
William Liptrot was mine host in 1820. He was recorded as landlord as the Mill House in 1841. Could they have been the same pub? -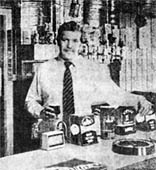 Yanks
-
Elton Head Road, Sutton Heath - Opened on July 4th 1983 by Burtonwood Brewery after having previously been known as the Prop and Pony. Yanks was described as a fun pub that commemorated the role that the USAF Air Base played in the life of the Burtonwood community during WW2. The brewery spent £100,000 on the conversion with the premises painted red, white and blue with distinctive American features. The manager at opening was Dave Williams, who offered an all-American evening menu of burgers and other dishes of American origin, as well as a full range of cocktails. A pool room and an American-style saloon continued the transatlantic theme, with American sayings like 'Have a nice day' painted on parts of the pub. One corner alluded to baseball with the legend 'First Base' emblazoned over it. The toilets were dubbed 'Johns' with the men's loo named Elton John and the female called Olivia Newton John. Outside was a play area, including a converted coach, for children to play in.
Off-Licences in Sutton
a)
253 New Street
-
In September 1896 Edward Needham was granted an off-licence which in May 1900 was transferred to W. Stockley - see brewery listings below.
b)
10 Grimshaw Street
-
In May 1900 licence transferred from Francis Helsby to Thomas Sephton.
c)
337 Mill Lane
(near Bull and Dog & opposite Marshalls Cross school)
-
William Bath then daughter Lucy Bath were licensees. The beer pumps were in the cellar and customers brought jugs to be filled.
d)
Peasley Cross Lane
-
This was held by Jane Twist but was removed in 1891 as she had not made use of the licence for some years - Licence transferred from William Twist in October 1884.
e)
111 Robins Lane
-
Grocers - John Rigby appeared in court in December 1891 for selling beer from a horse and cart without a licence. Police Sergeant Brooks had sent a lad with a jug to buy two quarts of beer from Rigby, the boy telling the 23-years-old that the beer was for a James Woods of Junction Lane. Rigby claimed that he was delivering beer that had been ordered at his father's house, which held an off-licence, and the boy had misled him. The magistrates fined young Rigby 10 shillings and recommended that his father Joseph "conduct his business in a more careful and systematic manner." - In December 1892 the off-licence was transferred from Joseph Rigby to Thomas Frodsham.
f)
95 Robins Lane
-
Grocers - In July 1892 the off-licence was transferred from Edward Rigby to Thomas Frodsham and in December 1892 from Frodsham to Elijah Mahoney.
g)
51 Ditch Hillock
(Waterdale Crescent)
-
In 1893 an off-licence was transferred from James Smith to James Arthur Smith then to John or James Cook in 1897 after Smith had been made bankrupt. James Naylor ran the grocers / off-licence in 1911. Five years later his son Harold was killed on the old Sutton Glassworks site when a crane fell on him.
h)
Phoenix Brewer
y
-
78 Peckers Hill Road - See listing
above
i)
Four Acre House, Jubits Lane
-
For 10 years from about 1881, proprietor Edward Greenough allowed beer to be consumed daily outside his provisions shop and had furnished chairs and jugs. He believed he had found a loophole in his off-license as his customers were drinking on public land. However on September 11th, 1891, Greenough was prosecuted after it was proven to be private land. A deal was done and Chief Constable Wood withdrew the summons after Greenough agreed not to allow consumption outside his premises. On May 27th, 1895 he was fined £5 for opening his shop during prohibited hours. A charge of selling beer for consumption on his off-licensed premises was withdrawn. His neighbours John Leather, Joseph S. Almond, Peter Barrett, Richard Lacey and Mary Woodward were fined 10s. each for being on licensed premises out of hours. On September 24th 1895, Greenough's licence was not renewed after Chief Constable Wood objected, stating that his character was unsatisfactorily. He told the licensing committee that Greenough's house was in an isolated position and the police were unable to supervise it properly. Several witnesses had given evidence supporting Greenough's character and had told the hearing that he sang in Sutton Parish Church's choir. However the magistrates, who included Sutton's Arthur Sinclair of Waterdale, were unimpressed.
j)
43 Appleton Street, Peasley Cross
-
k)
63 Appleton Street, Peasley Cross
- In September 1904 the grocer's off-license was transferred from Peter Almond to his son George Almond, as Peter had become publican at the Golden Cross.
Breweries in Sutton
a)
Phoenix Brewery -
78 Peckers Hill Road - See listing
above
b)
Brook Brewery
-
Brook House, Sutton near Lea Green Station - Owned by John Dixon Parry. In September 1853 he sued an agent called Blenkinstone for £16 4s 1d who sold Parry's beer but hadn't passed on all of the proceeds. In 1855 Parry was made bankrupt. Brook Brewery was advertised to rent for £25pa in 1856 with a good supply of water and necessary outbuildings.
c)
Burtonwood Brewery
-
The brewery was created after James and Jane Forshaw purchased land near Collins Green in 1867. James died in 1880 and his widow ran the business with nephew Richard Forshaw, who became sole owner after Jane married the Rev. William Wilson. Richard as managing director expanded the business with his eldest son Tom and in August 1896 was granted an off-license to sell beer and porter. Forshaw gave a guarantee that he would not sell single bottles "to any or every one" who called at his brewery. On January 16th 1918 the brewery was fined the huge sum of £200 at Warrington County Sessions for brewing 155 barrels of beer in excess of the maximum permitted under the Intoxicating Liquor Output Order. Richard's younger son Richard Dutton Forshaw founded the Burtonwood Engineering company in 1922. Richard Snr., who was on Warrington Rural District Council, died in 1930 and at his request his grave at Burtonwood was filled with Blackpool sand. (Thanks to Margaret & Graham Walker for some of this information)
d)
Leathers / John Cross & Co / Sutton Brewery
- Situated at Leather Hill in Sutton near Rainhill at the end of Mill Lane (which became Elton Head Road), not far from where the Black Horse is now. Listed as Leathers in the 1841 census and as Sutton Brewery on the 1849 Ordnance Survey map. Thomas Birchall and his son John ran the brewery, with the latter also a half-partner in the Mill House during the 1840s / '50s and by 1871 a farmer of 68 Acres, employing 9 men. Leathers appears to have closed around this time.
e)
Star Brewery
- 253 New Street - elderly couple William and Sarah Winterbottom ran it from home - Sarah's occupation is described in the 1891 census as "assists Husband Brew" - see off licences listings.
f)
Thatto Heath Brewery
- Owned by John Fidler. It suffered £500 worth of damage through a serious fire on May 21st 1859 and may not have reopened.
Copyright Notice / Factual Accuracy Statement

This website has been written and researched and many images photographed by myself, Stephen Wainwright, the Sutton Beauty & Heritage site owner. Individuals from all over the world have also kindly contributed their own photographs. If you wish to reuse any image, please
contact me
first as permission may be needed from the copyright owner. High resolution versions of many pictures can also be supplied at no charge. Please also contact me if you can provide any further information or photographs concerning Sutton, St.Helens. You might also consider contributing your recollections of Sutton for the series of
Memories
pages. Sutton Beauty & Heritage strives for factual accuracy at all times. Do also get in touch if you believe that there are any errors. I respond quickly to emails and if you haven't had a response within twelve hours, check your junk mail folder or resend your message. Thank you!
SRW