An Illustrated History of Old Sutton in St. Helens, Lancashire
Part 91 (of 92 parts) - History of Sherdley Colliery (1870s - 1944)
An Illustrated History of Old Sutton in St.Helens
Part 91 (of 92) - Sherdley Colliery (1870s - 1944)
An Illustrated History of
Old Sutton in St.Helens
Sherdley Colliery
Sherdley Colliery
mined coal in St.Helens on the western side of Marshalls Cross Road, off Broadgate Avenue, for around seventy years. Some people say that the
Hughes
family of Sherdley Hall owned the colliery, although in actual fact they were the owners of the land. This also included the minerals underneath and initially Bournes and Robinson paid them for the right to extract coal. Their colliery company – founded in 1824 by brothers
John
,
James
&
Peter
Bourne
along with
Robert Robinson
– mined extensively in St.Helens during the 19th century. Their mining lease from the Hughes family commenced in 1826 with the operations of Sutton Colliery, situated off Peasley Cross Lane. This continued until 1856 when Robert Robinson left the partnership, and the Bourne's renamed the venture Peasley House Colliery.
Further positive coal seam exploration resulted in 1872/3 in the renaming of Peasley House Colliery to Peasley Cross Colliery, as well as the establishment of Sherdley Colliery. Between 1876 and 1883 five members of the Bourne family died and this prompted their heirs to sell the coal operations, with the Whitecross Co. Ltd. of Warrington (formerly known as the Whitecross Wire & Iron Co.) purchasing both collieries on February 1st 1887. Joint management of both collieries continued for a number of years, but the Peasley Cross operation slowly wound down, resulting in the Whitecross Company selling these coal activities, with the Sutton Heath & Lea Green Colliery Co. becoming the owners in 1903.
Sherdley Colliery dates back to at least 1873 when it was first mentioned in the Mines List, which referred to two shafts being worked. This website has identified 46 deaths at Sherdley, although there were probably many more. The first recorded fatality occurred on January 9th 1874, when 37-year-old collier
John Glynn
was crushed by a stone. Then on December 18th 1878, 35-year-old
Michael Boyle
died from a fall of roof after ignoring a warning from a fireman.
Robert Davies
(or Davis) died through rupture of the bladder, as a result of an accident that took place on January 4th 1879. The 32-year-old collier was crushed between the tub of coal that he was pushing and a runaway tub that had broken loose. Two miners - 52-year-old
Philip Carter
and
Thomas Price
aged 25 - were killed as a result of an accident on February 26th 1879. They had disturbed some of the supporting timber when repairing an underground road, causing a roof to fall. The colliery was then managed by
William Lee
, who also managed the nearby Peasley Cross Colliery, with
Robert N. Turner
(b. Durham c.1837) listed as manager of both collieries in 1882.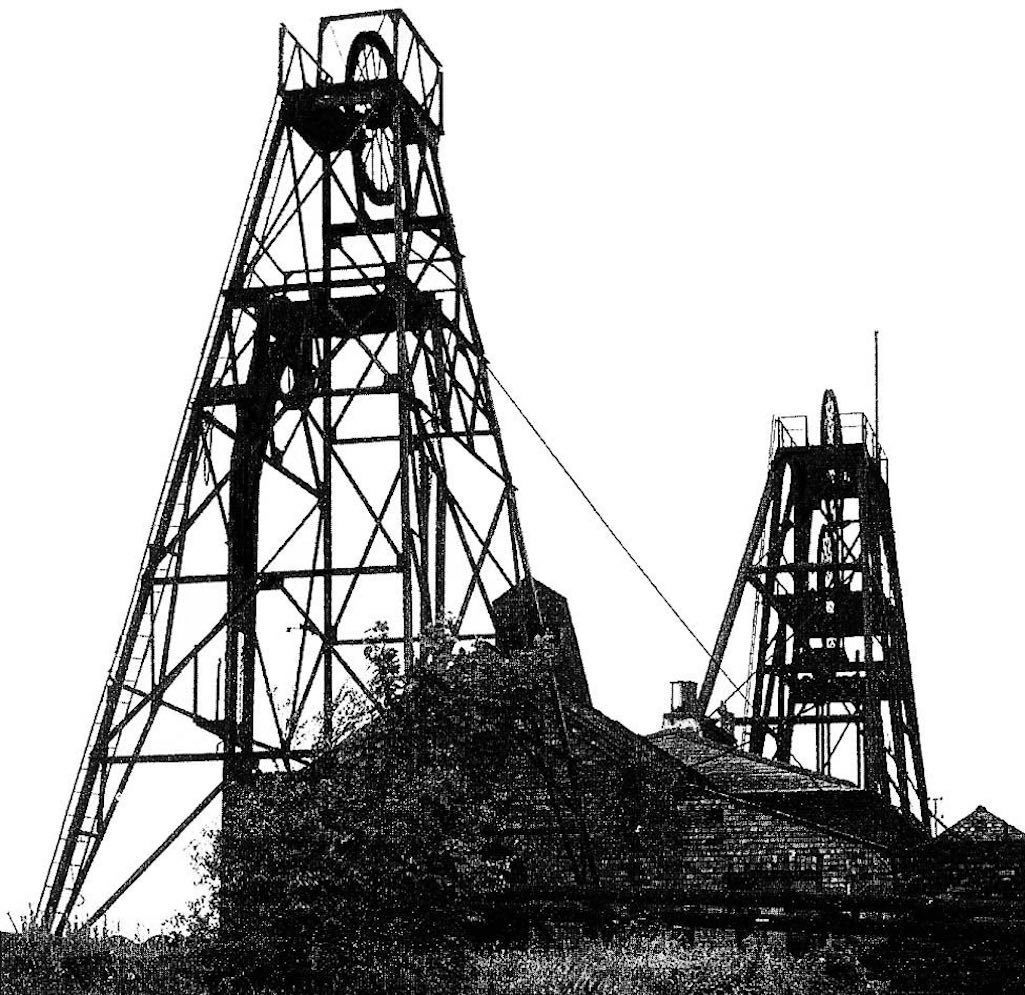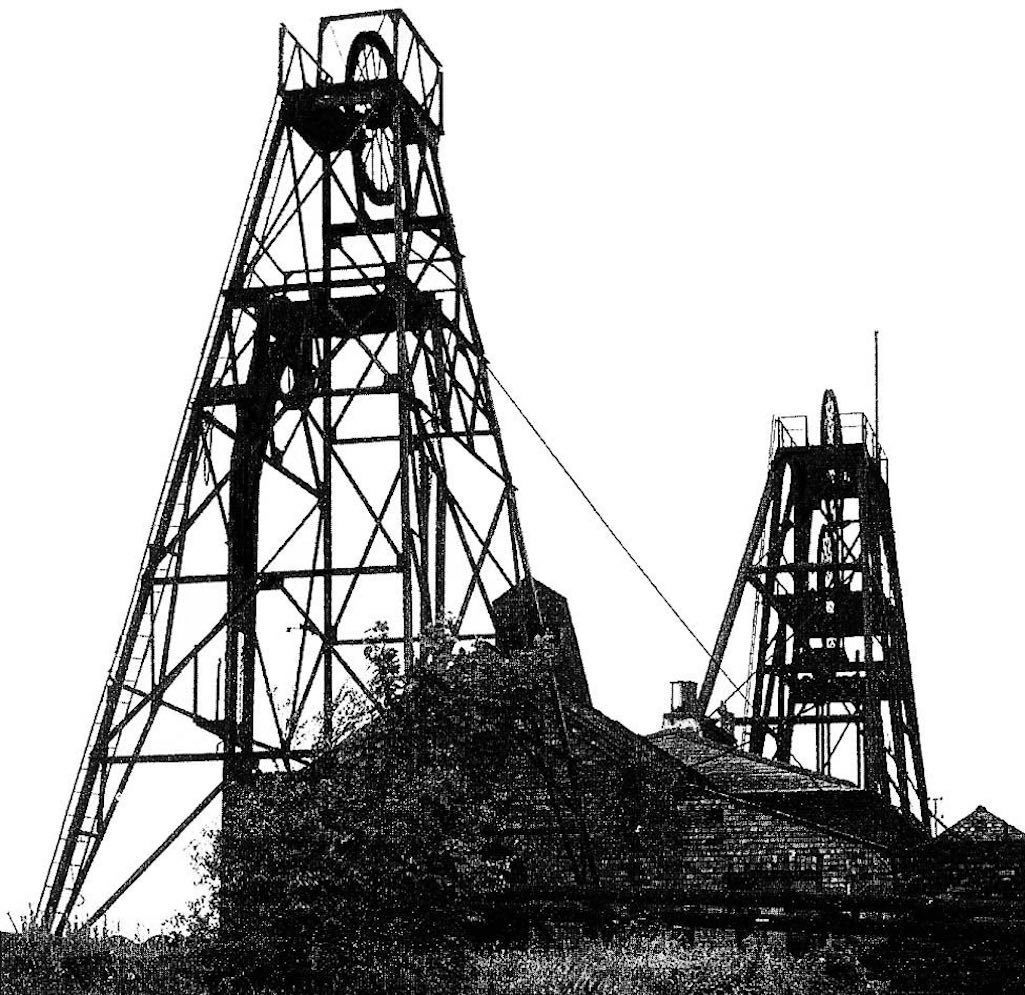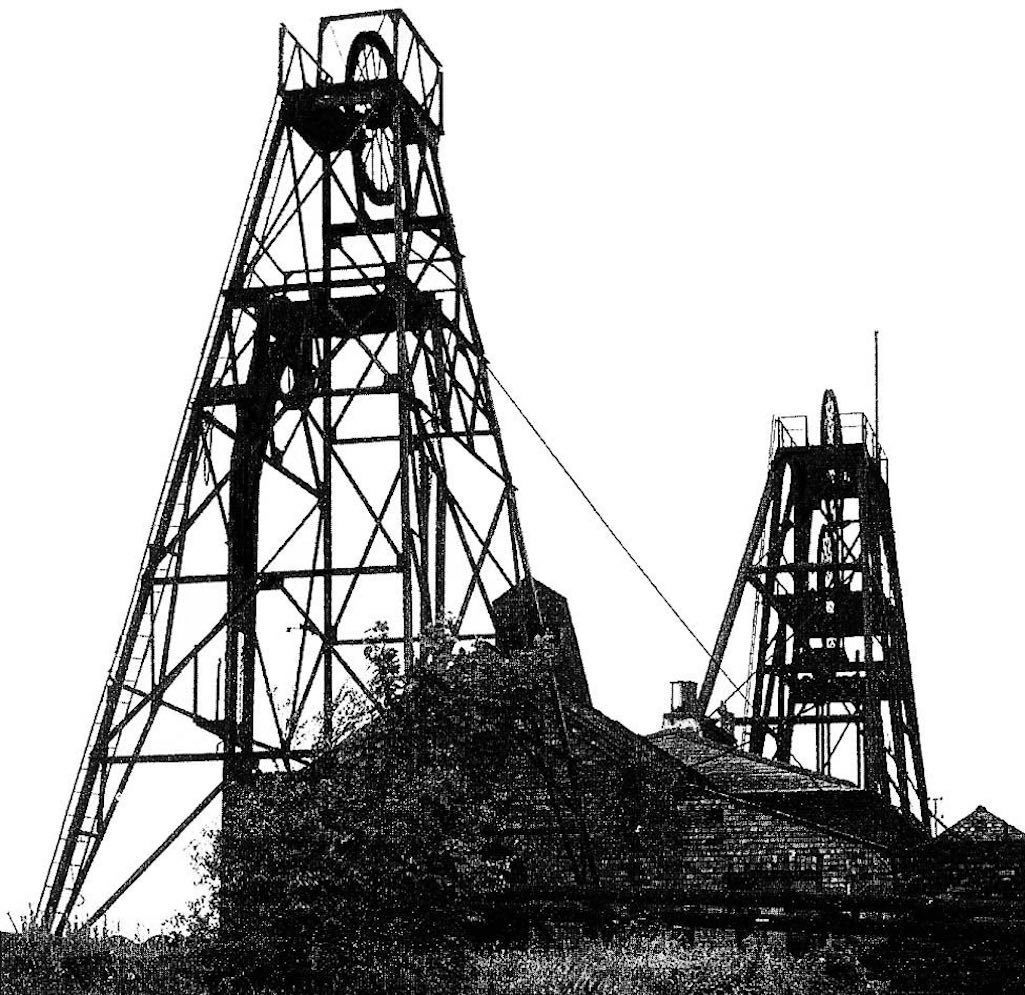 On June 10th 1881, 43-year-old Thomas Gornall was killed by a massive fall of coal from the pit roof. His son Richard, who acted as the 'drawer', having the job of collecting and taking away the coal that his 'hewer' father had extracted, discovered his father buried under material, which he estimated could have filled 70 coal tubs. The exact circumstances weren't known, but the jury at Gornall's inquest regretted that his request for more timber to prop the roof had not been met, a claim denied by the management. Thomas, who lived in York Street in Parr, left a widow and nine children. Insufficient timbering that caused roof collapses was a recurring aspect of many deaths down Sherdley Colliery. However James Bridge lost his life on March 13th 1883 through a pit cage accident. He attempted to get into the cage after it had been signalled away and after he had been warned not to enter. The cage was lowered just as he was getting in and the 65-year-old engineman was crushed.

On March 21st (or 22nd) 1883, 18-year-old Lambert Anders was killed almost instantaneously at Sherdley after being caught between two 'jigger boxes', which were in motion. Thomas Thompson, aged 37, died on September 27th 1883 while clearing part of a roof fall in order to set a prop, when a piece of stone suddenly fell on top of him. Fireman John Davis, aged 33, died on April 2nd 1887 also died as a result of a heavy stone falling. During this time workers were only paid for the work that they did, which was often on piece-rate, and it was anathema to employers to suggest that they should give their staff paid holidays. However the better bosses provided morale-boosting annual day trips and in June 1887 Sherdley Colliery staff were treated to an excursion to Southport, with 800 employees reported as visiting Blackpool in July 1889.

The above two locos both worked at Sherdley Colliery during this period with CHAMPION (left), a four-coupled saddle tank made by the Hunslet Engine Company of Leeds, arriving in Sutton in February 1888. On the right is SIR CHARLES, which was originally built for the Ludlow and Clee Hill Railway. On July 24th 1888 George Usher lost his life while timbering the pit roof with wooden props. The Birmingham Daily Post reported that 'about 10 tons of stuff' fell on top of the 56-year-old, completely burying him. It took a gang of men three hours to extricate Usher's lifeless body. Then on October 31st a fall of roof suddenly enveloped 33-year-old John Butterworth. It again took several hours to uncover his body, which the Liverpool Mercury described as being 'crushed almost to a jelly', with a large stone weighing over a ton covering his body.

By now the authorities were paying more attention to the regulation and inspection of collieries and on November 9th 1888 the Whitecross Colliery Company and their manager Robert Turner found themselves in St.Helens Police Court. They were charged with permitting the firing of shots (detonation of explosives) down Sherdley Colliery, where explosive gas existed. The bench fined the manager just 20 shillings and dismissed the summons against the owners. A curious court case took place six weeks later when Christopher Dingsdale of Marshalls Cross Road was summoned by his manager, Mr. Turner, for opening a safety lamp down the mine. He'd been drinking in a local pub (probably the Bull & Dog) and was heard boasting that while working down Sherdley he had unlocked his lamp with a pick point and then used the flame to fire a shot. This was a dangerous practice but eavesdropping inside the inn was Richard Marsh, who was the manager of Phoenix Colliery at Ravenhead. He got in touch with his opposite number at Sherdley, who initiated the prosecution against Dingsdale, and the magistrates fined him 20 shillings, plus costs.

Underlooker John Leigh, aged 38, was killed on October 29th 1890 while underground at Sherdley. He was walking along a road with the pit's manager and surveyor, when a stone caught him after suddenly falling from a pothole. Very dense stones dropping from the pit roof without warning was a danger that all miners were wary of. They were essentially comprised of ironstone material of a cannonball size and would weigh up to 15 to 20 cwts, having been formed in sedentary rock deposits millions of years ago. A layer of coal about half an inch thick surrounded them, which is why they easily 'popped out' with only the slightest roof movement. Whilst some mines had more large stones than others, they were very difficult to see. If they were, for example, located in a main tunnel, with appreciable height and not covered by timber, their density / weight falling only a few feet onto a miner's head would cause serious injury if not death.

Another Sherdley miner prepared to risk his own and his workmates safety was John Boardman. On the morning of May 13th 1891, a fireman named Owen caught the collier from Oldfield Street puffing away on his pipe underground. There was an unlocked safety lamp by his side, suggesting that he had deliberately unlocked it to light his pipe. An 1872 Act of Parliament had made it a legal requirement for lamps to have a lock mechanism to prevent miners from opening them. But like Christopher Dingsdale, Boardman had found a way to unlock his lamp and he was prosecuted for the offence and fined ten shillings. On October 2nd 1891 John Connolly and Ralph Talbot had narrow escapes from death when large quantities of stones and dirt fell on the pair while they were timbering the roof of a roadway underground. It was two hours before their groans were heard and a further 1 – 2 hours before they could be extricated, after enduring what the Manchester Courier described as "terrible suffering". The colliery's own horse-driven ambulance removed them to the Cottage Hospital nearby. Amazingly no bones were broken but both men were badly crushed. A rumour spread that they had both been killed and this was even printed in a St.Helens newspaper. This led to one of Talbot's sons visiting the hospital in tears asking to see his father's body and he was amazed to find his father conscious in a hospital bed.

Like all businesses, collieries required office staff in order to function. For some years Enoch Grime served as cashier at Sherdley Colliery and he was also chairman of Sutton Conservative Club. For a couple of days in March 1892 Enoch had a slight cold but attended to his duties as normal. However he rapidly deteriorated and within twenty-four hours he was dead. His son Edward Grime, incidentally, was a well-known professional singer. On November 23rd 1892, William Brown, aged 40, died after being crushed by a fall, after cutting coal from a high level without setting props to protect himself. An unusual accident on May 17th 1893 caused the death of Peter Maddock. A group of miners were attempting to get into the pit cage to return to the surface and a crush developed. The deceased was carrying a tea can and in the struggle to embark, the can was forced into his ribs. Although none were broken, blood poisoning set in and the 35-year-old died on the 22nd. Three days after Maddock's accident, 49-year-old Thomas Molyneux became yet another miner who was crushed to death down Sherdley, as a result of insufficient timber being set and the roof giving way.

On December 22nd 1893 William Johnson of Park Road was prosecuted for taking matches down the colliery. A fireman called James Davies was making his rounds when he smelt tobacco. He searched Johnson's coat and found two matches in his pocket and his safety lamp was unlocked, although no tobacco could be found. Johnson - who in court said he had to travel 1600 yards underground to his place of work - denied smoking and said his lamp had become unlocked through being knocked about. Because Johnson's coat had been searched in his absence, the magistrates chose to dismiss the charge. It was also revealed in court that miners were allowed to take pipes and matches down the mine if no gas was present.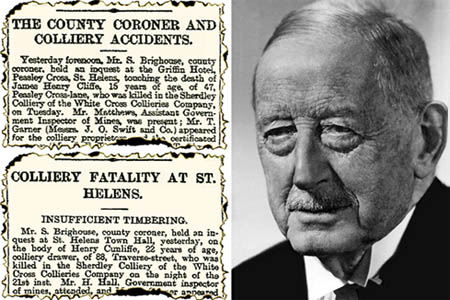 1894 was a bad year for accidents at Sherdley. On February 21st, 29-year-old John Talbot (another report said 33 years) of Ross Street in Parr was killed by yet another roof fall. Then James Cliff, a pony driver only 15 years old, was killed through a fall of coal and dirt on March 27th. The boy lived at 47 Peasley Cross Lane and his inquest, like many others, was held at the nearby Griffin Inn. The Inspector of Mines said that if an additional prop had been erected, the roof would not have given way. Coroner Samuel Brighouse was scathing about colliery proprietors skimping on timber and he said that until owners were compelled by law to put up props at stated distances, such accidents would keep on happening.

During this period over 500 men were employed at Sherdley Colliery and in August of 1894 they were thrown out of work for a couple of days by a pony boy strike. The White Cross Colleries Co. decided to cut their wages by 10%, but the lads claimed that the reduction in reality was far higher. The dispute also spread to the nearby Peasley Cross Colliery, also owned by White Cross, and 200 men there had to be laid off. After being given assurances at a meeting with their bosses held at the Ship Hotel in Raven Street, the boy strikers voted to resume work.

On September 14th 1894 a fire destroyed the Sherdley lamp room, which was situated on the pit brow. Being a wooden construction, the building had burnt down by the time the steam fire engine had arrived from St.Helens and 200 lamps were destroyed. In October Sherdley got mixed up in a bigamy scandal as a result of two employees, Margaret Anders and John Pearson, meeting at the colliery and subsequently getting married. After Pearson deserted his wife and child, she took out a summons against her husband only for his 'other wife' to turn up in court as well! On November 24th the 42-year-old was sentenced to two months hard labour at Liverpool Assizes.

Yet another roof fall took place down Sherdley on December 13th 1894 when James Harrison of Traverse Street in Parr was crushed to death. A large stone fell on the 50-year-old, while he was putting up pit props. Coroner Samuel Brighouse continued his campaign for mandatory timbering of pit roofs at the inquest on Henry Cunliffe, held on December 28th 1894. The 22-year-old colliery drawer, also from Traverse Street, had died when a portion of the roof collapsed on him. Fireman John Tickle and Henry Johnson – who was Cunliffe's uncle – both gave evidence at the inquest. They told the coroner that they'd examined the workplace beforehand and were both satisfied that the supporting props and bars were perfectly safe. However Mr. Hall, the Government inspector, told a different story. He'd examined the workplace down Sherdley Colliery after the accident and had come to the conclusion that more could have been done to make the roof more secure. In the next working place he'd found a collier working under a loose roof, which, he said, could have come down at any time. Mr. Brighouse in summing up said: "Owners ought to be compelled to look better after colliers, and colliers should be compelled to look better after themselves than they do at present."

In February 1895 John Whitfield of Peasley Cross Lane died from injuries received during wagon shunting at Sherdley. The 30-year-old slipped after uncoupling a waggon and the wheels passed over his right leg. On April 8th a serious explosion occurred at Sherdley when five officials were surveying its main delph mine. The men were manager Robert Turner of Sherdley House, next to the mine in Peasley Cross Lane, architect and surveyor Frank Biram from Marshalls Cross Road, colliery underlooker John Harrison of Ellbess Lane and firemen Thomas Singleton and Peter Anders. All received serious burns to their head, face and arms with Biram and Harrison receiving the worst injuries. The accident was caused by a rush of gas, which had been ignited by a lamp carried by Anders, causing a sudden flash and loud explosion. This was thought to have been the first time that a gas explosion had happened at Sherdley. Frank Biram, incidentally, went onto design a large-scale extension to Sutton National School, which was completed in late 1898. His father Benjamin Biram, of Peasley Vale House, had passed away only seven days prior to the explosion. Formerly a manager for Bournes and Robinson, Biram Snr. became managing director of the Whitecross Collieries Co. and also served as a magistrate. He was keen to improve safety in mines and designed a new type of anemometer, an instrument that measured air flow.

By May 31st 1895 manager Robert Turner had recovered sufficiently from his injuries to give evidence at the inquest on John Unsworth of Williamson Street in Parr. The 60-year-old boiler tenter (another report said 70 years) died from injuries received after stepping into a hole where an old boiler had been. On November 4th collier William Lawton of Back-Bolton Street in St.Helens was fined 5 shillings for firing a shot in part of the Sherdley mine where safety lamps were needed and where there might have been gas. In colliery listings published in 1896, Sherdley Colliery is described as having 482 underground workers, as well as a staff of 155 on the surface. Reporting to the manager were undermanagers R. Armstrong and J. French, although Robert Turner would soon resign his managerial position to become a Consulting Mining Engineer in St.Helens. William Pattison, another experienced Durham mining engineer, who also lived at the company's Marshall Cross Road house, replaced him at Sherdley.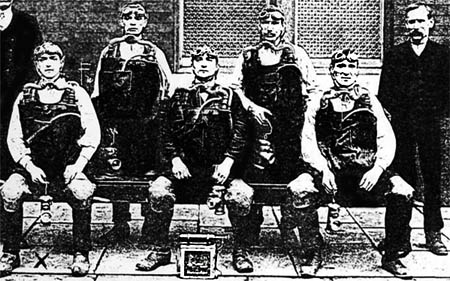 On May 22nd 1896 foreman
William Whitfield
was badly injured after lowering a waggon under the coal washing machine. The 25-year-old became crushed against one of the upright supports and died at Liverpool Infirmary five months later. The firing of explosive shots happened at Sherdley on a daily basis in order to extend mining operations. However a different type of firing occurred on January 25th 1897, when
John Roberts
decided to bring his new, loaded revolver to work. The young man from Mercer Street in Burtonwood was showing off his gun to his workmates in a cleaning room, when it went off, lodging a bullet in the side of
John Christopherson
from Oldfield Street in Gerards Bridge.
James Critchley
, aged 16, was killed at Sherdley on June 4th 1897 after being run over by a 'journey' of wagons. Another James,
James Robinson
, received fatal injuries on January 13th 1898 after travelling up the haulage brow astride the rope. This suddenly sprung up, causing the 50-year-old to be thrown in front of full coal tubs on the other road. As a consequence a new rule was introduced in which the rope would be stopped while men were travelling. There was more evidence of poor pit propping at the inquest on
Francis Needham
of Frederick Street, Sutton, who was killed on June 22nd 1899. The workers had left roof coal un-propped for a distance of four yards and it later collapsed upon the 47-year-old when he was filling a tub of coal. Fireman
William Burnett
had examined the workplace three hours earlier but had trusted the men - who were more experienced than him - to prop up the roof if they felt the need. Coroner Brighouse said: "It seemed as if the men had been left to do as they liked" and he renewed his call for "systematic timbering".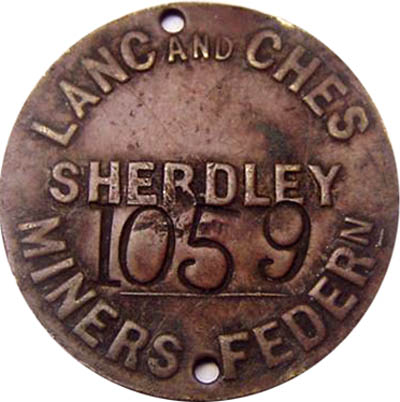 On August 15th 1900
George Twist
of 23 Peasley Cross Lane died after being crushed by a rock weighing two tons. It fell on the 42-year-old collier as he was walking down the main delph roadway, which had been cut out of the solid rock thirteen years earlier. Owing to the solidity of the rock, which was 32 yards thick, no timbering had taken place. Indeed the miners thought the place was so safe that they ate their breakfasts there.
James Gormley
was also killed by the fall of a large stone in December of that year, while bringing down some of the pit roof with a crowbar. As well as being a miner, Gormley was the licensee of the Shamrock beerhouse in Parr. Another roof fall killed 63-year-old
Thomas Partington
in March 1901. Coroner Sam Brighouse again criticised insufficient propping of pit roofs saying: "Something will have to be done sooner or later. If anything could be done to preserve life, it is the duty of the employer to do it."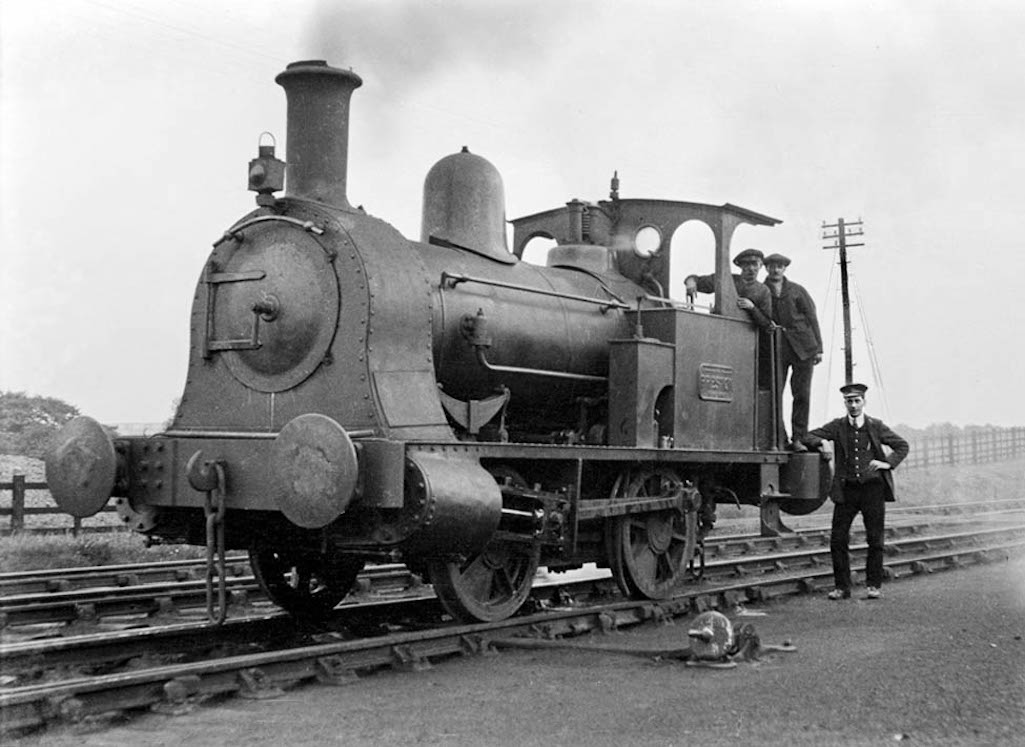 The above photograph is of the loco PRESTON, which was built by Edward Borrows & Sons of Sutton in 1904. The four-coupled well tank was mainly employed at Sherdley but also served at Lea Green Colliery. It is pictured on the main Liverpool-Manchester line facing Liverpool, about 300 yards west of the Lowfield Lane bridge at Lea Green. In C. H. A. Townley & J. A. Peden's 'Industrial Railways of St Helens, Widnes and Warrington Part 2', the authors state that BARKER, a six-coupled saddle tank built by Hudswell Clarke and Company, was delivered to Sherdley Colliery in 1910. They also add that the loco LOMAX was working at the colliery in 1938, with FANNY also believed to have been employed there for a time. The latter had been built by the Vulcan Foundry in 1876 and sold to James Radley for use at his Sutton Heath & Lea Green Collieries.

A shocking accident occurred to winder John Cunliffe on September 12th 1907. The 49-year-old was oiling the wheels of a pump when he fell down the pit shaft and was 'dashed to pieces', as one newspaper put it. On July 3rd 1911 packer Enoch Williams, aged 33, died after another pit roof fall with Thomas Battersby, aged 37, killed on September 24th 1912 by a large stone falling from the roof. The stone was reported as measuring 10 feet long by 3 feet 6 inches broad and 1 foot 3 inches thick. Another collapse at Sherdley on April 11th 1913 led to Peter Marsh, aged 24, being fatally injured by falling coal. Wilfred Ashton's death eight days later had some mystery to it. The 14-year-old haulage hand from Parr Mount Street had told another boy named James Price that he had a "nasty headache, and did not feel grand for work". Later that morning Price found Ashton lying between the rails with his skull fractured, after coal wagons had passed through, although the lad told the inquest that the coal boxes hadn't hit his friend. Henry Watkiss, aged 18, died on October 29th of the same year by a sudden fall of roof, after roof bars had been removed while a main haulage level was being enlarged.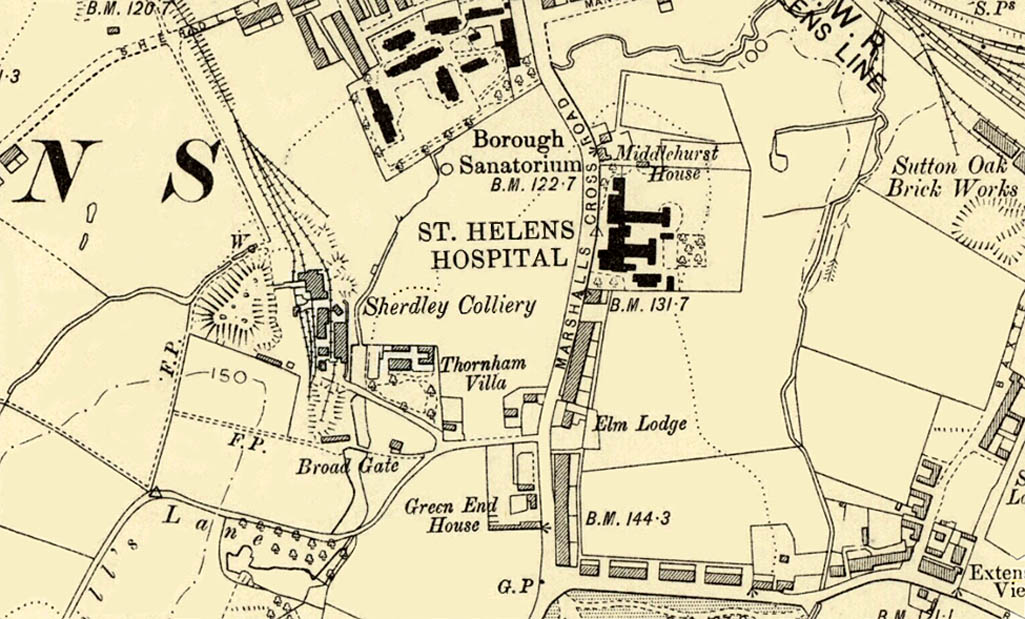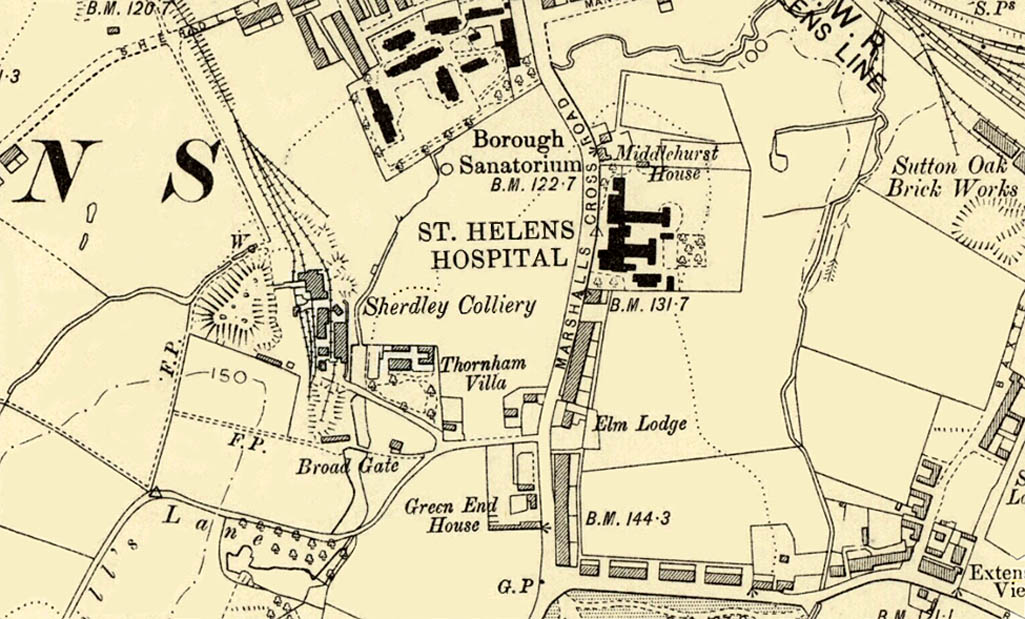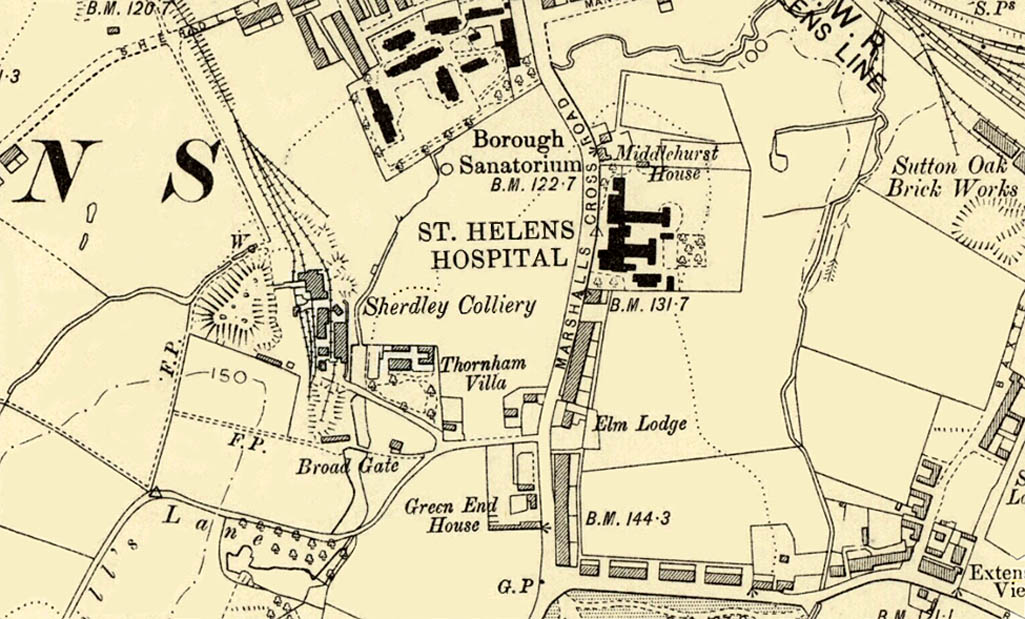 By now Sherdley Colliery was under the ownership of the Sutton Heath & Lea Green Colliery Company, with a
Mr. Kirk
as the mine's manager. His duties included attending the many inquests on his deceased staff, such as in July 1915 after 50-year-old electrician
Fred Alexander
died after being crushed by a tub. Then on June 9th 1916, 15-year-old
John Hennesey
and
Harry Bennett
, aged 17, were both buried by a fall of roof. It took two hours to extricate Bennett from Elephant Lane and the lads were both taken to St.Helens Hospital to be treated for their injuries. Although they both survived,
Hugh Jones
, a metalman aged 40, died on October 26th 1916 after yet another fall of roof.
On March 7th 1917, 17-year-old haulage hand
Paul Bannister
died after being crushed while riding the coal tubs. This was firmly in breach of the colliery rules but was something that boys sometimes did. In November of that year former miner
John Molyneux
was awarded the V.C. for his bravery in the war. 'Jack' resided at 81 Sherdley Road and before the outbreak of hostilities had worked at Sherdley Colliery with his father. You can read full details of John's award
here
. Another fighter of a different kind who worked at Sherdley was boxer
Mick Gordon
. He was dubbed 'The Fighting Collier' and often journeyed to bouts after a shift down the pit. Gordon employed a well-known professional runner called
Edward Forber
, but after leaving the colliery Forber found himself in court. During the war miners could apply for a certificate of exemption from military service. By leaving Sherdley and gaining his livelihood exclusively from running, Forber was in breach of his exemption and an absentee from the Army reserve. His defence was that he'd been troubled by his eyesight but the court in August 1917 fined Forber 40 shillings and handed him over to a military escort.
Sherdley banksman
Richard Bailey
, aged 24, died on May 17th 1919, after he was crushed by a waggon. A 1920 share prospectus of the Sutton Heath & Lea Green Colleries Ltd. said: 'The Sherdley Colliery is situate about one mile from St. Helen's Station, and is connected by its own private siding with large chemical, glass, and other works, whose consumption of coal is considerably in excess of the output of this Pit.' In Frank Bamber's book 'Round About The Pits' he describes what Sherdley Colliery was like during this period:
I have never been inside the colliery itself, but in the 1920s, myself, an apprentice joiner, and a fellow apprentice from Bold Colliery would, after we had finished work, ride our bikes to the Sherdley Dam or reservoir, and wash ourselves down there. The miners and work force from Sutton would enter Green End Lane off Marshalls Cross Road, at the end of which were two tracks - one left to the Score, the other right to the colliery. The miners from the Peasley Cross area and town would travel down Sherdley Road and, leaving Ormonde Street on the left, would leave the road to gain access to the colliery. Walking down Marshalls Cross Road and standing with your back to the St. Helens Hospital, you could get a full view of the colliery across the field. This was before the houses were built. The colliery extended from approximately Green End Lane to the St. Helens Sanatorium.
The coal seams worked at Sherdley were the Main St.Helens Delf, St.Helens 4 feet, Little Delf or Yard, Potato Delf and the Pigeon House seam. The Yard seam was only 3 feet thick, with the Pigeon House seam even lower, with just 2 feet of thickness. In Charles Forman's 'Industrial Town – Self Portrait of St Helens in the 1920s', an unnamed miner from Fleet Lane in Parr, who was born c.1905, told the author about the difficulties of working in wet, very low coal seams at Sherdley Colliery:
Pigeon House, Sherdley was only 2 ft, and water ran down the face. You had to crawl with your spade on your behind and your lamp round your neck. They had flat spades in those mines. You could sit cross-legged sometimes. If you knocked your light out, you'd had it; you couldn't light it again. The men would be 8 yards apart all the way down the face.
Haulage hand
Walter Gurney
, aged 15, suffered a fatal head injury at Sherdley Colliery on May 23rd 1924. Another death occurred on March 17th 1927, when engineer
Frederick Green
, aged 42, died after coming into contact with live links.
George Woods
of 11 Fisher Street, Sutton, died on April 7th 1927 after the pit cage started to move as he was getting in.
Stefan Kwasek
writes on the Sutton Beauty & Heritage
Facebook
page that Woods was his maternal great-grandfather: "My mum tells me as part of the compensation package offered to the family, one of George's sons was guaranteed a job down the same pit when he became old enough. Two other of George's sons who worked in the same pit were called to identify the body." Then on April 4th 1928 32-year-old William Ashall lost his life at Sherdley through a fall of roof coal and dirt. Fireman
Thomas Littler
, aged 23 of Elephant Lane, was also killed on August 16th 1929 by a fall of roof. On February 3rd 1930 three men were working on strengthening a roof down the colliery when there was a tremendous crash and the roof suddenly came down on top of them. The debris completely covered the trio, apart from a pair of clogs that jutted out from underneath. The three injured men –
William Eden
of Clock Face Road,
William Peel
of Peasley Cross Lane and
John Travis
of Elliot Street – were quickly extricated and rushed to St.Helens Hospital nearby.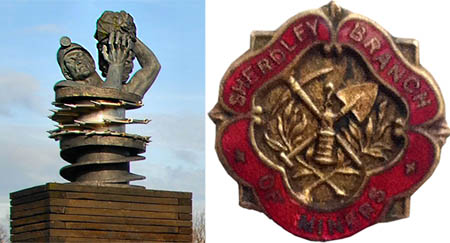 Another roof fall killed 44-year-old Joseph Briers of Ramford Street in Parr in March 1939. He was working in the colliery's Yard Mine when a large stone, measuring 6 feet by 3 feet and 6 inches thick, fell on his back, pinning him to the ground. In attendance at Briers's inquest was the colliery's manager, James Anderton, who lived at Crawford Villa in Gorsey Lane. This was named after the Earl of Crawford, who was chairman of the Wigan Coal and Iron Co., the owners of Clock Face Colliery. In 1942 Anderton was appointed as the manager and agent for the Clock Face mine and he went on, via Ravenhead Colliery, to become the General Manager for the NCB Lancashire Area, and the inventor of the Anderton Shearer Loader, that revolutionised long wall mining.

On August 14th 1939 Lambert Skeath, a 56-year-old pit shaftsman of Ashcoft Street, appeared in court charged with indecency, along with 41-year-old May Hanley of Albion Street, who was accused of aiding and abetting the offence. 'Indecency' has been a catch-all term in the past but in this context usually refers to a couple caught by the police being rather intimate, often while indulging in an extra-marital affair. Not many years earlier Skeath might well have been sent to prison for such an offence. However times were now more enlightened and so he only received a fine of 20 shillings and the shame of his name in the newspapers. Two years later on January 28th 1942, Skeath was killed at Sherdley Colliery. Formerly living in Sutton at 27 Morris Street, Lambert, like many other mineworkers, had endured a number of minor injuries during his many years at Sherdley, including a crushed toe, contused ribs and an eye injury.

At the inquest on John Swift on January 11th 1943 the coroner Cornelius Bolton said the procedure that led to the Sherdley shaftsman's death was the maddest that he'd ever experienced. Swift from Sutton Road went down on top of a pit cage on which three oil flares were burning in order to do some work. Whilst he was attending to a pipe on the side of the shaft, Swift's special clothing caught fire and the 52-year-old later died in hospital. Soon afterwards it was decided to close Sherdley Colliery and transfer the workers to other pits. This created much anger among the 500 men and pit-head screens women, who felt there had been a lack of consultation. A mining official was quoted by the Manchester Evening News as saying:
Why should Sherdley be closed? Why should men have to travel miles farther to work every day from a colliery at which production has been increased by 2,000 tons between June and November? Many collieries are working to-day off less productive and profitable margins than Sherdley.
The owners, Sutton Heath & Lea Green Collieries Ltd., were concerned about a shortage of skilled labour because of the war and felt it made economic sense to concentrate its workforce in more modern and efficient pits, such as Lea Green Colliery, which was closer to the railway network. With the promise of free buses to transport workers, the miners' unions withdrew their opposition to the closure. The transfers were phased, beginning on February 8th 1943, when 150 miners working in the Pigeon House seam at Sherdley were transferred to the Little Delph district at Lea Green.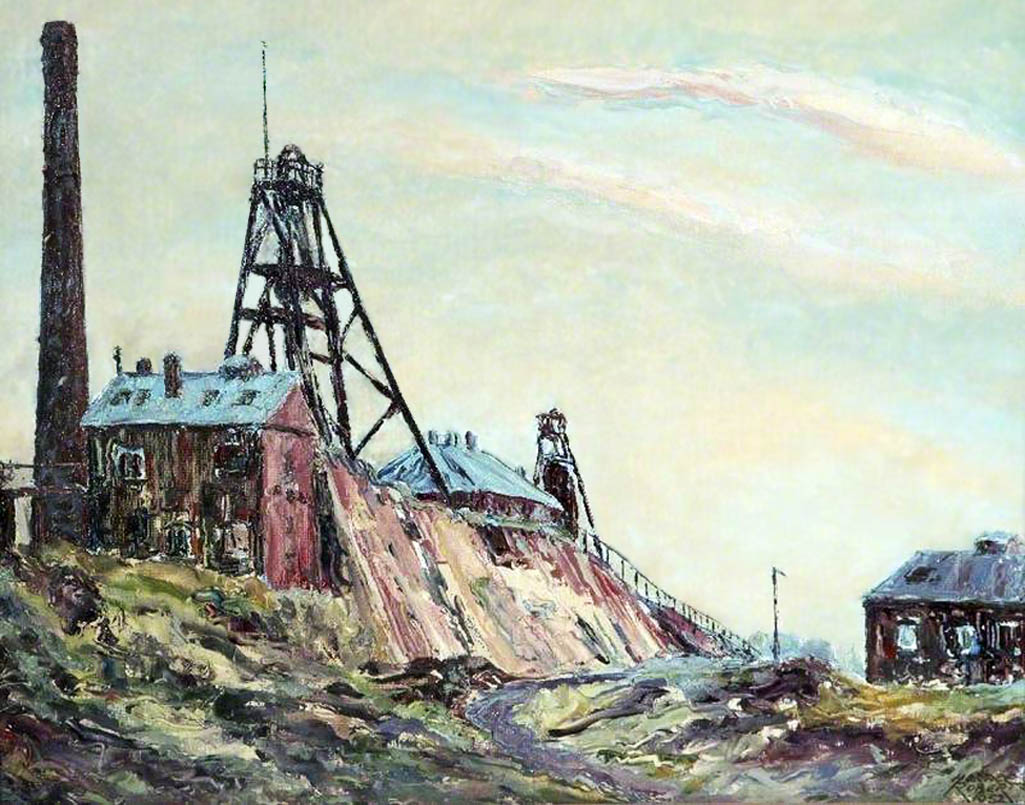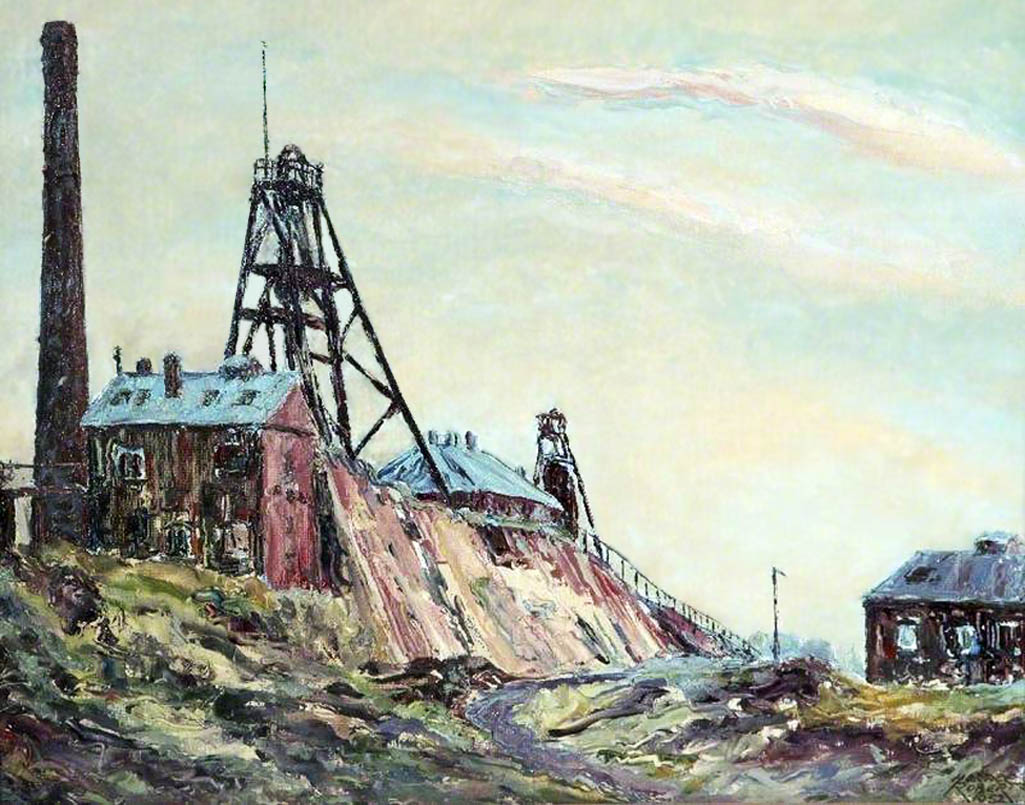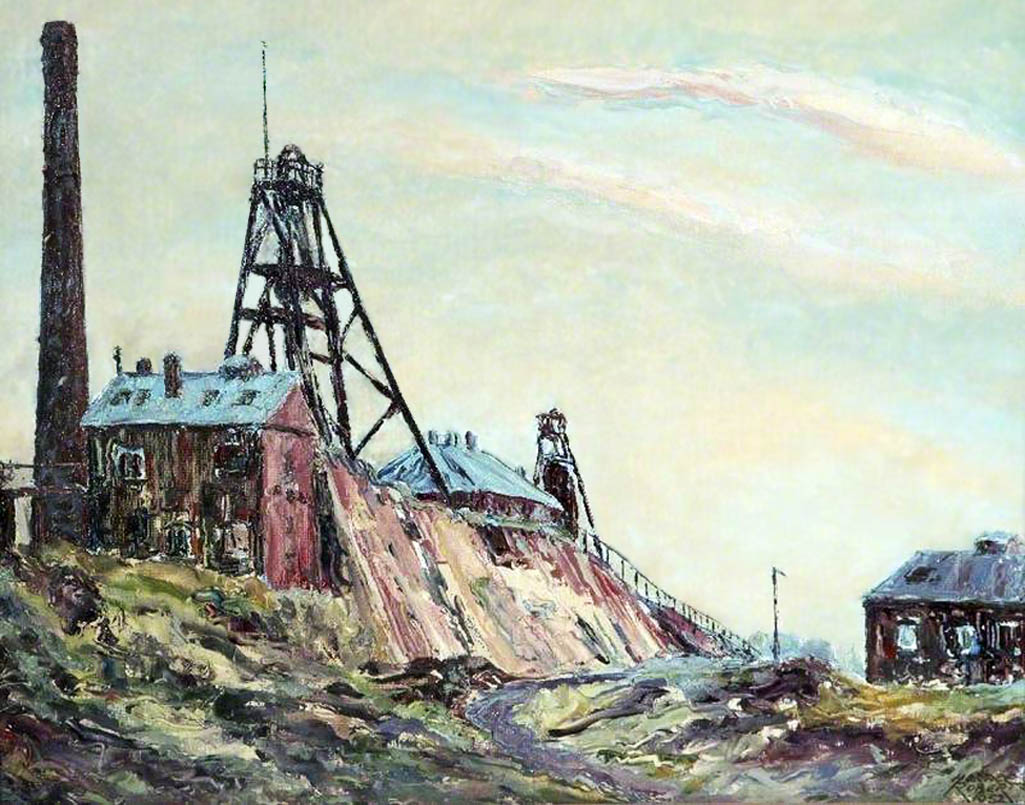 It was estimated that 6,669,300 tons of 'ungotten' coal was still underground when the colliery closed. However some would later have been 'gotten' by the nearby Ravenhead Colliery, which was mining similar seams with much better winding capacity. Sherdley's old headgears remained as redundant landmarks for many years afterwards, although water was pumped out of the mine to provide cooling at the United Glass factory. After some time the water stopped being pumped from underground, and instead surface water was taken from the site and used at UGB as a sprinkler system. The site of the colliery is now a housing estate, comprising Thornham and Broadgate Avenues, and is also part of the Sherdley Business Park.
Thanks to former NCB mining engineer Harry Hickson for his assistance with this page
Copyright Notice / Factual Accuracy Statement

This website has been written and researched and many images photographed by myself, Stephen Wainwright, the Sutton Beauty & Heritage site owner. Individuals from all over the world have also kindly contributed their own photographs. If you wish to reuse any image, please
contact me
first as permission may be needed from the copyright owner. High resolution versions of many pictures can also be supplied at no charge. Please also contact me if you can provide any further information or photographs concerning Sutton, St.Helens. You might also consider contributing your recollections of Sutton for the series of
Memories
pages. Sutton Beauty & Heritage strives for factual accuracy at all times. Do also get in touch if you believe that there are any errors. I respond quickly to emails and if you haven't had a response within twelve hours, check your junk mail folder or resend your message. Thank you!
SRW