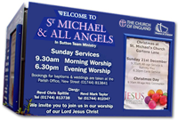 Churches in Sutton, St.Helens
Churches in Sutton, St.Helens
Churches in Sutton
St.Helens, Lancs.
St. Nicholas Church in New Street
St. Nicholas Church in New Street
St. Nicholas Church
in New Street
In 1848 Sutton, which had previously been in the parish of Prescot, was given its own parish and work began on constructing a new church. The Gothic-style Victorian church of
St. Nicholas
, located in New Street in Sutton, St.Helens was built from pink sandstone and consecrated on 4th June, 1849 as Sutton Church
by the
Rev. John Graham
, the Bishop of Chester. The patron was Kings College Cambridge and the first minister was
Rev. Henry Edward Francis Vallancey
who was the vicar of Sutton until 1888. (You can read a comprehensive history of Sutton Parish Churches
here
.)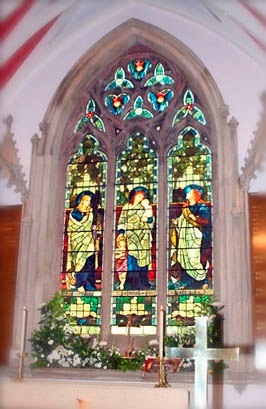 The squat west tower of St.Nicholas was designed by Lancaster architects
Sharpe
,
Paley
and
Austin
and constructed in 1897. The central aisle is separated from the south aisle by Gothic arches on heavy circular pillars. The northern aisle parallels the southern one to complete the nave, which has small clerestory windows. The chancel contains a late Perpendicular stained glass window in the east, below which is the High Altar. The east window is dated 1879 and is thought to have been designed by expert stained glass window designer
Henry Holiday
, who was employed by Powell's Glass Works and fulfilled over 300 commissions, mainly from American clients. The Willis Organ was presented by
William Roby Pilkington
who later became Lord of the Manor. He also donated two stained glass windows and others were presented by
William Blinkhorn
, including a beautiful 'Faith Hope & Charity' window. Two more were added to commemorate the church's 150th anniversary.

In the graveyard is the
Michael Hughes
family vault who owned the nearby Sherdley estates for over 140 years. Inside the church there is an unusual memorial to the Hughes's. This is in the form of a plaque on the side of the two front pews which reserves them for Sherdley Hall's exclusive use.
Charlotte Hughes
funded improvements to the New Street church in 1897 and she insisted upon the pews being reserved "forever" for her family.


When passing through the St.Nicholas lychgate entrance, notice the dedications to three of the Blinkhorn family who ran the
Sutton Glassworks
for many years. These were made by daughter
Emily Blinkhorn
who married
Rev. Maximilian Frederick Breffit Binney
, the second Vicar of Sutton. The building has a seating capacity of 600 and has been awarded grade 2 listed building status. In the Summer of 2008, a St. Nicholas Heritage Group was formed with the aim of compiling and maintaining an accurate list of church records and to promote the church.

It's one of the few churches in St Helens that still has a Rose Queen Festival, which in 2015 celebrated its 25th anniversary. The coronation ceremony takes place in June each year with a retinue of ladies-in-waiting, attendants, flower girls and pageboys. Each Queen selects her own charity and fund-raising events are held during the year. The Rose Queen for 2015 – 16, is 11-year-old
Eleanor Long
and her chosen charity is St.Helens charity ACE (Africa's Children in Education). The previous Queen Niamh Smith raised £600 for her chosen charity Henshaws Society for the Blind.
Church Details
:
Team Vicar: Rev Mark Taylor; Guide Leader: Janet Sharples; Parish Office (including baptism and wedding enquiries): Eaves Lane, Sutton, St.Helens, WA9 3UB. Tel: 01744 813841
suttonparish@btconnect.com
Website
. The office is staffed Monday, Wednesday, Thursday and Friday: 8:30am to 12:30pm; Tuesday: 12 noon to 1 pm. Sunday Services: 9am Holy Communion, 10:30am Family Communion (1st & 3rd Sunday), Family Service (2nd & 4th Sunday) and Morning Prayer (5th Sunday). 6:30pm Evensong (1st, 3rd & 5th Sunday) and Sung Eucharist 2nd & 4th Sunday); Thursday Service: Holy Communion 10am; Also on Thursdays (except Maundy Thursday) a Coffee Morning is held from 10:30am to 12:30pm in the Parish Hall for £1;
Download
Sutton Parish Graveyard Plan;
View History of St.Nicholas & All Saints Churches
;
St.Nicholas Church Photo-Album
All Saints Church in Ellamsbridge Road
All Saints
in Ellamsbridge Road in the Sutton Junction district was built between 1891 and 1893 from red sandstone and designed by the renowned Lancaster architects
Sharpe
,
Paley
and
Austin
. It was the second Church of England place of worship within Sutton parish after the building of St.Nicholas, which until the consecration of All Saints, was usually referred to as Sutton Church. For many years the same vicar ministered to both churches. Although it has its own church hall, it has no graveyard.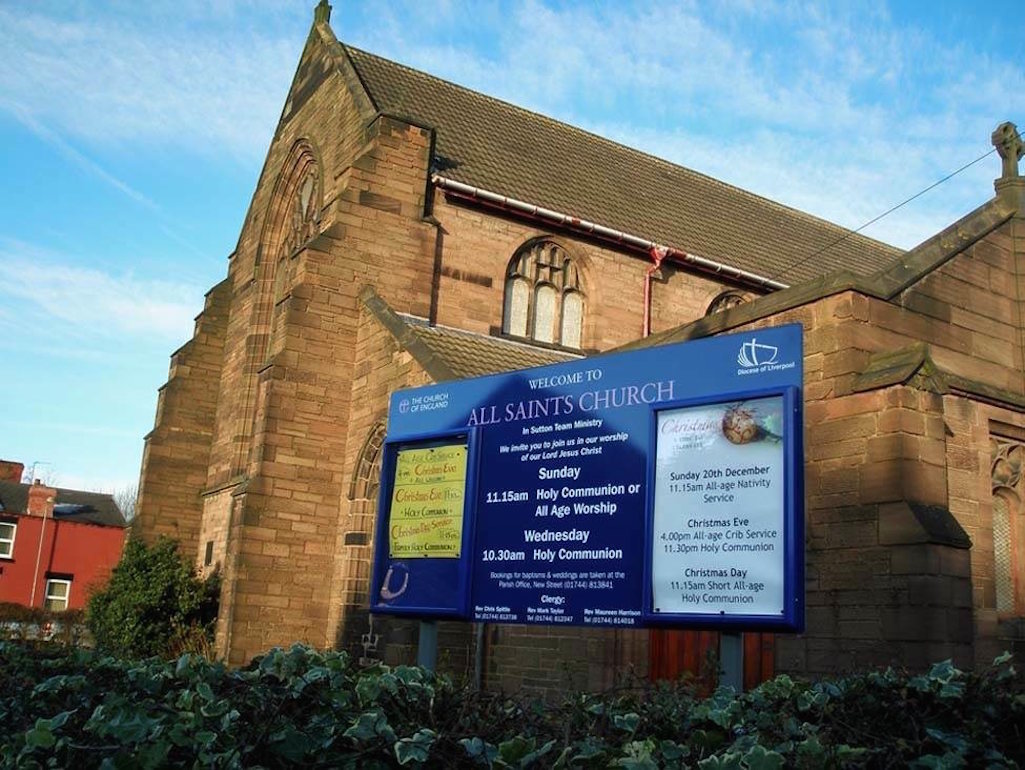 The porch at the western end of the southern aisle of All Saints opens into a "dignified" interior and there are rounded arches inside the perpendicular windows. The details of the windows including their tracery, are said to be 'free from archaeological correctness'. The planned central tower was never constructed.

All Saints' organ was donated by
William Pilkington
in 1900 and in 1905 the Pilkington memorial stained glass east window was donated by his family. The building has grade 2 listed building status.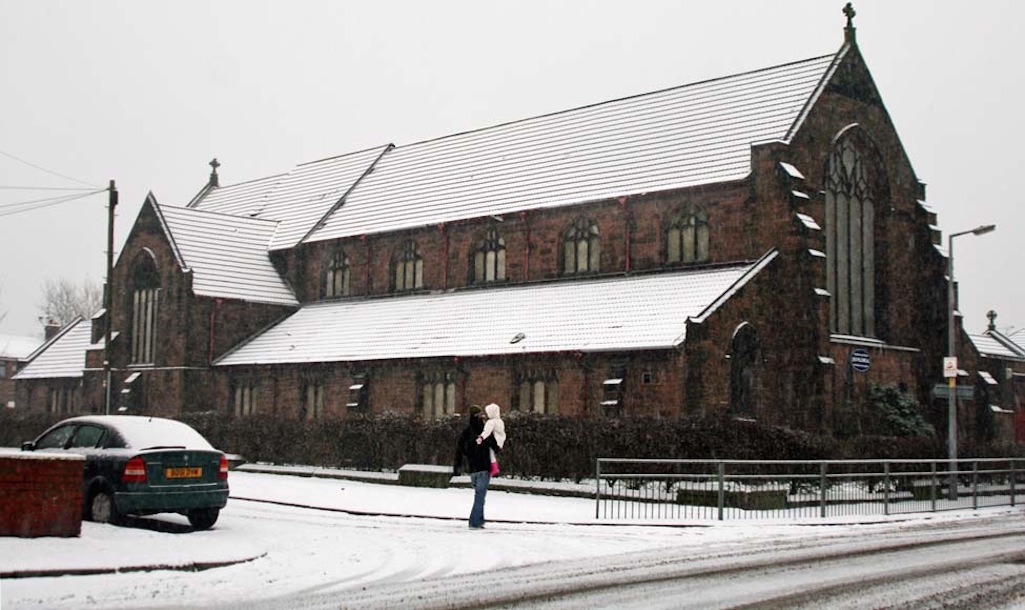 Church Details
:
Sutton Team Ministry: Rev. Amanda Bruce; Rev. Mark Taylor 01744 812347; Rev. Maureen Harrison 01744 814018; Church Services: Sunday 11:15am Holy Communion or All Age Worship; Wednesday 10:30am to 11:00am followed by coffee. Parish Office (including baptism and wedding enquiries): Eaves Lane, Sutton, St.Helens, WA9 3UB. Tel: 01744 813841
suttonparish@btconnect.com
Website
. The office is staffed Monday, Wednesday, Thursday and Friday: 8:30am to 12:30pm; Tuesday: 12 noon to 1 pm;
Download
Sutton Parish Graveyard Plan; All Saints Church runs a toddler group on Thursdays during school term time from 9:00am to 10:15am. For children up to three years old, accompanied by an adult, the group is free and involves fun, stories, crafts, baking and refreshments.
View History of All Saints & St.Nicholas Churches
St. Anne & Blessed Dominic Monastery Road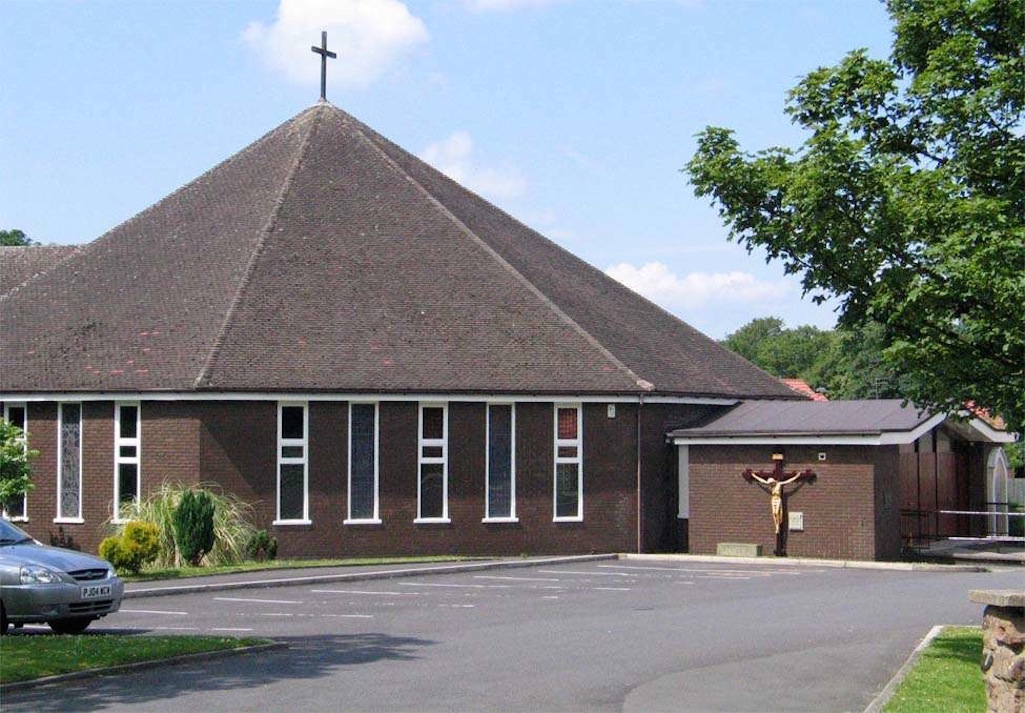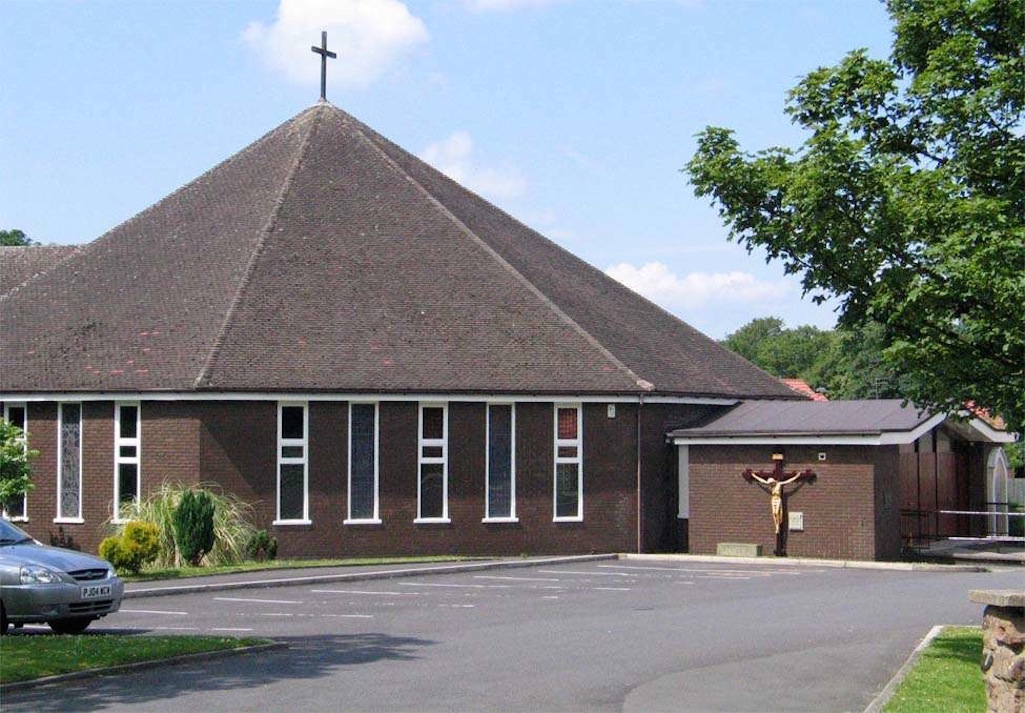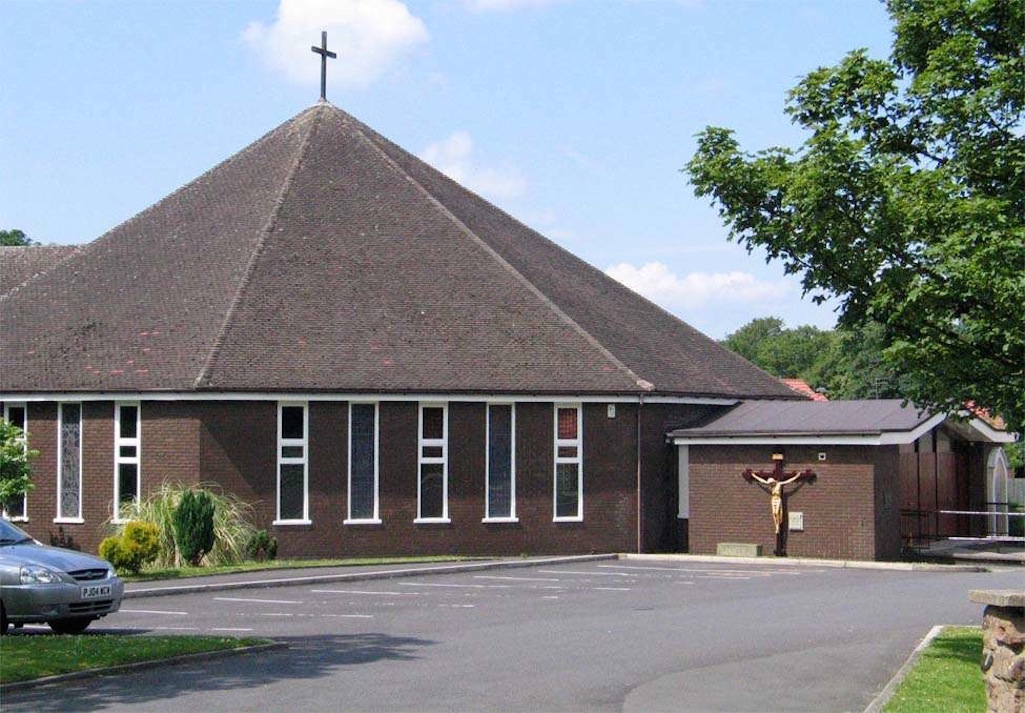 The church of
St. Anne and Blessed Dominic
in Monastery Road / Lane, Sutton is a replacement for the original Gothic-style church of St. Anne's which was built in sandstone with a tower and steeple and opened in October 1853. The church was located adjacent to a Passionist monastery which was founded in 1849. The old church was heavily damaged by mining subsidence and so had to be demolished. Built on the other side of the monastery, the new church was blessed by Archbishop of Liverpool,
George Beck
, on November 25th 1973. It was built using the Wannar system of preformed struts and consists of an octagonal structure to which has been added a small chapel.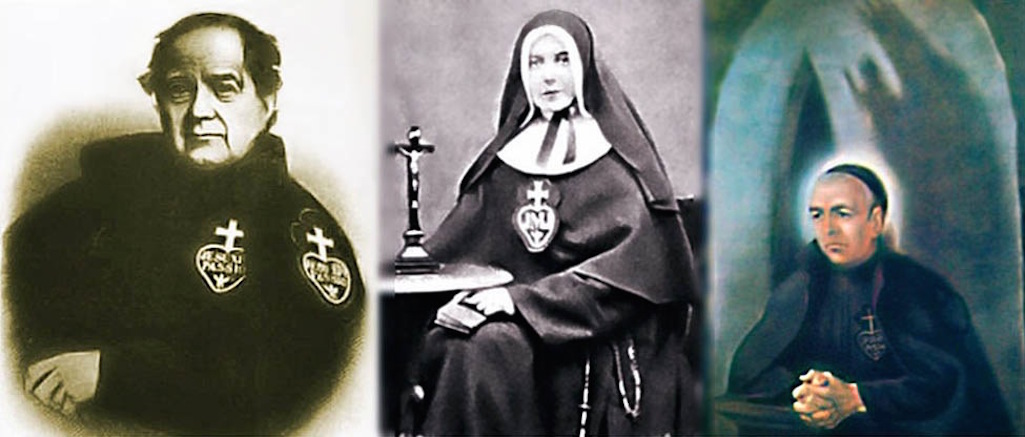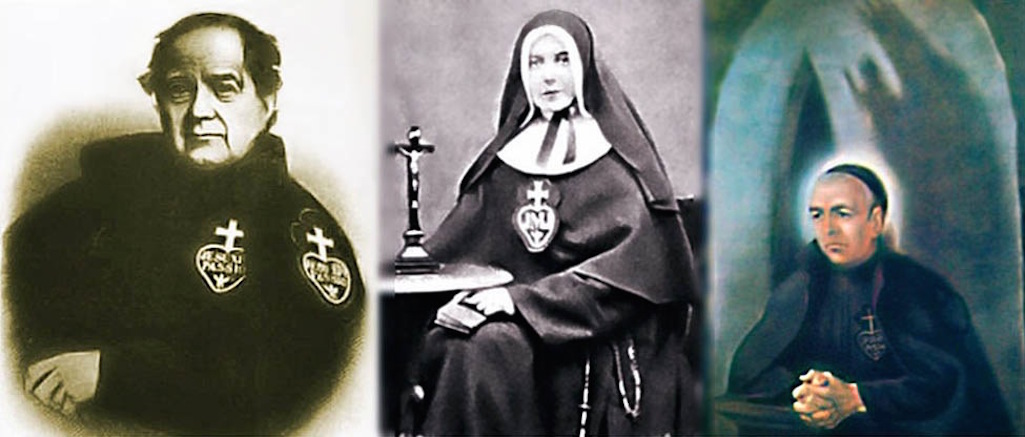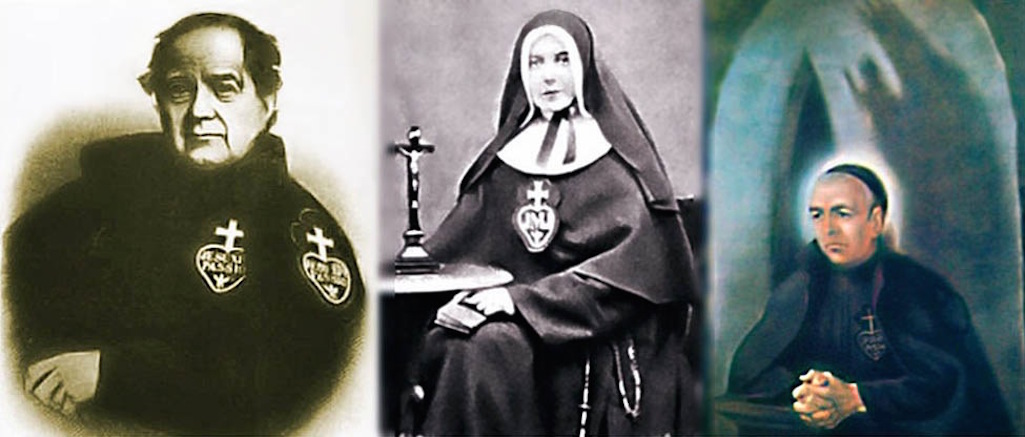 This contains the shrine of the
Blessed Dominic Barberi
and the remains of
Father Ignatius Spencer
and
Elizabeth Prout
, foundress of The Sisters of the Cross and Passion. Dominic Barberi
(1792-1849)
was the Passionist priest who in 1840-41 brought the Passionist Congregation to England and a few years later co-founded the original mission at St Anne's, complete with church, monastery, school and convent. Declared 'Venerable' in 1911, Father Dominic Barberi was declared 'Blessed' and beatified by Pope Paul VI on 27th October 1963. Sutton Monastery, where generations of young men where trained as priests for the Passionist Congregation, was demolished some years ago.

It's quite possible that Sutton could have three Saints at some point in the future as the 'cause' for sainthood of Fr. Ignatius Spencer, an antecedent of Winston Churchill and great-great-great uncle of
Diana, Princess of Wales
, was opened by
Archbishop Derek Worlock
of Liverpool in 1992. The cause for Elizabeth Prout, the nun who worked with the Manchester poor and who died at the Sutton Convent, was passed onto the Vatican during the summer of 2008. It's an extraordinary fact that half of the English causes currently being scrutinised by Rome, have their mortal remains in Sutton!


Church Details
:
Parish Centre, St Anne and Blessed Dominic Parish Church, Monastery Lane, Sutton, St. Helens, WA9 3SP. Tel: 01744 811935; Parish House, 179 Derbyshire Hill Road, St.Helens, WA9 2LS. Tel: 01744 22972; Nb. The cemetery gates in Monastery Lane are now permanently locked. However the cemetery is accessible via an entrance at the rear of the church car park which is always open.
View History of St. Anne's Church, Monastery & Convent
Sutton Oak Welsh Chapel
The
Sutton Oak Welsh Chapel
is located on the corner of Lancots Lane and Sutton Road. It's the third oldest listed building in St.Helens and one of only two to have been constructed from industrial waste. It was built by the Wesleyan Methodists in 1845 and was partly constructed using cobbles made out of copper slag that were donated by local firm
Newton Keates & Co
.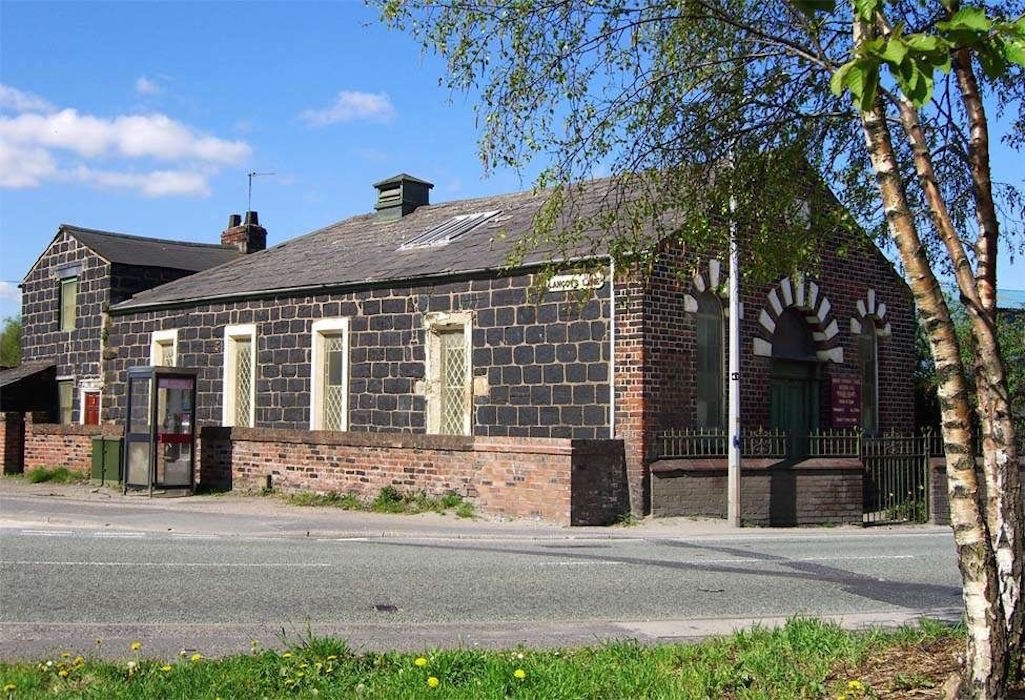 In 1893 the Wesleyans moved to new premises and the chapel was handed over to the Welsh community who used it as an undenominational, nonconformist place of worship. The Welsh had been employed in large numbers at Newton Keates & Co's Copper Works in Sutton Oak and Rolling Mill factory in Watery Lane, since the former was founded in 1832. However, both plants closed down in 1895.


There have been a number of Welsh chapels in the area but Sutton Oak is the only one still in use, although the Welsh Presbyterian Church's old chapel in Peckers Hill Road still exists, albeit as a storeroom. The Sutton Oak chapel played its part in the Welsh Revival movement early in the 20th century and on Boxing Day 1904, noted preacher
Rev. W.O. Jones
participated in a revivalist meeting.
After some years of closure, the
Sutton Oak Welsh Chapel Preservation Society, run by
Paul Jones
and
Caroline Owen
, reopened the grade 2 listed building at the beginning of 2007 and partly refurbished the building. In 2011
John Beirne
took over the management of the chapel and improvements have been made by Prince's Trust volunteers and individuals undertaking community service. The inside has been repainted and the garden cleaned up and a pop /gospel choir called
Celebration Choir
, who have 20 to 30 members of all ages, use the chapel for rehearsals every Wednesday and for performances. During 2014 the choir raised £5,000 for charity, with most of the cash donated to Willowbrook Hospice. On April 7th 2015, the group will be participating in the St Helens Choir Festival at Lowe House Church. The historic Sutton Oak Welsh Chapel is usually open for visitors during the heritage open weekends that are held nationally every September.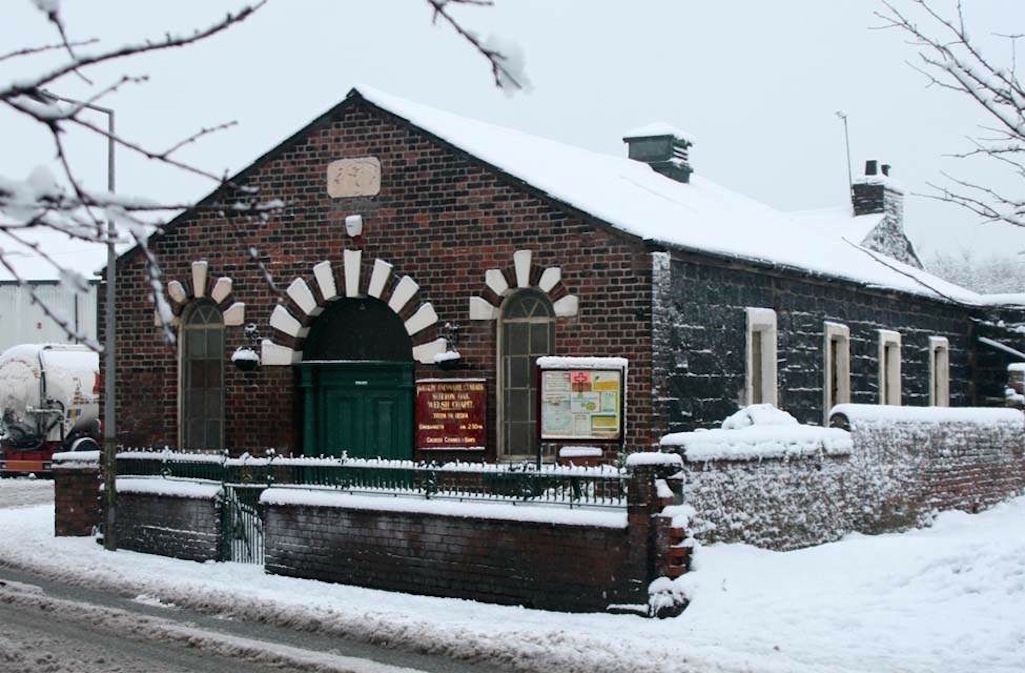 Church Details
:
Sutton Oak Welsh Chapel, Lancots Lane, St. Helens, WA9 3EX; Celebration Choir details tel. 01744 815134.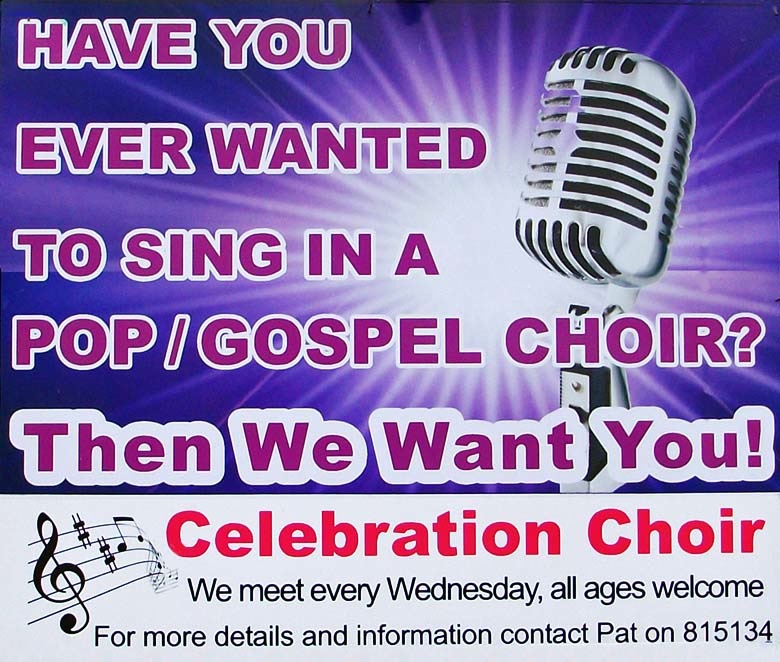 St. Theresa of the Child Jesus in Gartons Lane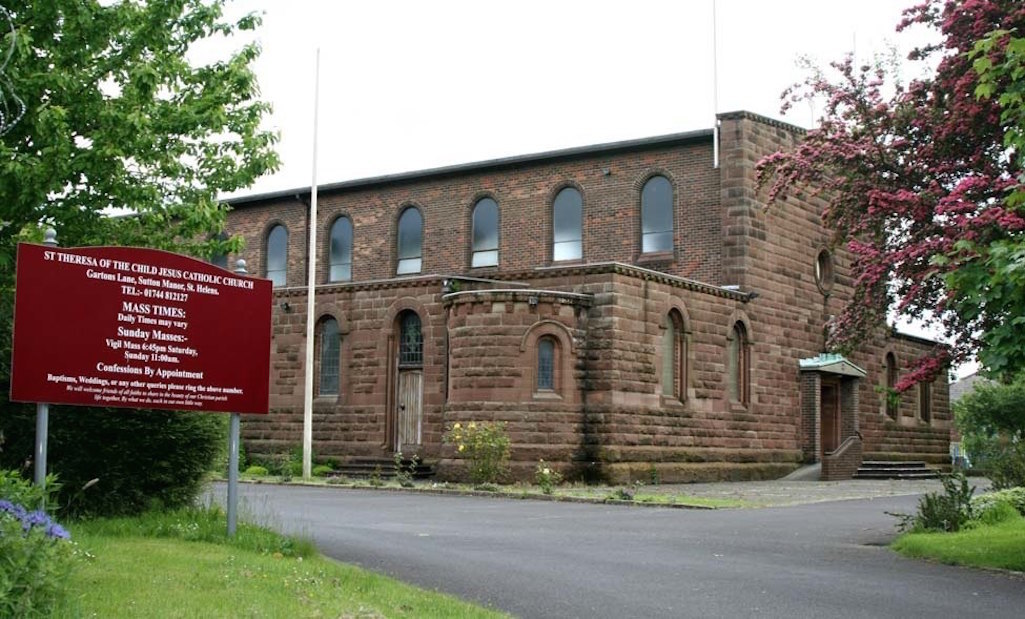 St. Theresa's RC Church
dates back to 1916 when the twin collieries at Clock Face and Sutton Manor were in full production. Two years earlier The Times (4/2/1914) reported that in that district 'A town has sprung up where a few months ago there were only fields', with builders unable to cope with the demand for housing all the colliers. Historically, whenever there's been a growth in population, the church and the publicans have been quick to supply their somewhat disparate services!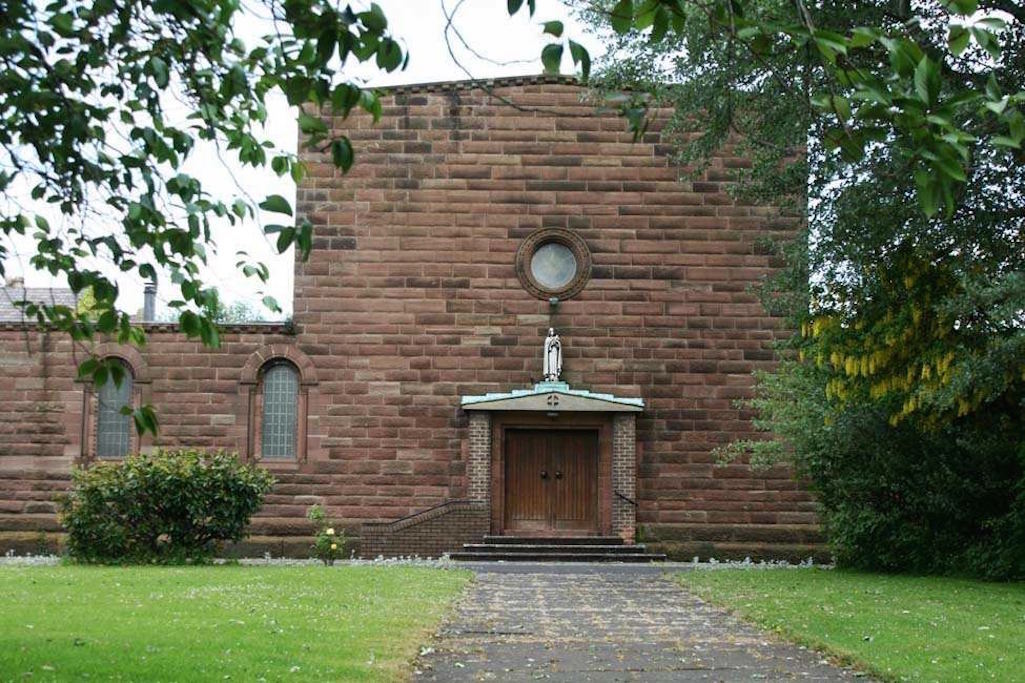 So with sufficient demand for a second RC church in the Sutton district,
Dean Carr
, of St.Bartholomew's in Rainhill, obtained land in Gartons Lane and constructed a small chapel. In 1923
Fr. Ralph Holden
became the priest-in-charge at Sutton Manor and he soon developed ambitious plans to create a basilica dedicated to the French Carmelite nun
Thérèse of Lisieux
. Land was purchased on the opposite side of the road to the chapel. However there were many delays and it took until 1959 before a less grandiose but still beautiful church was completed.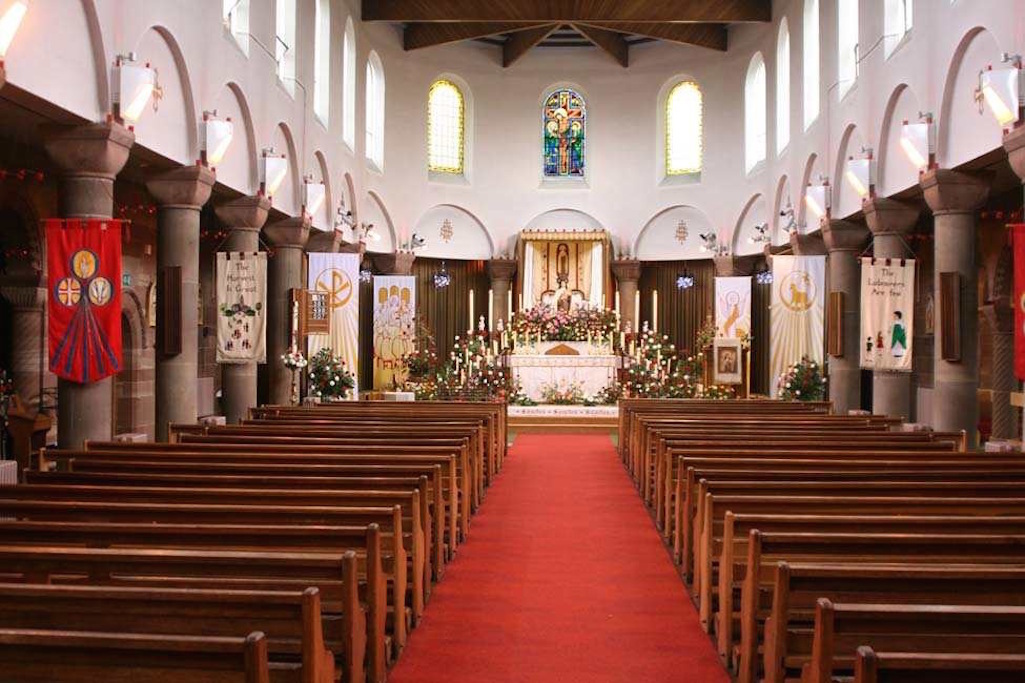 It was constructed out of sandstone in the free Norman style with round arches and a flat roof. The beautifully carved pillars inside the church were created by local stonemasons and are a notable feature.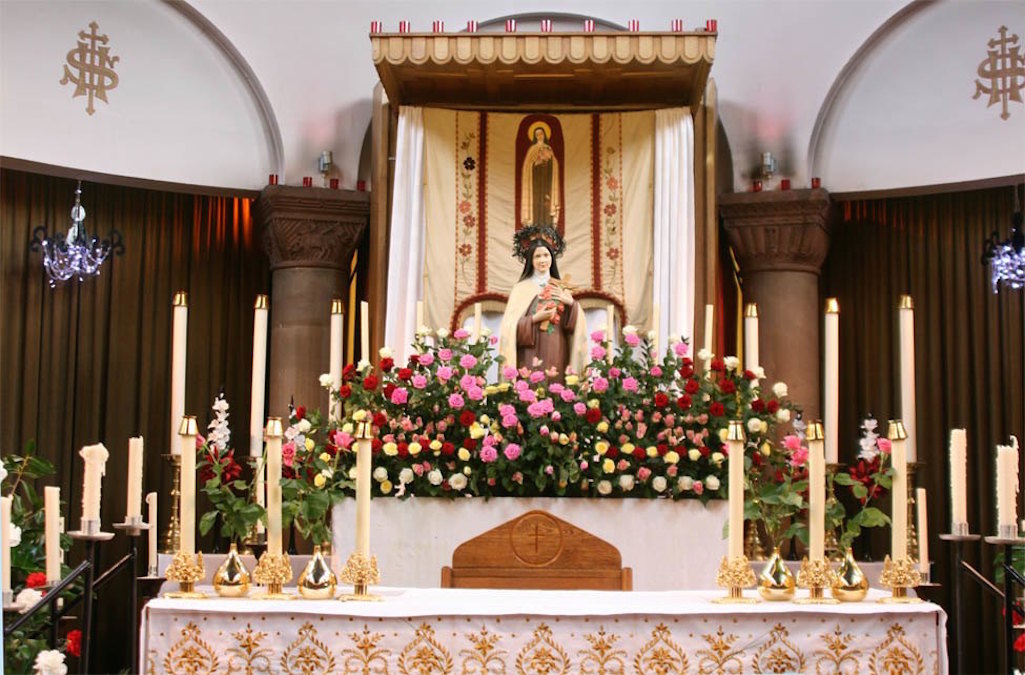 J.F. Giblin
in his 'Churches of St.Helens - A Brief Historical & Architectural Note' describes some of St. Theresa's features: 'The frontal doors lead into a narthex (or lobby area) and behind this are glass doors opening into the impressive nave. Twenty-six sandstone columns support the clerestory and roof and outside them an ambulatory encircles the High Altar, which is set in an apse. To the right of the nave are three side chapels separated by elaborately carved stone ornamentation.'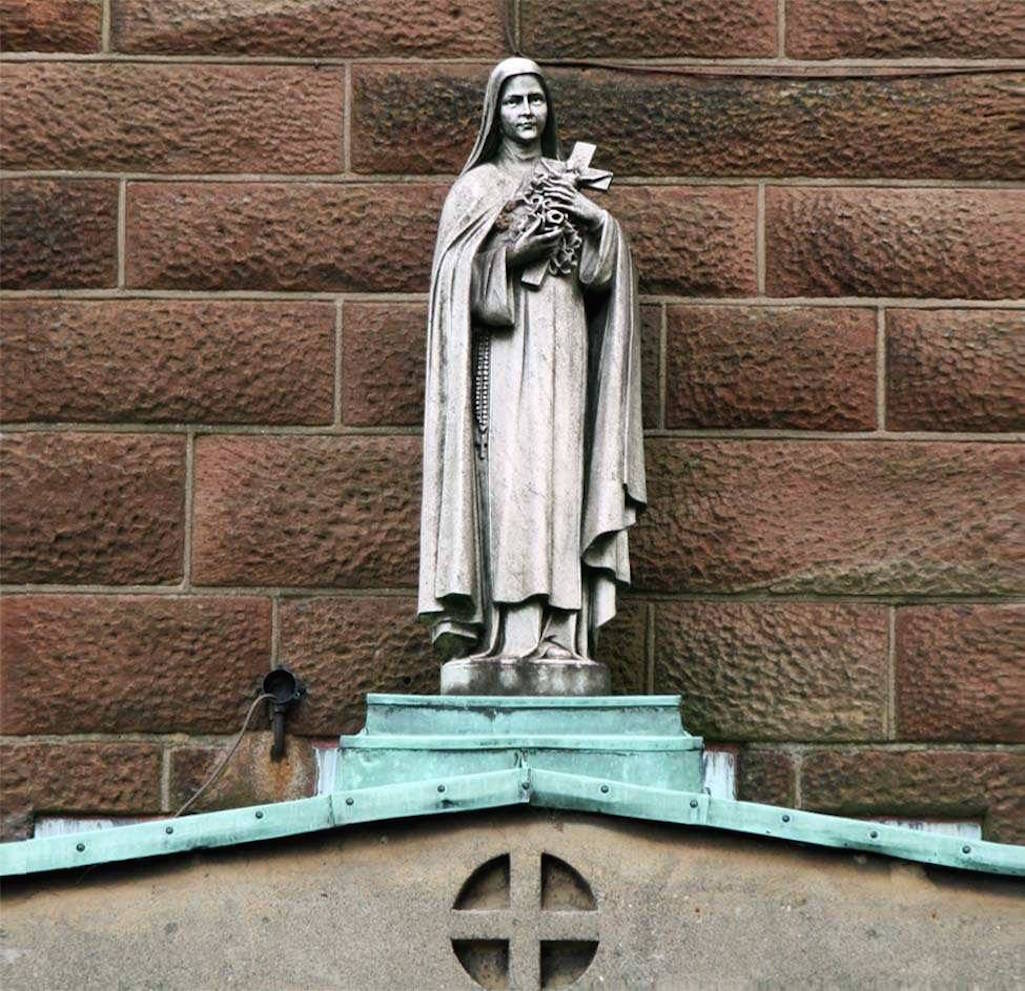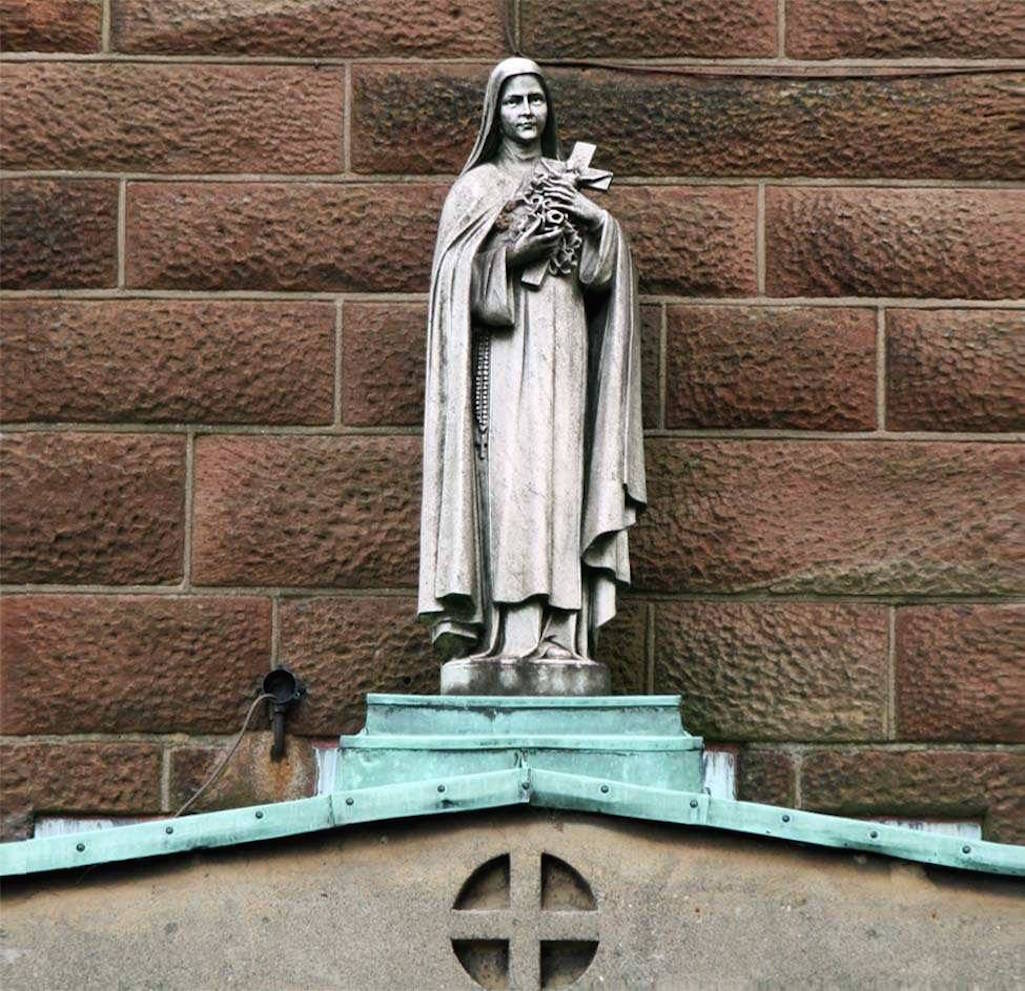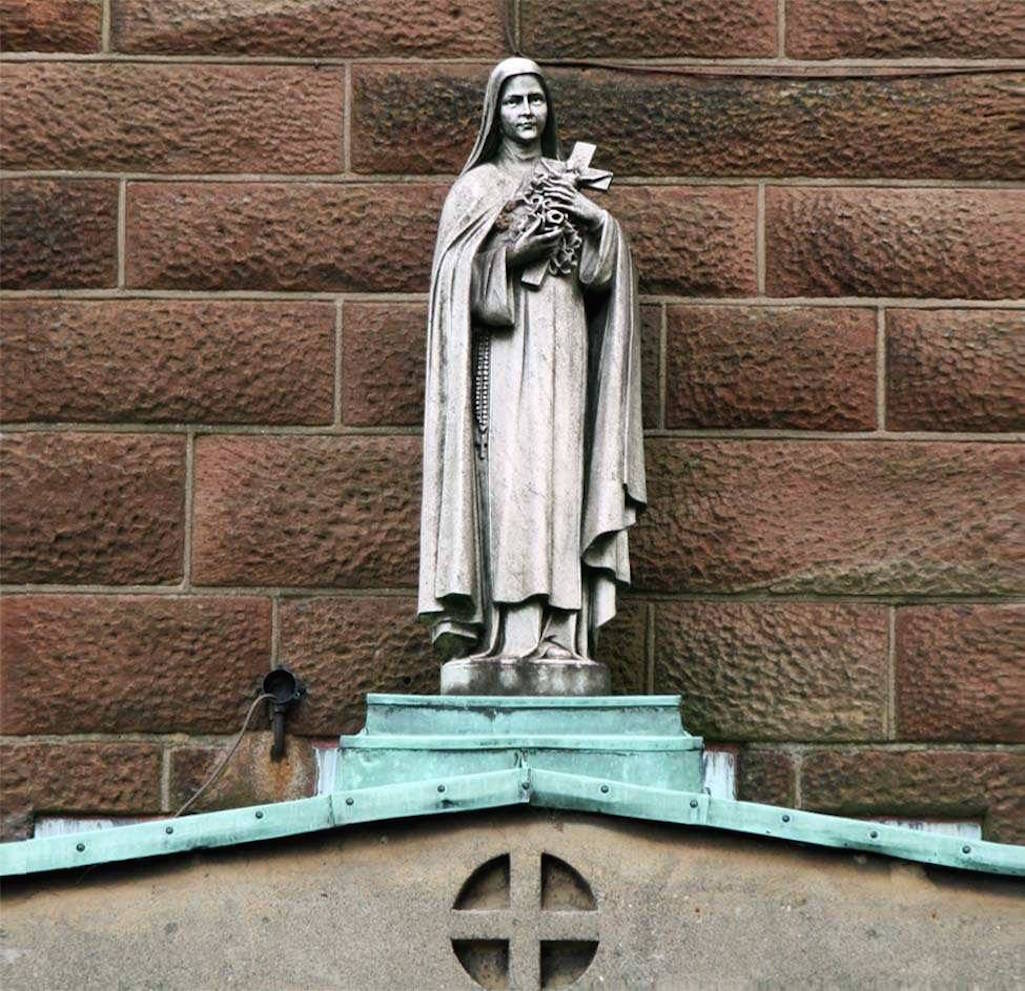 Church Details
:
Fr. Phil Swanson, St. Theresa of the Child Jesus Catholic Church, Gartons Lane, Sutton Manor, St. Helens, WA9 4RR. Tel: 01744 812127;
View History of St.Theresa's RC Church
Sutton Village Church in Herbert Street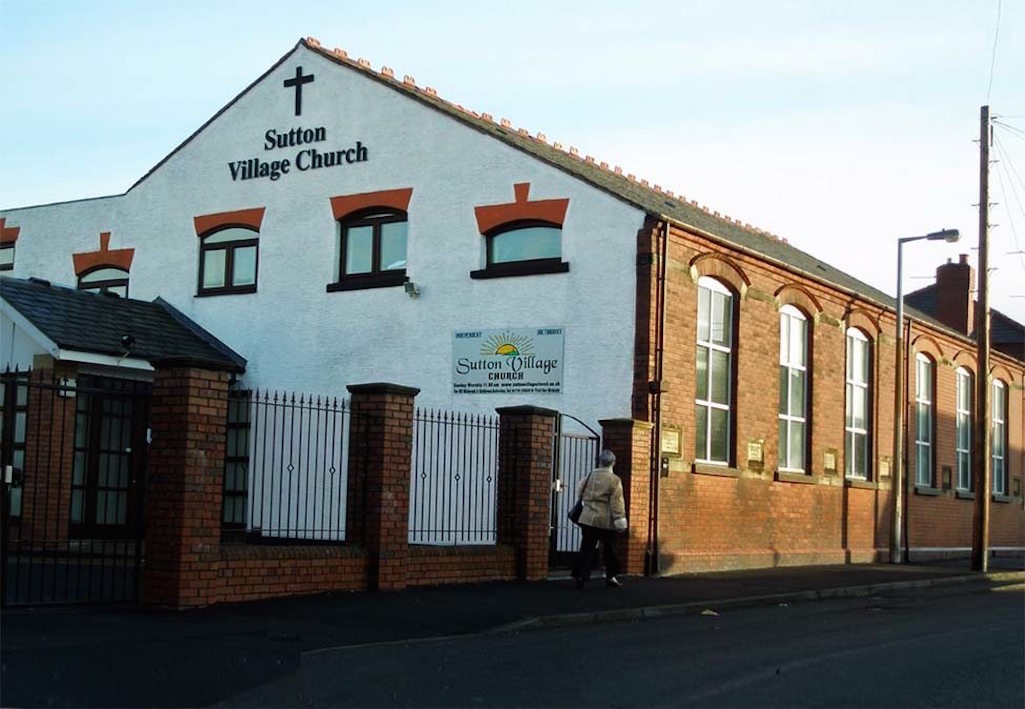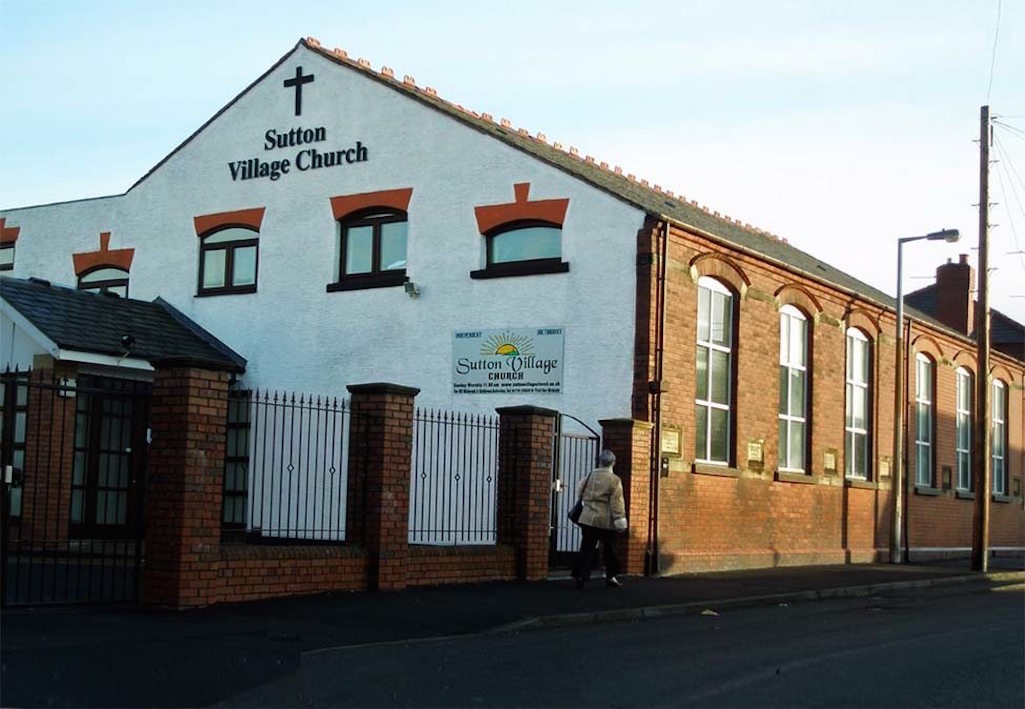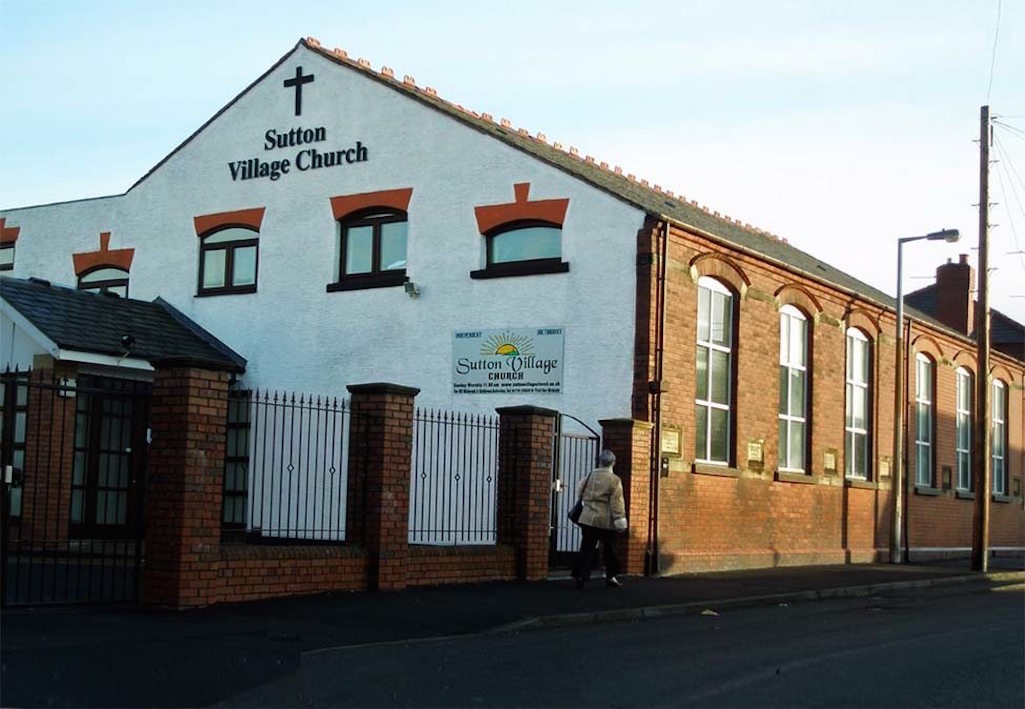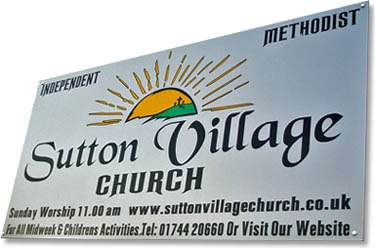 Sutton Village Church
is an independent Methodist place of worship in Herbert Street that dates back to 1891 when a simple brick chapel was constructed. In 1910 a major extension and re-design took place with further refurbishments in 1934 and 1962. Throughout the improvements, attention has been given to retaining the building's simplicity of form and absence of ornamentation.

Along the wall adjacent to Herbert Street are six commemorative plaques named after donors to the church. These were laid in either 1891 or 1910 with only one local benefactor,
Dr. Henry Baker-Bates
of Sutton Hall. Originally known as the Zion Independent Methodists, the Sutton Village Church survived a split in 1934 when a number of worshippers departed. It remains popular in the Sutton district with a regularly updated
website
and they are stakeholders in the Sutton Smile initiative. Community events - such as the annual Sutton Village Christmas - are held at the church.

Church Details
:
Sutton Village Church, Herbert Street, Sutton, St Helens, WA9 3LE. Tel. 01744 20660;
Website
;
View History of Sutton Chapels
; 'Crafty Cuppa' is held every Wednesday from 10am - 12 noon (term time only). Meet new people and learn a new skill - teas / coffees, arts & crafts.
Copyright Notice / Factual Accuracy Statement

This website has been written and researched and many images photographed by myself, Stephen Wainwright, the Sutton Beauty & Heritage site owner. Individuals from all over the world have also kindly contributed their own photographs. If you wish to reuse any image, please
contact me
first as permission may be needed from the copyright owner. High resolution versions of many pictures can also be supplied at no charge. Please also contact me if you can provide any further information or photographs concerning Sutton, St.Helens. You might also consider contributing your recollections of Sutton for the series of
Memories
pages. Sutton Beauty & Heritage strives for factual accuracy at all times. Do also get in touch if you believe that there are any errors. I respond quickly to emails and if you haven't had a response within twelve hours, check your junk mail folder or resend your message. Thank you!
SRW