An Illustrated History of Old Sutton in St. Helens, Lancashire
Part 21 (of 92 parts) - The History of Industry in Sutton Part 2
An Illustrated History of Old Sutton in St.Helens
Part 21 (of 92) - History of Industry in Sutton Part 2
An Illustrated History of
Old Sutton in St.Helens
Industry Part 2
Iron & Steel Works & Engineering Firms
William Neill's
were industrial, chemical and structural engineers who were based at their Bold Iron Works in Neills Road. The works first began in 1859 and initially specialised in making machinery for soap manufacturers, alkali firms and the mining industry. They also appear to have manufactured soap themselves around this time and later specialised in the production of iron castings. Founder William Neill died in 1874 and his son, who inherited the business, soon got it into serious debt. The works were advertised for auction in November 1879 but were saved after the intervention of chemical industrialist
David Gamble
, who later donated the Gamble Institute to the people of St.Helens. The sale adverts described a substantial mechanics' shop (measuring 160 x 42 feet and 17½ feet high), engine house, office, storeroom, erecting shop, smithy, stable, pattern shop, timekeeper's office plus a manager's residence.



W. Neill and Son was now run as a partnership by
Francis A. R. Neill
and
Austin Cooper Carr
until June 1895 when the partnership was dissolved and Carr became sole owner. Neill's became a private company in 1907 but went into receivership in 1927 and was sold at public auction as a going concern. Six years later Neill's became a limited company under the name of Wm. Neill & Son (St. Helens) Ltd. and the business was reorganised internally. Plant was modernised and the company's activities were widened and as a consequence Neill's profits rose from £2,048 in 1934 to £15,131 in 1936.

In February 1937 it became a public company and in a Times shares advertisement, described itself as an engineering firm that specialised in the manufacture and erection of tanks and other plant for heavy chemical manufacturers. They also laid claim to be coke oven contractors, gas engineers, soap, creosote, oil and asphalt manufacturers and providers of oil storage installations. Neill's also did 'chemical sheet lead and homogenous lead lining work and the design and manufacture of structural steel frame buildings'.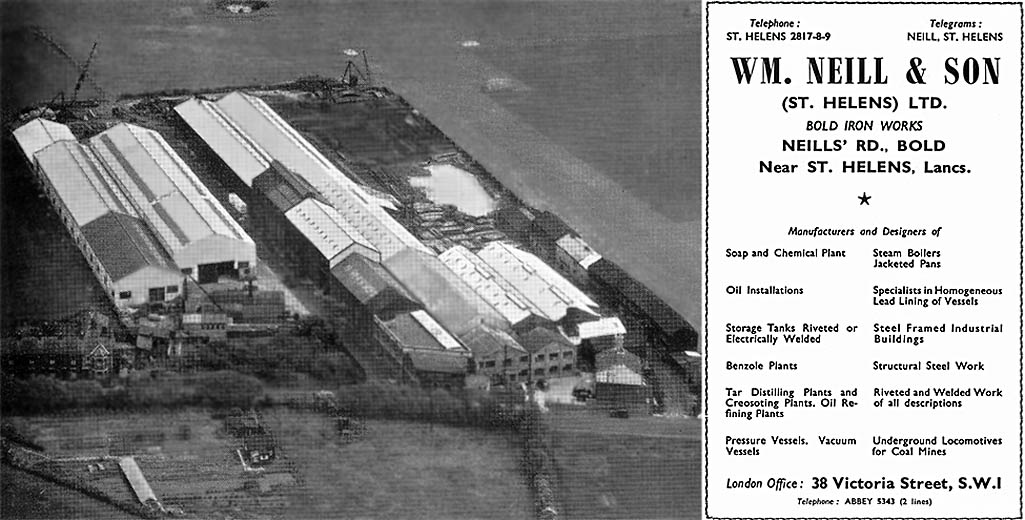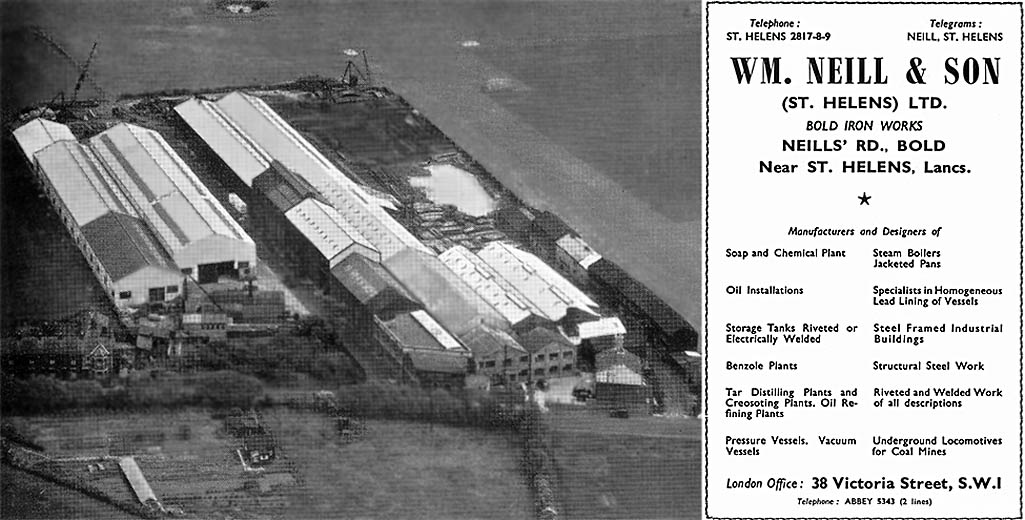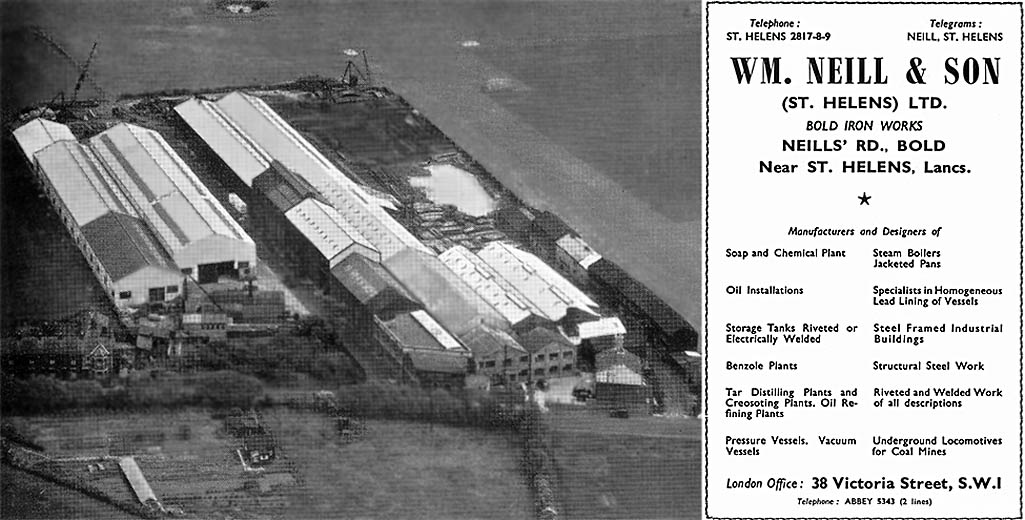 During 1944 the company commenced production of what was described at their AGM, held on November 20th of that year, as a revolutionary type of water tube steam boiler. Neill's chairman
Ernest Riddel
told their shareholders that it was creating considerable demand. At the company's ninth AGM held in October 1946, it was revealed that the iron works were experiencing considerable difficulties in recruiting skilled labour. Part of the problem was that some of their new fabrication methods involved welding, as opposed to using rivets to make a joint and there was a shortage of trained welders. Also the somewhat remote location of Neill's factory did not help recruitment. Although it claimed to be at St. Helens Junction, in reality it was out in the sticks closer to Bold, as the name of its works suggests.

Neill's was, at times, a very noisy factory and could be heard over much of Sutton and so was located away from housing estates. In an era when few workers had cars, getting to work could be an issue, so the company decided to build some homes for their skilled staff. The iron works' efforts in developing their own workforce was also hampered by apprentices undertaking national service. However with many orders for post-war reconstruction, the company in 1946 was enjoying a sellers' market with much export work. Neill's also reported to their shareholders that they were making more constructional steelwork for industrial buildings than ever.

In the immediate post-war years, Neill's invested in a new structural shop and more cranes and machinery. Profits were so good that staff received an annual bonus. In the St.Helens Town Guide of 1951 it was stated that the Bold Iron Works covered seven acres, having quadrupled in size over the past 20 years. It was divided into two sections, one for plate fabrication, tank and chemical plant manufacture and the other for steel construction, bridge work etc. The wide range of products included underground battery driven locomotives, coal preparation plant and bulk oil storage tanks of up to 150 feet in diameter. One of Neill's largest projects concerned the rebuilding and extension of the Esso oil refinery at Fawley on Southampton Water in 1951. The Bold Iron Works fabricated and then erected on site 117 storage tanks, which varied in size from 24 ft. diameter to a colossal 150 feet. In total 11,500 tons of steel were used in their manufacture.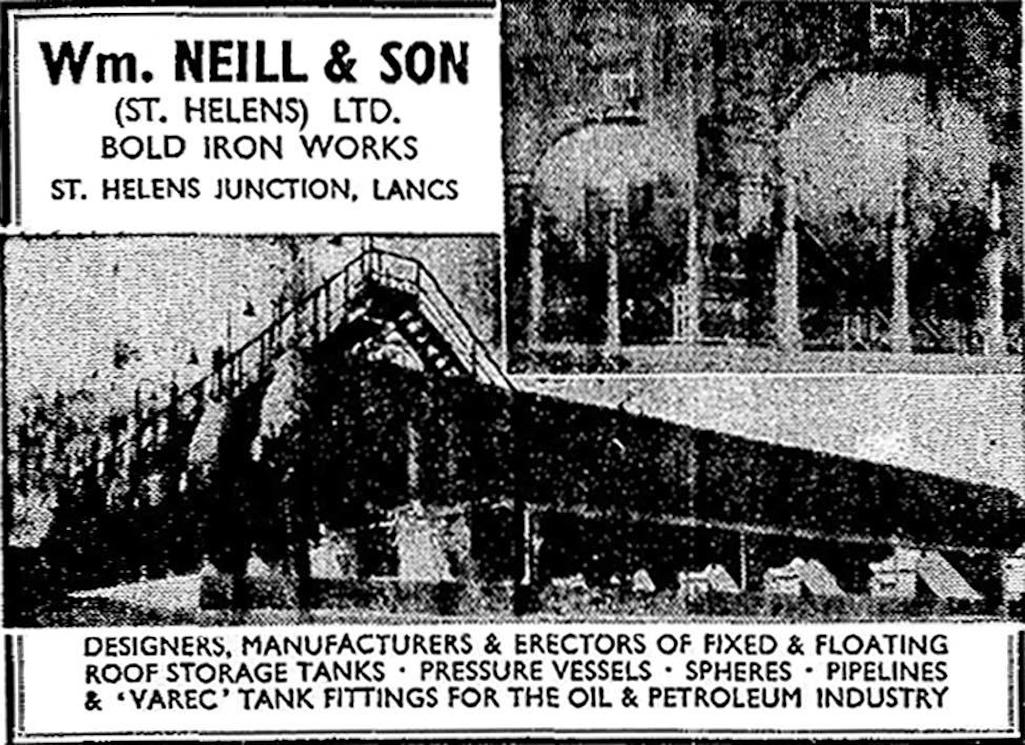 The company opened a works in Parr to make light steel structures. From 1956 there was much investment at Bold on plant and buildings, and a new fabricating shop was completed in March of 1958. Neill's celebrated its centenary in 1959 and shortly afterwards merged in part with the American Varec Organisation to become Neill Varec Ltd. This served as a separate division of Neill's and was housed in a relatively new building on the other side of the administration building, closer to Gorsey Lane. Their products were of much lighter engineering than those of the parent company, such as aluminium recovery systems used in the petroleum industry.

In December 1963 a dispute at Neill's was given prominence in the pages of the Daily Mirror. More than 250 boilermakers walked out because the management had stopped a traditional Christmas bonus. Shop steward
Cyril Robinson
accused the bosses of being Scrooges and claimed that the firm had promised that the workers would get an annual Christmas box, as long as they were making profits. However company secretary
Ralph Evans
told the paper that they couldn't afford to pay a bonus. It would cost them £25,000 and the men had all recently been given a pay rise.



Neill's became a founding member of the Capper Neill group, which took over the operations of Bold Iron Works. On January 13th 1968 the St Helens Reporter stated that Capper-Neill had acquired the bottling, mechanical handling and refrigeration interests of Unit Dairies Engineering. A phased transfer of its operations from London to Neills Road would shortly take place, leading to the expansion of the company's existing works.

Then on May 18th 1968 the Reporter described how a new invention by Neill Varec was making world shipping a lot safer. It was a gauge for cargo vessels that accurately measured the volume of liquid in a ship's tanks. The device was designed by the firm's senior technical sales engineer
Arthur Price
of Olga Road in Sutton and provided tank level readings at a glance. The gauge overcame the need for a seaman to walk the length of a ship to take a reading and was already being used as standard in some big shipyards in Sweden, Norway and Italy.


J. Laithwaite
was the longstanding Managing Director of Neills itself with Suttoner
Len Marsh
serving as Director of Mechanical Engineering. Warrington-based W.H. Capper (UK) Ltd still exists but the works at Neills Road, Bold closed in 1984. Capper Neill's industrial division comprised 10 companies with a total turnover at the time of closure of £50 million. Wm Neil & Son focused on pressure vessel manufacture and in 1984 employed 190 people at its Bold works but had been loss-making for the last eight years despite reorganisation.

In 1983 the Consolidated Contractors Group, a Middle Eastern construction company, had taken a 59% stake in Capper Neill after participating in a rescue deal with Midland and National Westminster banks. However the banks - owed £8 million and £21 million respectively - refused to support a second rescue deal in February 1984, so Capper Neil went into receivership. The company owned many houses which were rented out to employees. These were in Porlock Avenue, Ilfracombe Avenue, Olga Road, Clovelly Avenue and the Leach end of Reginald Road. There were also some near Sherdley Park and in Rainhill.

The St.Helens Junction district has hosted a number of engineering companies over the years. On July 21st 1870, the Glasgow Herald reported how a 'party of gentlemen from London, Manchester, and other places' had assembled at the premises of the
Lancashire Engineering and Compression Casting Company
at the Junction. This was to witness a demonstration of a new process of casting metals.
Allen Barton's
were also based at St.Helens Junction and made colliery winders, dockside equipment, haulage, bollards, capstans and cargo winches etc.

On February 14th 1953 an explosion in a Barton's works yard led to a piece of steel weighing 2½ lbs crashing through the roof of
Eric
and
Margaret Jones'
house 100 yards away at 2 Shard Street. This created a hole two feet long and three inches wide in the Jones' ground floor bathroom ceiling. During that year Barton's supplied three miles of high-pressure hydraulic cast iron piping for the new Eastham Oil Terminal on the Wirral. In an 1956 recruitment advertisement in The Times, the Peckers Hill Road firm described themselves as 'rapidly expanding', although they went into receivership in 1958.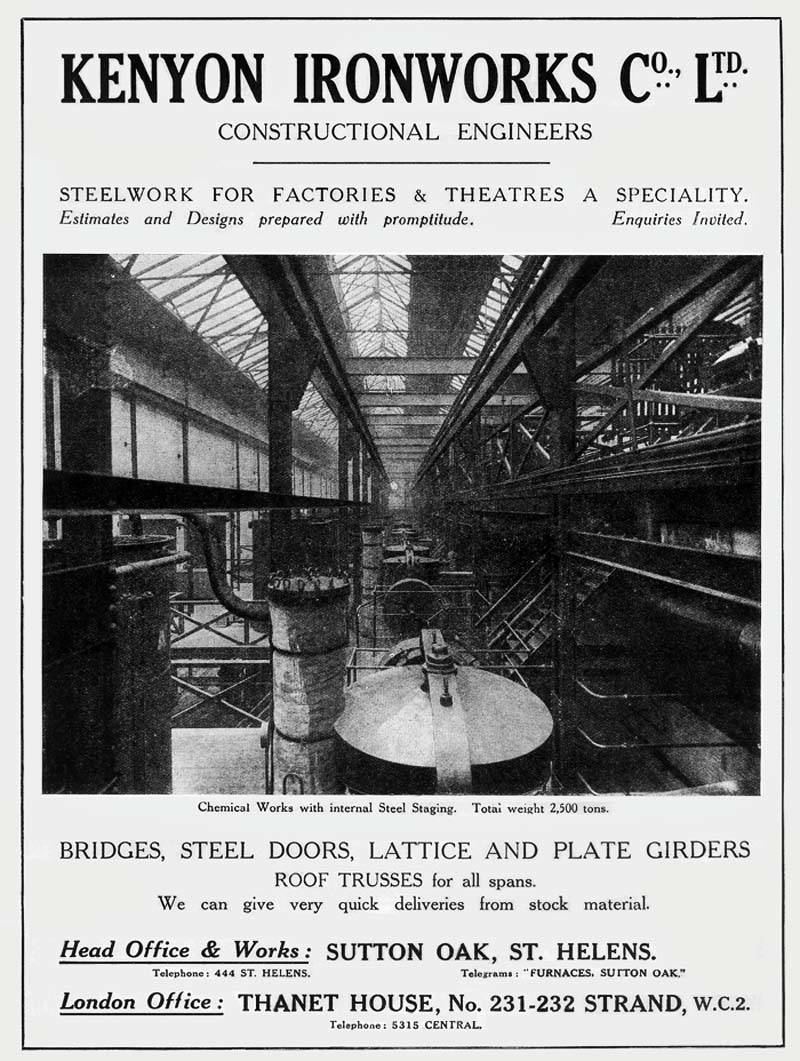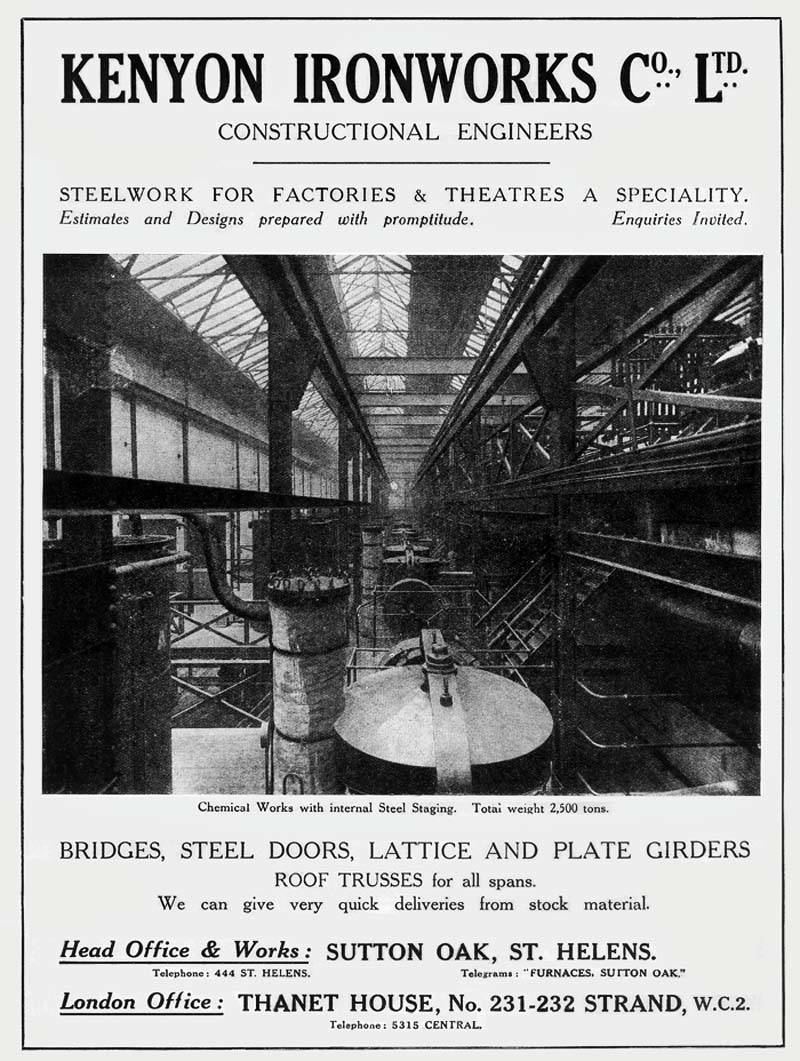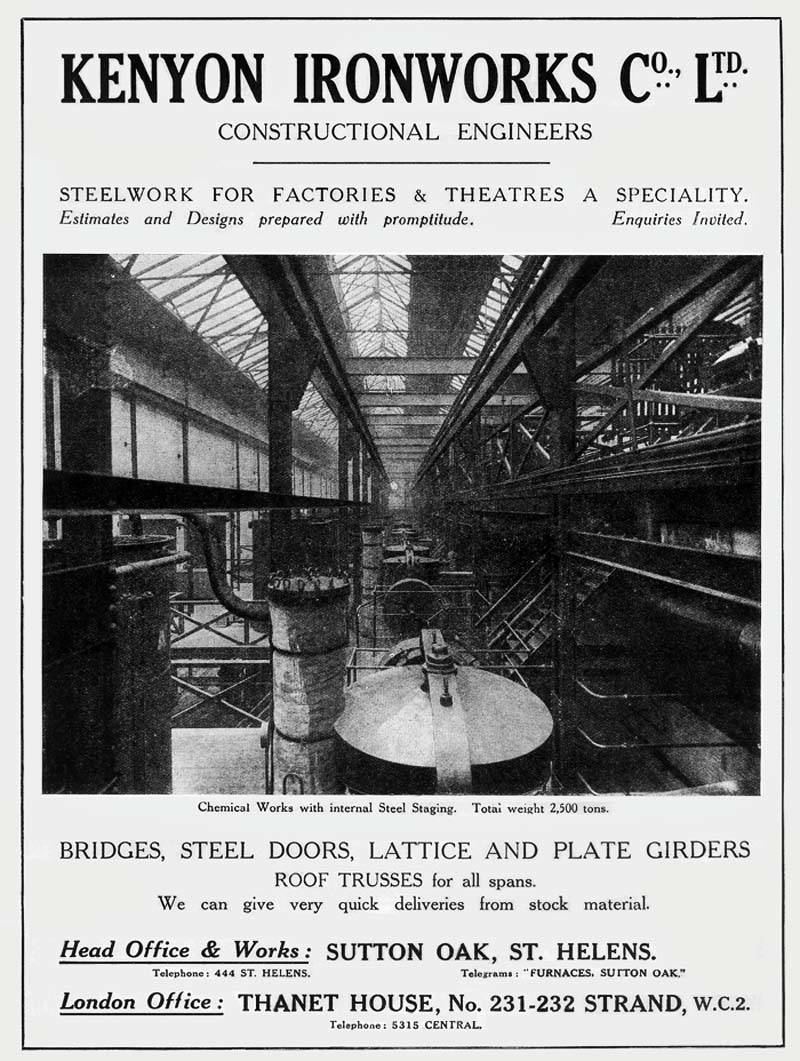 Kenyon Ironworks
of Sutton Oak were constructional engineers who, according to their advertisements, made steel framed buildings, bridges, steel doors, crane girders, elevator plant, factory steelwork, stanchions, colliery plant, steel towers, theatre steelwork and even early aviation hangars. They were located at the rear of Webb Street, on the opposite side of Baxters Lane to the engine sheds. The works measured in total 11,760 square yards, with the brick buildings occupying a floor space of 3888 sq. yds., not counting a caretaker's house. Like many other Sutton Oak works, a railway siding with loading embankment connected to the site.

As well as a main office and works in Sutton Oak (which had the phone number St.Helens 444), Kenyon Ironworks also had a London office in the Strand. They were incorporated as a limited company in 1910 but their works were auctioned in October 1923 and the company was dissolved on November 20th 1925.
H. W. Johnson & Co.
(owned by Herbert William Johnson) moved to the site in 1926 or 1927 but they went out of business in 1928. Johnson's had taken over the locomotive manufacturing and maintenance sides of the business of E. Borrows & Sons when it closed in 1912.


Sutton could easily have been known as a centre for steelmaking, if the operations of the
Magnum Steel Company Ltd.
had proved successful. On January 26th 1910 the directors of the firm held a ceremony in which the gas for their new furnace was switched on, with steelmaking set to begin in earnest on the following Monday. The St.Helens Newspaper reported that this 'may have a most important bearing on the future prosperity of St.Helens'.

The Magnum Steel Company was created to employ a new process that had been invented by
Charles H. Kelsall
, who had adapted 'high percent' manganese steel production techniques to make extremely hard and tough steel. His 1907 patent says that the resulting steel is 'suitable for the manufacture of armour plates, gun forgings, projectiles, tramway rails, points, and crossings, dredger work, and other purposes'. Manganese steel had only recently been developed, with just a couple of firms engaged in its manufacture. Kelsall had spent his life in the steel business and his improved process would be pioneered in Sutton under the inventor's personal direction. The works also intended to made vanadium steel for use in motor vehicle construction.

The chosen site off Reginald Road and Abbotsfield Road had previously been occupied by Junction Glassworks and was of considerable size. The focal point of the works was its large open-hearth furnace made by Siemens, which was expected to generate between 100 and 150 tons per week of steel. A railway siding brought the raw materials to the loading stage, with the finished products leaving by a siding at the opposite end of the works. The St.Helens Newspaper described its moulding shop as 'one of the finest and most spacious shops in Lancashire', measuring 145 feet long and 81 feet wide and fitted with a 10 ton Royce electric crane which had a span of 44 feet and operated from a steel gantry 22 feet above shop level. The machine shop was also large, measuring 200 feet long by 72 feet wide and housing what these days we would describe as state-of-the-art kit, involving the latest lathes, planing, boring, grinding and drilling machines. Close by was a pattern makers and joiners' shop, plus forge.



Charles Kelsall told the St.Helens Newspaper that the company had plenty of orders and the initial workforce of up to 100, was likely to soon be increased. However the huge investment needed to be repaid and the company soon acquired more debts than it had income. On July 21st 1911 at an Extraordinary General Meeting, it was decide to voluntarily wind up the Magnum Steel Company and in February 1912 its liquidator placed advertisements offering the steel foundry for sale as a going concern. There were seemingly no takers and the Magnum's plant and machinery were sold at public auction on September 4th of that year. Despite the steelworks brief reign, it made such an impression on Suttoners that the Sutton Oak Chemical Defence Research Establishment, which was based on the site for nearly forty years, was locally known as the 'Magnum'.
Edward Borrows and James Cross Locomotive Makers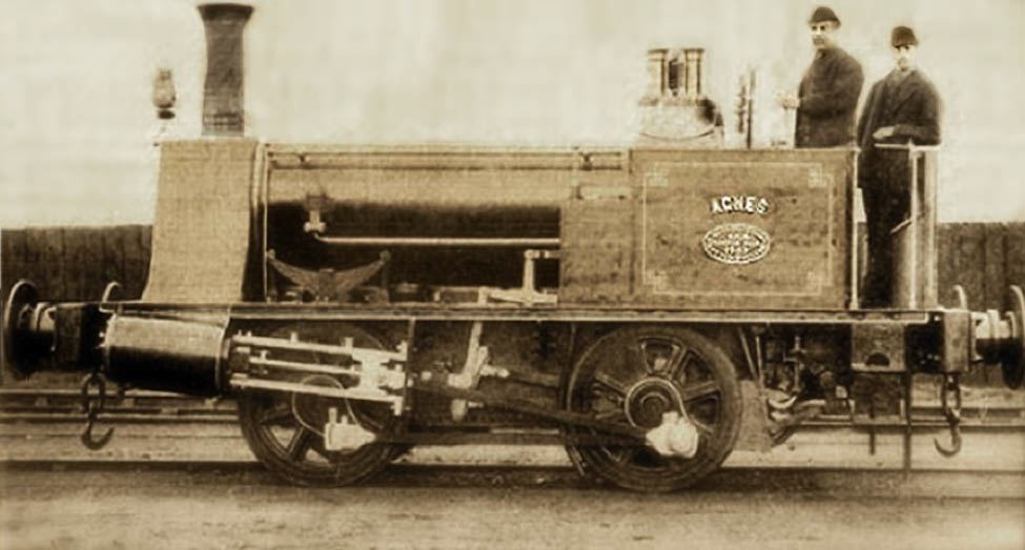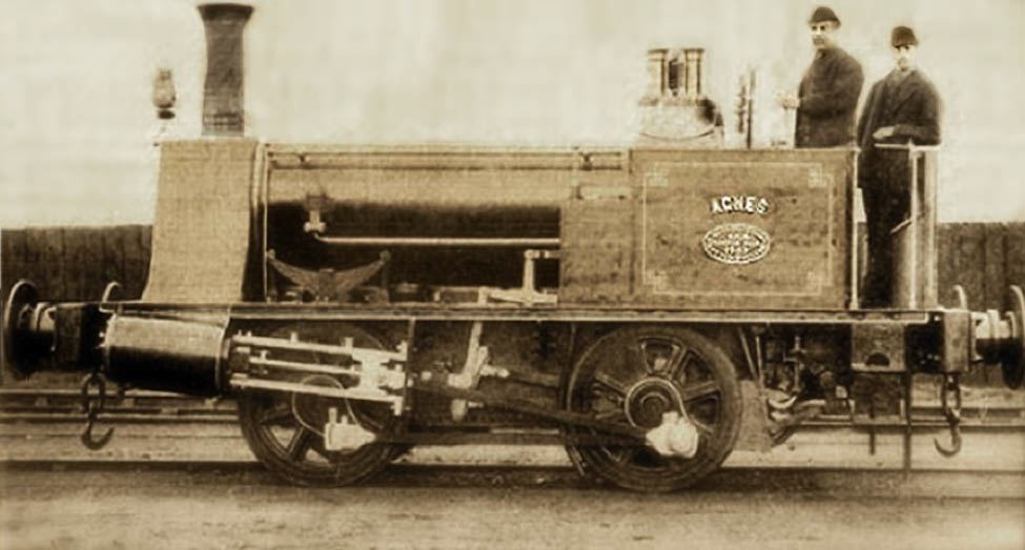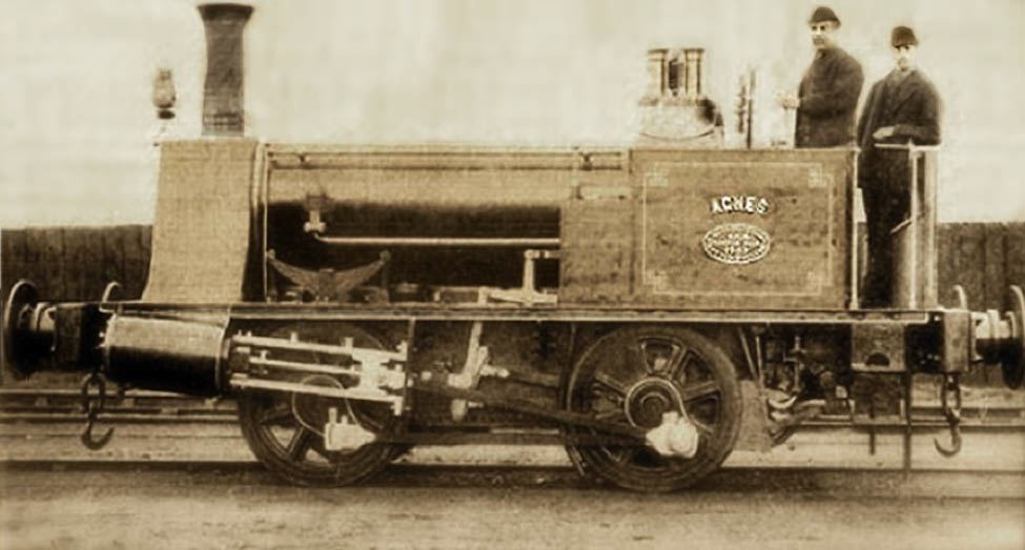 Edward Borrows & Sons
built many steam locomotives at their Providence Foundry in Sutton between 1864 and 1912. The locos that they made were of the 0-4-0WT type and were compact and robust and were mainly employed at the collieries, chemical and glass works in and around St.Helens.

Proprietor Edward Borrows was born near Collins Green in 1822. He received virtually no schooling and at an early age was apprenticed to
Melling's
engineering works in Liverpool, which shortly afterwards relocated to Rainhill. Although lacking an education, Borrows soon developed remarkable practical skills and became renowned for his own inventions and the practical perfecting of other people's ideas. While working for Melling's, Borrows made the first steam whistle for locomotives. He is also believed to have invented a steam crane, one of which was employed at Bold Colliery. Borrows also perfected a steam injector for railway engines, plus a loose axle box that enabled locomotives to pass more smoothly and safely over sharp curves.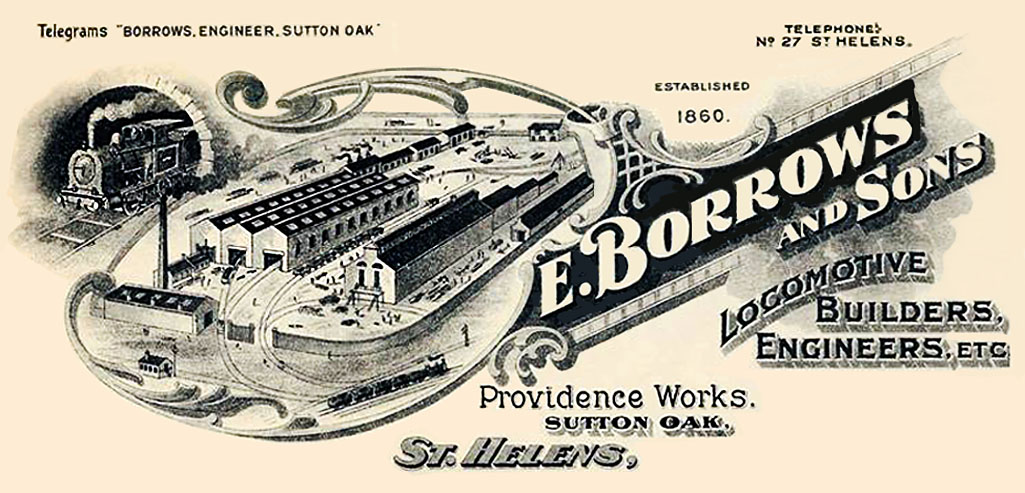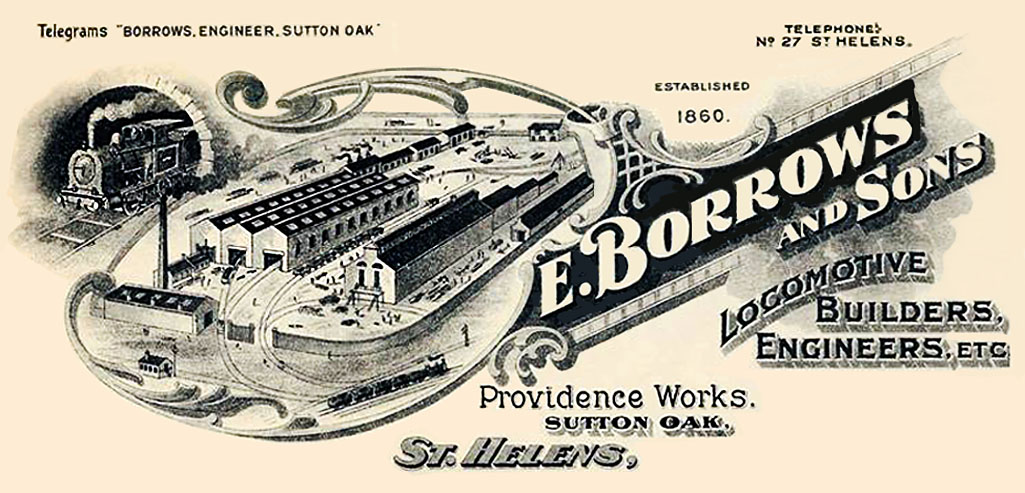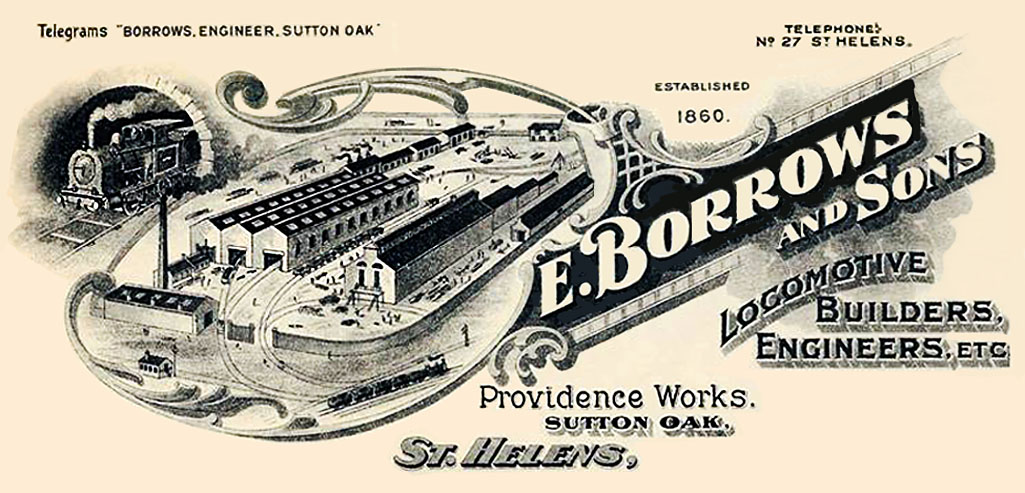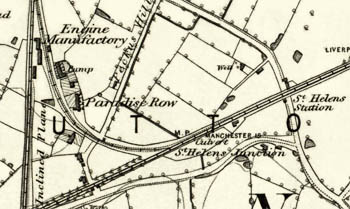 In 1846 Borrows began working for
John Smith
and
Robert Daglish
as foreman in their locomotive department. Their company worked under contract for the St.Helens Canal and Railway Company, who later took over the business and appointed Smith as their managing director. Edward Borrows was given responsibility for managing Sutton Sheds near St.Helens Junction where locomotives were made, housed and maintained. The exact location of the original 'engine manufactory' works can be seen on the 1846 OS map, which were built at the time of the railway's establishment in 1832. They proved inadequate by 1858 and new workshops were built on the southern side of the Liverpool / Manchester line.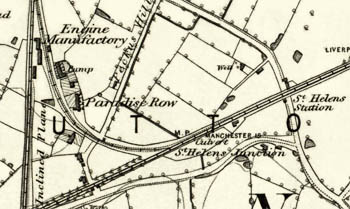 In 1850 Borrows was appointed chief superintendent of the locomotive department and in 1863 they made the White Raven engine, a well-remembered 2-4-2 tank passenger locomotive. Borrows continued in his role until 1864, when the St.Helens Canal and Railway Company was taken over by the London and North-Western Railway Co. Although offered a position as district locomotive superintendent, Borrows chose instead to leave and join a new company.

This concern had been formed by engineer
James Cross
who had begun working on the St.Helens Railway in 1854 at the age of 25. Indeed much of the credit for the successful working of the line is given to the young Scot, who had been born on February 22nd 1829 in Lanarkshire, the son of a civil engineer, which James also became. Cross developed a strong partnership with
Arthur Sinclair
, the secretary and superintendent of the company. Sinclair also joined Borrows at Cross's workshops at St.Helens Junction, which were often known as the 'St. Helens Locomotive Works'.


Researcher
David Love
believes that James Cross & Co. made as many as 60 locos between 1864 and 1869 (although others believe the number built was much smaller). These locos were mainly for foreign markets and David considers that the demise of Cross in 1869 may have been through the company's receipt of an order from India that overstretched their capabilities.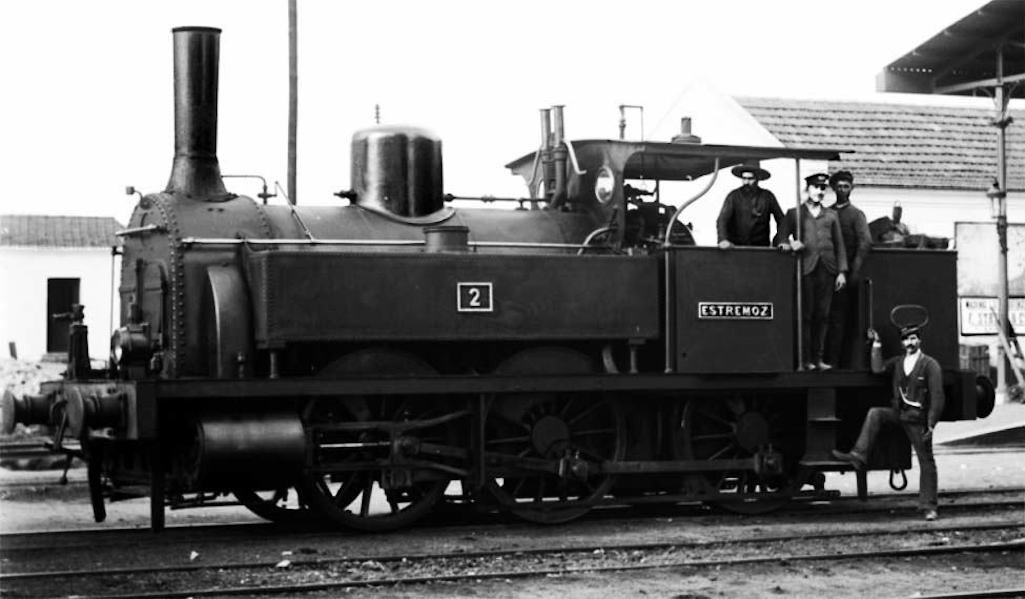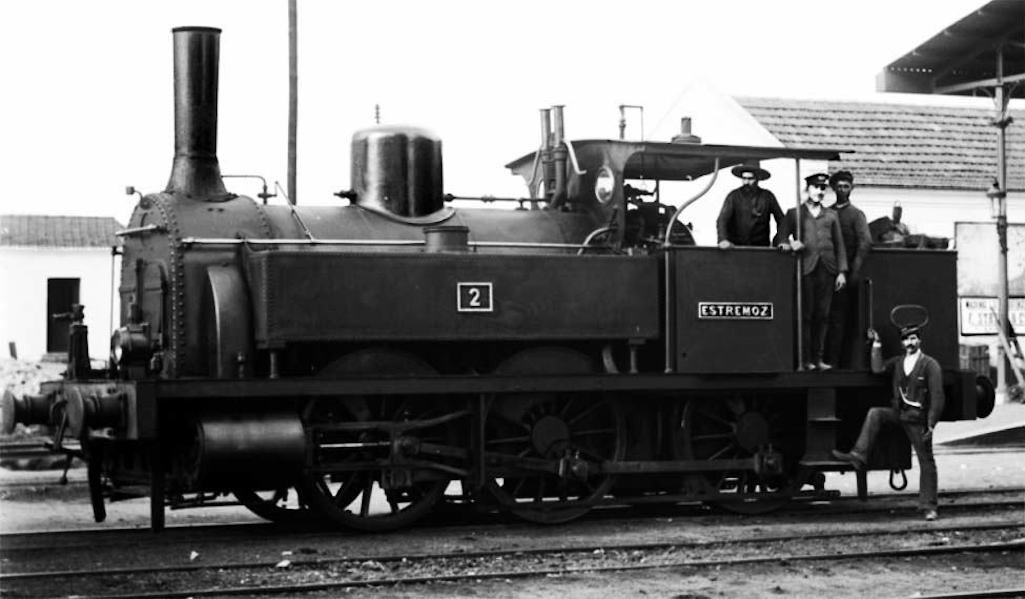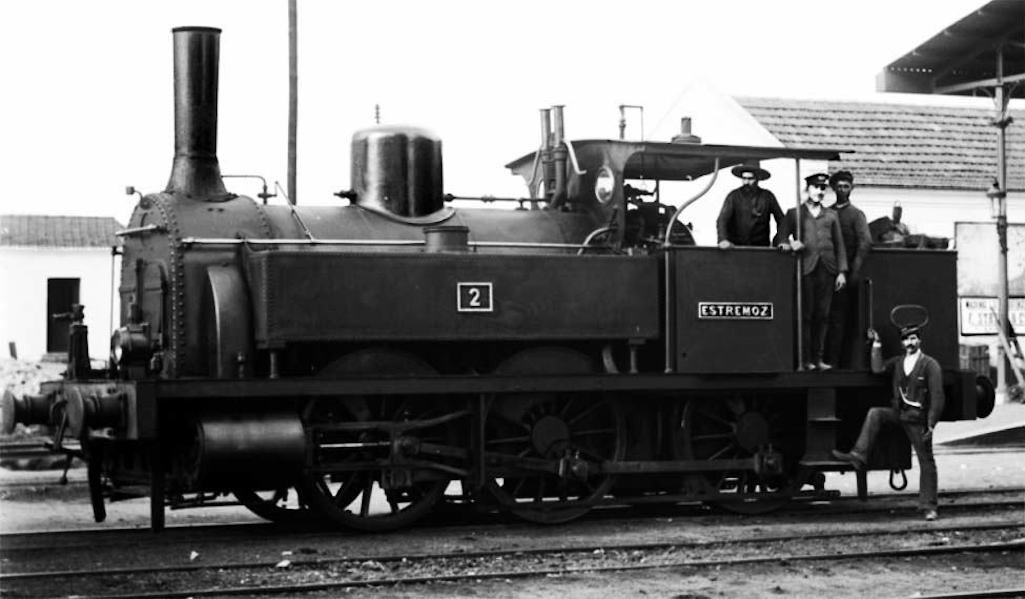 The above photograph shows Cross no.12, an 0-6-0PT type loco, which was one of three supplied to
Waring Brothers
in 1865. They were a civil engineering firm based in York who were involved in building railways in Portugal. Later when owned by Portuguese Railways (CP), loco no.12 was re-named 'Estremoz' and appears to have carried this name until around 1930.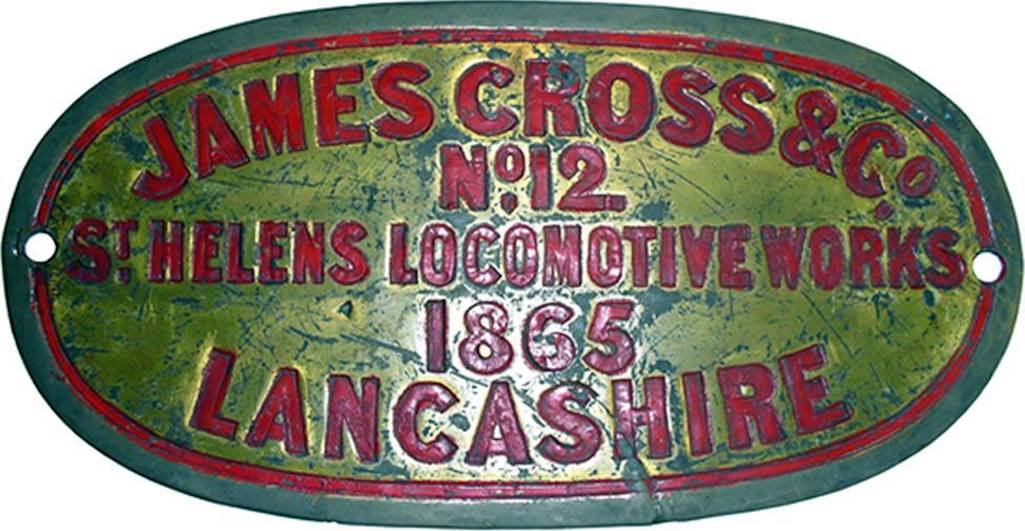 This is the builder's plate of Estremoz, which is in David Love's possession. David reports that three more builders' plates of Cross's locos are known to exist, along with five nameplates. The buildings, engines, boilers, plant and machinery of the St. Helens Locomotive Works were sold by auction over four days in July 1871. Unsold lots were advertised within newspaper classified adverts later in the year, including a 'quite new' 42 ton treble loco engine weighing-machine. In 1872 the London and North Western Railway opened their sheeting works and general stores on the site. Cross, incidentally, was among the first cohort of councillors elected after the borough of St.Helens was incorporated in 1868. He represented East Sutton but was immediately elevated to alderman after winning his council seat. Cross was also a Major in the 47th St.Helens Local Rifle Volunteers.

Borrows was only briefly the manager of James Cross & Co., having quit after two months through a patent rights dispute. In his spare moments Borrows had created a diaphragm pump which he wanted to patent under his own name. However the company felt that they had the right to patent the pump and receive royalties, as Borrows was their employee. Having also felt cheated by the St.Helens Railway Company over his work on the steam injector, Borrows decided to quit.

So with little money and seven children to feed, he took the huge gamble to go alone. Borrows built a small foundry in the garden of his house in Peckers Hill in early 1865. He had little but his reputation but Edward Borrows also had his faith. A devout Roman Catholic, he named his modest foundry Providence Works, as Borrows placed his trust in Providence. His business gradually grew and the works were extended until the garden was full and so part of an adjoining field was used.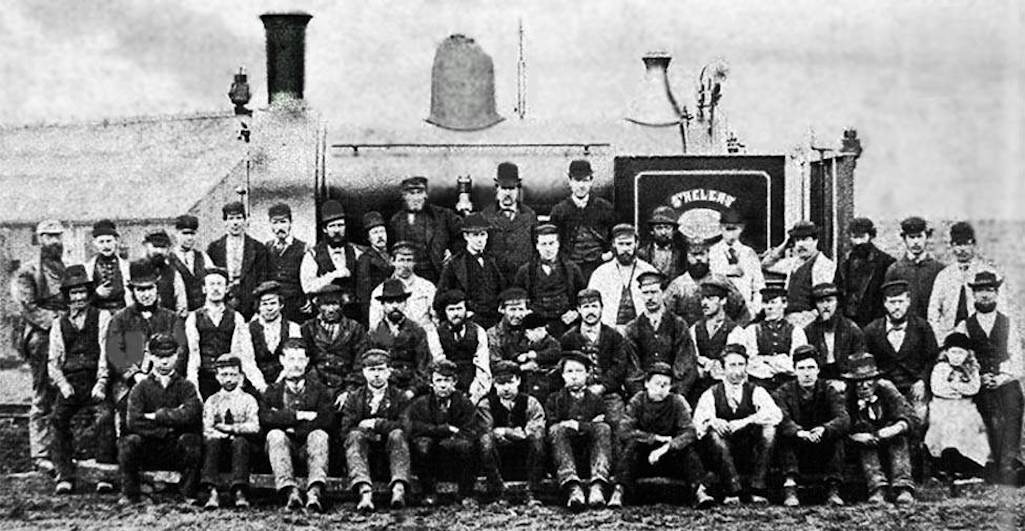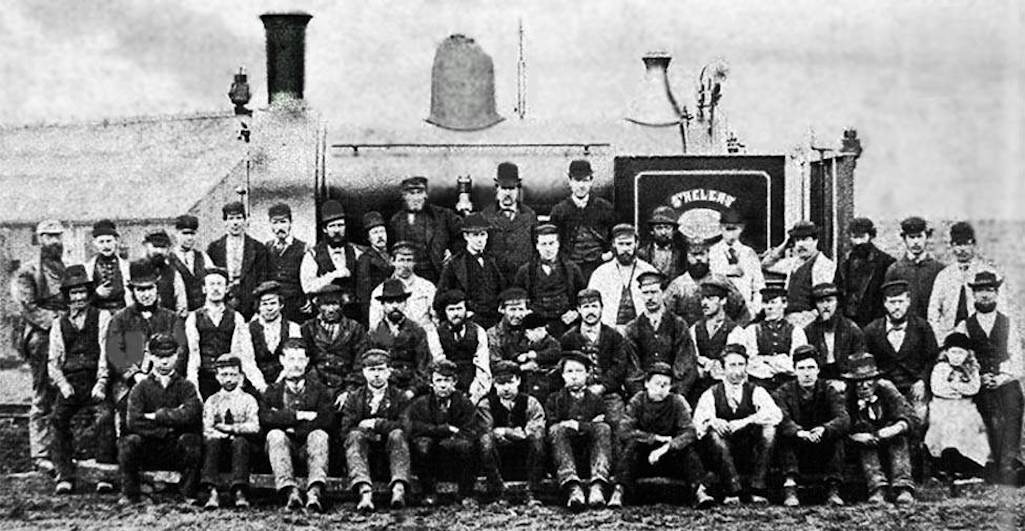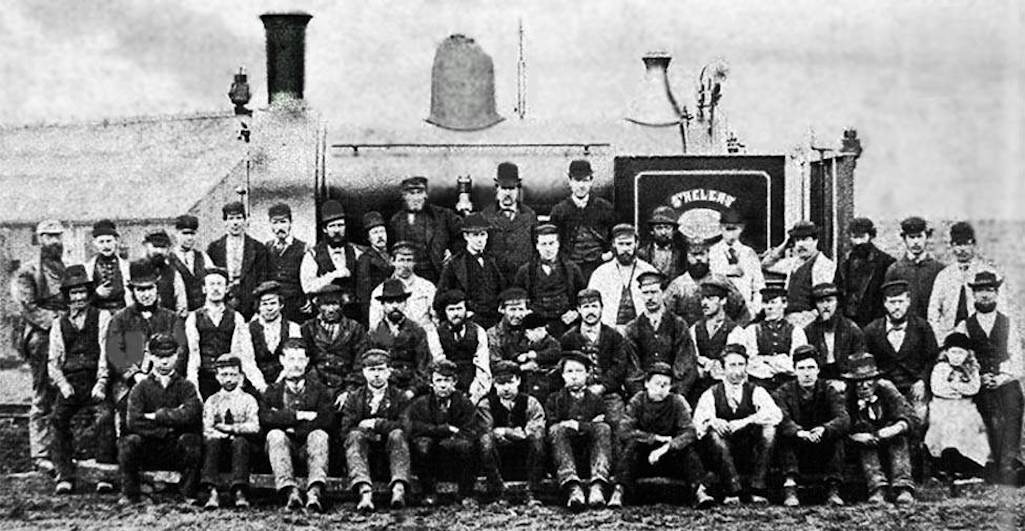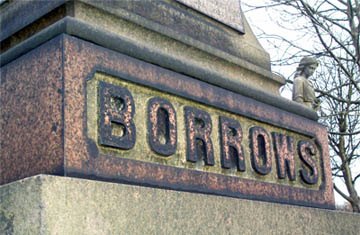 The extensions proved inadequate and so on February 21st 1878, Borrows took possession of new works in Station Road. This was conveniently close to the St. Helens railway and was large enough to accommodate his own railway sidings. Despite a lack of any education, Borrows was renowned for his skills as a draughtsman and his mechanical drawings were said to be a marvel. However on June 29th 1881, Edward Borrows died at the age of 58 and the business was continued by his son
William
(who carried on the business until his death in 1900 at the age of 50), along with his four brothers. As well as locos the company also made columns for gas lights and in December 1887 the Gas and Lighting Committee of St.Helens Town Council accepted a tender for a couple of dozen street lamp columns from Borrows.

Research by
Harry Hickson
has revealed that one of Edward's sons,
Augustin Borrows
, was in the 1891 census residing at 14 Grimshaw Street in Sutton Leach. Interestingly the 34-year-old steam engine maker was living with his wife and two girls in the same house that would later be the home of football pool winner
John Coffey
(view
Memories 9
article).

In the staff photograph above, the management wear bowler hats, ties and velvet-collared jackets. The workers by contrast wear caps, mufflers, waistcoasts and clogs. Note the apprentices on the front row, who are little more than children. The Borrows were considerable benefactors to St. Anne's church and have an imposing monument in the church graveyard. As mentioned earlier, H. W. Johnson & Co. took over from Borrows when they closed in 1912, two years after the death of Augustin Borrows, who was by then living in Peckers Hill House. Between them the two companies manufactured about 50 locomotives, the lion's share by Borrows.


By 1916
Allen Barton
, who had his own engineering works in St.Helens Junction (see above), was running Providence Foundry and a company called
Associated Engineering Industries Ltd.
were based there from about 1926 until 1933, when they appear to have gone into liquidation. The company was run by
Herbert Johnson
, who was prosecuted in June 1933 for fraudulent conversion. A serious fire had occurred, and the company had received £147,880 from the insurance company and from this amount Johnson had paid £3000 into his personal bank account. However it was with the approval of his bank manager and Johnson, who owned virtually all the company's shares, had received no remuneration in three years and had even paid off some debts using his own money. After hearing this,
Justice Macnaghten
ordered the jury to find Johnson not guilty but did give him a verbal warning.


To conclude this section it's interesting to note that a railway carriage and wagon works also existed at St.Helens Junction until 1850. Little is presently known but sale advertisements from May of that year said it covered 1¼ acres, with its workshops capable of building 14 railway carriages at a time. The location of the works was claimed to be 'the most valuable and convenient situation in the country for railway carriage building'.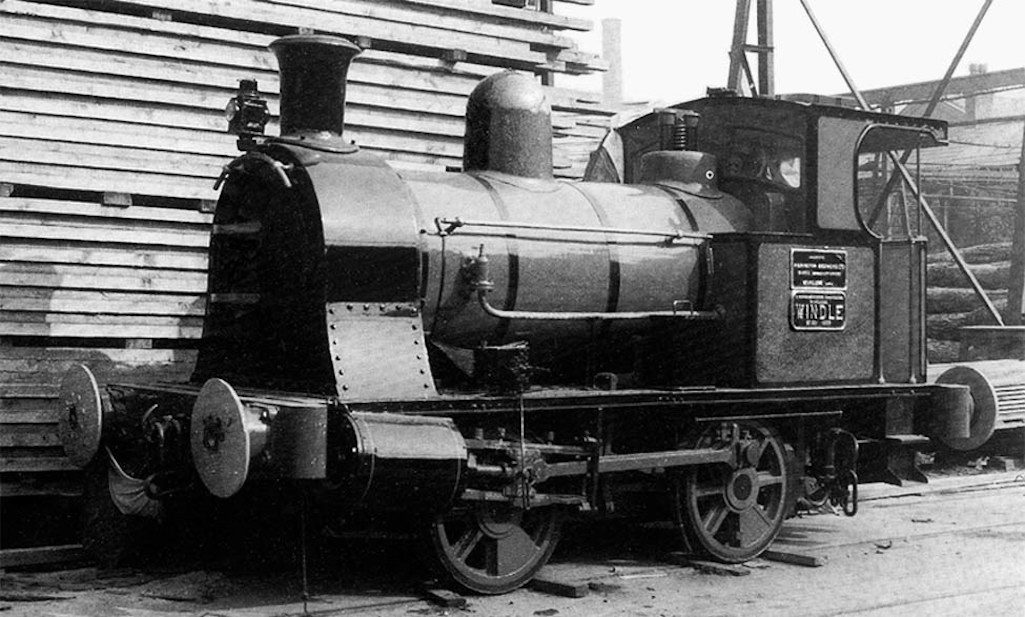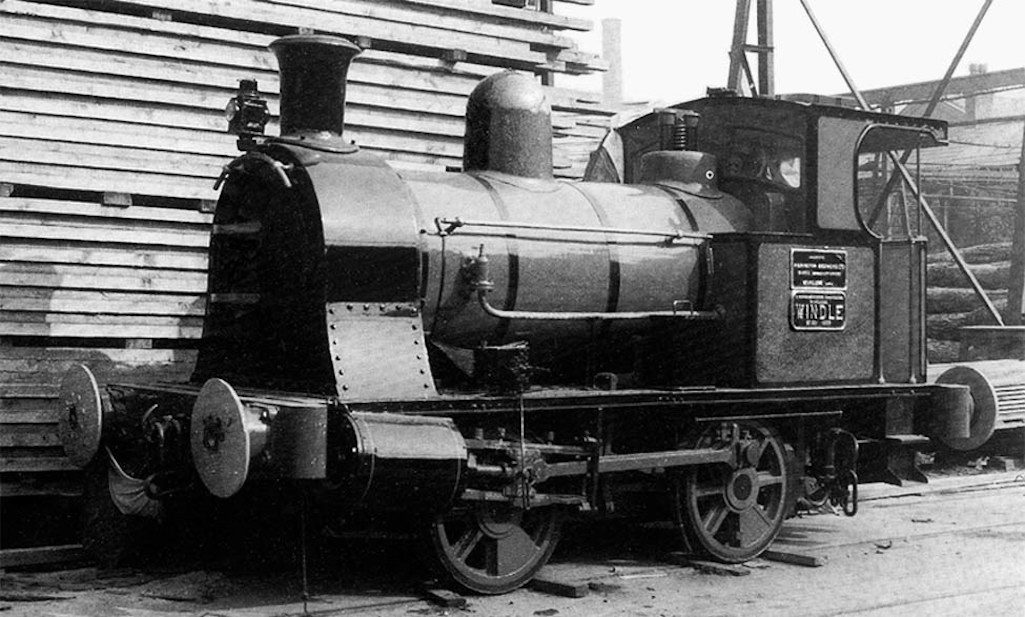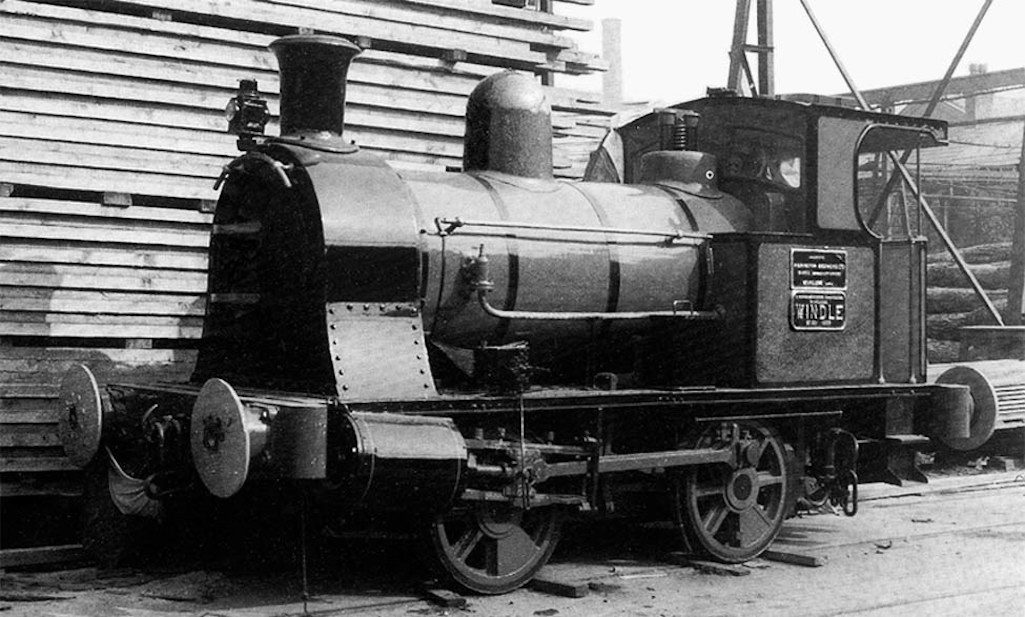 Other Sutton Works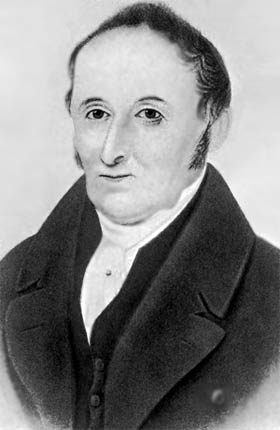 At St.Helens Junction was the powder works of
Bickford, Smith and Co. Ltd
(later Toy, Bickford & Co.)
and the girls who worked there were known as 'powder monkeys'.
William Bickford
had invented the safety fuse for igniting gunpowder in 1831, which was an important innovation that saved countless mineworkers' lives. The company was based in Cornwall but in 1873 Bickford, Smith and Co purchased the factory and business of
Charles Davey & Co
. at St.Helens Junction who made safety lamps for the mines. Bickfords' powder works supplied the needs of collieries throughout the north of England and Scotland for some forty years. In 1911 a
Mr. Smith
of the family firm became manager of Parr's bank in St.Helens. Dr. Henry Baker Bates, the Sherdley Estate Agent, offered him the tenancy of the newly-vacant Sutton Grange by Sherdley Park but he turned it down.

Bickford, Smith and Co. were the biggest British manufacturer of safety fuses and at some point their Sutton branch became known as the
St.Helens Electric Fuse Company Ltd.
, although still part of Bickfords. In December 1918 it was announced that the fuse firm at St.Helens Junction was amalgamating with 28 other explosives companies into a new combine called Explosive Trades Ltd., which became Nobel Industries in 1921. According to Bickford's own centenary book published in 1931, the Sutton works closed down 'soon after the War'. Powder Works Yard or Fuse Works Yard first appeared in the 1881 census off Normans Road and was still listed in the 1939 Register.

Sutton township also had a number of watchmakers, the craft spreading from Liverpool from about 1670 and was especially popular in nearby Prescot.
James Lockey
made and repaired coaches in Peasley Cross. In one advertisement in the Manchester Courier in 1869 he advertised a vacancy for a 'Coach Body Maker; to be sober, industrious, and a good workman.'
Walter Broughton
operated out of Sutton Road as a wheelwright and coach builder from 1893 until he was made bankrupt in September 1899.


In 1906 the old Sutton Copperworks site began to be used for salt refining by the
British & Foreign Salt Corporation
. The Sutton Oak plant was created to work an innovative method of salt making pioneered by
Harry Tee
, who had patented his process in 1903. The traditional means of salt refining, which entailed evaporation of the water in brine, required 10 to 15 cwts. of coal to make a ton of salt. What Tee did was develop a fusion process for rock salt, which instead of evaporation, purified it by fire but only required 1½ cwts. of coal to produce a ton of salt. The company was chaired by publisher and ex-MP
Sir George Newnes
and locally managed by
J. H. Webster
. Just how long their Sutton Oak plant lasted is unclear, but it seems to have had a short life.


The Sutton Glass Works site, described in the article
Glassmaking in Sutton
, became the location for
Sutton Bond 1201
munitions manufactory and barracks (1914 - c.1919), artificial silk maker Nuera Art-Silk Co. (1925-1930) and cellulose film manufacturer
British Sidac
(1933-1982). In recent times part of the original glassworks site in Lancots Lane has been used by Todd Bros.,
Leathers Chemicals
, Pakcel, Hays Chemicals and then Albion, which closed in 2002.

Nuera Art-Silk
made artificial silk and staple fibre and was briefly a thriving public concern, although it never paid its shareholders a dividend. The company had grand plans and on January 22nd 1926 the Daily Express reported that: 'Artificial silk will shortly be produced at St. Helens by an Anglo-Dutch company, who have acquired a factory, formerly used for glass making, but idle since the manufacture of munitions ceased at the end of the war'. The report added that the company would at first employ 3,000 men and women, which would eventually rise to 5,000. At Nuera's first AGM in March 1927, the company told its shareholders that their Sutton Oak works had cost them under £20,000. As this included 'sundry houses and cottages', plus reservoirs capable of holding 100 million gallons of water, they clearly thought they'd made a good deal. The 20-acre site was 'enclosed by a high and substantially built stone wall' and the buildings, which were then under construction, were set to house machinery capable of producing two tons per day of artificial silk. The contractors were William Griffiths, Son, and Cromwell Ltd. but their building work was behind schedule due to the 1926 general and miners' strikes and subsequent shortages of steel. The meeting was also told that the company was involved in 'experimental work of an important character' in association with major silk film Courtaulds.

In July 1930 the Nuera Art-Silk Co. shocked their shareholders when they went into voluntary liquidation, due to being under-capitalised and the depression and slump in the market. Chairman
Sir James Paton
was quoted in the Daily Express as saying: "Our great sin was in asking for only £200,000 when we raised our capital in­stead of asking for £1,000.000". Paton told a winding up meeting on July 18th that all the difficulties of manufacture had been overcome and the plant was fully capable of producing a ton of yarn a day. However the perfecting of the machinery and process had proved much more costly than they had thought. On November 25th 1931 the Daily Mirror commented on a 'strong rumour' that the 'wonderful artificial silk factory' might be reopened. However it came to nothing.


Todd Bros.
dealt in scrap metal from the 1940s to early 1960s. There were suggestions that the site had connections with the '
Magnum
' mustard gas works and its entrance was very close to the old railway line into St.Helens. The roof of the works painted with its name was visible to travellers for many years after its closure.


Leathers and Hays Chemicals were highly controversial plants, blamed for pollution and acid fallout in Sutton (read history
here
). Also permeating over the Baxters Lane district - but in a more benign way - was a smell of cat and dog food, combined with dextrin. This emanated from
Stamina Foods
, who for about thirty years made pet food and biscuits, along with dextrin. They operated from the old Victors chemical buildings on a site in between St.Helens Hospital and Baxters Lane. The exact year they began is unclear, but they were certainly operating in 1944, having relocated from Bootle. In 1957 Stamina Foods became part of Cerebos, the salt products firm, which in 1968 was taken over by Rank Hovis McDougall. In 1972 Spillers bought Stamina Foods for £1M, purely to acquire their brands and the Sutton Oak factory was closed. Around 70 staff had worked at the plant in its later years.
In Peasley Cross was the
Red Oxide Works
, which was situated off Peasley Cross Lane, almost directly opposite Alma Place. They manufactured an extensive range of mainly red products used for many different purposes, such as rouge for women, protective paint for battleships and even as facial decoration by African tribes. Their full name was the Hull & Liverpool Red Oxide Co. and they first began operations in St.Helens during the 1890s, probably closing in the 1950s.

UD Engineering
in Neills Road in Bold made bottling equipment for the dairy industry until they merged with Yorkshire firm Dawson Dairytech in 1987. This led to the closure of the plant and the loss of most of the 70 jobs. During the 1960s
Geest Bananas
opened a ripening plant in Walkers Lane in Sutton Manor. The works with 90 employees closed at the end of 1999, with the need to reduce operating costs stated by the company's Operations Director
Richard Worrall
as the reason for the closure.

A firm with an interesting background is
T. M. Utley Offshore Ltd.
who is currently based on the Abbotsfield Road Industrial Estate. They were founded in Liverpool in 1854 and originally made brass fittings for ships, specialising in portholes and windows, as well as making bells. The company made the admiralty bell for the ill-fated Lusitania and the Titanic. In 1976 Utleys moved to St.Helens, initially at Merton Bank Road, where they diversified into equipping oil and gas rigs.

In 1968
Rocla Pipes
commissioned a huge factory in Watery Lane measuring 134,000 square feet, to add to their existing works in Newport Pagnell. A workforce of 150 was involved in manufacturing concrete pipes for use in sewerage and drainage schemes and prestressed non-cylinder concrete pressure pipes for use in water supply schemes.

The
Tupperware Company
used to have offices at 196 Robins Lane run by
Annetta
and
Bill Schofield
. The food container and kitchen aid firm was introduced in England in 1960, with its UK manufacturing plant in Wigan. It was renowned for employing direct sales, particularly by dealers hosting Tupperware demonstration parties.
Other Relevant Pages and Articles on Sutton Industries:
Other Relevant Pages & Articles on Sutton Industry:
Copyright Notice / Factual Accuracy Statement

This website has been written and researched and many images photographed by myself, Stephen Wainwright, the Sutton Beauty & Heritage site owner. Individuals from all over the world have also kindly contributed their own photographs. If you wish to reuse any image, please
contact me
first as permission may be needed from the copyright owner. High resolution versions of many pictures can also be supplied at no charge. Please also contact me if you can provide any further information or photographs concerning Sutton, St.Helens. You might also consider contributing your recollections of Sutton for the series of
Memories
pages. Sutton Beauty & Heritage strives for factual accuracy at all times. Do also get in touch if you believe that there are any errors. I respond quickly to emails and if you haven't had a response within twelve hours, check your junk mail folder or resend your message. Thank you!
SRW