An Illustrated History of Old Sutton in St. Helens, Lancashire
Part 30 (of 92 parts) - The Rapid Rise of Sutton Harriers
An Illustrated History of Old Sutton in St.Helens
Part 30 (of 92 parts) - Rapid Rise of Sutton Harriers
An Illustrated History of
Old Sutton in St.Helens
Sutton Harriers
Sutton Harriers Athletics Club
were in their day as high profile sporting ambassadors for the town of St.Helens as Saints rugby league team are today, achieving remarkable national and international success within just 8 years of their formation. By 1906 the Harriers had won the National Cross Country Championships and their members accrued 13 sets of medals during their first 14 competitive championships. This was at a time when athletics mainly meant competitive cross-country running, rather than track and field sports. It had enormous appeal with spectators standing in the streets applauding the runners even when they were on training runs.

For the amateur athletes themselves, running in the country for their club was a means of escaping their own humdrum life and often hazardous working conditions. Although their runs on uneven roads during the winter months in all weathers through woods and over streams and stone walls could be dangerous too. There were frequent reports of athletes collapsing or being injured with some fatalities
.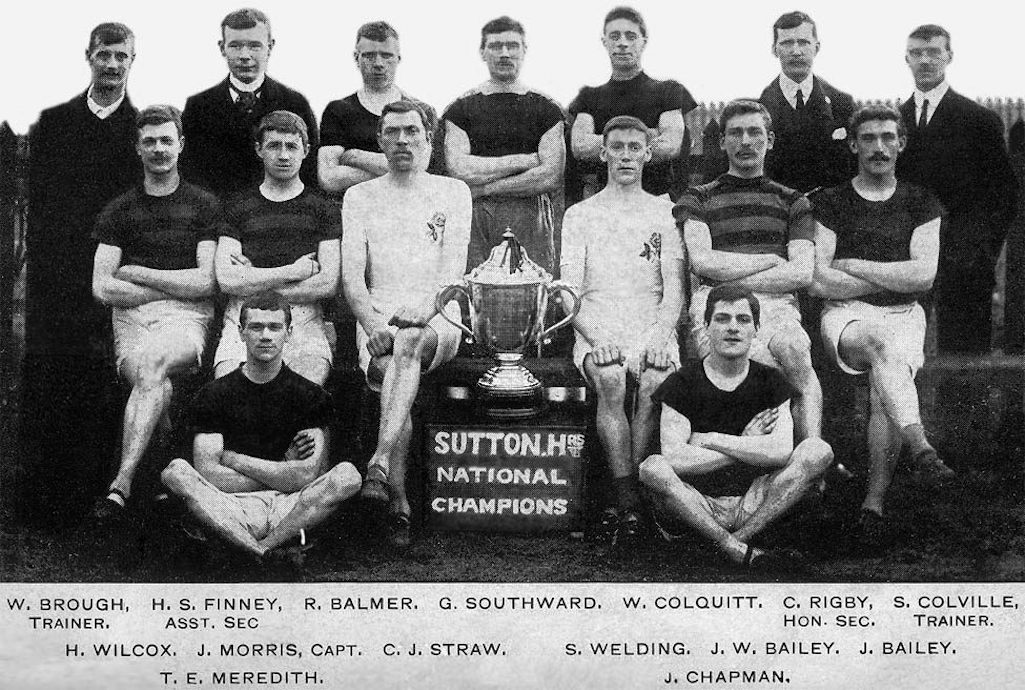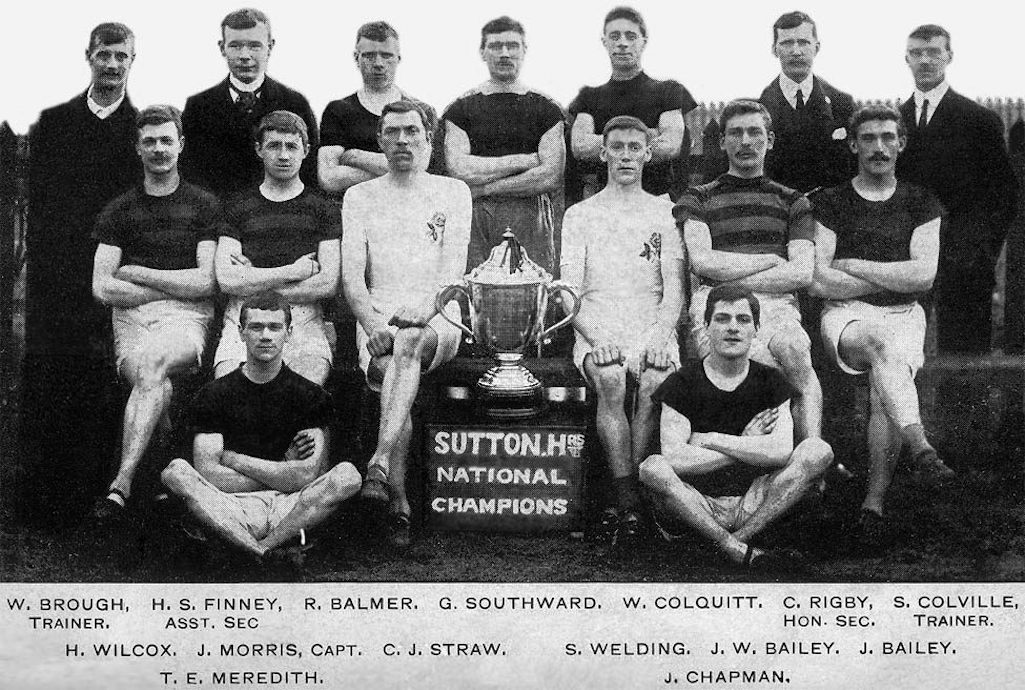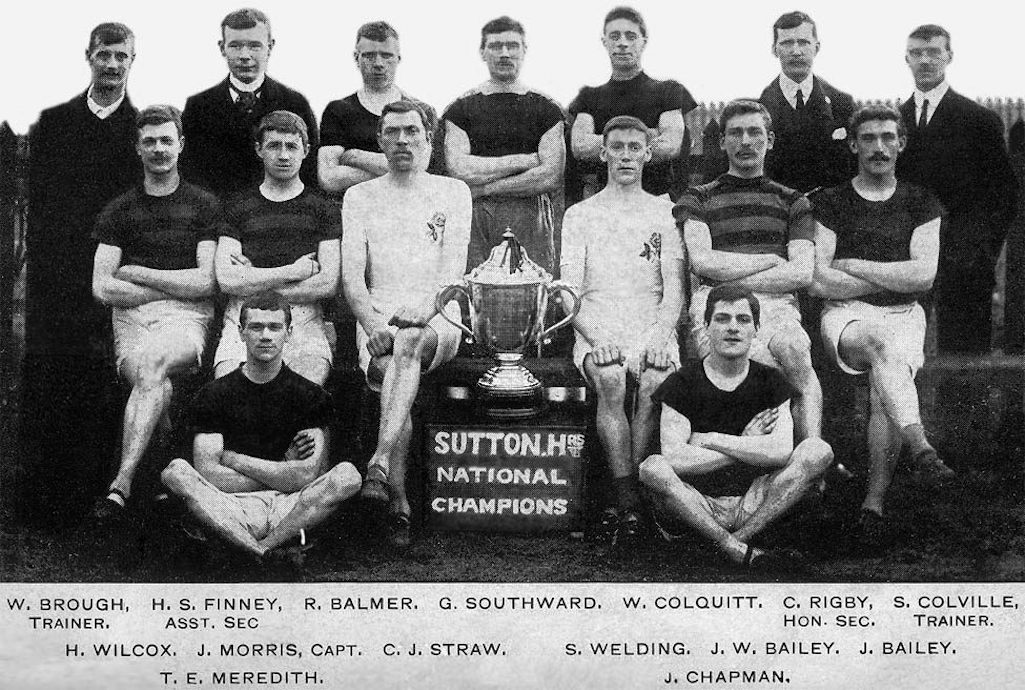 Towards the end of the nineteenth century healthy exercise was being encouraged and young men formed athletics clubs with each district and church parish having its own. St.Helens had quite a number including Parr A.C., Rainford A.C., Ravenhead A.C., Pilkingtons A.C., Prescot A.C., St.Josephs A.C., Gerrards Bridge A.C., Pembroke A.C. and St.Helens Parish Church A.C. Many of these were well established with some outstanding runners, not to mention those in clubs farther afield. So into this competitive world in 1899 entered the young pretender, Sutton Harriers.

They used to meet in the old Red Lion in Robins Lane (later the Glassmakers Arms & Golden Cross), then practice running down Bold Road and past Wm. Neill's Foundry, circle round to Clock Face and Marshalls Cross and then back home to the pub. Just how many replenishing pints they sunk on their return is not recorded! Facilities were extremely basic with just a bucket of cold water and scrubbing brush for bathing. If they were very lucky, there might be a block of soap for the athletes to share.


From the first year of Sutton Harriers formation, 'smoking concerts' were seen as an important means of raising funds for the club. These were live performances before a male audience who'd smoke and talk, usually of politics. The St.Helens Newspaper of October 24th 1899 said that a 'very interesting programme of songs was gone through' during the Harrier's first annual smoking concert at the Red Lion.

On December 16th, 1899 the inaugural Christmas handicap was held with 15 athletes running 6½ miles through Bold and Clockface, then back to the pub. The St.Helens Newspaper revealed the winner as
"Genial" George Southward
who they predicted would be the 'pride of Sutton in the athletics world with a little care and perseverance'.

In 1904
Sammy Welding
(1884 - 1928)
, a 19-year-old, 5'7" tall collier who worked down Southport pit in Parr, joined the club paying his membership fee of two shillings. Although the Harriers already had some talented runners, such as
F. W. Webber, Herbert Wilcox
(1880 - 1970)
and
Jimmy Morris
(1880 - 1944)
, the addition of Sammy soon made them into a formidable force. On February 18th 1905 Sammy came second in the Northern Senior Championship held at Haydock Park Racecourse over 10½ miles. This was run in gale force winds and heavy rain and the course included hundreds of yards over ploughed land. As a result of this performance Sammy was selected to run for England in Dublin, the first of his five international appearances.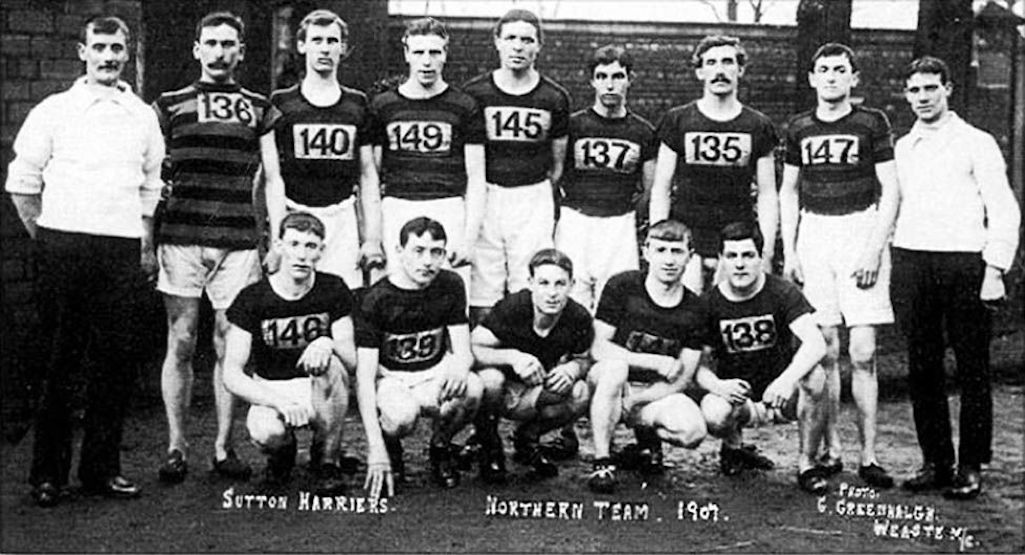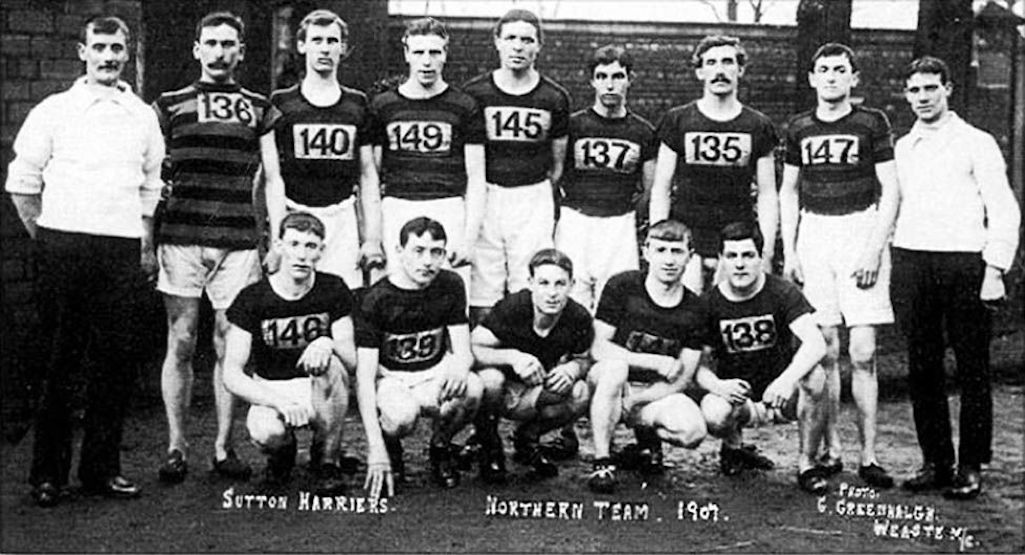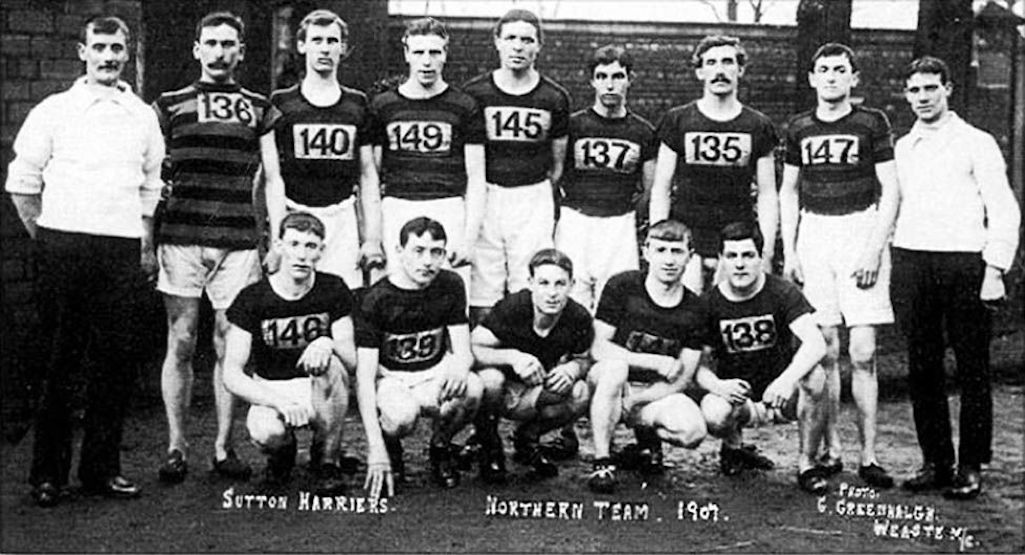 From about this time, Sutton Harriers were given the nickname of the 'red and blacks' as the athletes began to wear red and black vests. On April 17th 1905 the annual Sutton Harriers club championship was held and Sammy Welding won the first of his many club trophies. At the start of the 1905-6 season, rising star
Charlie
'C. J.' Straw
(1876 - ?)
was persuaded to join the Harriers from Warrington Athletics Club. He was profoundly deaf after suffering meningitis as a child and was unable to hear the starter's gun and the cheers of the spectators. Despite this handicap, Straw was well thought of within the athletics community and during the previous three years had won the Northern Junior title. Sutton Harriers were now developing quite a reputation within the athletics world and young, talented athletes like C.J. were becoming interested in joining them to further their own careers.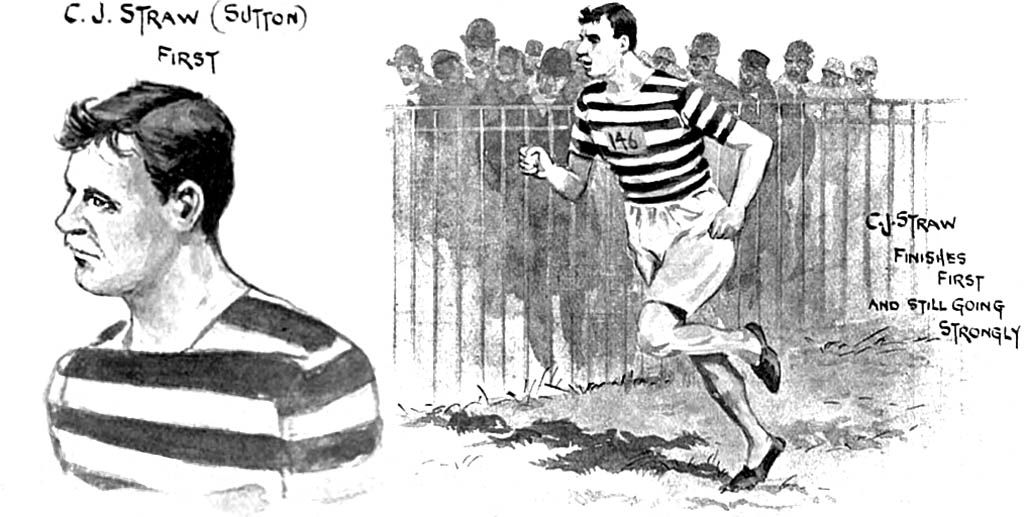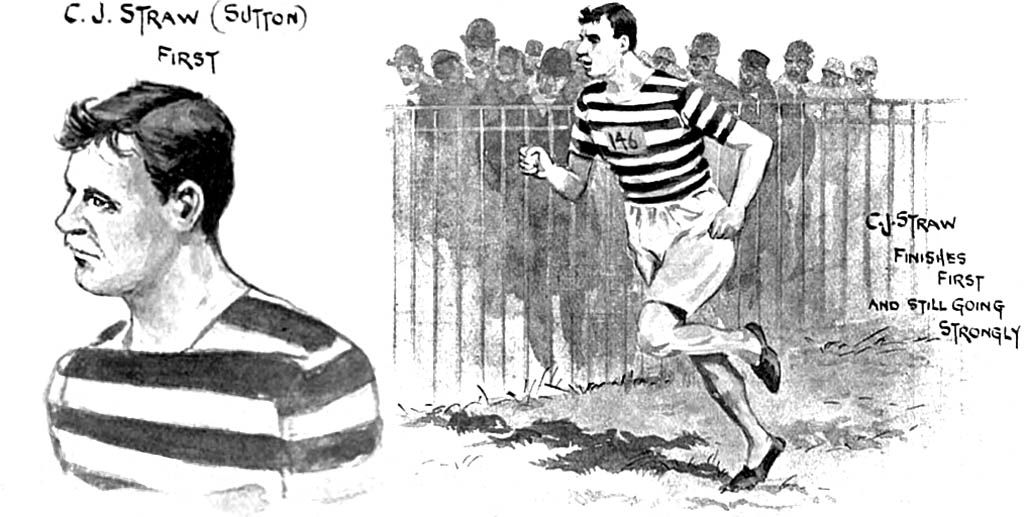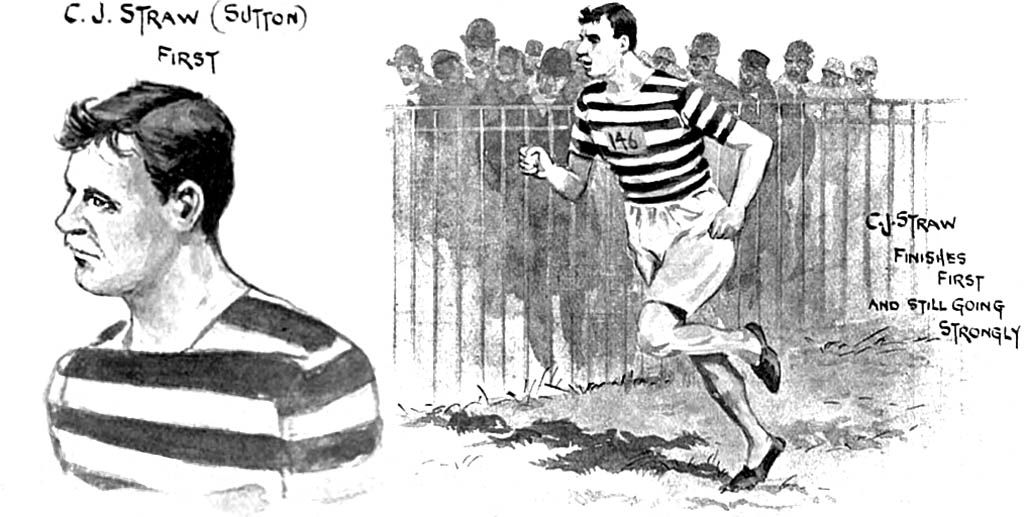 The club came second in that season's Northern Cross-Country championship with Straw 1st and Welding 2nd. On March 3rd 1906 Sutton won the team title for the first time in the National Cross-Country championship at Haydock Park, a quite remarkable achievement for a club only created some seven years earlier.

However two weeks later disaster struck as C. J. Straw was alleged to have thrown a race at the behest of bookies and was disqualified for two years. He was accused of resting on a fence when well in the lead, waiting for other runners to catch up with him, so he could be seen just losing. This was a big blow to Sutton Harriers who unsuccessfully fought the suspension, although they still had their star Sammy Welding who was appointed club captain for the new season.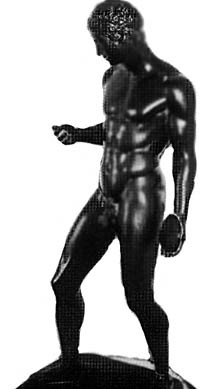 The highlight of Sutton Harrier's remarkable rise to success came on January 20th 1907 when the red and blacks as English athletic champions competed against the French national champions
Stade Francais
and the Parisian champions
Club Amical Sportif de Saint Mande
. Over ten thousand spectators lined the course at St.Cloud, Paris to watch Sutton Harriers beat the French teams and take the
Vie au Grande Air Cup
with Sammy Welding coming first and Joe Bailey as runner-up.

A trip to Paris via London was quite something for the English lads who were used to poor living and working conditions and somewhat rudimentary facilities at the Red Lion or Glassmaker's Arms. So
Captain Michael Hughes
, Sutton Harrier's proud president, paid for a horse-drawn wagonette to take the party on a sight-seeing tour of the French capital, which included a visit to the Louvre. The language barrier was overcome in a Parisian restaurant when one of the athletes ordered a glass of milk by imitating the milking of a cow, which was said to have much amused the French waitress!

When the Harriers arrived back in St.Helens after a sightseeing tour of London, they were met at the station by hundreds of supporters waving flags and hats. Sutton's popular medic,
Dr. H. B. Bates
, who was vice-president of the Harriers, was given a rousing reception when he left the station and the crowd cheered when captain Sammy Welding exited holding his bronze statuette that he'd won in Paris.

Like Saints rugby league stars returning from victory at Wembley, the team were taken on a tour of the town but on horse-drawn wagonettes accompanied by Sutton Road Prize Band. As might be expected, a very enthusiastic reception was given to the team by the people of Sutton as they made their way to the Glassmakers Arms where sandwiches were devoured by the hungry athletes.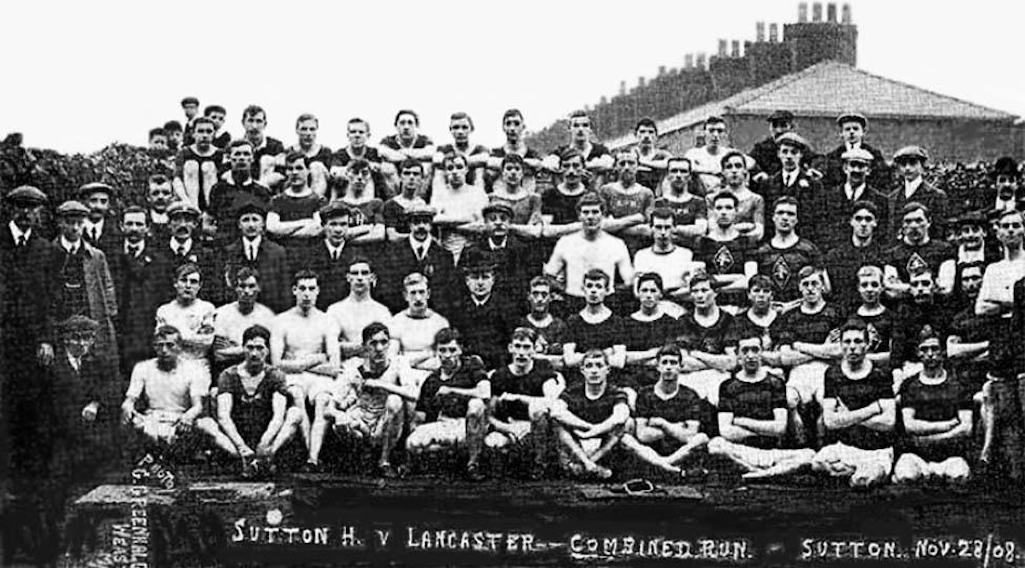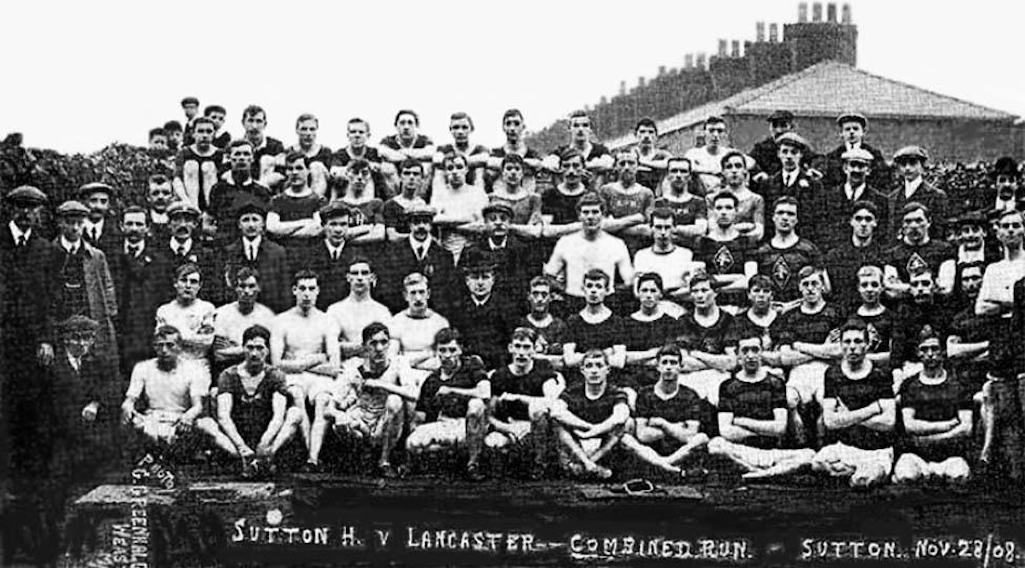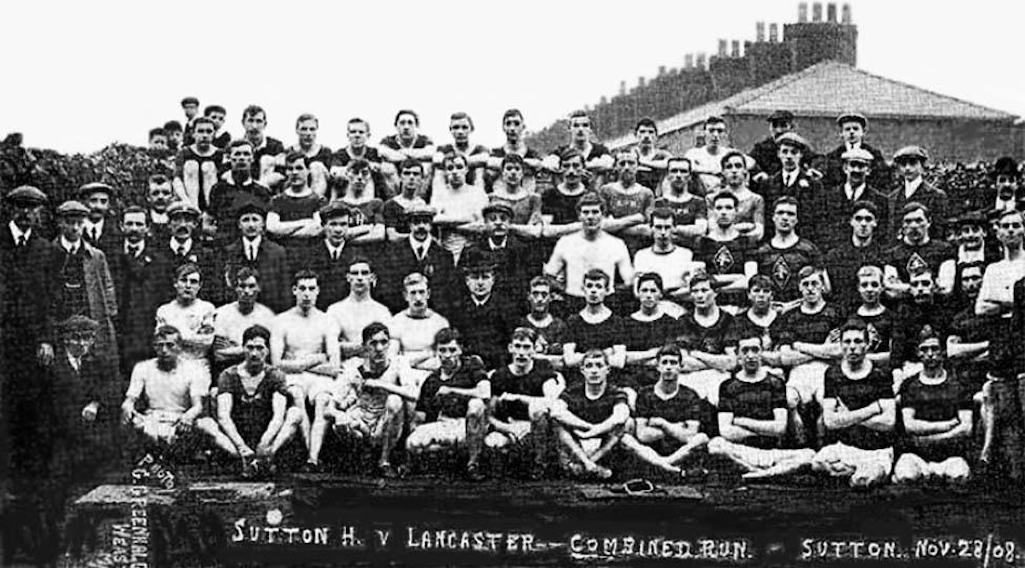 In the following months the Harriers competed in the Northern Championships again at Haydock, which was won by Sammy Welding although the team came second. For the following season talented athlete
F.J. Whittle
of Farnworth and
T. Greenall
of St. Joseph's A.C. were recruited.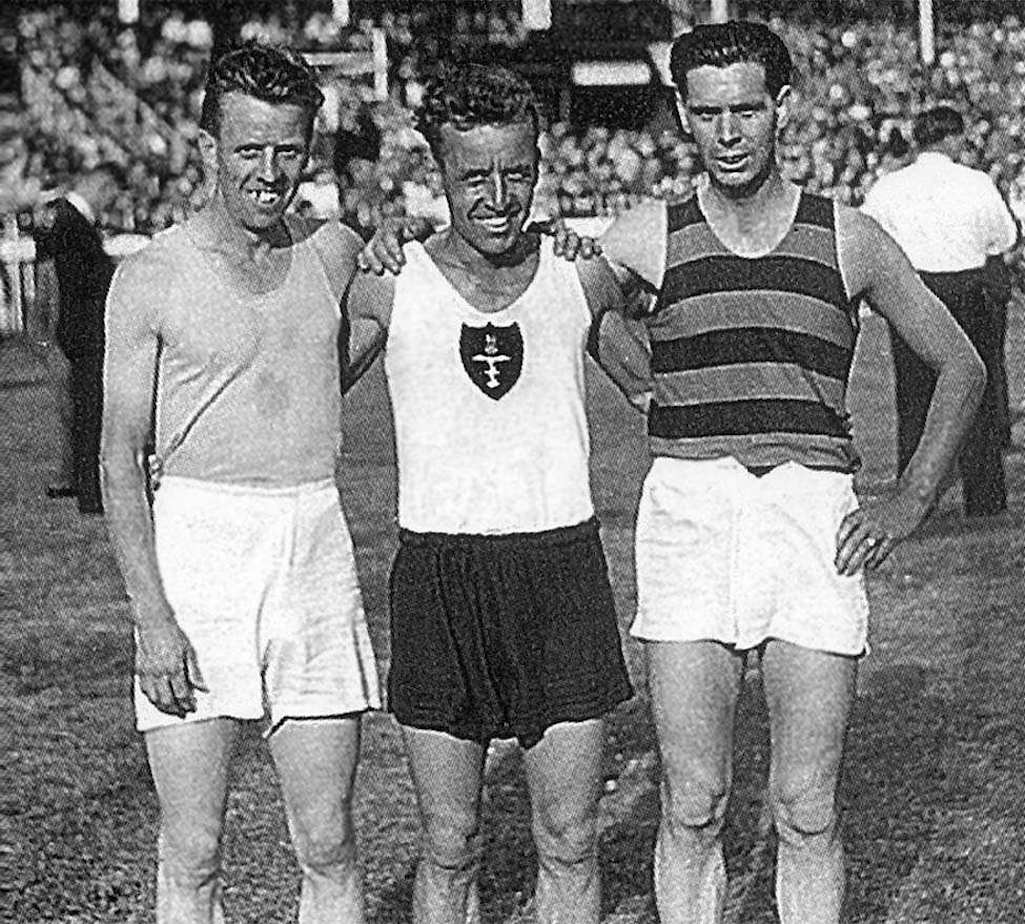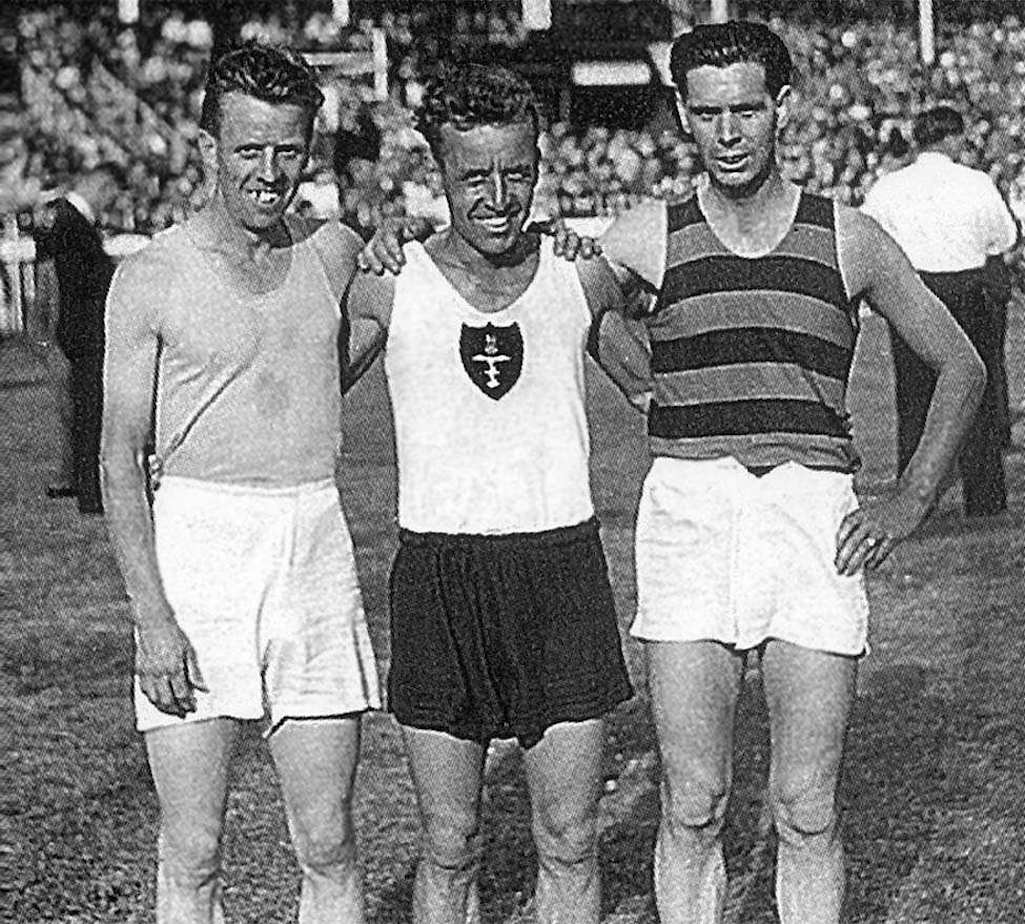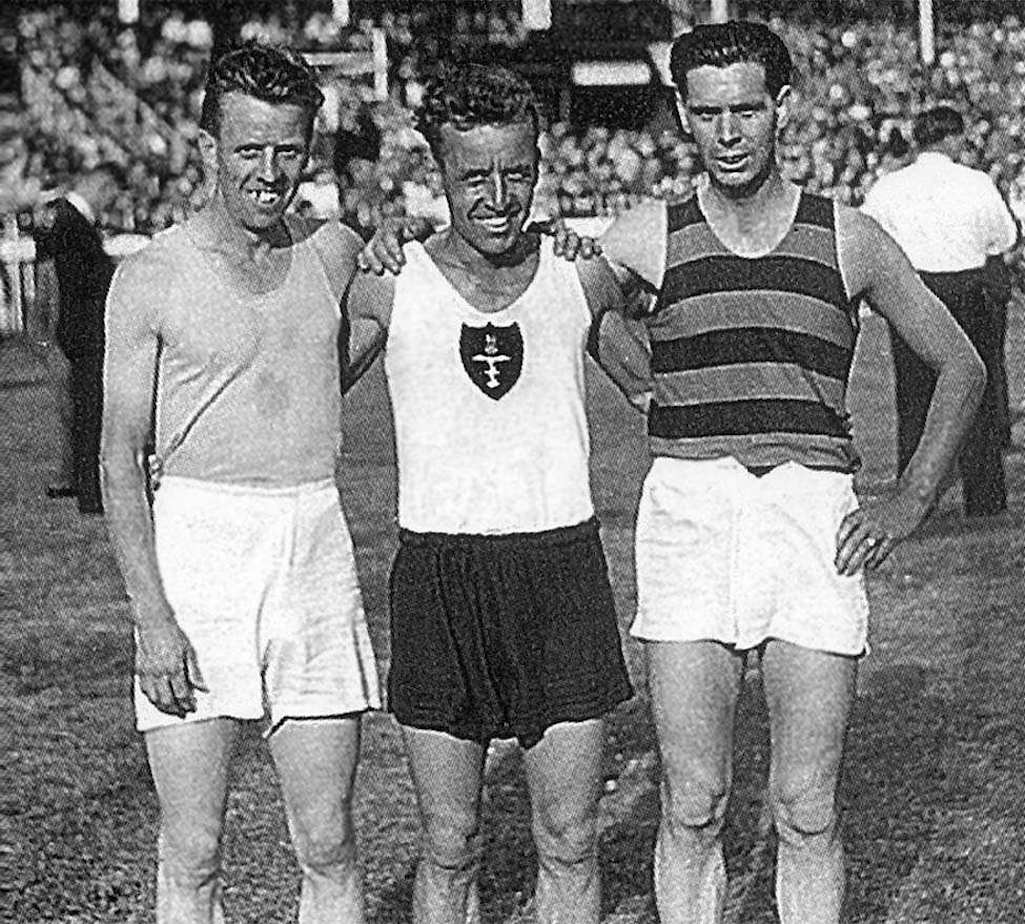 Throughout the twentieth century, Sutton Harriers continued to be successful, especially in the years immediately after the second world war. Between 1947 and 1951 they won the national title four years out of five. In recent times
Billy McMinnis
was president of the club and the last surviving member of that great team until his death in September 2013.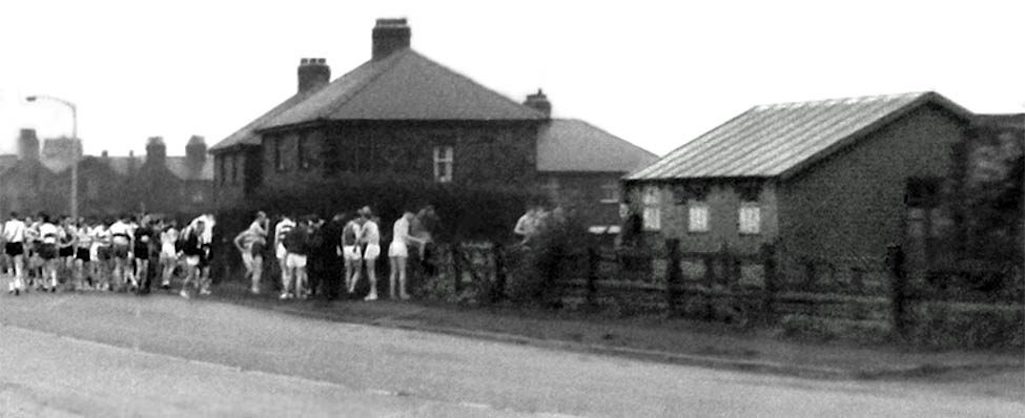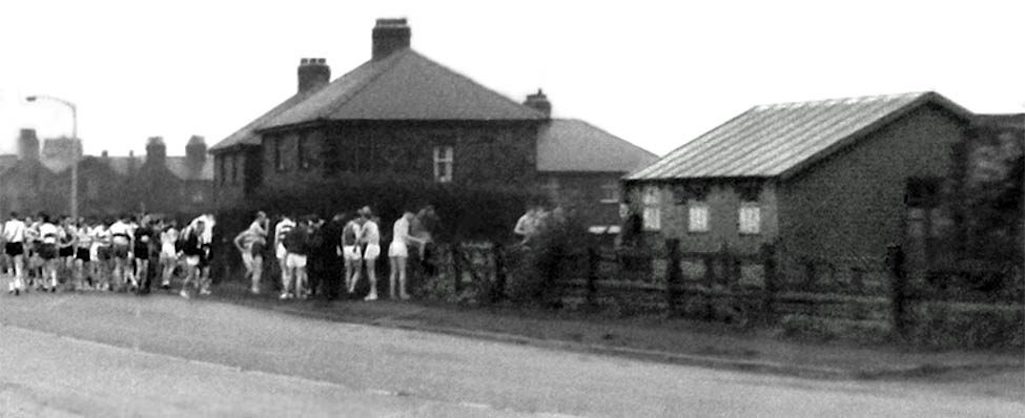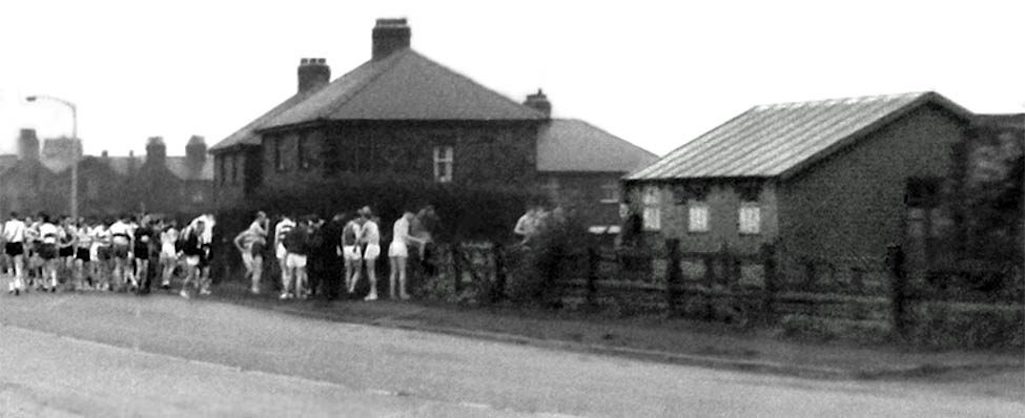 By the 1950s facilities had improved from the bucket of cold water and scrubbing brush in the Red Lion. A pavilion in Helena Road, known as the Morris Pavilion, was used for many years and post-war there was a hut next to 11 Chester Lane. Incidentally, no. 11 was the residence of coal merchants
Polly
and
Rafe Renney
who are featured in a Memories of Sutton Part 2
article
.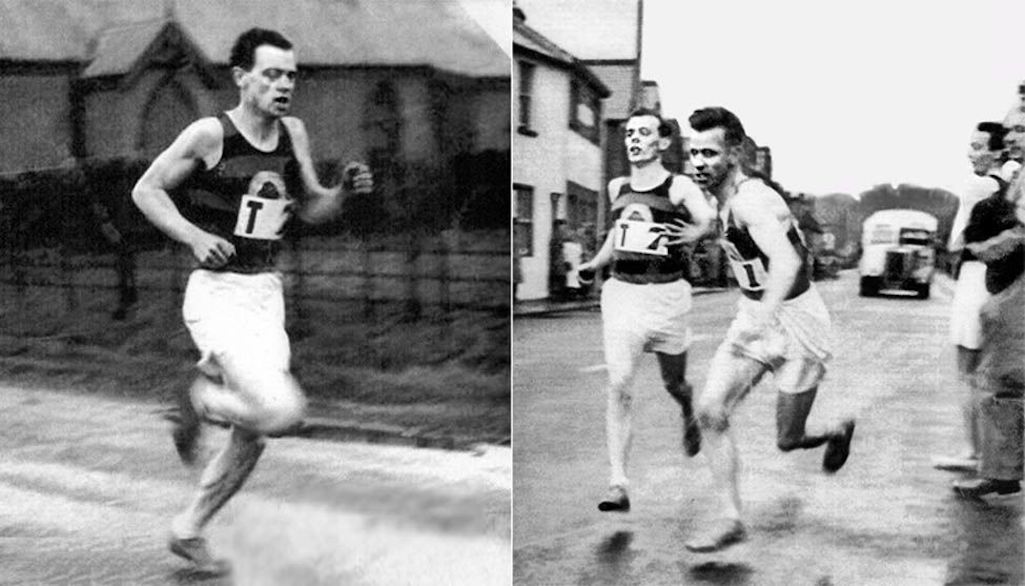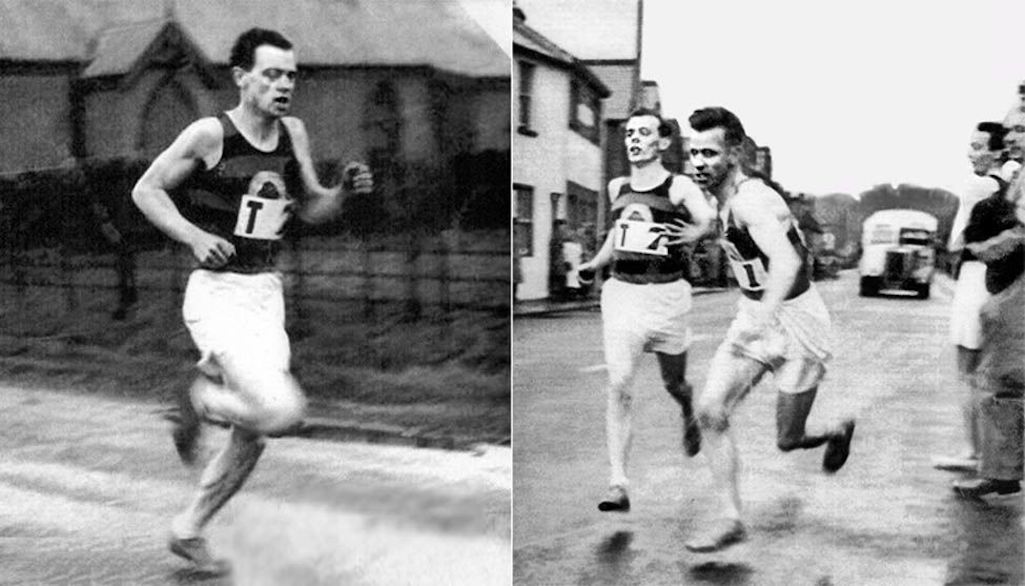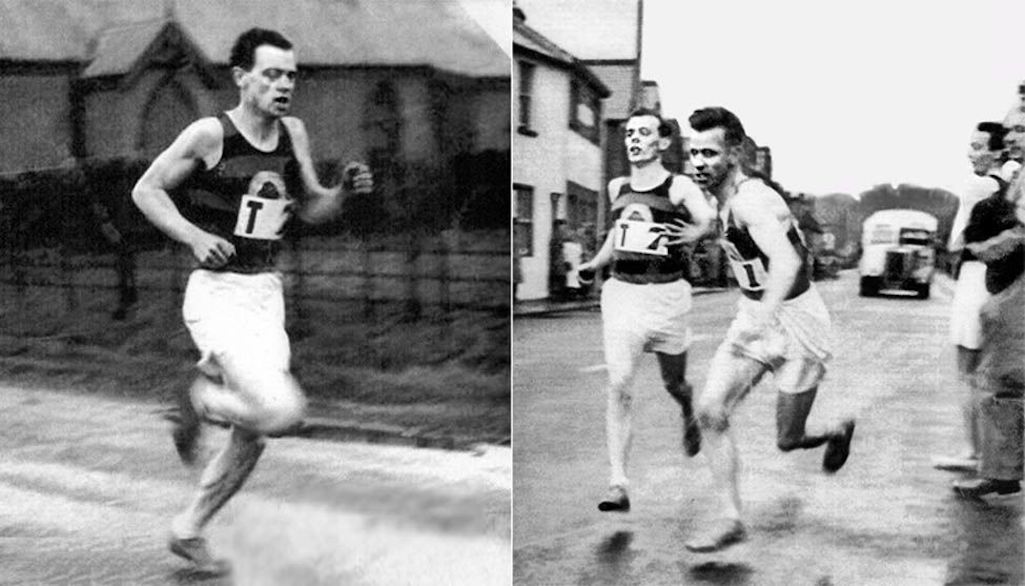 The photograph of the changing room hut was taken by
Jim Lamb
, whose cousin is
Les Lamb
. The former wireless operator on a WW2 Halifax bomber, ran for Sutton Harriers from the end of WW2 until 1956 and was very active in track, country and road races. Les is pictured above in the London to Brighton race and exchanging a baton with
Fred McMinnis
in the Manchester to Blackpool relay.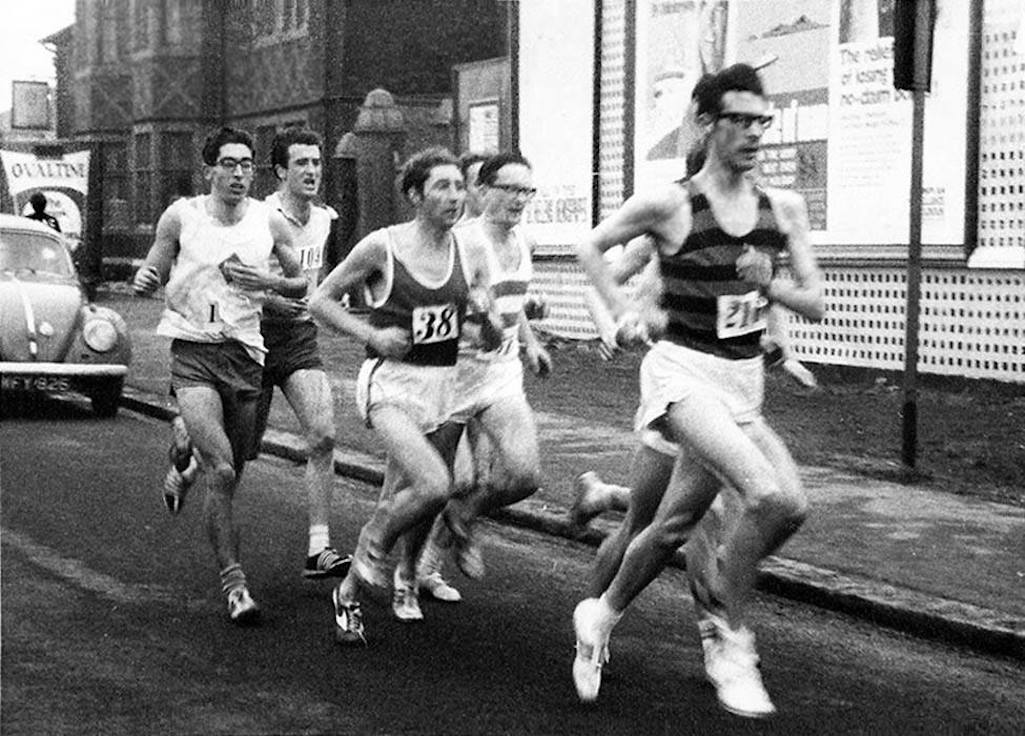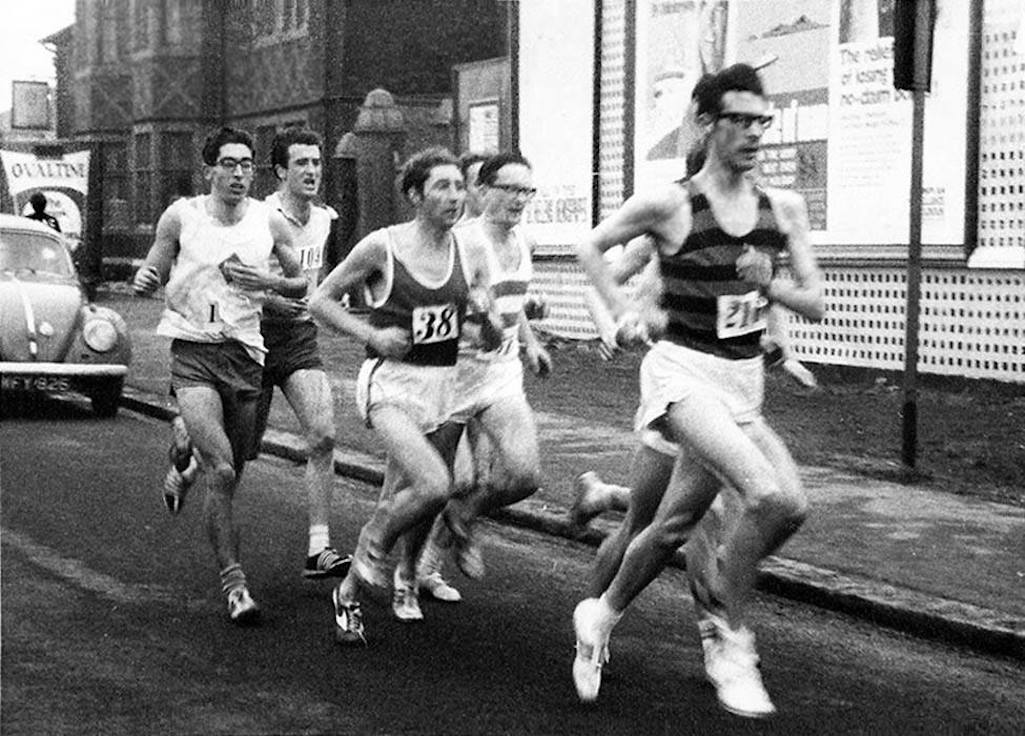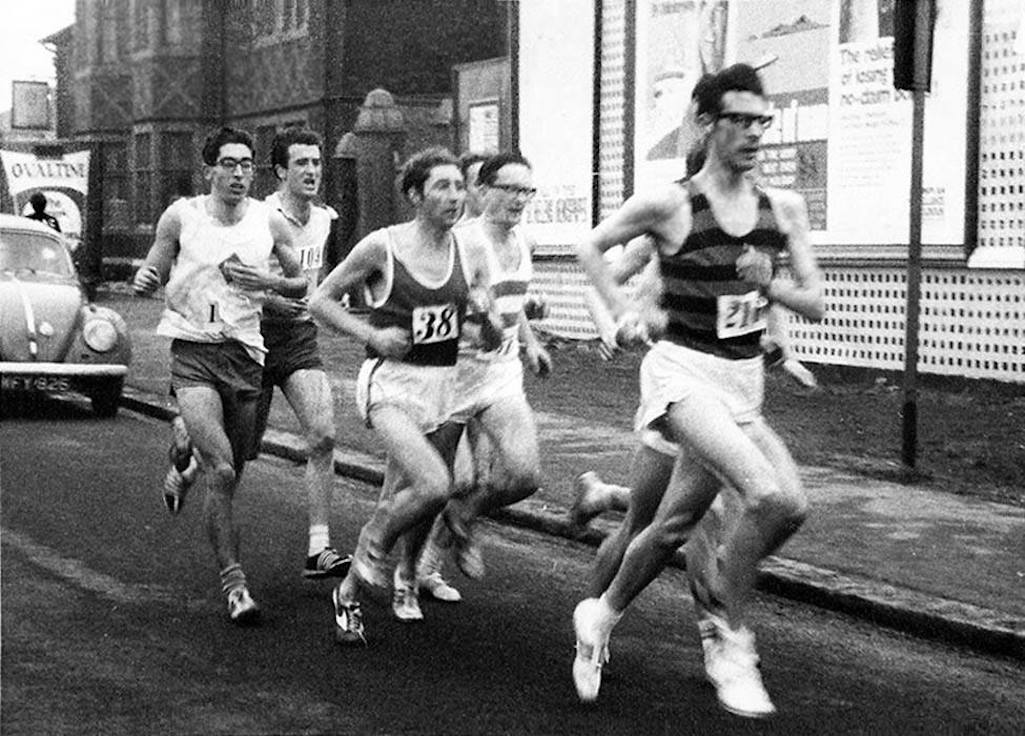 During the 1960s the Sutton Harriers collected place medals in the Northern Senior Cross Country Championships. The team had been boosted by the arrival of
Ron Barlow
and
Brian Woolford
who joined from Wallasey A.C. Oxford Blue
Steve James
also signed up. These 'outsiders' were coupled with raw, local talent such as
Brian Renshall
,
John McLoughlin
and
Peter Roberts
who between them formed the nucleus of a successful squad.

This period also saw the Harriers running successful female and junior cross country teams. This was largely down to the efforts of teacher
Dr. Philip Thomas
who organised matches between local secondary schools and established a Merseyside cross-country league for girls. These served to increase interest in the sport and led, by word of mouth, to an influx of female athletes. The girls took the National cross country title at Runcorn in 1979, in addition to several Merseyside titles and third place in the Northern.

With the increasing popularity of track and field events, the club expanded into league competitions with male athletes competing in division one of the Northern Men's League. The female Harriers were also successful, winning the Northern Women's Track and Field League title and participating in the National Women's League qualifying competition on three occasions.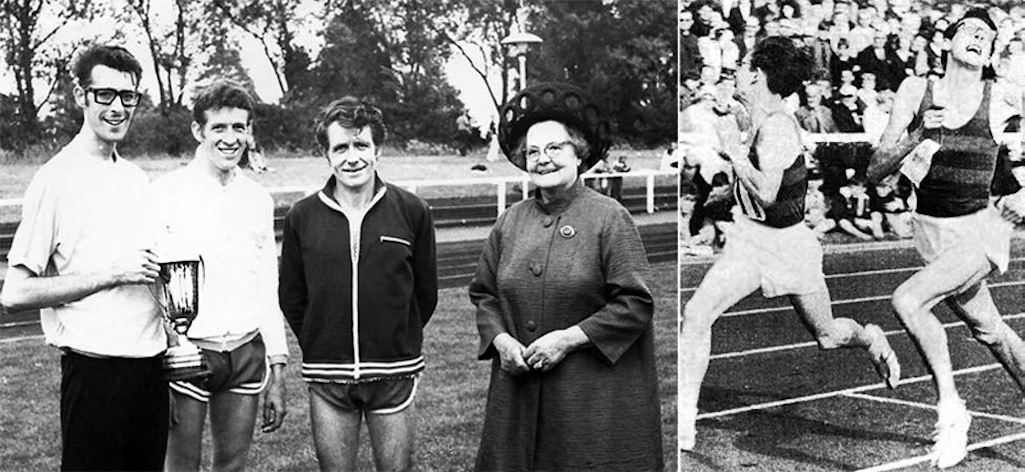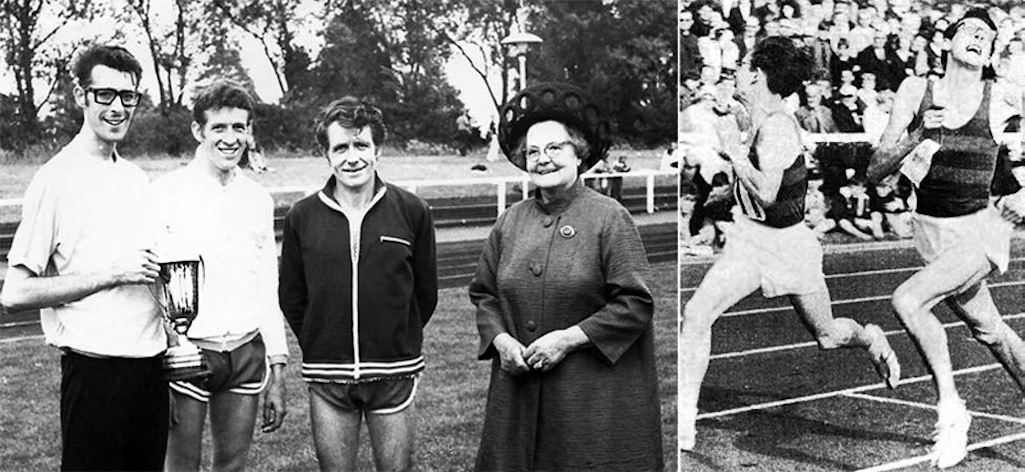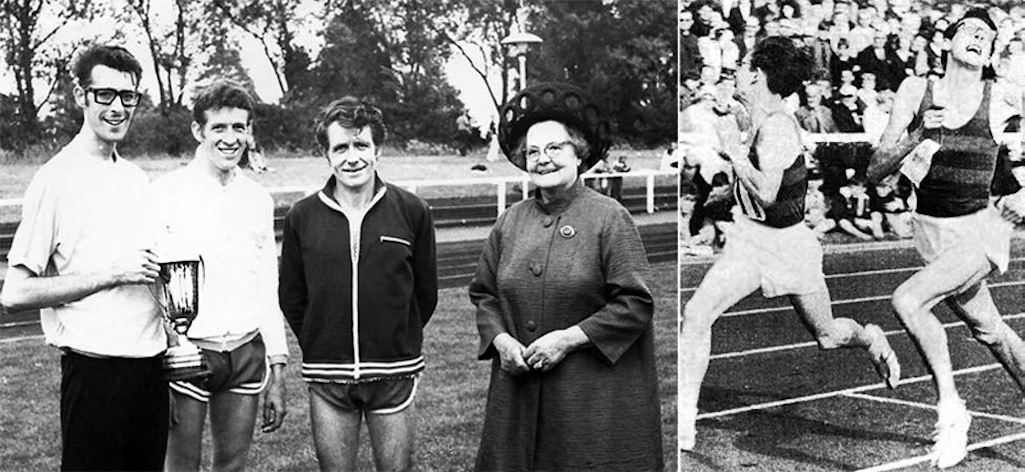 In 1990 Sutton Harriers merged with St.Helens A.C. and were renamed
St. Helens-Sutton Athletic Club
. This was their second rebrand, having briefly been 'Sutton Harriers Cycling & Athletics Club' before reverting to their original name. The club continues to be based in Sutton at the Sports Centre in Eltonhead Road, where an all-weather track has been laid.

On the administrative side, long standing Secretary,
Norman Ashcroft
, a former cross country international from Manchester, was elected President of the Northern Cross Country Association. Norman also founded the National Veterans Association in which he and Billy McMinnis collected world titles. In recent years
David Forrester
has had notable success for the club, winning the English Schools' XC title, the European Trial Race and finishing third in the junior National XC. Local schools have also competed for the Sam Welding Trophy, C. J. Straw Trophy and the Morris Trophy, keeping their illustrious members' names alive.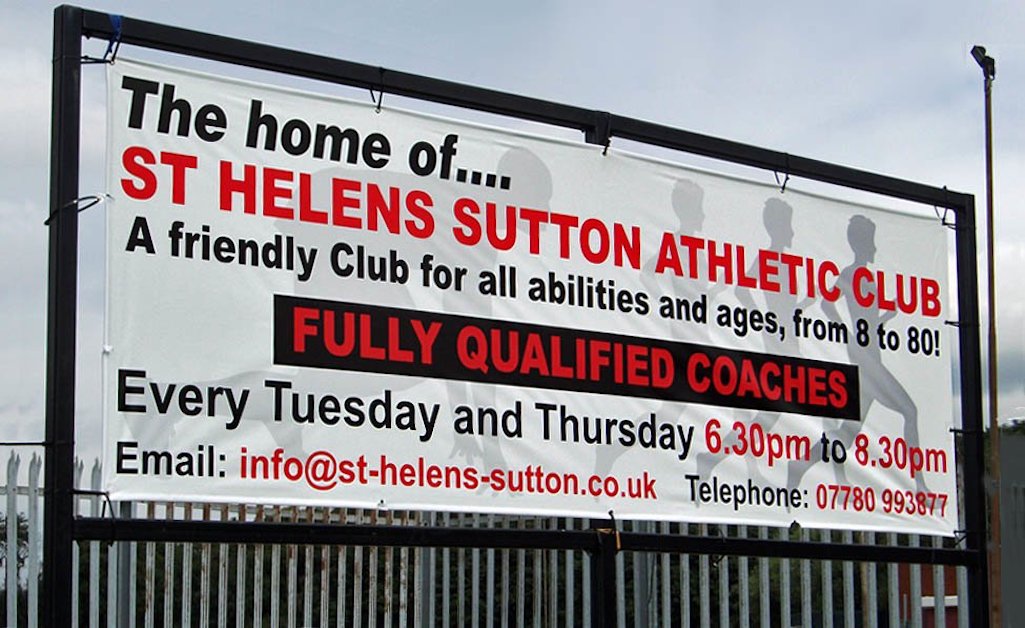 Thanks to the family of the late Ron Welding from whose biography of his father 'Sam Welding - Sutton Harrier Parr Excellence', part of this page, including some photographs, has been sourced.
Thanks to the family of the late Ron Welding for their assistance with this page.
Copyright Notice / Factual Accuracy Statement

This website has been written and researched and many images photographed by myself, Stephen Wainwright, the Sutton Beauty & Heritage site owner. Individuals from all over the world have also kindly contributed their own photographs. If you wish to reuse any image, please
contact me
first as permission may be needed from the copyright owner. High resolution versions of many pictures can also be supplied at no charge. Please also contact me if you can provide any further information or photographs concerning Sutton, St.Helens. You might also consider contributing your recollections of Sutton for the series of
Memories
pages. Sutton Beauty & Heritage strives for factual accuracy at all times. Do also get in touch if you believe that there are any errors. I respond quickly to emails and if you haven't had a response within twelve hours, check your junk mail folder or resend your message. Thank you!
SRW