An Illustrated History of Old Sutton in St. Helens, Lancashire
Part 31 (of 92 parts) - Sutton Boxers & Wrestlers
An Illustrated History of Old Sutton in St.Helens
Part 31 (of 92 parts) - Sutton Boxers & Wrestlers
An Illustrated History of
Old Sutton in St.Helens
Boxers & Wrestlers
a) Introduction
Fighting in Sutton has historically served as a popular sport, means of settling disputes and a vehicle for gambling. Prize fights often occurred with the pugilists, seconds and supporters playing cat and mouse with the police. The Liverpool Mercury of November 5th 1856 reported on a bare-knuckle fight held at Hell Bess Farm near Sherdley Hall which was attended by 500 onlookers. The contest was between
'
two well-known pugilists, named Thomas Redman and Thomas Dillon, both residing in St.Helen's'. However, a police raid led by
Superintendent Mather
put an end to the proceedings and three seconds were arrested. Then on April 18th 1864 about 5am the police raided a field in Sherdley Park where they found two men stripped and fighting. Over 300 people were watching the prize fight between a
James Hunter
and a man called
Chadwick
. The former was arrested but the latter escaped.


Hardened miners participated in
purring, which was naked clog-fighting in which they'd
kick each other in the head. By the end of the nineteenth century, Lancashire catch wrestling had largely replaced purring. Although somewhat safer than
clog-fighting
, it still had a reputation for being quite a violent sport and rules were introduced to safeguard the wrestlers from serious injury. For instance, there was a ban on deliberately breaking an opponent's bones!

Fist fights in the street were quite common sights. Frank Bamber was born in 1910 and in his book
Clog Clatters in Old Sutton
describes regularly seeing priests from St. Anne's church and monastery clad in black robes and sandalled feet hurrying to the streets around Peckershill Road to stop a fight. Surrounded by a crowd, the pugilists would often be the worse for drink, settling a score or a Suttoner might be battling an Irishman. Frank also describes how regular fights took place after school behind All Saints Church between two Sutton 'Nash' pupils who battled for the coveted title of 'Cock Ot' School':
The church did a grand job of screening the two battlers and spectators from the main Ellamsbridge Road and generally we had no interference from anyone except a very big woman who, at times, would rush across the field from Carnegie Street with two buckets of water and try to hurl the contents at us. This prompted us to either cheer, jeer or boo her. It was all good fun and excitement. Before the battle commenced, jackets were taken off and handed to seconds and short sleeves were wrapped up. If you wore a gansey, like I did, you just put your fists up and tried to get the first clout in.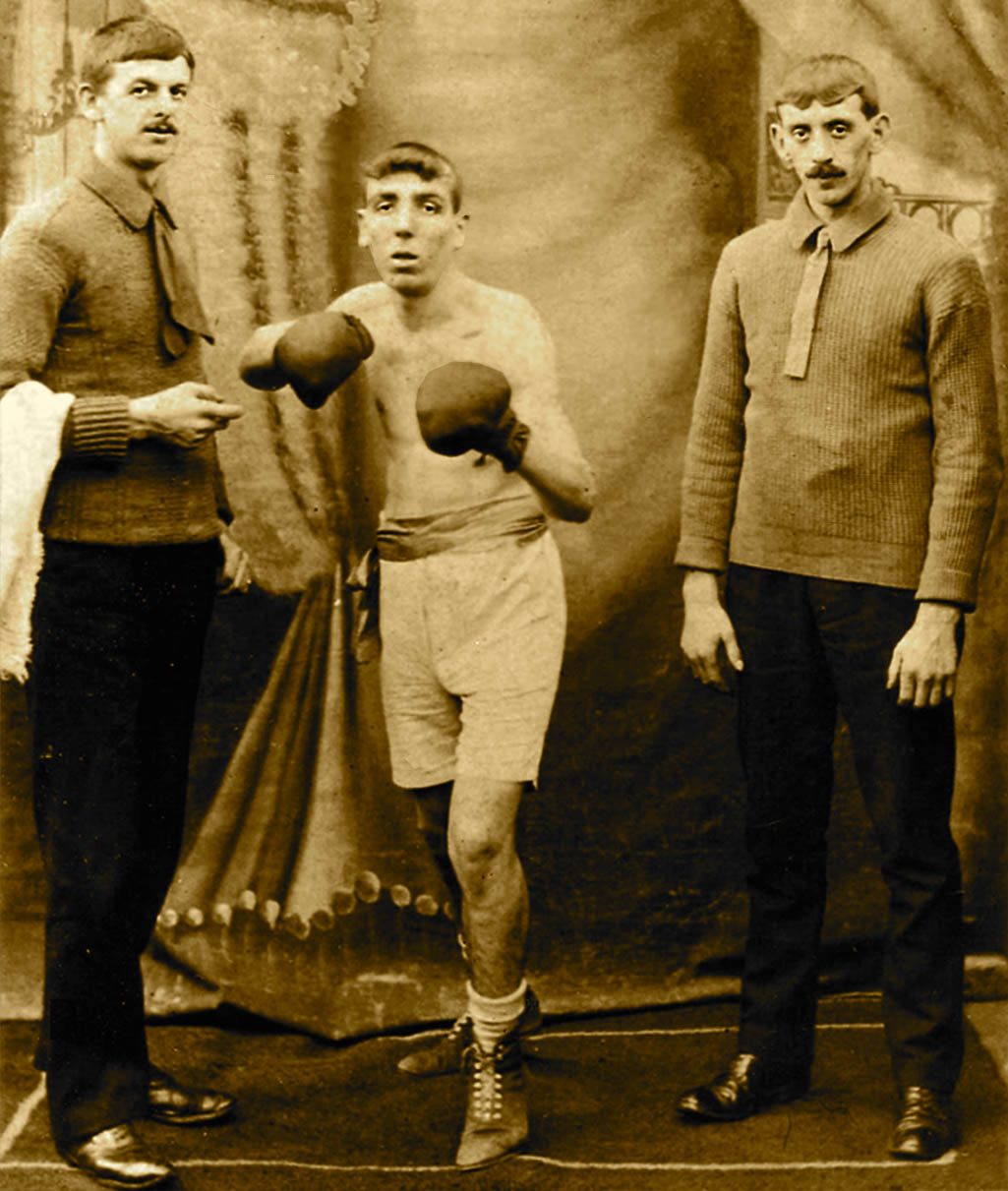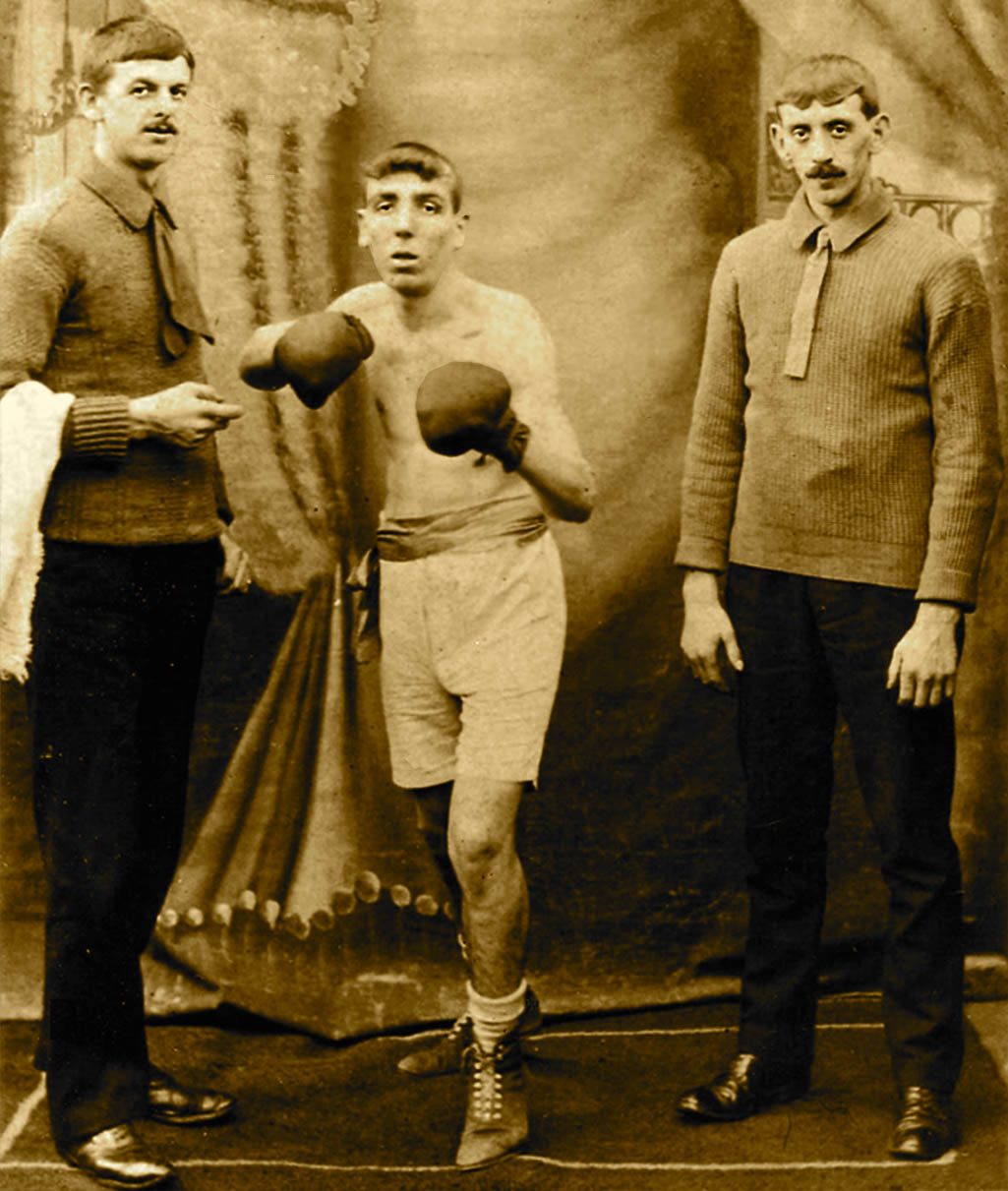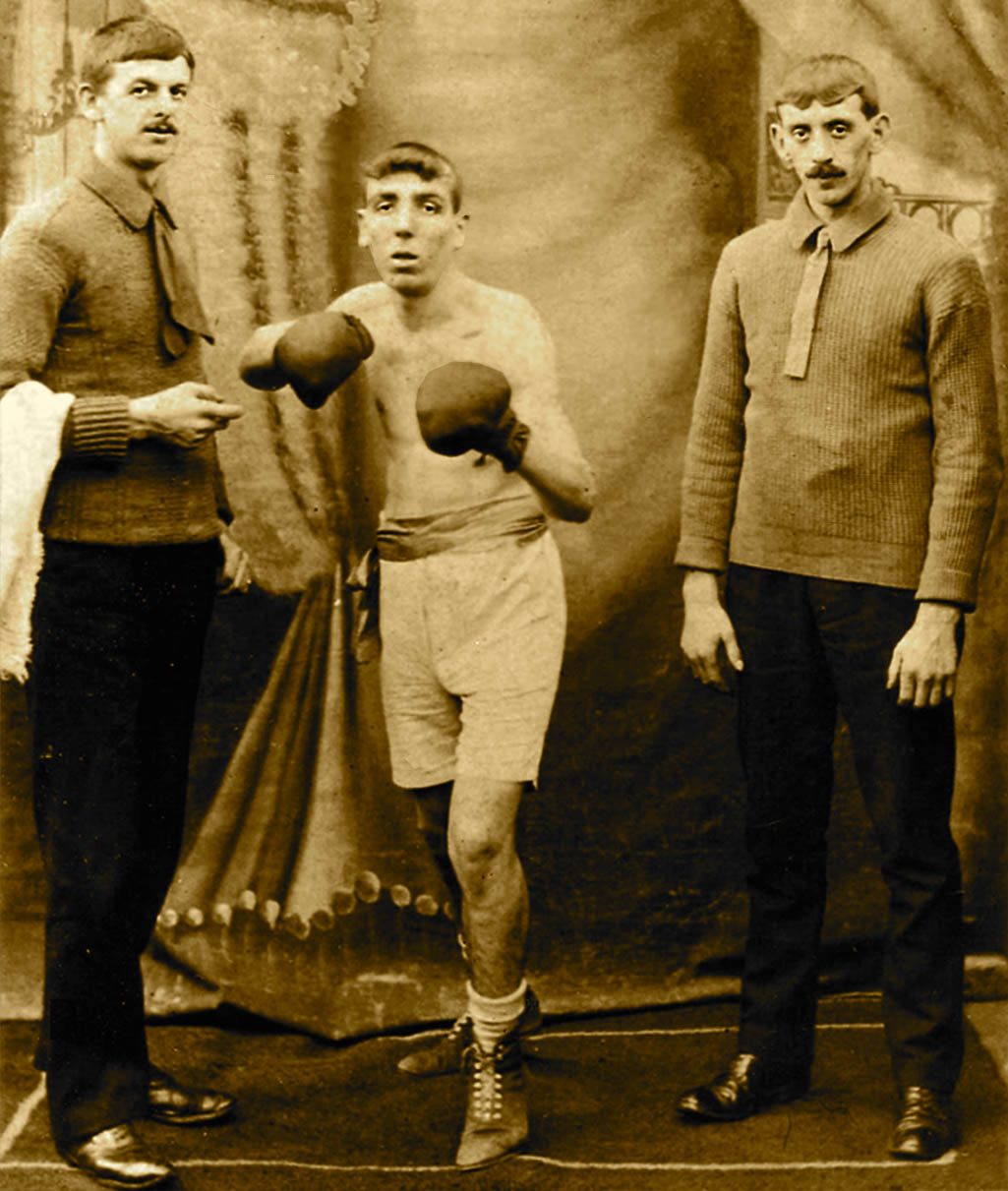 Recognising that it was far better for young men to fight with gloves in a ring than bare-fist in the street, organised boxing became increasingly encouraged. Although there was seemingly no venue in Sutton that regularly hosted boxing, occasional tournaments were held in various locations. In February 1938 the St.Helens Newspaper reported on a 'splendid' boxing tournament that had been held at Sutton National School which Frank Bamber had attended twenty years earlier. Garden parties held at Sherdley Hall sometimes featured boxing, such as when
Michael Hughes-Young
, the new owner of the Sherdley estate visited Sutton on June 3rd, 1939. Then
Bold Thomas
,
Al Devanney
,
Darkie Brownbill
,
Tommy Burns
,
Spike Kelly
,
Billy Gormley
,
Kid
and
Nipper Marsh
,
Bobby Rose
,
Billy Watson
,
Joe Travis
and
Ginger Davies
competed in an open air display.

Regular boxing was held in a number of St.Helens venues. 'Boxing' magazine's edition of July 15th 1911 reported how after laying dormant for twenty years, 'the noble art' was again attracting attention in St.Helens. It described how Liverpool's International Boxing Hall had just secured the Skating Ring in Warrington Road that could accommodate 2000 people. Plus 'well-known coloured pugilist of former days',
Felix Scott
, had started a boxing school in Corporation Street. The town's Hippodrome, Palatine Hall and Theatre Royal also regularly staged boxing matches.

Wrestling also became increasingly popular throughout the twentieth century and was led locally by the Beech family in Sutton Manor who relocated from Staffordshire then Wigan.

This page is intended to document the boxing and wrestling personalities of Sutton, who in their day were well-known names locally and even nationally. Poorly paid, they risked life and limb several nights a week in contests of up to 20 rounds, while also holding down demanding day jobs. If you can supply further information and/or photographs, please do get in touch. Some of the information on this page has been sourced from research commissioned by this website from boxing historian
Miles Templeton
.
b) Ernie Proudlove - Sutton Boxer & Coach
Ernie Proudlove
was born in Widnes c. 1891 but lived for quite a number of years in Herbert Street in Sutton. Boxing historian Miles Templeton has found records of eighty-three professional bouts by Proudlove which took place between 1910 and 1921. Of these, Ernie won forty, lost forty and drew three contests. However, in an interview with Thompson's Weekly News, reported in the St.Helens Newspaper on August 8th 1916, Proudlove claimed to have already fought about 80 fights:
...and out of that number I have had about 60 wins. I have never yet been knocked out and have only once been disqualified on a foul, and that decision I most strongly refute....At Accrington I beat Eddie Jones, of Blackburn, the 9st. 61b. champion of England, knocking him clean out in nine rounds, notwithstanding that I was giving over a stone away.



In 1916 Proudlove became Lancashire bantamweight champion. In July of that year Ernie knocked out
Billy Welch
of Glasgow in Middlesborough, in the 17th round of a 20 round fight, winning the Pitman's Bantamweight Championship of Great Britain. Weekly periodical 'Boxing' in their edition of 22nd November 1916 referred to his
'
famous right swing' and he was known as an aggressive, hard-hitting boxer who fought all over the country.
Frank Bamber
wrote in
Clog Clatters in Old Sutton
, that Proudlove coached other boxers at Old Sutton Farm near Reginald Road during the late 1920s and early 1930s.
Alan McDermott
, whose family ran the Junction Inn for many years from 1932, writes to this website that Ernie was a regular at the pub and his photo was hung over the bar. Ernest Proudlove died on September 17th 1977 aged 86 and is buried in St.Nicholas Churchyard.
c) Bold Thomas - Boxer, Coach and Promoter
George 'Bold' Thomas
had a long association with the sport he loved. He began as an amateur boxer, then progressed to the professional ranks before becoming coach and promoter with his own boxing academy in Berry's Lane, Sutton. Here he coached many popular pugilists such as featherweight
Bobby Rose
, hard-hitting light-welterweight
Joe Travis
and the singing featherweight
Marsh
twins,
Cliff
and
Ray
. Rose from Haydock served as groomsman at Bold's wedding in September 1939, when he married
Linda Gerrard
from Taylor Street. The diminutive Marsh twins were also from Haydock and would fight each other for several rounds, and then sing together in the centre of the ring!



Bold came from a well-known Sutton sporting family, with his brother Bill playing for Tranmere Rovers and Oldham Athletic. He promoted many boxing events around St.Helens, often for charities or church galas. Sometimes these were held in association with Bold's friend
Bill Thompson
. Sutton boxers
Pat Grady
, who was known for his two handed punching style,
Tiger Thompson
,
Boy Atherton
and
Ted Brogan
- who was noted for his strong left hand - were often on Bold's bill. Thomas then acted as trainer for St.Helens Town in Hoghton Road. In a 16-year spell with the club, he trained future England players
John Connelly
and
Bill Foulkes
, as well as legendary German goalkeeper
Bert Trautmann
. Popular with the players, Bold had a disciplined approach, banning smoking on match-days and introducing vigorous physical training exercises.


However, it was boxing that was his first love. Born George Thomas about 1913, he attended Sutton National school and made his fighting debut in Len Johnson's Boxing Booth when aged sixteen. He trained at the family-run Douglas boxing club in Sutton and after turning professional, appeared as a welterweight at the opening night of Earlestown's famed Blue Pig venue. Bold's opponents included
Alf Twelves
,
Digger Stanley
as well as
Jackie Potts
who fought for the Northern Area title.

In those days boxers had a day job and Bold was a machinist at a copper company. After retiring from the ring, he coached at Old Sutton Farm with Ernie Proudlove and then began promoting tournaments. After a lifetime in boxing and training footballers at St.Helens Town, Bold Thomas enjoyed a retirement at his Carnegie Crescent home.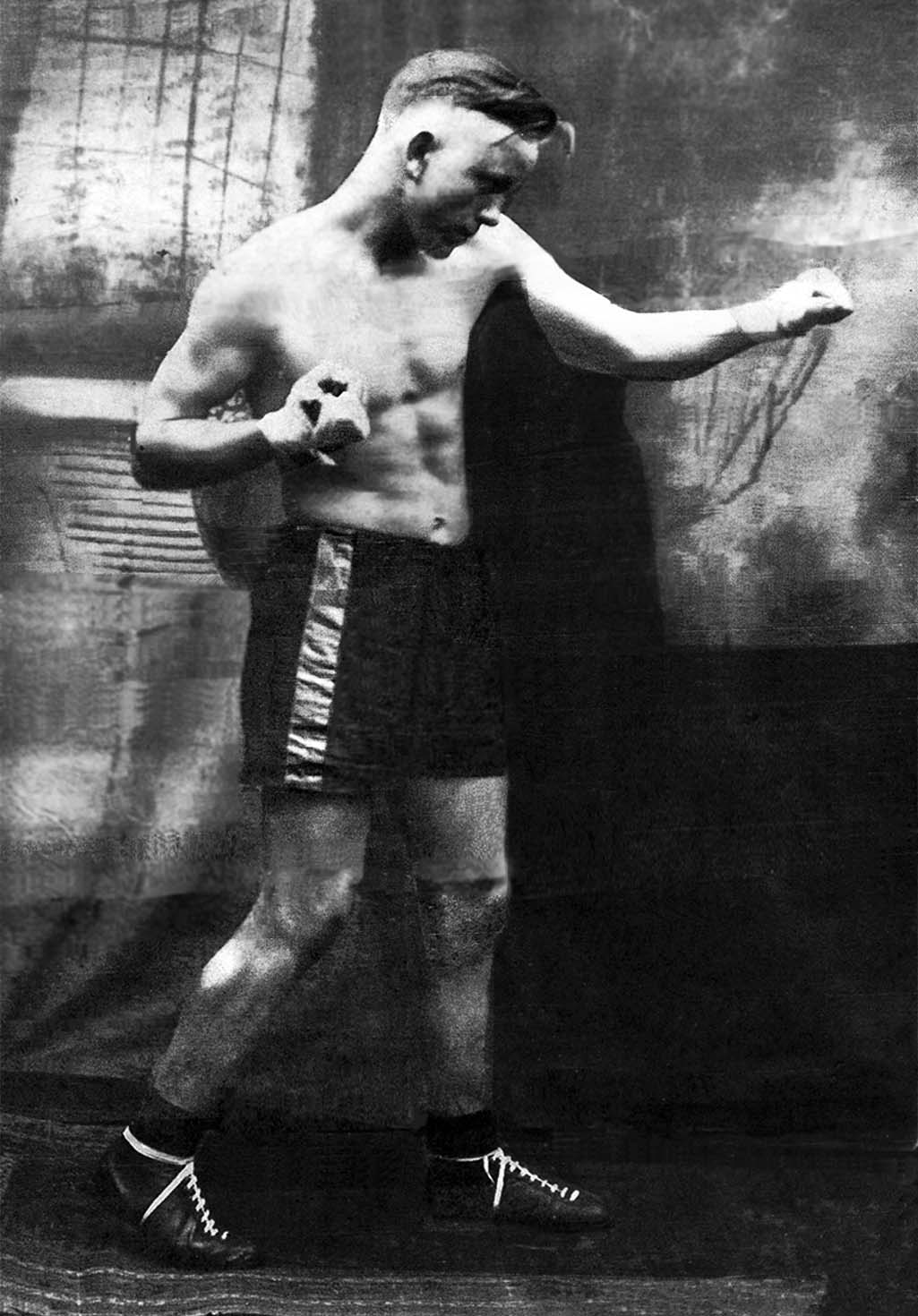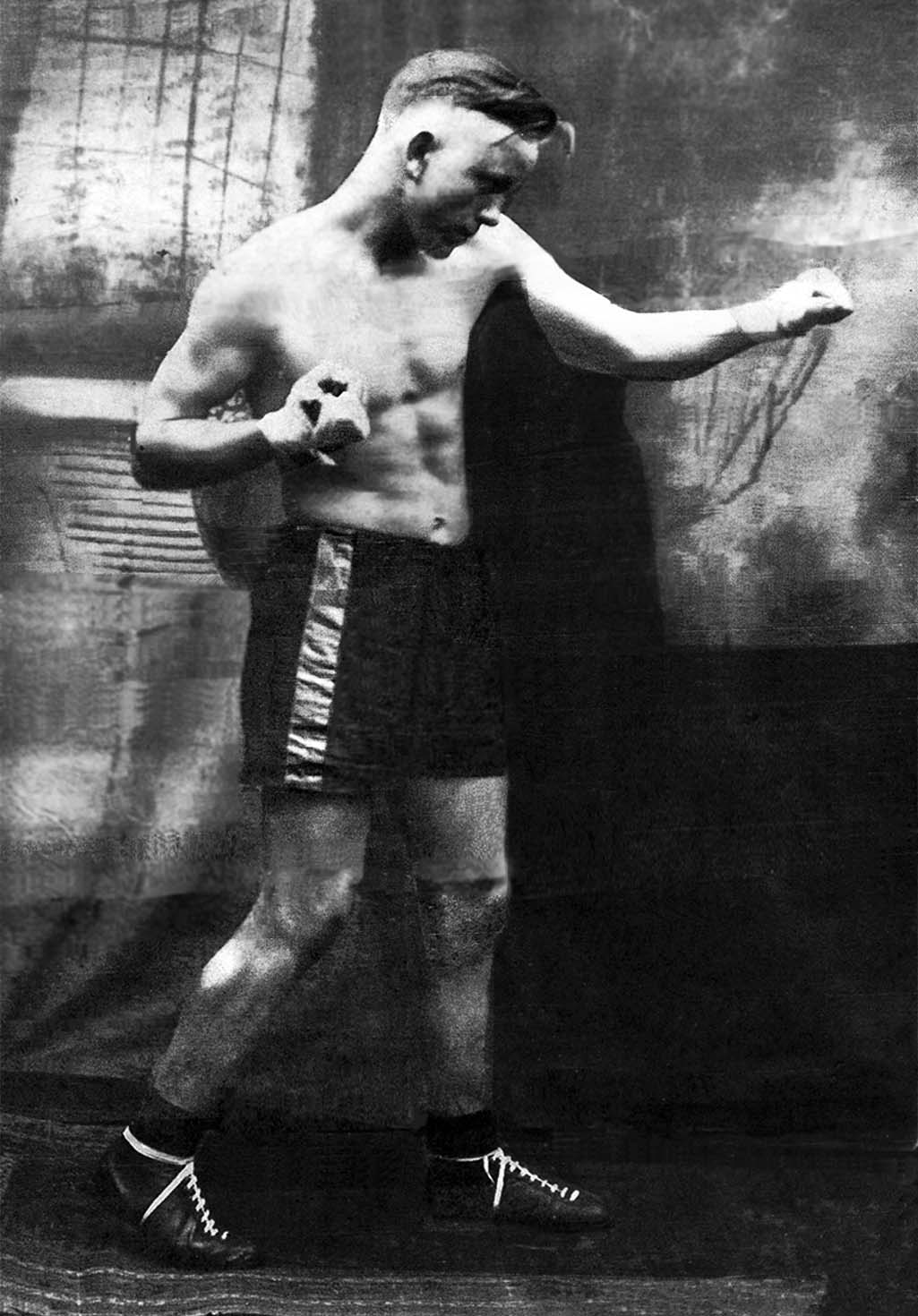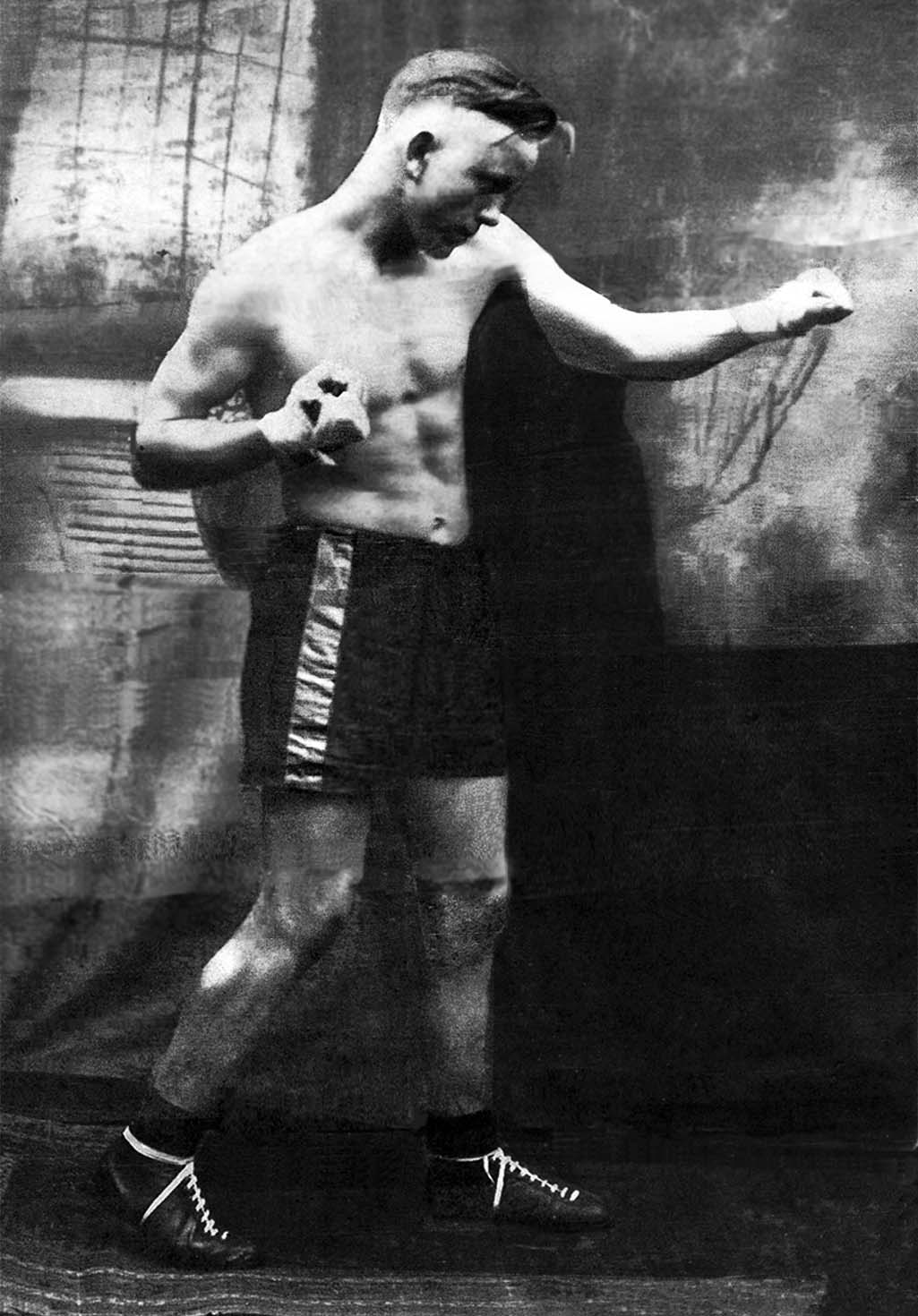 d) Mick Gordon - "The Fighting Collier"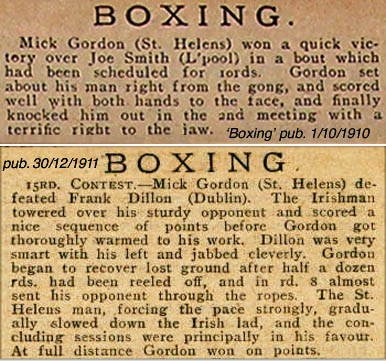 Boxing historian Miles Templeton has found records of 80 professional contests by
Mick Gordon
of Harrison Street in Sutton. These took place between 1910 and 1922 and Mick, who sometimes went under the name of Mike or Mickey, won 38, lost 24 and drew 18 bouts. However these were the contests reported by contemporary boxing magazines and there were very many other unreported bouts that Gordon fought.


Born in 1891, Mick began his fighting career in a Sutton Heath backyard, training alongside
Joe Heathcote
, who's said to have been an old boxing character. Working down the pit during the day, Mick started in the local boxing booths before fighting in the major arenas. At the age of just 18, he took on as many as five opponents per week after working down the mine. Sometimes he was summoned as a last-minute substitute for fighters who'd pulled out and he was said to have stepped into the ring with pit grime still on his body.

In July 1911 'Mickey' Gordon's fight against
Charlie Milestone
from Chester was described by 'Boxing' periodical as the 'star turn' on the opening night of boxing at the Skating Ring in Warrington Road, St.Helens. Gordon was stated by the magazine as having a hurricane style and in their edition of March 9th 1912 he was described as:
...a sturdily built youngster with a very hard punch in either hand, and he likes to reserve his power until he gets to close quarters.
This was in a report on a fight by Mick Gordon in Plymouth and four days later, 3,000 people watched him outpoint
Bert Slack
in the town. Fighting in Bargoed, South Wales in September 1912, the referee commented how popular Gordon had been with the crowd writing in 'Boxing' that they 'nearly wrung his hands off at the finish'. This was despite defeating local lad
Joe Johns
. On June 15th 1914, Mick defeated the French featherweight champion
Lucien Vinez
at Middlesborough. Long train journeys after a shift down Sherdley Colliery didn't always favour Gordon, as was commented by a 'Boxing' reporter in their January 2nd 1915 edition, when he was defeated by
George Groves
in front of 3,000 spectators:
...his speed appeared to have suffered by the long journey in a holiday train which only landed him in Merthyr at 7 o' clock.
In its edition of April 19th 1916, the Sutton battler was as the 'personification of awkwardness' as his 'crouch, cover, and general attitude in action' made it difficult to land an effective punch. Many fighters with whom Mick battled went on to become title holders, including
Billy Benyon
,
Billie Marchant
and
Johnny Basham
. In a biography, Basham described his clash with the hard-punching Mick as the hardest of his career. Unsurprisingly Gordon was given the nickname of the 'fighting collier', who normally weighed in around the featherweight mark but who was prepared to take on allcomers of various weights (n.b. Harry Morris of St.Helens also called himself 'the fighting collier'). After marrying Mick had seven children, so needed every penny he could earn. In 1921 tragedy struck when Gordon's wife died. He re-married but by then had retired from the ring. He was only 45 when in 1936 he died from pneumonia. In the week before his death, Mick had completed a full week's hard slog down the mine.
e) Wilf Douglas
Boxing historian Miles Templeton has found records of 38 professional contests by
Wilf Douglas
from Junction Lane in Sutton. These took place between 1932 and 1937 and Wilf won 19, lost 13 and drew 6 of his bouts.

Wilfred Terence Douglas was born on the 3rd October 1913 at 8 Junction Lane, which later became a fish and chip shop. He was the son of
Jennie
and
James Douglas
, who worked at an iron foundry and young Wilf took up boxing at the age of sixteen. On the bill for a fight at the Manchester Sporting Club (pictured below)
,
the bantamweight was described as a 'two handed fighter whose non-stop fighting keeps the crowd on its toes'. The poster claimed that Wilf had recently defeated Jack Lilley, Jackie Kirk, Fred Bilsborough and Hiram Gaskell.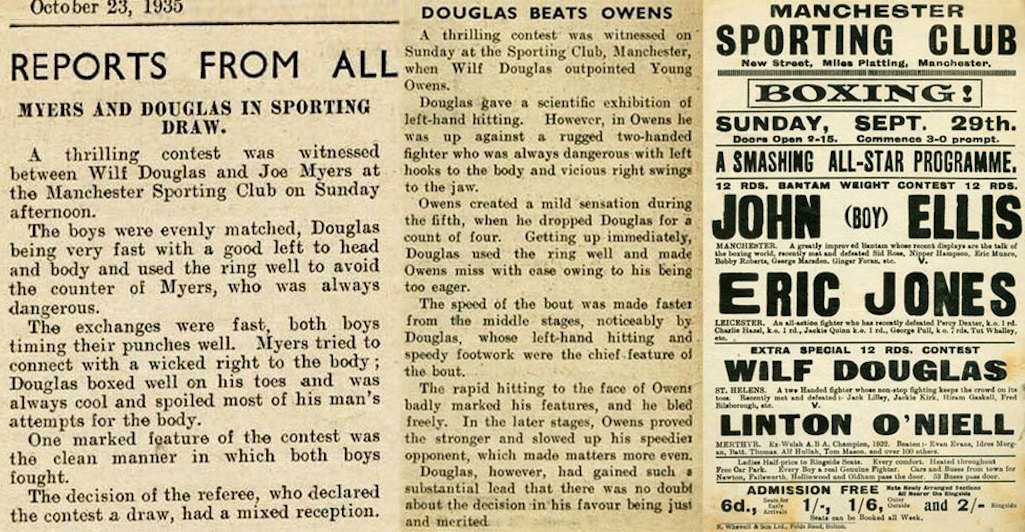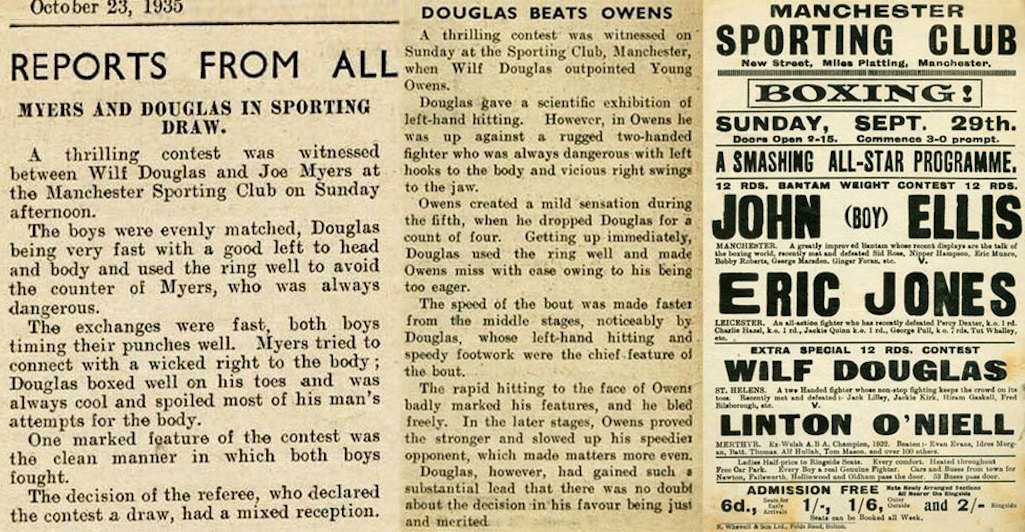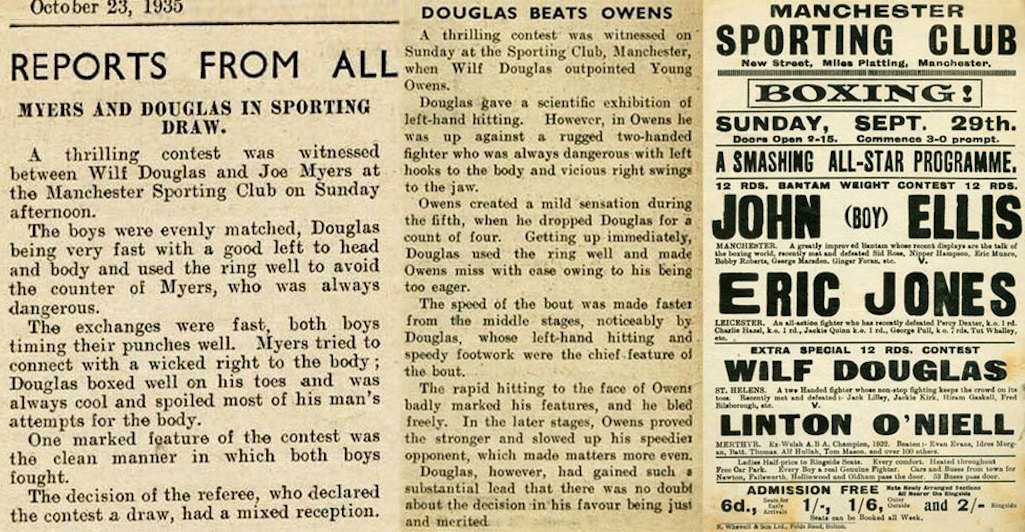 Managed by
Harry Fleming
, his short but prolific career seemed to end because of a difficulty in obtaining fights, as revealed by the St.Helens Newspaper of January 7th 1938, which announced that Wilf was becoming an airman:
Wilf Douglas, popular Sutton bantam-weight boxer, has decided to join the RAF. Douglas was one of the most promising bantams in the town and he will probably carry on boxing in the Force. Douglas has decided to join the Air Force owing to difficulty in obtaining engagements.
Wilf Douglas was also an athlete and at one time competed in the Northern Cross Country Championship held at Haydock Park.
f) William 'Ginger' Smith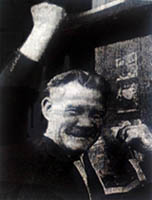 William 'Ginger' or 'Billy' Smith
from Waterdale Crescent in Sutton was a professional featherweight boxer during the 1930s. He claimed to have fought 250 fights and won 200, however boxers from those days would sometimes exaggerate their records. This was during an era of miserly purses, which were fought over by hungry fighters such as Ginger, who took blows to the head and body for as little as £4. Speaking after his retirement to a St.Helens newspaper, the Sutton boxer was quoted as saying:
The best pay night I ever had amounted to £15. You had to love the game then because there wasn't much cash for your bumps and bruises.
Ginger is believed to have been born on November 21st 1918 to parents
Robert
and
Mary Smith
(née Cropper) of 77 Robins Lane. The couple had married on November 9th 1912 at St. Nicholas Church in Sutton. Boxing historian
John Sinnott
(author of 'Two Fisted Gentlemen: A History of Boxing in Widnes and Runcorn 1900-1960'), feels it unlikely that Smith ever boxed as an amateur. His first known contest took place in St Helens on April 18th 1932 at the tender age of 13 with a six-round draw against a local lad called Young Mills. John Sinnott writes:
Many youngsters between the ages of 12 and 16 donned the gloves in the 'hungry 30s' and boxed 3 or 4 rounds for a few shillings to help out with meagre working class coffers in families were money was scarce and unemployment high.
Ginger Smith's second contest of 1932 also took place at an unknown venue in St.Helens and was held over six rounds. The fight on October 7th resulted in a points win over his local rival and friend Sammy 'Boy' Parkes, who Ginger fought on seven occasions over 5½ years. Ginger's last contest of 1932 resulted in a six-round draw against 'Young' Cosgrove of Birkenhead. He was a popular figure and often fought with
John 'Jackie' Carmody
of Goodban Street in Sutton, who by day was a coal hewer. For a period Smith was managed by controversial Sutton character
Thomas 'Bumper' Whitfield
.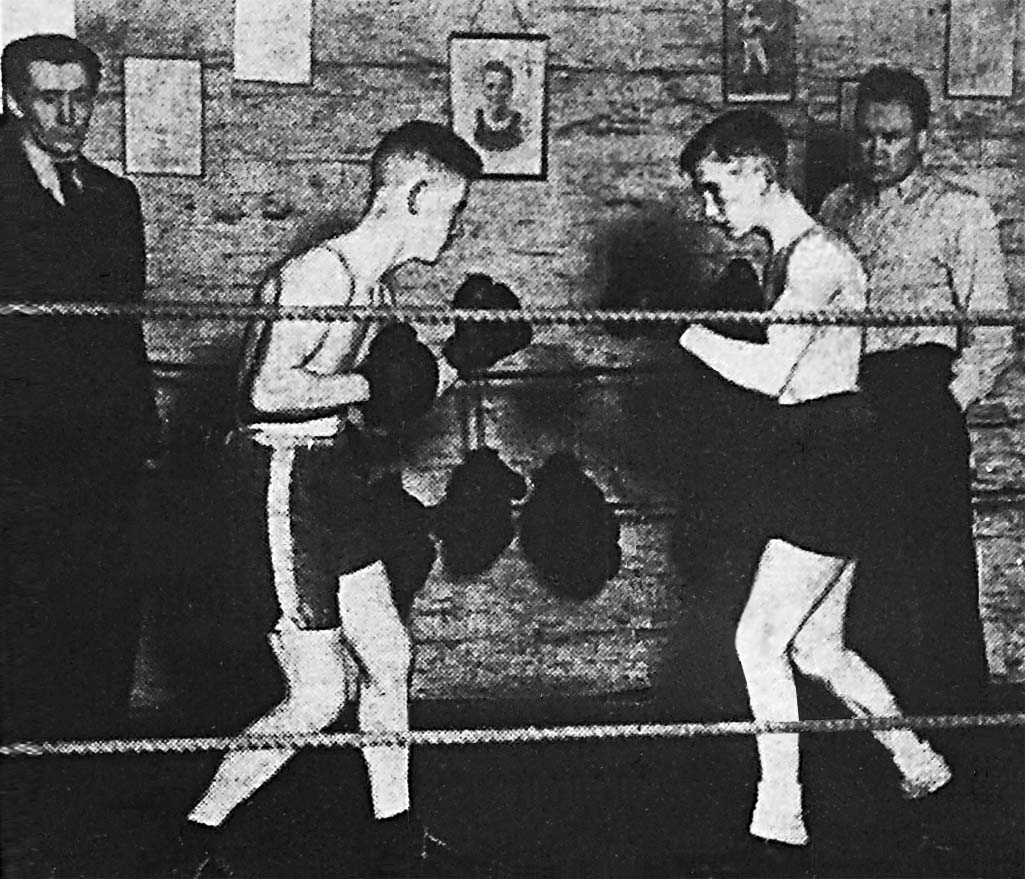 The above photo was published in the St Helens Reporter of November 2nd 1937 and shows Ginger Smith (on left) and
Charlie Fox
sparring at the Pioneer Gym in St Helens. The onlookers are believed to be
Charlie Fox Snr.
(far left) and
Johnny Burke
(right), who was a mentor to both boxers and a former boxer himself. According to the record books Ginger's final fight in a brief but prolific career took place in Leith, Edinburgh on April 12th 1940. It ended in defeat for the 21-year-old Sutton lad who was stopped by local boxer Jimmy Watson in the fourth of a ten-round contest. John Sinnott believes that Smith was by now serving in the Royal Air Force.

After getting out of the boxing ring for the last time, Ginger Smith became a ship's cook and moved to Liverpool. Like many other fighters, he sadly became 'punch drunk' in his later years. Ginger's cousin Len Whitfield writes:
On more than one occasion I was told of a fight with an American from RAF Burtonwood who beat Billy very badly and it was generally supposed that this largely caused his later punch drunk condition.
Please
get in touch
if you can provide further information. Thanks to Janet Watson and boxing historian John Sinnott for their contributions.
g) Wrestler Ike Beech from Sutton Manor
On June 9th 1939, an interview with
Isaac Beech
was published in the St.Helens Newspaper. By this time the wrestler from Sutton Manor was forty-seven years of age and although he'd recently lost an eye in an accident, Ike was still wrestling. The article reported that his recipe for sporting endurance during middle age was '…to do plenty of walking, drink olive oil and learn to massage yourself'.

Isaac Beech was born in Biddulph, Staffordshire about 1892 and moved to Wigan when he was nine years old. He began his wrestling career when aged thirteen and three years later won the Lancashire Catch-As-Catch-Can Championship, defeating top Wigan wrestlers
Jack Brown
and
Joe Daley
, who later became world champions. In 1914 Ike moved to Milton Street in Sutton Manor and soon won a St.Helens Open Wrestling Championship, defeating well-known names
Billy Riley
and
Bob Silcock
. Beech also won championships in Lancashire and Yorkshire and became one of the top names in the north of England. According to the St.Helens Newspaper article, his 'rough-house tactics' had made him a popular figure with spectators.

The sport then lacked structure and two wrestlers could be locked in combat on a mat for hours. The introduction of all-in wrestling in 1930 created timed rounds with victory obtained by two falls, two submissions or a knockout. It was a more exciting, crowd-pleasing sport and according to the Newspaper, Ike Beech took to it 'like a duck to water'. Despite being in his forties, he defeated many well-known American 'mat-men'.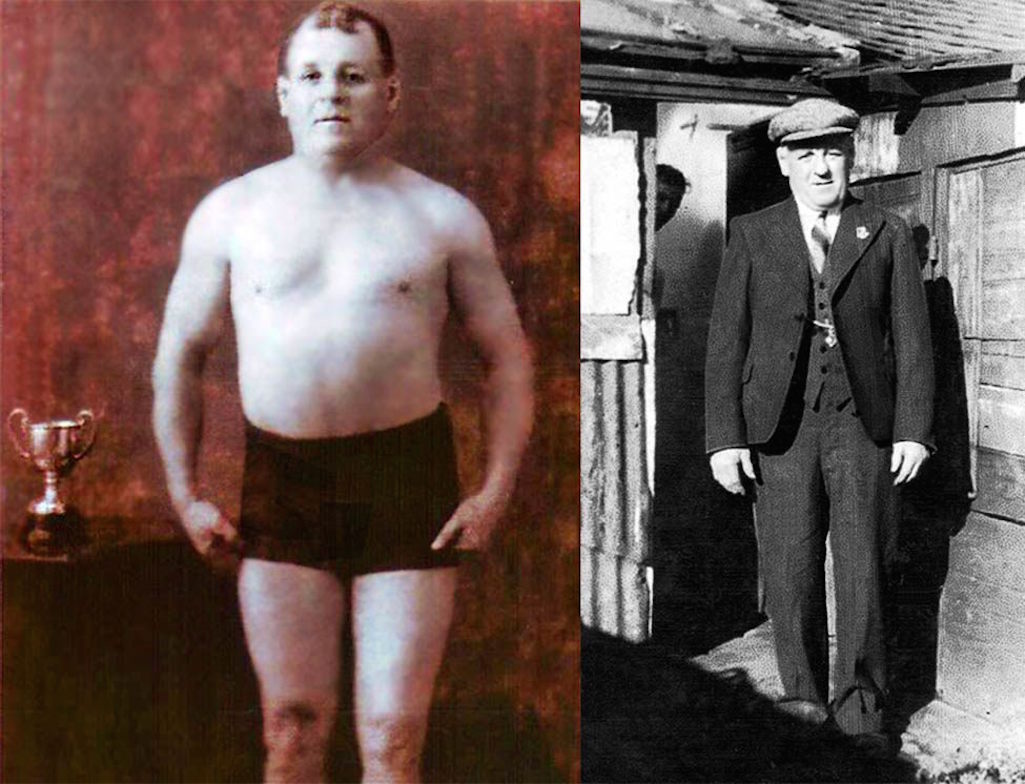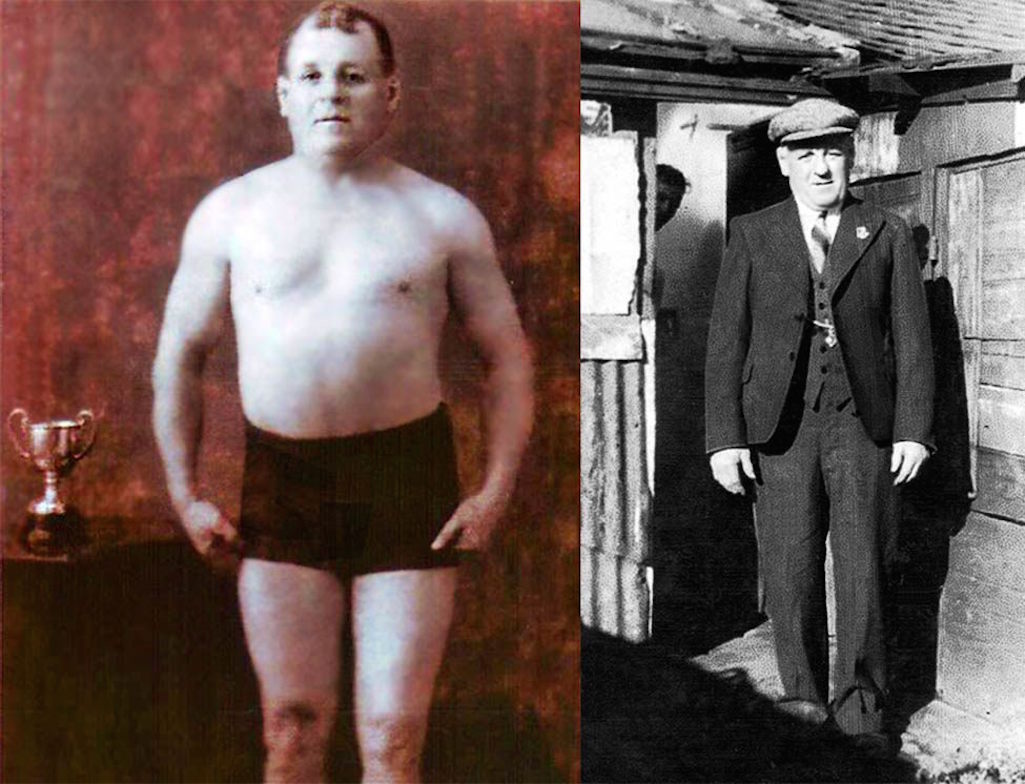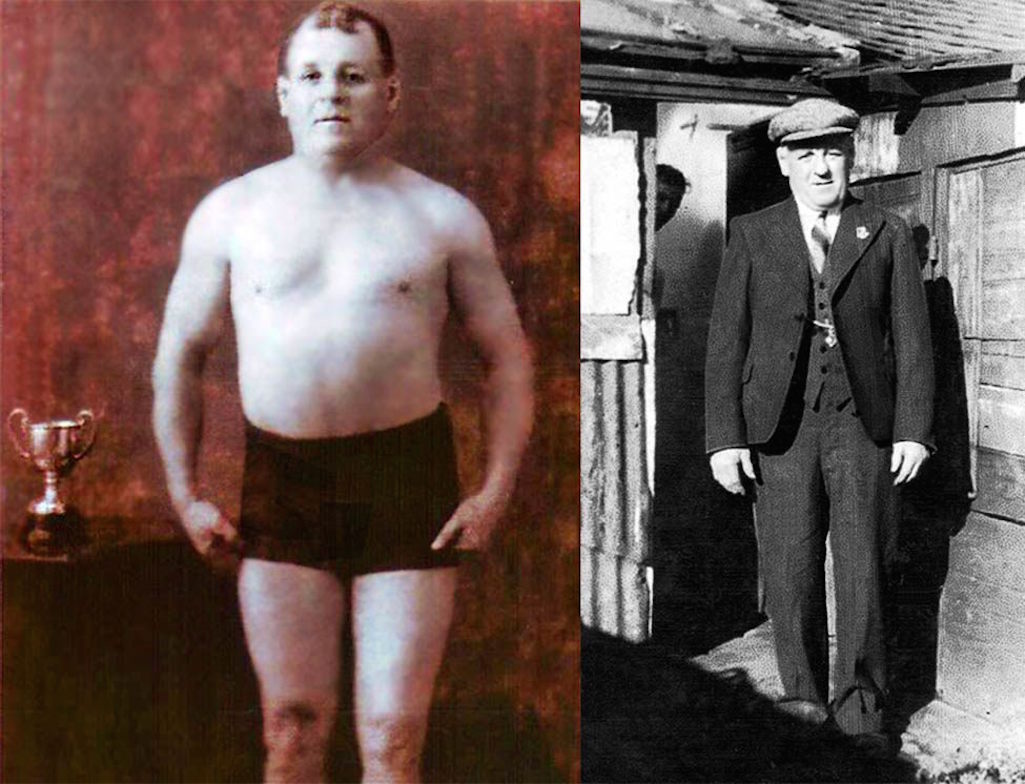 Sometimes styling himself 'Colonel' Ike Beech, the Sutton Manor wrestler enjoyed other sports, including football, bowls and rugby league, playing for Saints during the 1921-2 season. The St.Helens Newspaper profile of Ike suggested that his sporting career was about to end as a result of losing an eye, as the Wrestling Association were unlikely to permit him to continue wrestling. However, by this time Ike's son Billy was following in his father's footsteps and making quite a name for himself in wrestling circles.
h) Wrestler Billy Beech
Billy Beech
had the same name as his uncle, who was a well-known wrestler in Wigan and a former British and world welter-weight champion. So when 14-year-old William began wrestling at Silcock's fair in Thatto Heath and at Peasley Cross football ground and then at fairgrounds up and down the country, he styled himself as 'Babe' Billy Beech. His day job was working at Sutton Manor Colliery, which was close to his Milton Street home where he'd been born in 1921. Billy was also employed at times at Clock Face Colliery and at Groves Colliery in Sherdley Road.

Billy left the amateur ranks at the age of fifteen, shortly before his father Ike's career ended, initially going under the name of Babe 'Butcher' Beech. As a teenager he also played rugby league and boxed in his spare time. By 1940 he felt he was too old to be known as 'Babe', and still wanting to differentiate himself from his uncle, he became 'Ted' Beech when in the ring. However, this wasn't the end of his name changes, as he was also the masked mystery man 'Dr. Death' and sometimes was known as the 'Red Devil', 'Executioner', 'Black Arrow' or 'Hangman'.


Like many young miners, Billy liked to let himself go in his spare time. On July 10th 1944 he appeared in court in Widnes charged with having been drunk and disorderly in South Lane in Bold.
Supt. McCrone
told the magistrates that Beech, along with
Harry Jones
of Tennyson Street and
Harold Lovett
of Milton Street, had run riot on the previous Saturday night. The superintendent said that when he arrived on the scene and spoke to the men, such language was used that he had never heard in all of his thirty years' experience. The trio were each fined £2.


In 1957, 15-stone Billy gave up his job at Sutton Manor Colliery to become a full-time wrestler and competed as often as five nights a week. In 1962 he became British heavyweight champion, losing the title the following year to
Saxon Smith
of Wigan. Billy claimed to have won 85% of his fights as 'Ted Beech' and was undefeated under the monicker of 'Dr.Death'. In 1968 the Milton Street mat-man was forced to retire from wrestling after developing a knee injury and being operated on for a gastric ulcer.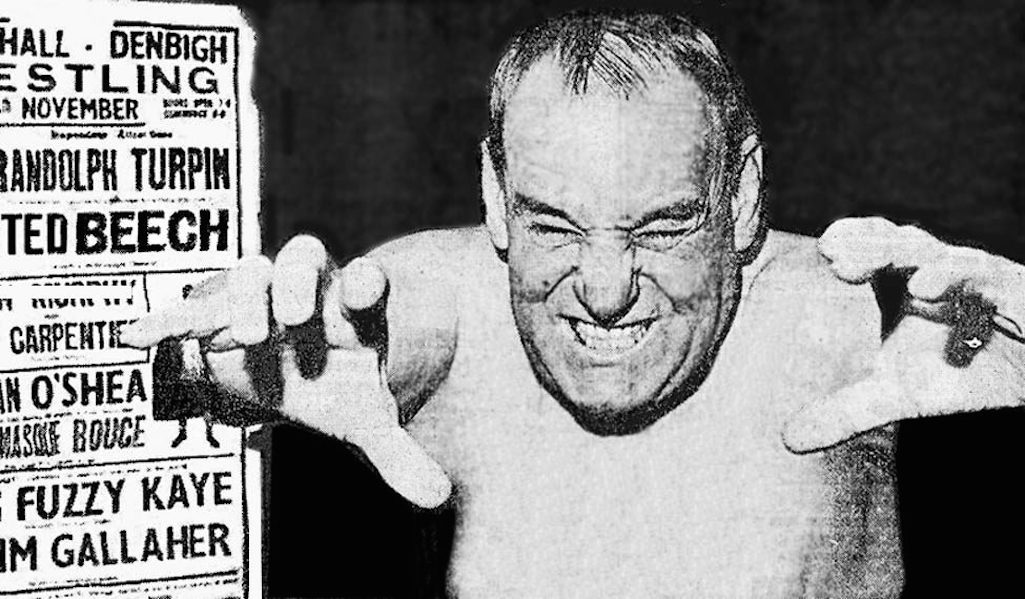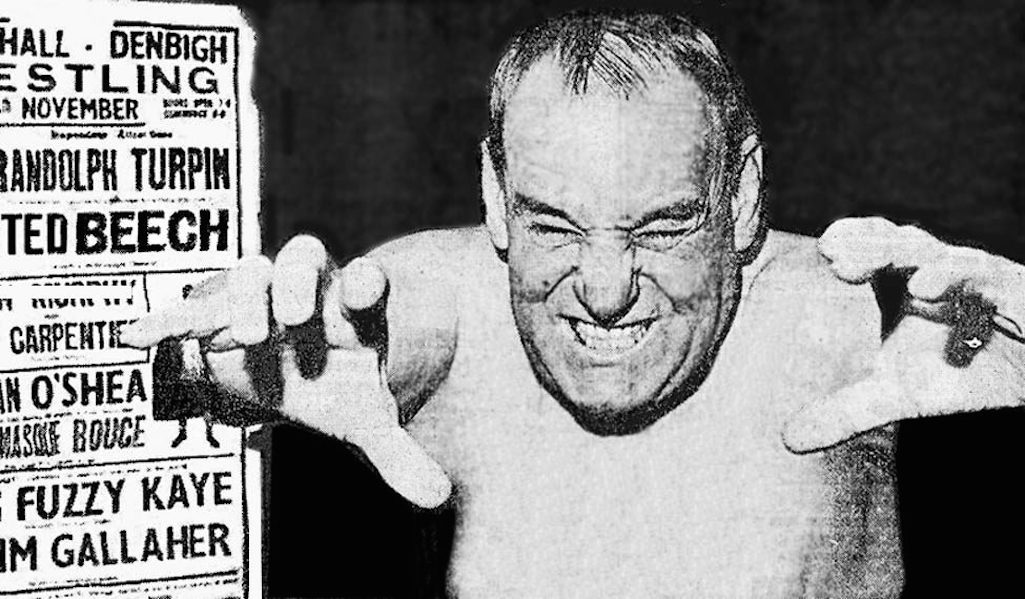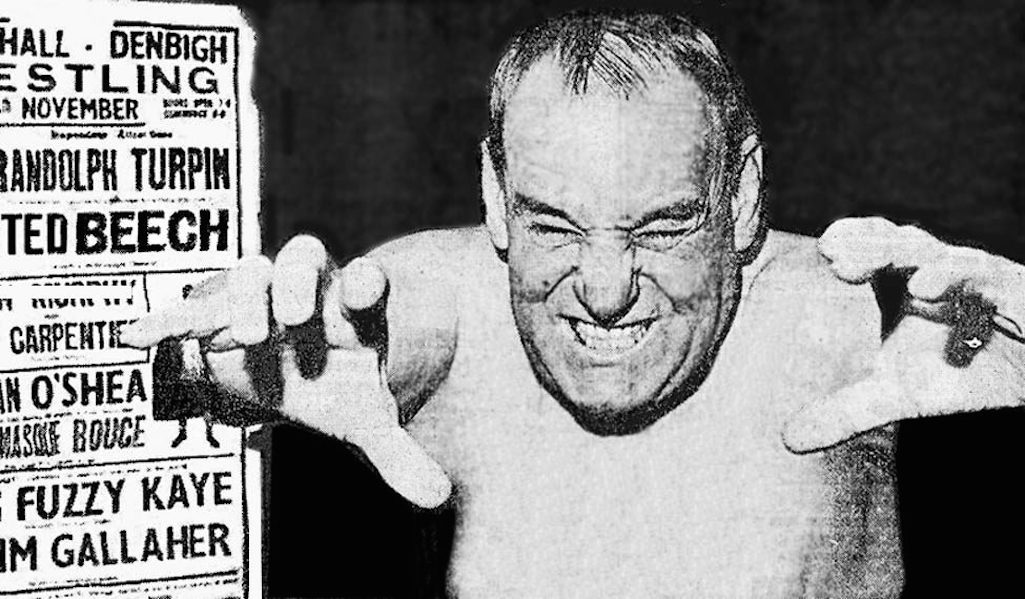 In an article published in the St.Helens Reporter on January 28th 1977 Billy said:
When I wore the mask I became the villain of the ring. It excited the audiences and that probably helped keep Dr.Death undefeated. I miss my past life. My father was also a professional wrestler and I was born with it in my blood...It was often a hard life, and several times I came away from a fight with broken ribs, wrists or elbows. But I wouldn't have changed it for anything.
After retiring Billy became a steward at Clock Face Recreation Club and he died in January 1985. In an obituary report in the St.Helens Reporter of January 11th, his wife Marie commented how irate spectators would stub out cigarettes on his back and how he'd return home black and blue after a bout:
I can remember going to Crewe one evening when the audience just went wild. Chairs and umbrellas were flying everywhere and I don't think I went to watch him fight again after that.
i) Ray Shiel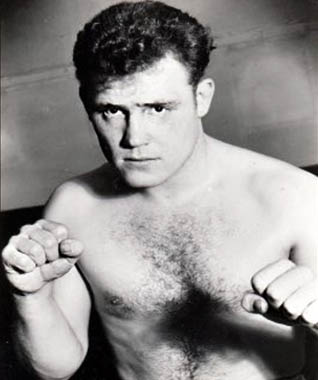 Ray Shiel
lived most of his life in Sutton and was able to boast a quite remarkable amateur record as a light-heavyweight with 400 fights but only six defeats. He was born in 1940 and first boxed aged just six and was soon winning schoolboy championships. Shiel once fought three bouts in one day and won each fight by a knock out. After turning professional, Ray fought as a heavyweight and became a contender for the British and European titles.


He was feared by many and it was said that both
Billy Walker
and
Brian London
refused to fight him. However he did fight some top boxers including
Gerhard Zech
,
Johnny Prescott
,
Jim Cooper
(twin brother of Henry) and American
Thad Spencer
, who he fought on the undercard of a Floyd Patterson world title fight. Shiel considered that his best win was against the former Empire champion
Joe Bygraves
, who he defeated against the odds.

Ray Shiel's professional record was 43 fights with 23 wins including 13 knockouts, 18 losses and two draws. During the 1960s as his reputation grew, he dined with Frank Sinatra as well as the Kray twins Ronnie and Reggie. He boxed for his country on at least a couple of dozen occasions and captained Great Britain.

After retiring from boxing, Ray Shiel lived in Houghton Road, Sutton where he regularly raised money for charity and worked as a foreman at Pilkingtons. He died in December 2009 aged 70 and his funeral was held at All Saints on Ellamsbridge Road attended by many former sportsmen including rugby league legend Alex Murphy.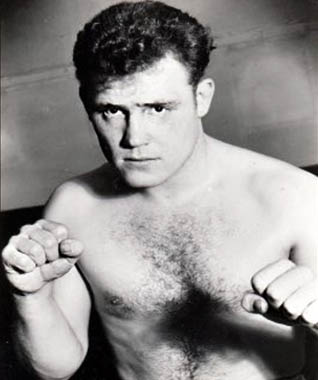 Copyright Notice / Factual Accuracy Statement

This website has been written and researched and many images photographed by myself, Stephen Wainwright, the Sutton Beauty & Heritage site owner. Individuals from all over the world have also kindly contributed their own photographs. If you wish to reuse any image, please
contact me
first as permission may be needed from the copyright owner. High resolution versions of many pictures can also be supplied at no charge. Please also contact me if you can provide any further information or photographs concerning Sutton, St.Helens. You might also consider contributing your recollections of Sutton for the series of
Memories
pages. Sutton Beauty & Heritage strives for factual accuracy at all times. Do also get in touch if you believe that there are any errors. I respond quickly to emails and if you haven't had a response within twelve hours, check your junk mail folder or resend your message. Thank you!
SRW