An Illustrated History of Old Sutton in St. Helens, Lancashire
Part 83 (of 87 parts) - Bold Colliery Part 2 (1955 - 1986)
An Illustrated History of Old Sutton in St.Helens
Part 83 (of 87) - Bold Colliery Part 2 (1955 to 1986)
An Illustrated History of
Old Sutton in St.Helens
Bold Colliery Part 2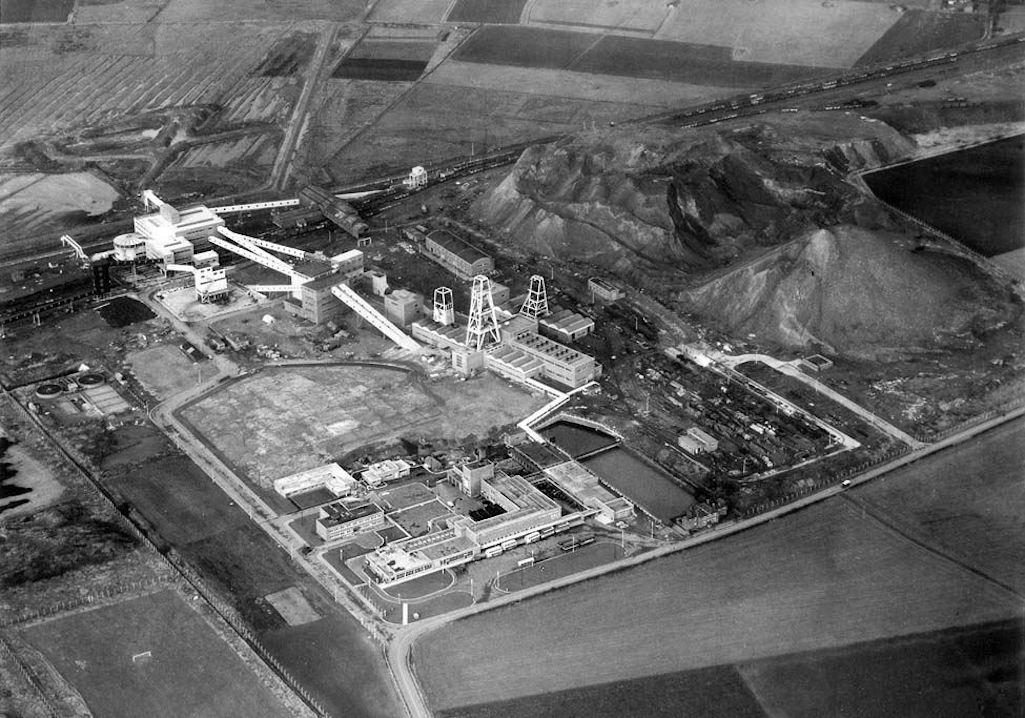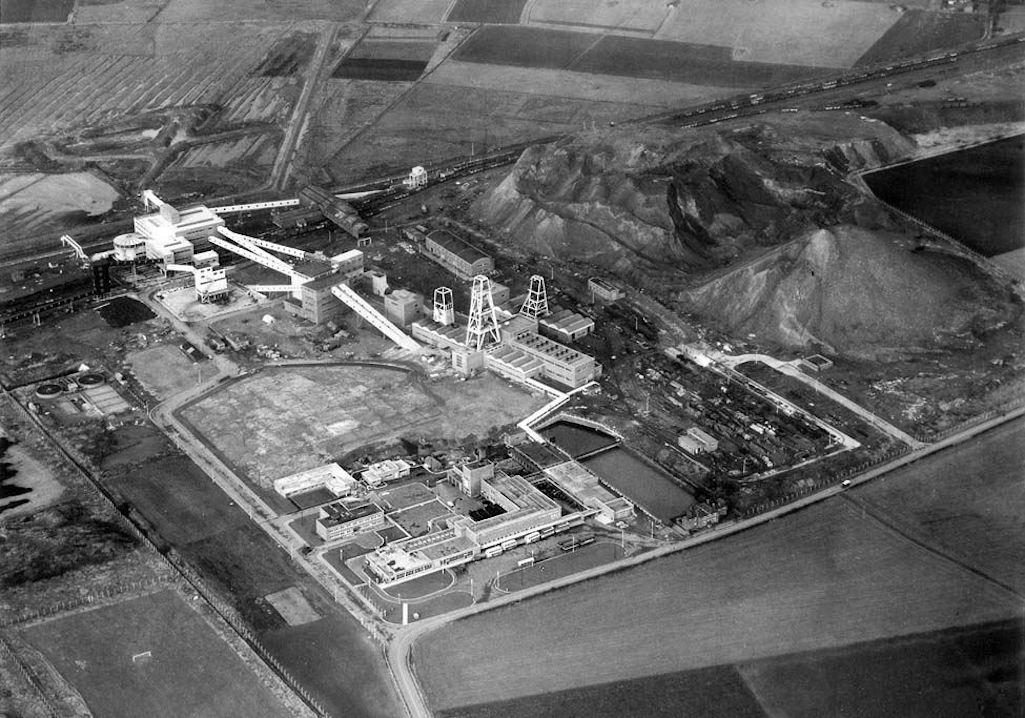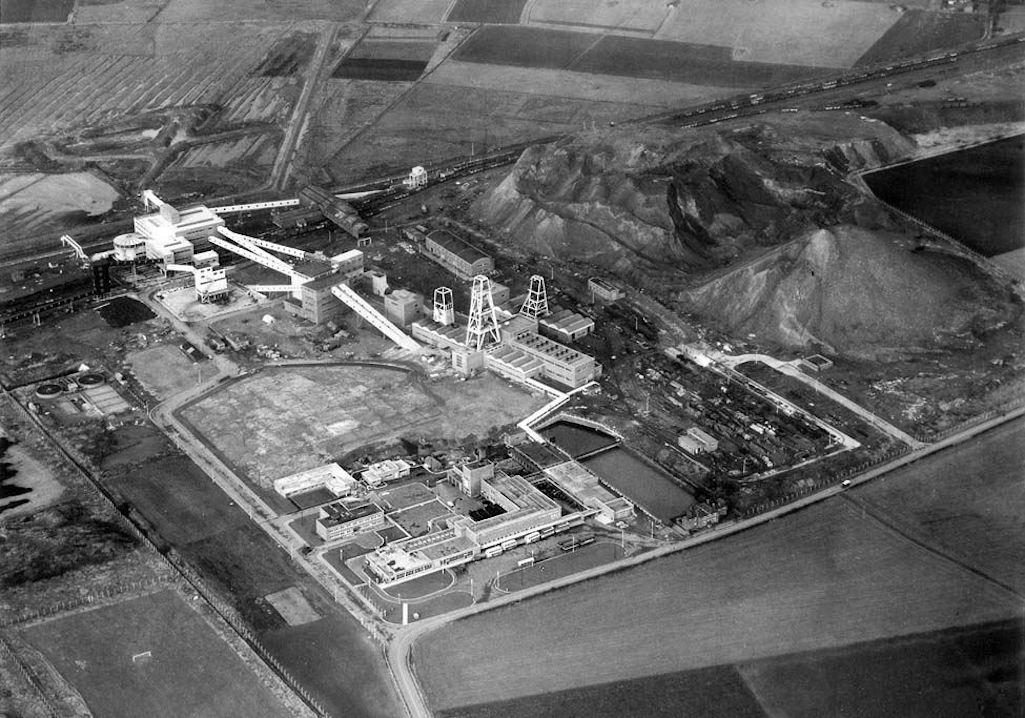 When Joe Gormley f
irst began working at Bold Colliery in July 1955, he must have been very impressed by what he found. The man who was to become President of the National Union of Mineworkers would no doubt have approved of the modern pit that had just received a £5 million investment and was producing a high grade of coal. As well as new winding equipment installed in the three pit shafts, there was also a new coal preparation plant, power house, workshops, medical centre, pit head baths, canteen and an administrative block. There was also plenty of coal, with estimates of up to 192 million tons of 'black gold' underground and the nos. 1 and 3 shafts had been deepened to 915 yards to take full advantage (no. 2 shaft had a winding depth of 611 yards).



By 1956 the reorganisation of the colliery was complete and Bold by then was capable of generating more than 700,000 tons of saleable coal per year from an expanded workforce. In fact in 1957 there were 1819 workers (1478 underground and 341 surface) who produced 748,735 tons of coal. This compares to 1947 when 920 workers produced only 201,326 tons. Productivity had greatly improved too, with the OMS (output per man-shift) having almost doubled its 1947 figure of 19.51 tons to 35.8 tons. The introduction of the Anderton Shearer Loader coal cutting machine partly explained this increase and the National Coal Board (NCB) believed that Bold would soon be able to reach its target of an annual output of 840,000 tons of coal, plus OMS of 40cwt. per man shift. The new 'lighter, brighter' colliery - as described by the Manchester Guardian - was shown off to the press on May 24th 1956. The newspaper described it as 'one of the National Coal Board's prides and joys', which 'looks as pleasant as a mine could do'. At that time the workforce totalled 1650, which was 350 under strength. Two hundred miners had been transferred from the Long Lane Colliery in Ashton after it had closed in 1955. The NCB also revealed that two large waste banks, that had dominated the Bold Colliery skyline for 70 years, were in the process of being removed. Two million tons of red shale had already been moved and used as a base for work at Speke Airport, as well as for roads and tennis courts. From 1955 the colliery had instead begun using Bold Moss as a spoil tip and they continued tipping on the ancient moss, which had long provided peat for use as firelighters, until the 1970s.

The construction by the British Electricity Authority (later CEGB) of
Bold Power Station
adjacent to the colliery was a huge boon. It was officially opened on September 30th 1955 having generated electricity for the first time in December 1953. The 'blended smalls' coal was transferred directly from the colliery to the power station by means of an overhead belt conveyor. On the occasions when this was not possible, the fuel was diverted into wagons and transported the short distance by rail. Fiddlers Ferry Power Station was also a customer and in total 82% of the colliery's output was used to generate electricity.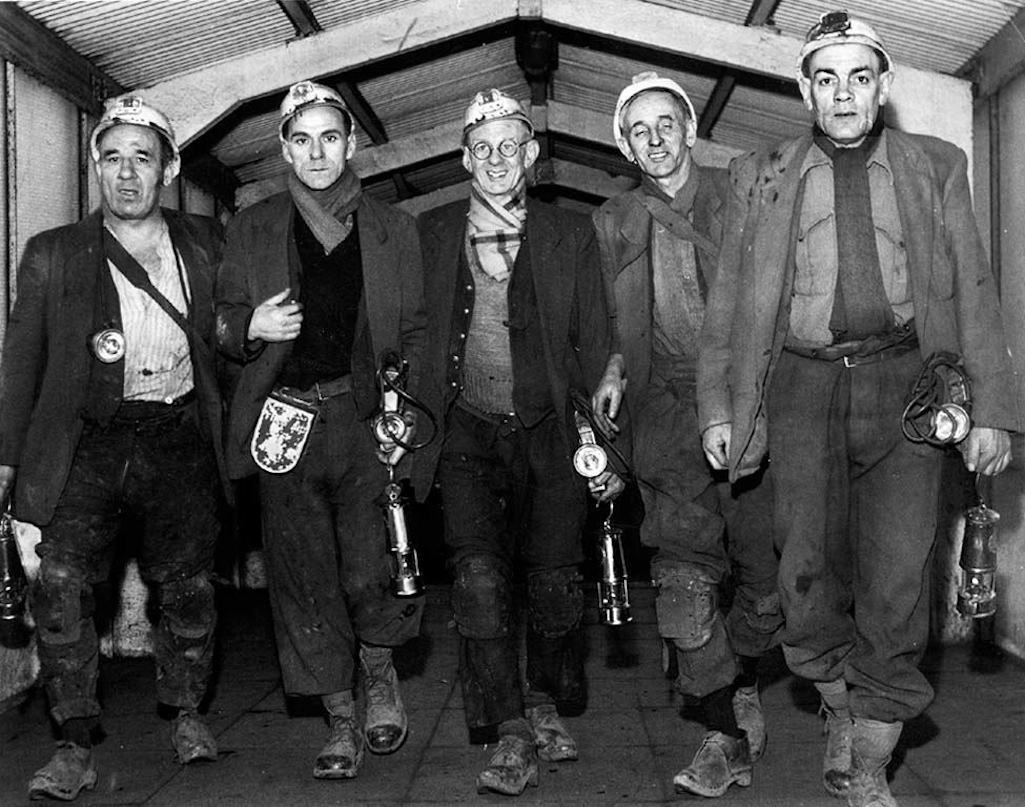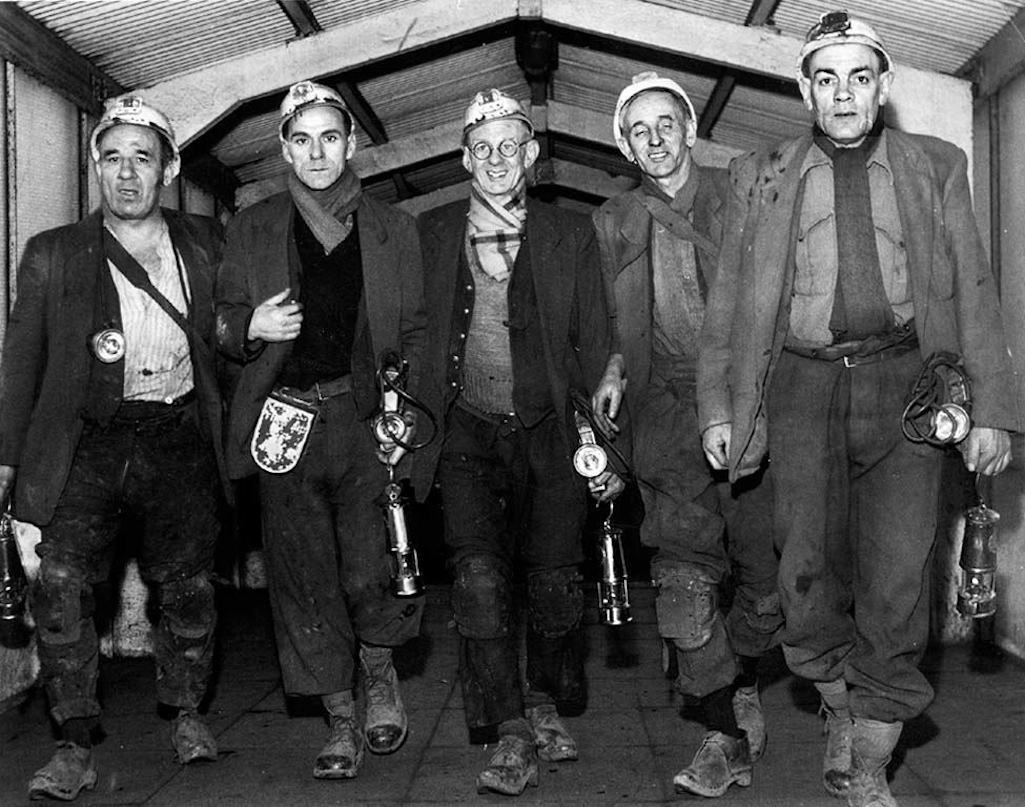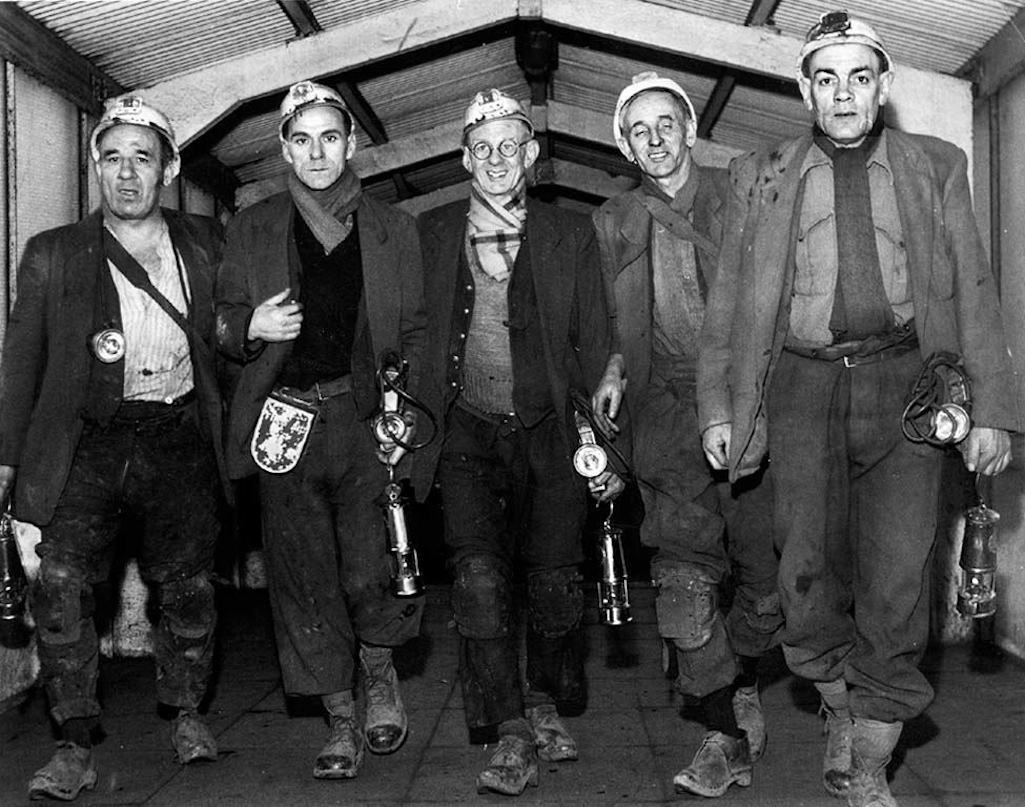 Accidents at the colliery became less frequent post-war with the introduction of safer practices and improved technologies. However some still inevitably occurred. During the 1950s,
Leonard Campbell
worked down Bold colliery as a shot firer. He had been brought up in Sutton's
Pudding Bag
district but was now living at 117 Malvern Road in Parr. Leonard suffered a back injury and had to be invalided out of his job. Then in January 1965 his next door neighbour,
Harold Treeby
, was killed at Bold as a result of a roof fall. By now most mineworkers at Bold Colliery were living in Parr, as the National Coal Board had built 612 houses between 1952 and '54, after buying up a farmer's field. Concrete instead of brick was used with a pebbledash finish, so that each house could be built within a week. They also built a large block of flats, shops and several dozen garages for the NCB's vehicles. Bold had suffered from an annual turnover of staff of about 70% and the coal board believed that in providing good, new housing, this would be reduced. Many homes were inhabited by families who had relocated from Liverpool, and a number were Polish. The majority had three bedrooms and for these tenants during the mid-50s paid 25s. 3d. rent per week, which was raised to £39s. 8d. if they left the mining industry.

From 1952 to 1961
Ted Lyon
worked at the colliery and has endured health problems ever since:
I have many happy memories working on 9 west face at Bold colliery where was 3 belts, 3 ploughs and 31 colliers. If we missed a winding at 6.30am, we would work in the screens and do our best to keep away from the woman at break time or we would be greased on our private parts! It also happened to all the new lads working on the coal face. I left school at 15 years and went to tech college and did my training at Lea Green Lime pits and Clock Face colliery. In 1971 I was diagnosed with T.B. and today I suffer with C.O.P.D. and chronic emphsymia caused by working underground. In 2002 I received £5000 miners compensation but it should have been more. That's the price we paid.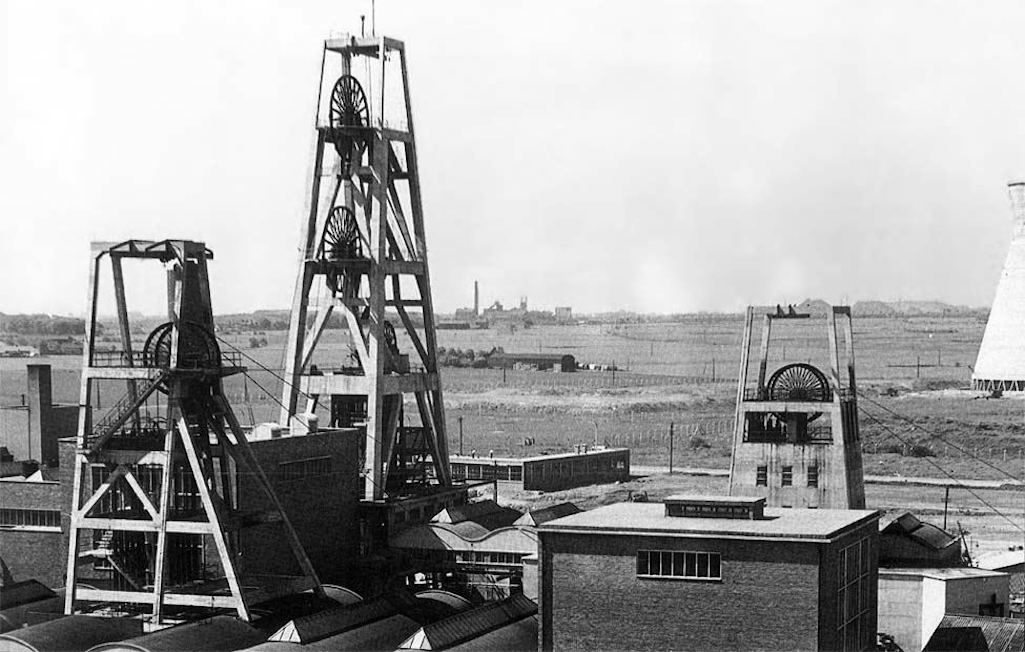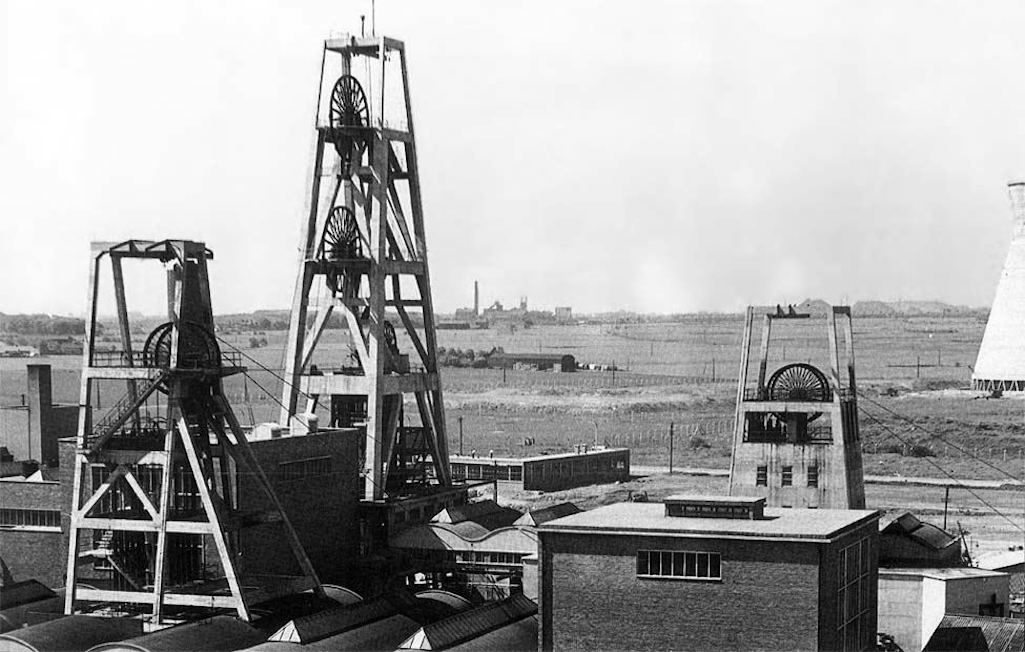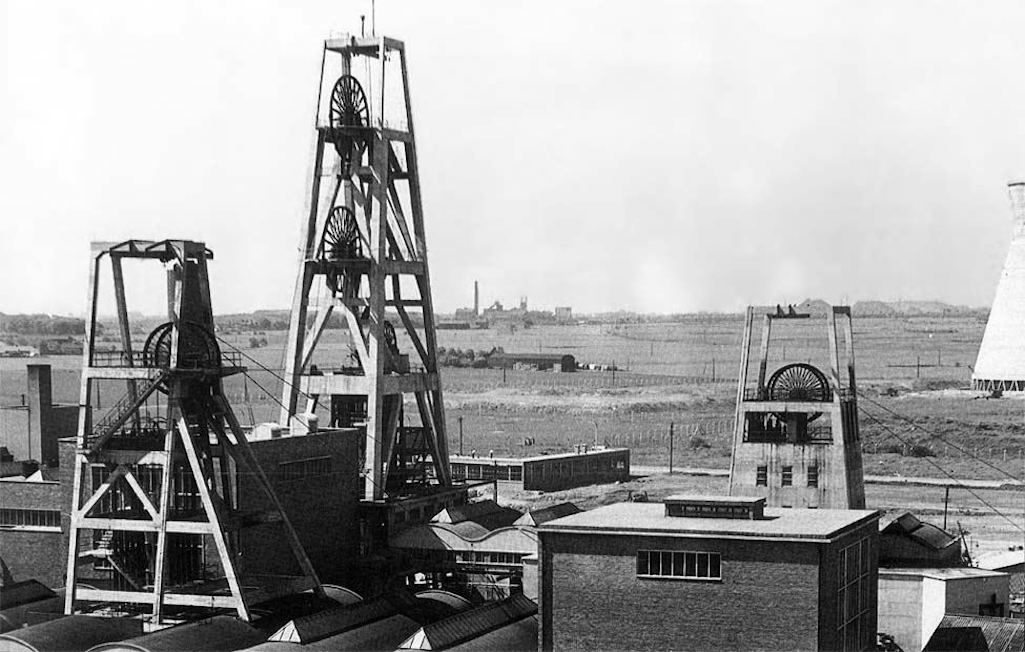 Ted Lyon also describes how there were three coal faces at Bold. On the left main brew was '4 east' and on the right was '9 west' plus 'Crombrook', with the mine workings extending under Burtonwood airport.
Jim Gorman
was the manager during the '50s and he employed a number of former Italian POWs and Polish workers. The former mainly did packing duties on the coal face and the latter put up girders in the tunnels leading to the coal face.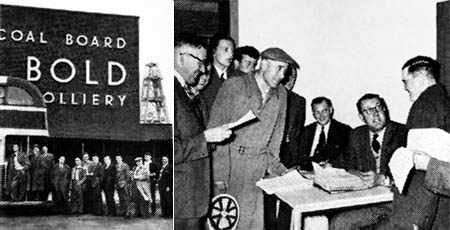 During 1958 some 130 men transferred to Bold from Garswood Hall Colliery, after the longstanding Haydock mine had closed. NCB magazine Pit Prop included the above photographs in their account of the colliery's closure (used courtesy of Alan Davies). They show some of the men being inducted at Bold and in the first image Training Officer
Jack Wildman
interviews a couple of the men. In the centre picture Head Lampman
Ned Ashton
shows the new recruits how the recently introduced self-service lamp system works at Bold. Pit Prop then explained how the men were next given a tour of the pithead baths, before enjoying a cup of tea in the canteen. The third image in the strip features the men ready to return home on the bus.

On June 6th 1958,
Sir Ian Horobin
, Parliamentary Secretary to the Ministry of Power, had a two hour underground tour of Bold. After surfacing he told journalists how impressed he'd been saying "Many people wonder whether we are getting value for money from the coal industry. We are certainly getting it here". During 1959 proposals to convert Burtonwood airfield into an international airport caused much alarm at Bold. Much of the colliery's best coal was located 3 miles away underneath the airfield's main runway, which had been leased to the United States Air Force. The Americans were officially leaving on July 1st 1959 and the NCB had an agreement with the British Air Ministry not to mine under the runway until at least 1962, so as to prevent subsidence. If the authorities agreed to the airport proposals, then Bold's own plans would have to be revised at a huge cost. Lancashire County Council and Newton MP
Frederick Lee
were highly supportive of a new airport, but understandably Speke and Manchester airports were against a rival. Discussions continued on and off for six years, until the NCB announced in February 1965 that they intended to begin working a 4 foot seam of coal directly under the former base. This would entail 600 square yards of coal that was directly under the 1.7 mile-long runway. Mining began in June, scuppering any chance of an airport.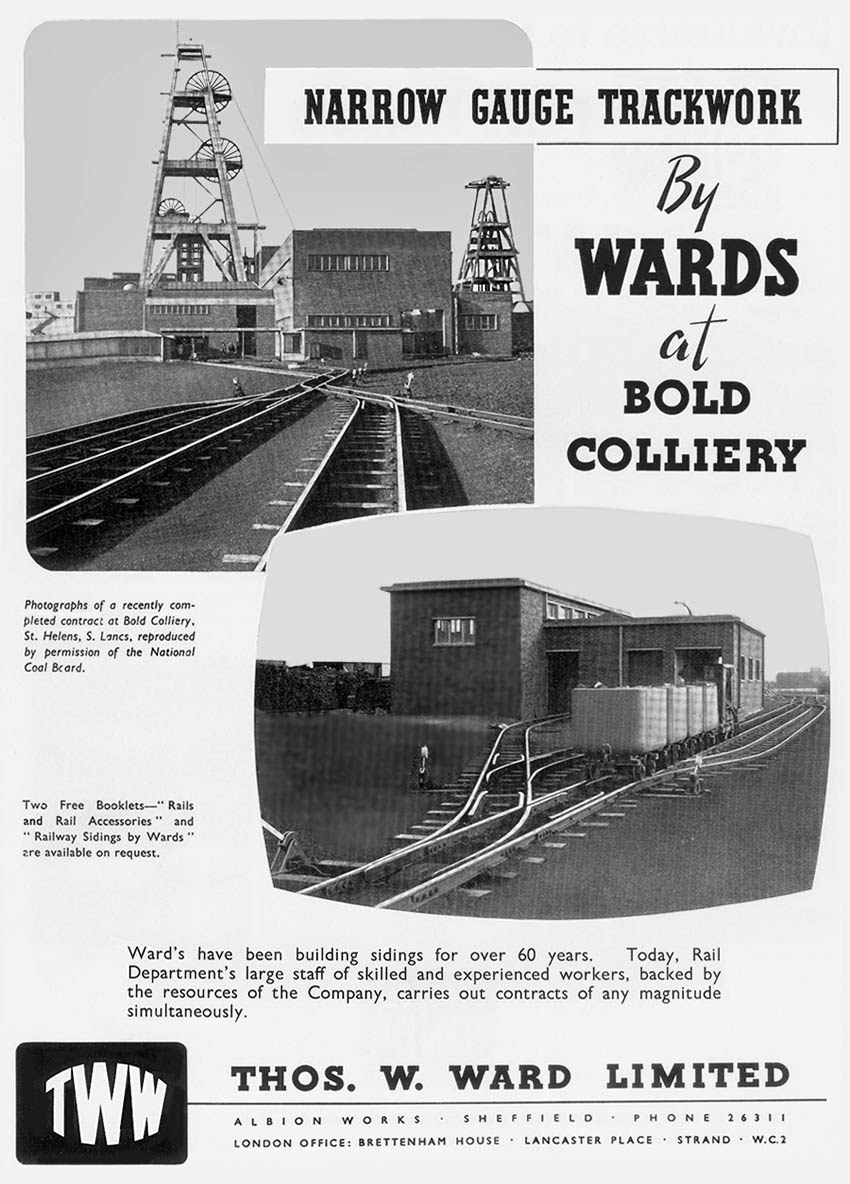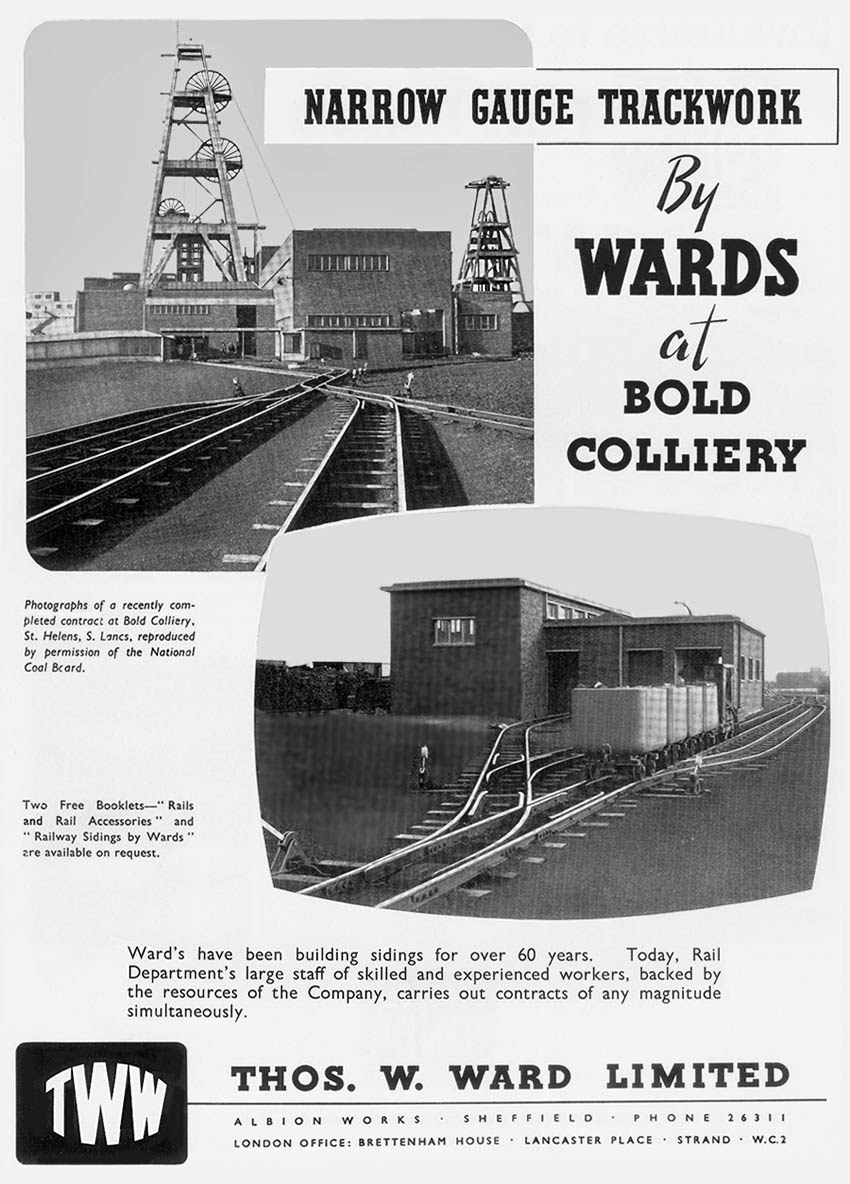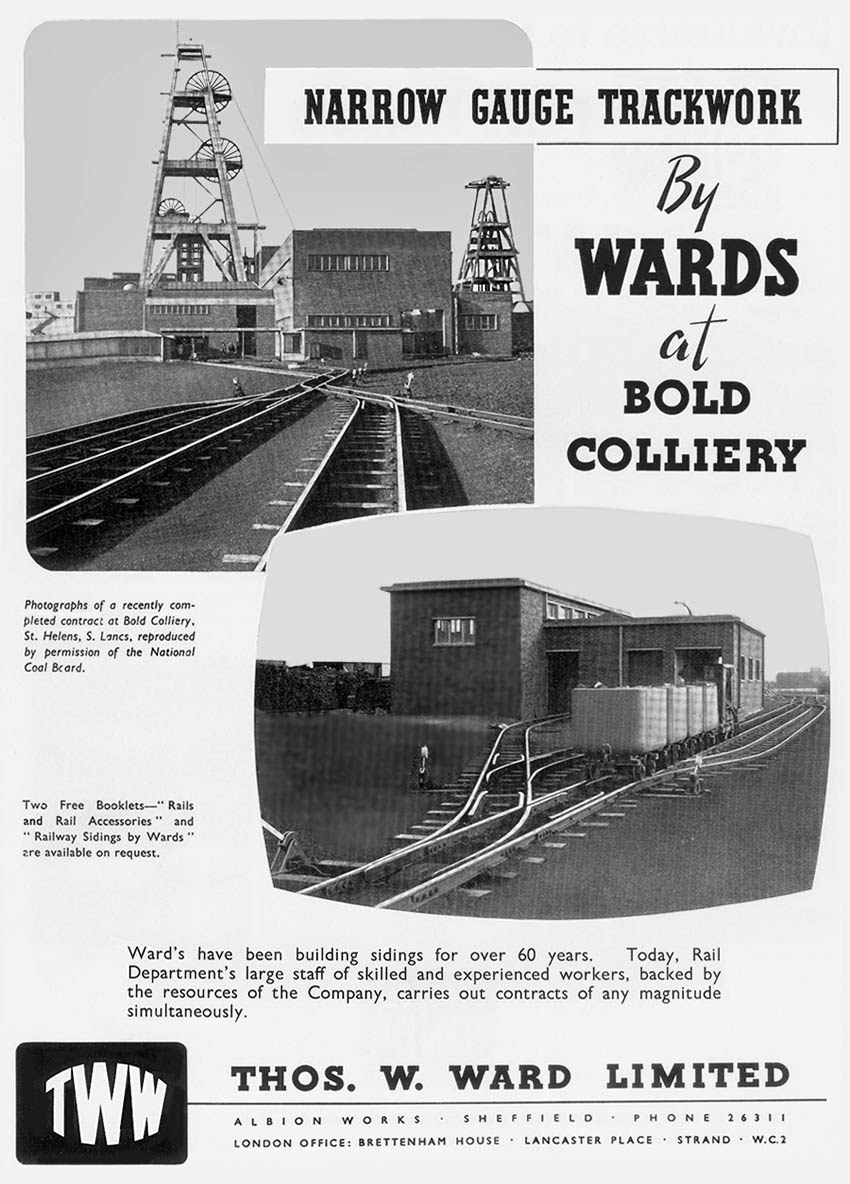 Bold Colliery was now considered to have one of the best safety records in the country. However this was no consolation to the family of
William Costello
from Brooklands Lane in Parr. On May 25th 1959, the 27-year-old was crushed to death by tons of fallen stone, while working down the no. 1 pit. On November 3rd 1960, a four-day strike over pay scales began, which affected nearly 600 coalface workers. Seven months later, on June 15th 1961, bailiffs evicted
William Donnellan
from his coal board home in Berry's Lane, Sutton. The 36-year-old had worked at Bold for 14 years but had been forced to give up his job in 1960 after developing bronchitis. Since leaving the colliery, Donnellan had kept up his weekly rent payment of 25s. 9d., and other NCB houses in his street were occupied by former Bold miners who had left through illness or injury. However bronchitis was not classed as an industrial disease and the NCB claimed a housing waiting list of 800. So Donnellan, along with his wife and six children, had to go.

In 1962 a monorail system to transport materials underground was first introduced at Bold. By May 1965 there were 18 such installations in operation, with 14 more on order. Men travelled by the new 'package train', which ran on flexible track to go round corners and up inclines. In 1963 the colliery became the first in the country to have an electronic monitoring installation to keep track of all operations. The communications centre was situated in the administration block and it became the colliery nerve centre, detailing minute by minute information. The installation also enabled remote control operation of pumping and conveyor systems and a safety alarm panel provided audible warnings for smoke and methane concentration as well as water flow. Underground the telephone system was extended to provide loudspeaker communication directly to the coal face. At a cinema in Cambridge on September 6th 1965, the chairman of the National Coal Board,
Lord Robens
, presented a live television broadcast from three-quarters of a mile under Bold colliery. Delegates were shown the new electronic system at Bold and The Times reported that the chairman pressed a switch that stopped a coal conveyor belt two hundred miles away and which was witnessed on screen by the delegates.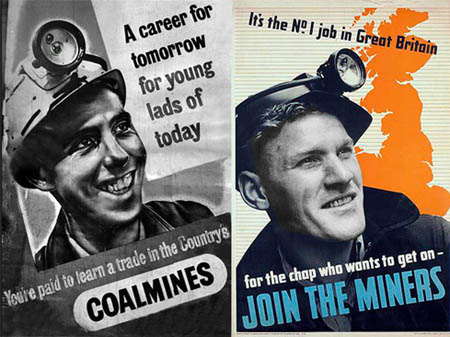 By the 1960s boys were no longer tending to follow their fathers down the pit and so the coal board launched another recruitment campaign to encourage new recruits. In 1964 a new training centre was opened at Bold to prepare youths and adults entering the coal industry for life down a mine. The centre catered for trainees from West Lancashire and was located 2,745 feet underground within the East Rushy Park district of the colliery. This had 1300 yards of underground roadways, which were equipped with different types of haulage systems to give the trainees more experience. There was 100 yards of 'static' coal face with different types of roof support, plus a lecture room, fire station and first-aid post.

An advantage to the colliery was its close proximity to British Railways main line from Liverpool to Manchester, permitting easy distribution of its coal stocks. Bold was only 13 miles from Liverpool and 19 miles from Manchester. However there were disadvantages in having express trains thundering past the pit and a number of miners lost their lives through walking across the rails (see article
Crossing The Line – Rail Deaths in Old Sutton
). On December 29th 1965 there was nearly a major tragedy, when the points for the colliery sidings derailed a passenger train. The six coach Trans-Pennine express was travelling at 50mph with 70 passengers on board when the partial points failure occurred. The points were controlled by the Bold Colliery Sidings signalbox and the leading coach's wheels were pulled in three directions, one of which was towards the colliery's empties reception siding. Driver
William Graylish
saved the passengers by promptly braking when the train started shuddering and lurching and only minor injuries were received.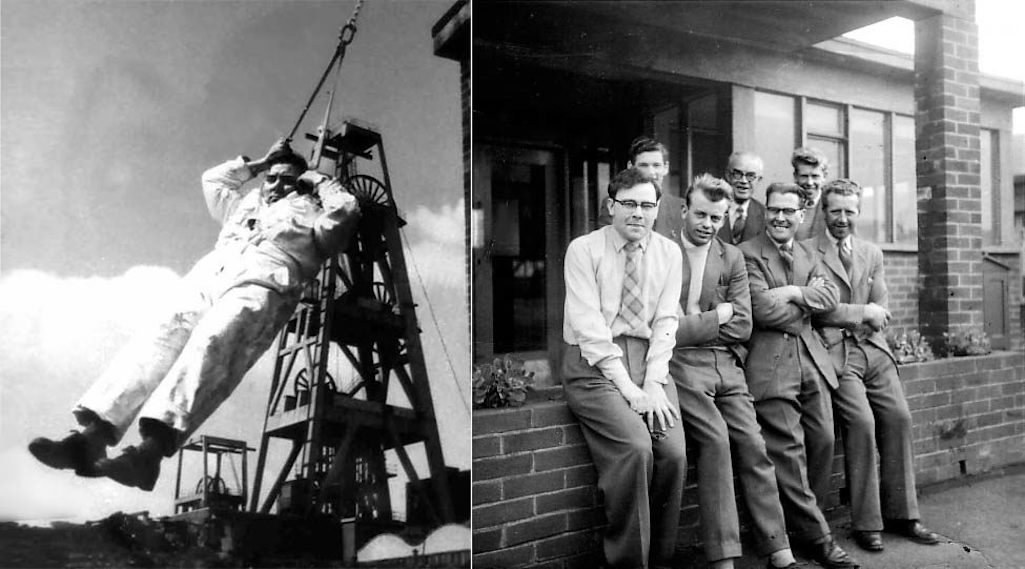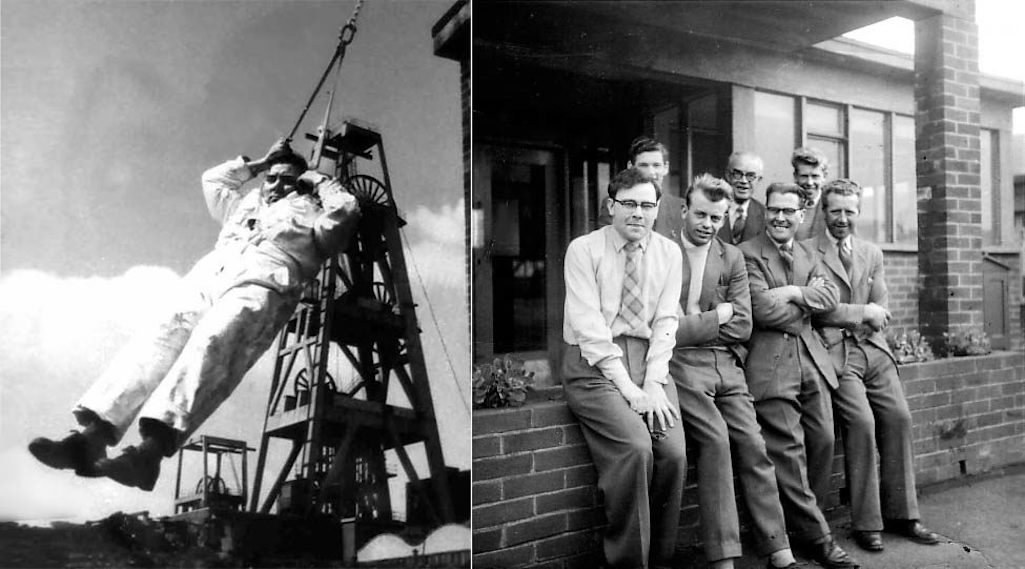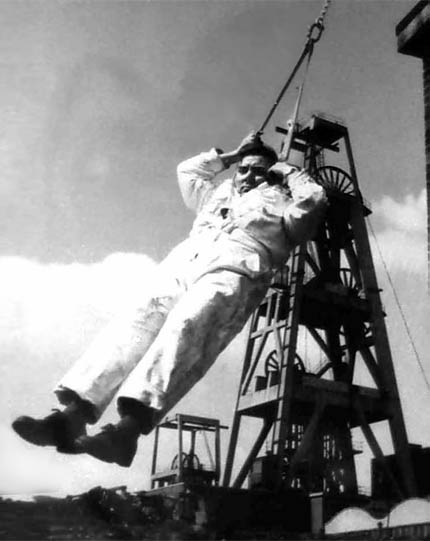 In October 1968 the National Coal Board announced that Bold Colliery had, over the last 12 months, converted a £750,000 loss into a £50,000 profit. Productivity, defined by OMS (output per man-shift), had increased by 10cwt. to 40 tons 6 cwt. As a result the NCB were offering jobs to another 100 miners. In August 1969, it was announced that investigations were being made into the effects of tobacco chewing on the soft tissues of the mouth. The mouths of over 2000 miners were going to be examined by
Dr. William Tyldesley
, to discover whether sustained chewing was harmful. Dr. Tyldesley had already made a preliminary survey at Bold Colliery, where at least a third of the 1350 underground workers chewed tobacco while working. Many admitted to being 'chain chewers', immediately replacing a finished wad with another.
Bob Ashcroft
, a Bold miner with 17 years experience, told a journalist "I can really relax at the job with a good chew. Tobacco is much better than chewing gum. That seems to collect all the dust and turn into concrete in your mouth."

At the end of May 1971 it was announced that Bold had set a new northwest productivity record of 42.5 cwt. per man shift, almost 9 cwt. above the average for the region. The colliery was also now officially the safest in the country, having won the NCB's national safety competition. The miners were awarded £8,000 for the fewest days lost through accidents and the best improved safety record for pits employing over a thousand men.

On January 26th 1973 the head of the lamp room,
Ted Ashton
, retired after 51 years service, having started work at Bold as a 14-year-old boy. What was remarkable about Ted was that during his employment he never once went underground, with all all his other jobs at the colliery having been on the surface. The mine's personnel manager,
Ken Harris
, presented Ted with a clock on his retirement and invited him to go underground. However he declined saying "After all this time, I don't see any reason for breaking my record." In the St.Helens Official Guide and Industrial Handbook of 1973, it was stated that Bold Colliery employed 1500 men and produced about ¾ million tons of coal a year.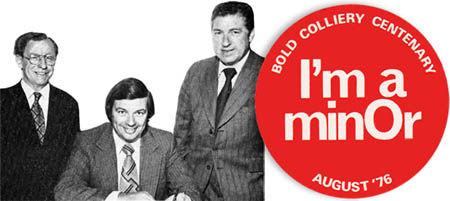 In 1976 the colliery celebrated its centenary and on Saturday August 28th a special open day was held with the public invited to make a trip underground. A promotional leaflet said:
Come and see Britain's modern mining. Experience a ride in the shaft. Travel a simulated coal face. Ride on a man-train. See the working model of a mine, and the various processes that coal goes through before delivery to your home.
Nine hundred people took up the offer to make a 900-yard descent down no. 1 shaft. There was also a mining machinery display, exhibitions of scientific and fire fighting equipment, a working model mine and visits to the colliery lamproom. The celebrations held at the miners' welfare institute included Morris dancing, whippet racing, fun fair, sideshows, brass band and a centenary disco dance. A sports programme included for children's sack races and 50 metre sprints, ladies egg and spoon race and a tug o'war for the men.


Alan Houghton
was the General Manager at Bold Colliery at the time and he wrote in the centenary programme about the technical progress at the colliery:
Picks and shovels were the order of the day when Bold colliery first began production in the 1870s. Today, high powered machines have taken over much of the muscle work out of mining and the miner has become a skilled technician, controlling machinery that has cost millions of pounds to install.
Whilst this was true of part of the face worker's role, an appreciable amount of the associated face work was still manually carried out in a dangerous environment.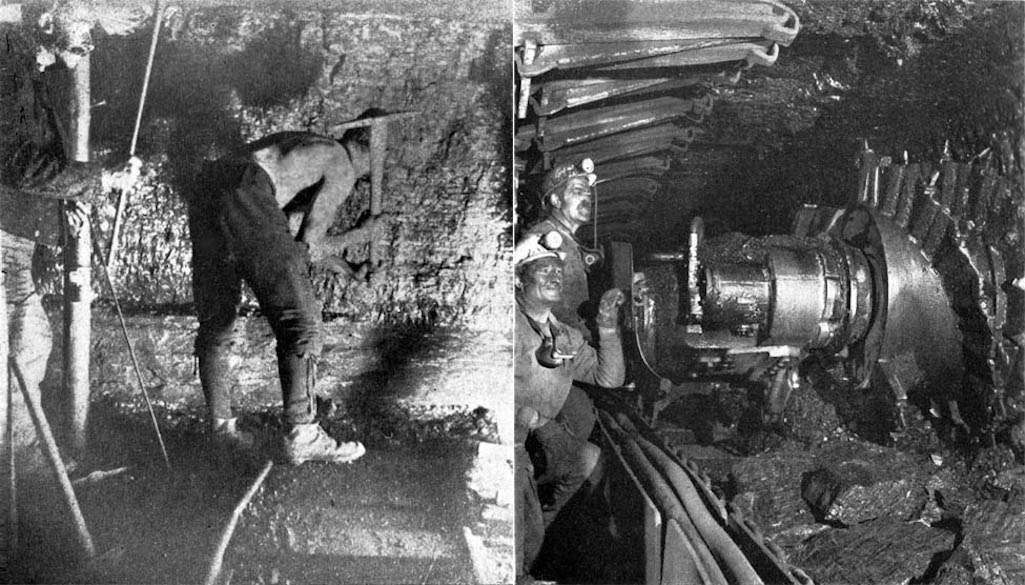 The programme contained a number of images, which vividly demonstrated how mining at Bold had changed over the past 100 years.
Frank Grimshaw
, who by 1976 was the NCB's North Western Division photographer, would have taken all the modern-day photographs. The pictures above contrast the pick 'n' shovel days of hewing coal by hand, with the modern-day production face at the colliery. It was stated that more coal could now be produced in a day, than a miner with a pick could hew in a year.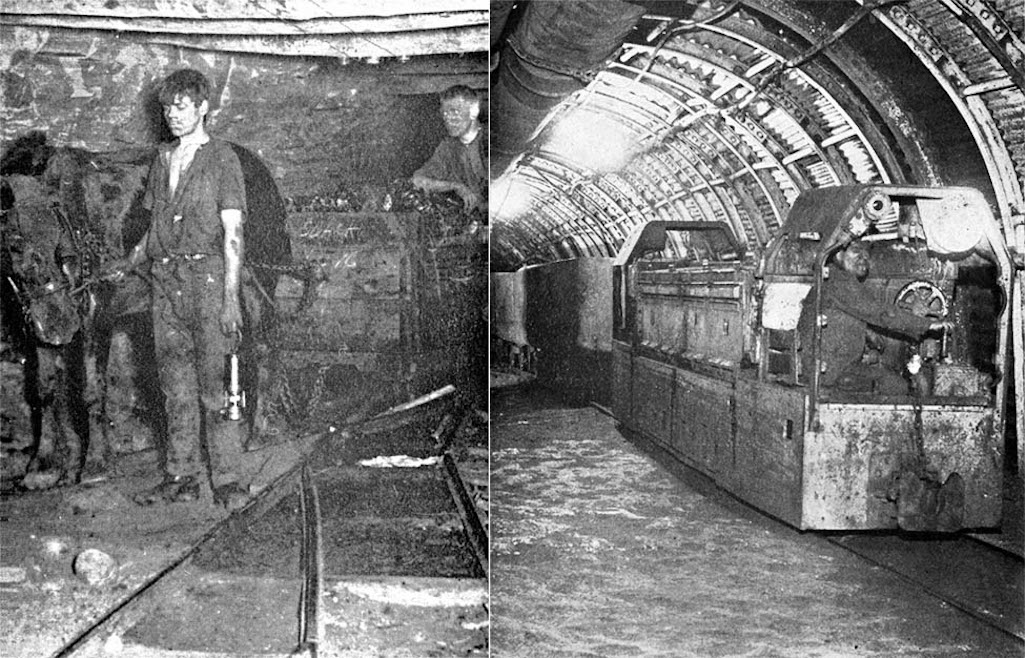 Next the programme looked at the changing methods of coal transportation within the pit. The above image (left) shows a sad-looking pony and its driver, who was usually referred to as a pony boy. For very many years these animals were used to haul coal to the pit bottom in order to be wound up the shaft, with most ponies spending their lives underground. This image contrasts with the photo on the right, which shows the modern battery-powered locomotives, capable of hauling up to 100 tons of coal at a time.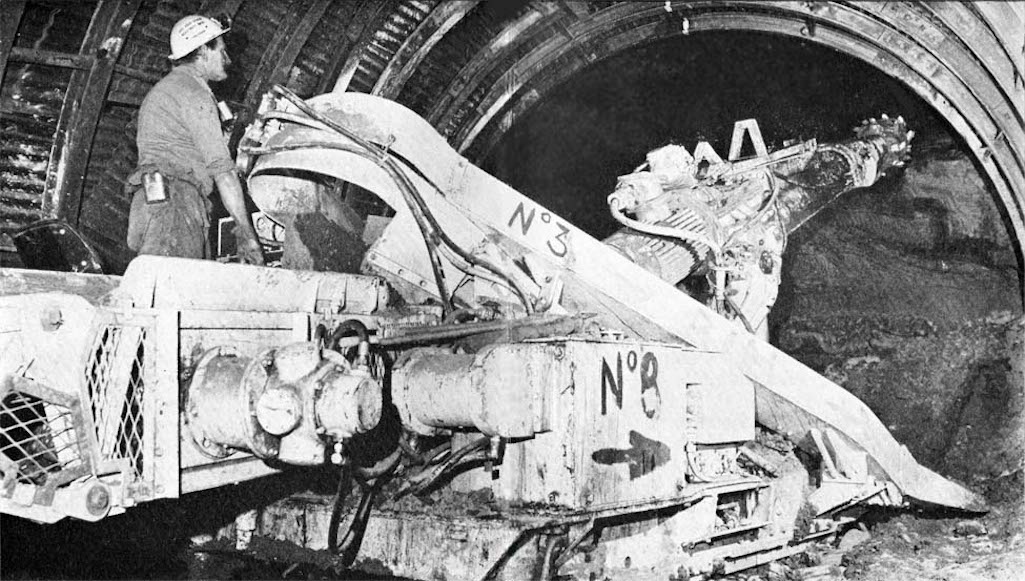 This photograph shows how the driving of a new underground roadway had by the 1960s become in part, highly mechanised. The tunnelling machine comprised a boom-ripper, harnessed to a gathering arm-loader and each year more than 4,000 yards of new roadways were driven by these machines to exploit Bold's considerable reserves. However this application was not practical in all cases, with the strata geology such as hard rock and fault conditions sometimes dictating the use of traditional drilling of the strata, followed by explosive firing to advance the tunnel.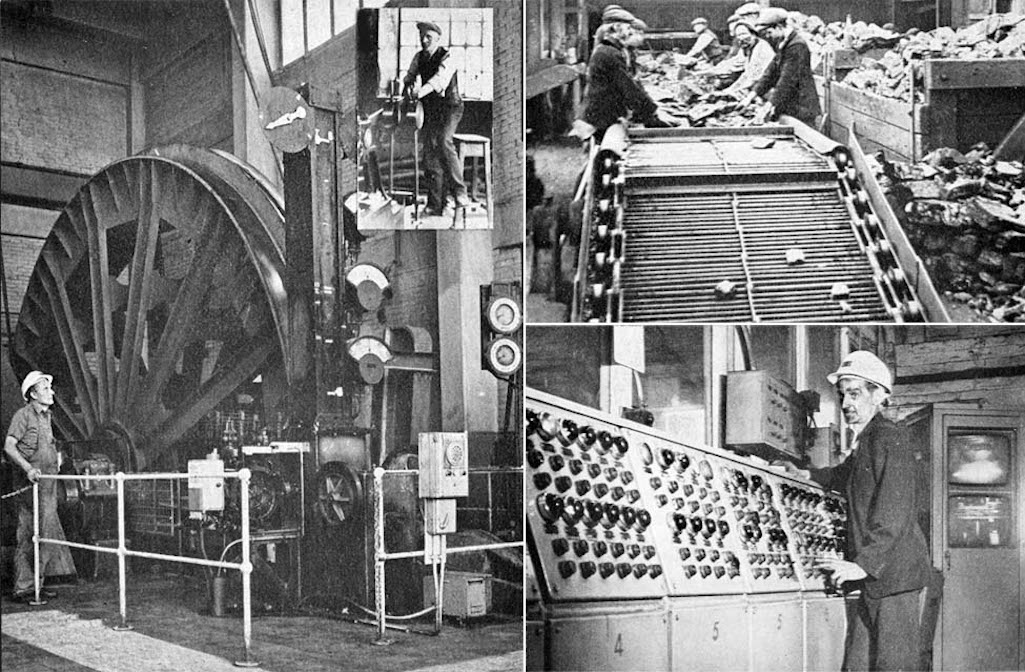 The final group of photographs contained within the open day programme concerns the developments in Bold's surface operations. The small inset picture (above left) provides a glimpse of the steam-driven winding engine in use at the turn of the century. The main photograph shows the huge electrically-powered modern winder, which was capable of lifting a nine-ton payload over 900 yards in less than two minutes. Two D.C. motors, each rated 1800 h.p., served the no. 1 shaft, which was the main coal winder. The no. 2 and 3 shafts used electric winders with a 15 feet diameter cylindrical drum, which was driven by 1200 h.p. induction motors.

The two pictures on the right contrast the improvements in coal preparation, which for many years had involved the sorting of coal by hand. Women and men undertook this arduous task in screens buildings, grading and separating the coal from dirt. The second photograph (bottom right) demonstrates how manual screening had largely been replaced by sophisticated treatment facilities. The picture shows the process control room - with automated push-button systems and television scanners - which enabled the washing, grading and blending of coal to the particular needs of Bold's customers. Some traditional screening did, however, continue but on a very small scale, primarily removing associated mining items, such as timber and steel items, via magnets. The modernisation of Bold's coal preparation facilities was based on the National Coal Board's recognition that the market for coal was changing, with a major decline in the use of coal on the railways and a drive for using cleaner domestic fuel. This presented the NCB with the opportunity to increase the value of the end saleable product, through the introduction of new and cost-effective scientific processes.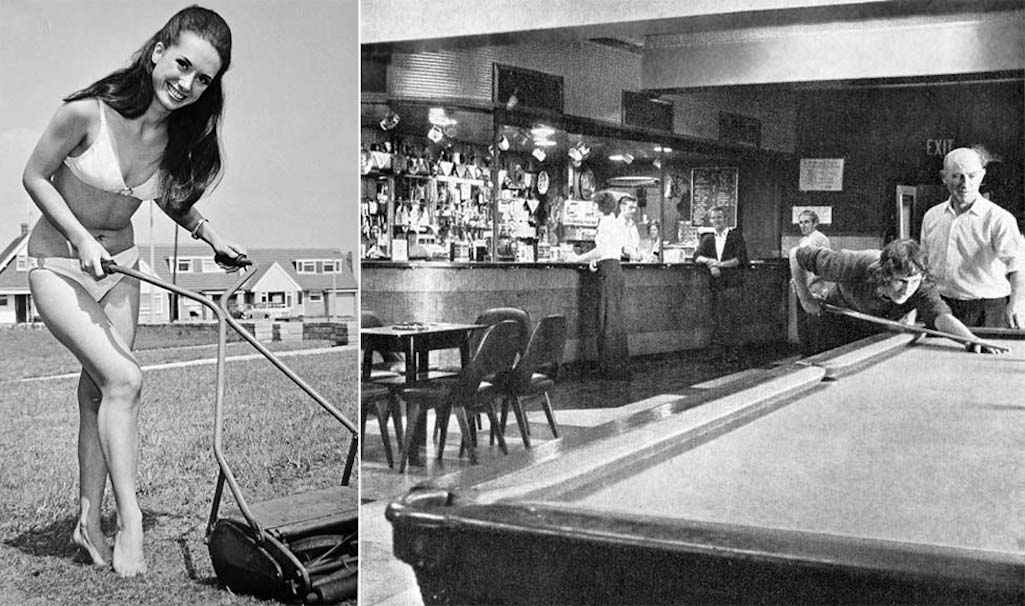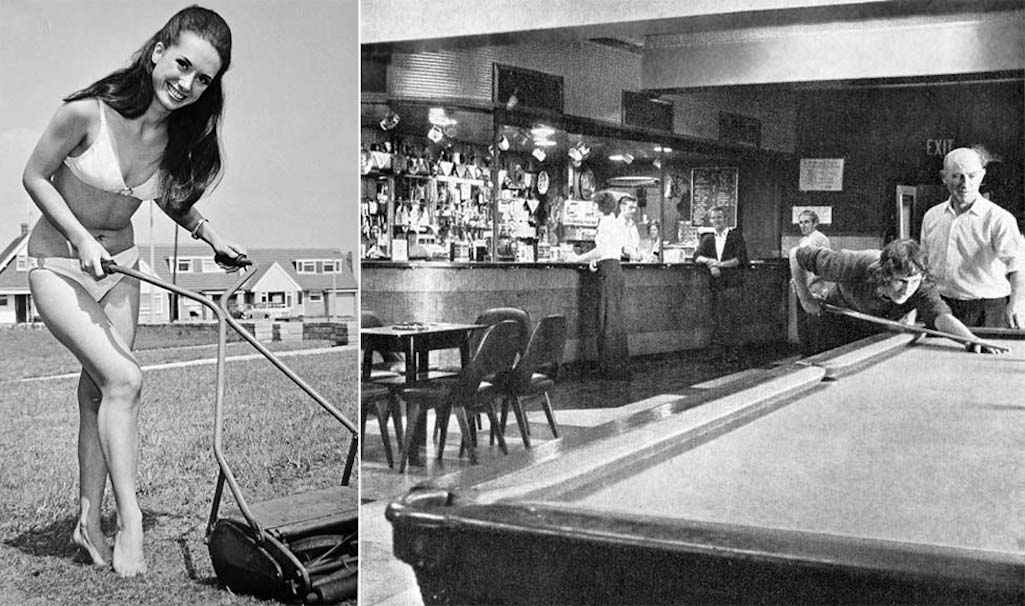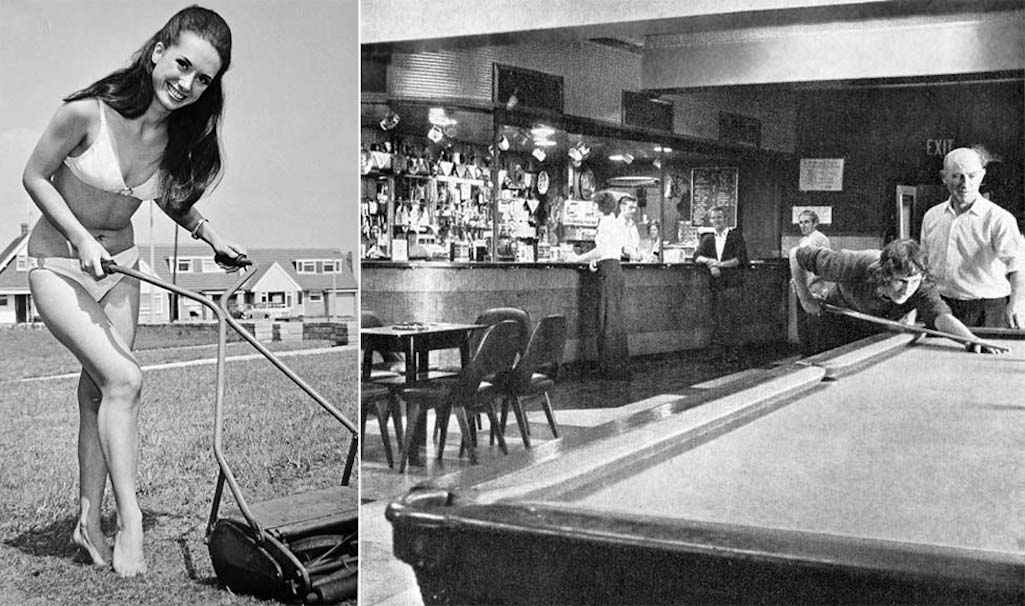 The band performing at the centenary celebrations was no doubt the Bold Miners' Welfare Band, which was formed around 1970 and folded about 1990. They were said to be the last miners' band playing on the Lancashire coalfield. The band were based at the aforementioned Bold Miners' Institute, which was officially opened on July 20th 1957 in Fleet Lane in Parr. It still exists and in the 1970s consisted of a concert room, ballroom, lounge, bars and recreational areas. The sporting activities were held on the Institute's Recreation Ground which opened on Saturday June 8th 1963. A march of thousands of miners led by bands processed through the town to the ground, where there were sports, morris dancers, a gala queen competition and a fair.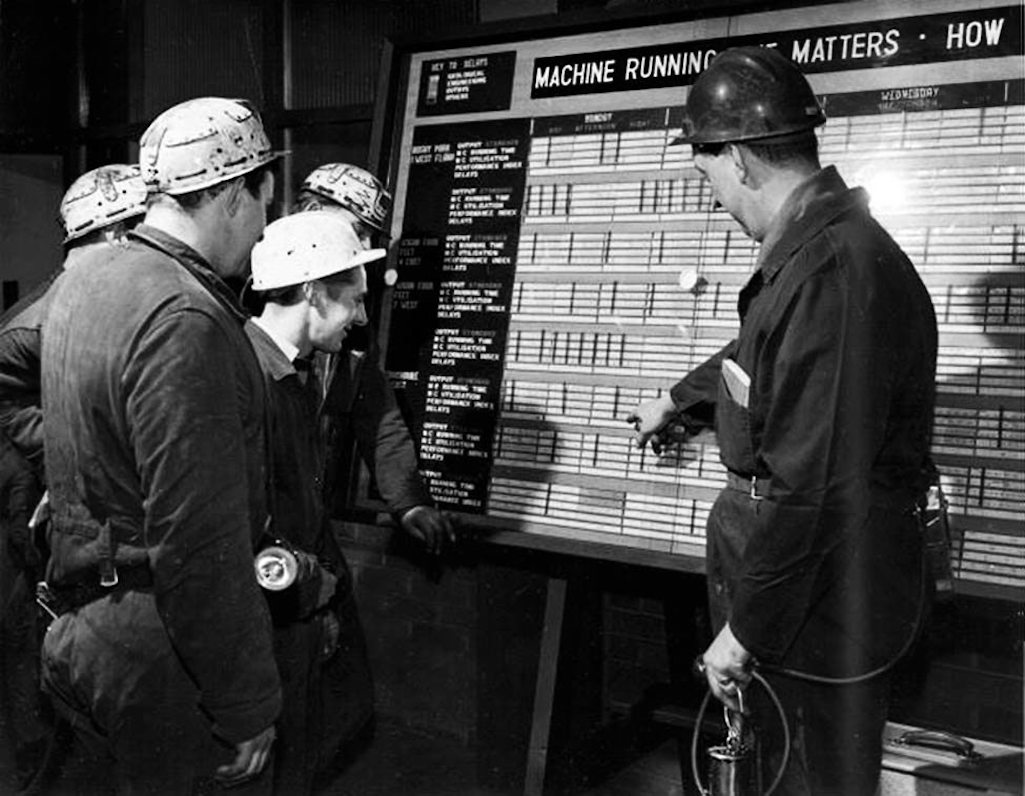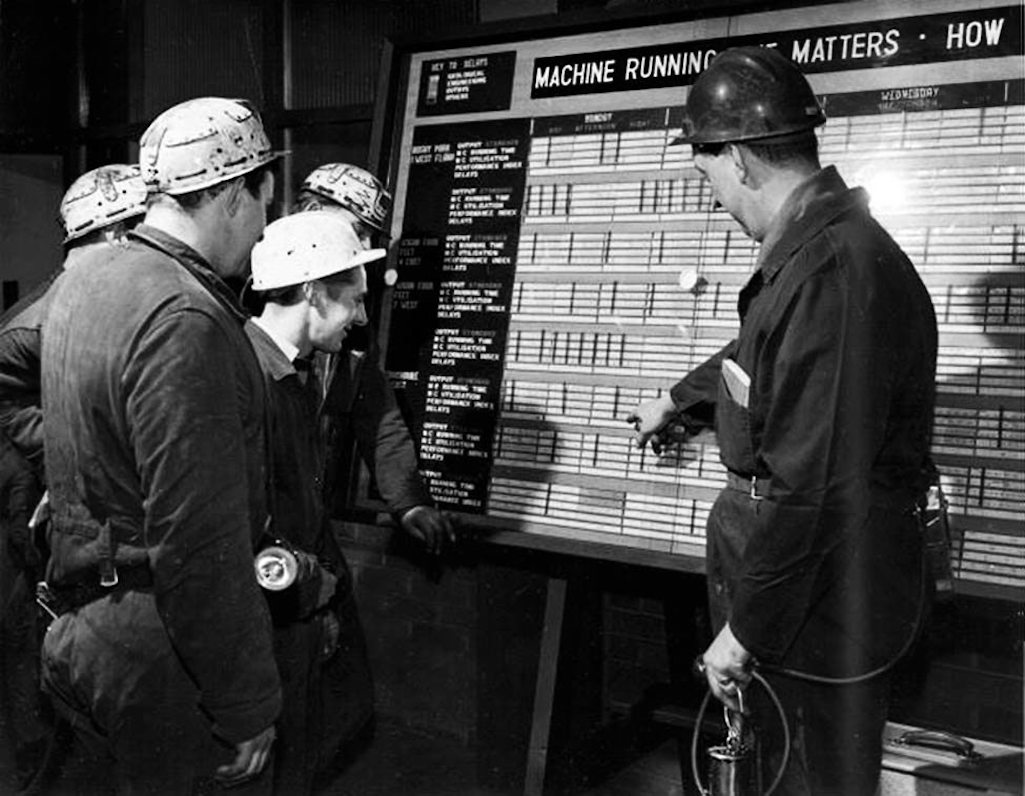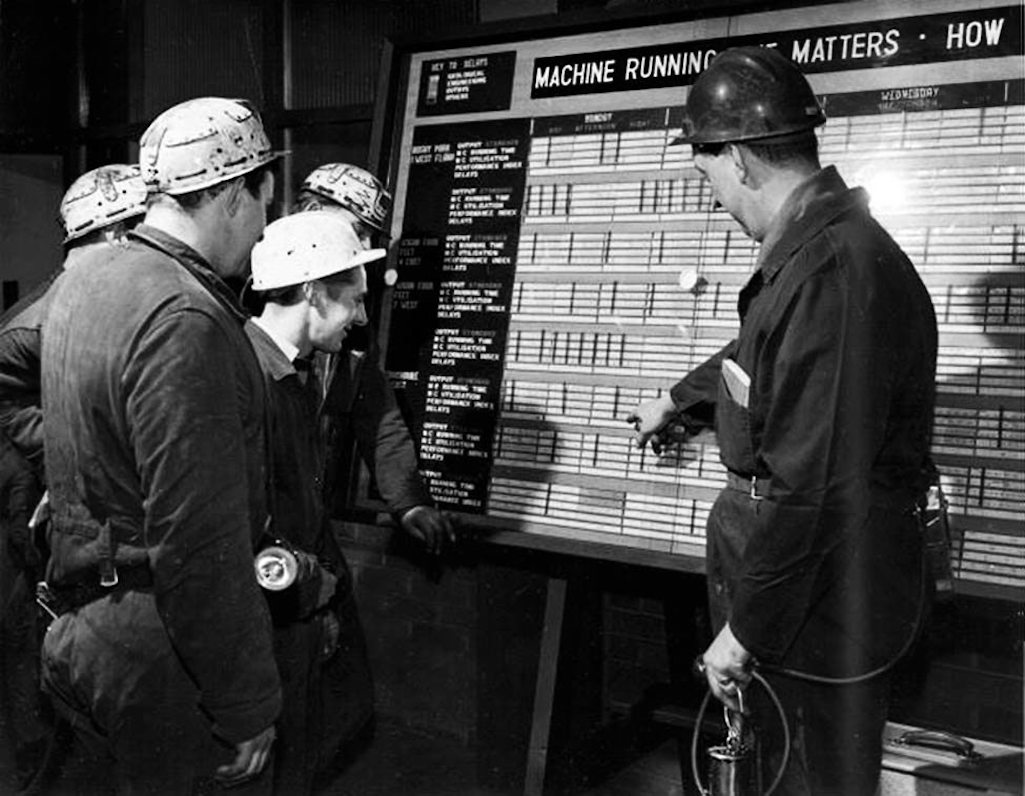 In the summer of 1977, the National Coal Board completed a £1 million scheme to improve coal winding facilities at Bold. The coal was now loaded into skips and as a consequence no. 2 shaft stopped being used for coal winding. No. 1 pit now exclusively wound the coal, with no. 3 shaft principally used for winding men and materials and for upcast ventilation. At this time the extracted dirt was loaded onto lorries and dumped onto a tip adjacent to Burtonwood Brewery. After its six year life expired, the plan was to transport dirt to the old Clock Face Colliery tip.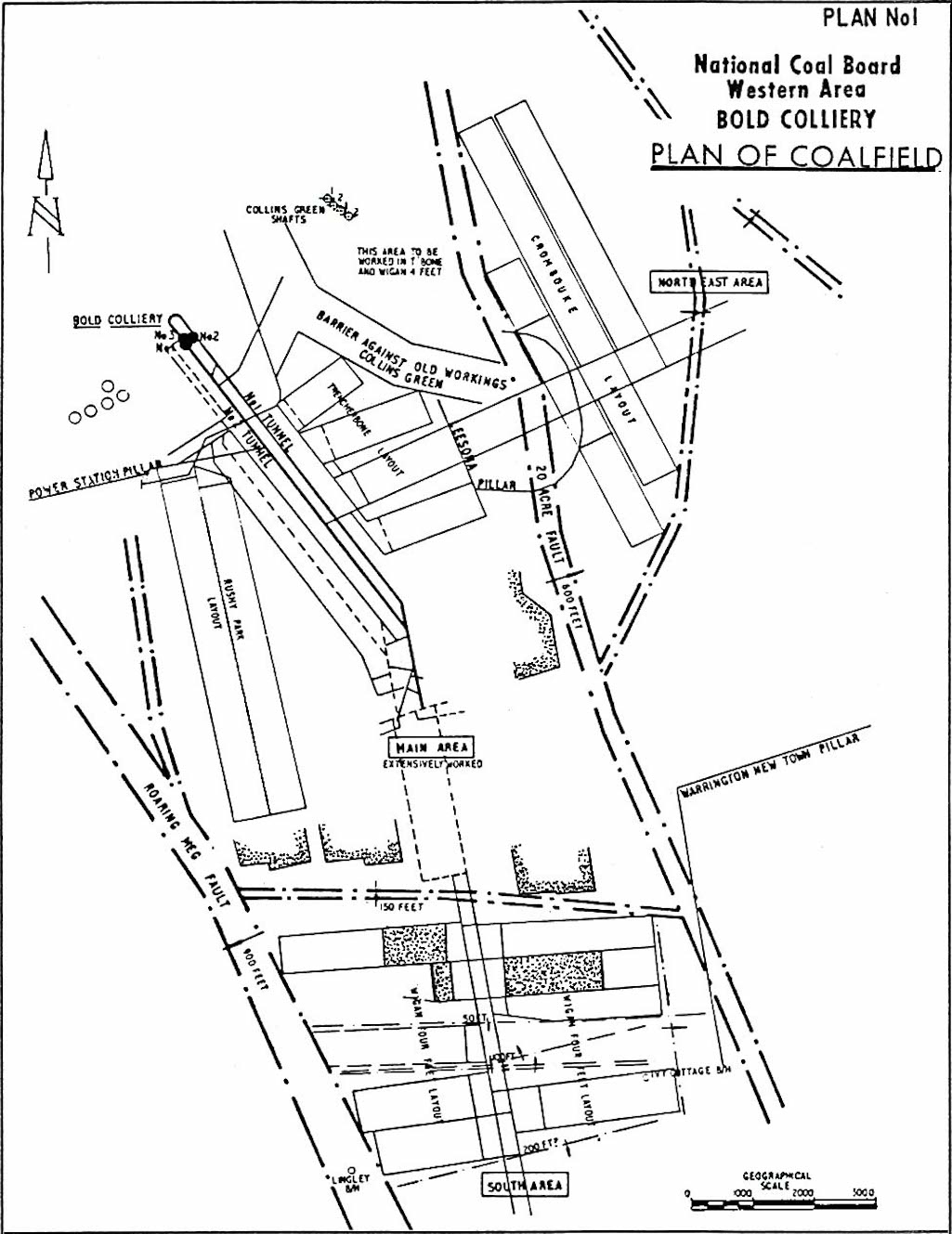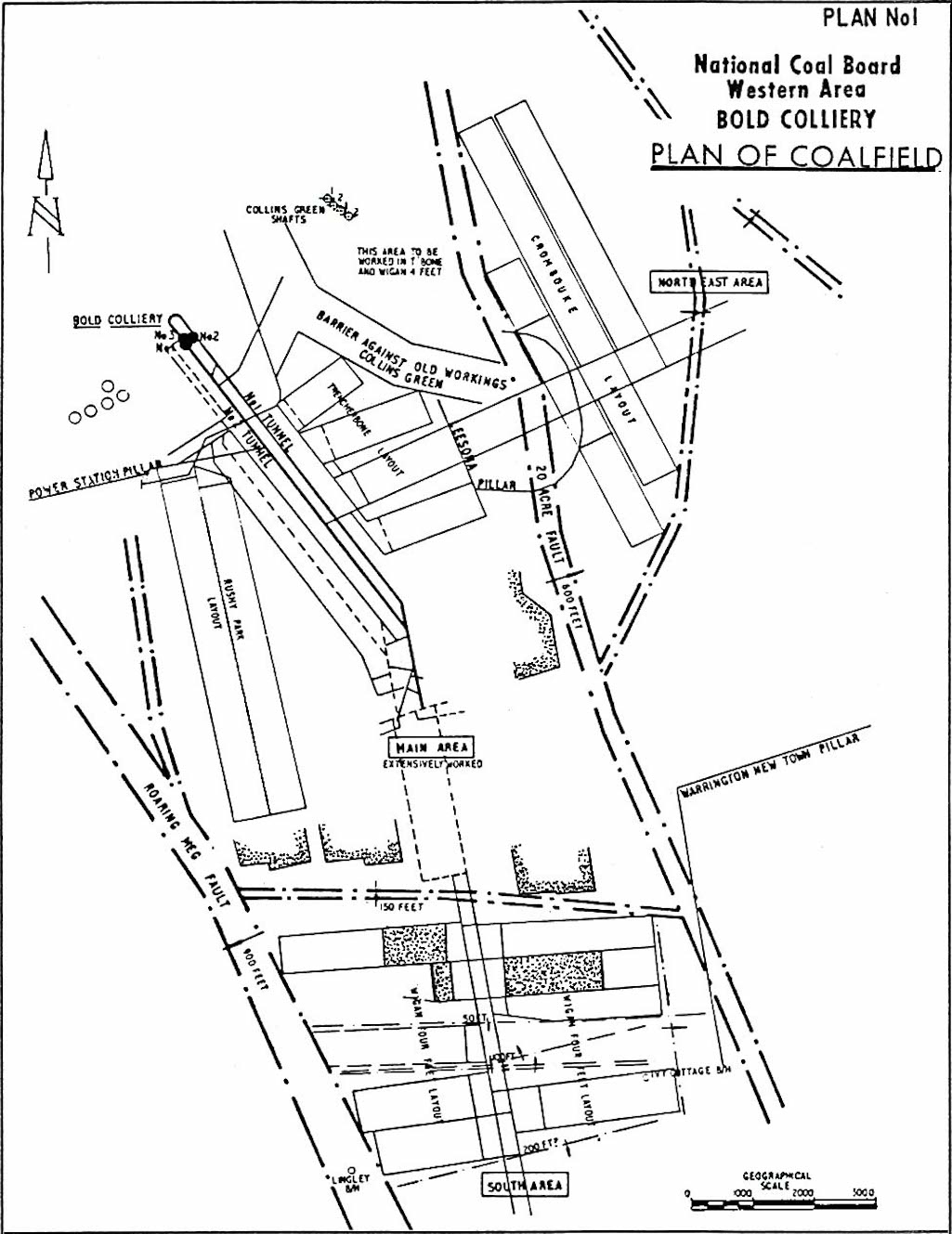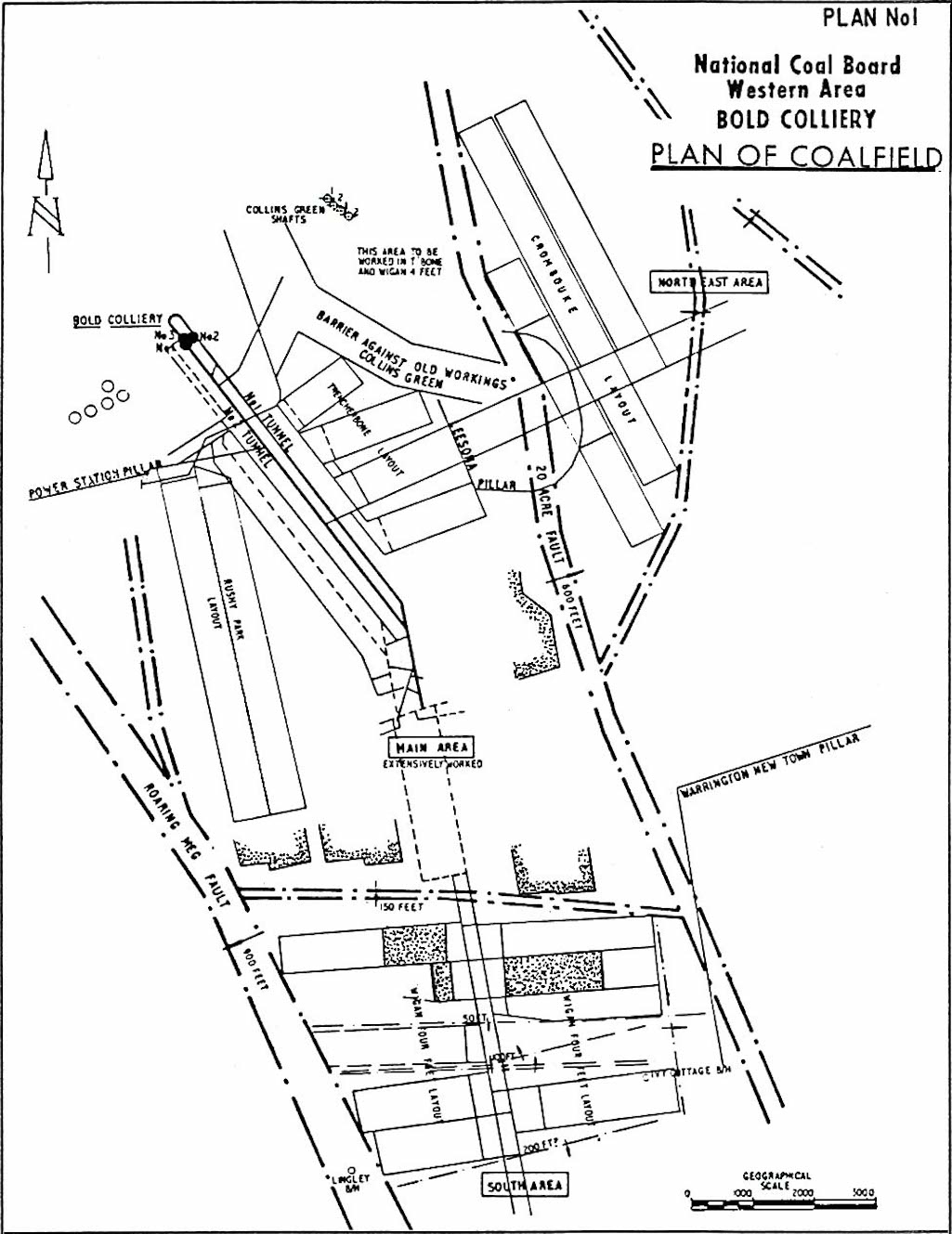 Bold Colliery's future seemed secure with substantial coal reserves (estimated in January 1977 as 35 million tons), mainly within the new North East Area and South Area. The latter extended 2½ miles from the shafts, with two faces being worked in the Wigan 4 ft. seam as well as the Trencherbone seam. The third area of working was the Main Area, which by now had been extensively worked in several seams and only the Rushy Park seam was intended to be worked in future.


Despite the state-of-the art technology inside the pit, Bold was still employing steam locomotives outside. This was essentially because the colliery had begun supplying coal to Fiddlers Ferry power station and this required large 48 ton wagons. Bold then had two engines: a North British 0-4-0 diesel hydraulic and 'Whiston', a Hunslet Engine Co. austerity class steam loco that was kept as a spare. The handling of the larger wagons on the steep gradient at Bold colliery from the weighbridge to the British Rail exchange sidings caused the diesel engine to overheat. Unsuccessful attempts at curing the problem were made by locomotive fitters from Walkden.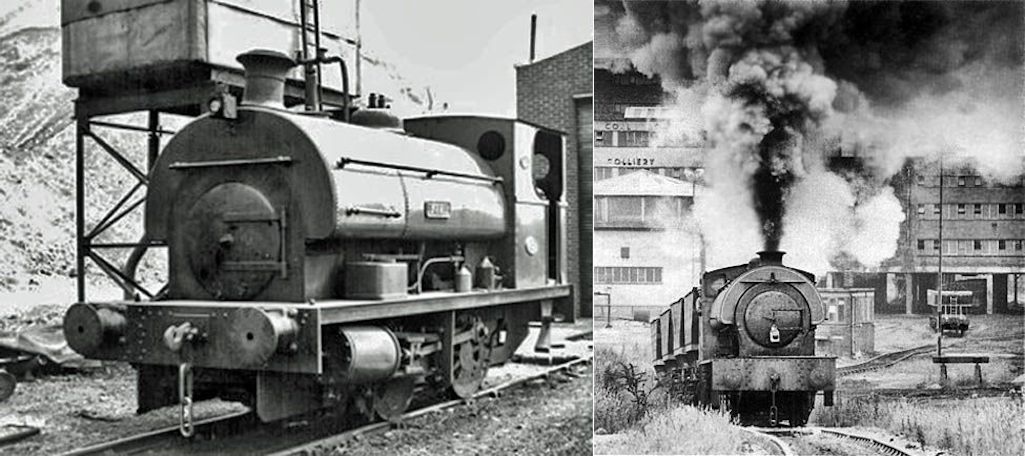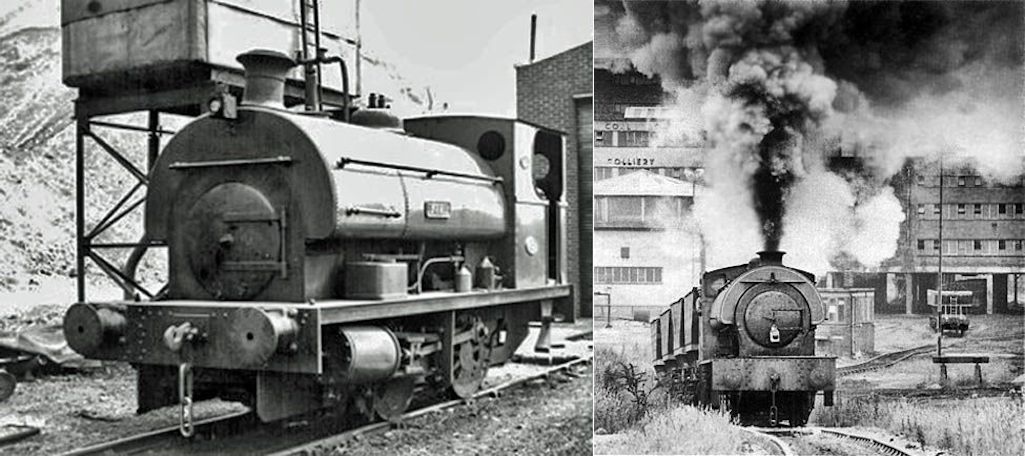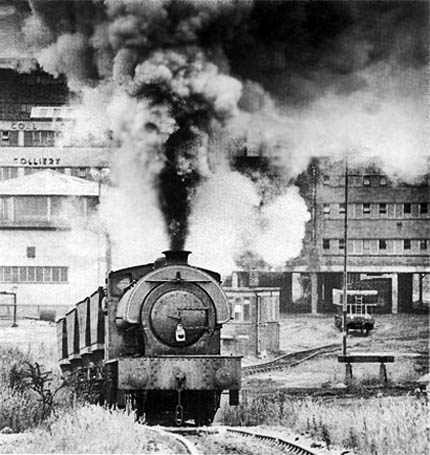 So Surface Superintendent
Harry Simmons
put steam loco 'Whiston' to work. Harry had previously been Surface Foreman at Cronton Colliery and earlier in his career, a steam loco driver at Gin Pit at Tyldesley. His expertise of steam engines and their reliability led him to resume the use of steam locos at Bold, which lasted from 1974 until Harry's retirement eight years later. Dieselisation at the colliery had first taken place in 1957/8. It was then that steam locomotive 'Bold' was transferred to Ravenhead Colliery. The engine was scrapped there in May 1969, having been built in Bristol in 1927 by Peckett & Sons Ltd. and at Bold was works no. 1737.

Whiston was a good engine but soon suffered an accident. A collision damaged its front end, although the engine was only superficially damaged and still workable. Harry managed to get another loco, 'Alison', from the closed Gresford Colliery, as a further backup. The diesel repairs were discontinued and the engine discarded, with Harry referring to it as a monument. He was very keen to have reliable motive power to work the traffic at Bold, knowing that steam locos would work even with ailments. Later 'Robert' built by Hudswell Clark was obtained from Littleton Colliery in Staffordshire and was extensively used. Whiston was repaired and repainted.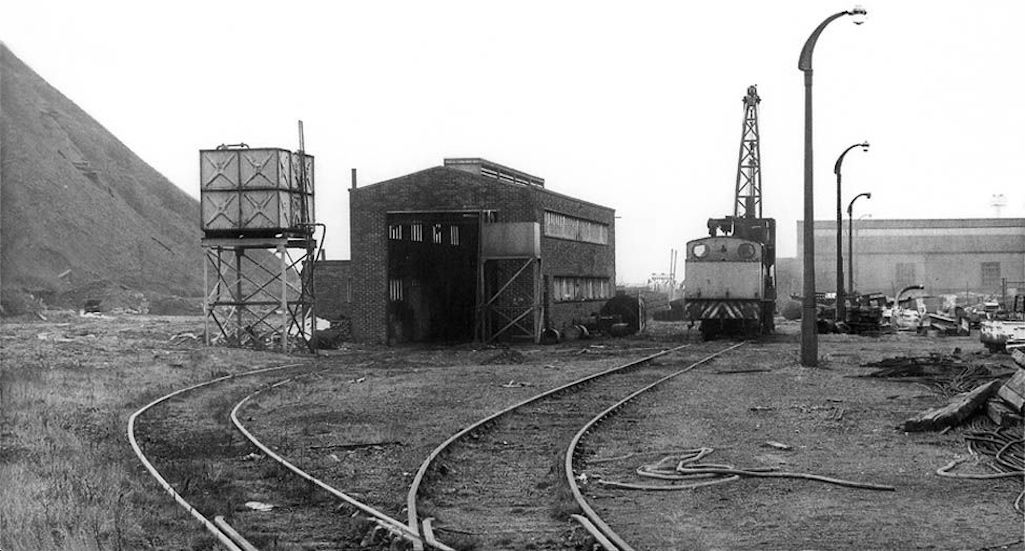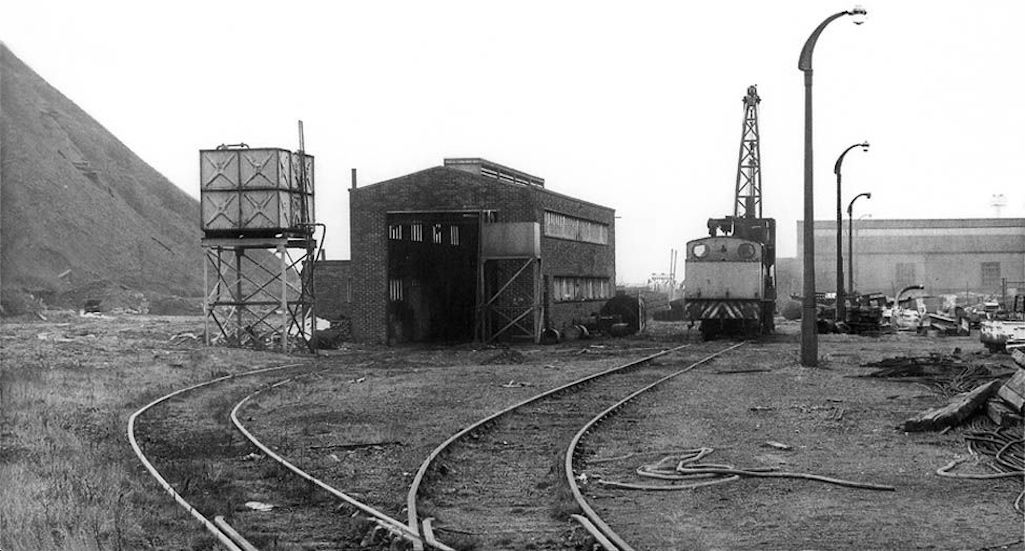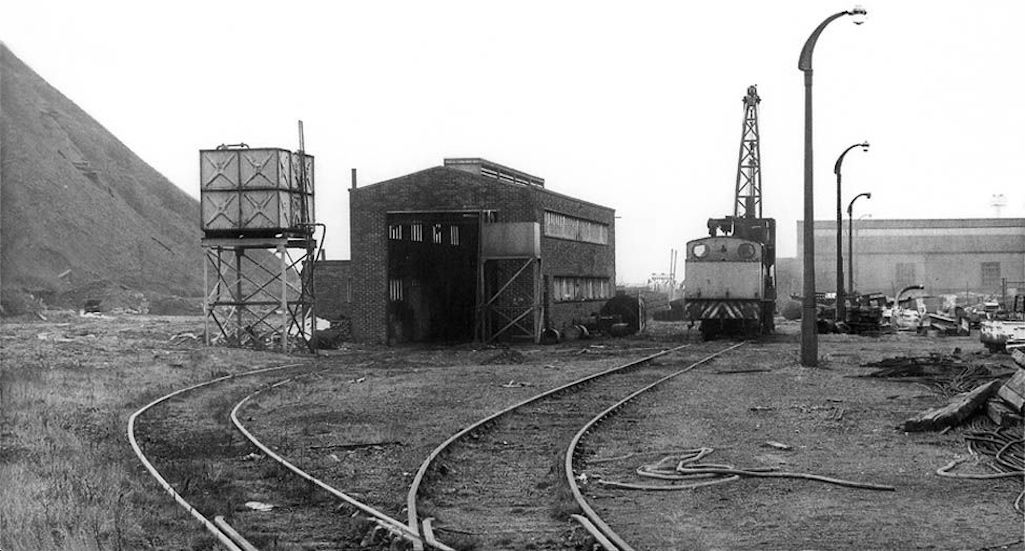 During the Rocket 150 celebrations at Rainhill in May 1980, numerous preserved locomotives descended on Bold's sidings from all over the country. Just like the old steam shed days at Sutton Oak, the locos were given a temporary home and serviced at Bold. Dieselisation for the second time took place at the colliery on September 23rd 1982 upon Harry Simmons's retirement and Railway World magazine dubbed it 'the effective demise of industrial steam' in Britain.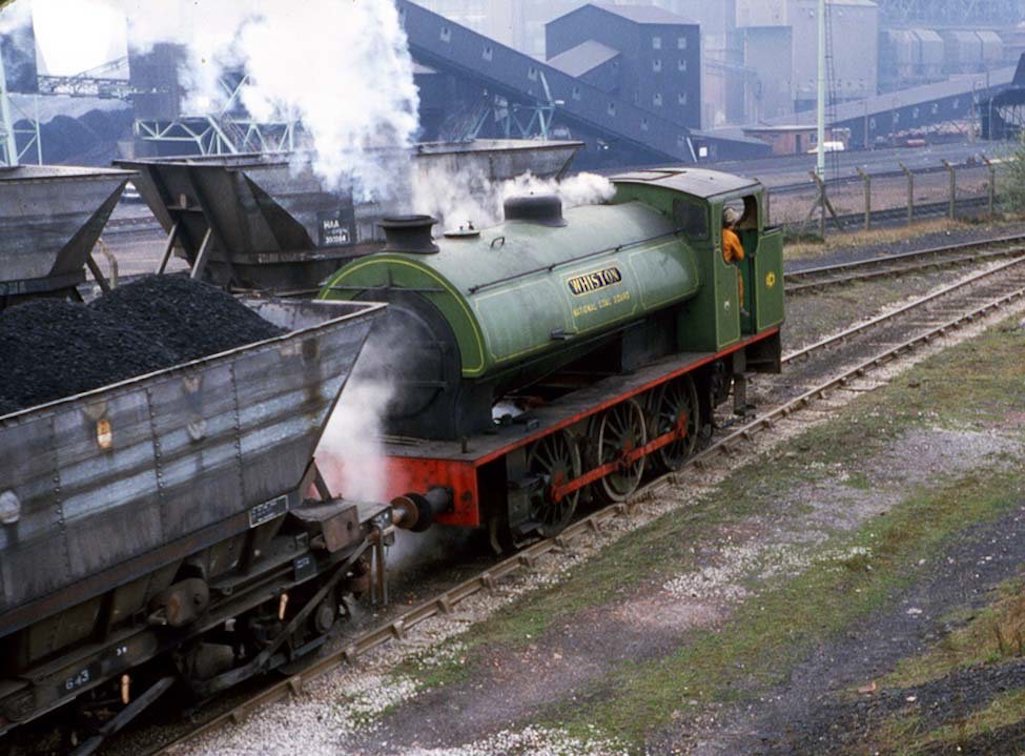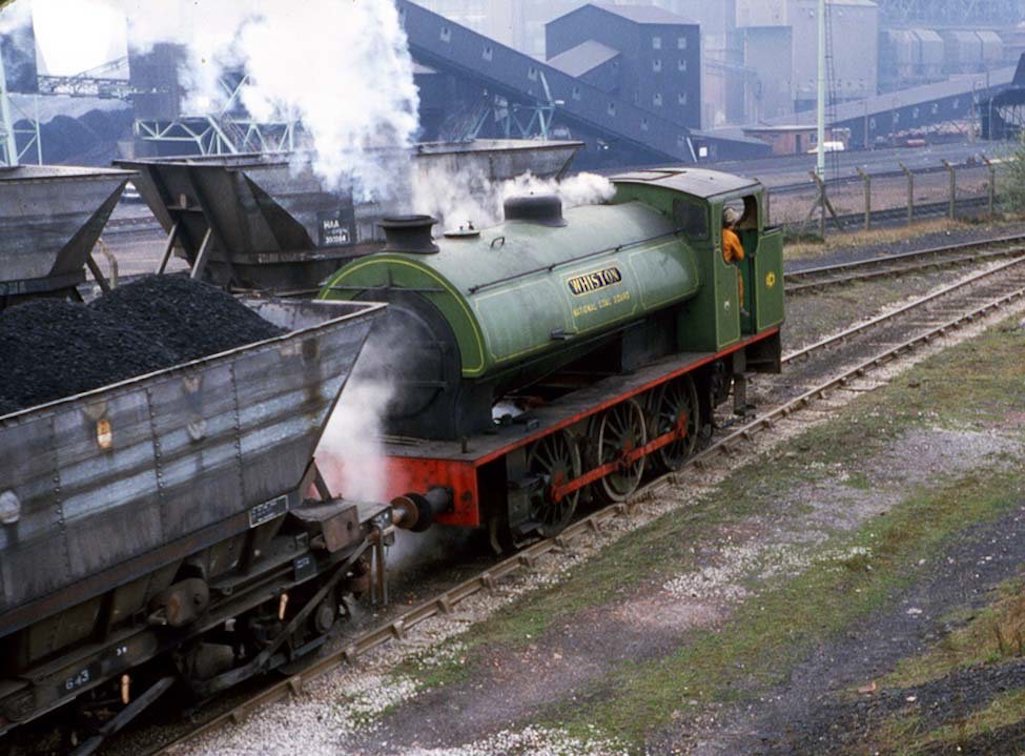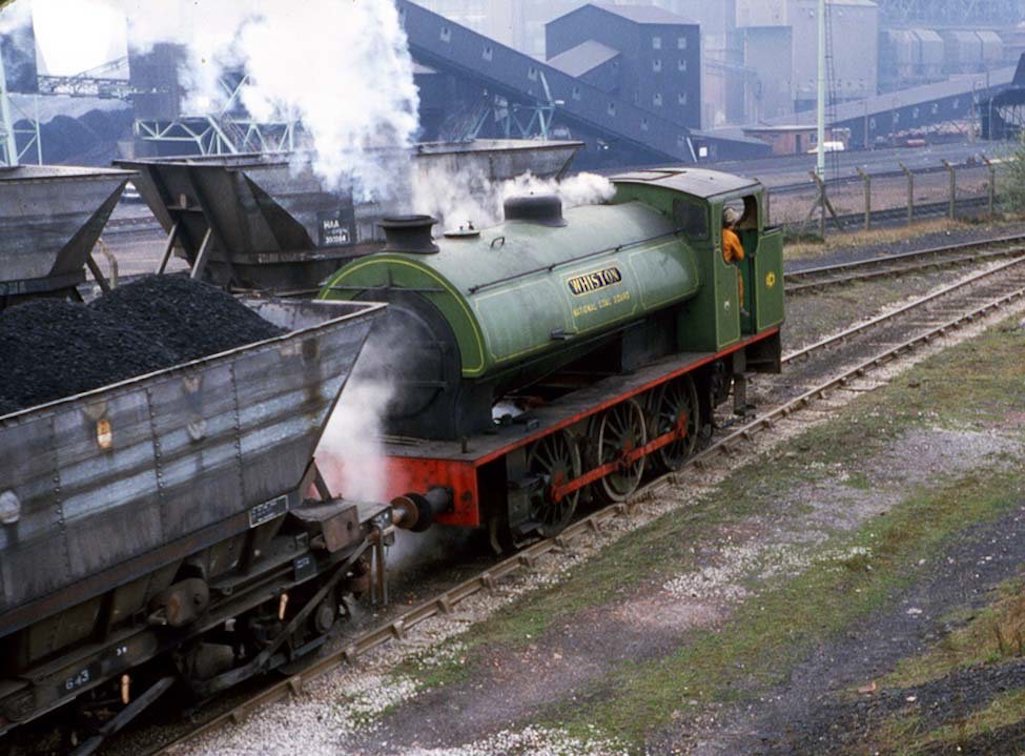 All three steam locos have found new homes. Whiston is in working order at the Foxfield railway in Stoke and Robert is at Loughborough awaiting restoration. Alison was renamed 'Joseph' after an overhaul at Walkden workshops in 1980 and returned to work at Bold. It is in working order at the East Lancs railway at Bury, although now using its Army days name of 'Sapper'. However it has been largely rebuilt using the boiler tank chimney etc. of another loco.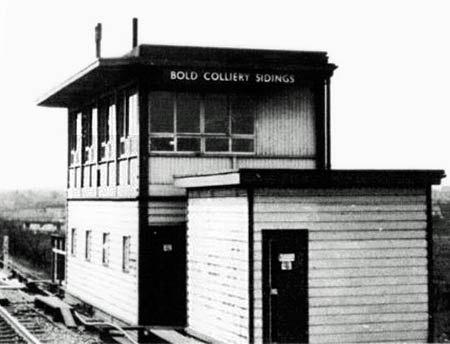 As of 1980 the colliery employed 1,496 men and had an output of 709,133 tonnes. However, output soon fell and the NCB reported that Bold was making heavy losses. A new strategy that had been outlined in January 1982 to concentrate on three faces was not paying dividends, due to deteriorating roof conditions and faults. The Rushy Park face was stopped in November 1982 which left just two faces to be exploited. With less need for manpower, the labour force was reduced to 1,080 by March 1984 and no.2 shaft was filled and its headgear eliminated.
The Coal Board felt it was not receiving the full support of the men and in a memo to employees dated May 23rd 1983 criticised levels of punctuality and attendance and the withdrawal of labour through disputes over bonus payments. General Manager
B. Carey
added:
It is immoral that a small percentage of the men feel that they only need to come to work when the mood is on them.
Although the introduction of advanced technology had greatly improved mining efficiency, it could still be incredibly demanding work. In his memoir 'The Pit', a former Bold miner using the pseudonym
Woden
described his irritation at the suggestion that modern mining was all "push button" and easy. Woden worked under Great Sankey almost four miles from the pit bottom and almost a mile deep in "unbelievably hot" conditions. His job was face installation "dragging in these enormous 'boiling pieces', great hunks of hydraulic equipment, using powered windlasses and, with the help of pull lifts and 'tirfers', sheer muscle power."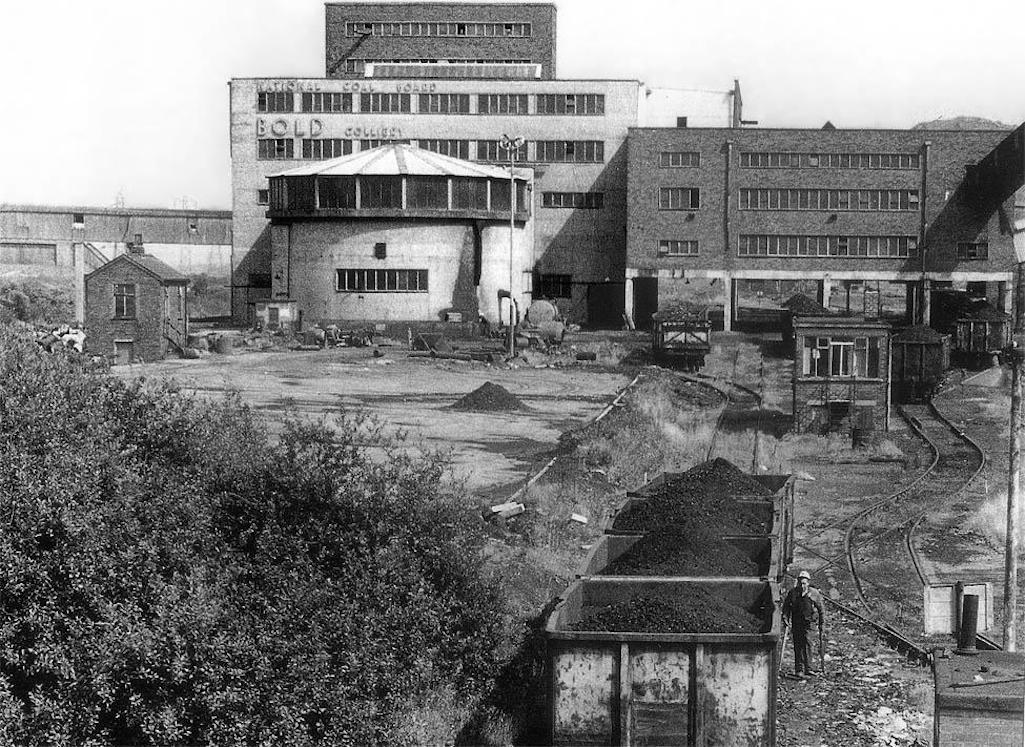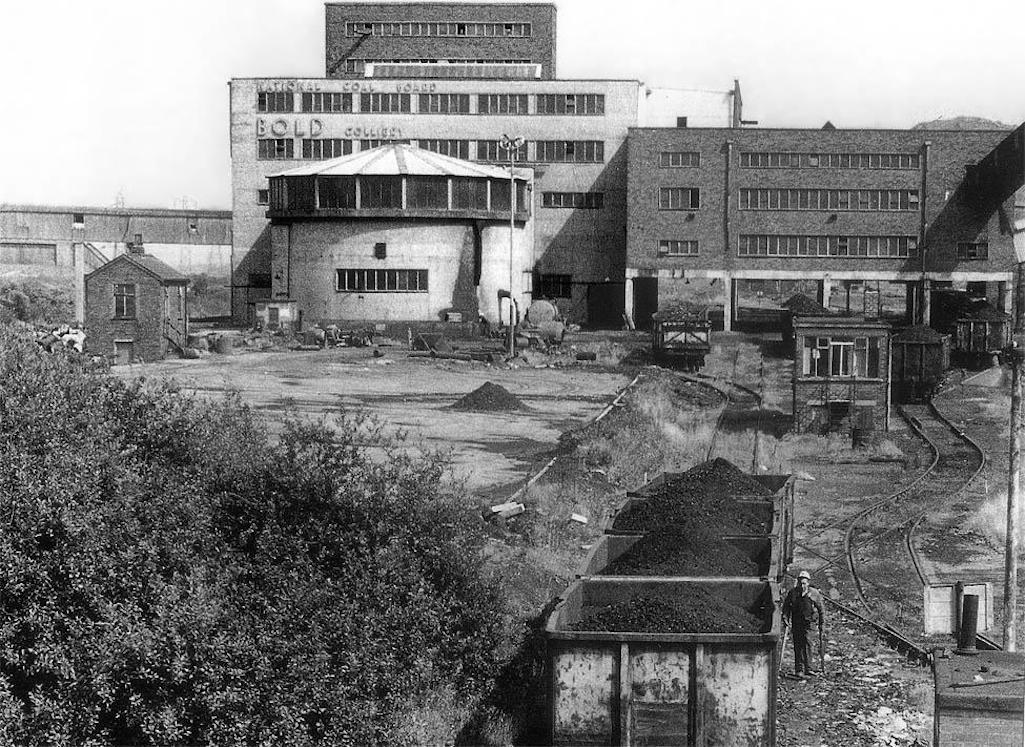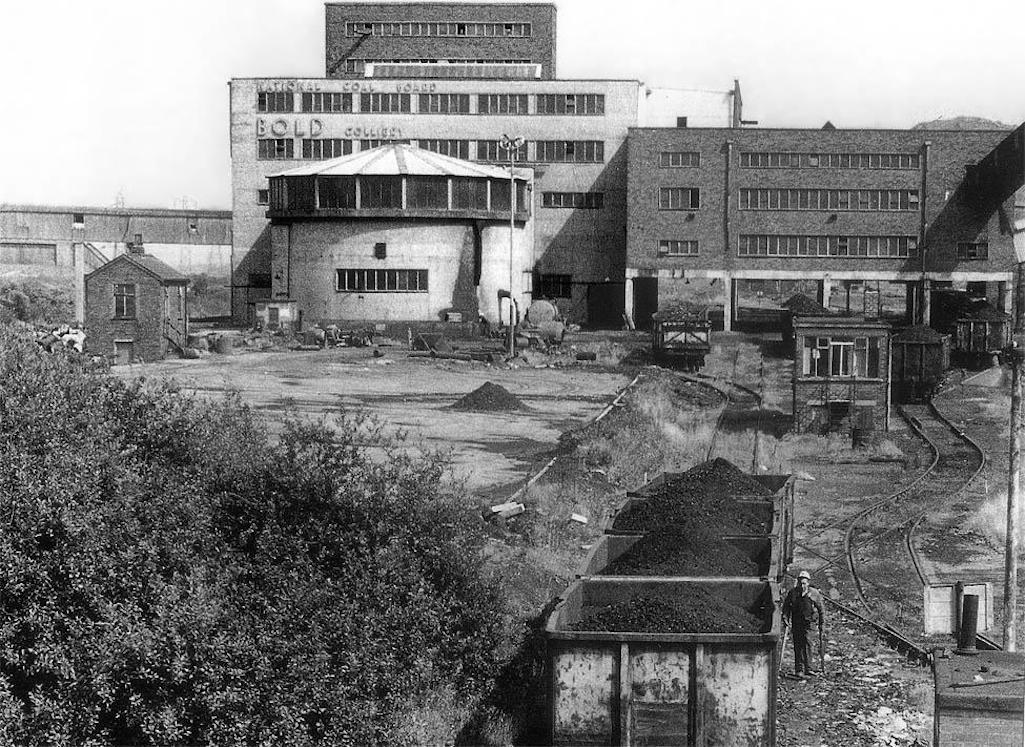 Like many other pits, the 1984/5 strike badly affected the workforce at Bold colliery. It became the first Lancashire pit to join the national strike with workers first downing tools on March 13th 1984 after pickets arrived from Yorkshire. Relations with the police were highly strained with a number of violent clashes. One of the worst was on August Bank Holiday Monday of 1984 when six strike-breakers went past picket lines for the first time and over 20 arrests were made. Upon the so-called 'blacklegs' second day at work, one of their wives was telephoned by a man purporting to be an official who claimed that her husband had been seriously hurt at work. It was described by the coal board as a 'cruel and nasty hoax'. Despite a massive picket line numbering 300, the six strike-breakers continued to cross the line for some time.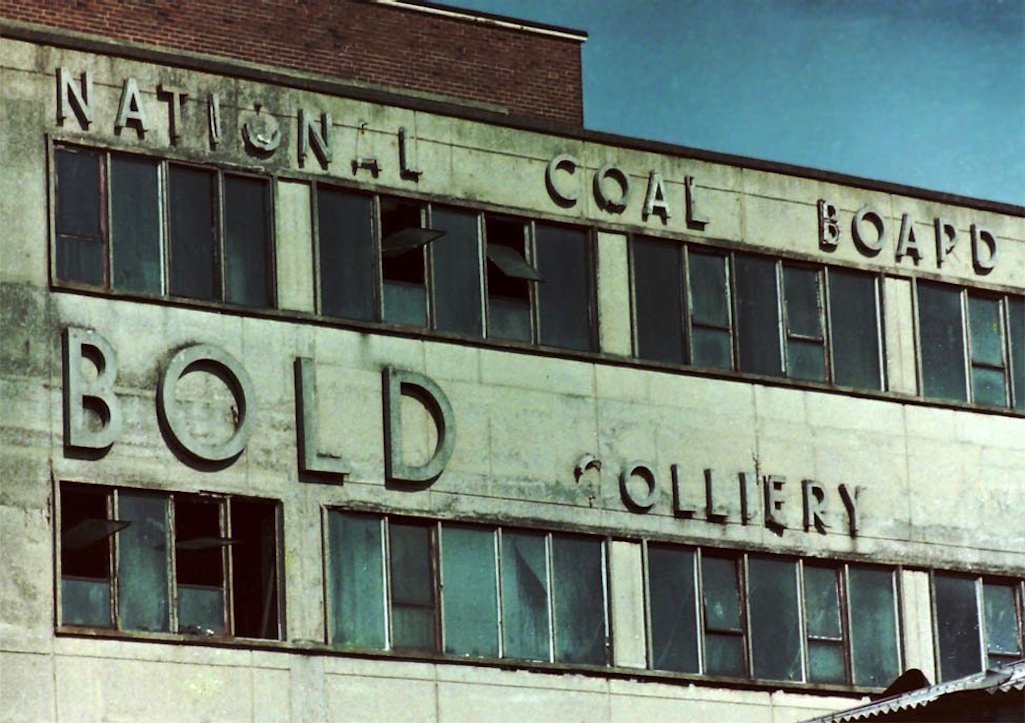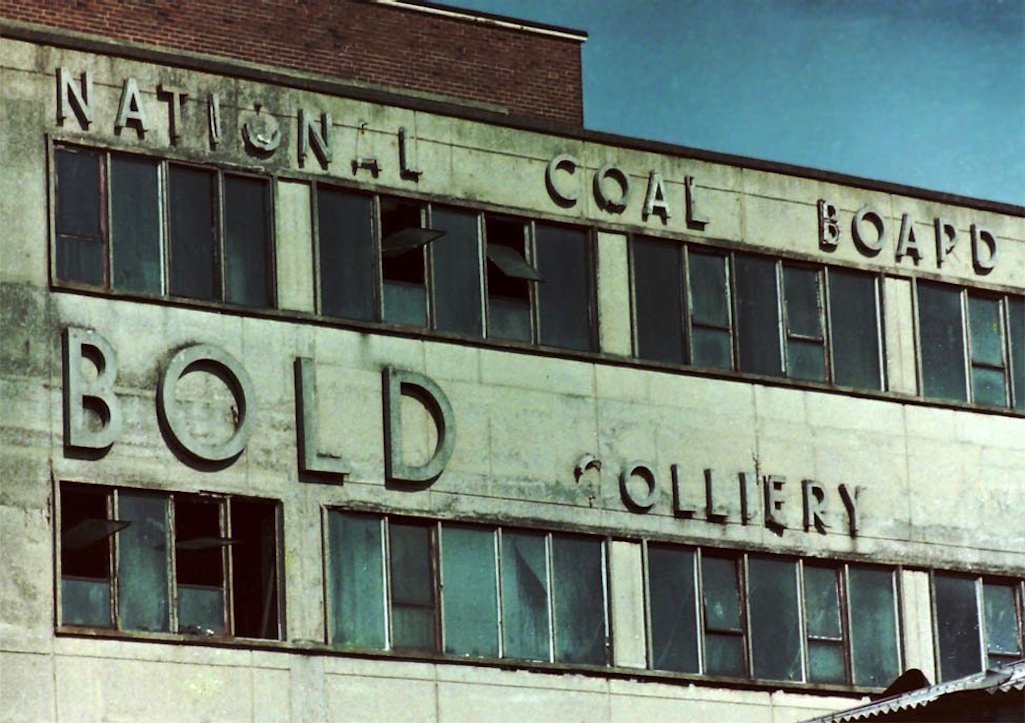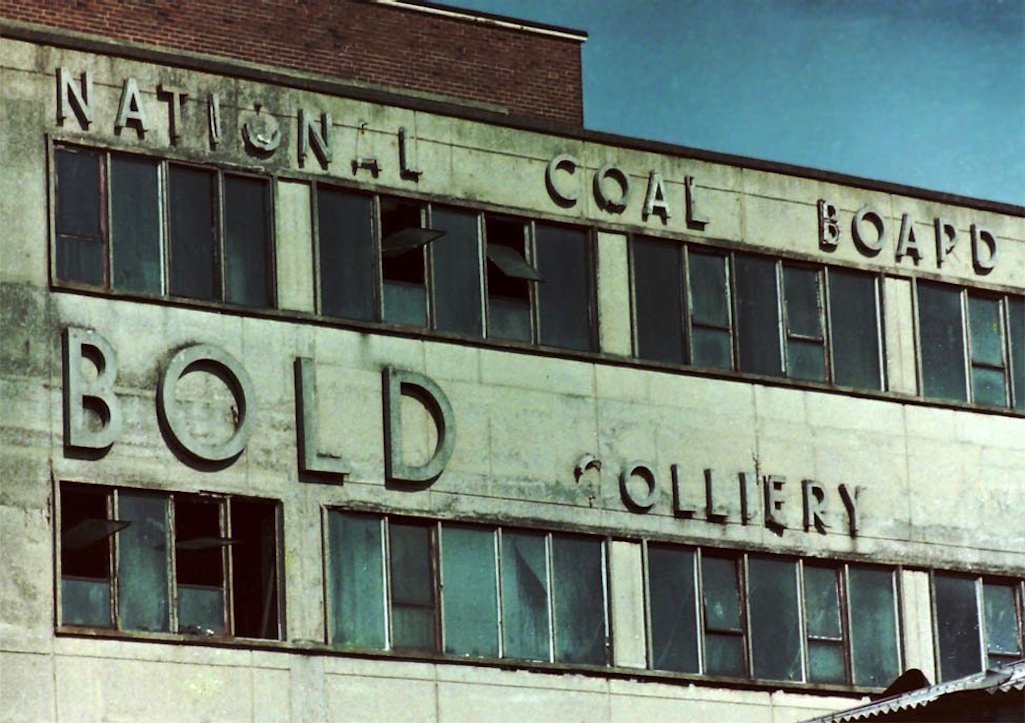 Coaches were then laid on to take workers into the colliery, although a number had their windows smashed by pickets. A report in The Times of September 28th 1984 said that a red snooker ball had broken a window of a coach carrying miners into Bold colliery, slightly injuring one man through flying glass. Then on January 18th 1985, The Times reported that a strike-breaking miner was nearly blinded after a stone struck his coach.

There were a large number of arrests. Two French film-makers
Dominique Masson
and
Anne Marie Poupon
made a one-hour film 'La Dernière Grevè', which sympathetically documented the struggles of the Bold colliery miners and their wives. The film claimed that there were a total of 7000 arrests locally during the strike.
Les Huckfield
, the Labour MEP for Merseyside East, was a prominent campaigner on behalf of Bold miners and in September 1984 he was arrested for obstruction outside Bold power station although he was cleared at St.Helens Magistrates Court.

After ten months despite a drift back to work, 78% of the miners were still striking, although the pit was deteriorating badly. As early as June 5th, the Bold colliery management had declared that most coal faces were "in trouble...We need every man back at the pit".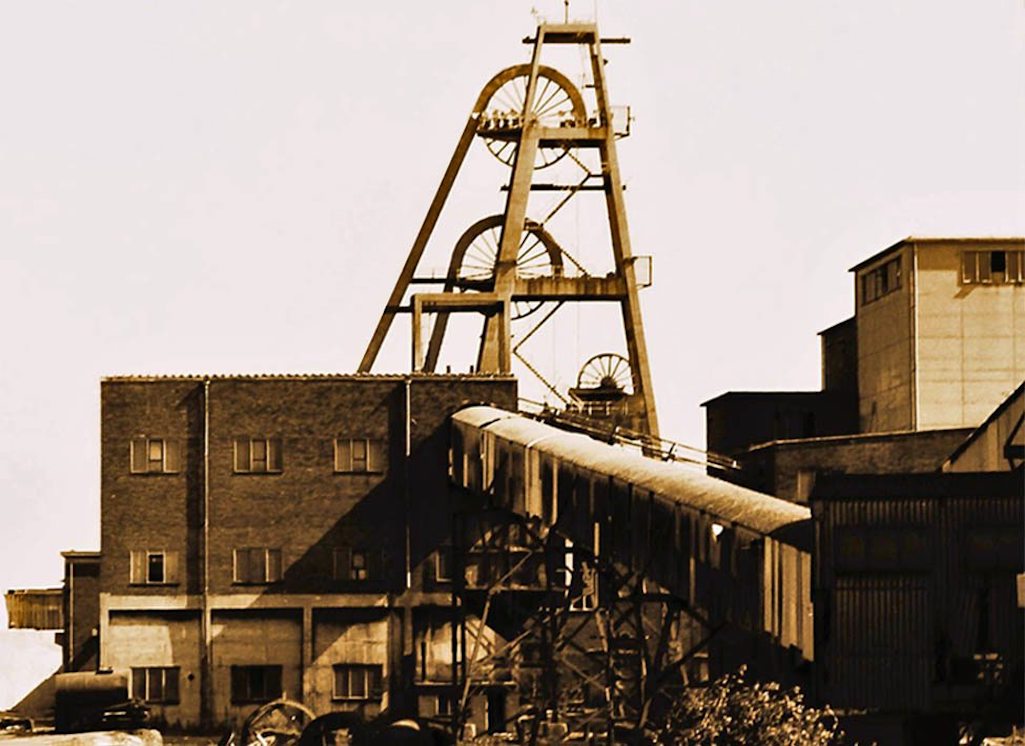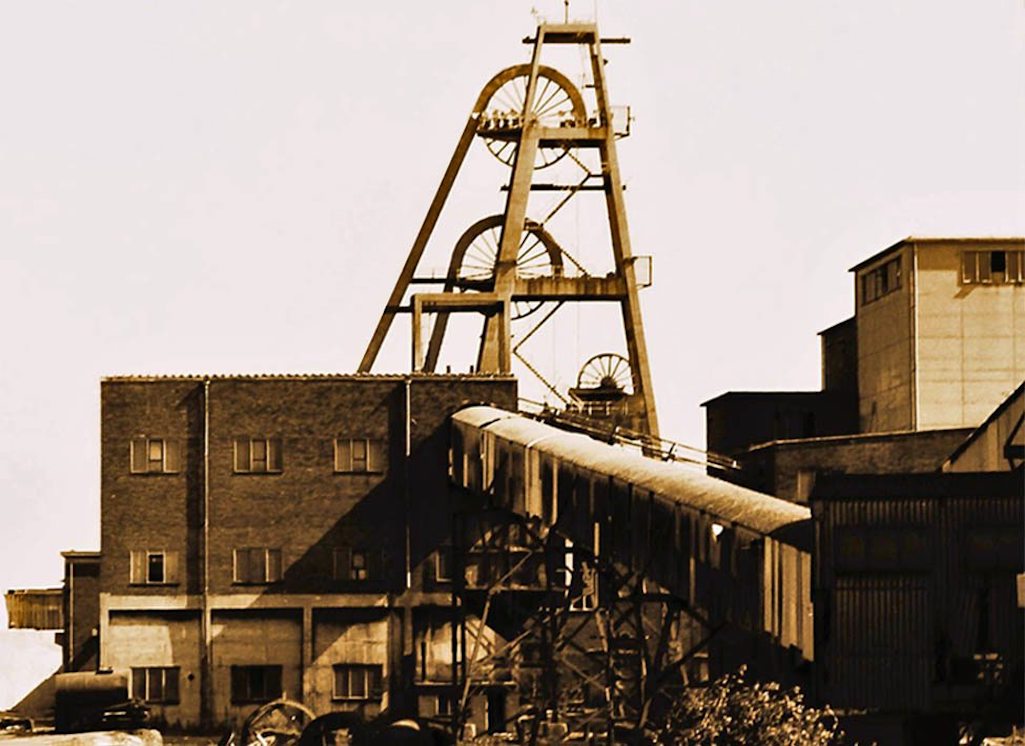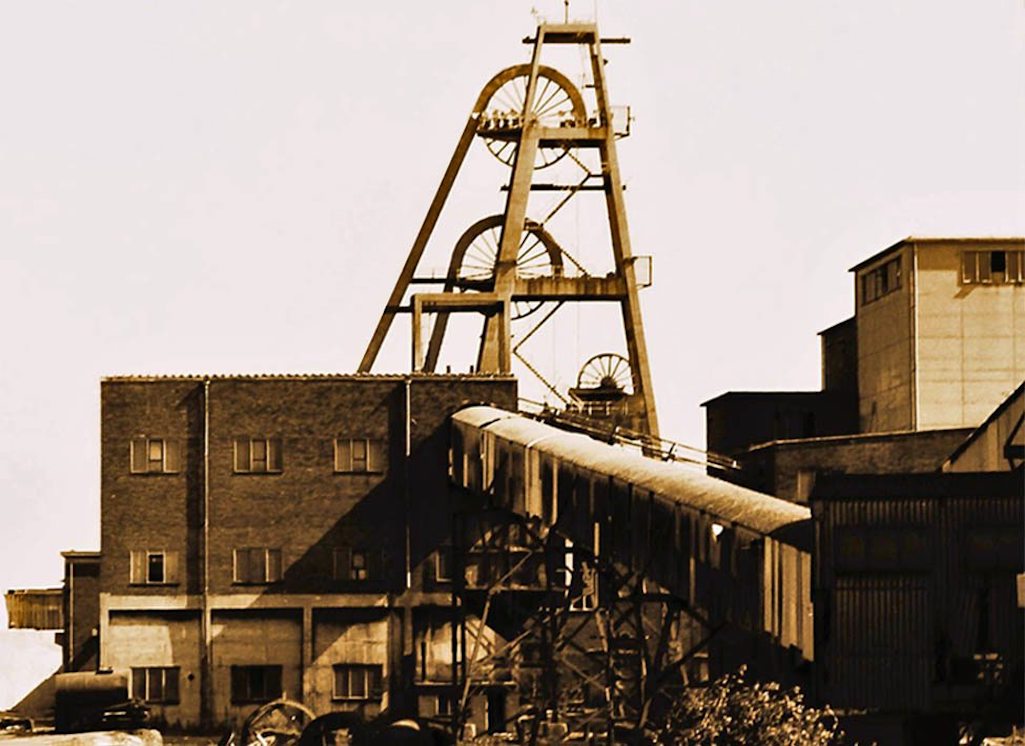 The strike didn't end until March 1985 and in October of that year, the National Coal Board announced that they intended to close Bold colliery by the following March. They claimed that the pit had lost £3 million since the strike and a total of £22 million over three years. The Times of October 14th 1985 reported that the National Union of Mineworkers would fight the closure plans. However, upon discovering that this would not include a ballot on industrial action, the miners held a lightning strike on October 23rd as a protest.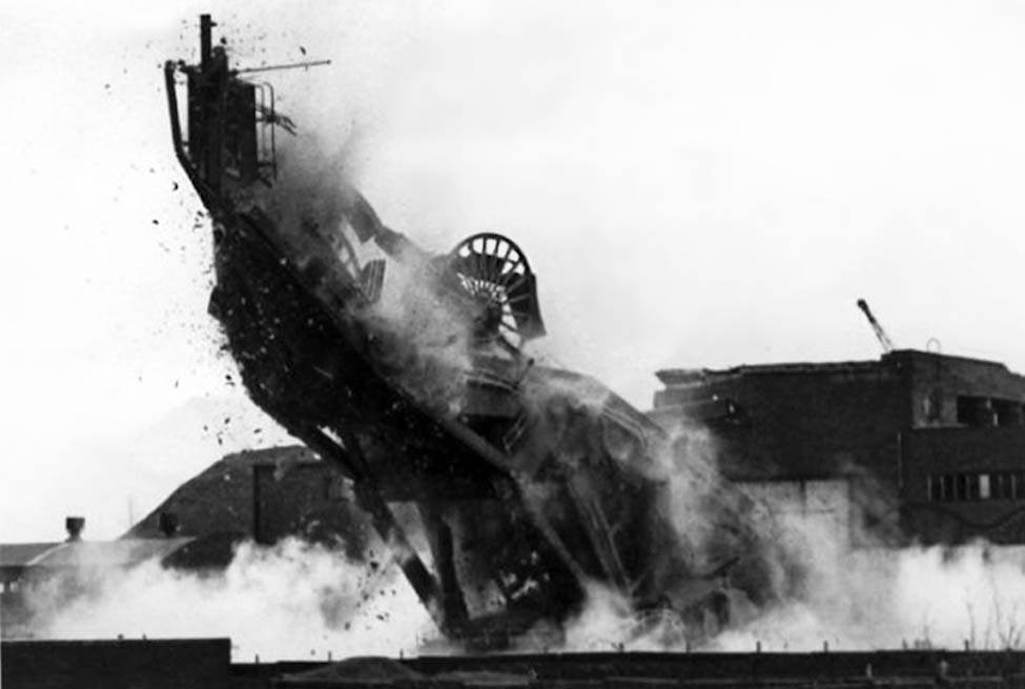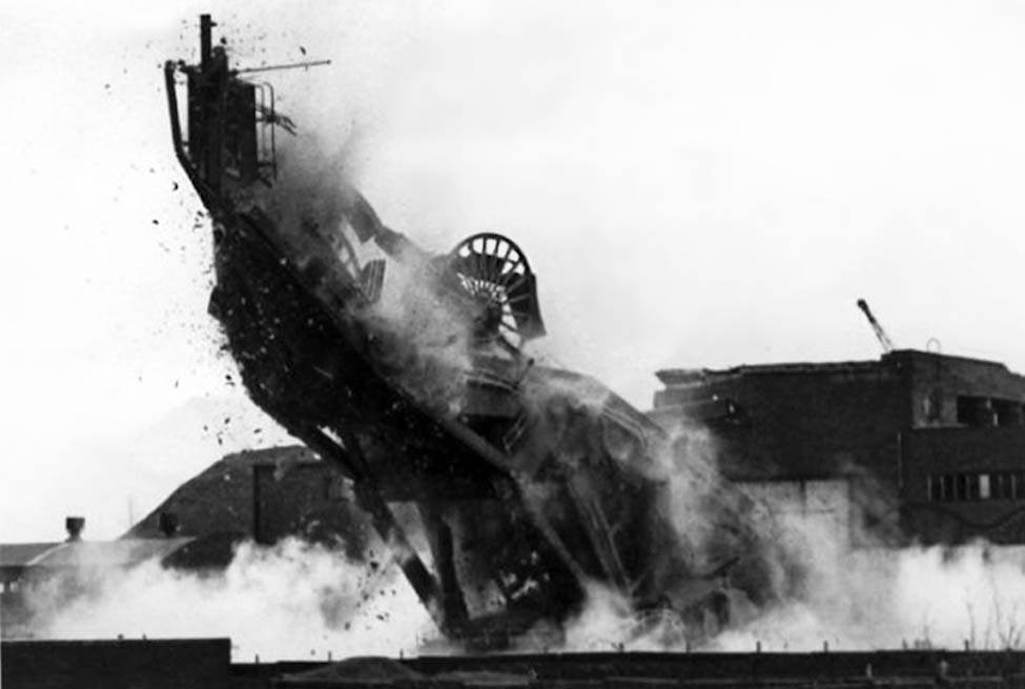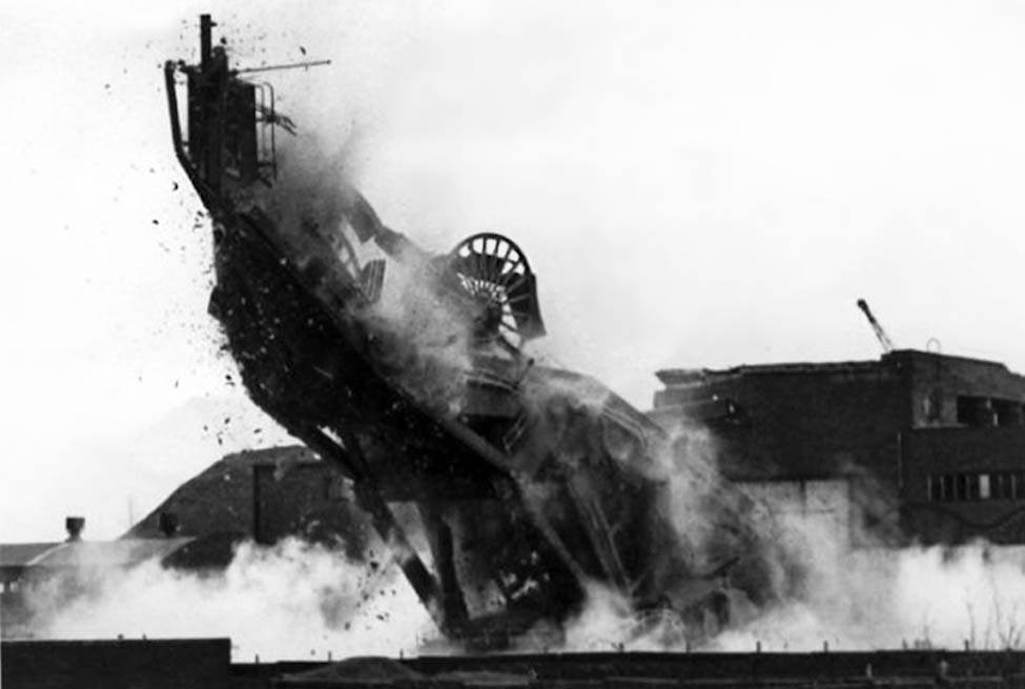 Coal production ceased in November 1985 and the closure led to 811 mineworkers losing their jobs. It's been claimed that 500 supply workers lost theirs too. On March 26th 1987, the reinforced concrete headgear that towered 150 foot over the no. 1 shaft was brought crashing to the ground, following a similar fate that had befallen nos. 2 and 3 headgears. The destruction was televised and shown on regional television.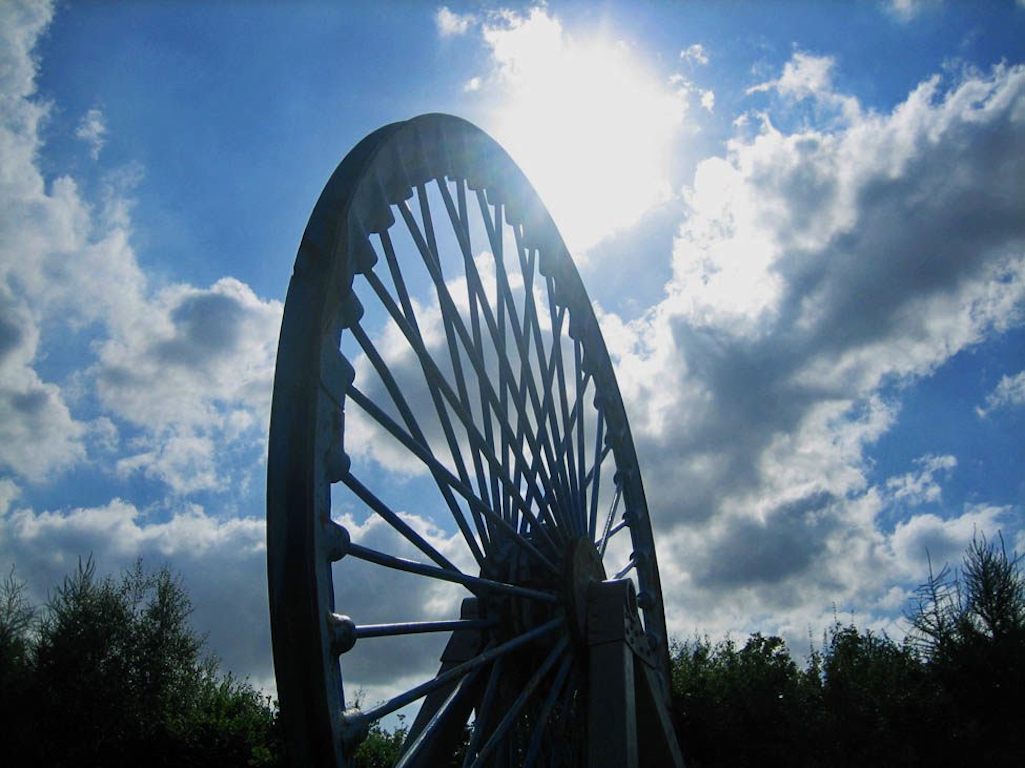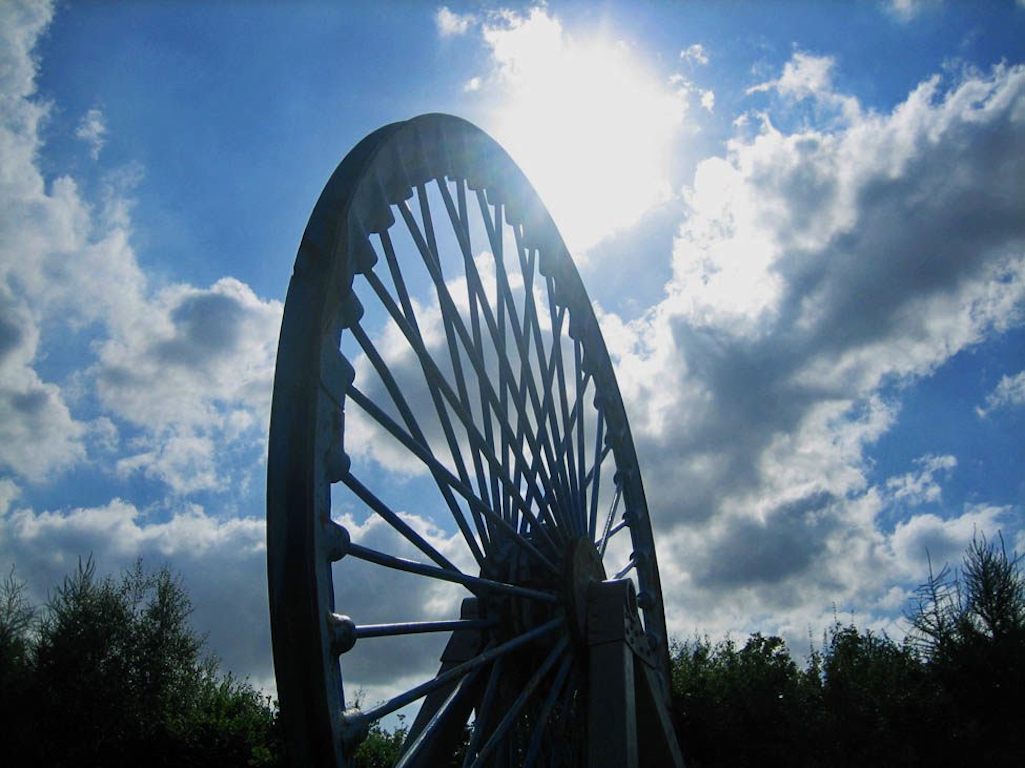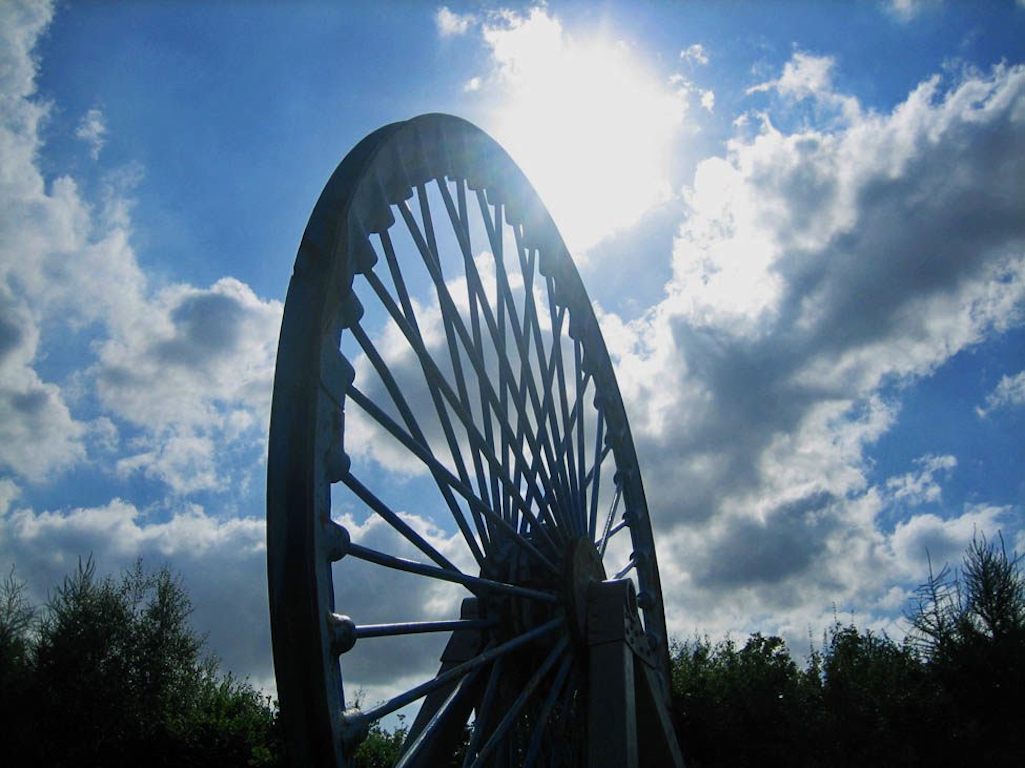 As regards the Bold Colliery site, the Bold Business Centre operates on it owned by a company called Bizspace, who manage a number of business units. These include an old colliery building and within it on the first floor a shower room is still intact. Colliers Moss Common has also been created nearby.
Neil Selfridge
, who has a great interest in the mining history of St.Helens, has contributed the above photograph and writes:
This picture was taken by myself in the summer of last year, when the site was redeveloped as a nature reserve. A pit head wheel was put in place as a reminder of the site's heritage. Apart from the three capped shafts, this is all that is left to show people what the site was.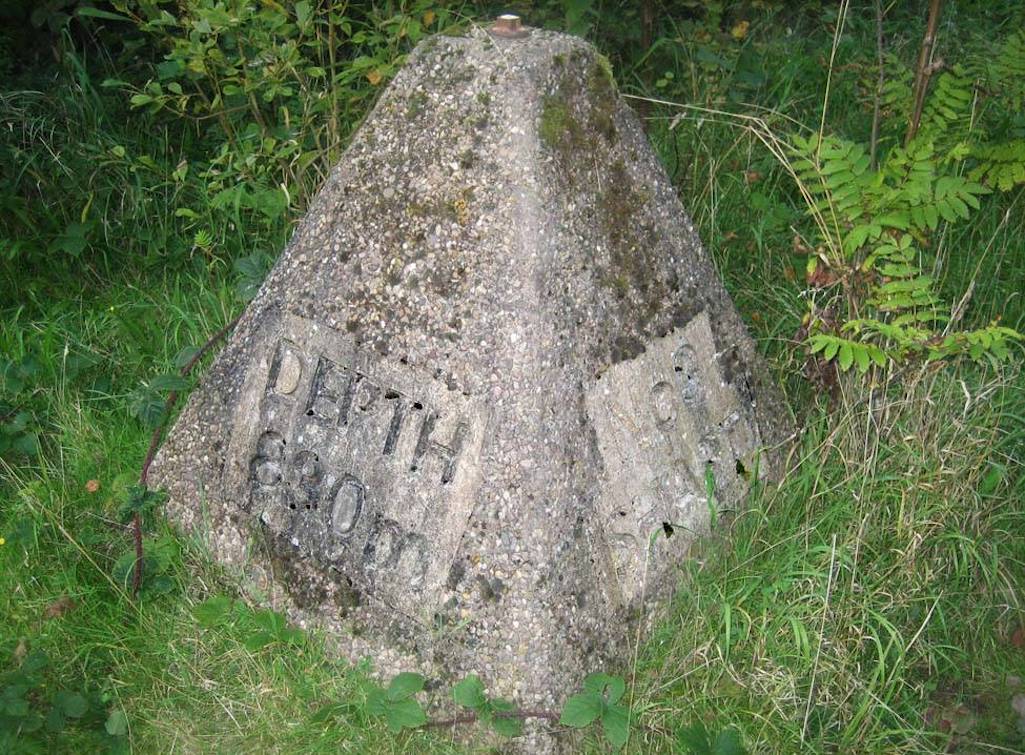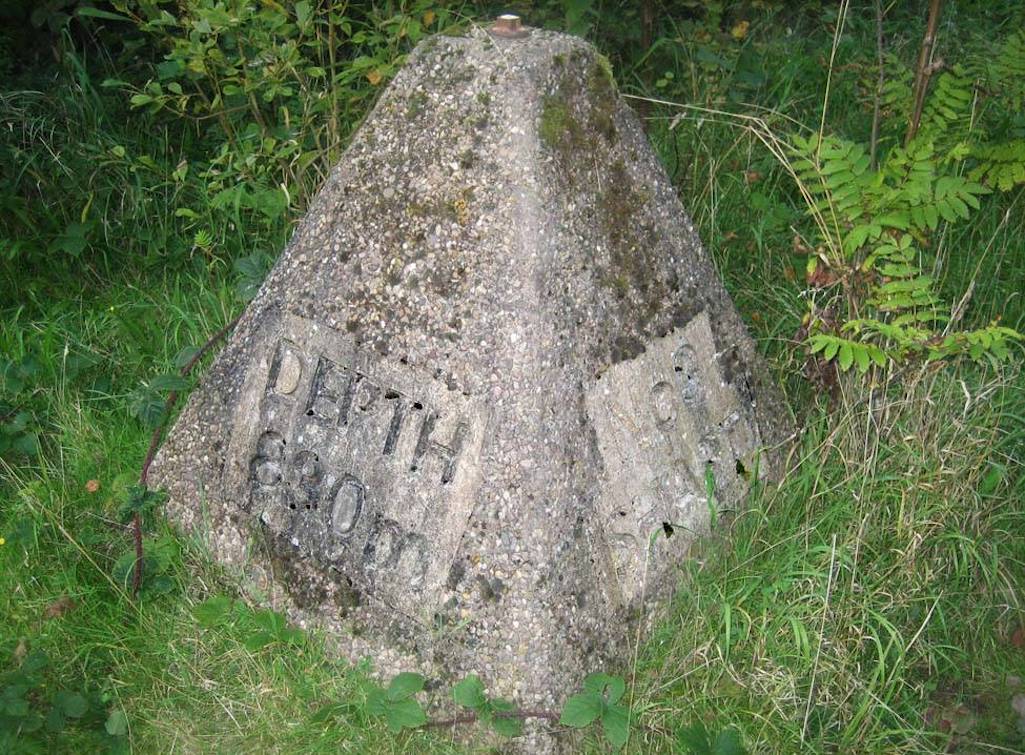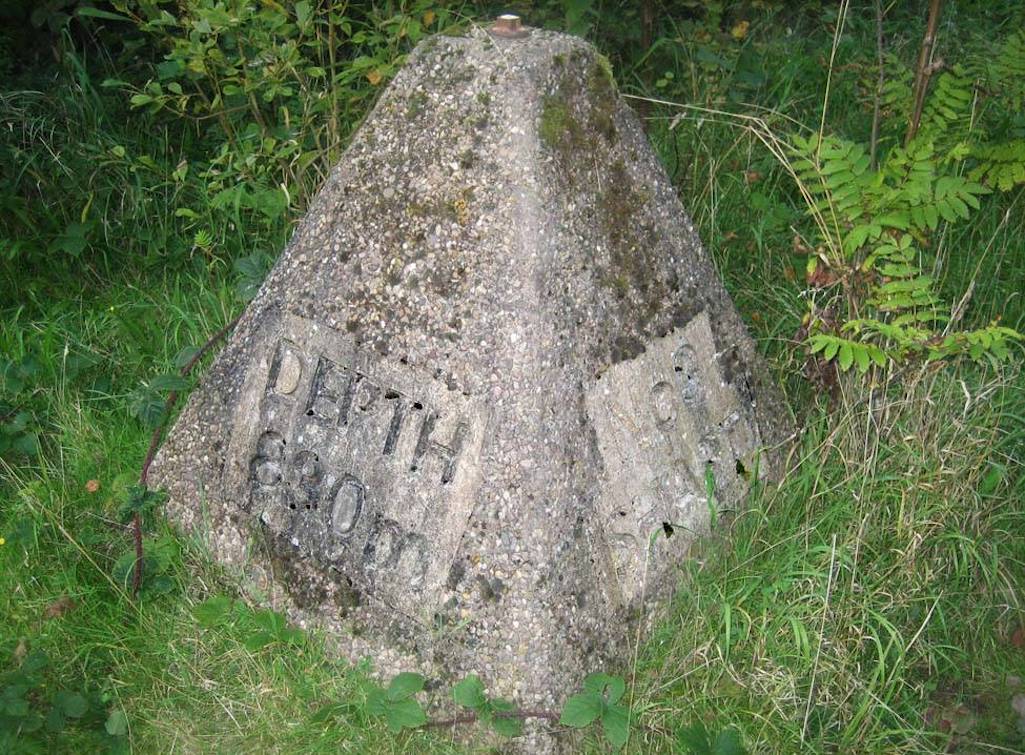 Research Sources: The Bold Colliery research sources include 'Round About The Pits' by Frank Bamber; 'Colliery Scrap Book 1 - Accidents and Incidents in St.Helens Collieries' compiled by Ian Winstanley; Railway Magazine article (April 1983): 'Bold: The End' by Brian Dobbs & Bob Avery; Railway Bylines article (March 2009): 'Bold Colliery' by Tom Heavyside, plus numerous old newspaper articles. Thanks to Steven Oakden for his assistance with the steam locos section and special thanks to former NCB engineer Harry Hickson for his advice on all the mining pages.
Copyright Notice / Factual Accuracy Statement

This website has been written and researched and many images photographed by myself, Stephen Wainwright, the Sutton Beauty & Heritage site owner. Individuals from all over the world have also kindly contributed their own photographs. If you wish to reuse any image, please
contact me
first as permission may be needed from the copyright owner. High resolution versions of many pictures can also be supplied at no charge. Please also contact me if you can provide any further information or photographs concerning Sutton, St.Helens. You might also consider contributing your recollections of Sutton for the series of
Memories
pages. Sutton Beauty & Heritage strives for factual accuracy at all times. Do also get in touch if you believe that there are any errors. I respond quickly to emails and if you haven't had a response within twelve hours, check your junk mail folder or resend your message. Thank you!
SRW