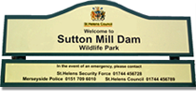 The Sutton Mill Dam in Sutton, St Helens
An Historic 26 Acre Wildlife Nature Park Visited by Prince Charles
The Sutton Mill Dam in St. Helens
An Historic 26 Acre Wildlife Nature Park
The Sutton Mill Dam
26 Acre Wildlife Nature Park
The Sutton Mill Dam
in Sutton, St.Helens
is a 26 acre wildlife nature park with its own lake, which measures 360 metres in length, situated between Clock Face Road, Leach Lane and Mill Lane. The lake is formed from the Pendlebury Brook which enters Sutton Mill Dam after flowing under Clock Face Road. The water exits the Mill Dam as the
Sutton Brook
(some old maps call it Sutton Mill Brook) via an impressive waterfall over a dozen stone steps and then navigates by the Wheatsheaf pub before flowing underneath Mill Lane as it journeys into St.Helens town centre and the St.Helens Canal.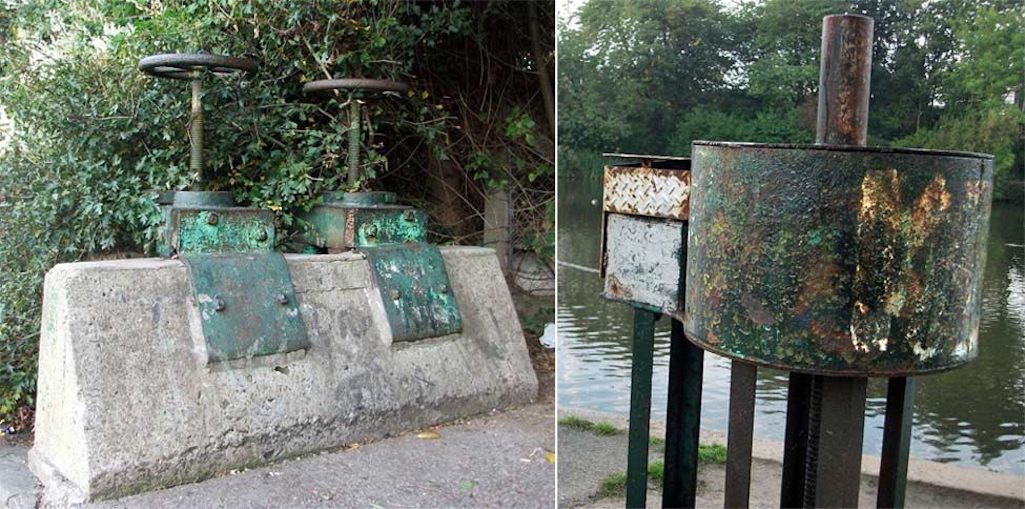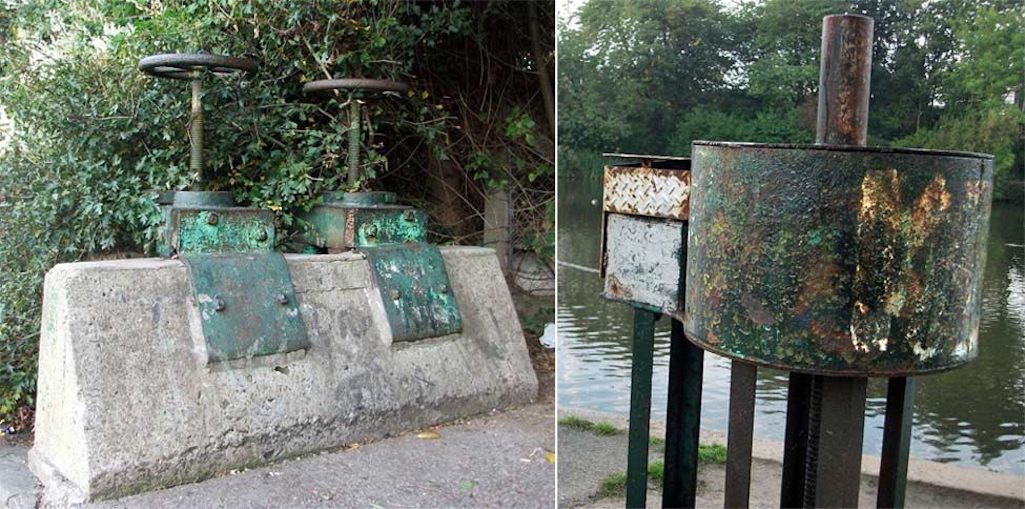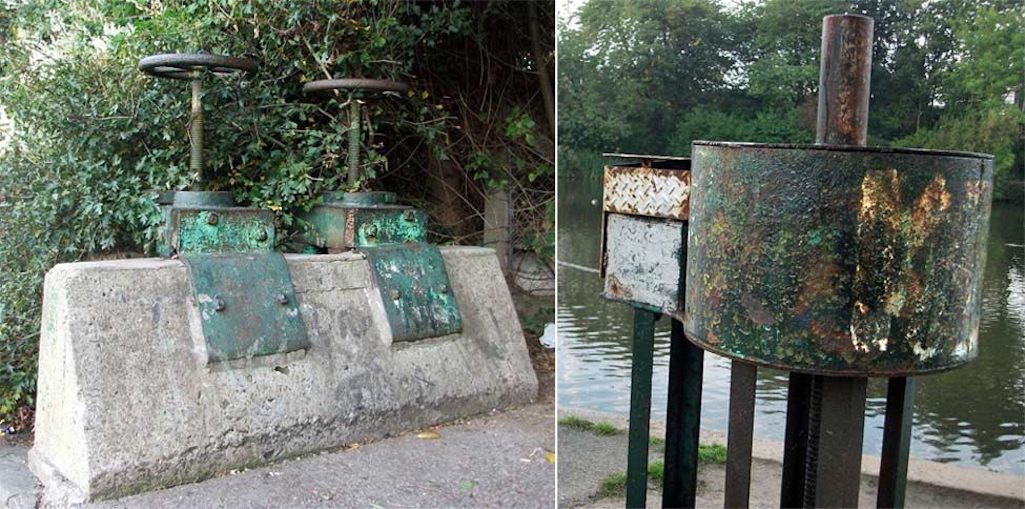 People often ask of the derivation of 'Mill' in Sutton Mill Dam and Mill Lane and enquire whether there was a mill factory. In fact the waters were used for the milling of corn via a water mill in Mill Brow. Locally the mill was known as 'Lamb's', after the miller family that ran it and the area around the waterfall was referred to as the 'Wash' (see '
The Story of Sutton Mill
' for full history).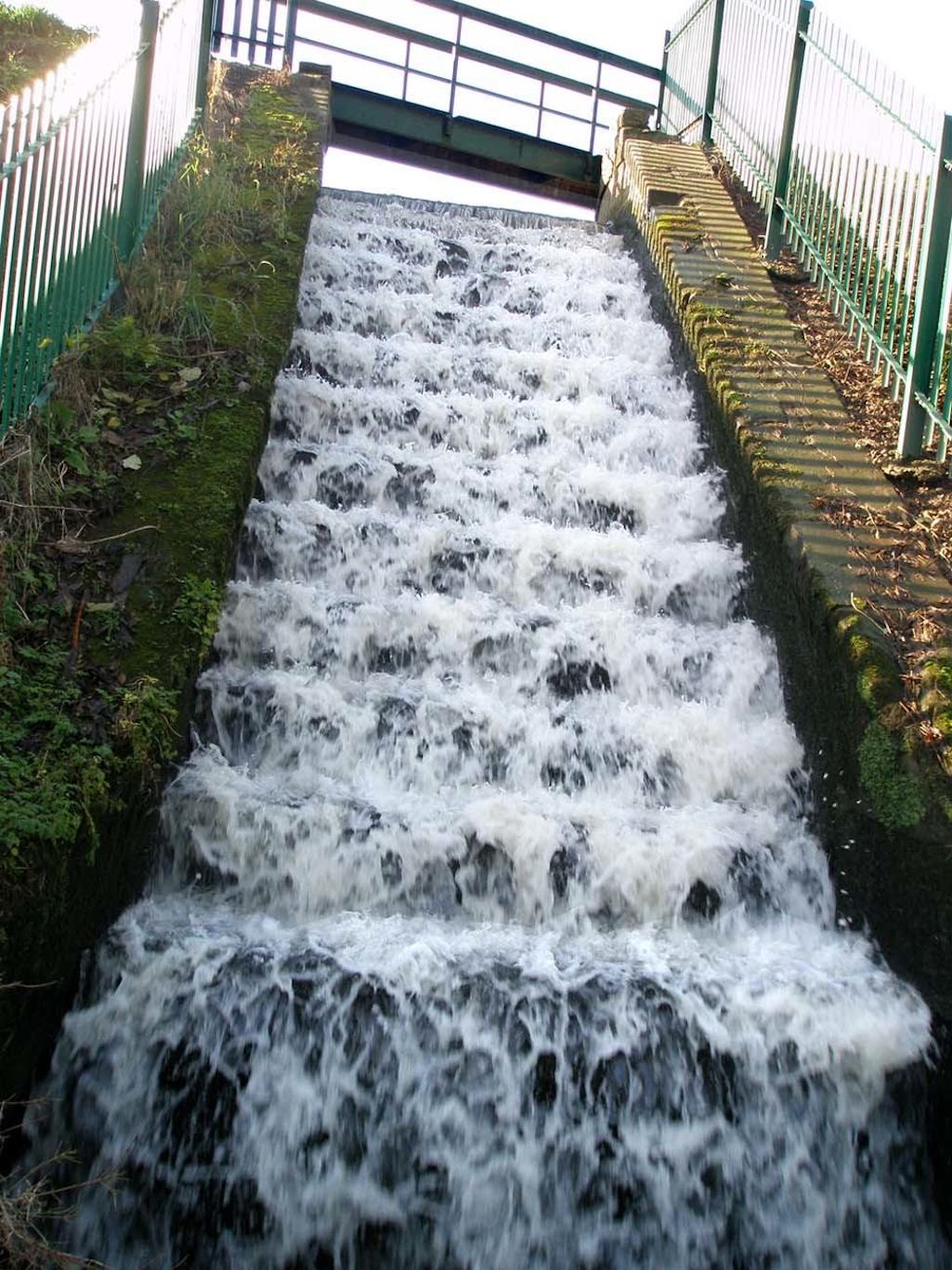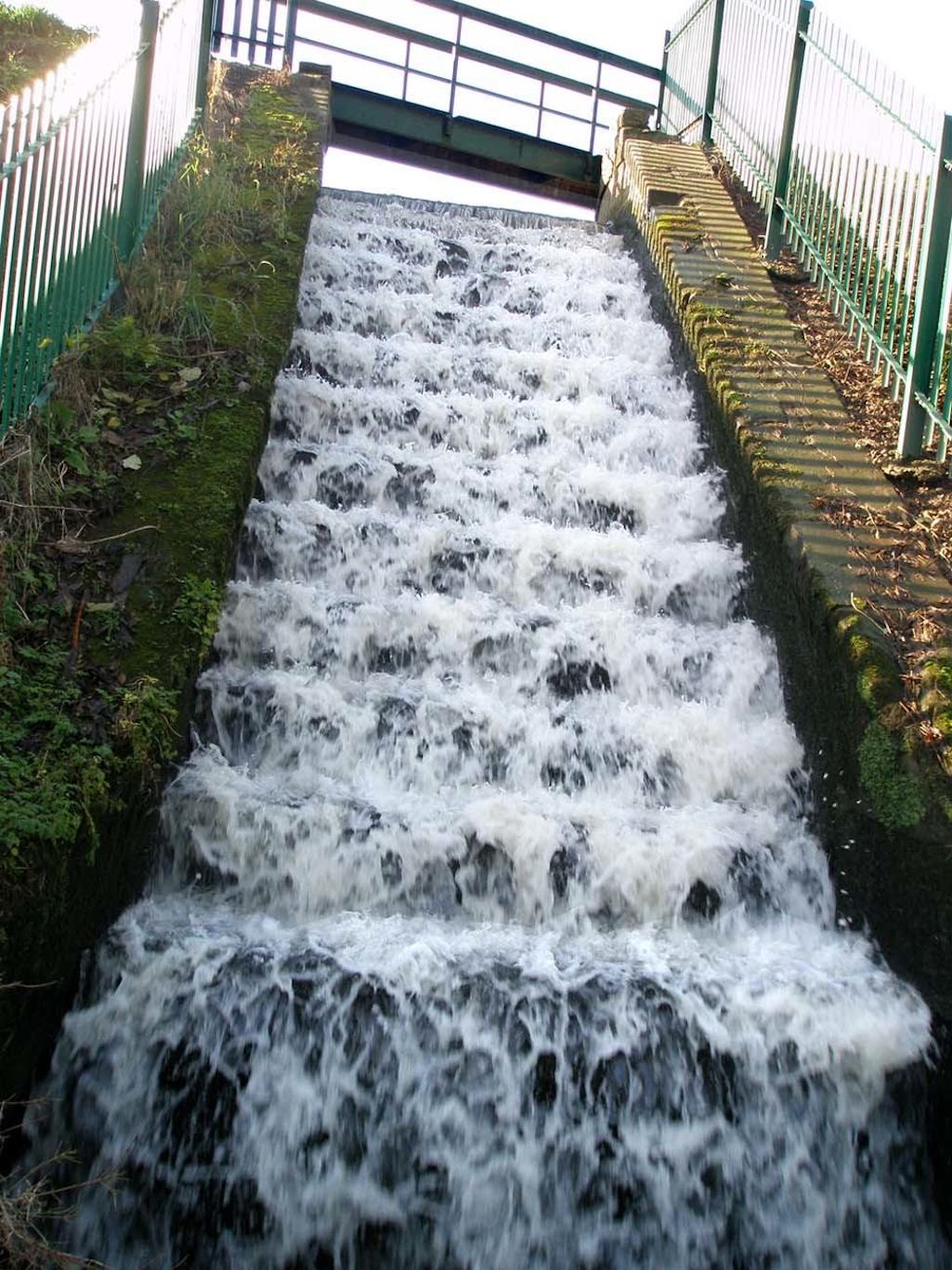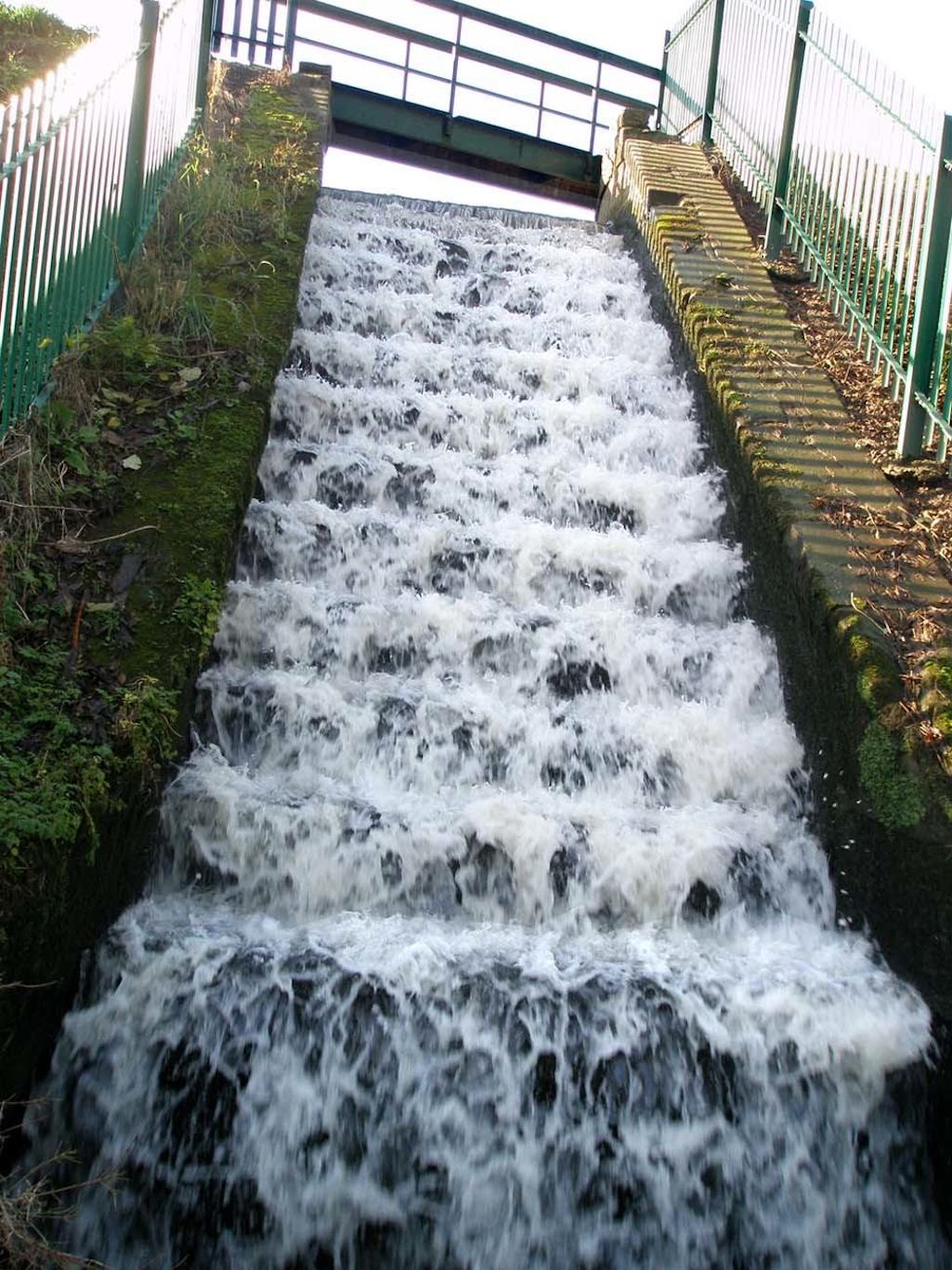 For many years a visit to the Wash was a great attraction for many Sutton families as Frank Bamber describes in his memoirs, 'Clog Clatters of Old Sutton':
The word Wash meant a lot to us small children. It spelled out picnics during the hot summer days especially at weekends and holiday times. The Wash was the name [that] the waterfall and the old water mill was known by, to countless Sutton children. Lads and Lasses pushing trolleys and go chairs containing toddlers and babies. And packed in the trolleys were bottles of water and sometimes (if you were one of the lucky ones) a couple of pop bottles...and also the jam and treacle butties all to be enjoyed when this haven of delight was reached.
These days few will consider having a picnic at the Mill Dam. However, despite the old mill having long been demolished, the waterfall remains and is especially impressive during the winter months when the waters are at a higher level than normal.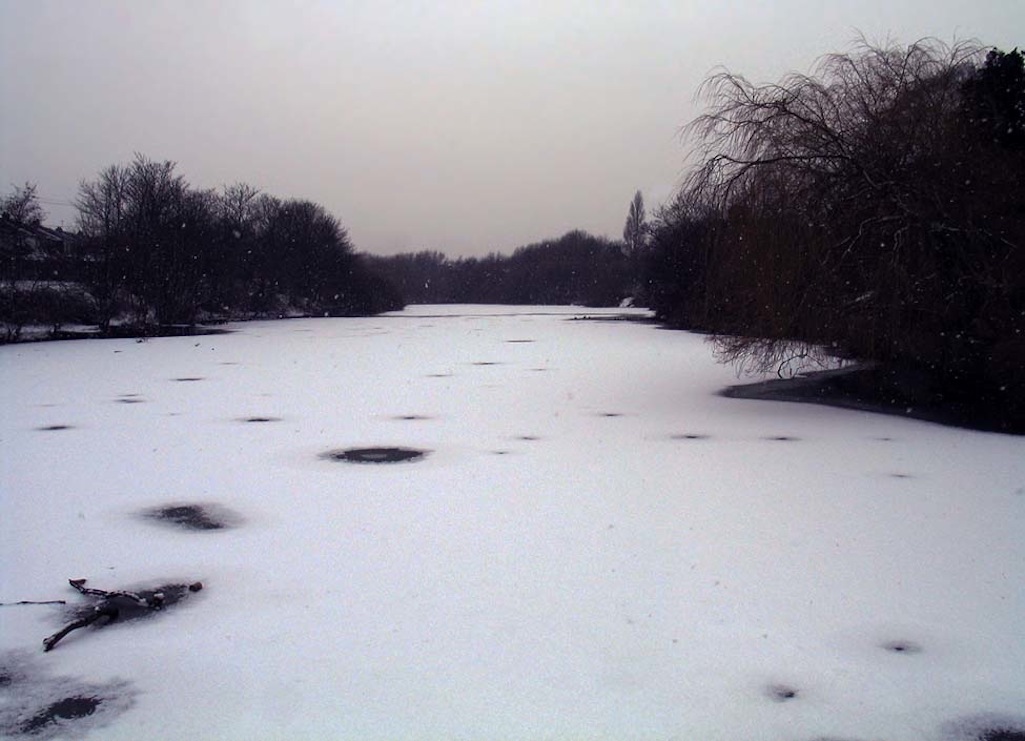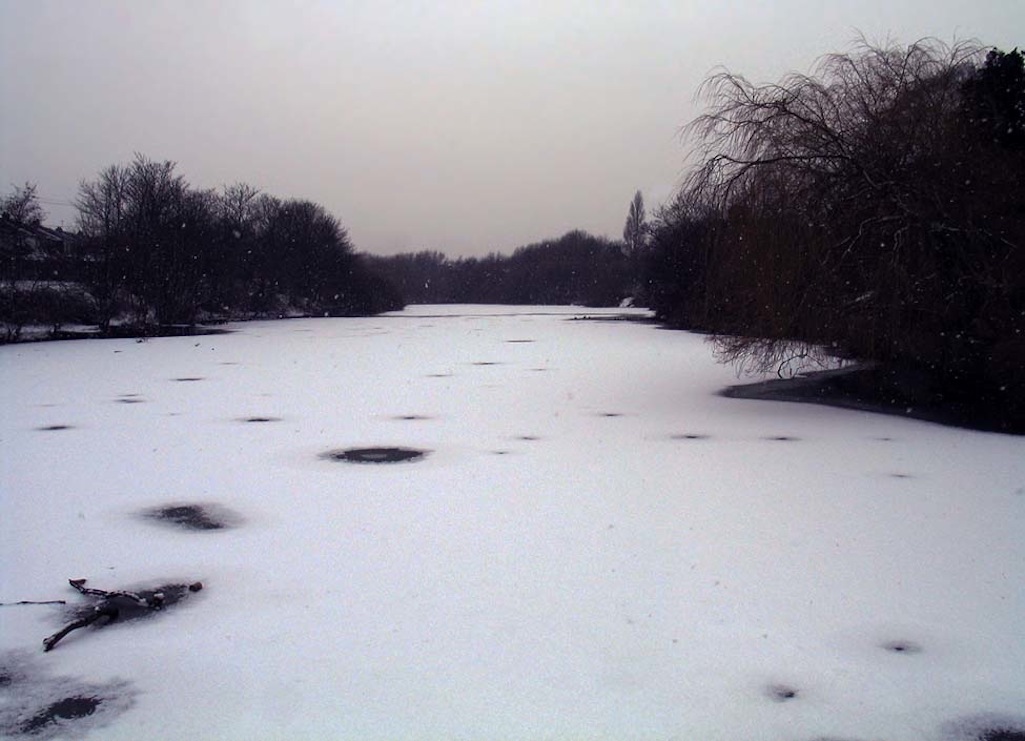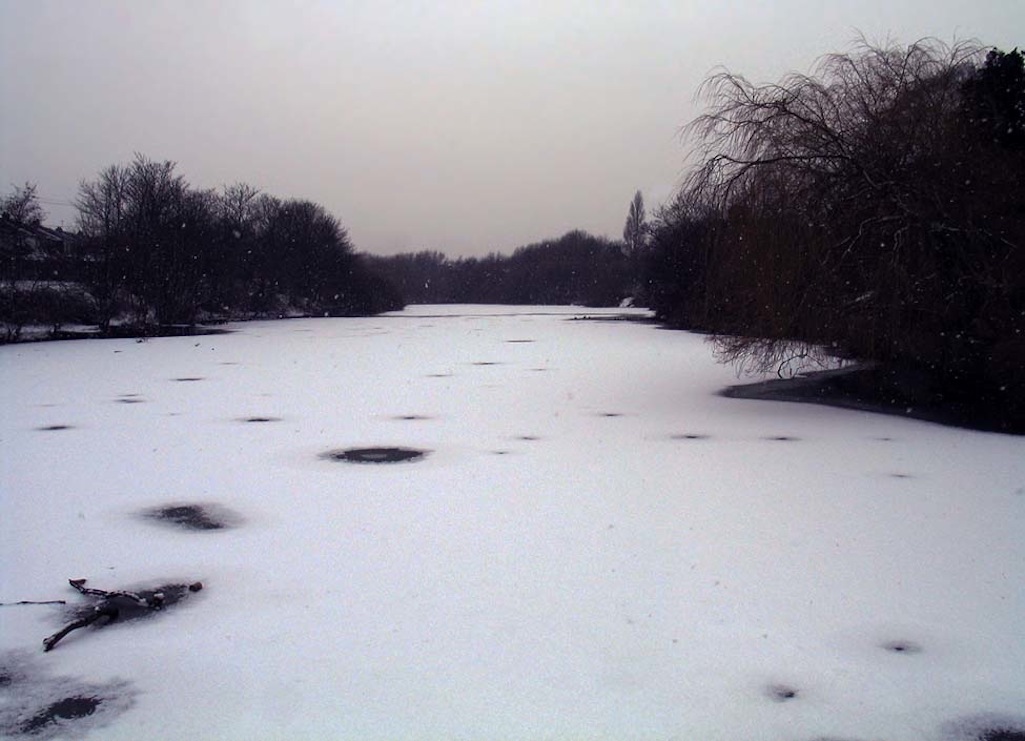 The recent history of the Mill Dam dates back to 1976 when then owners British Sidac applied for permission to fill it with industrial waste. Concerned local residents formed the
Sutton Mill Dam Action
Group
to protest against the plans. As a result of the local community's campaign, the waste storage proposals were rejected, St.Helens Council acquired the site and commissioned Operation Groundwork (which became the Groundwork Trust) to redevelop the site. East Sutton Angling Club also did a lot of good work to keep the Dam clean and the fishermen installed many fishing 'pegs' or platforms.


It was decided at the outset that natural recovery would be encouraged as opposed to artificial landscaping and the success of the project was recognised on May 24th 1988 when
HRH Prince Charles
visited Sutton Mill Dam to the delight of a crowd of 200 onlookers.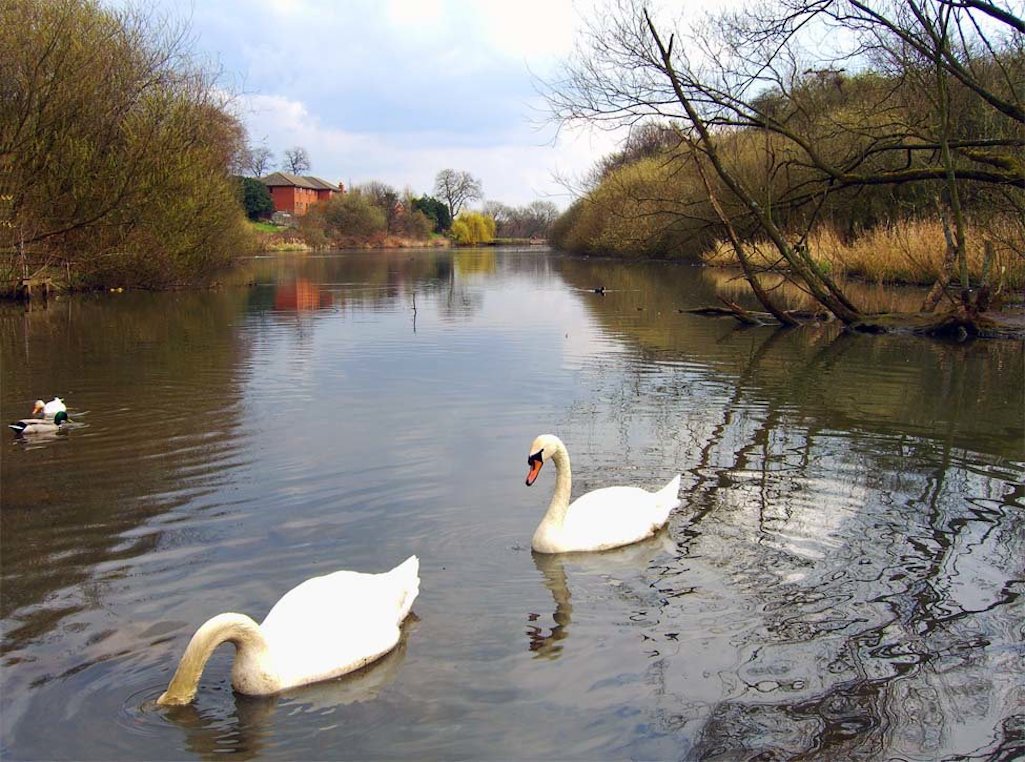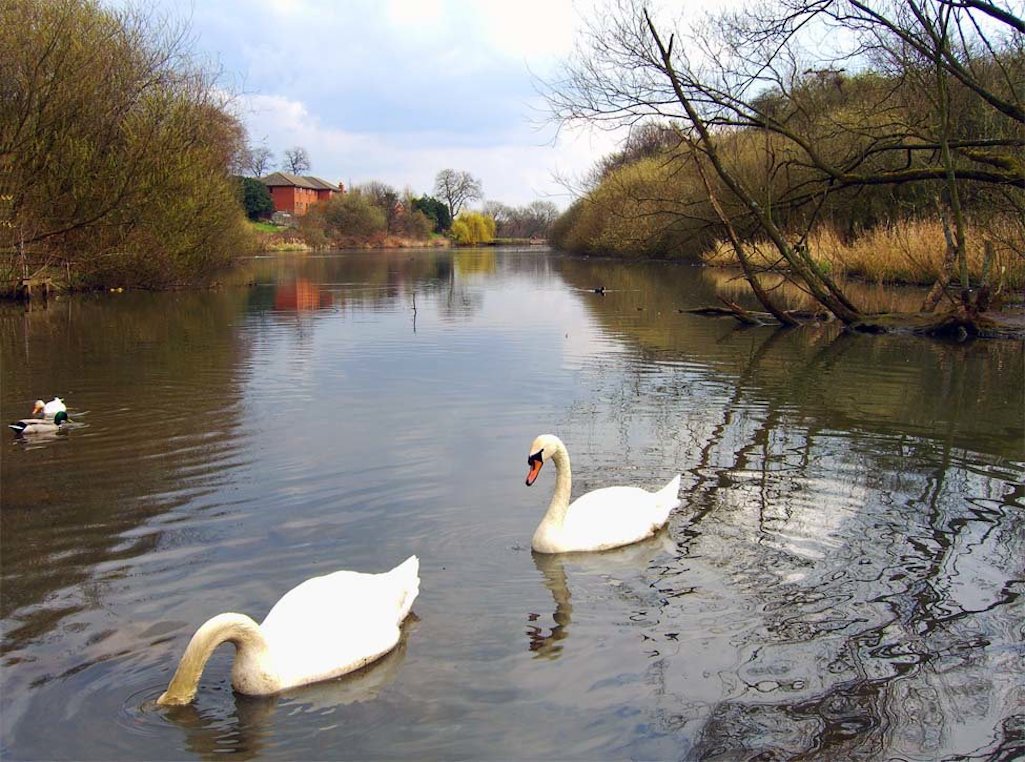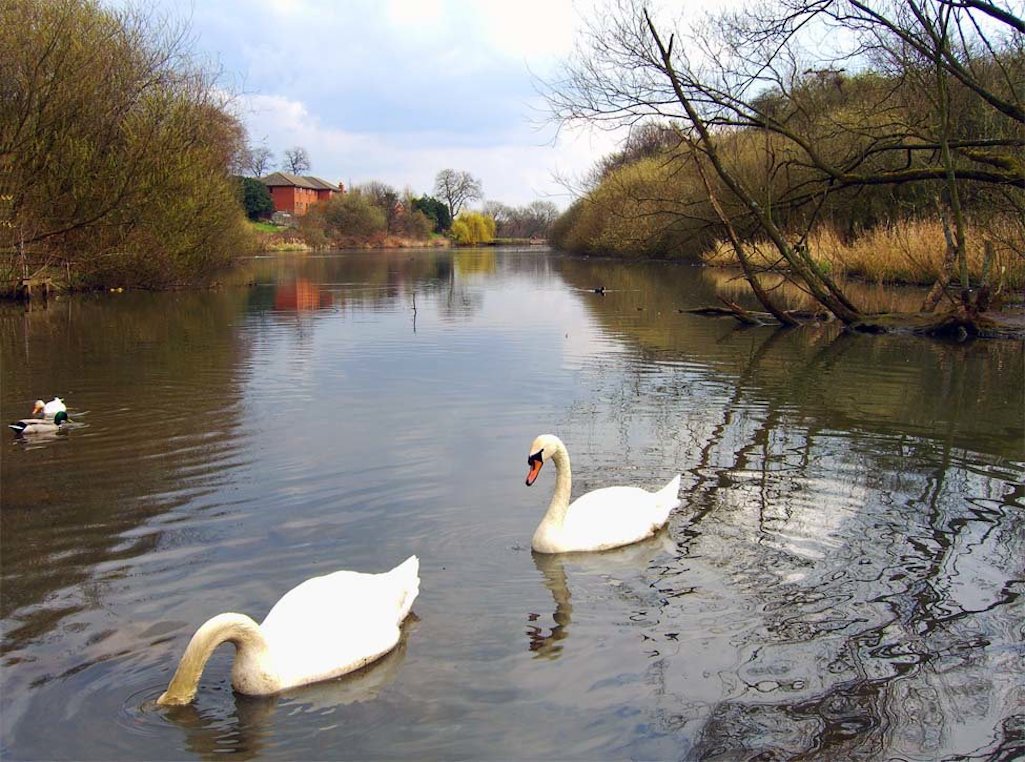 Like the lake in
Sherdley Park
, the Mill Dam usually has a pair of mute swans in residence as well as grey herons and great crested grebes. If you're lucky you might witness one of the swans flying the whole length of the Dam with its wings making a loud, throbbing
'
waou waou' sound. This is often as part of a coordinated movement with other birds and is quite a spectacle!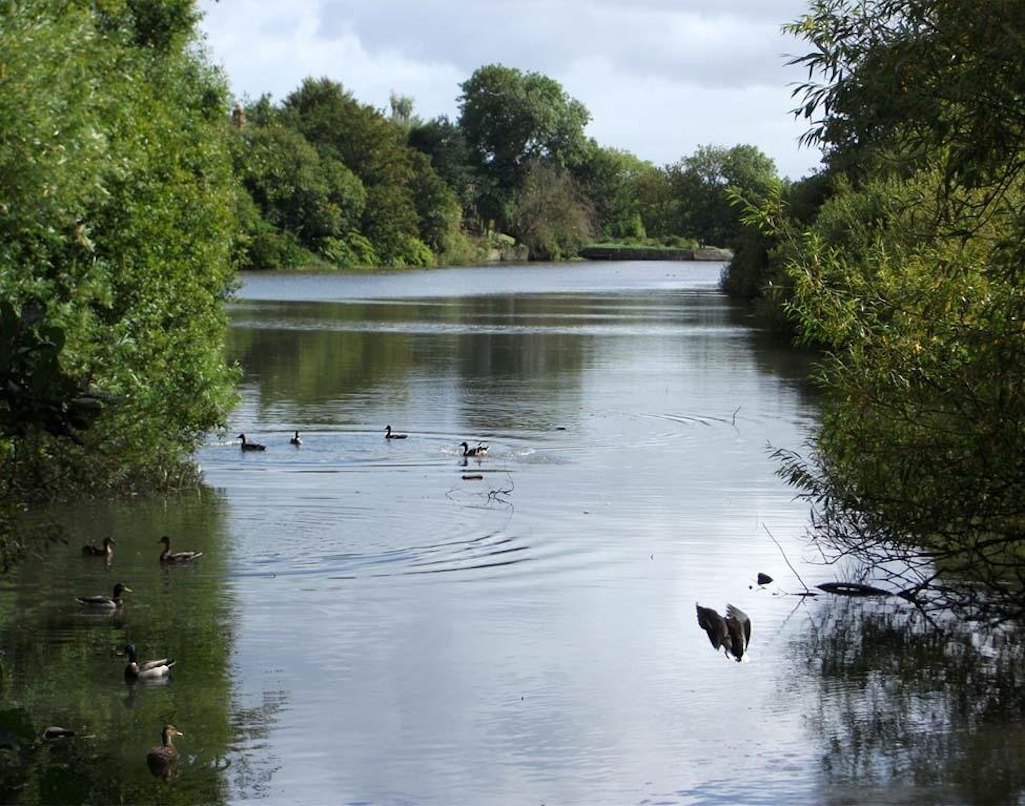 The grey herons stand motionless on the banks of the water or in the trees, stalking their food, which is usually fish or young wildfowl. The herons quickly fly away, however, when people approach. In 2006 there was a family of three to be observed. One local reported that he'd once seen a heron swoop on an unsuspecting young moorhen and carry it off in its beak!



A pair of
great crested grebes, one of the more elegant waterbirds, have been on the Mill Dam for a few years now. Visitors often witness their elaborate courtship display in which they rise out of the water and shake their heads at one another. The grebes initially carry their new-born on their backs as the mute swans do with their young cygnets. Mum and Dad grebe can regularly be observed diving into the waters of the Sutton Mill Dam for fish for their babes. Their young's stripey head and neck does give them a certain pyjama look, or is it toothpaste! Totally bald they've yet to grow their distinctive ornate head plumes which in the past have been a great attraction for hunters and which almost led to the great crested grebes becoming extinct.

At the west side of the Dam, beyond the foot bridge, there is a marshy area containing willow scrub and alder trees. Reed bunting birds can sometimes be seen here.
As well as mute swans, herons and grebes, mallards, coots, moorhens and Canada geese are often on the water. Whooper swans visited in 2005 before being chased off by their mute cousins! Winter birds that can sometimes be spotted include Kingfishers, Grey Wagtails and Water Rails. Summer birds include House Martins and Swallows.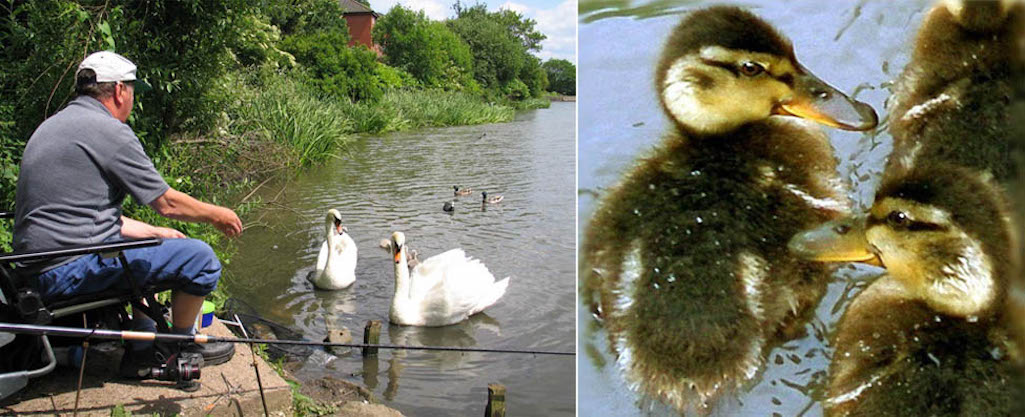 Sutton Mill Dam is one of the most popular angling locations in St Helens containing roach, bream, gudgeon and carp. Although thousands of fish were lost some years ago as a result of a fire at a chemicals firm on Lea Green Industrial Estate, stocks have been replenished. East Sutton Angling Club used to hold the rights to fishing in the waters but these were transferred to Newton-Le-Willows Anglers Association early in 2014. East Sutton Angling Club did much to improve the waters and hosted summer contests for young anglers.
For a number of years the site was allowed to deteriorate with reports of youths armed with air guns shooting ducks, swans' eggs being stolen, fishing pegs vandalised and large amounts of rubbish dumped. The railings at the west end were removed by a man assisted by his own children, who when challenged by a concerned local said he needed them to build a garden swing for his kids!
There were four letters of complaint about Sutton Mill Dam made in the St.Helens Star newspaper during 2007. One person wrote: "I went for a walk around Mill Dam in Sutton the other day and I can honestly say that I would rather have walked in a sewer. The place is a disgrace." A second complainant said: "Over the last 5 years, Sutton Mill Dam has gone from a place to be proud of to a place that is anything but."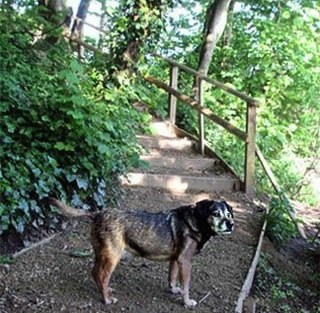 However, there has since been considerable remedial work to restore the site, financed by Sutton Ward Commitee's Environmental Fund and the Woodland Trust. A large-scale tree pruning exercise has taken place, the damaged fishing pegs have been repaired, footpaths resurfaced and steps and fencing have been rebuilt. The pruning has allowed more sunlight to enter the area which helps to keep it dry and walkable and visitors now feel safer.

It would, however, be an exaggeration to describe the Mill Dam as a haven of wildlife activity. It can seem quite deserted at times and the regular dumping of rubbish and vandalism can give it a desolate, uncared for look. At other times it can be quite a fascinating and beautiful place, especially during late spring.

Spring is also a time for the mallards to breed with nine or ten ducklings sometimes in a single brood that roam the waters for food and the fluffy cygnets are absolutely gorgeous. Squirrels and foxes inhabit the woodland that surrounds the lake and the paths that connect the Dam to Clock Face Road and Mill Lane make for a pleasant walk. There is enormous community affection for Sutton Mill Dam. The historic 26 acre site was created as a wildlife nature park as a result of community action and it remains an important part of Sutton life.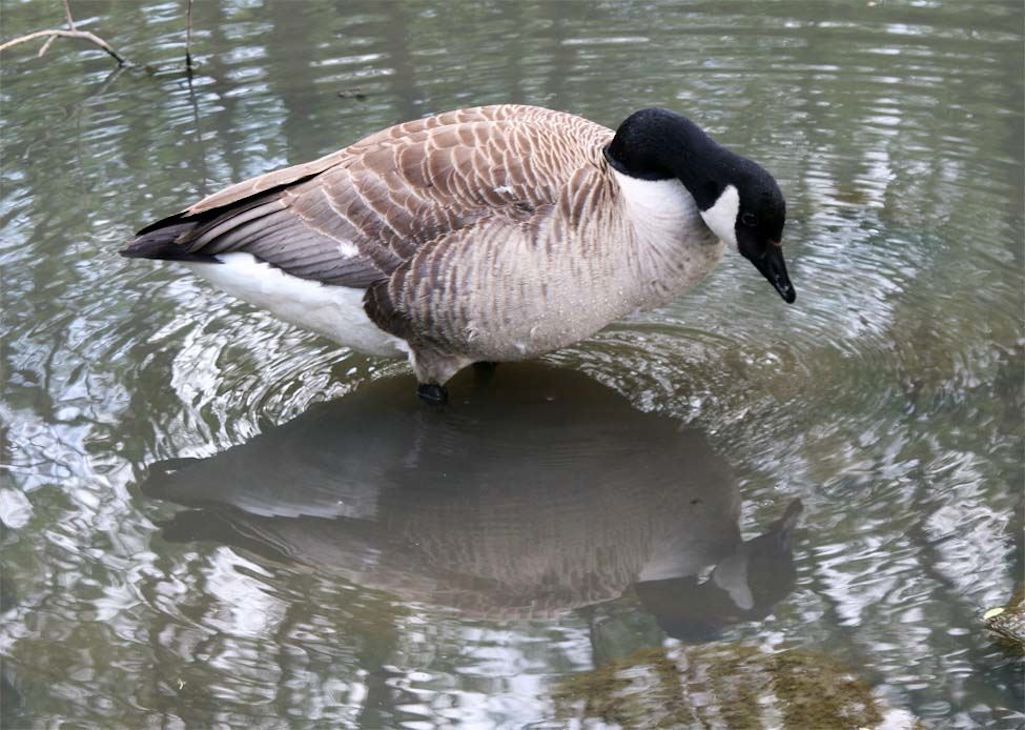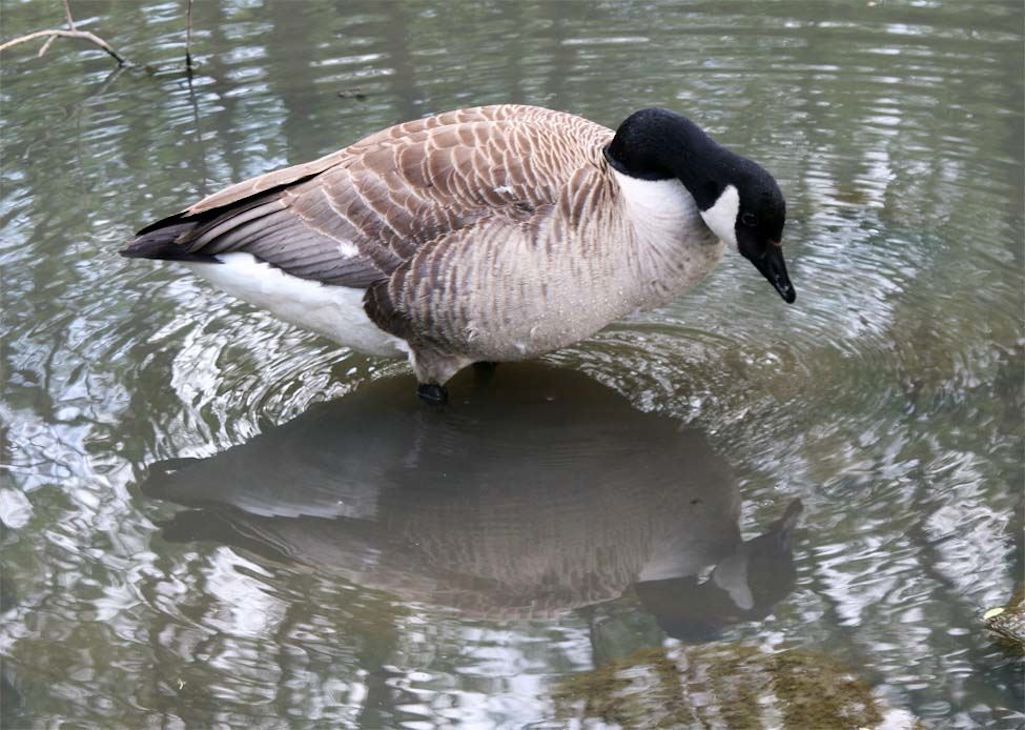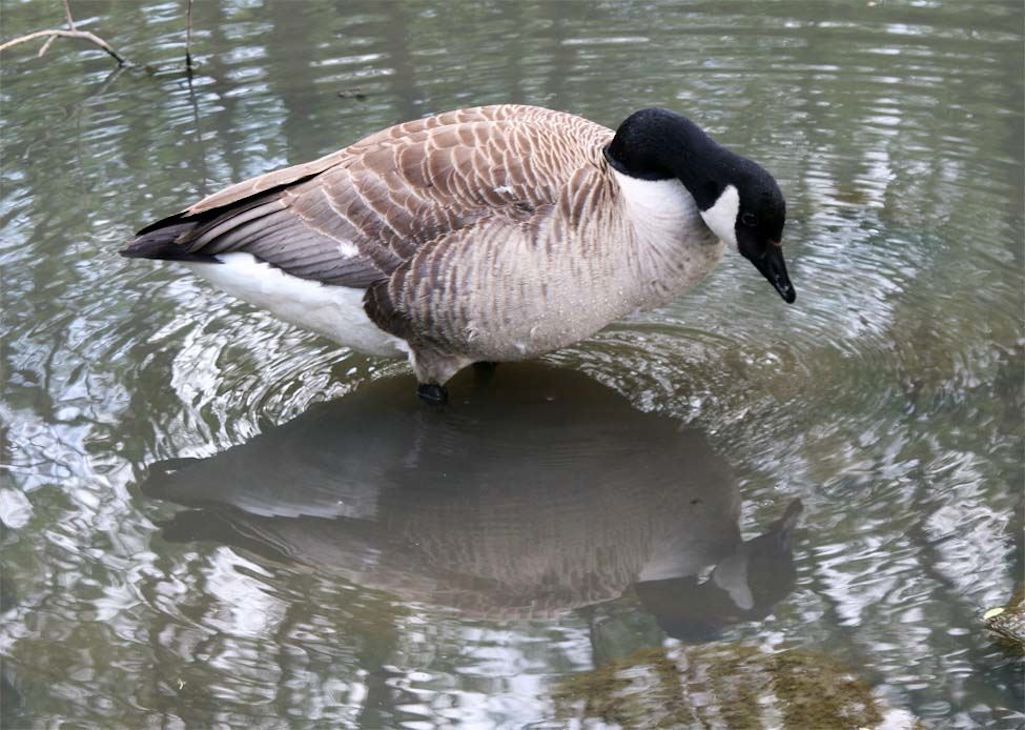 More On This Website About Sutton Mill Dam: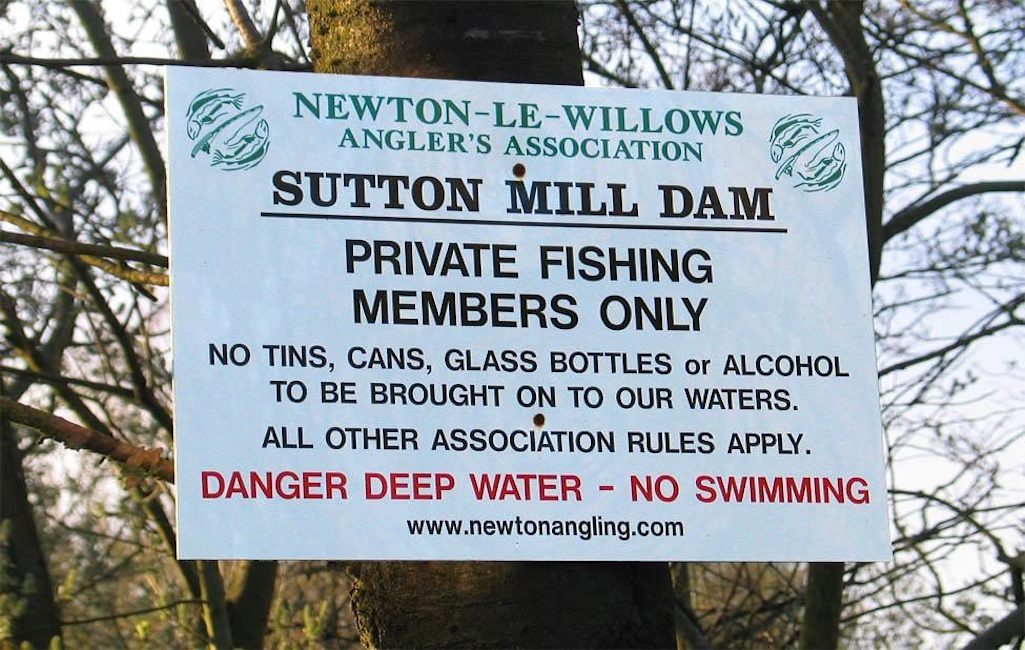 Fishing Details:
Newton-Le-Willows Anglers Association hold the exclusive fishing rights for both the Mill Dam and Monastery Dam off Gerards Lane. For details of membership click
here
. Day tickets are not available for either site. Tel.
01925 229074
or email
newtonanglers@hotmail.co.uk
if you have any queries.
Copyright Notice / Factual Accuracy Statement

This website has been written and researched and many images photographed by myself, Stephen Wainwright, the Sutton Beauty & Heritage site owner. Individuals from all over the world have also kindly contributed their own photographs. If you wish to reuse any image, please
contact me
first as permission may be needed from the copyright owner. High resolution versions of many pictures can also be supplied at no charge. Please also contact me if you can provide any further information or photographs concerning Sutton, St.Helens. You might also consider contributing your recollections of Sutton for the series of
Memories
pages. Sutton Beauty & Heritage strives for factual accuracy at all times. Do also get in touch if you believe that there are any errors. I respond quickly to emails and if you haven't had a response within twelve hours, check your junk mail folder or resend your message. Thank you!
SRW