An Illustrated History of Old Sutton in St. Helens, Lancashire
Part 17 (of 92 parts) - From Robins Lane to Sutton Academy Part 4 (1990-99)
An Illustrated History of Old Sutton in St.Helens
Part 17 (of 92) - Sutton High School Part 2
A 5-part history of Robins Lane Schools & Sutton High
An Illustrated History of
Old Sutton in St.Helens
Sutton High Part 2
A 5-part history of Robins Lane Schools and Sutton High
There was more sporting success on June 23rd 1990 when the under 13 gymnasts won the National Championships at Crystal Palace. The winning team comprised
Lyndsey O'Neill
,
Nicola Mee
and twins
Maureen
and
Sarah Padmore
. In September 1990 the
Sutton Community High School Music Centre
opened its doors for Saturday practice and tuition. Although based at the school, the Music Department's facilities and tutors were available to all. Within months it had 250 young musicians attending, some as young as six years old, who comprised 14 groups. Writing in the St.Helens Star on April 25th 1991,
Fred Matthias
wrote "the Centre is a superb example of how a team of dedicated tutors, backed up by an enthusiastic supportive group of parents have created, in a matter of months, an educational arts establishment quite unique in this part of the world."

When the new school building in Elton Head Road was opened in 1978, it was referred to as the annexe of the Robins Lane secondary school. Over the next 14 years much building work was undertaken in phases on the new site, considerably expanding its student accommodation. This led to far fewer students being taught at the old school, which now bore the annexe tag. By 1992 only the first years were based at Robins Lane and the St.Helens Council education review from 1988/89 had signalled its closure. This was coupled with a remodelling and extension of the school's Sherdley Park base.

On March 10th contractors were just three days away from completing a 13 month-long works' programme at the Elton Head Road campus when disaster struck. A terrible fire destroyed 19 classrooms within one block of the school, as well as the technology centre and the library containing 6000 books. Much student coursework also went up in smoke. Seventy fire-fighters using sixteen appliances worked tirelessly for nearly two hours to control the blaze, which did £4 million worth of damage.



Strong winds fanned the flames and a pall of smoke could be seen from miles around. The sound of roof tiles cracking in the heat could be heard throughout Sherdley Park. Headteacher Bill Rosser, who had only announced his retirement two days earlier, declared it the worst day of his life. Luckily there were no injuries but that was down to prompt action by staff. Head of Biology
Peter O'Brien
was marking coursework when he heard the fire break out. After smashing the fire alarm he dashed into a classroom and evacuated the children. Technician
Ted Young
did the same. Although there was some disruption to the children's education, it didn't last long. Some pupils were transferred to the Robins Lane school half a mile away and mobile classrooms were placed on the Elton Head Road site. A decision was soon taken that the repairs and new building work would be completed by September 1993, simply delaying, as opposed to preventing, the opening of a marvellous new school.



On June 4th 1992 the school's new arts centre, which had been unaffected by the fire, was formally opened with an evening of entertainment. The facility's state of the art design, lighting and sound was put to good use with the Sutton Community High School Music Centre Band opening the show with marches and polkas. Other performances included singing by the school choir led by
Mrs. Speight
and dancing by pupils and staff. The evening ended with some Year 7 students performing 'Noah or the Sutton Carpenter', a comical piece directed by
Mrs. Calderbank
.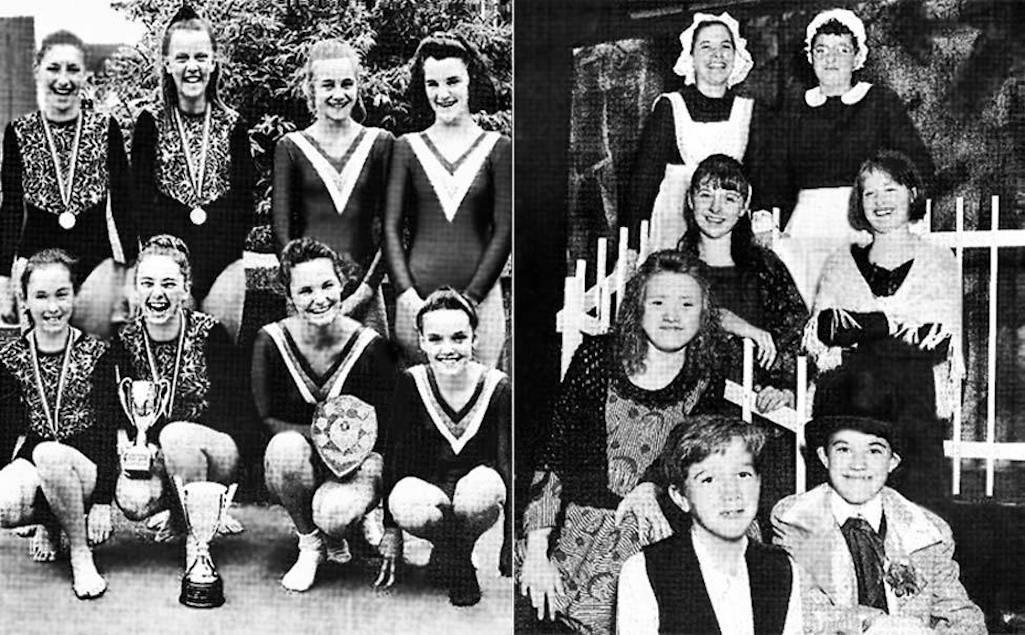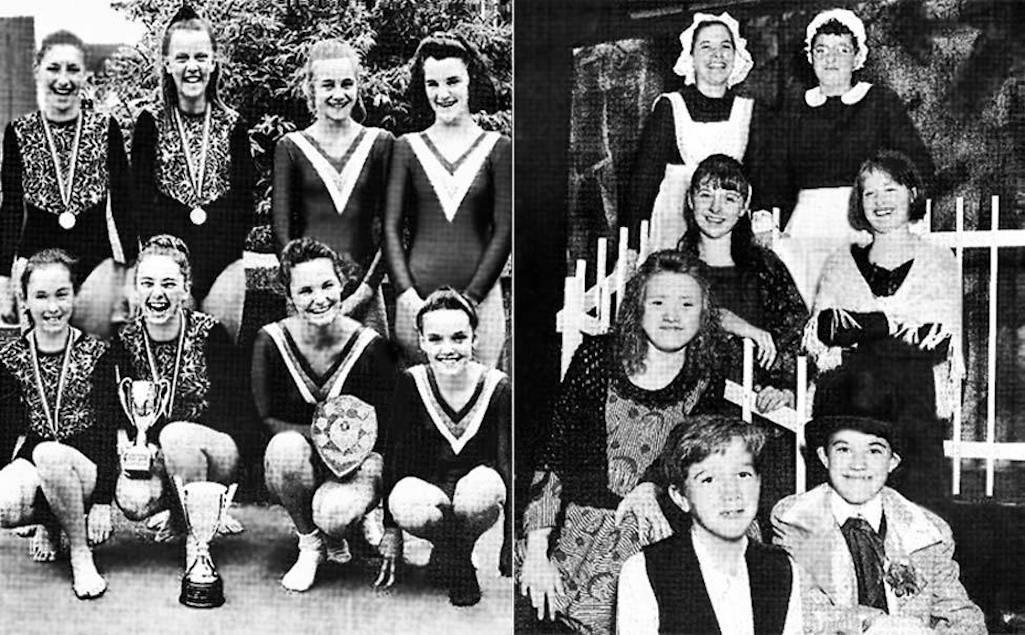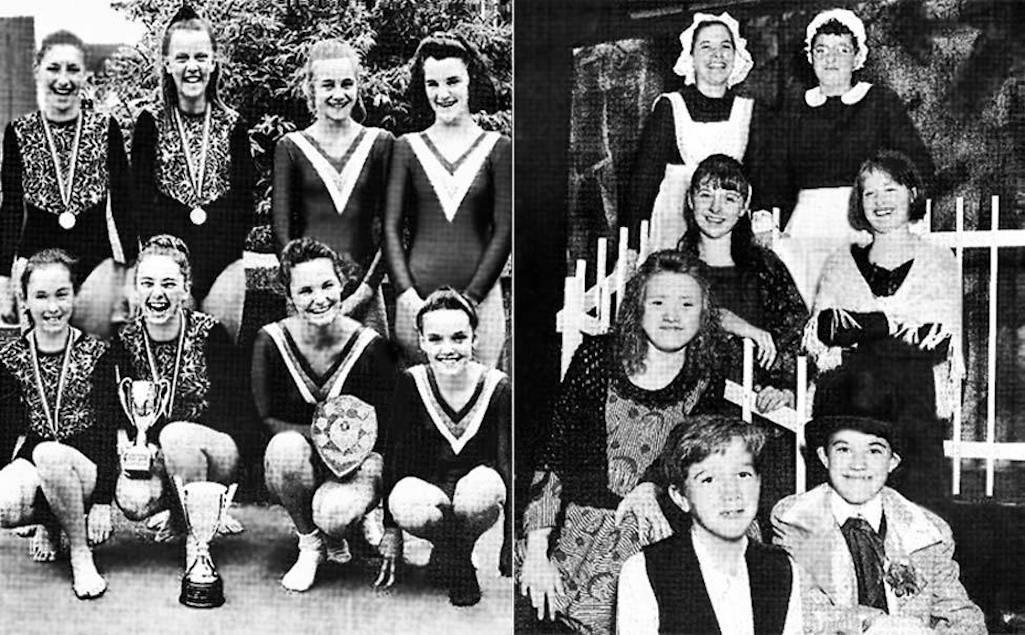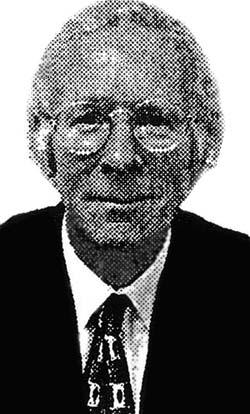 In July 1992 the Sutton High Under 13s rhythmic gymnasts won the national title at the Crystal Palace sports centre.
Rebecca White
,
Laura Dunn
,
Michelle Lowe
and
Louisa Nelson
were coached by
Iris Critchley
, who was also chair of the school governors. The school's Under 15s won their regional competition but failed by a slender mark of 0.05 to win their national title. The team who were coached by parent
Margaret White
, comprised
Maureen Padmore
,
Nicola Mee
,
Sarah Padmore
and
Kerry Williams
. During the same month the school won the prestigious Schools Curriculum Award. This was given to schools that could demonstrate a broad and balanced curriculum linked to the local community. Also in July, the school's Community Base was formally opened by the Mayor of St.Helens,
Cllr. Jim Caunce
.

Despite the dreadful fire that had destroyed much course work and teaching resources, the sixth form students at Sutton Community High attained some outstanding A-level grades. 49 candidates obtained 149 passes of which half were grades A to C. The new head
Geoff Caton
, who'd been promoted from deputy head, told the St.Helens Reporter in August that the results were a "terrific send-off to retiring Head, Bill Rosser, and a testimony to his work at the school."

In his first annual report in January 1993, Mr. Caton revealed that the expansion of the Sixth Form was now leading to over 40% of 16-year-olds staying on at the school. Seven years earlier, it was less than 20% and not that many years ago, the vast majority of pupils left at 15. In September 1992, 80% of the year group went onto Higher Education, underlining the academic improvement. Also in January the rebuilding of the parts of the school that had been burnt in the terrible fire began. The opportunity to redesign some of the buildings was taken with the Science Faculty set to become a continuous suite of rooms. Previously it had been in two parts of the school. The Design faculty was also remodelled and a new, larger library would be built containing computers, video players and IT room.

In April of 1993, the school's Under 19s boys' table tennis team became national champions.
Kevin Dolder
,
Philip Musgrove
,
Dean Appleton
,
Steven Moss
and
Derek Stromberg
achieved success in Grantham whilst representing the North of England. The inaugural production of the Sutton High Community Drama Group was Lionel Bart's 'Oliver', which the school had previously staged in 1974. The 1993 version was presented in May and was directed and produced by
Barbara Ward
. Over 50 pupils performed with
Steven Noonan
in the title role,
Ray Cooper
as Fagin and
Jane Ormrod
played Widow Corney.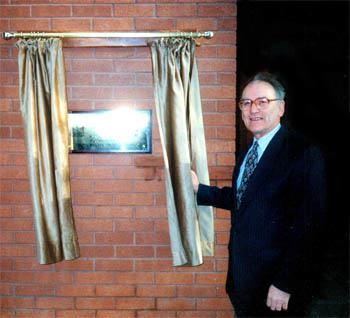 In June 1993
Margaret Stanton
, Headmistress of Robins Lane County Primary School, was awarded the MBE for her longstanding services to education. In July the Robins Lane annexe of Sutton Community High closed after eighty-four years of teaching many thousands of pupils. From September the new intake of first years would be taught in Elton Head Road. A series of special events were held to mark the closure, including a tea dance, Victorian sports day, history play and a farewell disco.

In September 1993 the school became involved with a major arts project. Renowned sculptor
Antony Gormley
- who is known for large-scale sculptures and installations, such as 'Angel of the North' and 'Another Place' on Crosby beach - joined pupils and parents to create a remarkable display called 'Field for the British Isles' in the old Robins Lane school building. The pupils and parents of Sherdley County Primary were also involved, as were Ibstocks of Chester Lane. The brickmaking firm supplied 30 tonnes of clay and gave free use of their furnaces to 'fire' the models. These were needed to produce 40,000 terracotta, hand-sized figures which were then exhibited for 10 weeks at Tate Gallery in Liverpool. The sculpture was based on a similar project that Gormley had created in Mexico, in which different generations had worked together.

Bill Rosser officially opened the new science, technology and resources block on January 28th 1994. This had been named after the school's popular former head. The
Rosser
building housed a new computer suite and maths classrooms as well as science and technology rooms and learning resources. The
Sutton Community Centre Brass Band
– as they were now known – played four numbers during the opening ceremony. These included 'Swing Low Sweet Chariot' and the 'Theme from the Muppet Show'. At the end of March 1994, the Sutton High Community Drama Group produced the musical 'Annie', for which they received standing ovations.
Janine Davey
played the eponymous heroine,
Alan Robinson
was Oliver and Miss Hannigan was played by
Karen Green
. A Manhattan skyline backdrop enhanced the visuals and a dance from collie dog Sandy, played by
Biscuit
, added to the entertainment!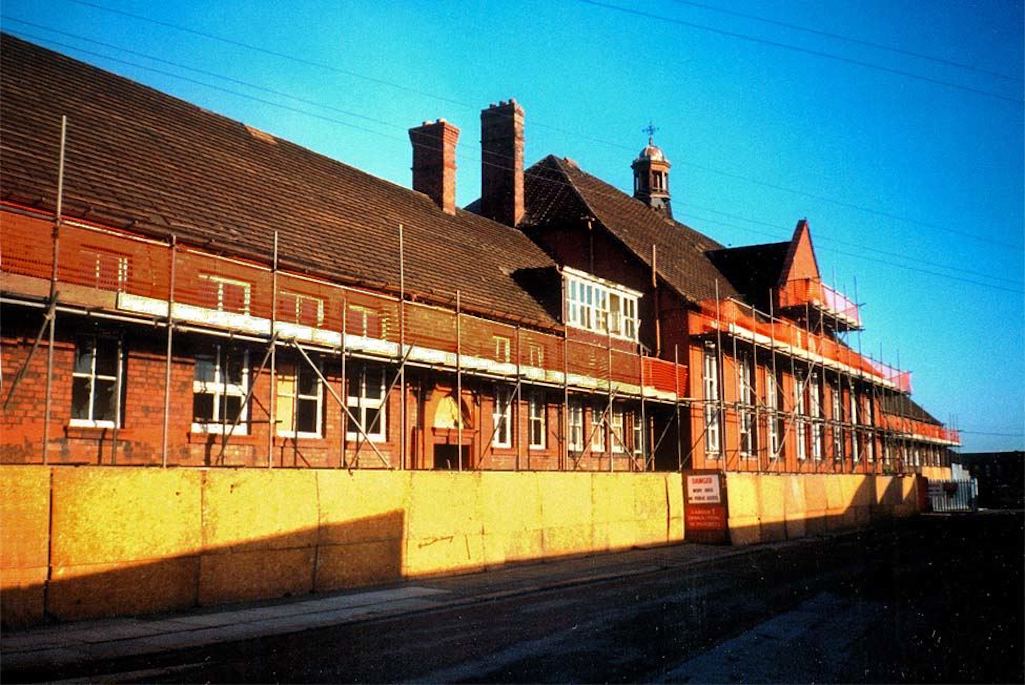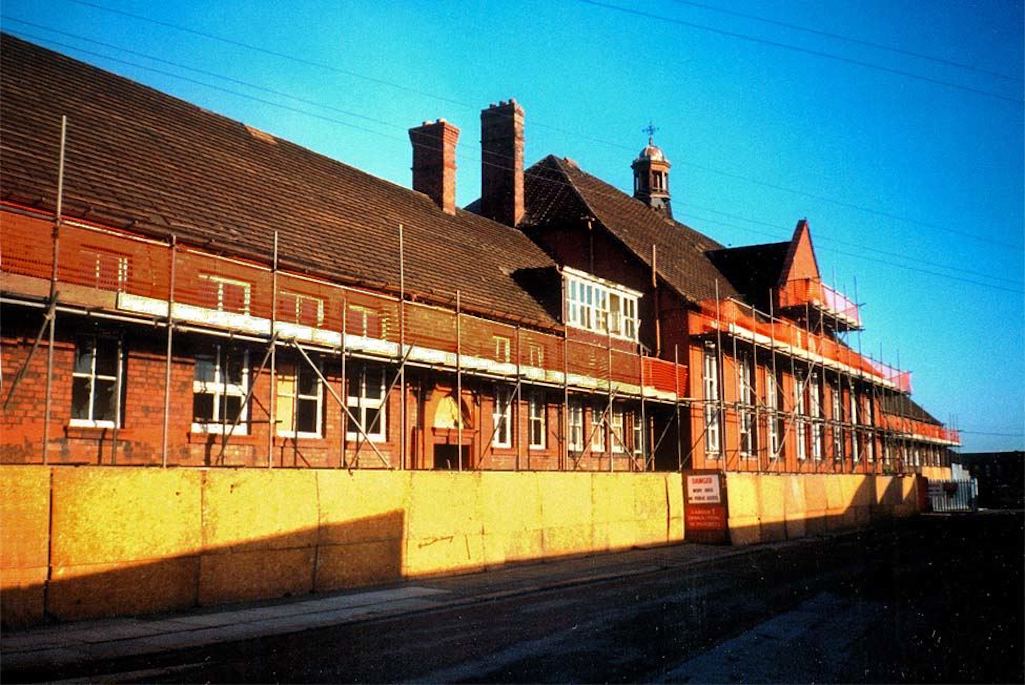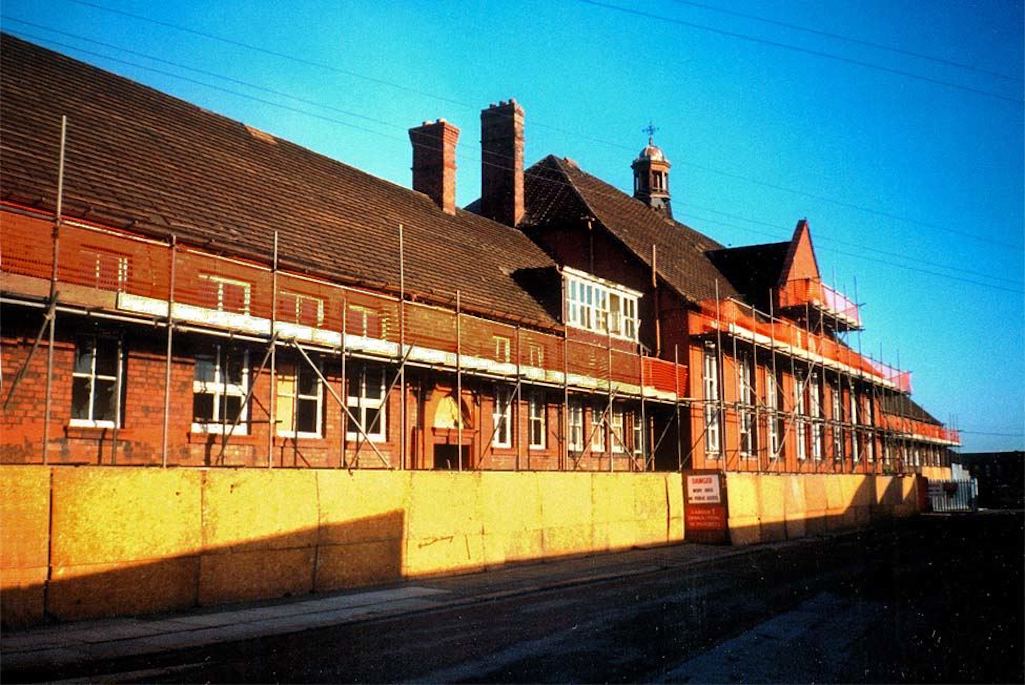 It was the end of an era in May when contractors began demolishing the secondary school buildings in Robins Lane after eighty-five years of service to the children of Sutton. The site has since served as a car park for St.Helens Hospital, although there is still one reminder of the history of the old school. Before the destruction began, a crane removed the school's bell tower and installed it in the courtyard at Sutton High. The tower weighed over a ton, and is believed to have been purely decorative and never actually contained a bell. It was carefully renovated and a new robin was placed on top of its weather vane to replace the original.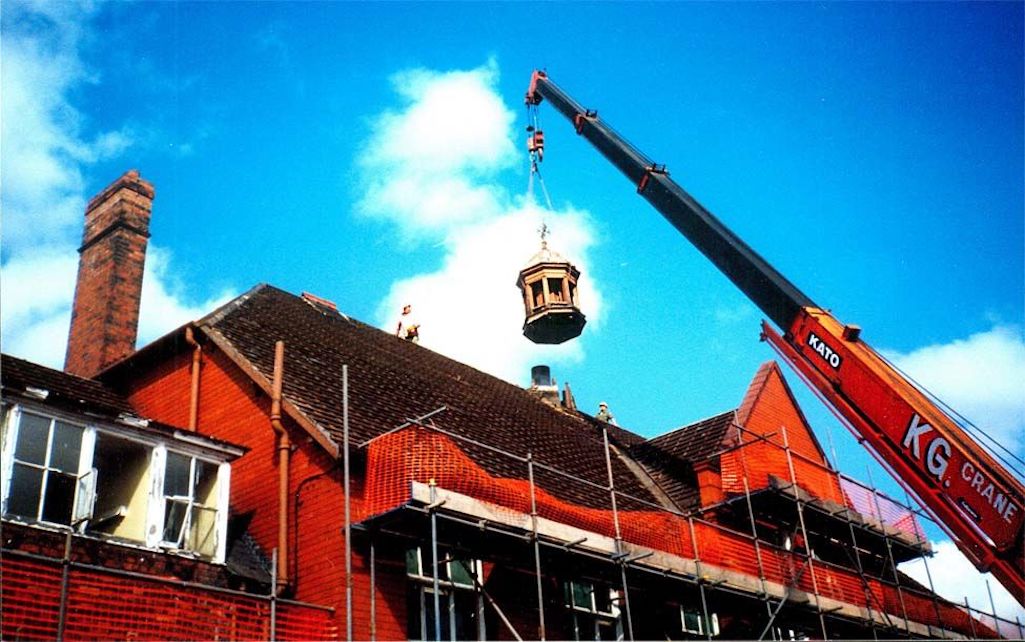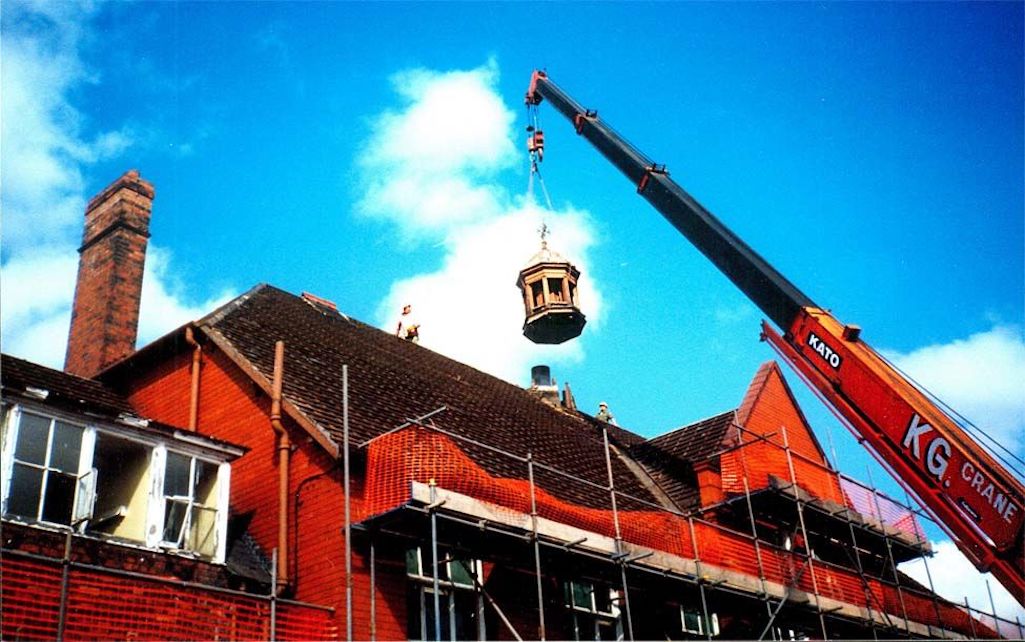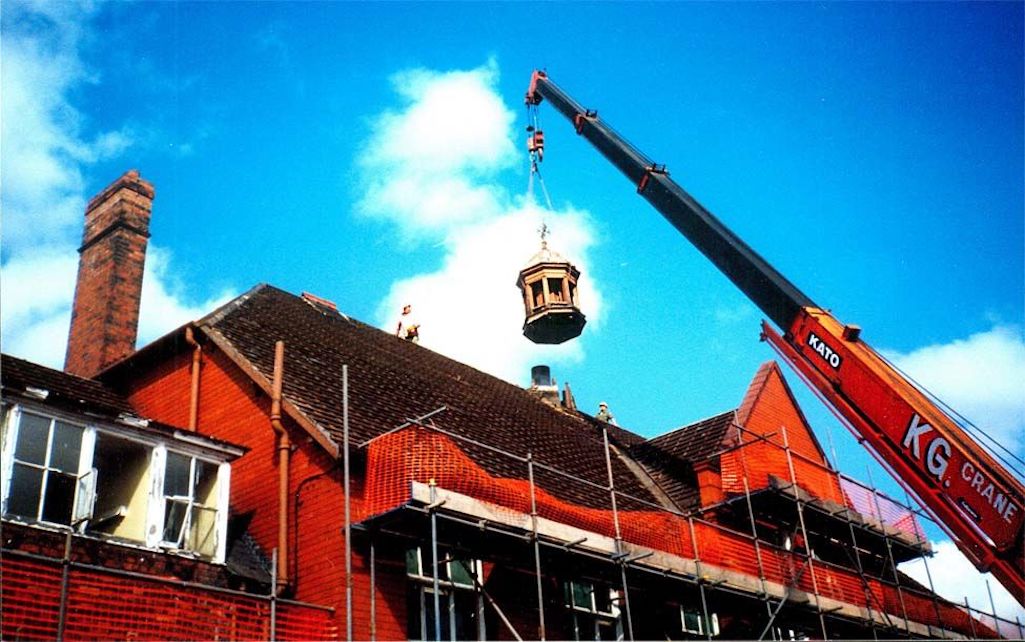 Ofsted praised Sutton Community High in November 1994 for their improved exam results. The inspectors' report described the school as an 'orderly community where pupils are respected and supported effectively' and where there is a 'clear moral code and caring ethos'.

From November 1st to December 2nd 1994, the school took to the airwaves with 2 hours of programmes broadcast nightly on 107.2 FM. The student presenters were
Debbie Bennett
,
Jane Outten
,
Kerry Robinson
,
Sonia Shaw
,
Ian Penketh
and
Elaine Connor
and others worked behind the scenes.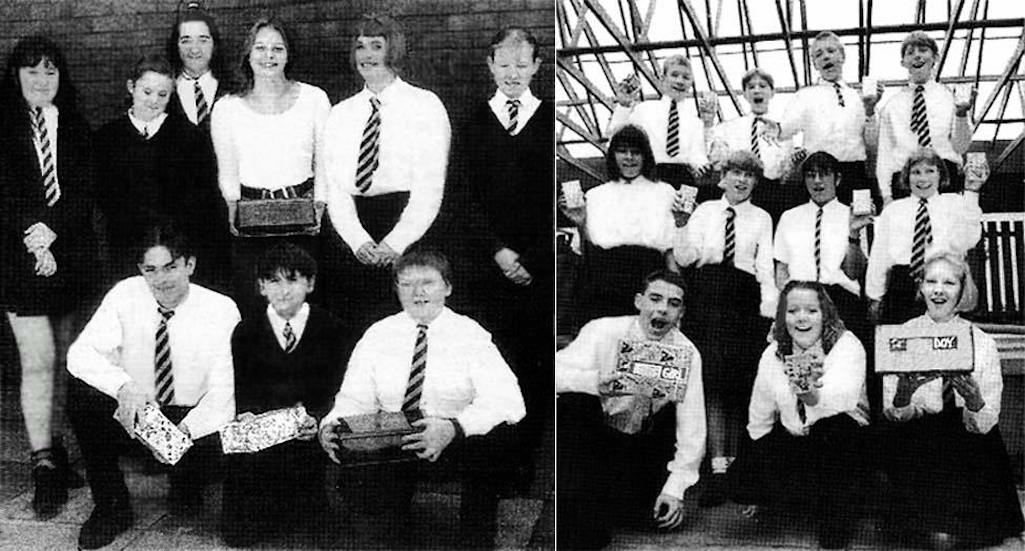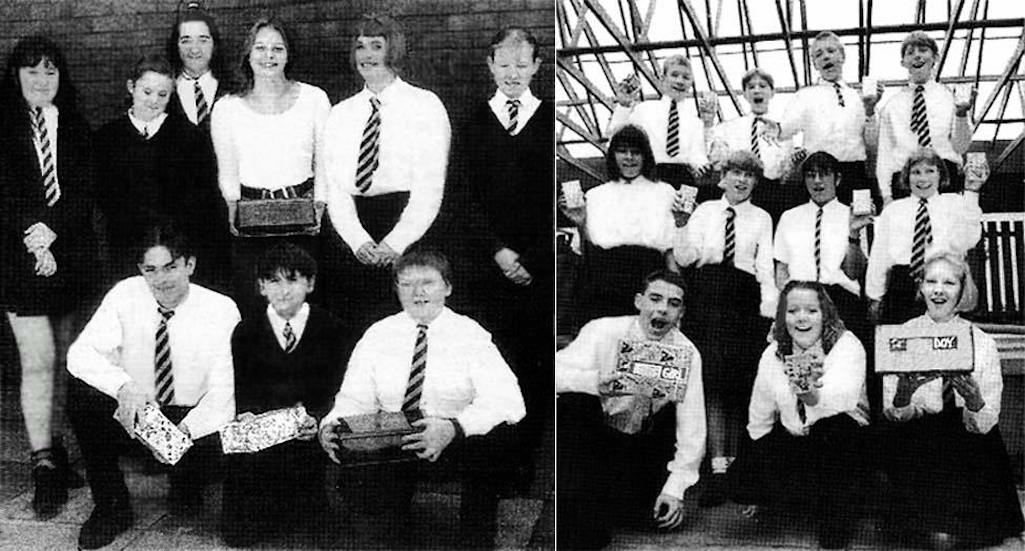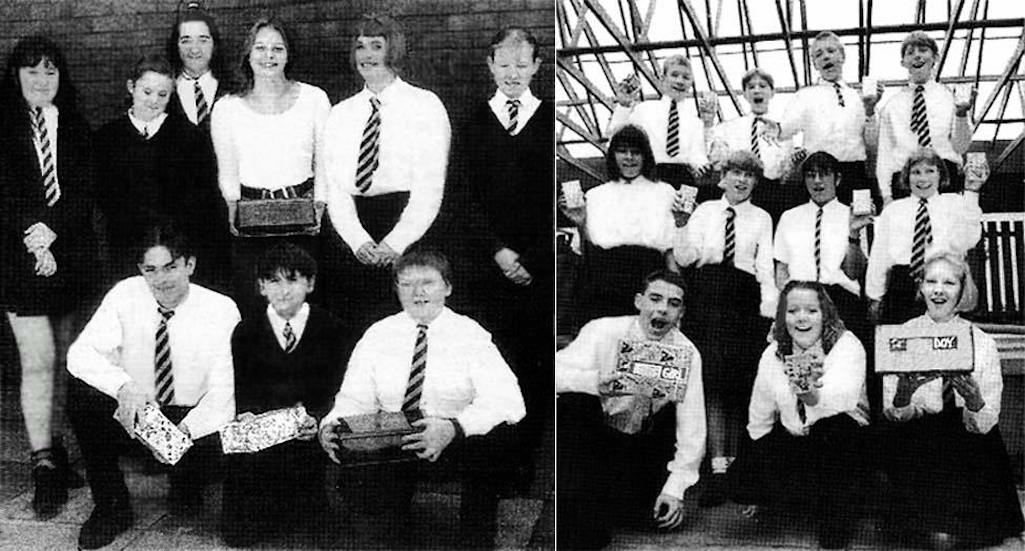 The Bosnian humanitarian crisis touched the hearts of Sutton High schoolchildren. In April 1995 as a result of a special Easter appeal, more than 100 shoe boxes were filled with cream eggs and delivered to Bosnian youngsters. Then in October a dozen pupils provided backing vocals for the Operation Christmas Child single 'Love in a Box'. They also made a recording for Radio Merseyside and collected hundreds of shoe boxes full of gifts to send to Bosnia. Feeder primary schools - including Eaves, Sherdley, Robins Lane, Willow Tree, Sutton Manor, St. Aidan's and Sutton Oak - were also involved.
In December 1995, Sutton High was awarded £10,000 from the National Lottery to buy equipment for their Saturday morning music centre. A triple football success occurred in May 1996 when the school won three trophies in the St.Helens Schools' Competition. The successful sides were from Years 7, 8 and 9.

A curious event occurred on June 11th 1996 when 208 GCSE exam papers were fished out of the River Sowe. The English Literature scripts had been completed by Sutton High pupils and couriered by Parcel Force to Coventry, for delivery to a marker. The three packages were temporarily stored in the secure area of a parcel depot before inexplicably going missing. Sixty-years old
Jack Turbitt
was out walking with his grand-daughter when he spotted the packages and used a long stick to extract them from the water. A number of national newspapers covered the story, including the Daily Express, whose headline was 'I think I've just passed an eau level.'

In July history was made when four Sutton High age groups played in the St.Helens Schools' football finals for the first time. The teams represented years 7, 8, 9 and 10. Also in July it was discovered that crested newts were breeding in the pond in the school nature reserve. As they are protected species, English Nature were informed. In October of 1996, the Sutton Sentinel received a prestigious award from national organisation Education Extra.
Val Cooper
,
Graeme Gibson
and
Kevin Holland
, who then produced the talking newspaper, received a cheque for £250 and a certificate from snooker celebrity
John Parrott
. This was the second award that the Sentinel had received, having won Granada TV's 'This Is Your Right' self-help group award in 1982. Education Extra said they considered it one of the top 5 extra-curricular / community projects in the country. Also in October 1996, the SHS Business Partnership was created by teacher
Peter Roughly
to improve academic links with the world of work. In its first year, several Year 10 pupils benefitted from mentoring by industrial mentors trained by the St.Helens Education Business Partnership. Others received work placements and attended industry days at the Sutton SCOPE centre.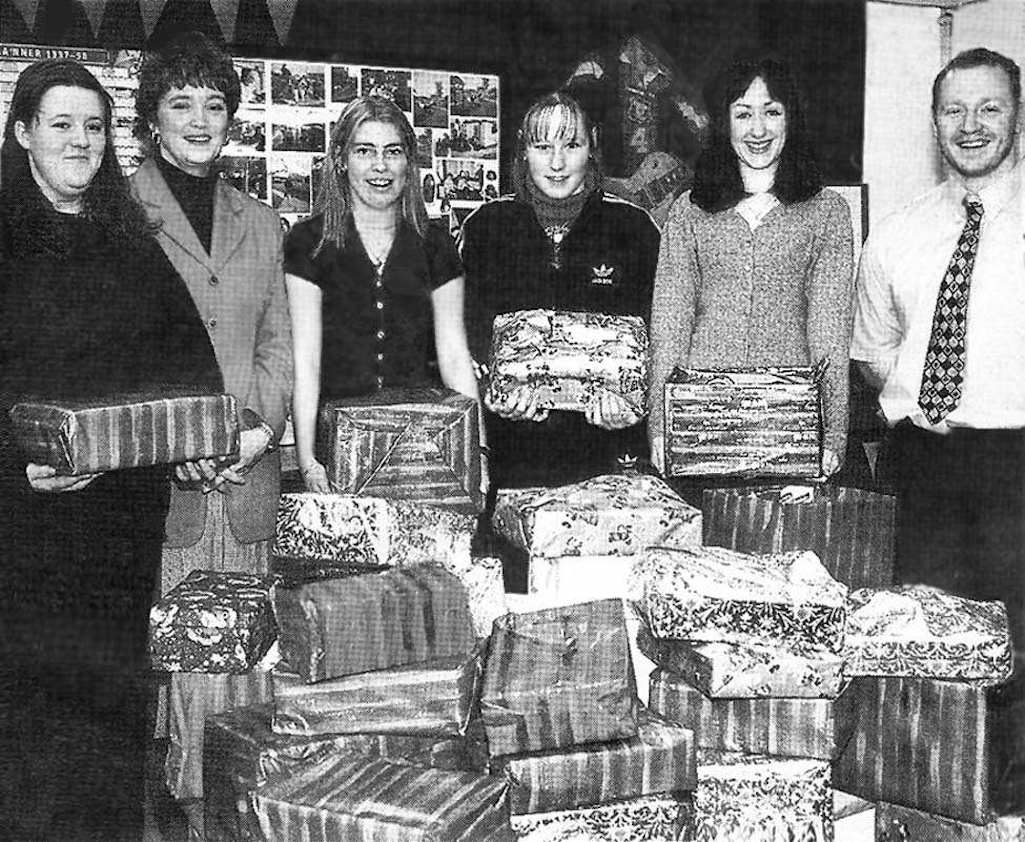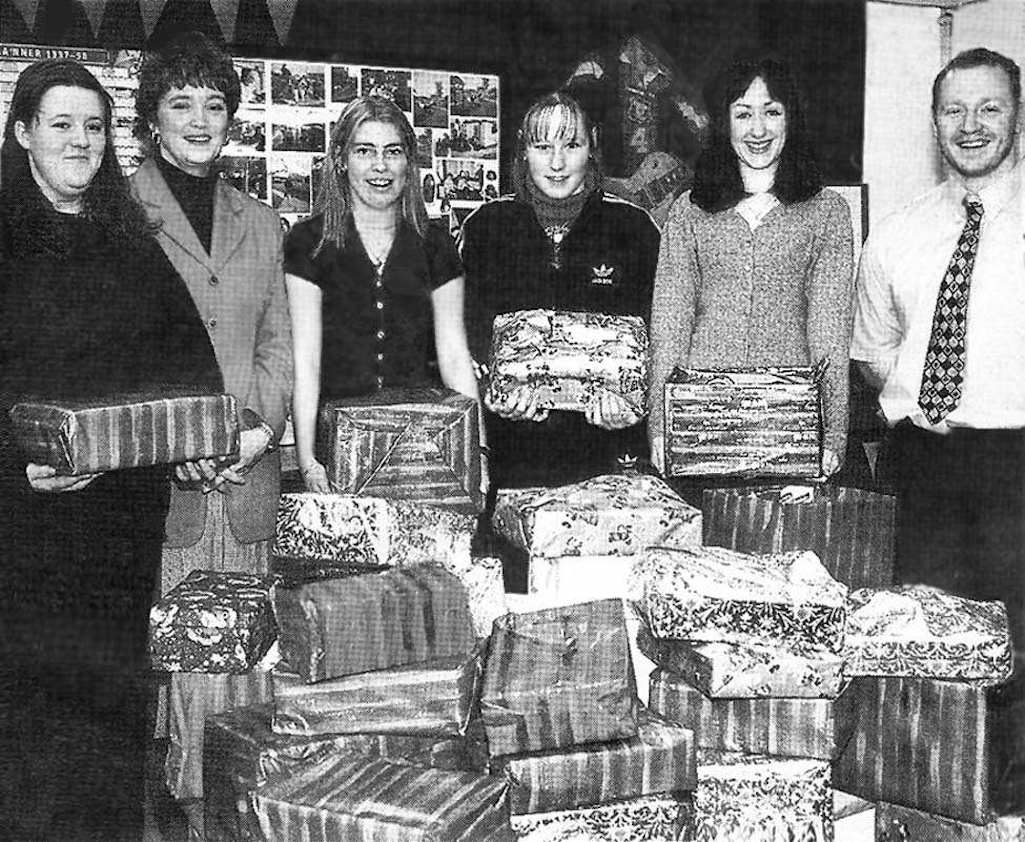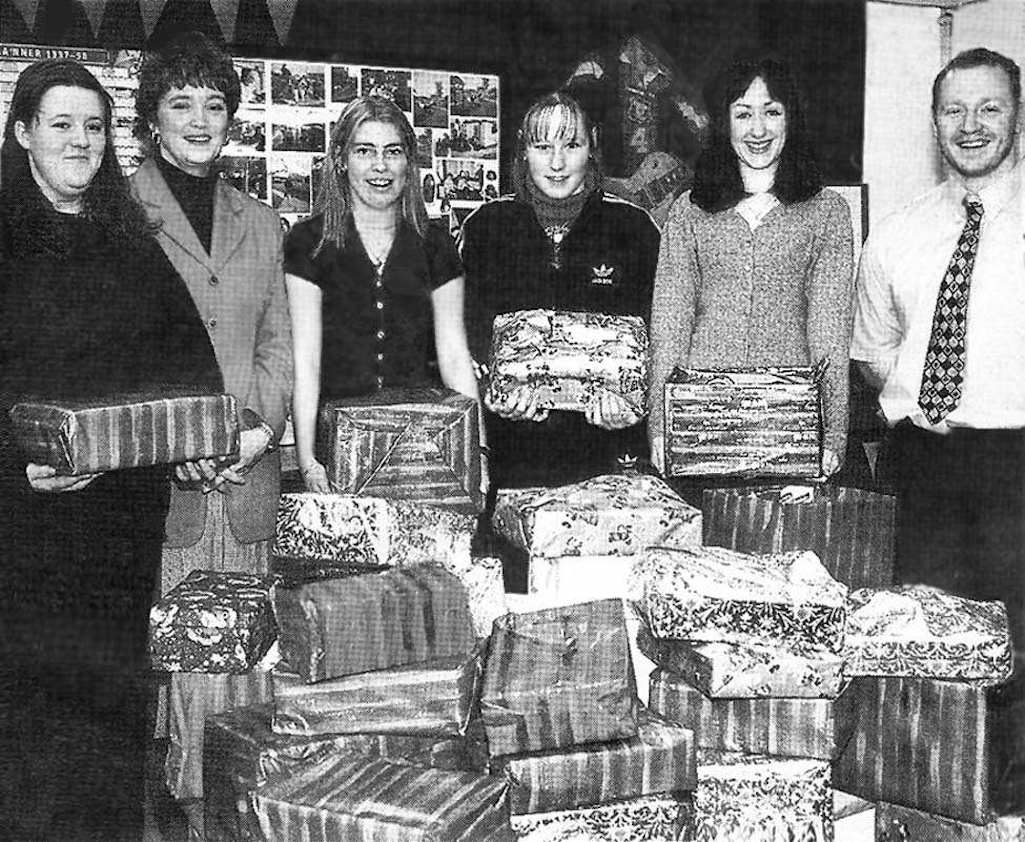 The school's charity and community work included pupils collecting food for Christmas hampers, which were then delivered to local elderly people. Pictured above in January 1997 with some of the hampers, are (L to R)
Victoria Turner
,
Janice Rowlands
(Head of 6th form),
Catherine Myers
,
Catherine Murphy
,
Andrea Lockley
and
Paul Shaw
(Deputy head of 6th form). Also that month, pupils presented
Alex Worth
, the Mayor of St.Helens, with a cheque for £500 for his mayoral appeal fund. This had been raised in a 'jog-a-walk', organised by the Sutton High Parent Teachers Association.

In September of 1997 headmaster Geoff Caton transferred to Culcheth High and
Terry Manning
became the acting head of Sutton High. In October Terry was able to report that that the Upper 6th had achieved the school's best ever A-level results and more students had also received top GCSE grades than ever before.
Lesley Calderbank
then took over as the school's headteacher from Terry.

The 1998 play was the musical version of 'Sweeney Todd' which was performed at the end of March. The jog-a-walk raised £3000 that year and was divided amongst a number of local charities. In late August a dozen pupils and two teachers spent a fortnight in Germany on an exchange visit with Rudolph-Hildebrand School in Markkleeberg, near Leipzig. They worked on a project which investigated tourism in the Markkleeberg and St.Helens regions.

Ofsted issued another positive report in May 1999 when they described the Sherdley Park campus, that catered for over 1300 pupils, as a 'good school' whose 'strengths far outweigh its weaknesses'. In the summer of 1999 a number of teachers left Sutton High. These included
Albert Greenall
who had first begun teaching at Robins Lane in 1960. As well as being Head of the Humanities department, Mr. Greenall had been heavily involved in many other activities, including the scented garden for the blind and school nature reserve. In tribute the Albert Greenall Award would in future be presented to the winners of the Year 7 Mile Race held on Sports Day.
Mr. Hackett
(drama & photography) also left after 20 years service and
Mrs. Lunt
(English & head of year) departed after 10 years.

The new century would see two name changes for the secondary school, several changes of head, a Notice to Improve, diamond jubilee party, centenary exhibition, arts and dramatic successes and an £8 million investment in a fantastic new building.
Copyright Notice / Factual Accuracy Statement

This website has been written and researched and many images photographed by myself, Stephen Wainwright, the Sutton Beauty & Heritage site owner. Individuals from all over the world have also kindly contributed their own photographs. If you wish to reuse any image, please
contact me
first as permission may be needed from the copyright owner. High resolution versions of many pictures can also be supplied at no charge. Please also contact me if you can provide any further information or photographs concerning Sutton, St.Helens. You might also consider contributing your recollections of Sutton for the series of
Memories
pages. Sutton Beauty & Heritage strives for factual accuracy at all times. Do also get in touch if you believe that there are any errors. I respond quickly to emails and if you haven't had a response within twelve hours, check your junk mail folder or resend your message. Thank you!
SRW