Sutton Mill Dam Video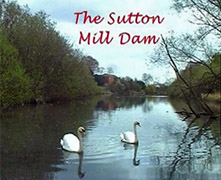 DURATION:
5 MINUTES 52 SECONDS
FORMAT:
WMV
SYNOPSIS:
A six minute documentary on the Sutton Mill Dam made in the spring and early summer of 2006 by Stephen Wainwright for Sutton Beauty & Heritage which focuses mainly on the wildlife on the waters. Click the 'Play' button below to view.
(Nb. Most of the rubbish depicted within this film has since been removed and many improvements have been made to the wildlife nature park in part through the St.Helens Council Ward Committee's Environmental Fund. See the Sutton Mill Dam
main page
for further details. Also see the Sutton Mill Dam
Location
page and
Photo-Album
.