An Illustrated History of Old Sutton in St. Helens, Lancashire
Part 13 (of 92 parts) - History of Education in Sutton & Bold
An Illustrated History of Old Sutton in St.Helens
Part 13 (of 92 parts) - History of Education in Sutton
An Illustrated History of
Old Sutton in St.Helens
History of Education
Introduction to the History of Education in Sutton
Historically the provision of education for the less well-off has been linked to the Church. So Sutton's lack of churches and parish of its own until the 1840s, was a considerable handicap to the development of regular schooling for the children of working-class families. Private education at differing levels was available for the youngsters of better-off families and 1833 statistics reveal that Sutton, with a then population of 3,173, had six day schools that accommodated 237 pupils. They were mainly 'dame' schools, and probably offered little more than a foundation in the basics.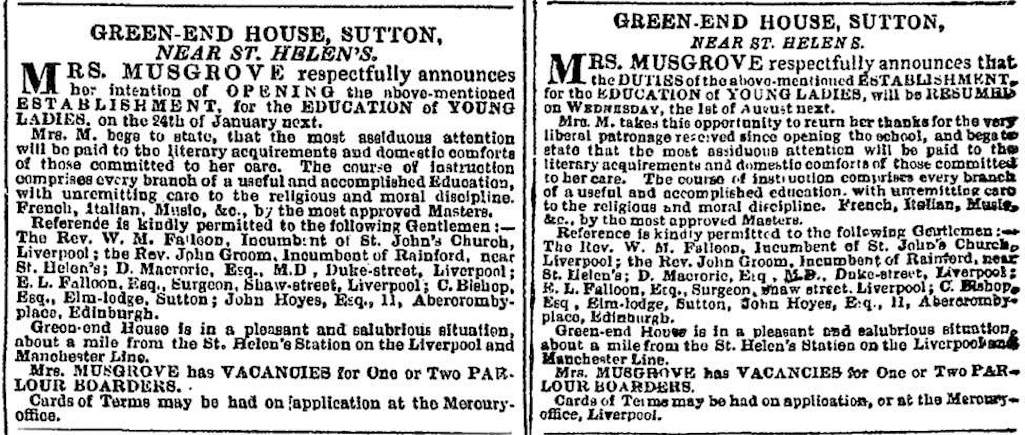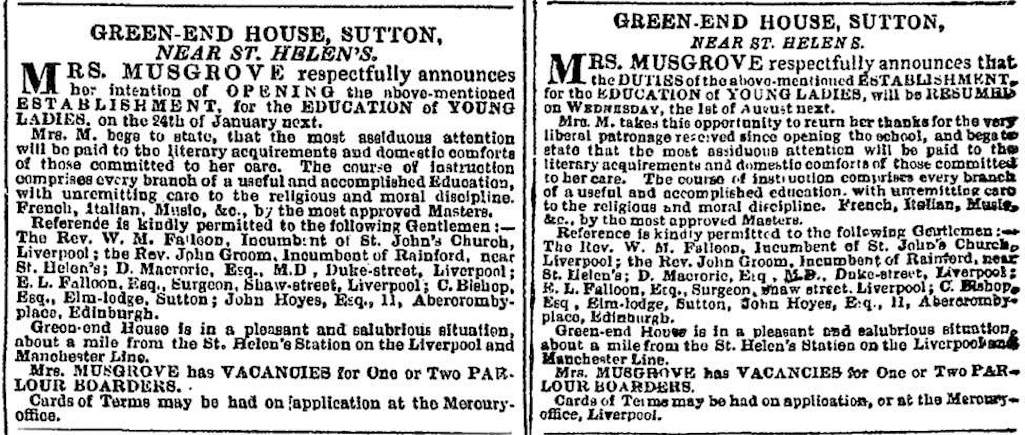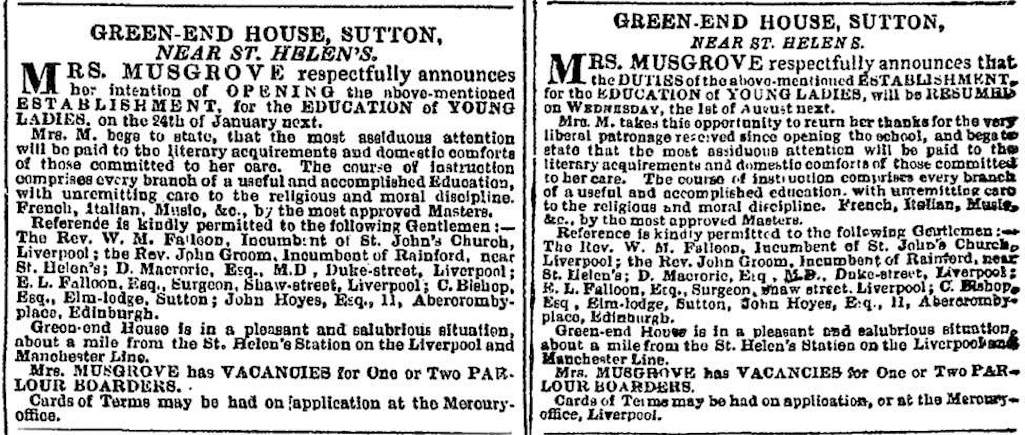 However,
Green End House
school run by
Mary Loftus
(later by a Mrs. Musgrove who left Sutton for Alderley Edge in 1850) was said to have had the most accomplished of masters who were charged with instructing their nineteen female pupils in French, Italian and music, as well as religion and 'moral discipline'. A few far-sighted employers provided and subsidised schooling facilities for the children of their workforce. In 1855 Ravenhead Colliery's school, that was attached to their works, had 82 children attending with their parents paying between 2d and 4d per week. The British Plate Glass Co's works nearby also had their own school and the Liverpool Mercury of August 31st 1857 reported how 'between 200 and 300 boys and girls' from the Ravenhead school had travelled to New Brighton for a day out adding that 'the appearance of the children was exceedingly neat and orderly, reflecting great credit on both parents and teachers.' The school had 500 pupils when it closed in 1892 under the ownership of the London and Manchester Plate Glass Company.

By the end of the nineteenth century, Sutton was reported to have had two private schools. When 94-year-old
Catherine Williams
wrote her Sutton memoirs in 1983, she refers to a
Miss Wainwright
having had a dame school in Ellamsbridge Road. Around a dozen pupils of various ages were taught in her front parlour for fourpence a week. Catherine also described how teaching nuns at the Sutton convent nearby, took in pupils for sixpence a week, with piano lessons available for an extra tanner.

By this time free education was available to all and much of the credit has to go to
Reverend Henry Edward Francis Vallancey
(1807 - 1888)
and
Father Bernadine Carosi
.
Funding was problematic for both Church of England and Roman Catholic Passionist parishes as they managed the educational needs of a rapidly expanding Sutton populace. Vallancey was able to call on a number of wealthy parishioners and, coming from a well-off family, initially subsidised his schools from his own pocket. However the Passionist Fathers had a much smaller pool of benefactors and had to cope with a massive rise in parishioners in just half a century.

It's been said that there was only 30-40 Roman Catholics in total in Sutton and Bold during the 1840s. However, by the mid-nineties, there were around 1000 Catholic children who needed educating. The resources required were a huge challenge for both Christian religions and this page will detail how this was accomplished.
Henry Vallancey and Sutton National Schools
Rev. Vallancey was the first vicar of Sutton Church
who took up his benefice in 1849. As soon as he arrived in Sutton township, Vallancey set about improving the education of local Sutton children. Although Sunday or Sabbath Schools had begun in 1806, he was shocked to find little other provision for the poor and in a letter
dated 13th December 1849
to Brasenose College in Oxford, who were the owners of a small Sutton estate, he wrote:
On taking possession of my living, I found everything had to be created in the parish. My attention was first of all directed to the almost total want of schools...A further survey of my parish having convinced me of the extreme necessity of schools, I am determined to avail myself of the only spot suited for the purpose, the old Township poorhouse of which I have agreed to take a lease for 21 years....I have obtained an excellent schoolmaster and mistress.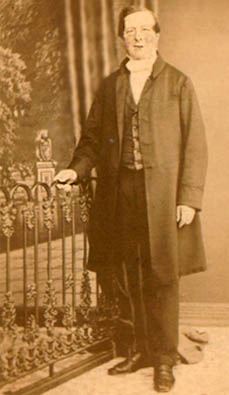 Rev. Vallancey wrote numerous letters to his wealthy parishioners and the owners of businesses in Sutton requesting, and at times demanding, financial support. He didn't receive all the funding he required, so Vallancey subsidised the twin Sutton Nationals Schools from his own pocket and the boys' and girls' schools opened in February 1850. The chosen site was the old workhouse that was located almost opposite the church in the stretch of New Street that was then known as Workhouse Lane. The workhouse had closed seven years earlier and was on the opposite side of the railway bridge to the church. The site later became part of the residential area known as Grace's Square and is presently occupied by the playing fields of Sherdley Primary School.


The accounts for the schools' first year of operation show that they were educating 95 boys and 74 girls with a budget of £120. This was spent on equipment and fuel, plus pay for the two teachers. These were a young married couple,
Thomas
and
Sarah Carter
, who had been appointed in December 1849 and lived in a New Street schoolhouse. Thomas was aged about 25 when he came to Sutton from Newby Bridge and he had been a pupil at Chester Diocesan Training College.

Annual fêtes in Sherdley Park began immediately and a Liverpool Mercury article of August 13th 1852 reported that at that year's gathering, Rev. Vallancey had presented to the two teachers a 'handsome Bible' in recognition of their services, as they were both leaving to take up positions at a Lake District school. During the couple's stewardship, the school population had risen to 336, double its first year total.

On May 19th 1855, the Manchester Courier and Lancashire General Advertiser described how a two-day fundraising bazaar had been held earlier in the week at St. Helens Town Hall. The event was in aid of the Sutton National Schools with 'a choice collection of useful and fancy articles' on sale. A Liverpool Mercury report of August 28th 1855 described the schools' annual 'day of festivity' with the Moorflat School Fife Band leading the children as they processed to the houses of
Rev. Vallancey
and
William Pilkington
, followed by Sherdley Hall. At each the youngsters were 'liberally regaled with suitable refreshments'. In another letter written in June 1856, Henry Vallancey said his schools were now firmly established. However, he felt that they were situated too far away from the St.Helens Junction / Sutton Oak district where most of his congregation lived and worked:
My present schools are contiguous to my Church but far removed from the mass of my population. The great mass of my people reside around the works and many have to come more than a mile every day and some nearly two miles. Down where the majority reside, there is a population of full 2500 and, as much building is going on there can be no doubt that the population will increase still more.



Vallancey obtained sufficient funds to build two segregated schools and on August 18th 1863, the foundation stone was laid by William Pilkington's wife Elizabeth on land in Ellamsbridge Road donated by copper smelters Newton Keates & Co. The new schools were opened in February 1864 at a cost of £1300. The philanthropic British & Foreign Copper Company - the trading name of Samuel Newton and his partner William Keates - had supported an infants school on the land since 1850, so it was a natural development.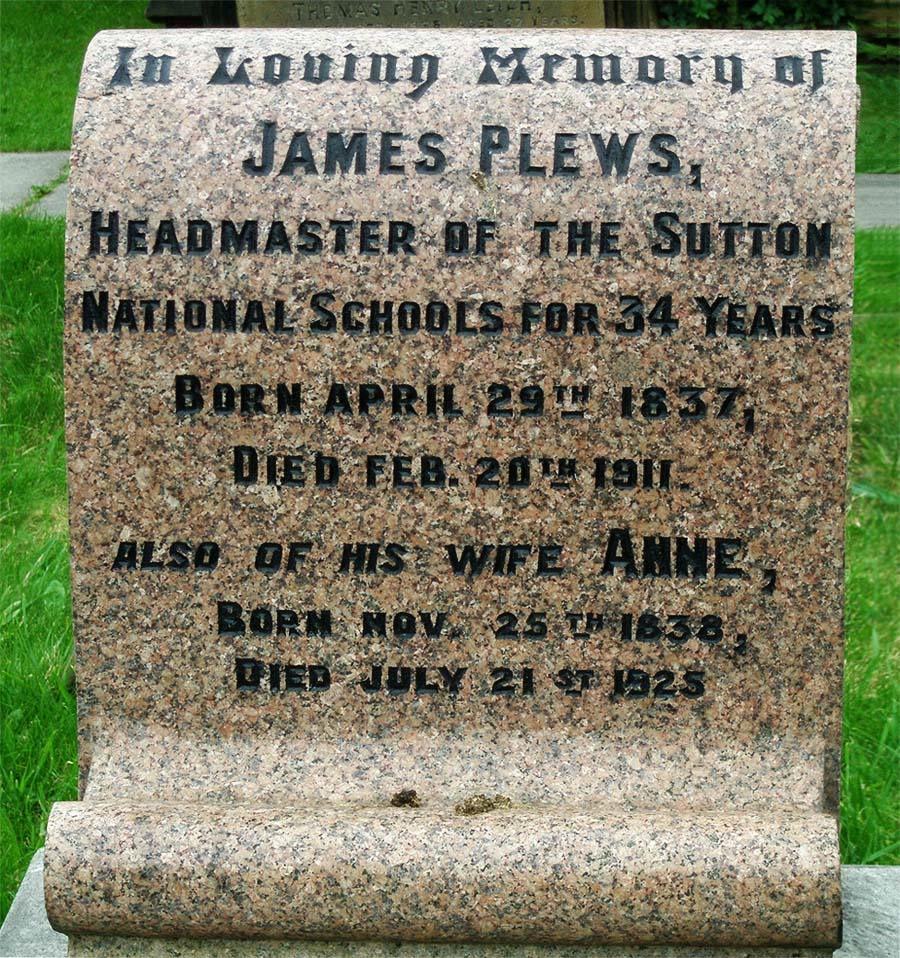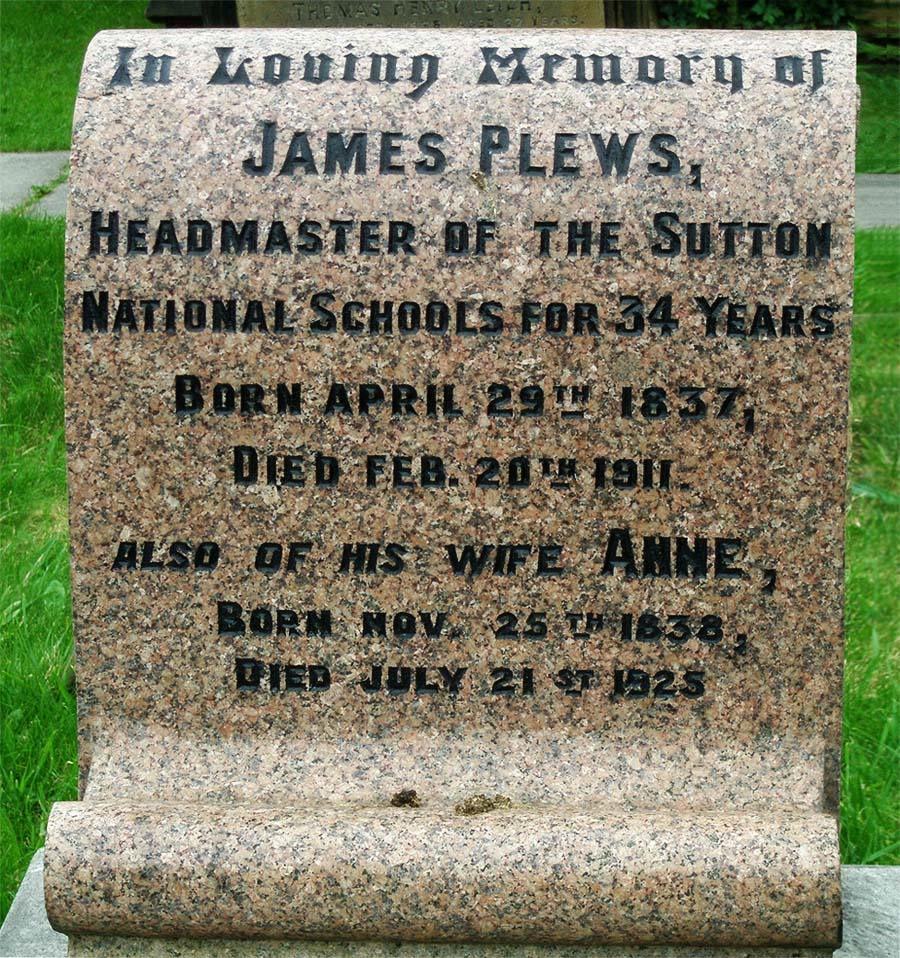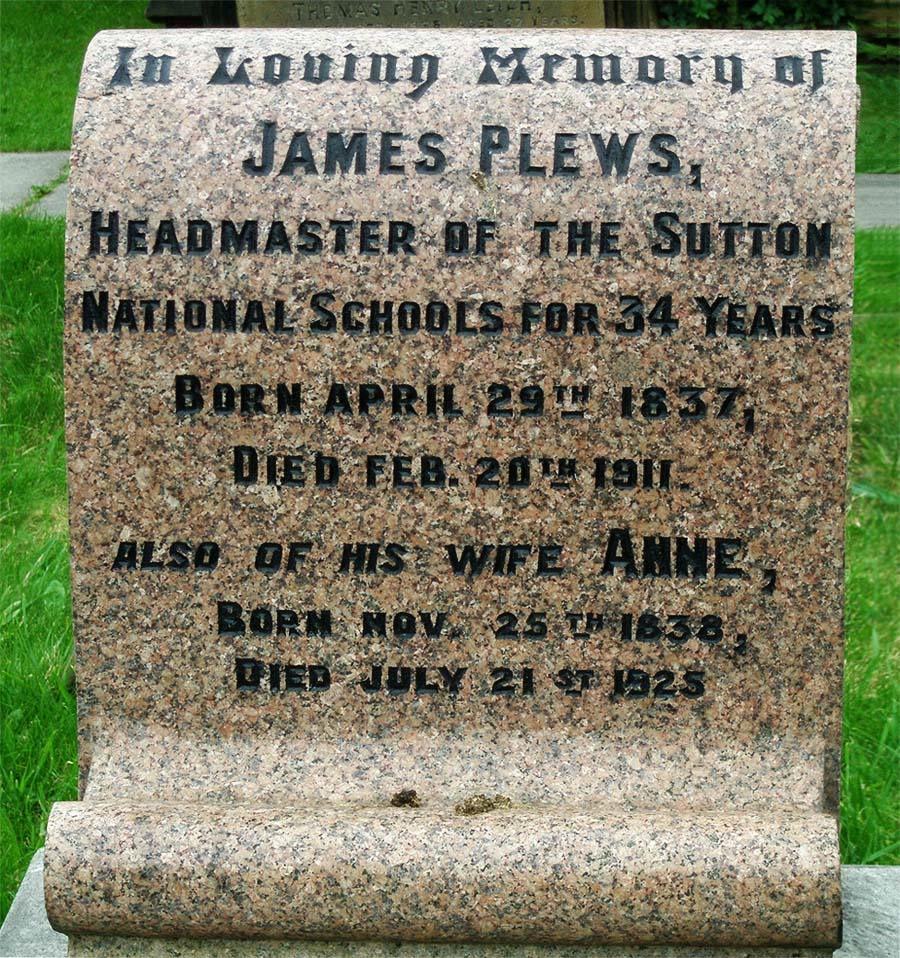 By January 1856,
John Newton Brooks
was the master at Sutton National school. He helped form the Church Schoolmasters' Assn. for the St.Helens district and became its secretary. On December 20th 1856 Brooks had a letter published in the Manchester Courier in which he called for an educational rate to be levied but was concerned that the 'enlightenment of the masses' would fall victim to party political squabbles. He was keen for any forthcoming educational measure to provide for 'regularity, punctuality and a longer attendance at school.'

As the population of Sutton expanded during the latter half of the 19th century, so the numbers of children at Sutton National massively increased. On June 17th 1887, the Liverpool Daily Post published an article that described the celebrations planned in St.Helens to commemorate Queen Victoria's golden jubilee. These involved a huge procession on the following Tuesday of the 12,443 pupils then enrolled at the more than 20 schools in St.Helens. Of these 784 were studying at Sutton National, an almost 5 fold increase on the pupil numbers when the school first opened.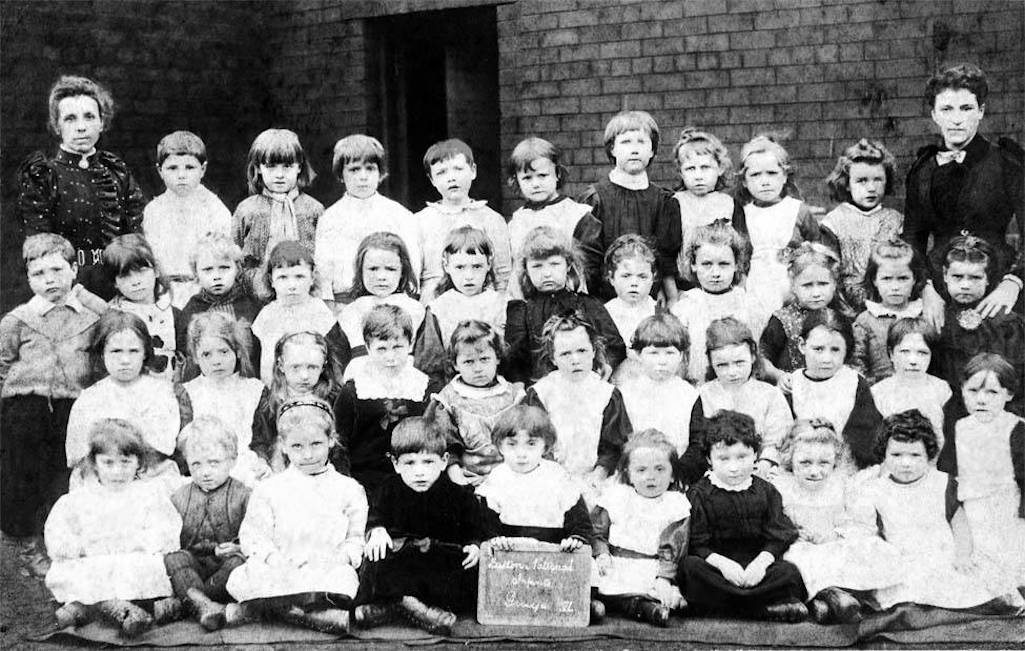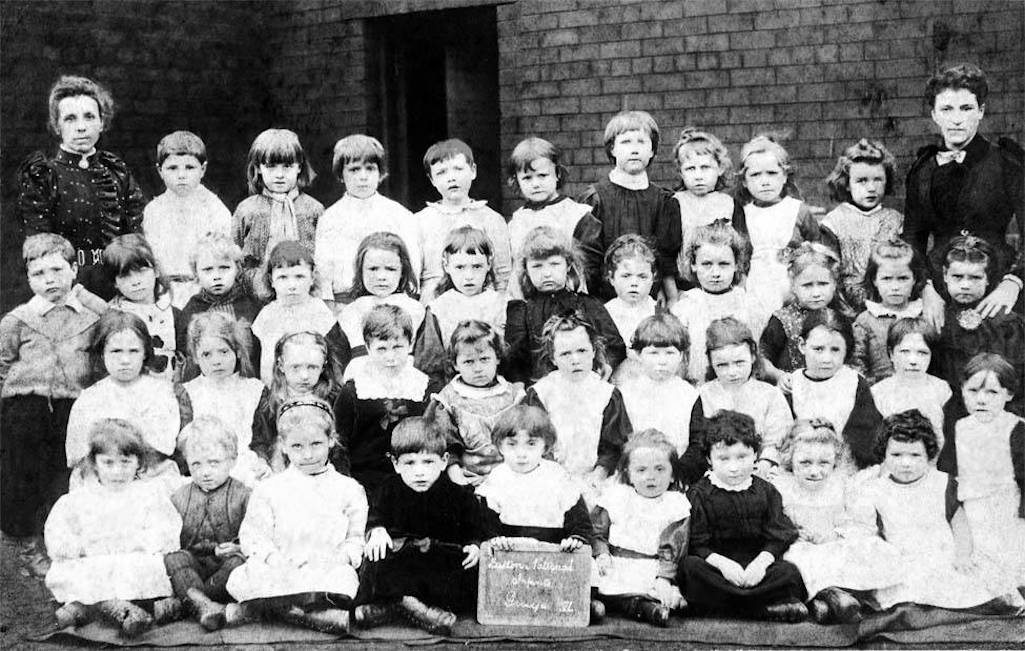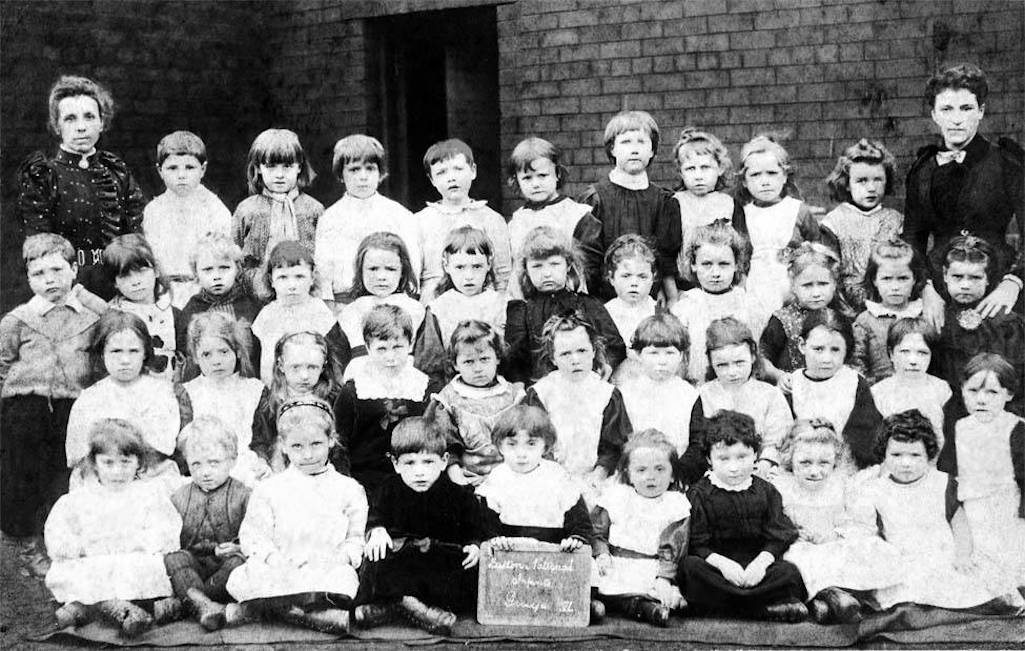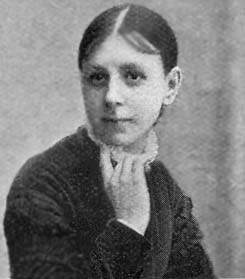 James Plews
(1837 - 1911)
was headmaster of Sutton National - or 'Sutton Nash' as it became locally known
- for 34 years. Plews lived in Garnet Street and came to Sutton from Sunderland. A warden at St.Nicholas church, he also took a service in the schools on Sunday mornings. Plews was an enthusiastic sportsman who was a member of Sutton Cricket Club and a keen cyclist, who had ridden the original, tall machines. A sergeant in 'B' Company of the St.Helens 21st Local Rifle Volunteers, Plews was a very good shot and regularly represented his company in shooting competitions at Wimbledon.

The St.Helens Newspaper's obituary of James Plews, published on February 24th 1911, said he had been 'associated with every project that had for its object, the improvement of the conditions of life of the people of Sutton'. James Plews died in 1911 and he has a prominent memorial at the front of the New Street church.

Although James had a remarkable longevity as head of the Sutton 'Nash', he was outshone by
Hannah Parr
(1858 - 1935)
. According to her headstone in Sutton Parish Churchyard, Hannah served as headmistress of the infants' school for 41 years. However this period probably included her time as an assistant mistress at Sutton National. In 1881 as Hannah Rosbotham, she had won the Albert medal for bravery after a terrible storm hit the school. (See article '
The Sutton National School Storm
')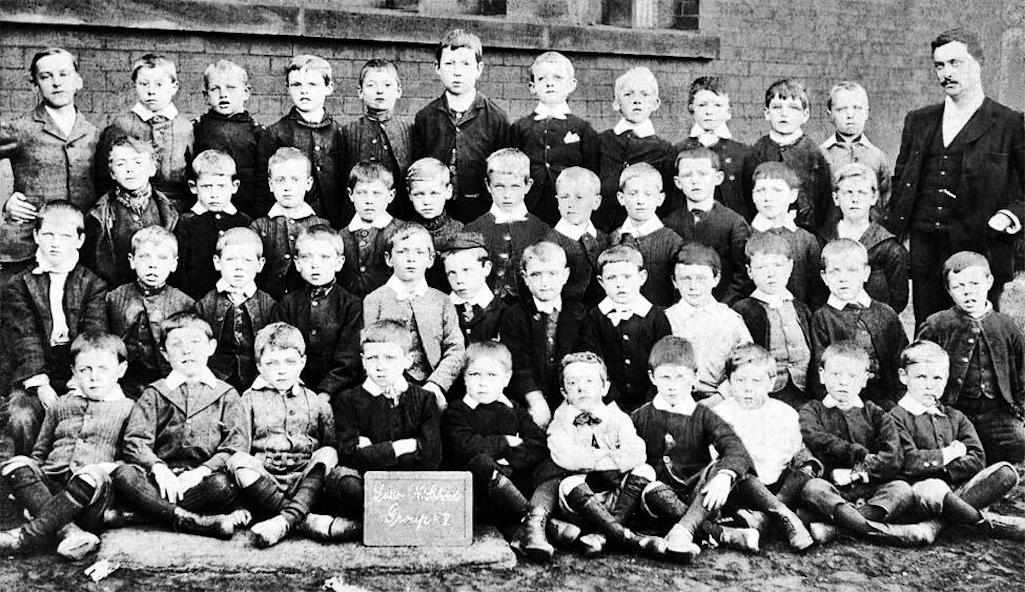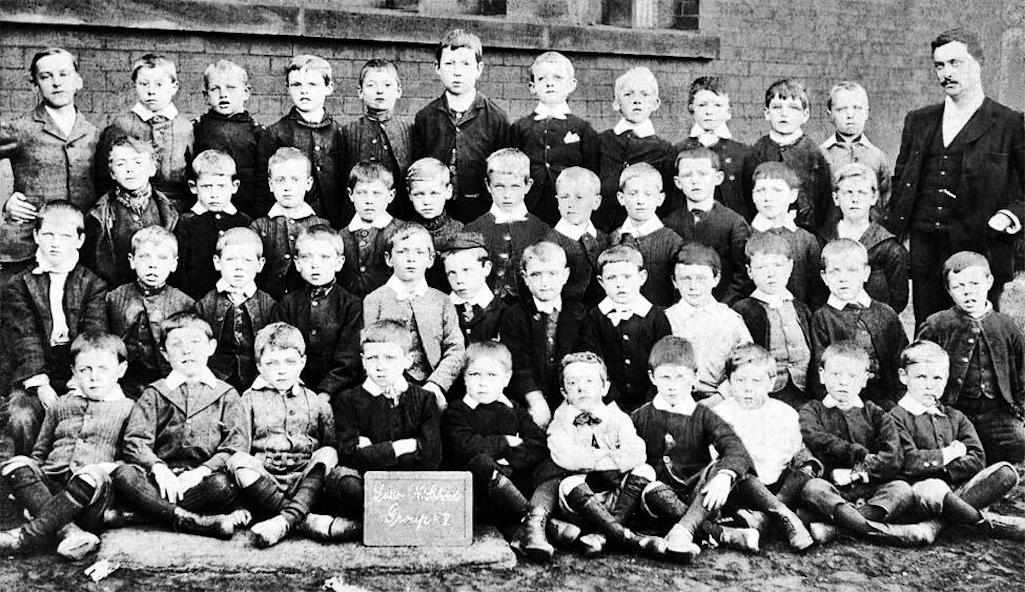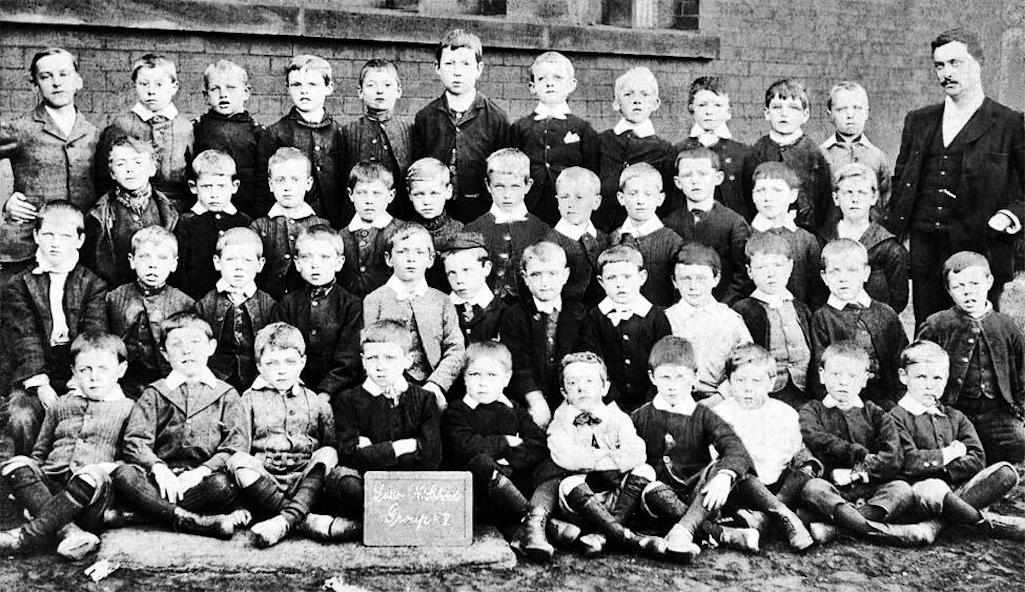 As the school moved towards the twentieth century, so it had to face the demands of an expanding local population. In May 1897 a committee formed to consider the options for further accommodation, recommended adding another storey to the present building and creating new infants' classrooms out of part of the existing ground floor. St.Helens architect
Frank Biram
(who lived at Green End) and local builder
T. Woods
were commissioned and the work, which was scheduled to cost about £3000, was completed in late 1898, adding 392 extra places.
Sutton National School During the 20th Century
In 1914, four-year-old
Frank Bamber
began attending Sutton 'Nash' infants school. In his memoirs, 'Clog Clatters of Old Sutton', he explained how each class had about fifty pupils who had to share ten to twelve wooden desks between them. Frank also discussed the school's design:
It was of different architecture than the senior school, it was built of bricks and stone and had high mullion windows arched like church windows at either end. It had one large room divided up into four classes by wooden upright poles with iron bases and these carried horizontal poles which were ringed to carry green curtains which could be drawn at will.
A nearby cloakroom contained four brown cold water basins, with the toilets across the schoolyard which were shared with the girls' school.
Miss Whitfield
was the headmistress in Frank's time at the infants' school and he remembered her making this announcement to the school:
It has come to my knowledge that a boy in this school has uttered a swear word. I have lectured him and told him I will not allow anyone to swear in this school and if he uses that word again I will have no option but to wash his mouth out with soap and water.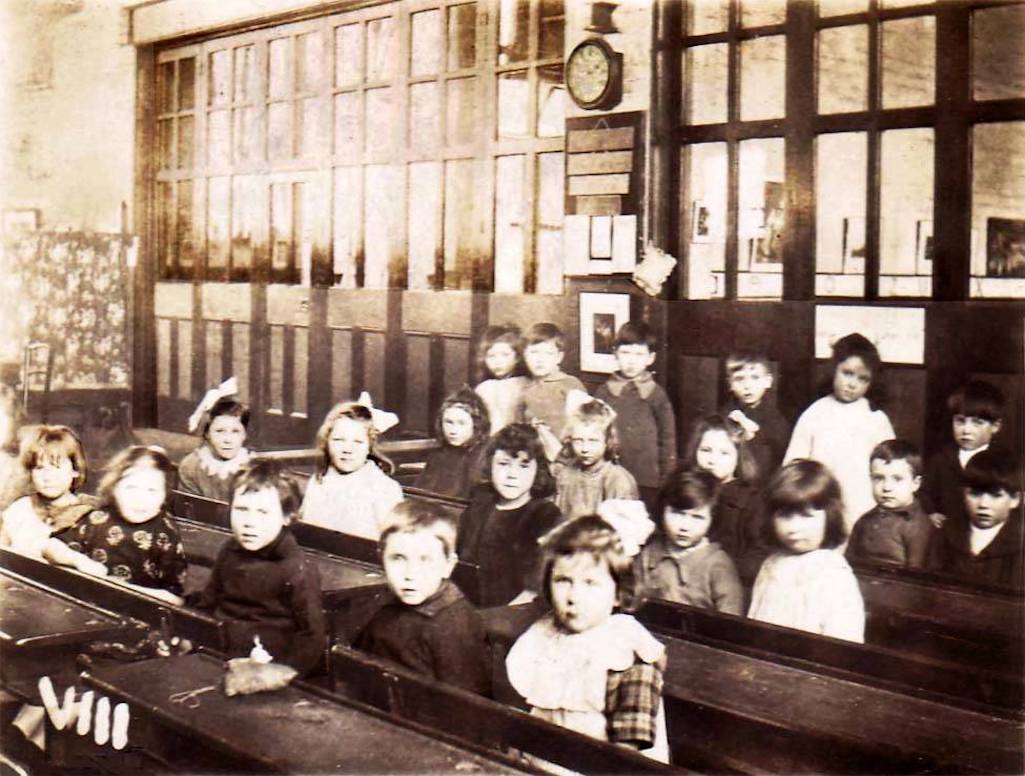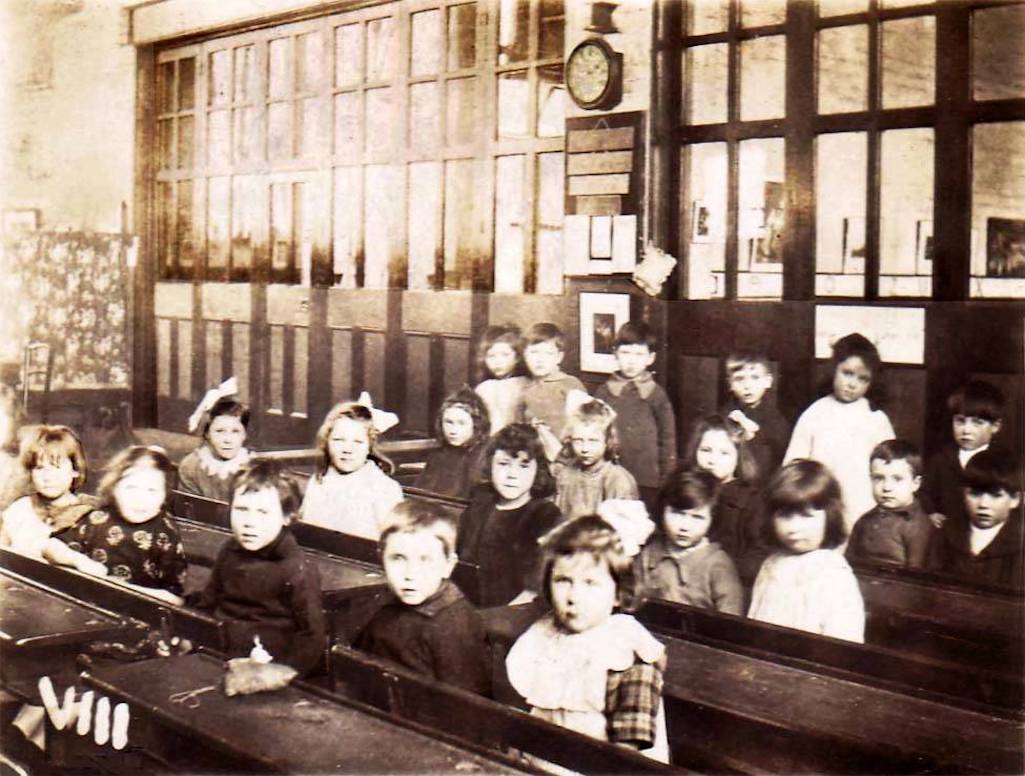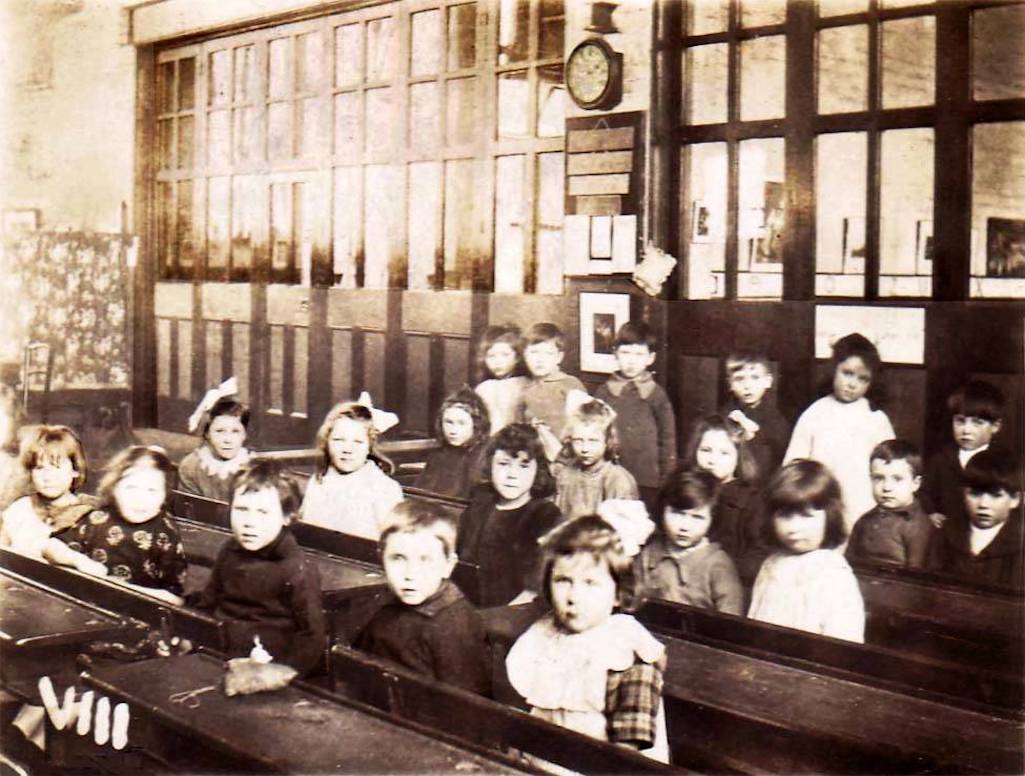 Joan Heyes
(née Williams) also attended Sutton 'Nash' infants and is seated on the second row of the above photograph. She's sat next to her friend Margaret Baines, whose at the end of the row, with both girls wearing hair ribbons. Margaret's Dad kept the Bowling Green Inn in Robins Lane. Joan says that the windows behind the pupils were sliding partitions that were folded back to make a school hall when needed. She adds that the youngsters sitting at the front, were disadvantaged children who didn't have breakfast at home, so the school would provide some for them.

Marion Roughley
describes how her father
John Hughes
, who was born in 1919 at 95 Waterdale Crescent, was one who qualified for free breakfast of treacle 'butties':
Only the first born qualified. My Dad told me that it was an art to get to school and be in the queue at the right place in order to get the bottom butties. The treacle would soak through to those and so they tasted better!
When some finished at the infants school, they chose to continue their studies at the Higher Grade School in College Street, St.Helens. However, Frank Bamber elected to stay in Ellamsbridge Road and study at the senior boys school. He was there from 1917 to 1924 and by this time the headmaster was
Frank Plews
, the son of former longstanding head James.

In his memoirs, Frank Bamber describes the school as a red brick building that was 'L' shaped, with the girls on the bottom floor and the boys on the top floor. The boys would enter the school via Ellamsbridge Road, then walk across the playground through large opening inward doors that led into a very large entrance hall. This had a wide stone stairway about fourteen feet across, that had eighteen or so steps that led onto a landing. This in turn had two stone stairways, one to the right and another to the left, which was in a reverse direction to the main stairway. These led into another entrance hall and then divided off into various classrooms that had very high ceilings.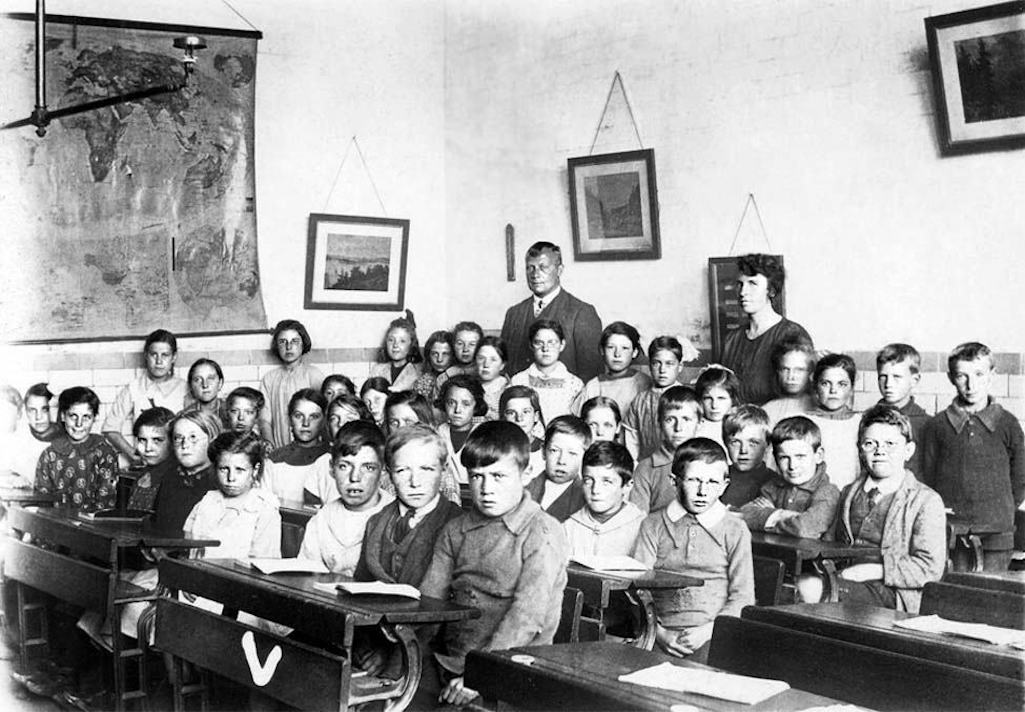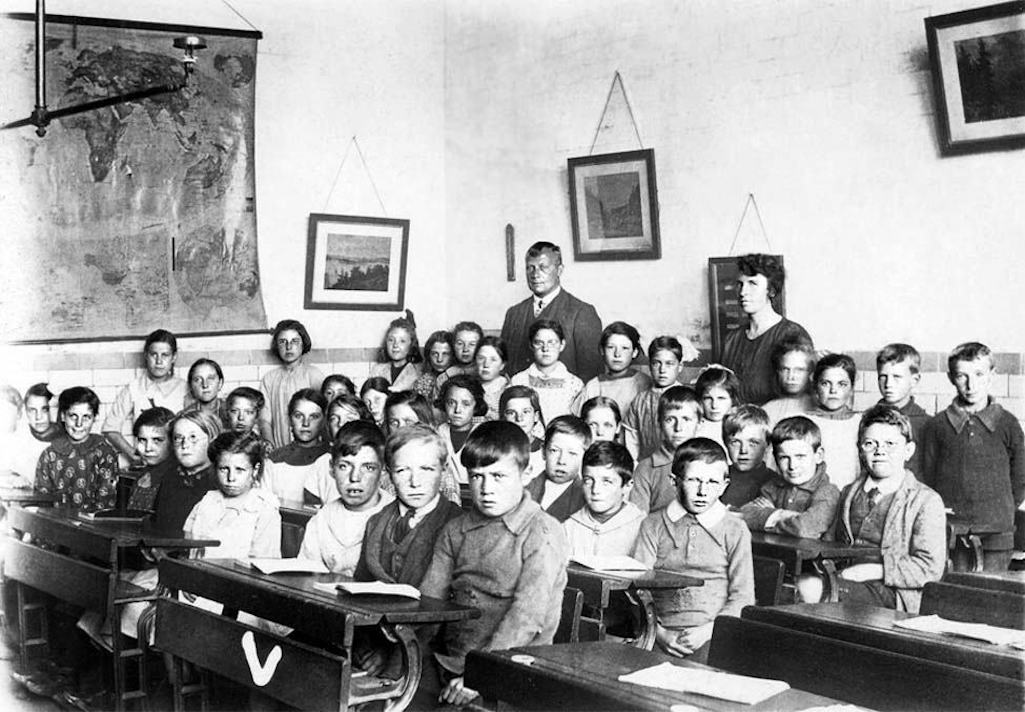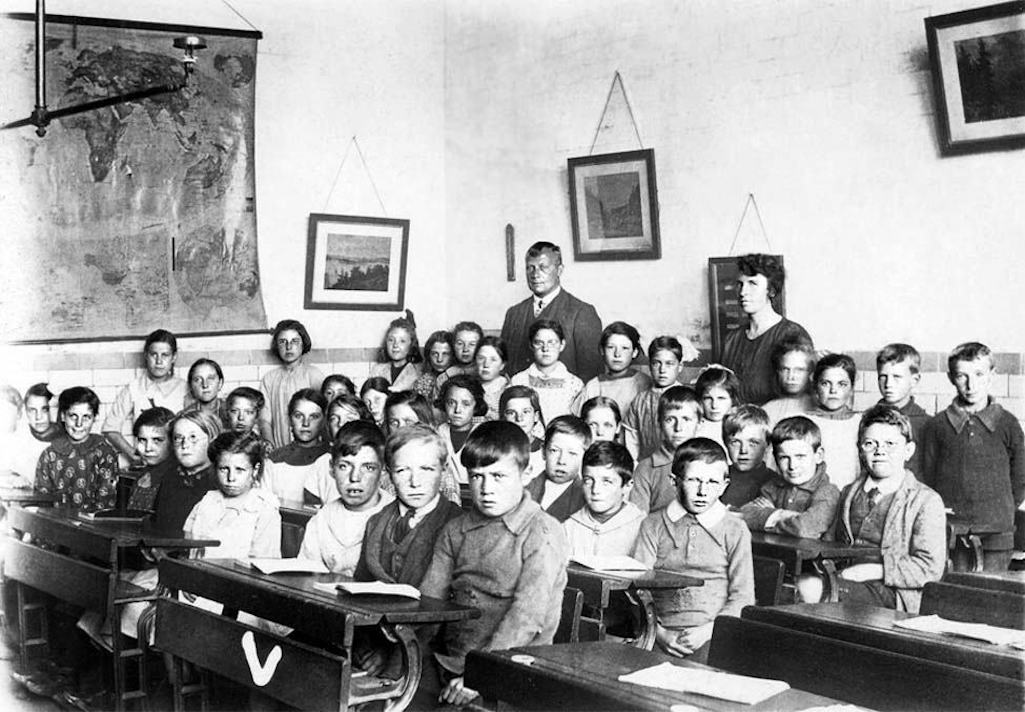 Frank Bamber also remembered that a
Mr. Rigby
looked after the heating of the boiler and he was also a stone mason, who made gravestones at his premises where the petrol station in Ellamsbridge Road now stands. Frank also recalled his first day in the senior school:
And so in 1917 and the Great War still being waged, all us 7 year olds after morning prayers were assembled in the Infants School and formed into twos and led by Miss Saunders. We marched into the Senior school to meet our new teachers, Mrs. Mills and Mrs. Brown who taught two classes, Standard IA and Standard 1B. Entering the classrooms after being divided up, we took our places and sat in the combined wooden forms and desks, each of these forms sat four of us together. The desks had a sloping stop towards us with four ink wells and a groove along the desk below the ink wells to position the ink pens and pencils and a shelf was provided under the desk top to place our books and caps, and so we began our education as 'Standard Ones'.
When it was very cold, headmaster Frank Plews would make all the pupils run round the playground during their 15 minute break period "like circus animals", as Frank Bamber recalled. Those who didn't keep moving in order to keep warm, were struck on their buttocks or backs by Mr. Plews's strap! Being considered 'Cock Ot' Class' or 'Cock Ot' School' was a prized status symbol and Frank also remembered many pre-arranged fights taking place between boys at the back of All Saints Church after school:
The Church did a grand job of screening the two battlers and spectators from the main Ellamsbridge Road and generally we had no interference from anyone except a very big woman who at times would rush across the field from Carnegie Street with two buckets of water and try to hurl the contents at us, which prompted us to either cheer, jeer or boo her; it was all good fun and excitement.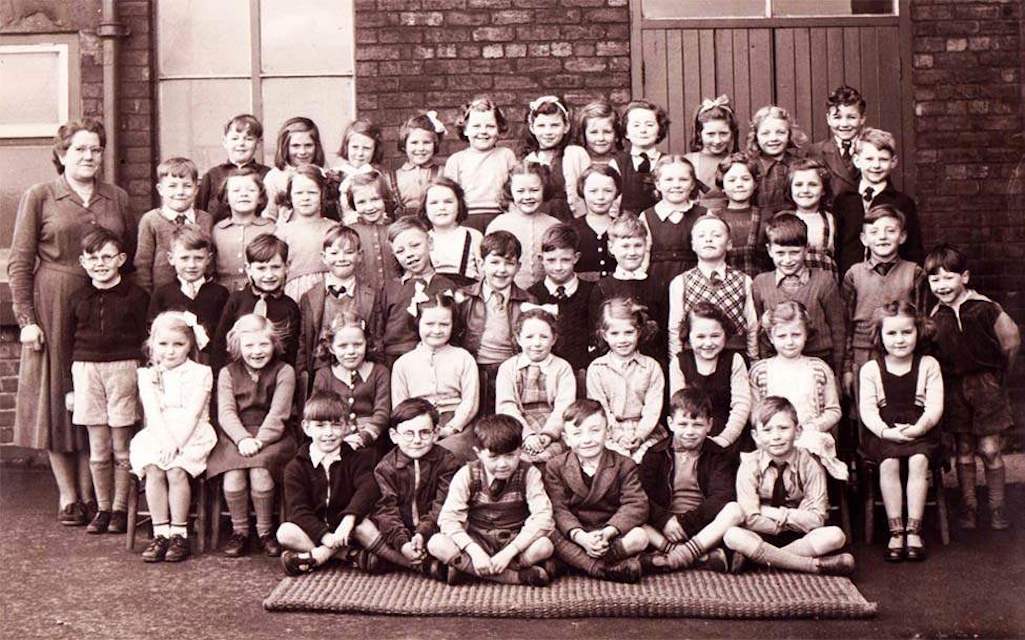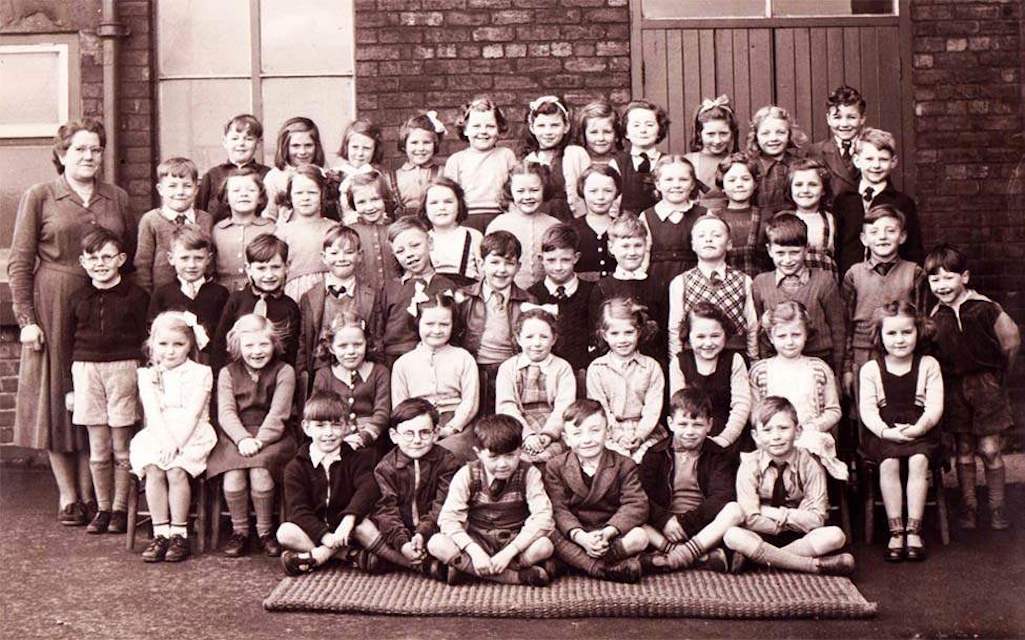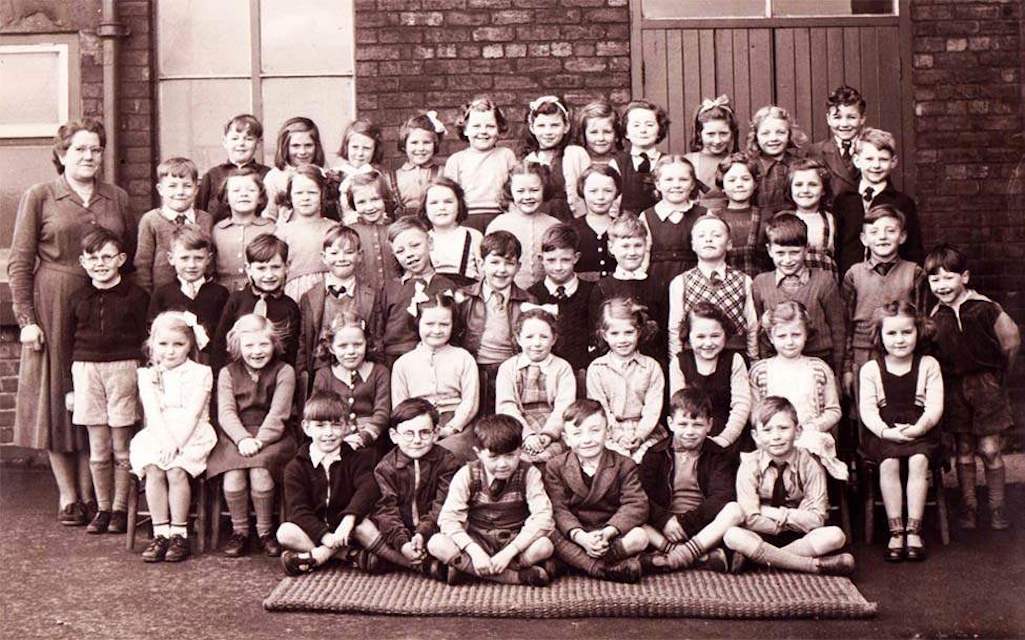 At the start of the new school year in August 1931,129 older boys and 146 girls were transferred to Robins Lane School. This was in response to the Hadow reports, written by influential educational reformer
William Hadow
, who had called for the ending of all-age schools, the re-organisation of elementary education and the creation of secondary modern schools. The transfer left the Church of England school in Ellamsbridge Road with 436 pupils.

As well as a place of education, Sutton National was also used as a form of community centre where various gatherings took place, including political and church meetings. The Sutton Conservative Club held an annual tea party there and it was also used as a polling station during elections. In February 1938 the St.Helens Newspaper reported on a
'
splendid' boxing tournament that had been held in the school that was promoted by former pupil and boxer / coach
George 'Bold' Thomas
. Also in 1938 there was considerable concern about the state of the two Sutton church schools, i.e. Sutton National and Marshalls Cross school, which were attended by nearly 1000 pupils. The Church Times of March 25th 1938 blamed the disrepair on a long-standing dispute between the All Saints Parochial Church Council and vicar
Rev. Colegrove
. This, they claimed, had led to a lack of fundraising and the children were suffering, having at times to be warmed in batches in front of a fire.

So the Archdeacon of Warrington, the
Ven. J. Percy Baker
, held an emergency meeting and roused the warring parties by a 'trumpet call to Christian duty', in order to address the situation. The
Rev. Canon J. Lovett
, of Prescot Parish Church, then formed a restoration committee (chaired by
Fred Lester
) to save the schools from 'financial disaster', as Rev. Colegrove later wrote in a Sutton Parish magazine. By January 1939 almost £500 had been raised (which became £1000 by June) through gifts, social occasions and a garden party in Sherdley Park, along with weekly house-to-house collections. The reconditioning of the two schools could now begin and was undertaken by G. H. Bellis & Sons and initially involved installing new lavatories and the replacement of gutters and downspouts. The re-pointing and repainting of the schools' exteriors was also planned, as well as other much-needed work, once a further £3000 had been raised. The Archdeacon of Warrington, writing in the Liverpool Diocesan Leaflet for June, said he was "immensely cheered by what has happened in Sutton". The headmaster of the Sutton National boys' school at this time was a
Mr. Anders
.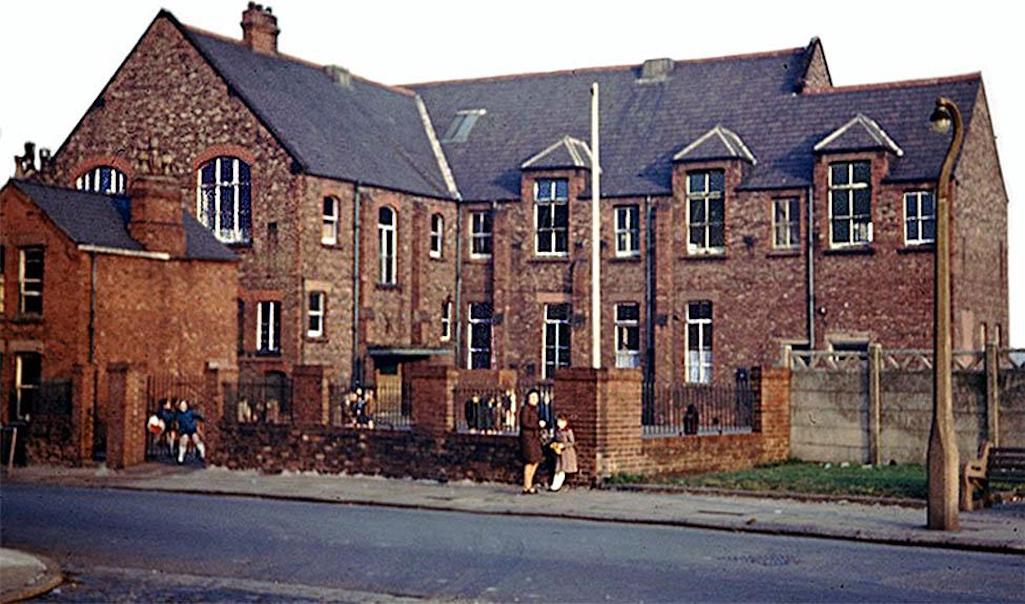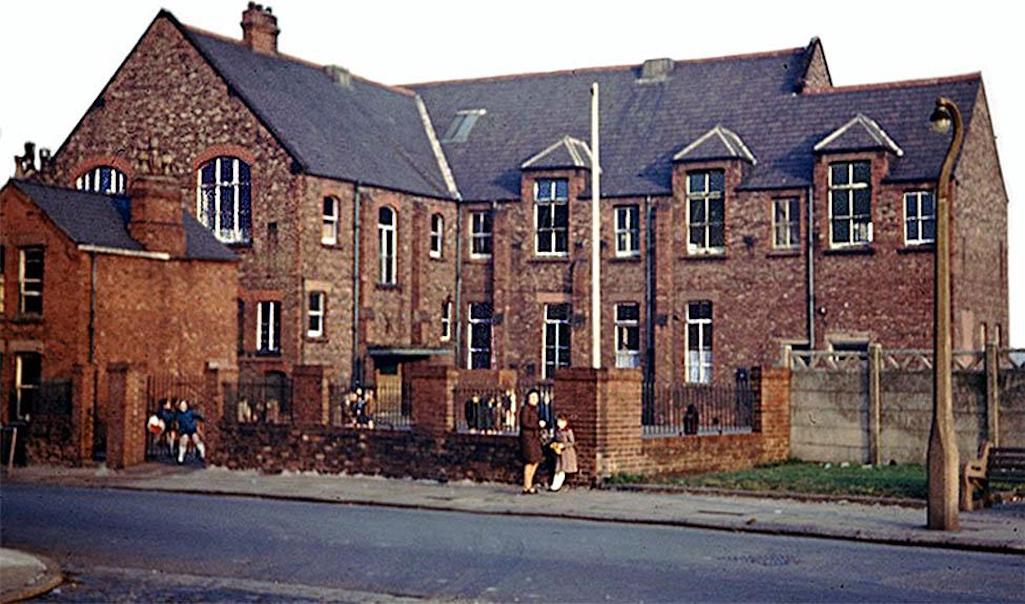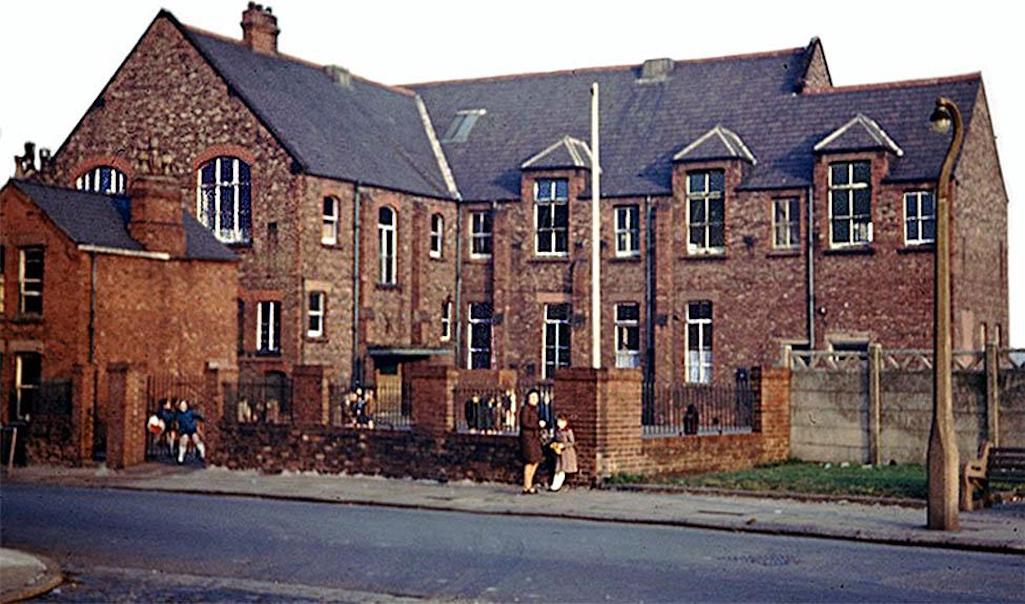 A new Sutton National school was opened in 1965 at a cost of £49,000. As to post-war staff members,
George Myers
was
a
long-standing headteacher. Like some of his predecessors, Mr. Myers acted as a curate at All Saints Church and was said to have been quite forthright in his preaching. Well-remembered teachers are
Mrs. Twist
,
Mrs. Darlington
,
Mrs. Rogers
and
Mrs. Carroll
who taught at the school from the early 1960s until retiring in the late '80s. She was Marie Hibbert when she began teaching and is described by her niece
Lynn Edwards
:
My Auntie Marie took me to the school Christmas parties and I remember the wooden slide and large partition. I always headed for the slide and I'm sure there was a piano. Auntie Marie taught the infants and later got married and became Mrs. Carroll. She loved her pupils and was devoted to her job.
With the closure of Sutton National, the existing infants and junior schools were amalgamated into a new Sutton Oak Primary School, which was opened in September 1993 in Goodban Street. Other primary schools in Sutton are Sherdley school on the corner of Mill Lane and New Street and Eaves school in Eaves Lane which opened in 1975.

Marshalls Cross School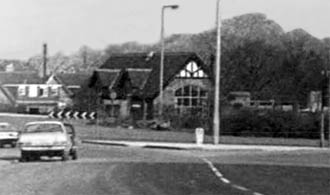 Marshalls Cross School
was located at the top of Mill Lane, not far from the Bull and Dog pub and opposite William (later Lucy) Bath's general store, post office, chandlers and off-licence at 253 Mill Lane. It was built because the young children living in Marshalls Cross and Sutton Leach were having to walk a long distance to attend the infants' classes at Sutton National School in Ellamsbridge Road. The land for the new school was donated by
Captain Michael Hughes
and on February 13th 1900, Hughes's wife Edith organised a fundraising concert in Sutton 'Nash'. This included performances by some of her friends and it raised nearly £50 for the new school. Performers including Sutton Road Prize Band,
Lady Basing
, comedian
Harry Collins
and
Sir Delves
and
Lady Broughton
performed duets. The couple's son Jock would later stand trial for murder in Kenya and became the subject of the famous film 'White Mischief'. There was also a cinematograph exhibition and showing of lantern slides of the Boer War, as it became known.


However most of the funds for Marshalls Cross School came from a bazaar held in St.Helens Town Hall at the end of April 1902, which was supported by a number of the town's influential citizens. During the bazaar's opening ceremony,
Rev. Crane
said it had been the product of ten months preparation in Sutton, with the whole parish being "one hive of industry", creating "wonderful works of art". The assembly hall featured many stalls and was decorated so it resembled a street in the fictional town of Pynka Pong in 'San Toy', the hugely popular 'Chinese' musical comedy that had recently been performed in London. The bazaar raised around £1000, which as well as funding the building of the school, also went towards some restoration work at St.Nicholas church. The new school opened on December 27th 1902 as a Church of England infants' day and Sunday school, accommodating about 120 pupils and costing about £900.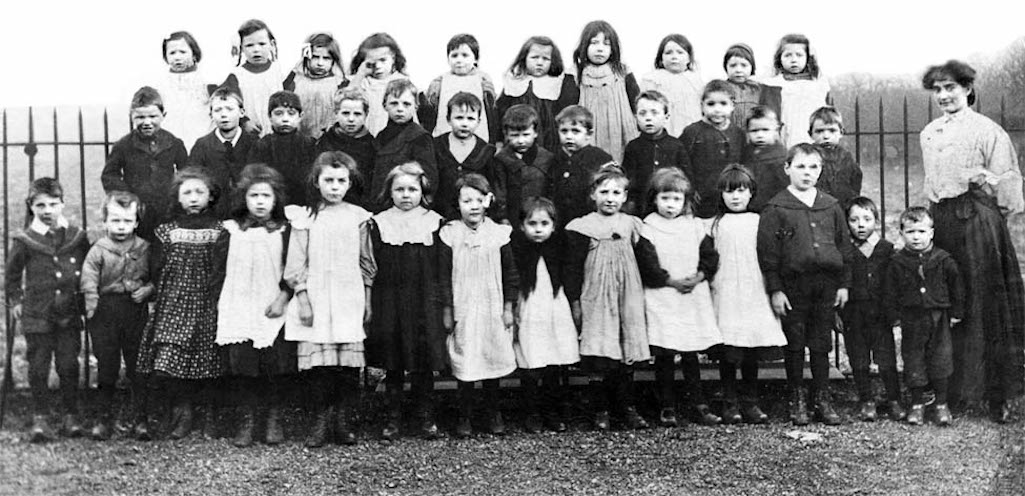 Elsie Lamb
taught during the school's early years and is pictured above. There were only two teachers at Marshalls Cross, a headmistress and an assistant and both were replaced in 1922, possibly through some issues with the teaching.
Mrs. Merrick
became headteacher and a Board of Education Inspector's Report from 1924 stated that good progress was being made: 'A great deal of valuable work has been accomplished and the school is now fairly satisfactory. The standard of attainment is distinctly better than it was…A very good feature of the school is the distinct and clear speech of the children.'

Another inspector's report from 1929 praised the 'homely atmosphere and good work' at the school and commented how the two teachers were very painstaking in their duties, with 'very creditable' results. In 1932 Mrs. Merrick was replaced as headteacher by her assistant
Mrs. Finch
, with the latter's old job taken by a
Miss Price
. The school inspection report from 1936 was again quite positive as regards the teaching, once more commenting on the homely atmosphere, as well as praising the 'fluent and expressive' reading, 'commendable recitation', the 'happy children' and the school's singing and dancing lessons. However the report did criticise the state of the accommodation, calling for the building's interior to be decorated and the cloakroom roof to be made watertight. The unsurfaced nature of the playground was also criticised, however it was suggested that a section could be turned into a garden and the children 'encouraged in the observation of living things'.

Little action appears to have been taken and the next report from 1938 was very critical, describing the school premises as being in a state of disrepair. Sections of iron railings and downspouts were broken, the cloakroom roof had partly collapsed and at times of bad weather, rain had entered through the main roof. After seemingly ignoring the previous report, HM Inspectors now wanted action by the school managers (what these days are called governors), led by the Sutton Parish vicar Rev. Colegrove. As stated in the article above on
Sutton National
, the dilapidated condition was blamed on a long-standing dispute between the cleric and his All Saints Parochial Church Council. The poor school report prompted the formation of a restoration committee, which raised thousands of pounds to improve both Marshalls Cross and the Sutton National schools.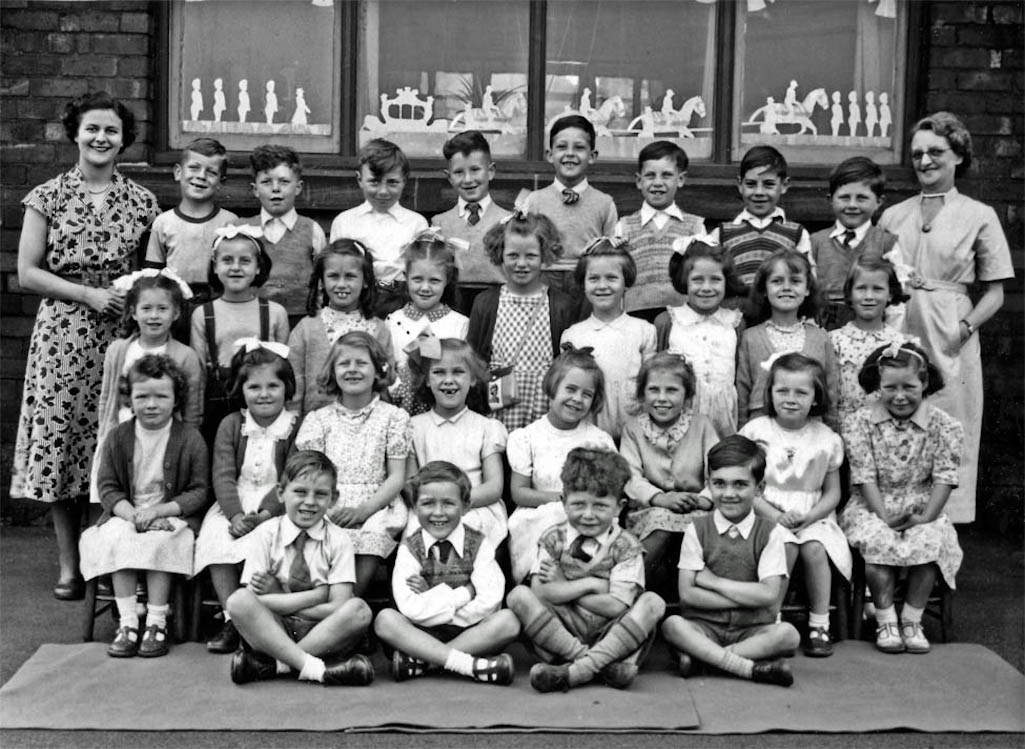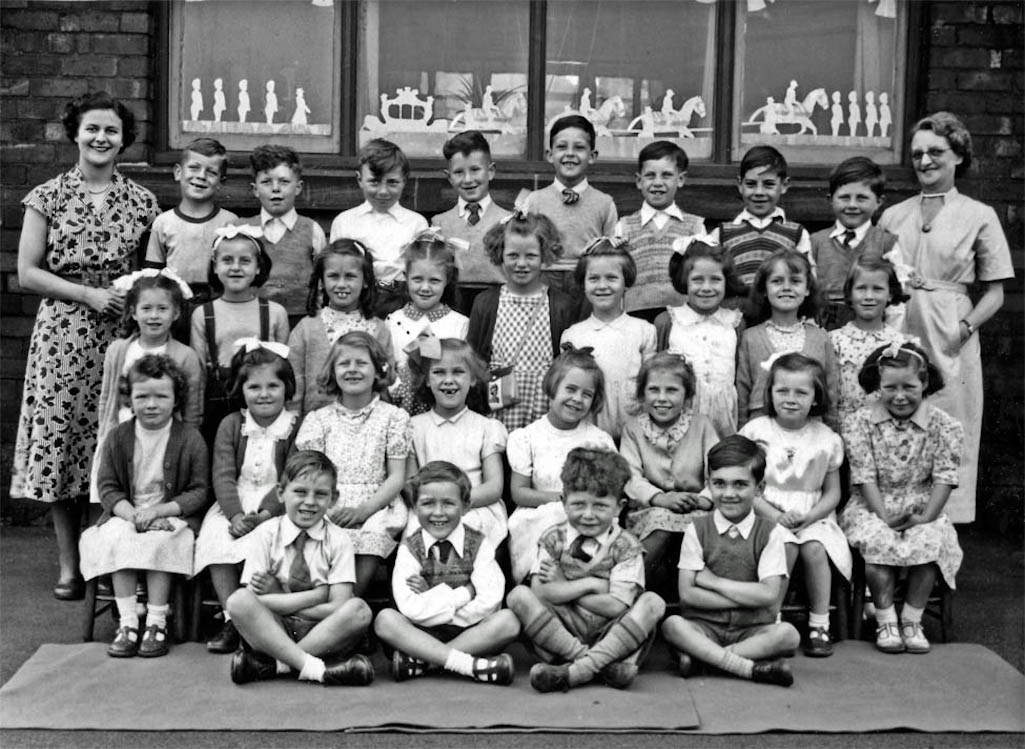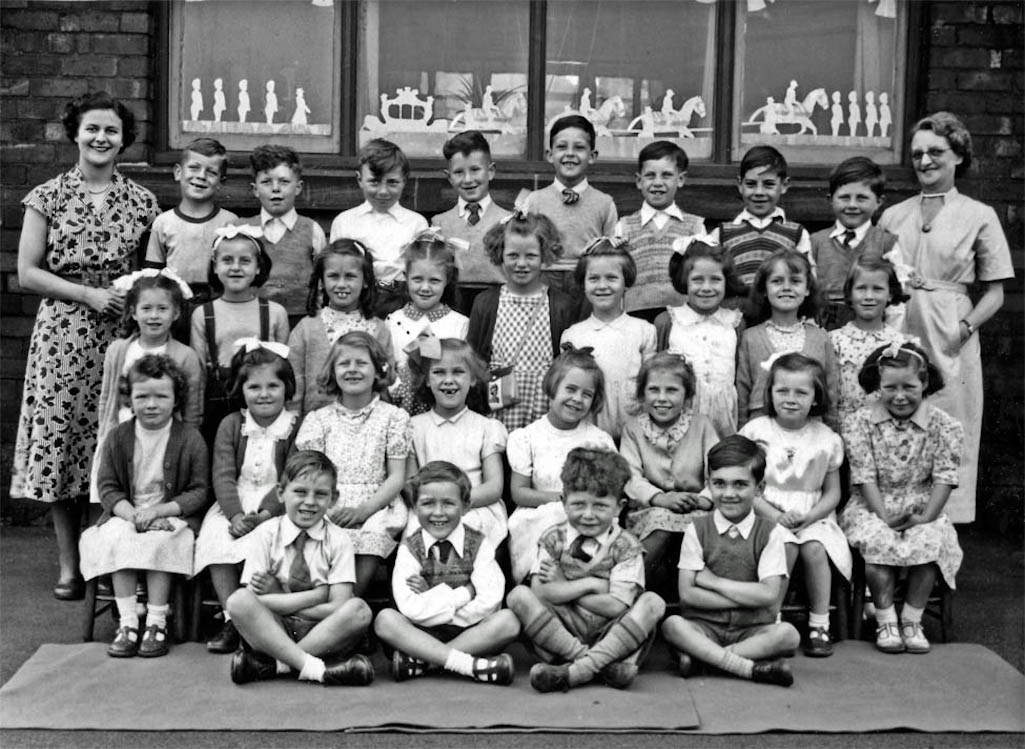 Harry Hickson
was a pupil from 1942 and in his Memories of Sutton
article
described it as a simple, open plan building with a pitched roof. The children entered from Mill Lane and would walk straight into a narrow, side cloakroom annex, with a small kitchen at one end.
Mary Lamb
of Mill Lane was a longstanding teacher from around the 1940s to the '60s. A
Miss Bithell
was headmistress during the late '50s and
Mrs. Cook
was another teacher at that time.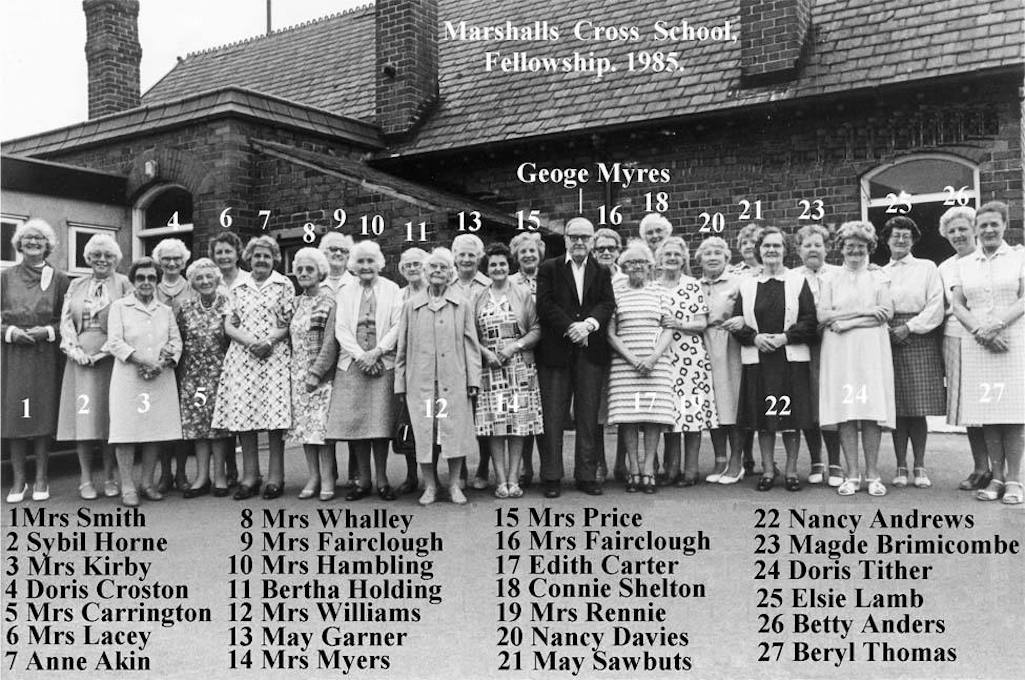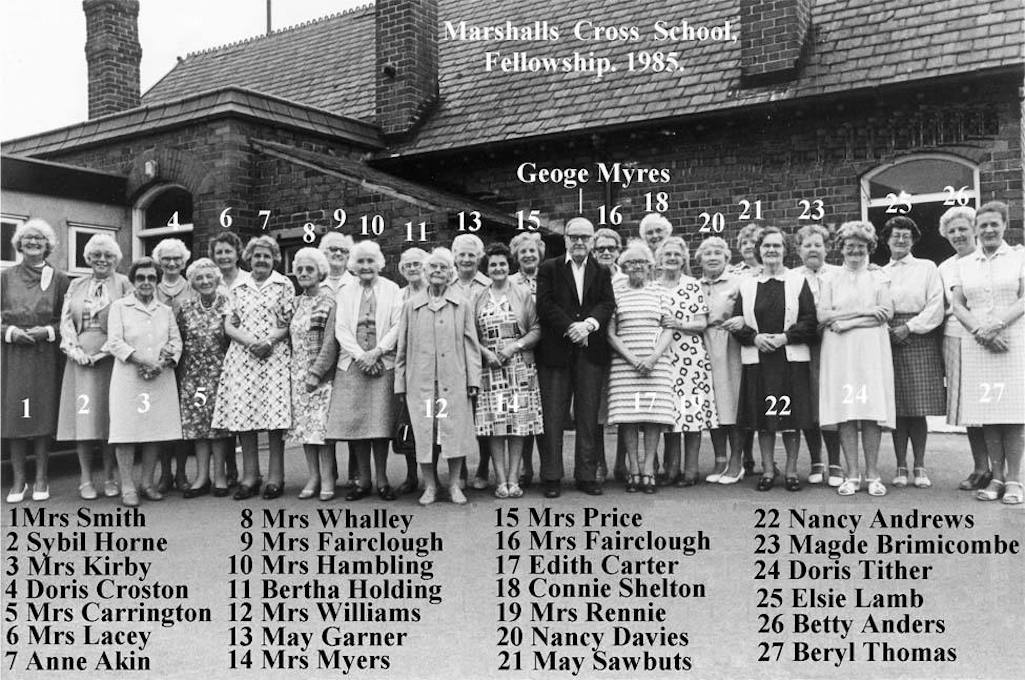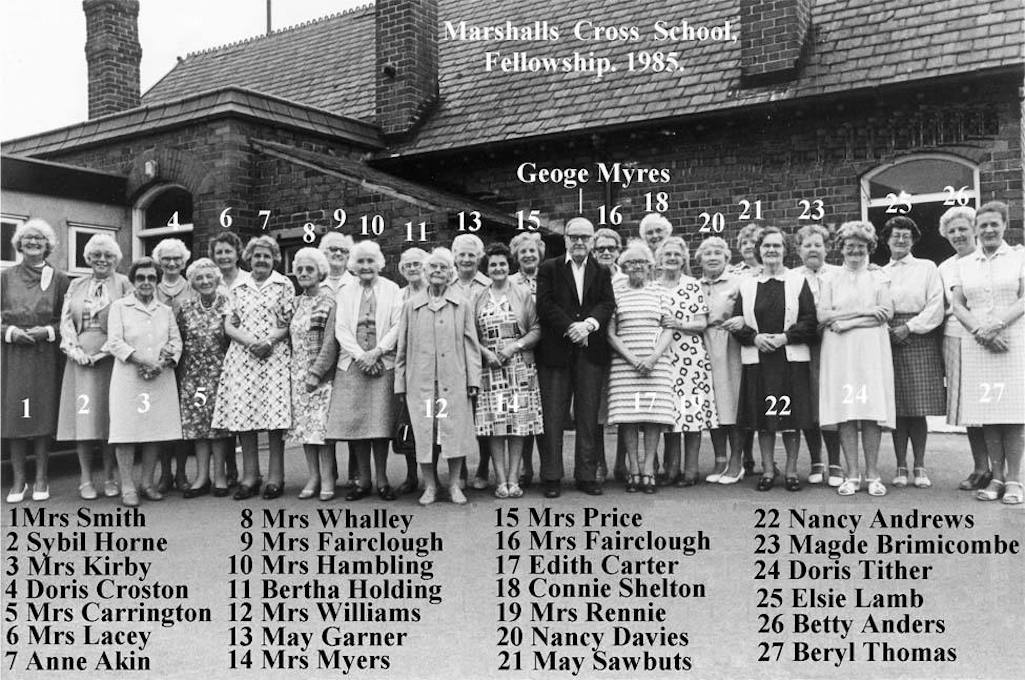 The small infants school closed in the early 1990s and part of its building is now used by the Sherdley Manor Nursing Home. If you can provide more information or photographs of Marshalls Cross School, please get in touch. (Thanks to Jim Lamb, Marjorie Hall, Liz Mercer and Andy Hatton for their contributions)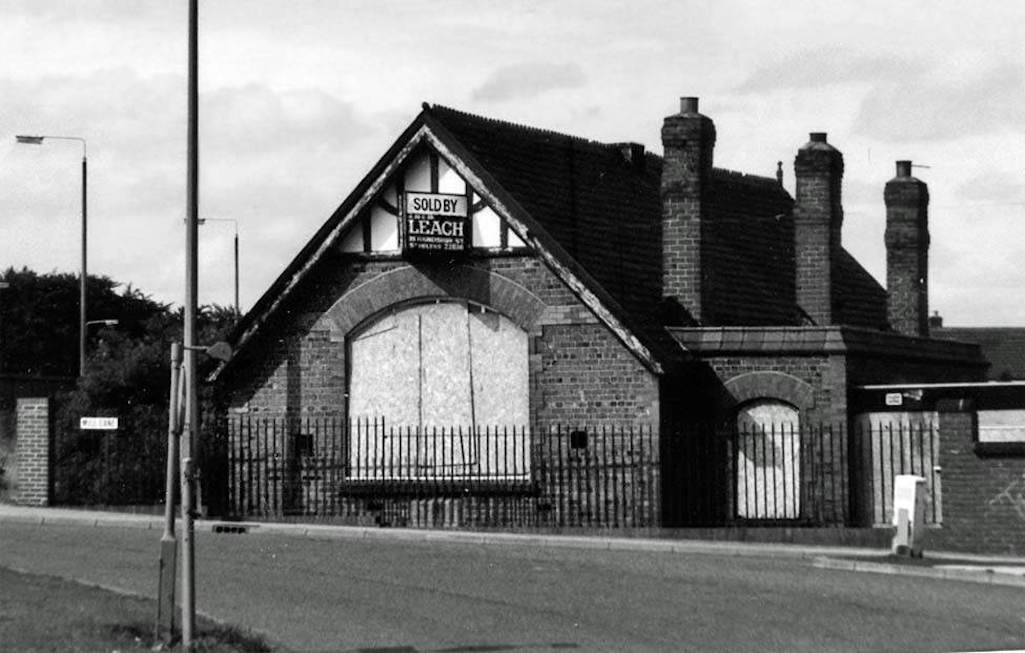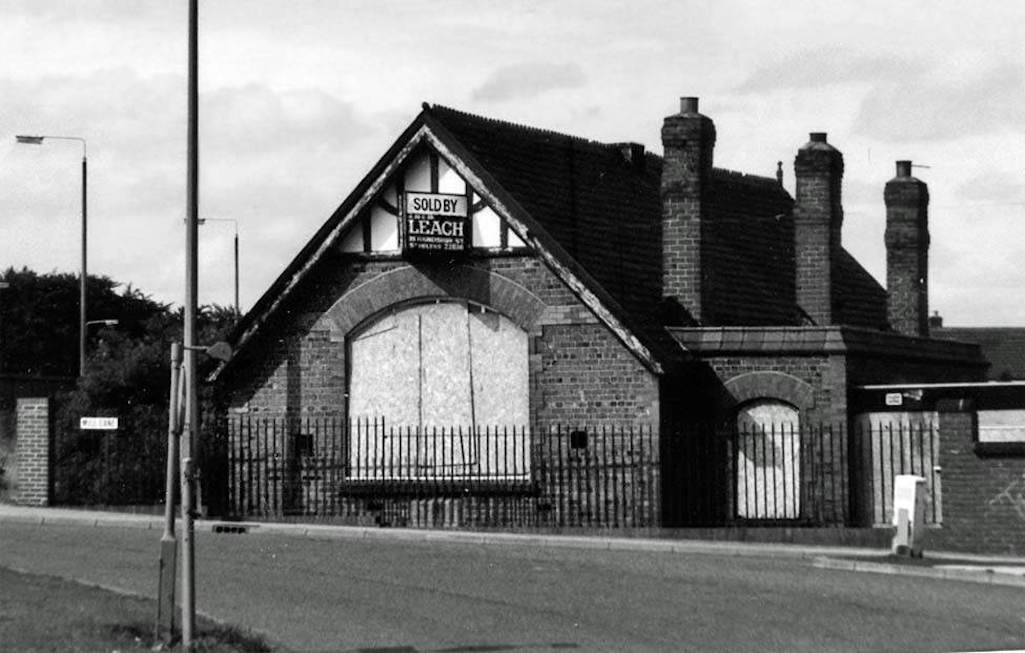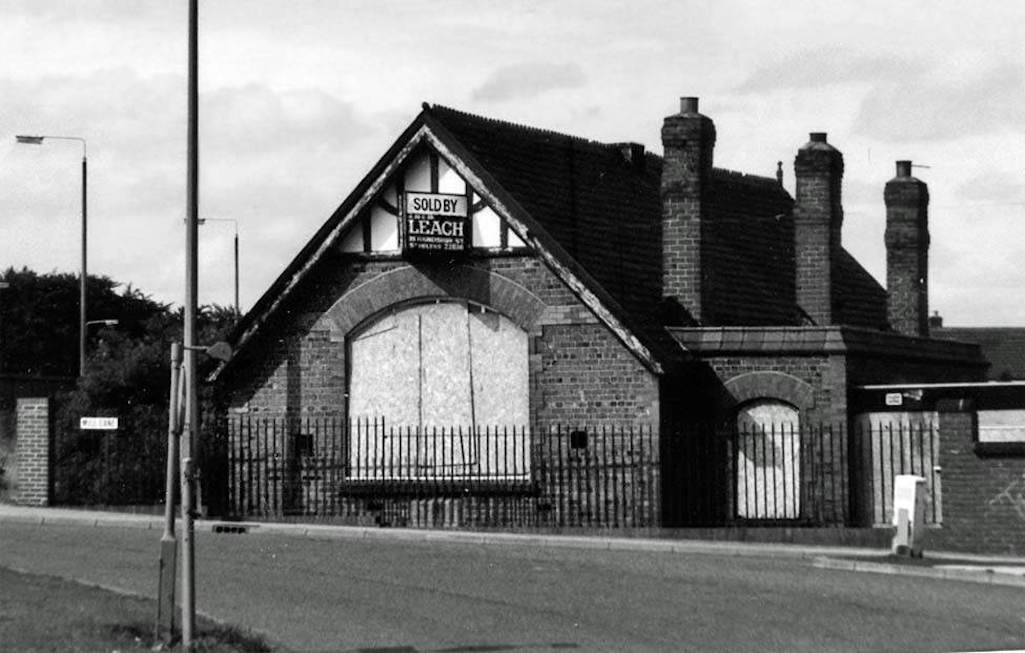 Clock Face Colliery School / St. Aidan's School
Clock Face School
was situated in Lindsay Street, off Clock Face Road. The Wigan Coal & Iron Company first made plans to build a school near to their Clock Face Colliery in late 1912. At first there was some uncertainty as to whether the new school should be Church of England or non-denominational. But by the time that the legally-required public notices were published in the St.Helens newspapers on March 21st 1913 announcing their intention to build a new school, it had been decided that it should be C. of E. Issues with water and gas supplies, along with the outbreak of war, led to the project's temporary abandonment. The scheme was revived in February 1916 as the rapid development of Clock Face led to increasing pressure on school provision in the district. Although houses were being built at a fast pace, some miners were refusing to work at Clock Face through a lack of a school.

A census conducted in 1916 revealed that of the 234 children of school age in Clock Face, 140 were studying at Bold Heath School, 50 at Sutton Manor, 19 at St. Annes RC, 6 at Sutton National, 4 at Rainhill RC, 3 at Higher Grade in St.Helens and 1 at Cowley. Eleven children in Clock Face were not attending any school at all. Bold Heath School was nearly two miles away and was described by one education official as being in 'bad premises and overcrowded' and the road to the recently-opened school at Sutton Manor 1½ miles away was described as being dangerous for youngsters to use.

The architects for the new school were William and Segar Owen of Warrington and their building was set to provide places for 250 children on a site covering 4218 square yards at a cost of £5261. The proposed Clock Face school had to be approved by the Board of Education (B. of E.) if it wanted to be placed on its annual grant list. Internal B. of E. memos obtained by this website demonstrate some concern that the cost per pupil was very high at £26 per person. However one official argued that the building should be encouraged as the colliery company was making big profits and could well afford to build the school. It was suggested that if there was a slump after the war, they might decide not to go ahead and St.Helens ratepayers would have to pay for the construction instead. Initially the school hall would be partitioned allowing three classes to be taught with a Sunday school taking place in the hall on Sundays. The intention was for the school to be expanded in time to accommodate 600 pupils.

The school roofed with red tiles and originally known as Clock Face Colliery School was approved by the Board of Education and it opened in September 1917. There were five classrooms, with two rooms measuring 25 feet x 20 feet and the partitioned large hall was 59 x 29 feet. The Wigan Coal & Iron Company paid for its construction and for a token £1 a year leased the building to four foundation managers. These were
William Sword
, manager of Clock Face Colliery,
John Pickett
, colliery undermanager,
Rev. William Colegrove
of Sutton Parish Church and
Rev. Richard Mann
. They were responsible for all overheads, including the cost of building maintenance, insurance, local authority rates etc. Although not strictly a church school, the lease insisted that religious instruction was to be given to all children and all master and mistresses had to be members of the Church of England.

A newspaper article in 1934 described how the school was supported entirely by volunteers and how the roof had become corroded. A well-remembered headmaster from the 1930s and '40s was
Frank Kenwright
, who some have said was a strict disciplinarian. In 1942
Rev. J. D. Jones
, the Vicar of Sutton, acquired the school for the Church of England. During WW2 the school was used to distribute ration books to the people of the village.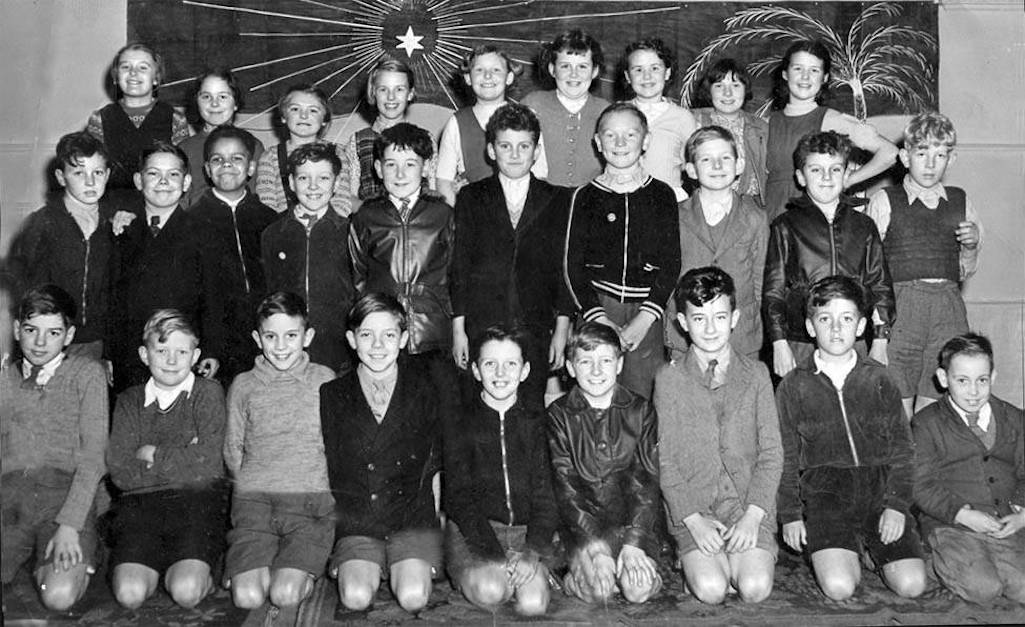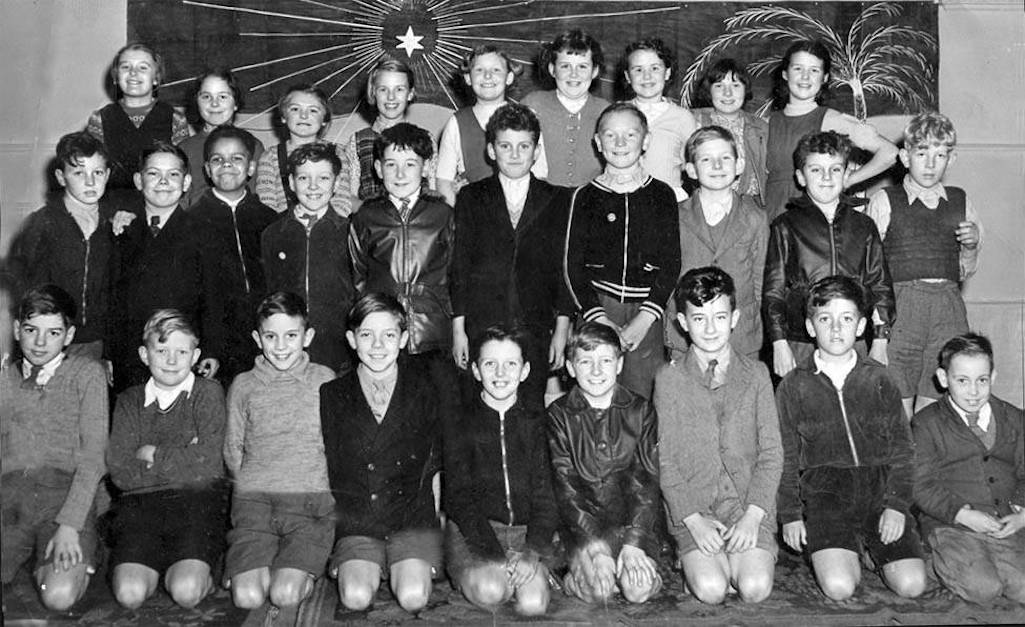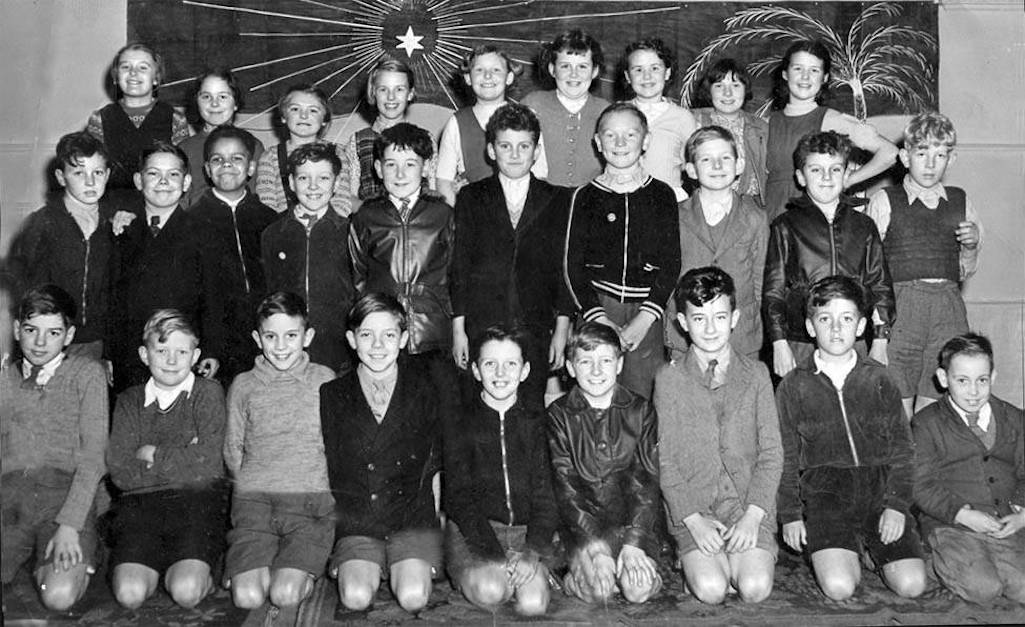 After losing 'Colliery' from its name in 1942, Clock Face School was renamed again three years later when it became known as St. Aidan's. On January 22nd 1946 fire broke out in the basement during school hours, but there were no injuries. During the 1950s the class teachers were
Miss Harrison
(1st year infants),
Miss Eden
, (1st year juniors),
Mr. Southern
, (2nd years) and
Mrs. Fowles
. The headmasters and third year teachers were
Mr. Eric Leatherbarrow
and
Mr. R Byron
. In the above class photograph c.1953/54 are on the back row L to R: Dorothy Hill, Joan Davies, Norma White, Sylvia Brown, Joyce Woodward, Dorothy Ashcroft, Ann Bramely, Margaret Bowden, Mavis Little. Middle row: Jimmy Prescott, Geoff Heyes, Roger Benson, Roy Little, Tony Lee, Michael Rennie, Stanley Pumford, Keith Littler, Allan Nutall, Eric Heward. On the Front Row is Leslie Painter, Allan Parr, Keith Worral, Barry Tilley, Ken Hill, John Kenny, Kenneth Dickson, Derek King and Dave Woodward.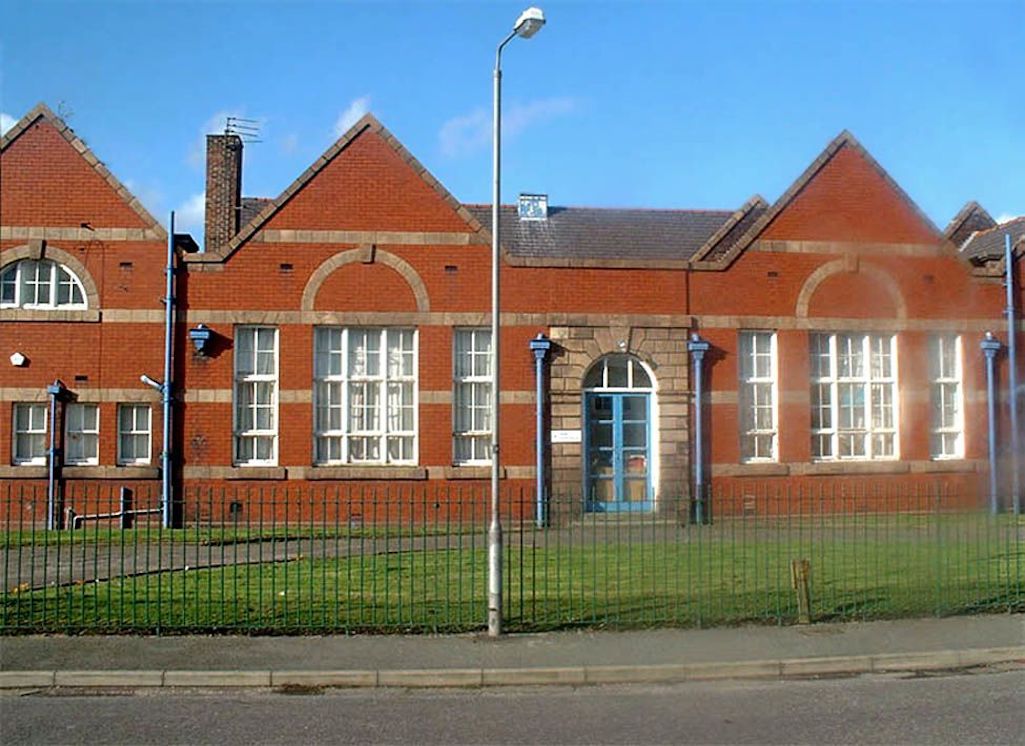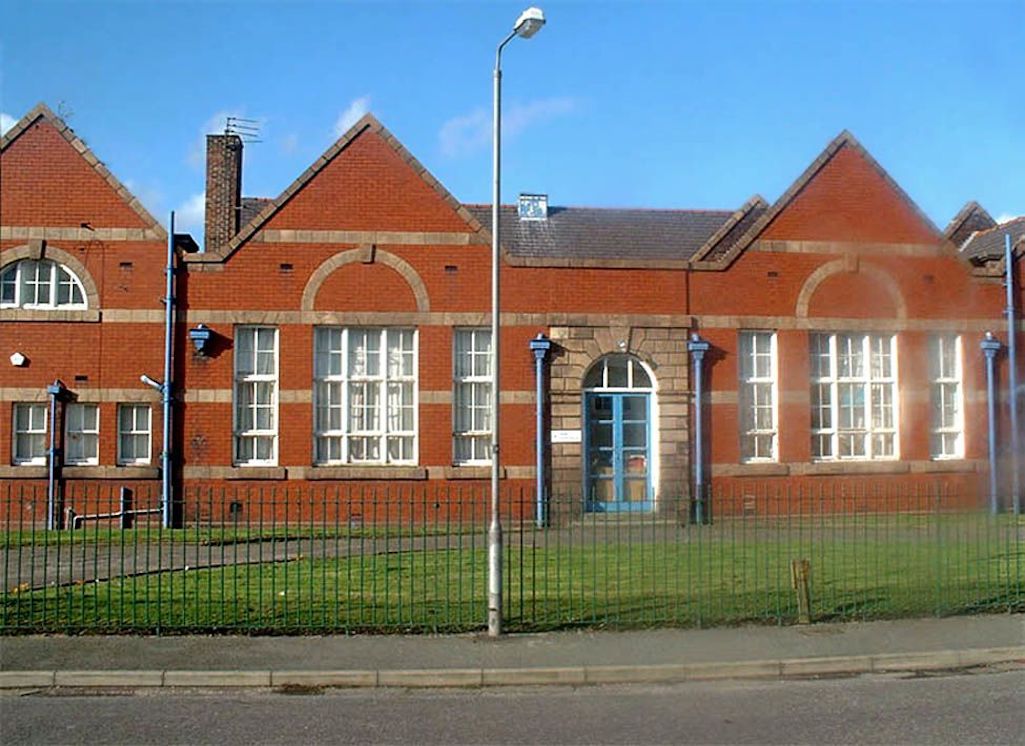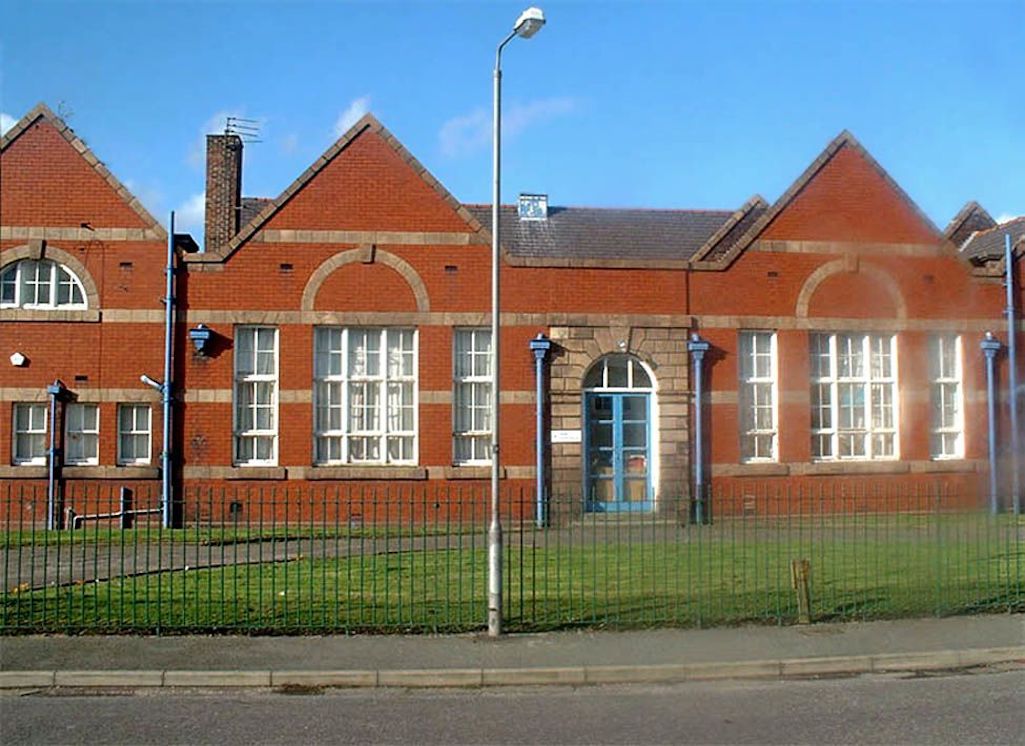 The headmaster during the 1970s was
Mr. Bell
and in about 1974-75, new classrooms were added. The picture below shows the main hall, which was photographed by
Andy Mayer
shortly before its demolition. Andy states that this is part of the original school and inside it were two classrooms that were separated by a partition.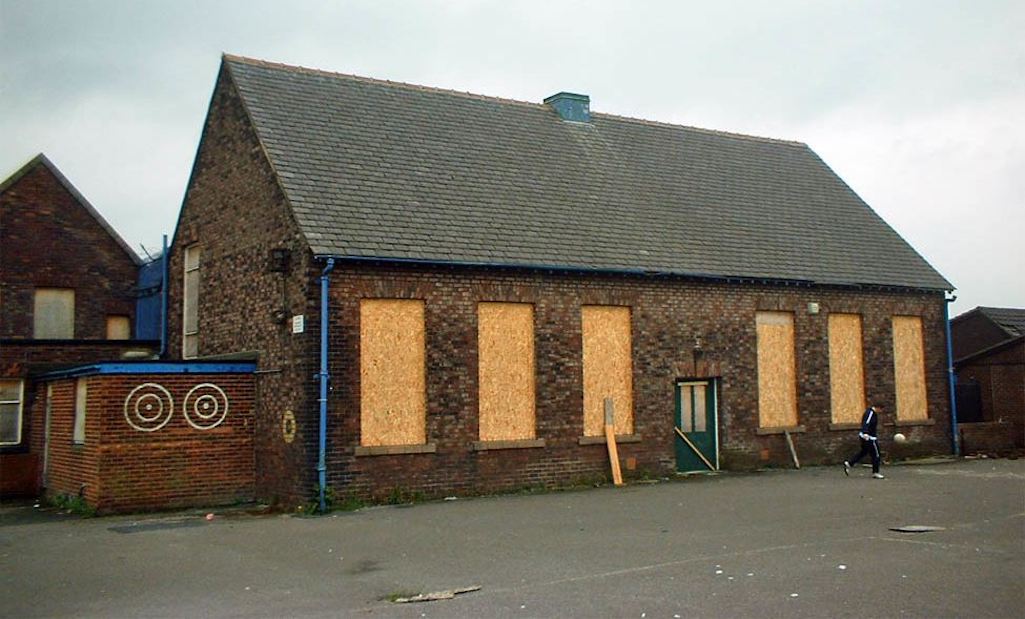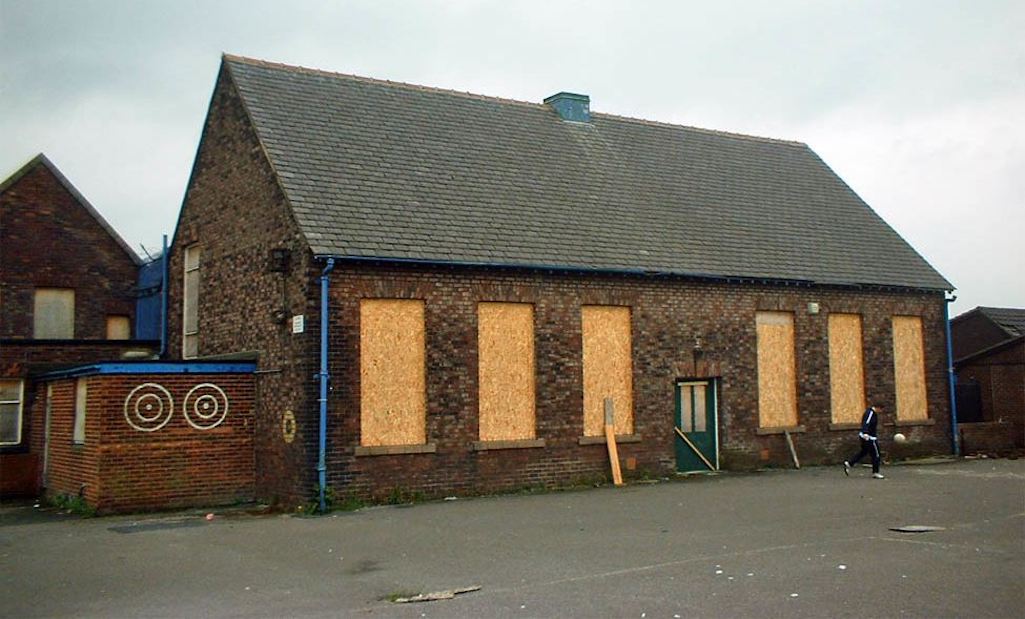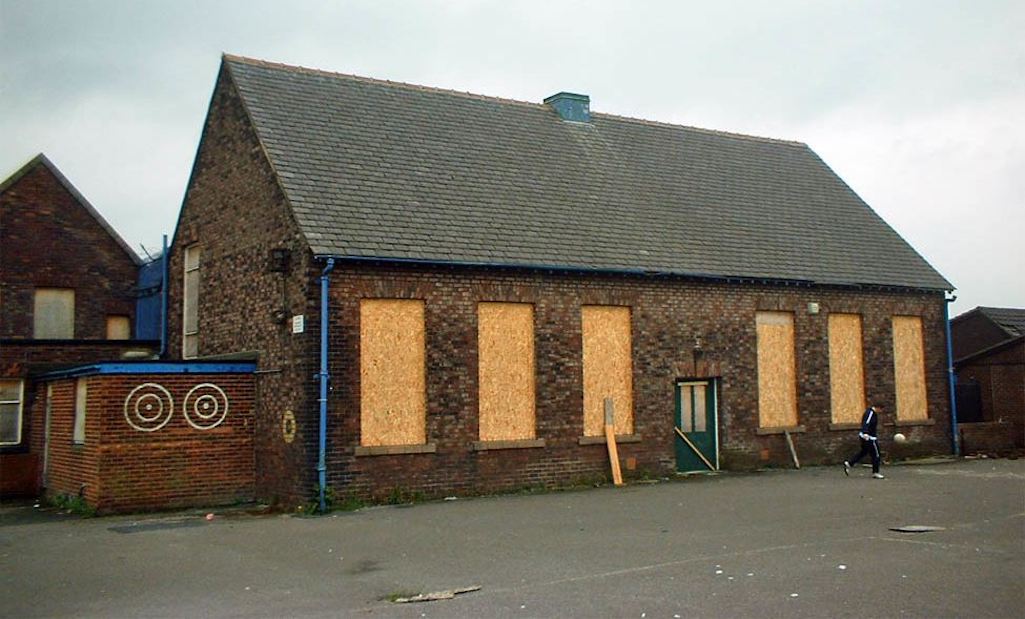 The partition was removed at dinner times and for assemblies to create a single, large room. The kitchen is the building on the left of the photograph with the two white targets on it. Pupils were chosen to set out the tables and knifes & forks etc. and they had to do this every day and then put everything back into the main hall for the afternoon classes. Andy writes:
Anyone who went to the school will remember the yellow ball throwing target, seen to the right of the white ones (in photo above). It was there when I started in 1974.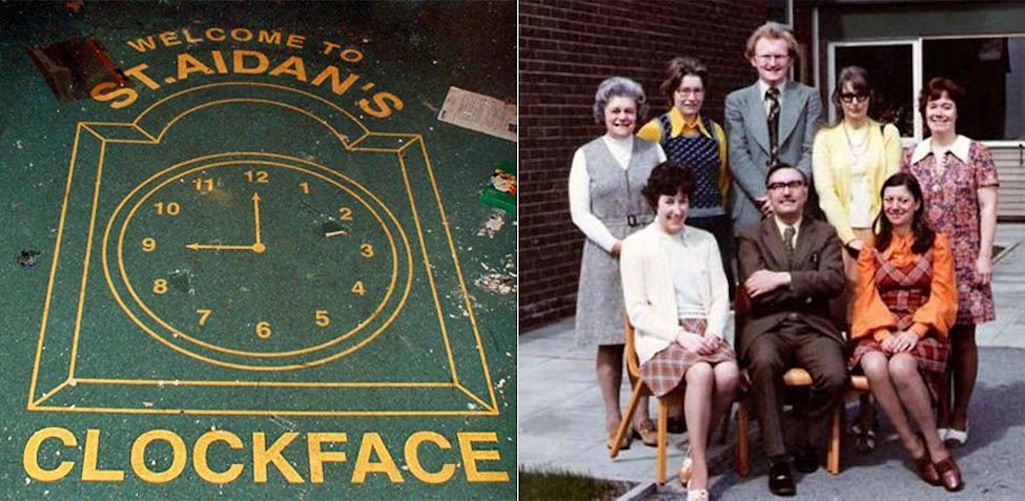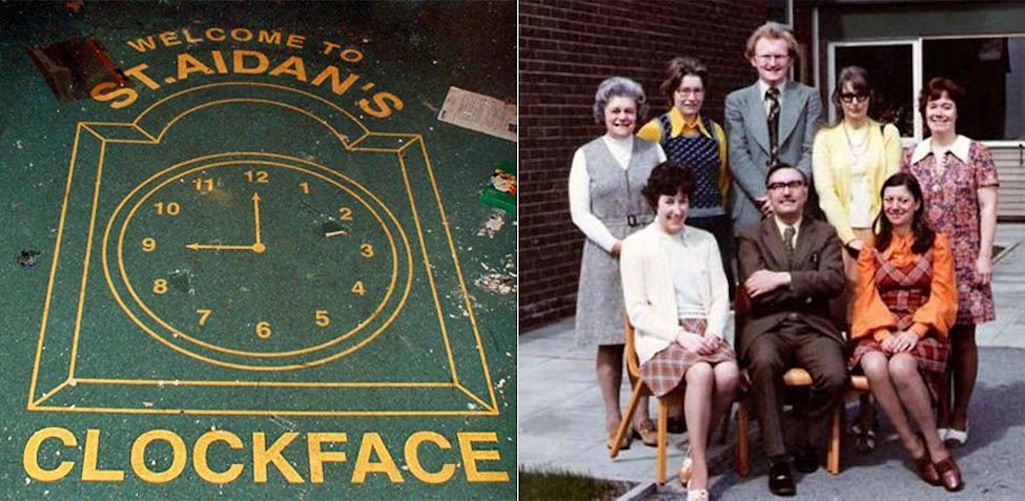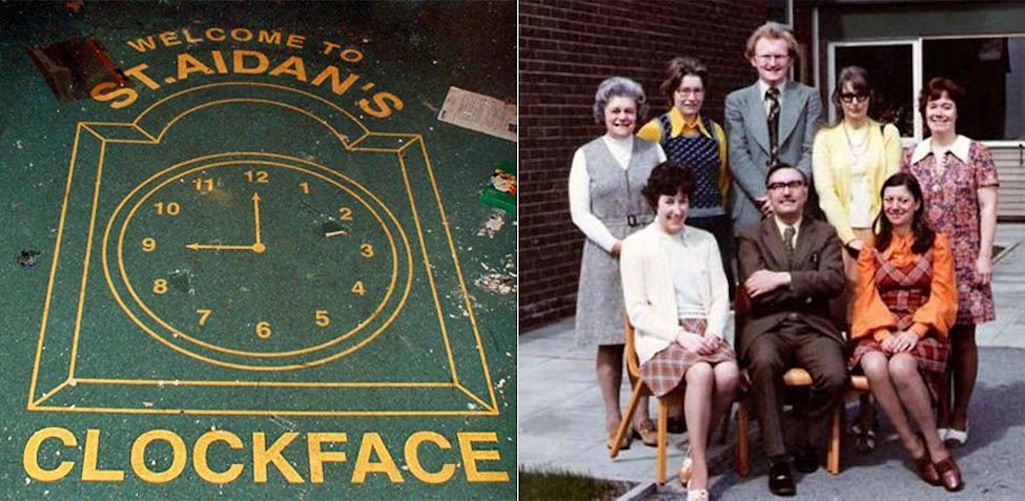 The school closed in 2002 because of a 19 per cent reduction in its roll during the previous three years, due to a declining birth-rate in the district. The buildings were subsequently demolished and Clock Face / St. Aidan's School is now the site of apartments known as St.Aidan's Court)
.
If you are able to provide more information or photographs of Clock Face School or St. Aidan's School, please do get in touch. (Thanks to Andy Mayer, Mike Rennie, Ken Baines & Joan Brough for their contributions)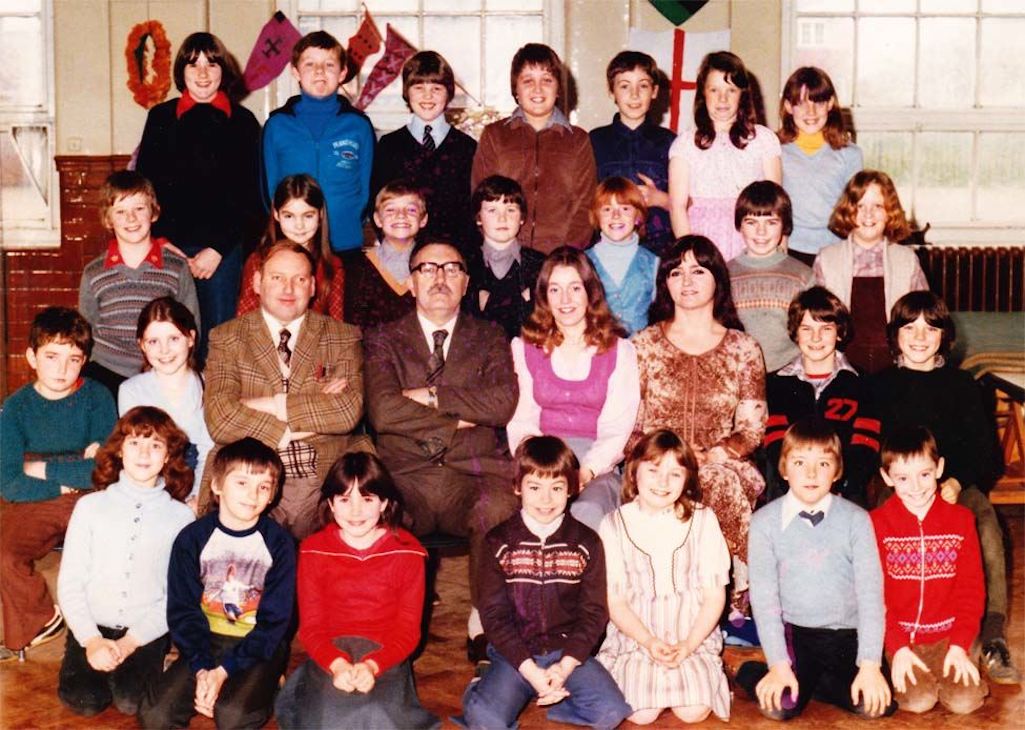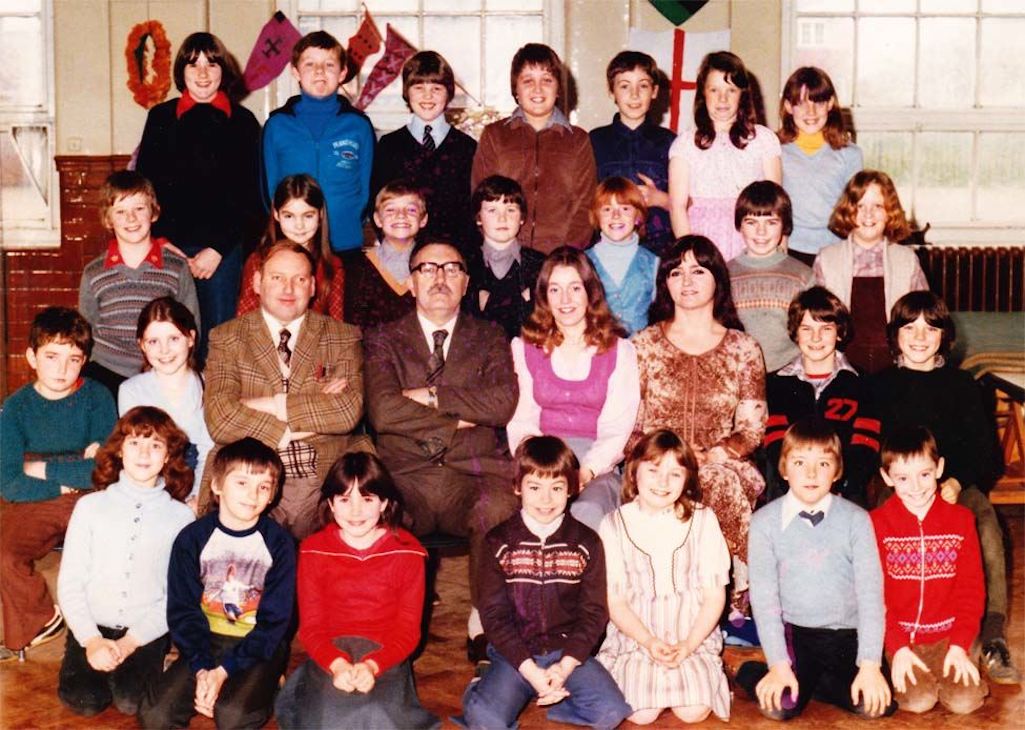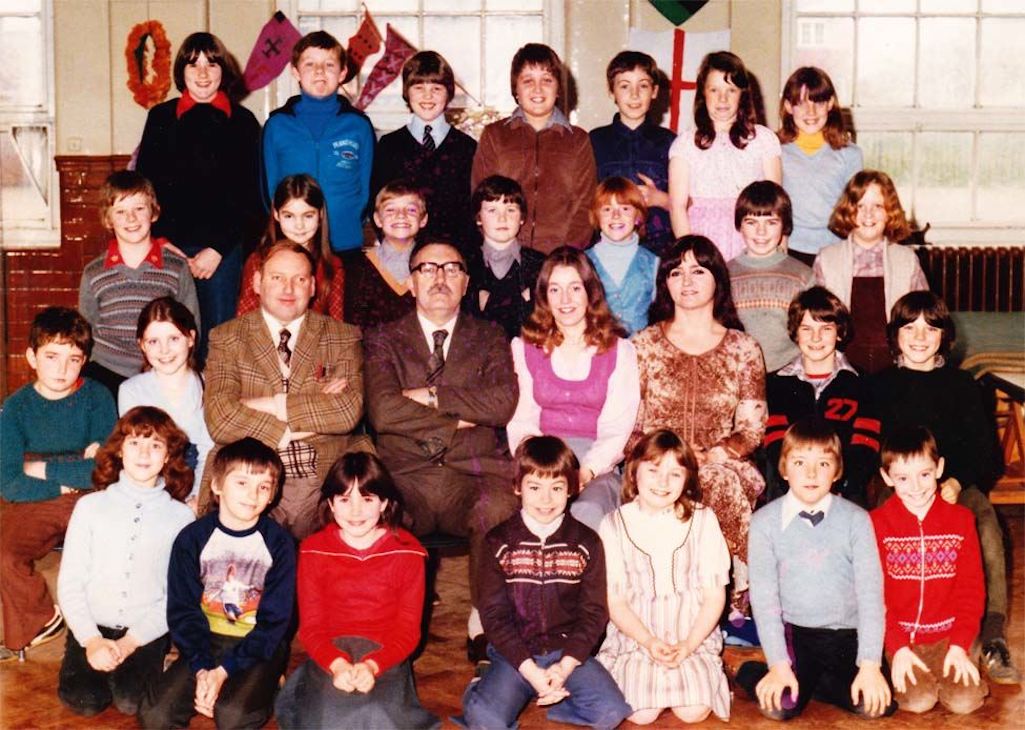 Sutton Library and Sutton Manor Library
Sutton Library
was opened in a former house and shop in Sutton Road on February 3rd 1887. The 'free' library was located near to Sutton's pumping station and water works and what became the Sutton Oak Welsh Chapel. The decision to open a branch library in Sutton had been taken on November 17th 1886 at a meeting of St.Helens Corporation's Library Committee. The books in the free library were available to all Suttoners to borrow. However, households who had Scarlet Fever were banned, due to fears of the contagious disease being transmitted through books.

The library had been proposed at the committee meeting by
Alderman Arthur Sinclair
(1823-1900)
who lived at Waterdale in Sutton, supported by fellow Suttoner
Noah Greenough
(c.1843-1899)
. Sinclair had formerly been the manager and treasurer of the St.Helens and Runcorn Gap Railway and in 1892 became the Mayor of St.Helens. During Sinclair's second term, the people of St.Helens subscribed £700 to pay for his portrait to be painted and it hangs to this day in the Town Hall. Cllr. Greenough ran a bakers and grocers at 66, Sutton Road.

The free library in Sutton was the first branch library in St.Helens and began in a very modest way. On October 19th 1887, it was reported at a committee meeting that the new library held a stock of 746 volumes, compared to the Town Hall library and reading rooms which had 13,682 books. Within two years, Sutton's stock had doubled to 1477 books and in June 1889, St.Helens Corporation approved the building of a new reading room. This cost £150 and was built on a plot of land adjacent to the library by builders Crake and Marsh of Liverpool Road, St.Helens. As well as books, the reading room held a stock of national and local newspapers plus magazines.

The library proved too successful and complaints were made of problems in obtaining certain titles. This was raised by Cllr. Greenough at a meeting of the library committee on September 24th 1890 and the Librarian's response was that popular books were often in other borrower's hands. During the month of January 1891, 1253 books were borrowed from the Sutton Road library with a total of 1593 visits recorded. The demand for borrowing books became so great that a second branch library was opened in Thatto Heath on November 3rd 1891. By this time the Sutton free library had expanded to 1,710 titles and during the previous year 13,623 books had been borrowed. Then on January 25th 1894, Sutton's Arthur Sinclair, as Mayor of St.Helens, opened the third free library in Chancery Lane, Parr which was built by contractor
Peter Tickle
for £850.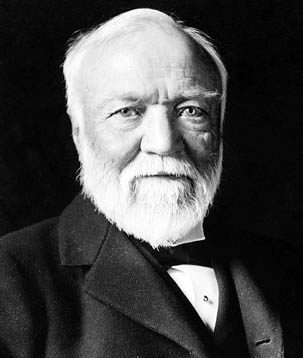 The libraries continued to grow in popularity, although there was a dip in borrowing during the month of January 1895. The head librarian explained to the library committee in February, that this was because people had chosen to go skating on frozen ponds instead! On November 17th 1897,
Dr. Henry Baker Bates
, councillor for East Sutton, criticised the condition of some of the books at the Sutton library. He commented at a meeting of the Free Library Committee that "the works on science were very ancient indeed". The Librarian's response was that borrowers should go to the new central library at the Gamble Institute which had opened three years earlier and where there was a better supply.


Although Sutton's library was popular, it had not been purpose-built and was not in a central location. In their edition of May 18th 1889, when plans were afoot to expand the library, the St.Helens Reporter had argued that a more fitting site could be found closer to Sutton National School. However it took St.Helens Council sixteen years to come to the same conclusion. On November 16th 1905, a new Sutton library was opened by the Mayor of St.Helens,
Henry Martin
, through a donation of £3000 by
Andrew Carnegie
. The steel magnate and philanthropist funded three thousand libraries worldwide and his only conditions were that each local authority must provide the land for each library and an adequate budget for operating and maintaining them. The latter had been in place since Sutton's library first opened in a converted shop some eighteen years earlier, so St.Helens Corporation's tasks were to find and fund a site. A suitable plot near to All Saints Church was located and St.Helens' own philanthropist,
Sir David Gamble
, who had presented the Gamble Institute to the town in 1894, donated £213 to buy it.

Pilkington's constructed some houses by the library c.1906 and the new street was named Carnegie Street, later changing its suffix to Crescent. In 1987 Sutton Historic Society was formed by
Eric Coffey
at the suggestion of librarian
Jennie Edwards
. This was to mark the centenary of the Sutton library and the society's meetings were held there. When the New Street Community Centre opened during the Autumn of 1979, it incorporated a library that held up to 15,000 books. However that and the Carnegie Crescent library have both since closed.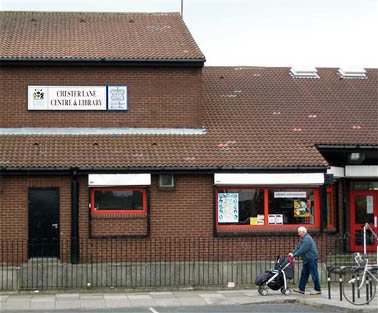 The community at Sutton Manor grew rapidly during the 1920s and a branch library was opened in June 1927 to serve their needs. This, incidentally, was twelve years after the primary school had opened in May 1915. The small library was located in a hut at the corner of Gartons Lane and it held a stock of 450 books. During its first year, 458 people joined and a total of 10,000 books were issued. However, the building burnt down in June 1932 as a result of a fire that had begun in a garage next door. Within a week, a replacement library was established in a rented building just 100 yards away which held a fresh stock of books.


A new library was opened on October 4th 1949 in a building measuring 54 feet by 18 feet on part of the site of the Green Dragon Inn. During the war it had served as a barrack room for RAF personnel that were stationed in Sherdley Park. The library held a stock of 4,000 titles and 40,000 volumes were issued each year with 200 new borrowers per annum. The St.Helens Newspaper of October 7th 1949 reported that ten-years-old
Nellie
King of 74 Jubits Lane was the first customer of the library, who said she was looking to borrow an Enid Blyton title.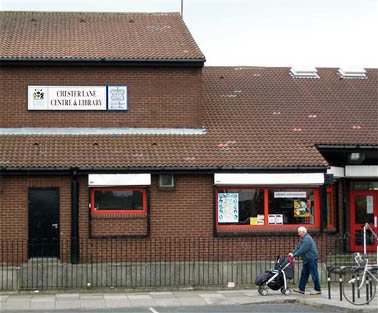 The only library now in existence within the Sutton district is the Chester Lane Centre off Four Acre Lane. It opened in 1990 on the site of the original Four Acre Community Library and the centre received an extensive refurbishment in November 2008.
Copyright Notice / Factual Accuracy Statement

This website has been written and researched and many images photographed by myself, Stephen Wainwright, the Sutton Beauty & Heritage site owner. Individuals from all over the world have also kindly contributed their own photographs. If you wish to reuse any image, please
contact me
first as permission may be needed from the copyright owner. High resolution versions of many pictures can also be supplied at no charge. Please also contact me if you can provide any further information or photographs concerning Sutton, St.Helens. You might also consider contributing your recollections of Sutton for the series of
Memories
pages. Sutton Beauty & Heritage strives for factual accuracy at all times. Do also get in touch if you believe that there are any errors. I respond quickly to emails and if you haven't had a response within twelve hours, check your junk mail folder or resend your message. Thank you!
SRW