An Illustrated History of Old Sutton in St. Helens, Lancashire
Part 48 (of 92 parts) - How Sutton Has Changed
How Sutton Has Changed - Introduction
An Illustrated History of Old Sutton in St.Helens
Part 48 (of 92 parts) - How Sutton Has Changed
How Sutton Has Changed - Introduction
An Illustrated History of
Old Sutton in St.Helens
How Sutton Has Changed
Introduction
The Literary and Debating Society of the Presbyterian Church of Hardshaw Street, St.Helens held a 'mock' banquet on October 5th, 1926. According to local press reports there was a distinguished company of orators present including
Councillor Thomas Woods
, who in his toast provided a 'witty portrayal' of the growth of St.Helens:
St.Helens used to be famous for its three B's - its Brewery, its Bible classes, and its Beecham's. Now it was better known for its three P's - its Parsons, its Police and its Pilkingtons. Suttonites would add a fourth - its Picturesqueness.

By 1926 Sutton was changing and might well be described as 'picturesque'. The locals were enjoying
Sutton Park
which had been created in 1903 when the then Captain Michael Hughes sold 20 acres of his land to St.Helens Corporation for £2,628. A lodge, drinking fountain, bandstand and bowling green were added and it soon became very popular. Large numbers would turn out for the Sunday band concerts. 'Suttonites' were also enjoying
Sherdley Park
across the way from Sutton Park, although being privately owned, there was limited access with a long perimeter wall and gates that were locked at night. Landowner Michael Hughes (III) and his wife Edith spent more time in Sutton than his father did and from 1896, they added 100 acres to the park, enlarged the lake and planted almost 10,000 trees.


However, Sutton throughout the centuries of township status and 140 years of being incorporated into the St.Helens Borough, could always have been described as picturesque to some extent. During Sutton's large-scale industrialisation of the nineteenth century, it had retained a mix of industrial areas and coal mines, juxtaposed with some residential areas and large areas of farmland plus other open space. But the balance between them was shifting, which continued throughout the 20th century.

There was an ever increasing need for new housing for the burgeoning Sutton population. During the nineteenth century, accommodation was often built near to the local works, to house the workers and their families. With a more mobile twentieth century workforce who used buses and cars, tied housing was no longer needed. However, more residential estates were required for those who chose to live in the Sutton district and then commuted into St.Helens or out of town for employment. As large acres of farmland and open space disappeared through the industry of builders, so the landscape changed.

As we all have a tendency to accept our surroundings with little thought as to what had existed before, this page will attempt to describe the changes to Sutton's topography and landscape and, to a lesser extent, social life, between the late nineteenth and early twenty-first centuries.
New Street / Marshalls Cross Estates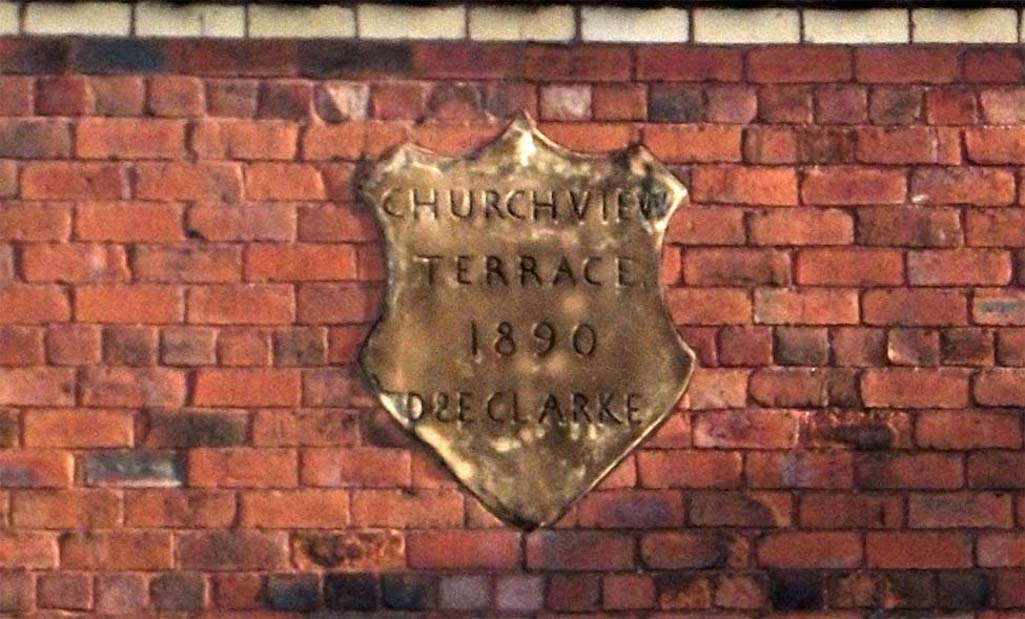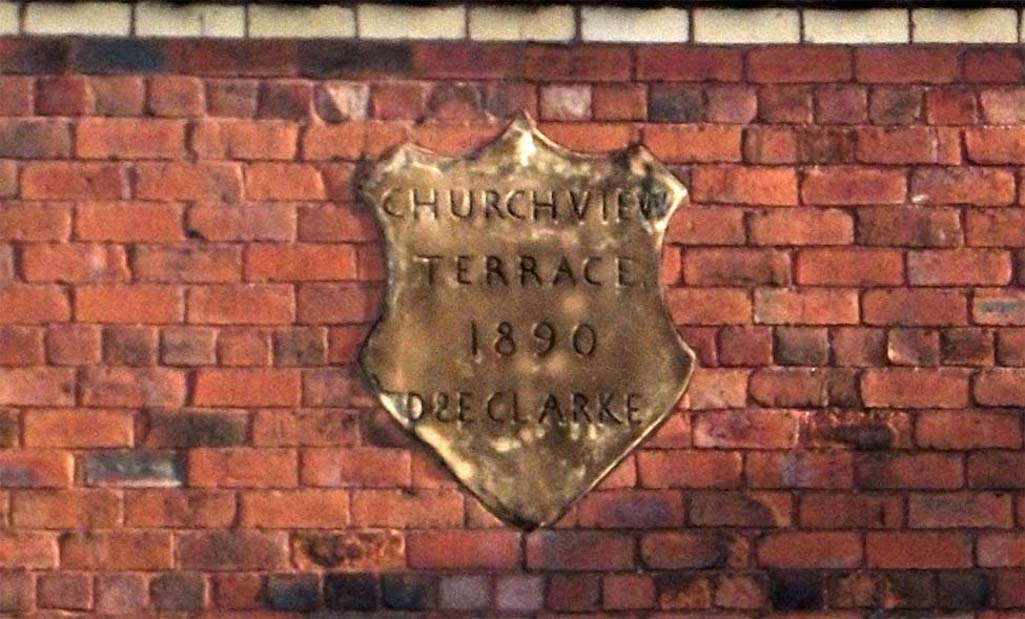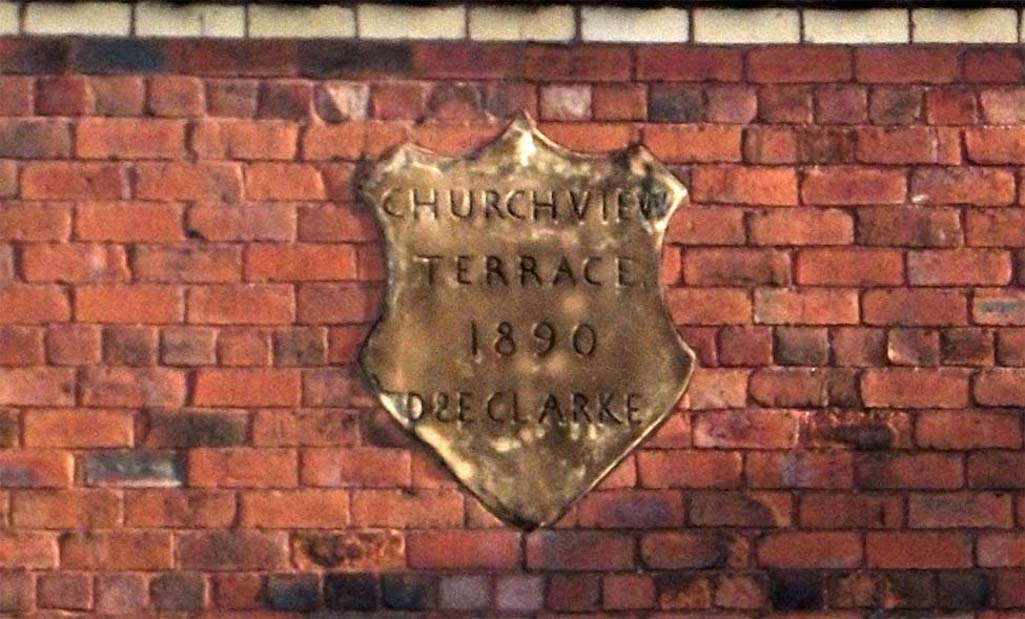 Under the headline 'Cabbage Stealing at Sutton', the St.Helens Newspaper of October 24th 1899 reported how
Thomas Seddon
had been brought before local magistrates Sinclair and Cotton at St.Helens Police Court. He was given a five shillings fine after being charged with taking 9d of cabbage from farmer
John Price's
fields, located near St.Nicholas Church in New Street. In those days most of the district surrounding Sherdley Park and New Street was agricultural land or open fields, with much of it part of the Sherdley Estate. The above date plaque on a house in Robins Lane, near its junction with Marshalls Cross Road, bears the name Church View Terrace. When built in 1890, there would have been an unobstructed view of St.Nicholas Church, almost a mile away. However a combination of growing trees in the soon-to-be created Sutton Park and 20th century housing developments would obviate much, if not all, of the view.


There were then only a handful of roadways by New Street comprising Marshalls Cross Road to the west, Robins Lane and Ditch Hillock to the north, Gerards Lane to the east and Thieves Lane and Mill Lane to the south. These were then much more sparsely populated than they are today. In December 1887 a petition (known as a memorial) was submitted to St.Helens Town Council by Sutton councillors and residents calling for New Street to be illuminated. Members of the St.Helens Corporation's Gas and Lighting Committee visited New Street but considered it to be just a country lane with fields on each side and not worthy of being lit. They said that the installation of a gas mains connection, plus lampposts, would cost over £300, which would not be viable. The committee reported that apart from at the beginning and end of the street, there were only a couple of houses within its ¾ mile length.

The supporters of lighting New Street argued that it might not be very well populated but it was a main thoroughfare used by many pedestrians and carts.
Councillor Greenough
stated that it had more traffic in Sutton than any other road, apart from Sutton Road. In the middle of its length the street followed the shape of the letter 'S', which was especially hazardous to commute without lighting. Further evidence as to the low population in New Street is provided by the 1891 census, which reveals only 20 houses populated by a total of 92 people.

That same year the council agreed to fill up a four-feet wide ditch in New Street as well as straighten and widen the road, so as to allow two carts to pass. Cllr. Greenough told a meeting how a hearse had been travelling to St.Nicholas Church for a funeral when it met a cart travelling in the opposite direction. It ended up stuck in the ditch and the deceased's friends had to get out and push the hearse back onto the road. The scheme to improve New Street cost £250, which included £50 for Michael Hughes of Sherdley Hall, who owned most of the land, to undertake some fencing. New Street, incidentally, belies its name, having existed for around 200 years and is shown on Greenwood's 1818 Map of Lancashire. Although a stretch between the bridge and Mill Lane was originally known as Workhouse Lane.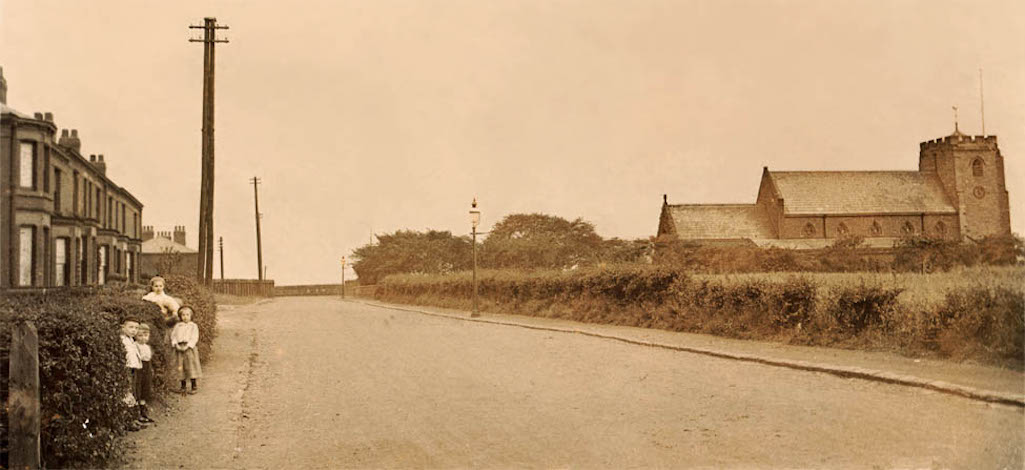 The above photograph was on a picture postcard which was posted in August 1910, but may have been taken a year or two earlier. The photo shows the row of teraced houses in New Street leading up to the bridge – note the vertical sleepers to its left. The large house over the railway on the edge of Graces Square, later became Peter Rigby's shop, as described in Stan & Bill Bates
Memories of Sutton 14 article
. New Street could no longer be said to be a country lane, with 73 houses listed in the 1911 census – there were 18 in 1861, 20 houses in 1891 and 42 listed in the 1901 census. Interestingly in 1911 as many as 30 residents were employed on the railway, with about 18 working in mining.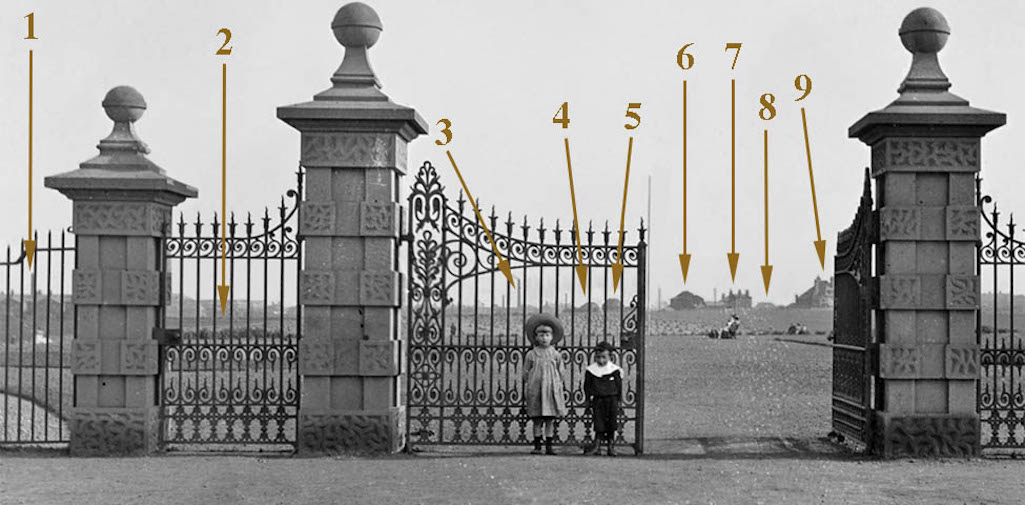 The New Street photograph shows a part of Sutton that isn't radically different from today, with modern-day tree growth on the church side of the road the most noticeable distinguishing feature. A better illustration of how this district looked in the early years of the 20th century is provided by the above photograph, which was taken in Robins Lane in 1906 -
View Larger Version Here
. The picture shows Sutton Park, which had only been officially opened on August 2nd of that year by Henry Martin, Mayor of St.Helens. The remarkable southerly view from the park gates extends a full two miles towards Turner's Glass Works off Reginald Road, which a decade later would be the site of the
Sutton Oak Chemical Defence Research Establishment
. In comparison a 21st century view from the same camera position is considerably inhibited by trees and only extends 100 yards or so into the park.

These are some of the background sights marked on the photograph that a park walker could have observed in 1906:
1. The former Sutton Glass Works in Lancots Road, which closed in 1903
2. Embankment for the St.Helens to Widnes Railway as it journeyed to the Intersection Bridge
3. Turner Glass Works, later Sutton Oak C.D.R.E., a.k.a. the 'Magnum'
4. New Street Farm (later known to some as Eddie Rimmer's Farm) then Joe Heyes's
5. Sutton Vicarage (now the site of Elizabeth Court Care Home)
6. Yew Tree Cottage in New Street
7. Houses between Eaves Lane and New Street Bridge (as shown
above
)
8. The farmer Heyes family's barn
9. St Nicholas Church and Ivy Cottage at the top of Eaves Lane -
Larger Version


Below is an Ordnance Survey map, which was surveyed in 1905 / 6 and reversed to match the southerly perspective of the park picture: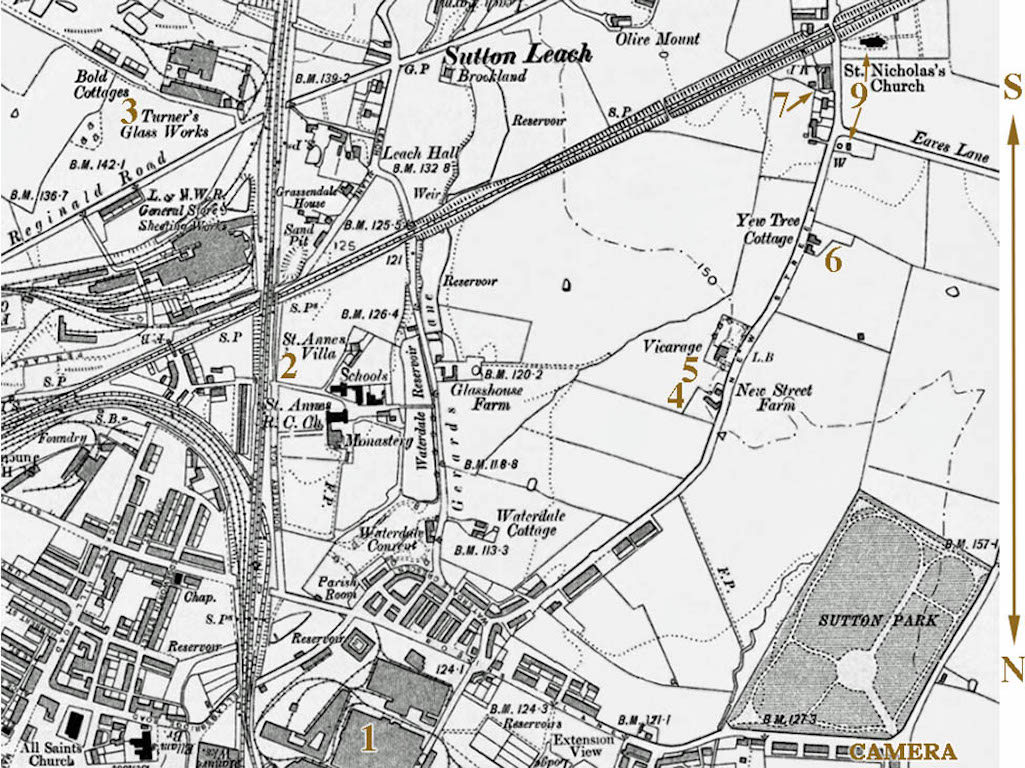 The main changes during the early years of the 20th century were the creation of Sutton Park, the renaming of Thieves Lane as Eaves Lane in 1902 and the addition of Sutton Cricket Club, which relocated from Normans Road (Hoghton Road). The district was still mainly farmland, although as we've seen, New Street itself was becoming more residential. The Ordnance Survey map published in 1928 (but surveyed a year or two before) shows little further change, although it was happening.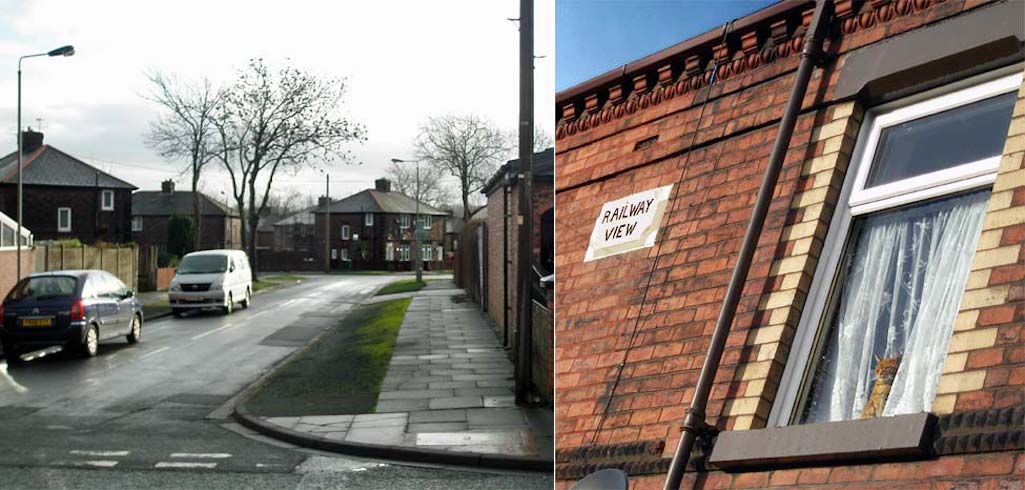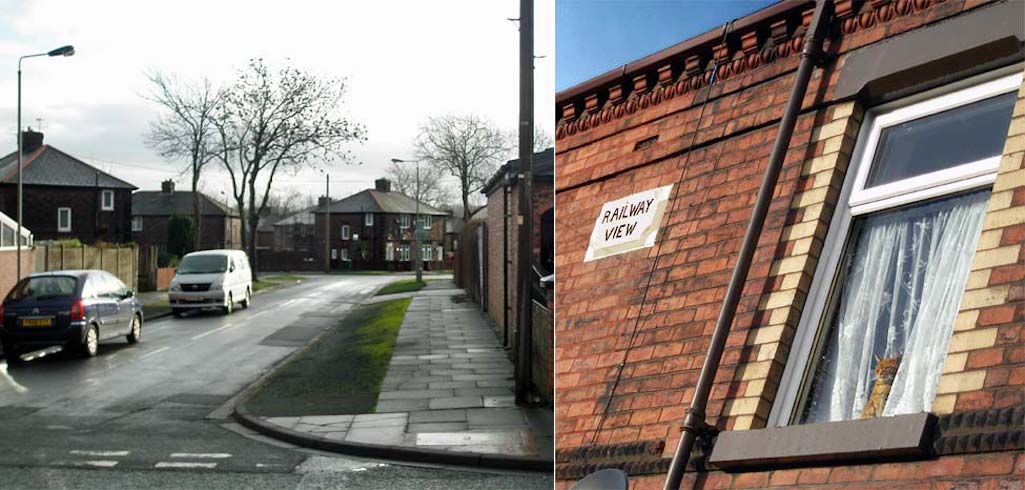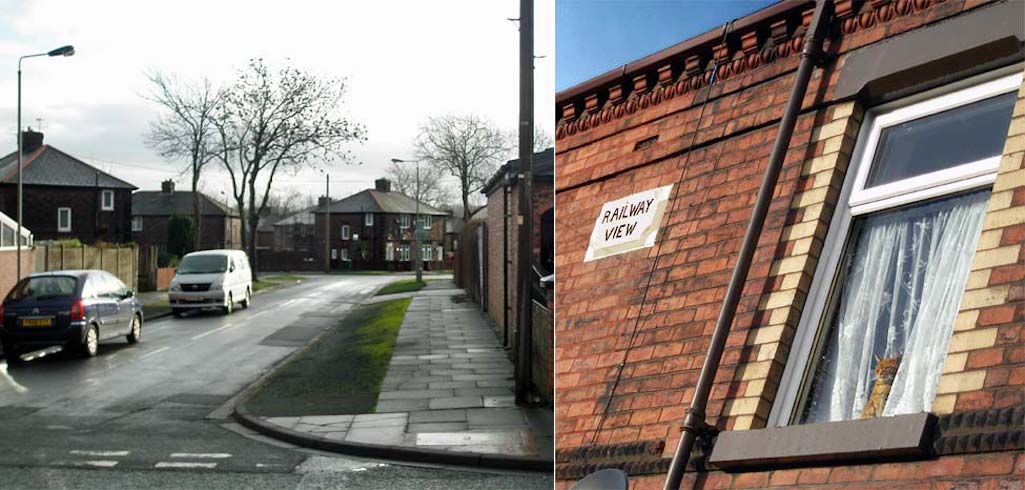 In the above photograph taken in 2009, a ginger cat stares out of the first floor window of a property in New Street, which bears the name 'Railway View'. That name may seem a little odd today as the cat's point of view, on the left, reveal's nothing more exciting than a street and some houses. However, a century ago, the cat would have been able to enjoy the many noisy steam trains that were regularly shunting to and from St.Helens Junction and Sutton Oak stations.

In late 1927, building work began on creating Dawson Avenue, which connects to Gerards Lane. Occupation began the following year and an elderly resident who talked to me as I took the above photographs, said they had a great view then of the steam trains on the busy line. However, the new houses shielded Railway View from living up to its name, although some gaps in the housing on the opposite side of New Street may have permitted some glimpses.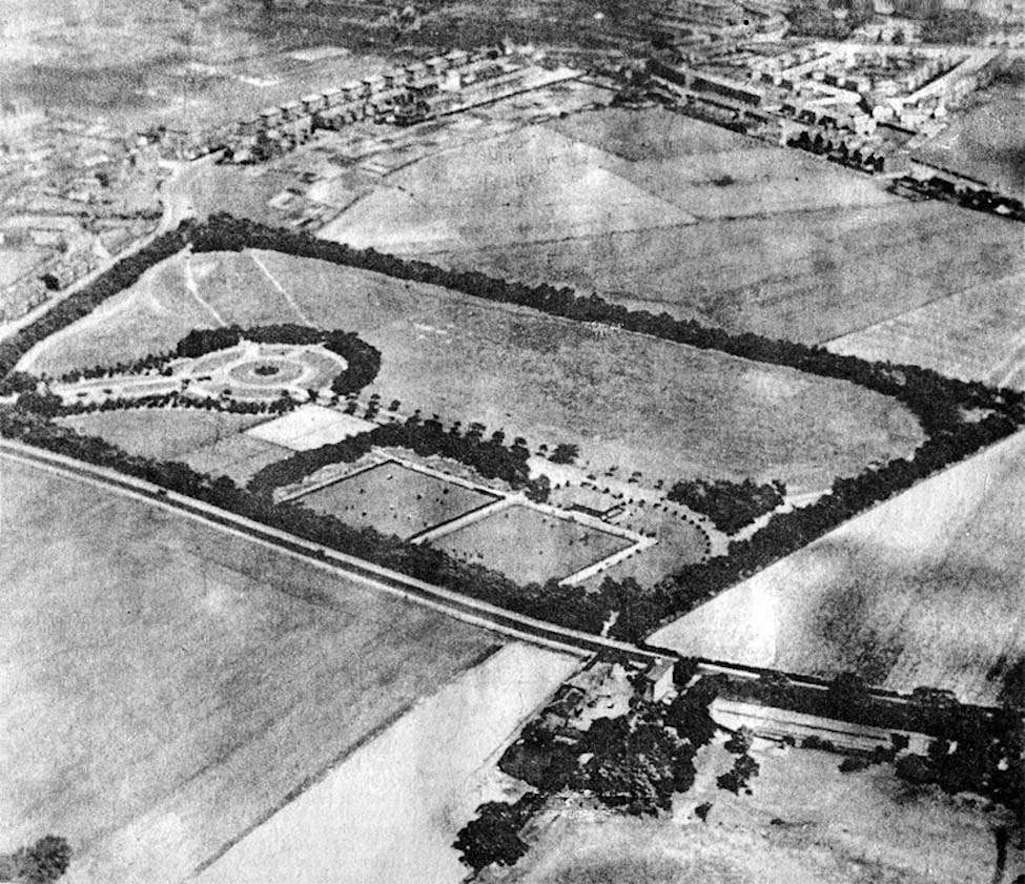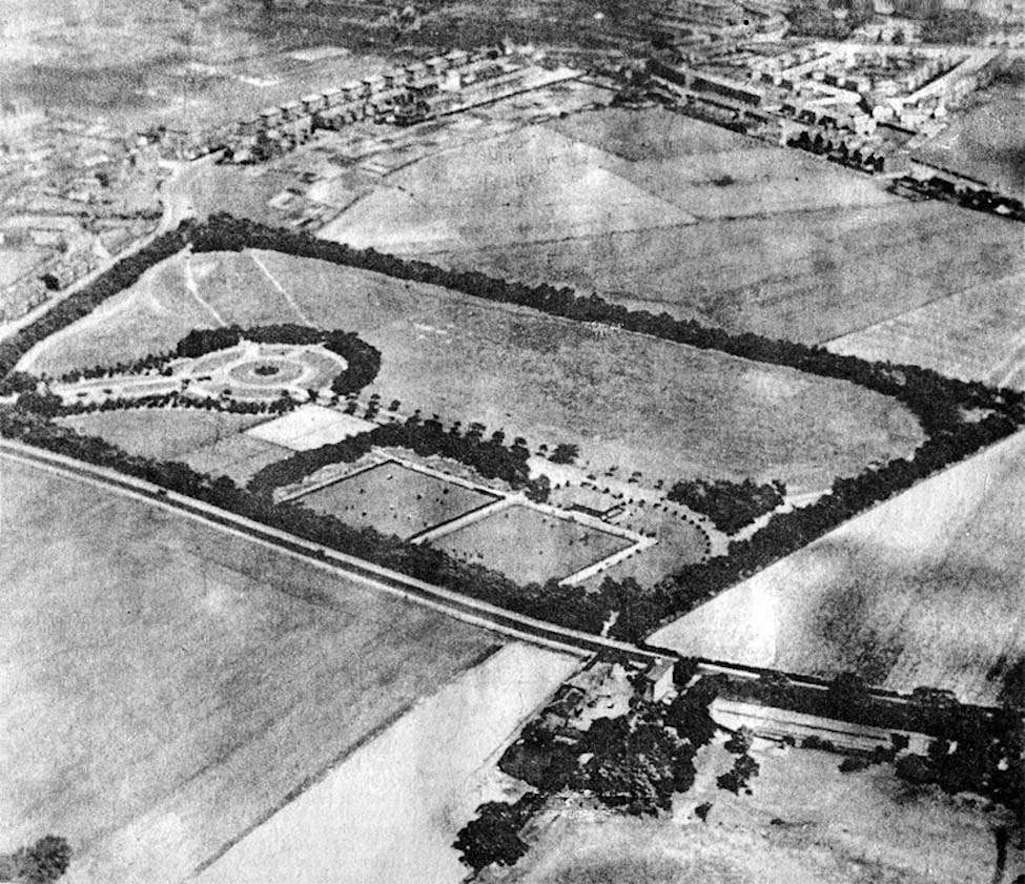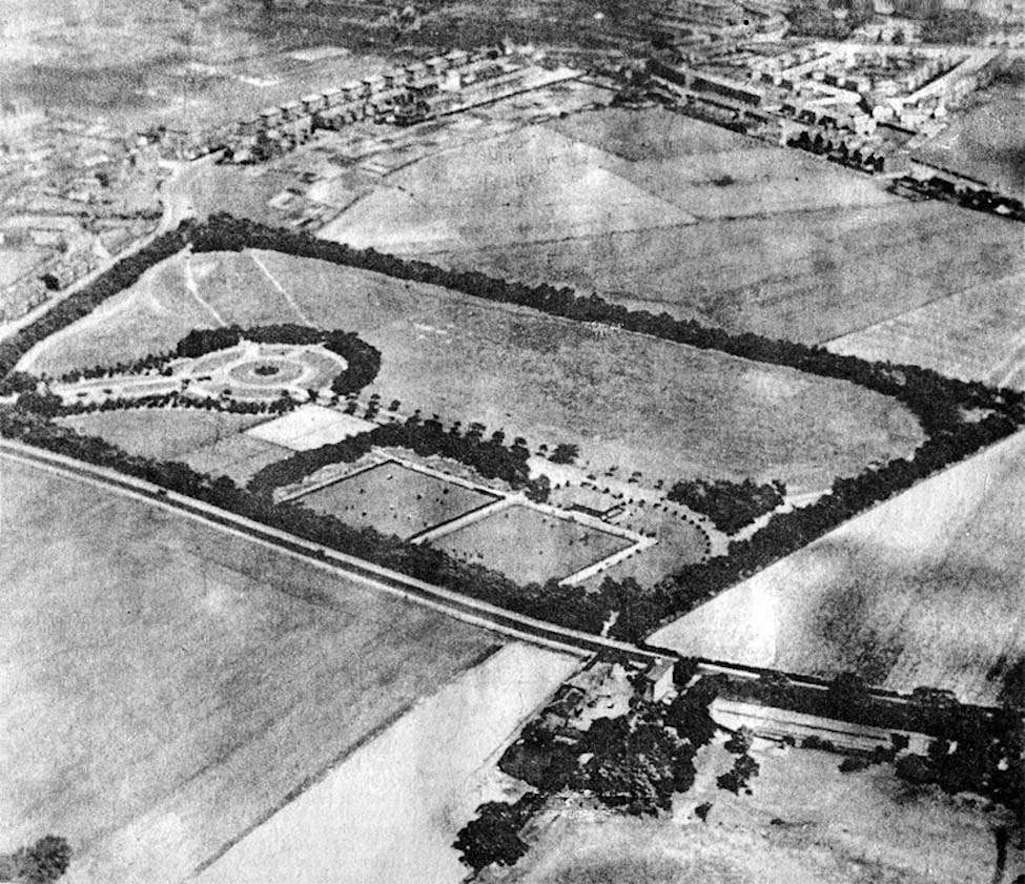 The above aerial view of Sutton Park is undated but reveals fields in between the tree-lined park and New Street at the top right of the image. The Dawson Avenue development is just visible connecting to Gerards Lane and Robins Lane. The latter snakes down the left of the picture to Marshalls Cross Road with Sherdley Park beneath.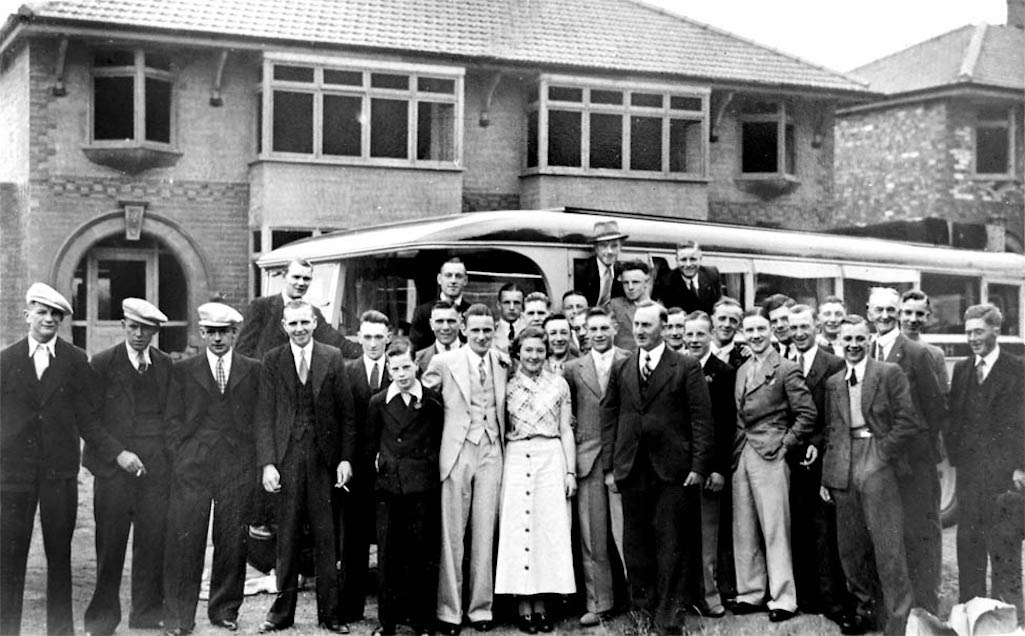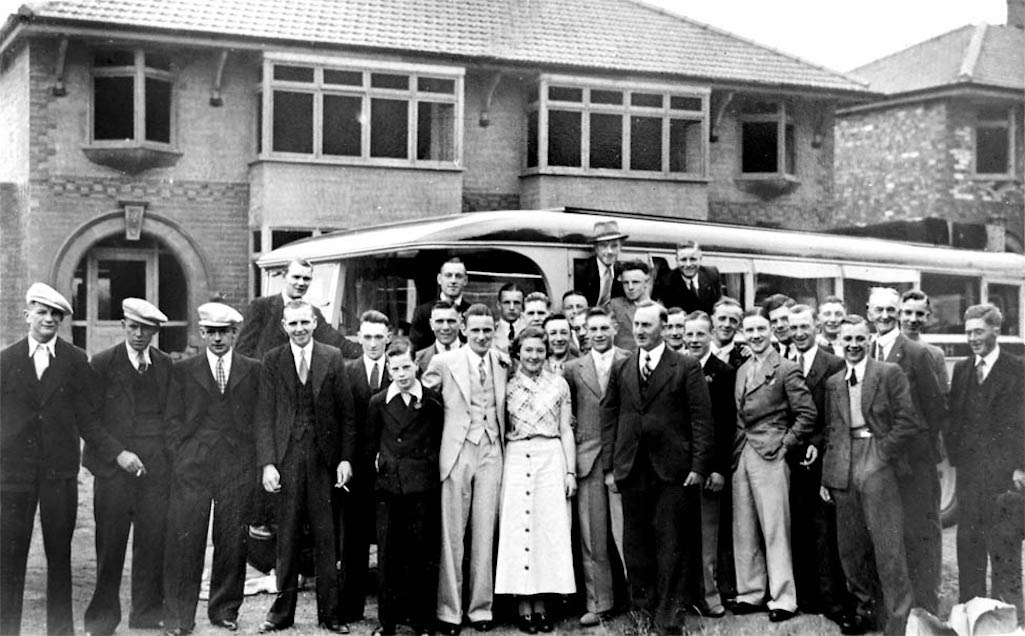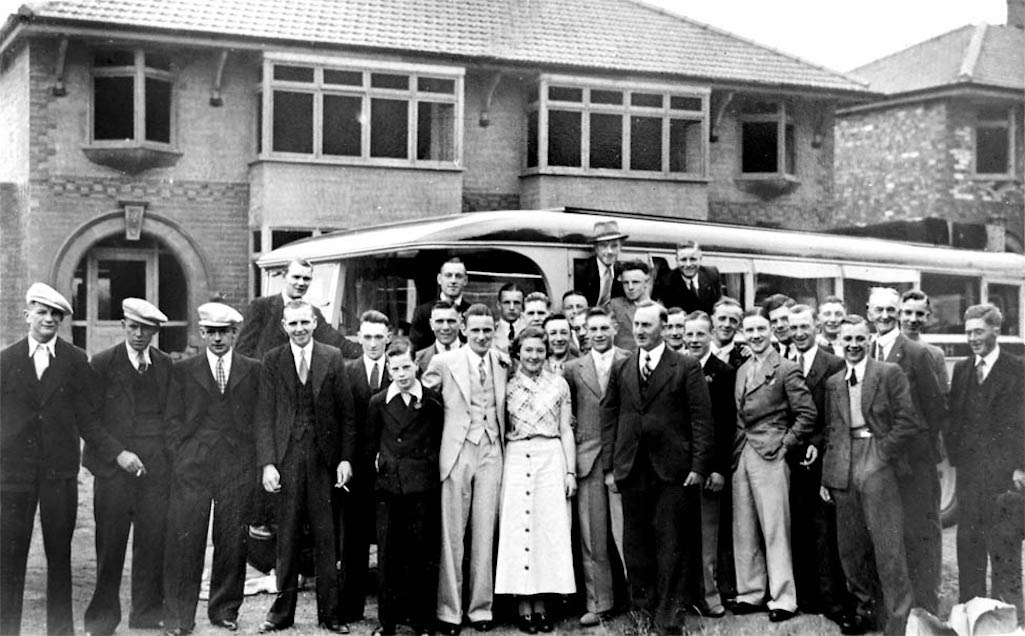 Not long after the work began on creating Dawson Avenue, what initially was a small-scale development started on the west side of New Street, near Sutton Park. This entailed house building by A. J. Kenwright & Co., a company owned by
Alfred John Kenwright
of 76 Robins Lane. 'A. J.' – as he was always known - was originally a plumber with premises in Green End Lane before establishing a builder's yard and workshops in Robins Lane. The newly-built houses were on ground rent from the Sherdley Estate with 'A. J.' having been friendly with Michael Hughes of Sherdley Hall and so able to arrange the lease of the land. Kenwright also played a leading role in the long-standing dispute with Rev. Colegrove about the form of worship at All Saints Church, which you can read about
here
.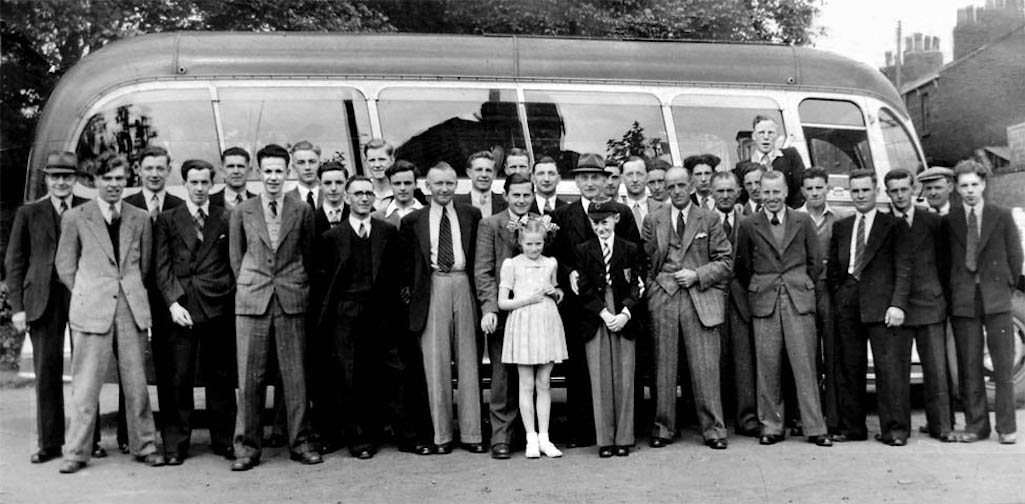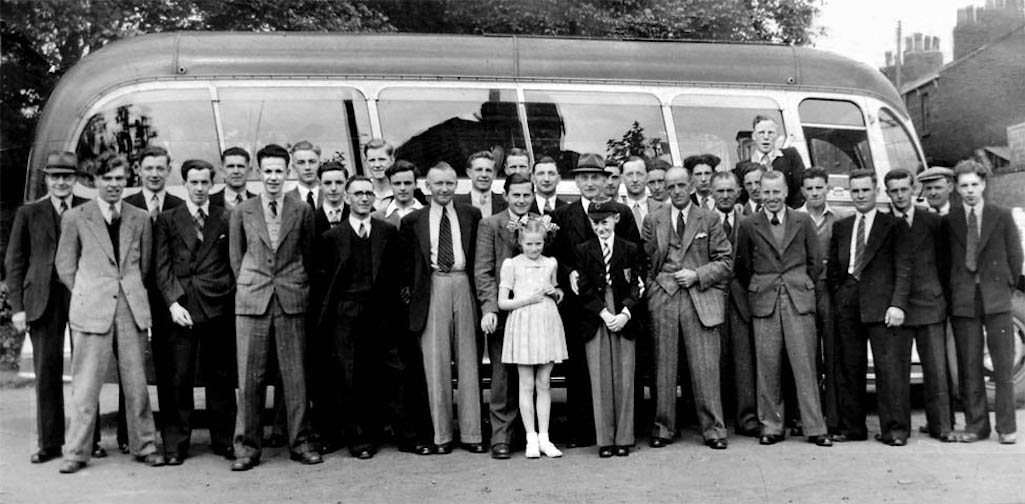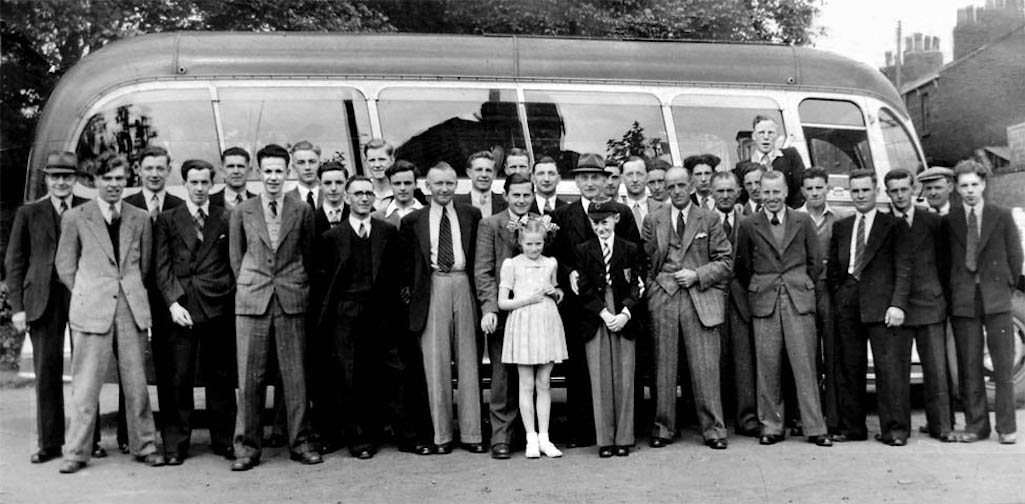 Building began in the late 1920s / early '30s, but was interrupted by the war, with the firm's lorry commandeered by the Government. Slowly the 'Kenwright' estate took shape with the streets – Robina Road, Irwin Road, Kent Road, Marina Avenue, Sandringham Drive etc. – mainly having a Royal connection. The family firm chose the names of the streets themselves and named Kenwright Crescent after themselves. The large workforce enjoyed yearly trips to Blackpool and above are two photographs of them from 1935 and 1948, just before they set off from Sutton.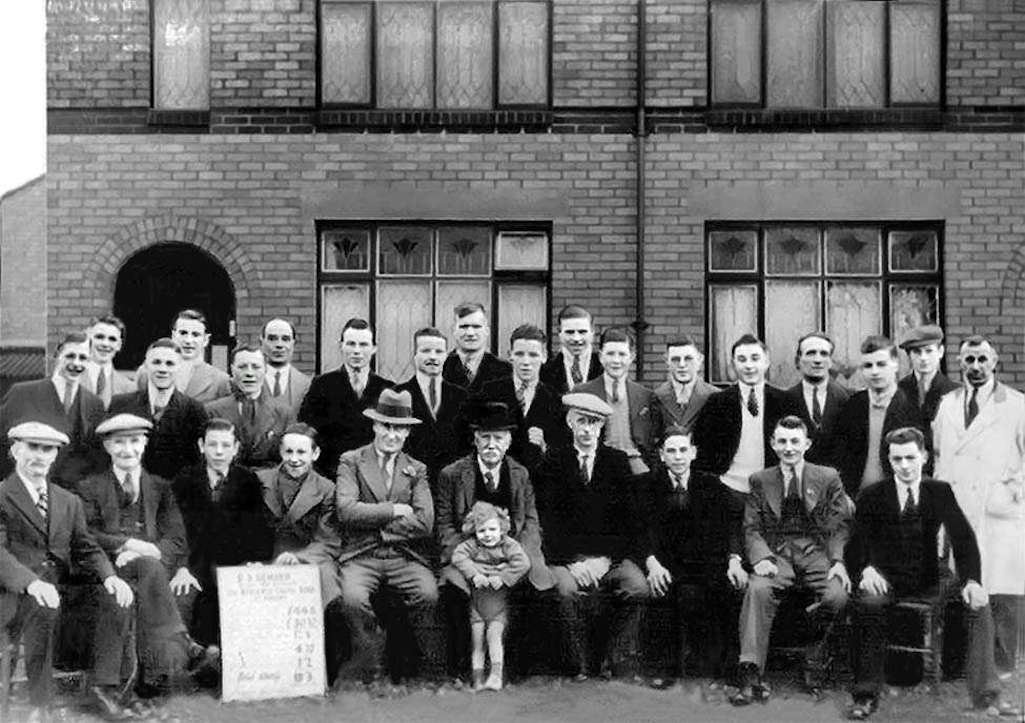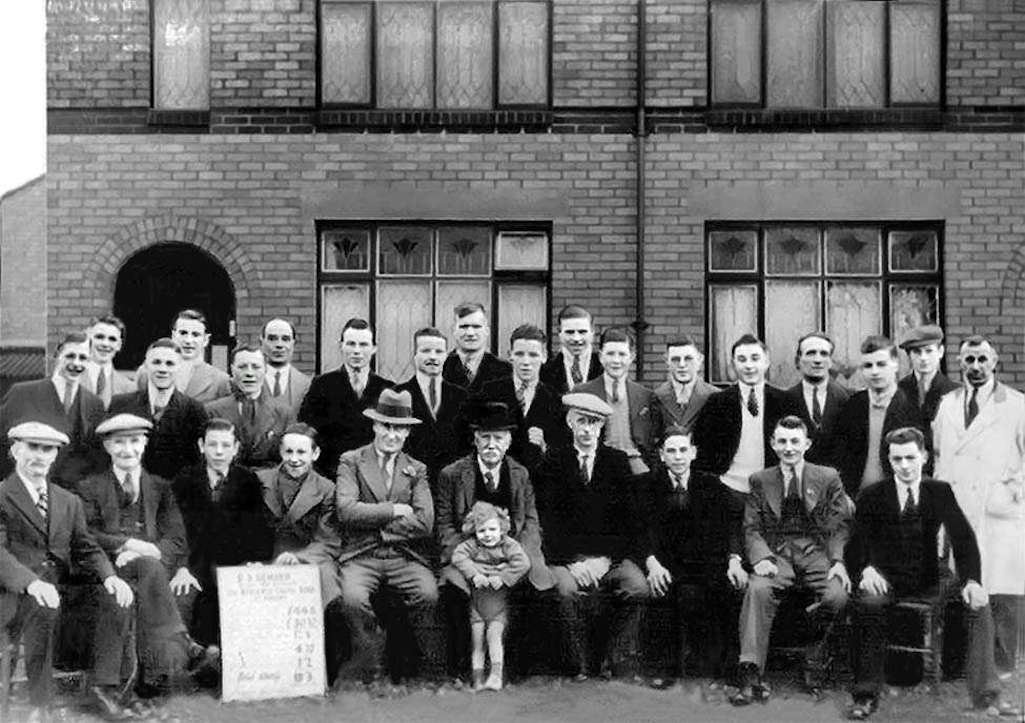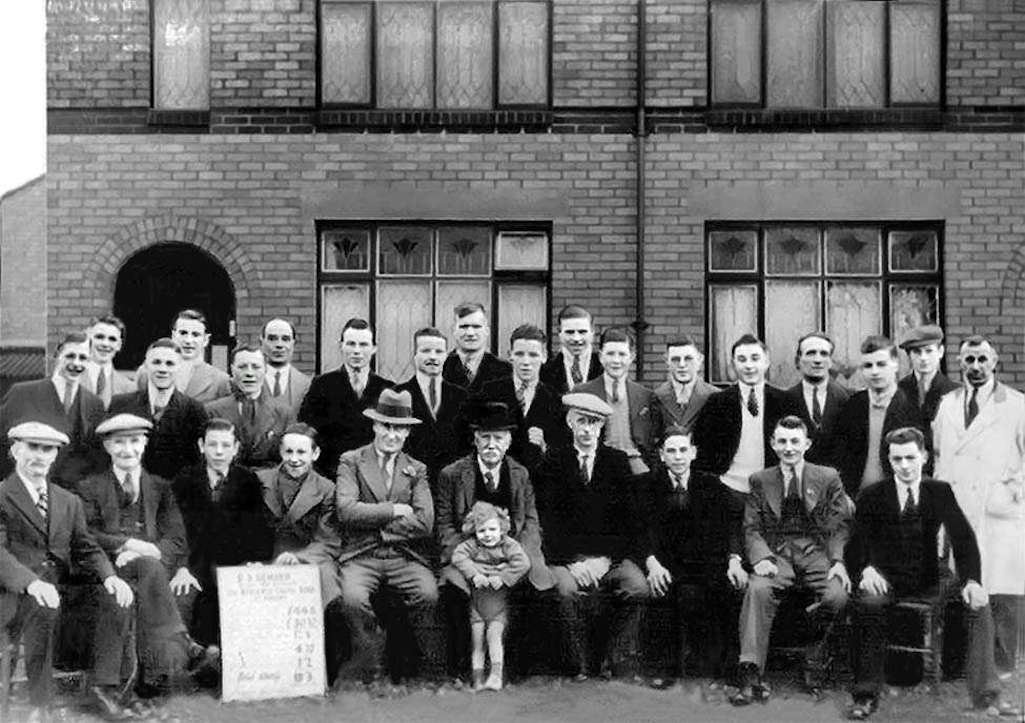 Further development on the east side of New Street took place in 1937 with the creation of the connecting streets Freda Avenue, Yew Tree Avenue and Heward Avenue. The latter is significant as it was the name of the family who built these streets and lived in Yew Tree Cottage in New Street. This stood just south of Sutton Cricket Club with a sandstone wall along its frontage and was demolished around 1980.
Stan Bate
remembers the family of builders, who also had a grocer's shop which could be a lifeline for poor Sutton families:
In 1937 the Hewards built the terraced houses that stand opposite to where Yew Tree Cottage once stood, one of which became our family home, and where my twin sister and I were born. They also built the houses in both Yew Tree Avenue and Heward Avenue, and also the semi-detached houses in New Street, which stand opposite the cricket club. Mrs Heward had one of the houses, situated in the bottom corner of Yew Tree Avenue, which she converted into a chip shop, and later into a grocery. This was at a time when there were no supermarkets, and the nearest large grocers was some distance away, so it was a godsend to people living in the area. Times then were hard and she allowed those families she knew to have goods on account, 'tick' or 'slate' as it was commonly known. Had it not been for shopkeepers like Mrs Heward, hard times would have been much harder.
Dick Heward also built some Beth Avenue houses during the 1930s and you can read more of this
here
.
Bill Bate
, brother of Stan, recalls the rural nature of the New Street area during the 1930s and '40s:
Along the back of Freda Avenue was a dirt track and at the top was a ramshackle big shed in which all sorts of mechanical work was carried out. The rest of the area up to the old cottages opposite Eaves Lane, was swampy land. My Dad had a big allotment there. It was a very rural scene in the late 1930s, across New Street. Ted Heward's field started at the farm house and ended at the ivy cottage in Eaves Lane. There were farm fields up to Marshalls Cross Road, and down to Sutton Park. St. Nicholas's church was surrounded by farm fields, and further down New Street was Rimmer's farm. The area at the back of Yewtree Avenue had cows grazing. The locality was heaven for a young boy. I once had the job as a mobile scarecrow at Whalley's farm, keeping birds off newly-planted seeds. I think I got 2/6d for a week's work.
During the 1930s, the Sherdley estate, which had dominated life in Sutton for many years, began to break up and five farms and five cottages were amongst 310 acres that were sold off. The estate was now down to 613 acres which included nine farms. Sherdley owner
Michael Hughes
(III) had in 1918 refused a proposal to build 500 houses on his land in between Eaves Lane, Marshalls Cross Road and Robins Lane by the New Street cricket field. A lover of sports himself, he sold Sutton CC their ground for just £300, a fraction of its true value.

He knew he wouldn't be able to stave off 'progress' after his death, but he did what he could to protect the character of the area while he was still alive. Colonel Hughes disliked much of modern life with aversions to electricity, telephones, motor cars, cinemas and wireless sets. He died in 1938 and by then the world was a very different place to the one whose Victorian values he so espoused.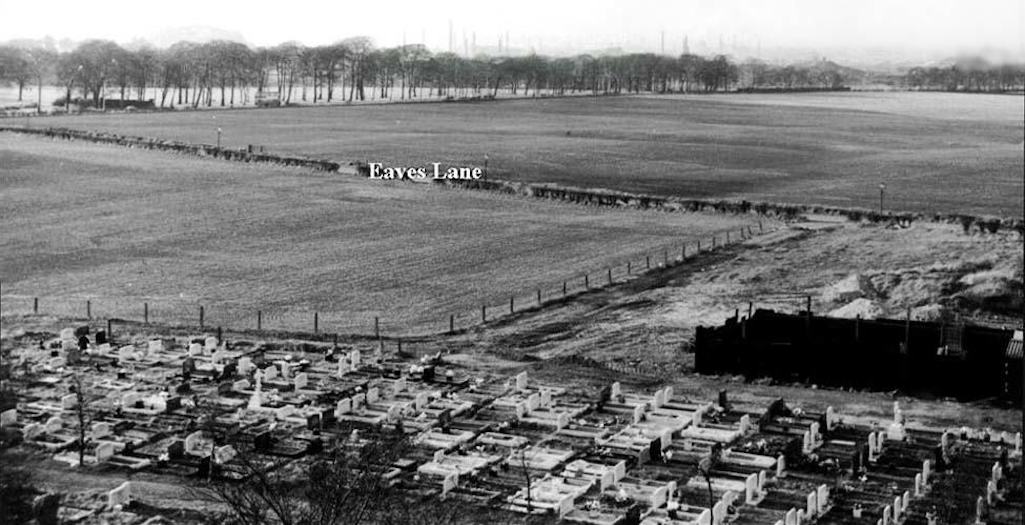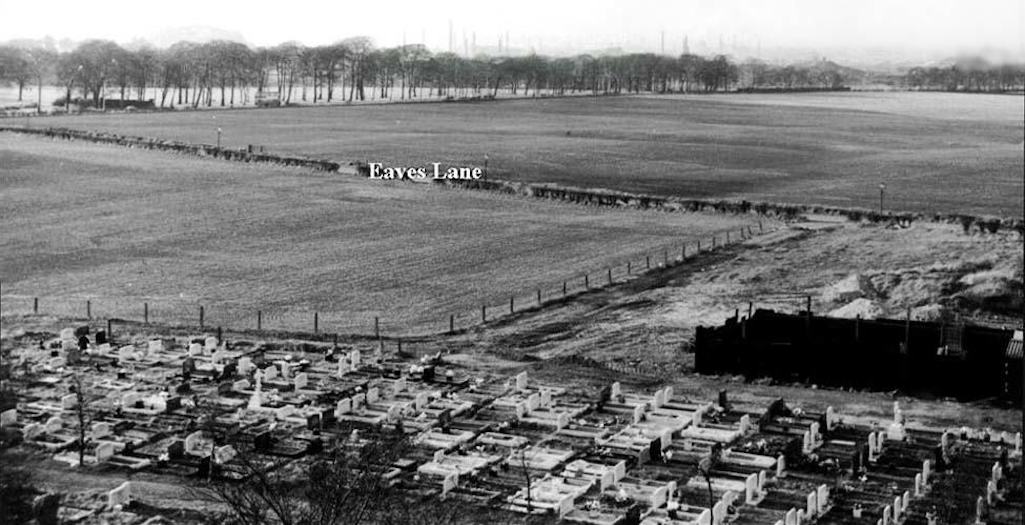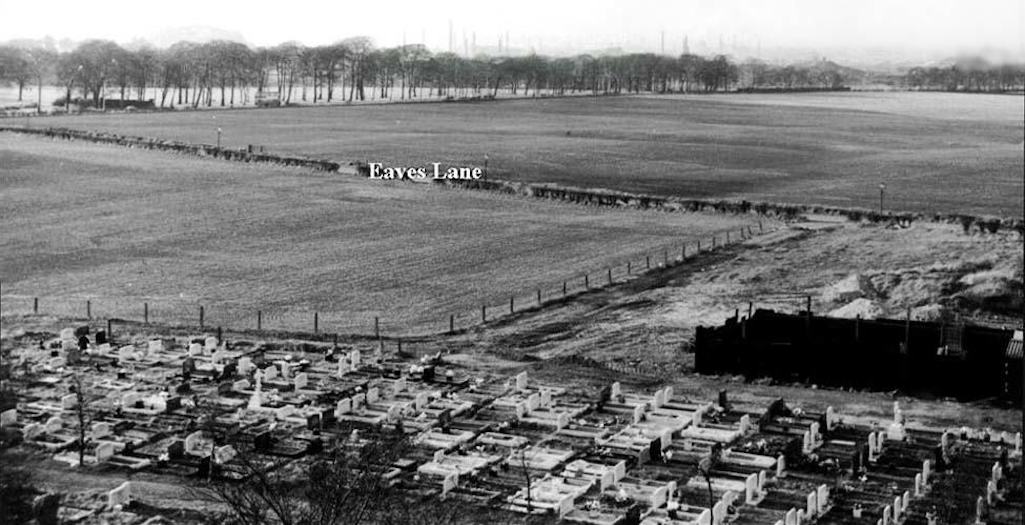 The war and its aftermath delayed further development and in June 1949, Sherdley Hall, Sherdley Park
and the Home Farm were sold to St.Helens Corporation. Sherdley became the largest public park in St.Helens but by the early 1960s, the landscape to the west of New Street had changed little. This is vividly demonstrated by photographs taken from St.Nicholas church tower by
Jim Lamb
in April 1964.


The picture above looks north / north-west of the New Street church with Marshalls Cross Road and Sherdley Park at the top left. There's nothing but fields past the graveyard and burnt out cub huts with Eaves Lane looking quite desolate.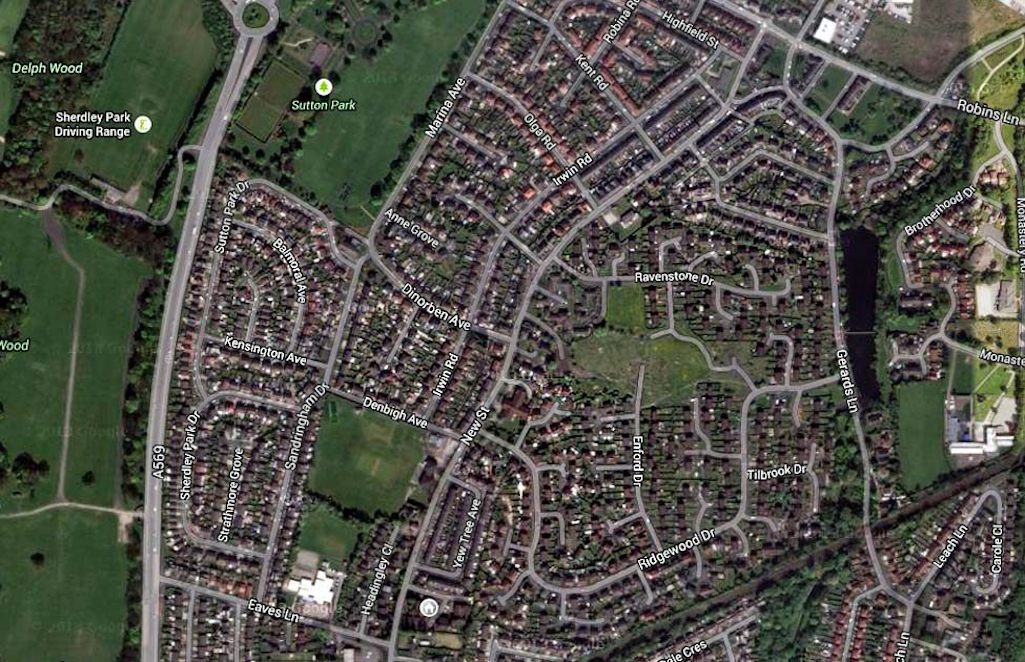 Contrast that picture with the recent Google Earth impression (above) of how the area looks today, with an extensive housing estate replacing the fields. Green open space is, however, still provided through Sutton Park and the pitch of Sutton Cricket Club. Two years after Jim took his photograph,
Lord St.Helens
(
Michael Hughes-Young
) auctioned 27½ acres of former Sherdley land in order to create the new housing estate. The sale conducted by J.B. and B. Leach, raised £228,000, with Blackburn-based Northern Developments acquiring it against much competition from other builders. To sweeten the sale, St.Helens Corporation had agreed to pay half of the cost of creating roadways to service the new estate.


With two parks very close to the new residential development, there was no question of the area becoming too built-up. Indeed Hughes-Young's uncle, the then Captain Michael Hughes, had insisted on Sutton Park being protected when he sold it to St.Helens Council in 1903. Amongst several caveats, a clause was inserted into the sale agreement preventing the use of 'steam-driven merry-go rounds and whistles' in the 20 acre park. (See:
Michael Hughes
,
Sherdley Estate
and
Sutton Park
pages)



In the second photograph (below) taken by Jim Lamb in 1964 - which is a southerly view towards Mill Lane with the railway in the foreground - there is a similarly open landscape, apart from the houses situated on one side of Mill Lane and Sutton Manor Colliery in the far distance.
The pit was then in its heyday, annually outputting over 300,000 tons of coal with over 1,000 miners and ancillary workers employed. Within a couple of years it would undergo a recruitment drive but despite the National Coal Board's adverts in the St.Helens Reporter in 1966 promising 'permanent employment and a secure future'
,
it would close twenty-five years later.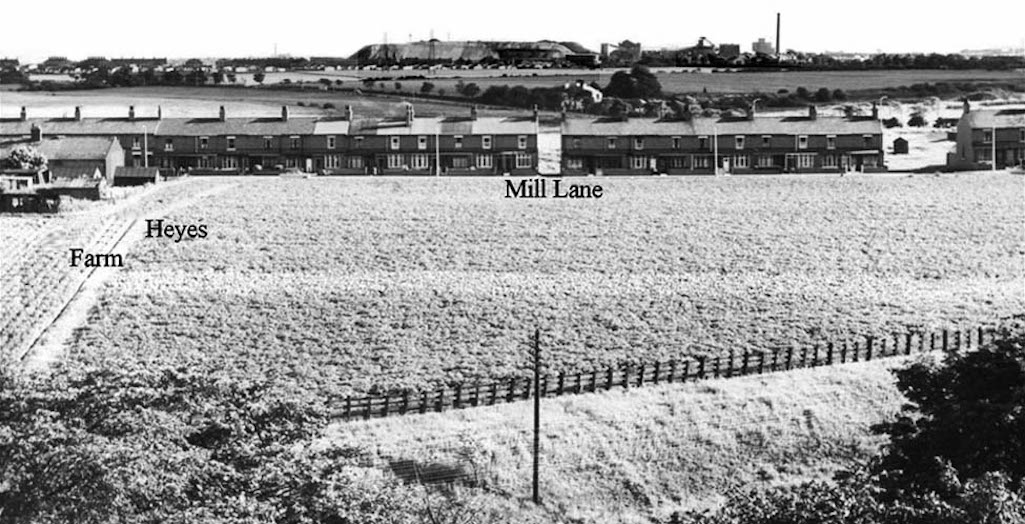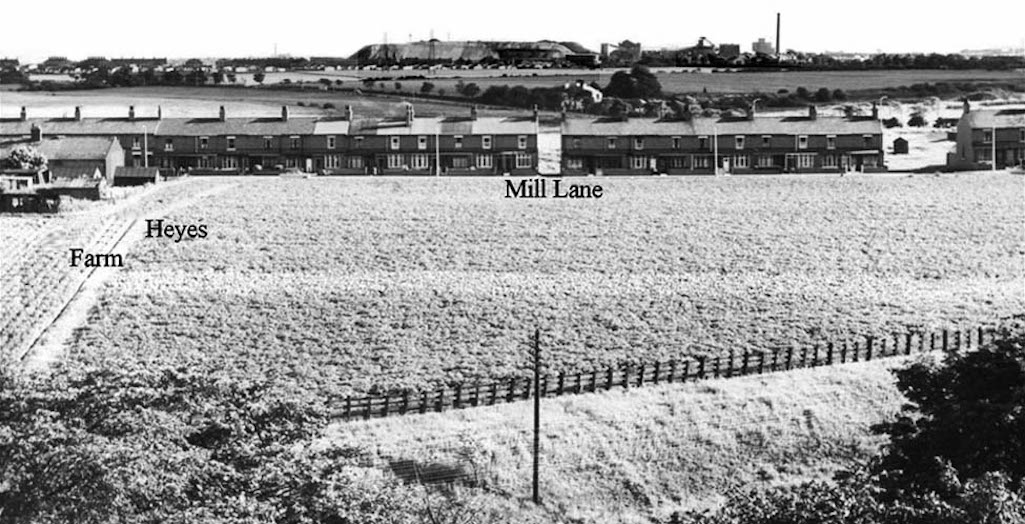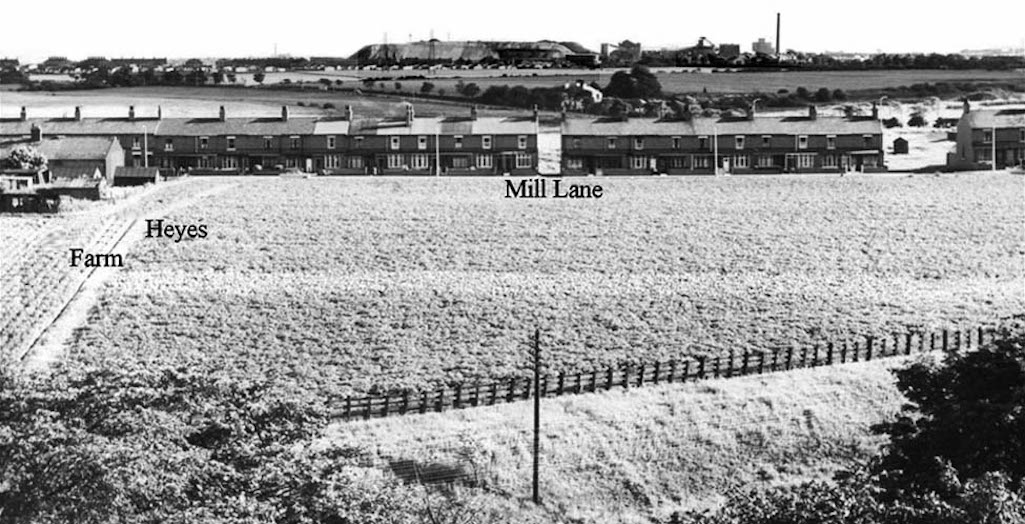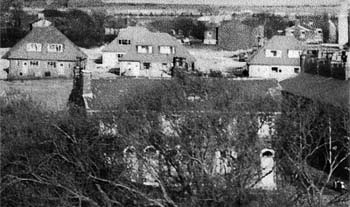 These days the landscape south of St.Nick's is mainly residential. Houses have been constructed on the west side of New Street and Severn Close, Trent Close and Leopold Grove are relatively recent additions to Sutton's roads. Only Mill Lane / Brow, Grimshaw Street and Clock Face Road have any real history.

An exception to the residential nature of the area is Sherdley Primary School and its playing fields, although the site has previously been inhabited. Initially Sutton Workhouse existed there and when the railway bridge in New Street was constructed in 1830, it was known as Sutton Workhouse Bridge and the stretch of road to it from Mill Lane was called Workhouse Lane. In the 1841 census there were 77 people living in Sutton Workhouse, including two staff. However it closed in 1843 with inmates transferred to the newly-built Prescot Union workhouse at Whiston.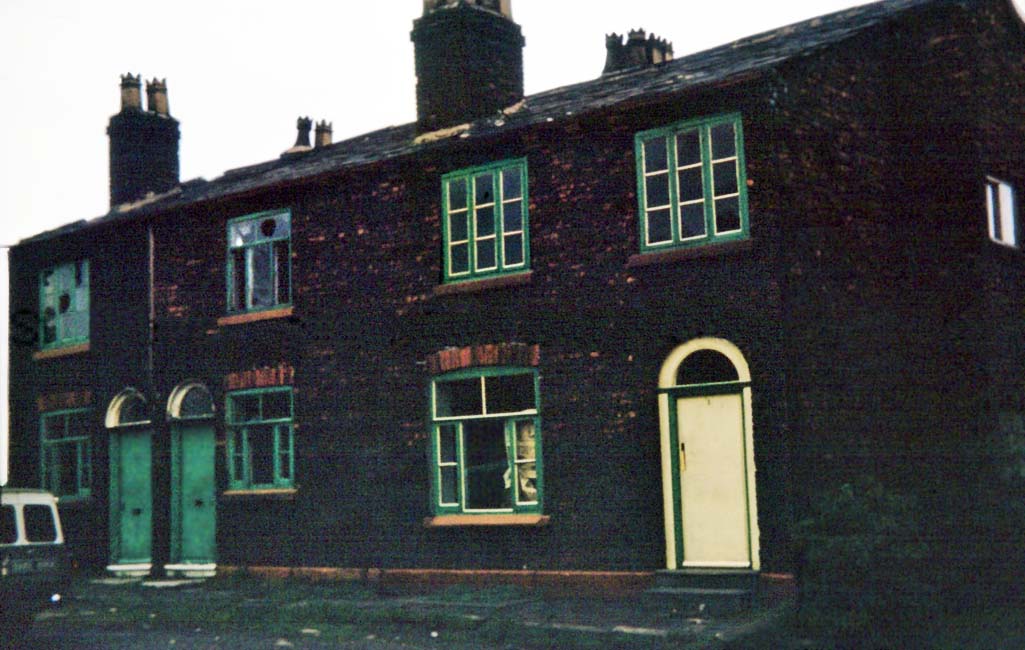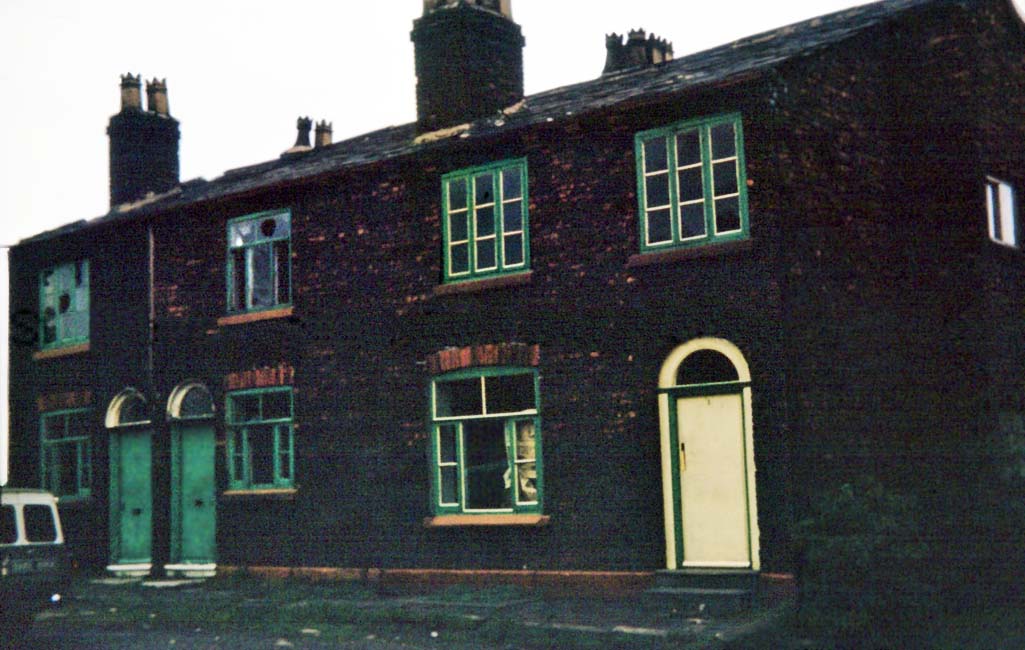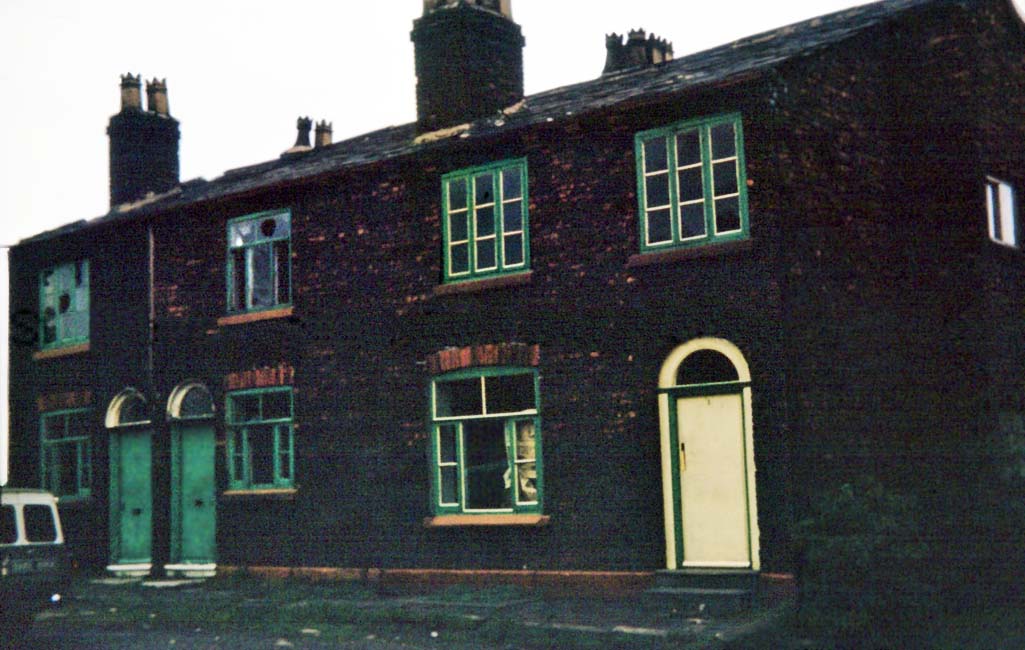 Between 1850 and 1864 the workhouse building was used to accommodate the first Sutton National Schools and during the 1880s, it was converted into dwelling houses. Later new adjacent properties were built and these formed Graces Square. It had eleven houses listed in the 1901 census and it was finally demolished in the late 1960s to make way for the school. The above photograph shows a three house section that faced New Street but was set back about 20 feet. The end house on the left was adjacent to the railway, with a small side gap of about 6 to 7 feet between it and the stone wall that ran along the railway cutting. The end wall of the right-hand house was about 15 feet from the front of another terraced row that faced the railway.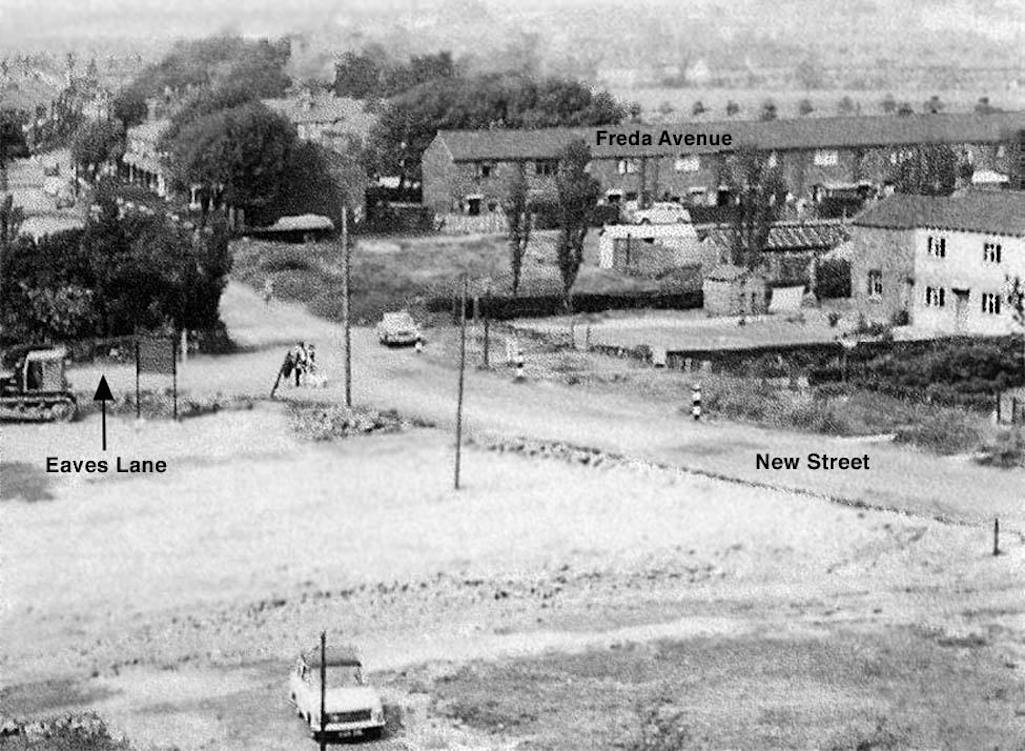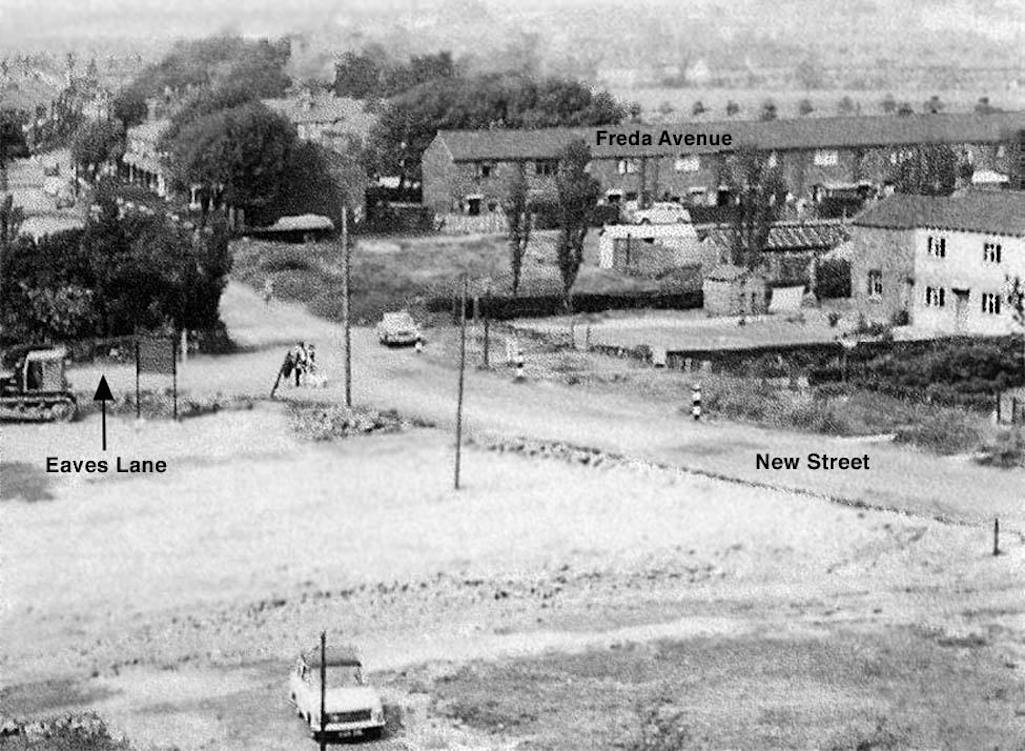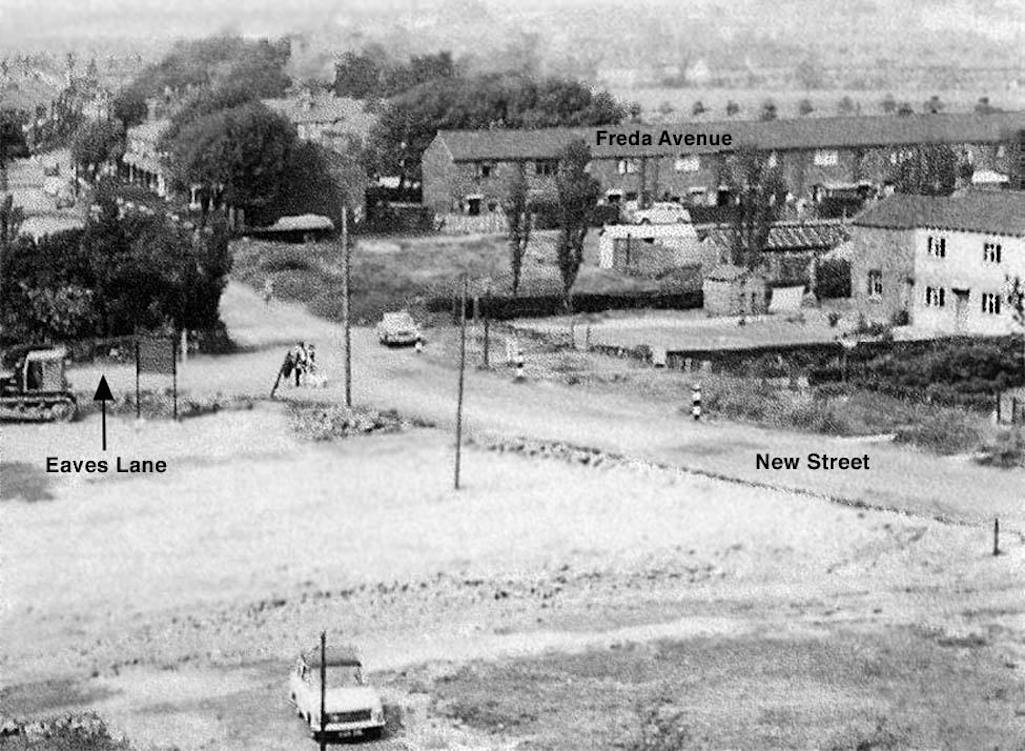 From 1962 Jim Lamb began documenting the building of the Sutton Parish church hall by members of the local community (see
here
). On June 8th 1963, Jim took a photograph from St. Nicholas church tower that was intended to provide an aerial view of the construction. However blowing up a corner of the image (above) reveals the site of what became Holbrook Close with its four blocks of flats.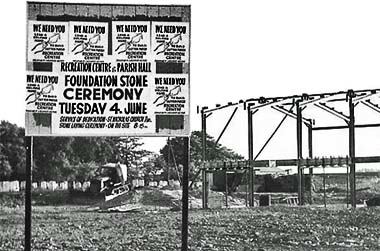 These were built in 1983 on the land in between Freda Avenue and the white cottage on the right of the photo. The latter was only demolished in 2013 and its adjacent cottage - which is probably 200-years-old - still exists. This area was badly affected by problems with flooding and drainage during the 20th century. An air raid shelter was built on the Holbrook Close site during WW2 but was never used through flooding. The original planning application to build the Meadowcroft estate (originally known as St.Nicholas' estate) to the right of the cottages was rejected in February 1969 through drainage concerns. These had to be rectified to enable the construction of both the Holbrook Close and Meadowcroft estates.

Pavements have also been added to this stretch of New Street. Note the lack of them on the top photograph with two people walking a dog in the middle of the road! The picture on the right was taken by Jim Lamb six days earlier and reveals the frame of the parish hall. The sign is the same one that's depicted in the above picture, located in between the dog walkers and the arrow pointing to Eaves Lane.


The area between New Street and Gerards Lane has undergone the most drastic change with the acres of farmland replaced by what is still locally referred to as the 'Beth Avenue' estate. The Dawson Avenue development of 1927-8 was the starting point for this residential expansion but it was small in comparison with the hundreds of homes that were built during the 1960s and 70s. This new build extended the short street of Beth Avenue, that had been constructed by the Hewards during the 1930s, to Gerards Lane across acres of brown and green land.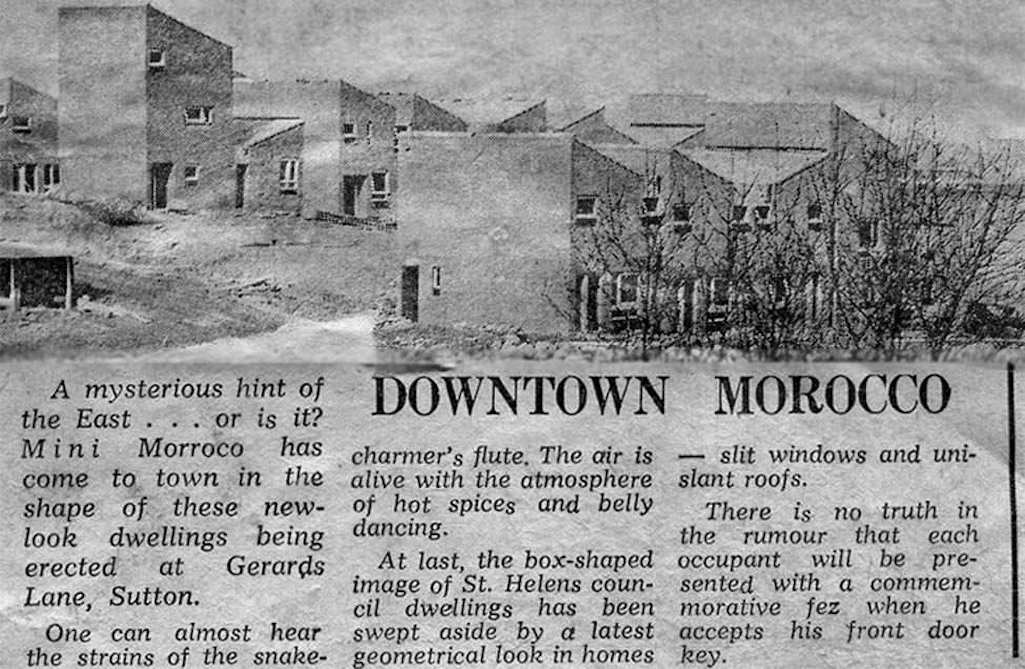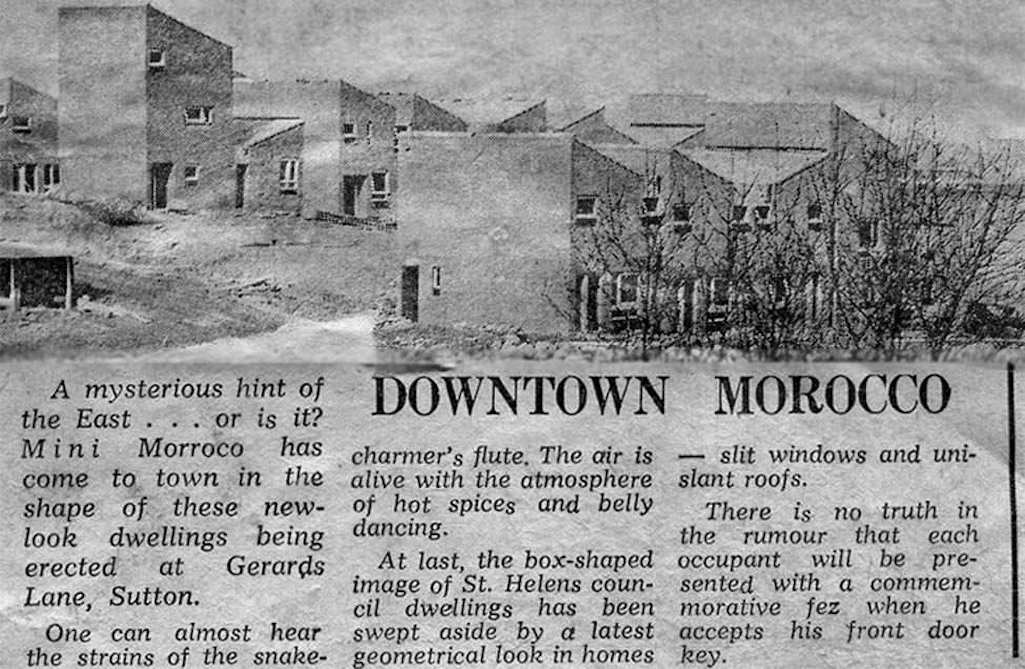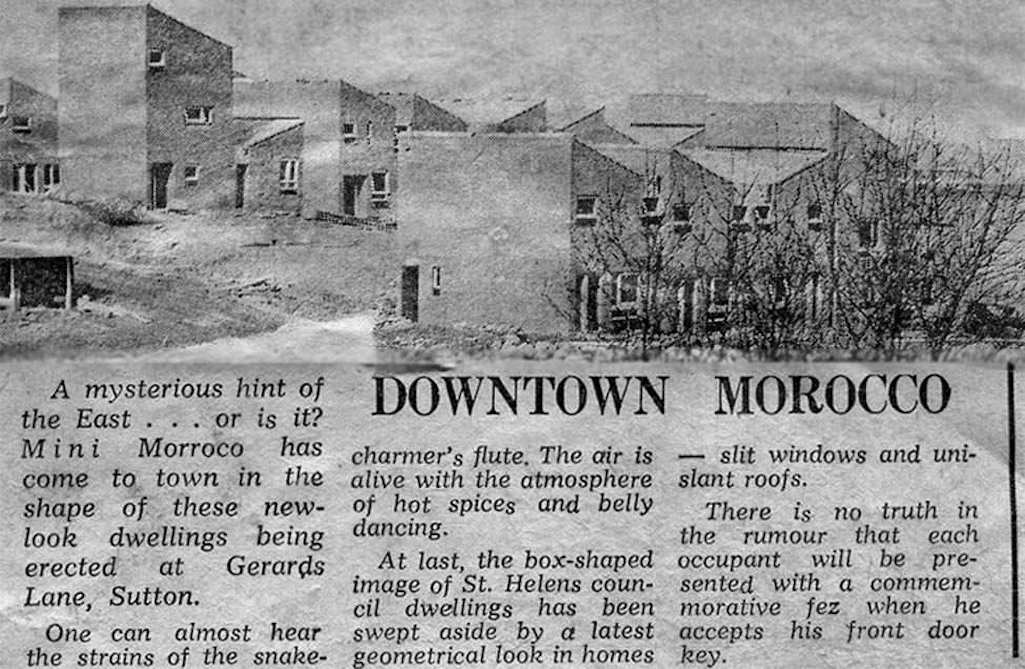 Frank Bamber, who lived in Gerards Lane when he wrote his memoirs 'Clog Clatters in Old Sutton', in 1987, thought that the changes were little short of criminal:
...the farmland from here [Whalley's Farm and Orchard] ran as far as New Street. This has now disappeared and is occupied by Beth Avenue. A beautiful hillside of farmland and wild life has vanished thanks to the progressive ideas of some of our borough representatives....[Beth Avenue] was goodbye to peace and beauty.
Beth Avenue and Eugene Avenue occupied separate halves of the same horseshoe that stretched from one side of the estate to the other. The houses were given the nickname of 'Legoland' and their build was said to be a factor in the area's high crime rate. During the 1990s, the three-storey / bungalow combination houses within the estate were demolished and the distinctive tops of the remaining houses were removed and replaced by traditional roofs. Both streets were renamed Ridgewood Drive, although the Beth Avenue moniker still lingers.

Despite these large-scale housing developments, the residents of the New Street district have plenty of opportunity for recreational activity with the delights of Sutton Mill Dam, Sherdley Park and Sutton Park on their doorstep.
Sutton Manor Village
Of all Sutton's industries coal mining was king, shaping both life and landscape in the former township. In fact Sutton Manor as we know it today, is entirely down to the creation of the coal mine that gave the village its name. Prior to the colliery's arrival, effectively in 1912 when production began in earnest, the land was agricultural with the only dwellings being scattered farms apart from
St.Michael's House
. This was located at the junction of Walkers Lane, Chapel Lane and Lea Green Road and was a moated sixteenth century house.

The only industry of note in the district was the
Brook Works
(a.k.a. Brook Mills) of Rawlins and Sons of Micklehead Green who made smalt. A small number of cottages were built in Walkers Lane to house their workers and a schoolroom was attached to the works to educate the children. Apart from these few buildings, the landscape was agricultural open space for miles around. However, by 1914
Sutton Manor Colliery
was winding 700 tons of coal a day and as the Times pointed out: 'A town has sprung up where a few months ago there were only fields' (4/2/1914). People flooded in to work at the pit from other parts of St.Helens, Wales, Scotland, Ireland and the Yorkshire coalfields. Some came from even further afield with two families from Lithuania and a high caste Hindu,
Mr. Ram
, who as a colliery surveyor lived with his manservant at 3 Tennyson Street.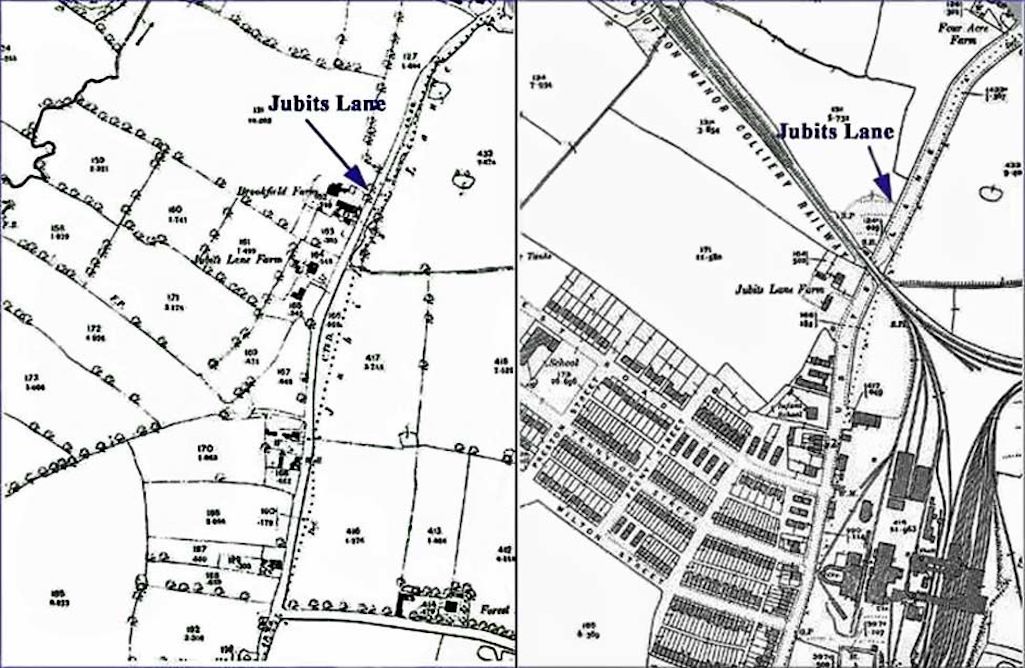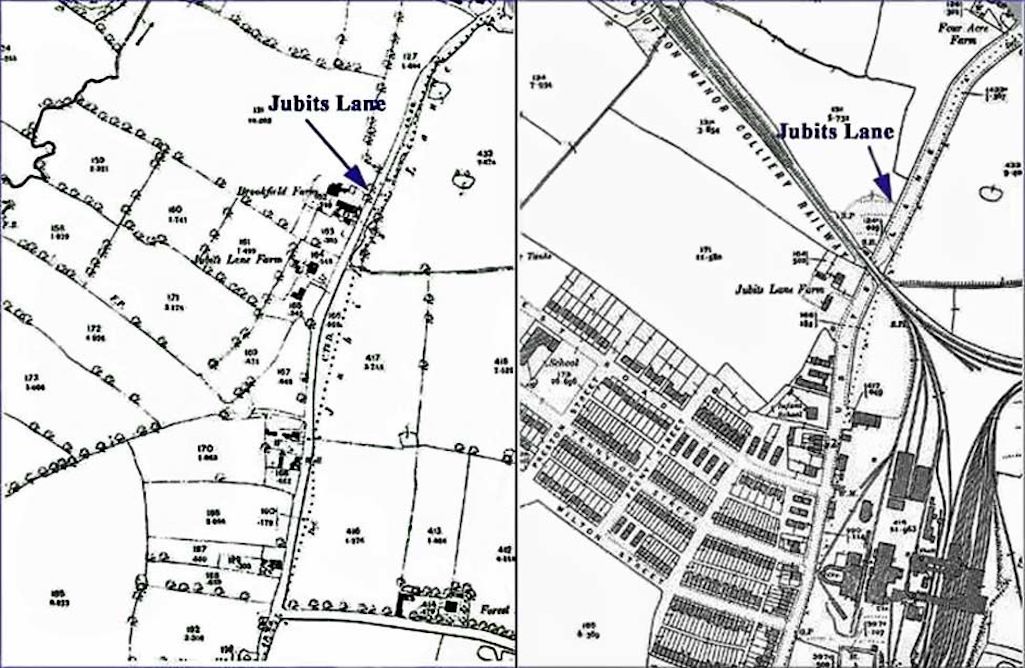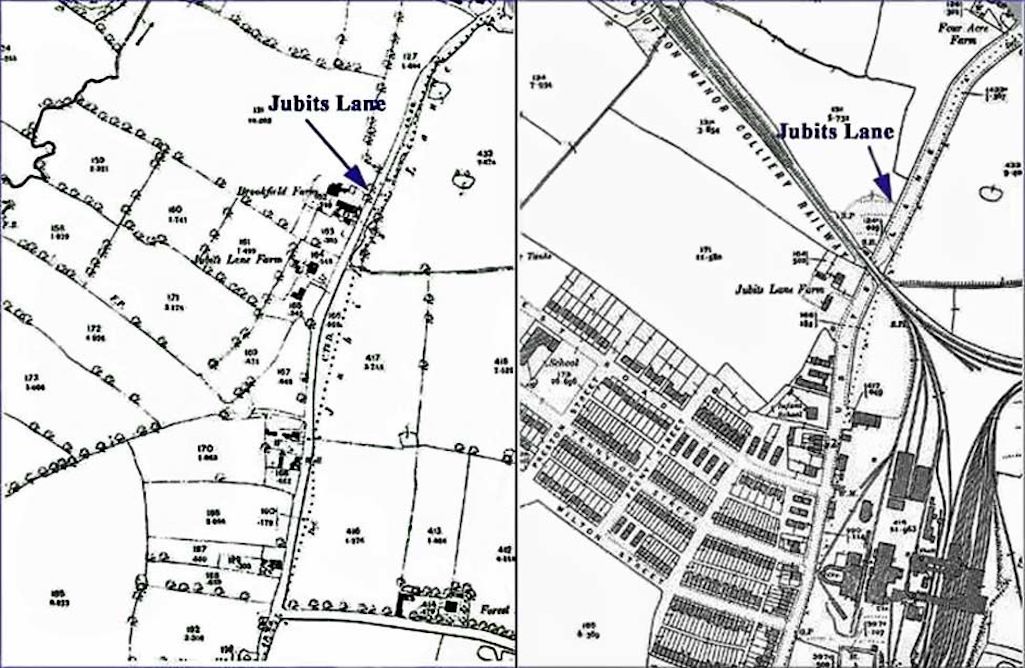 The Times also reported that the builders were unable to keep pace with the demands for the erection of sufficient dwellings to accommodate the miners and their families. The first 200 houses were built in Tennyson Street and Jubits Lane as 'two-up, two down' properties without inside lavatories, bathrooms or electricity. In 1924 the Sutton Manor village was extended by the construction of a number of semi-detached houses which had three bedrooms plus toilet and bathroom.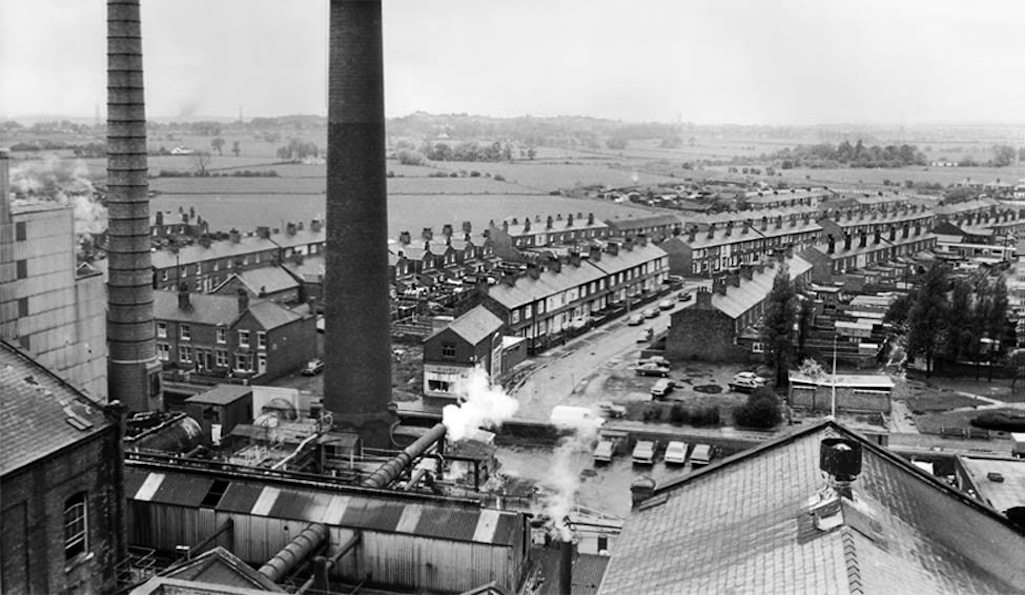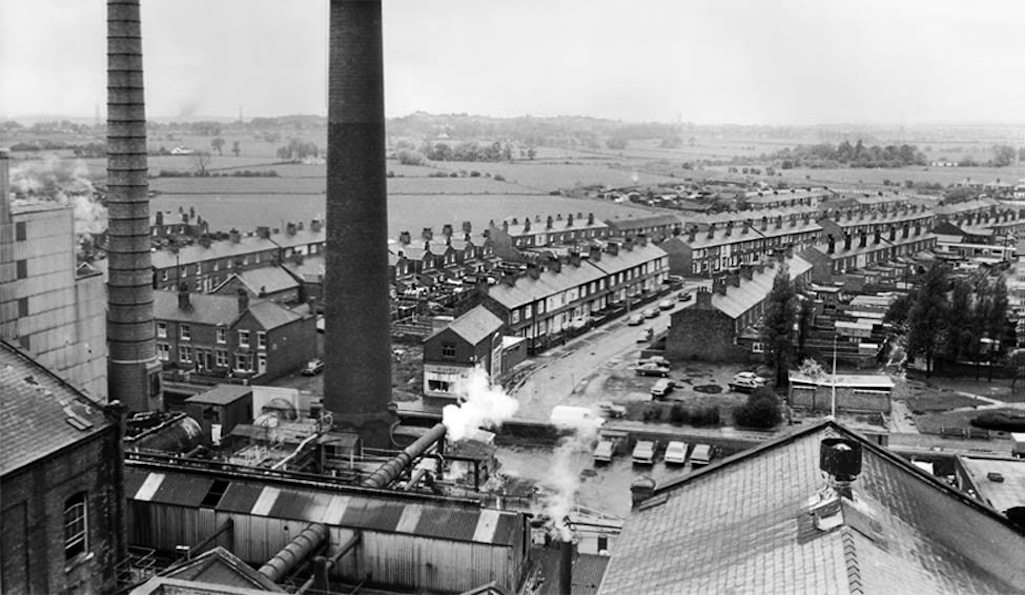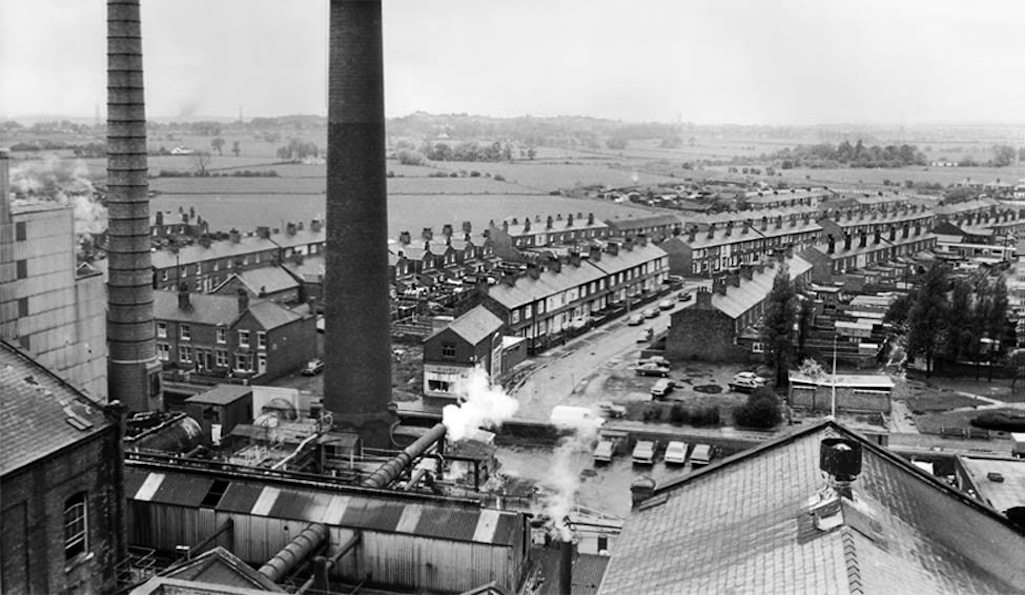 Then pretty much everyone in the village worked at the pit and it was a tight-knit mining community. There was very little other employment in the area and the tenancy of the house was tied, because the accommodation was provided by the colliery. Boys followed their fathers into the mine, although during the second half of the twentieth century this trend began to diminish. As the pit began to downsize its workforce and with greater mobility of the local population able to seek out other occupations, so Sutton Manor Colliery was no longer the dominant employment driver in the district.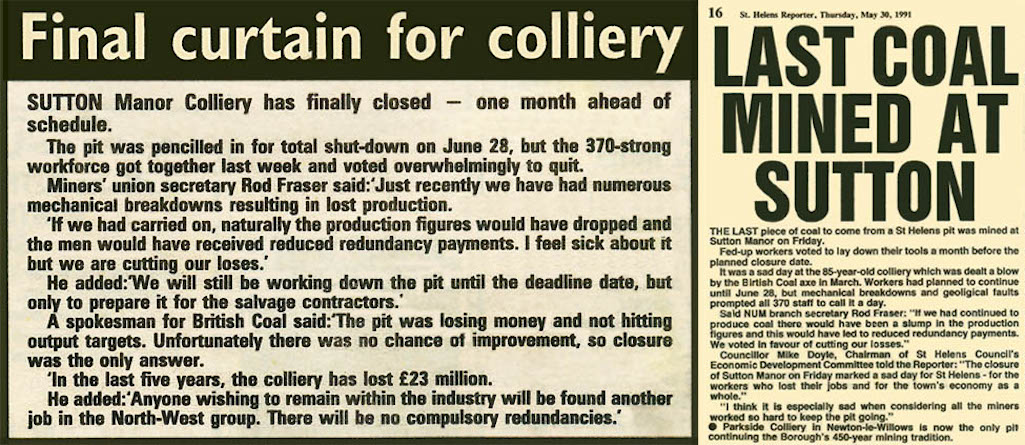 Sutton Manor's closure in 1991 came as a shock to the community but by then life was a lot different from when the first shafts were sunk in 1906. Modes of transport had changed and many people owned cars and the public transport service in Sutton Manor had greatly improved since the early years of the twentieth century. Inhabitants of the houses that had originally been built for mining families, were now able to commute to work with some taking advantage of the close proximity of the motorway network. The M62 link road was then beginning construction to make the latter even easier.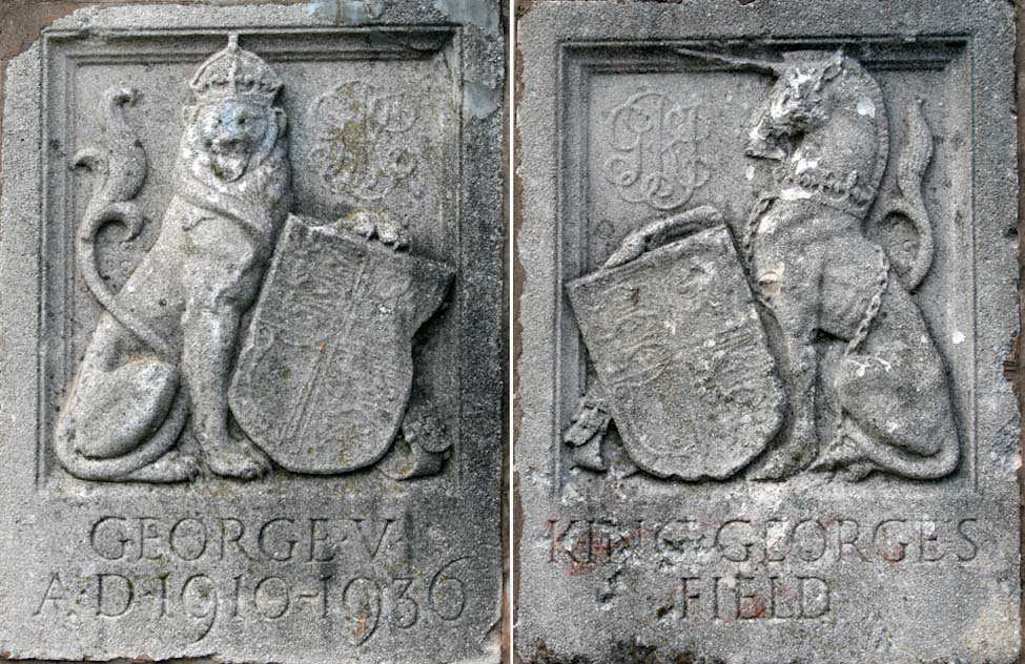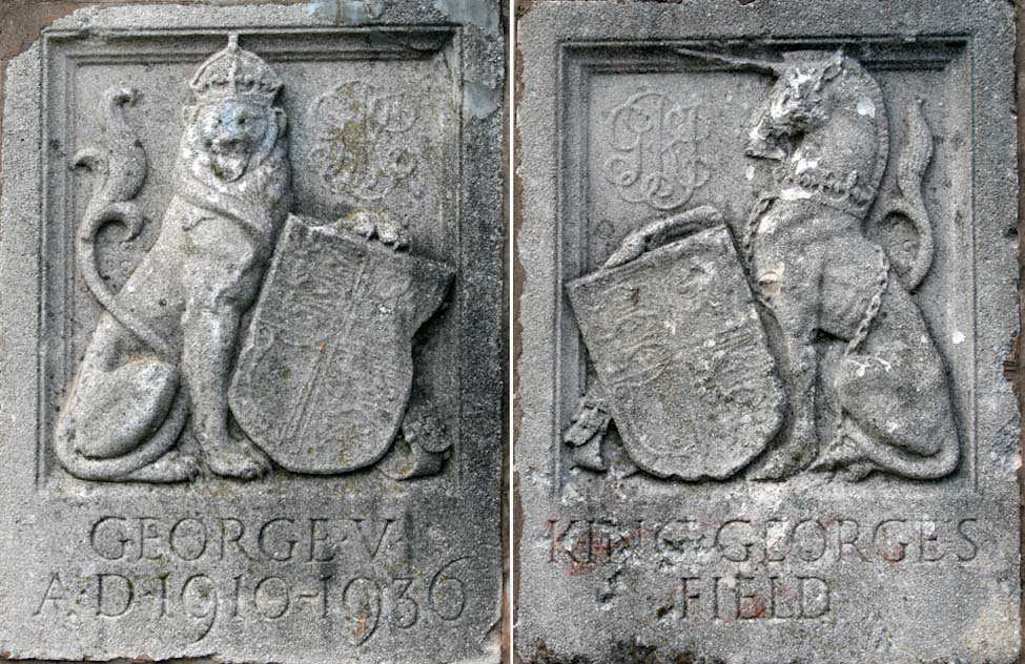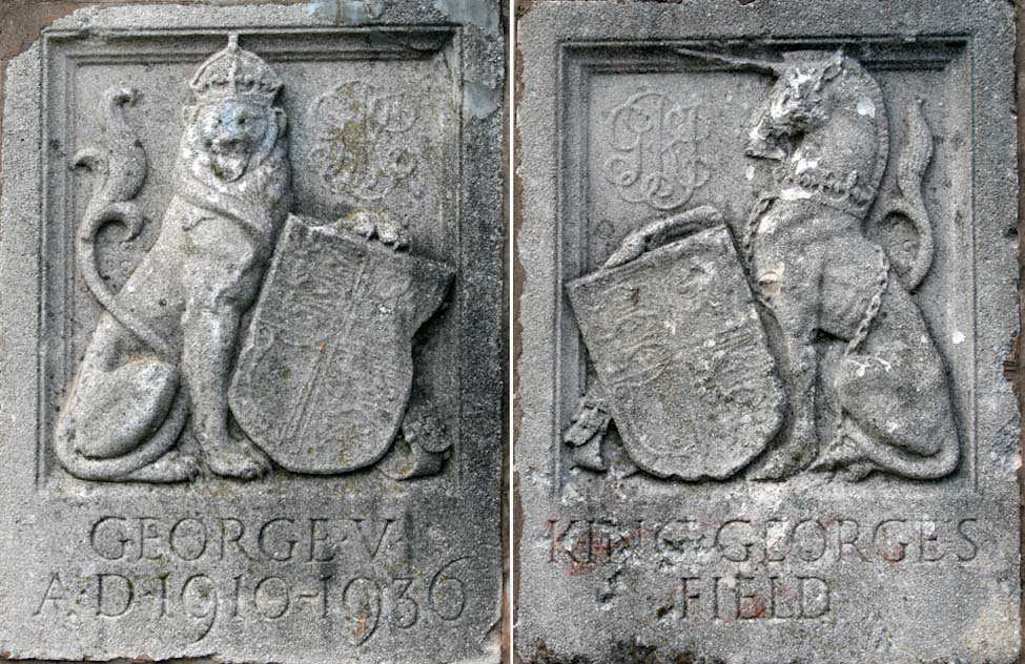 The temptation to build upon the former colliery land has been resisted and the Sutton Manor woodland which hosts the Dream sculpture and the nearby King George V playing fields provide recreational space for locals to enjoy. Work on creating the playing fields began after Sutton Manor Colliery sold 10 acres of land for £500 on December 19th, 1936. It was part of a government sponsored scheme intended to commemorate the life of the late king with playing fields for the masses and an 'L' shaped pavilion with a flat roof was constructed. Excavations for several tennis courts and bowling greens began but were interrupted by the war and never completed.


New housing estates have been created in Sutton Manor during the latter half of the 20th century. About 1970, Delamere and Epping Avenues and Dean Way were built on the former farmland site of Jubits Lane Farm, just north of Forest Road, creating many new homes. Although the possibility of subsidence may have been a factor in deterring new builds on the old colliery site, it's clear that there's been a strong desire to retain a sensible mix of housing and open space within Sutton Manor.
Edgeworth Street
Frank Bamber was born at 64 Edgeworth Street in 1910 and in the first edition of the Sutton Historic Society's publication 'Sutton Ramblings' in 1989, he described how he'd recently found himself in the street of his birth one Saturday morning but was not impressed by what he saw:
Somehow the street seemed to me now to be cold and deserted, lacking warmth, and what I noticed most was the staggering of stationary cars parked on each side of the street and it seemed to me that something was lacking. I shut my eyes momentarily and started to picture in my mind's eye how different it was during my early days. I could hear children's voices singing or chanting one of the old skipping songs, and two big girls, Clara Sharples from number 61 and May Ashton from the Chip Shop in Peckershill Road, both in the Girl Guides, standing in the roadway turning a lengthy skipping rope.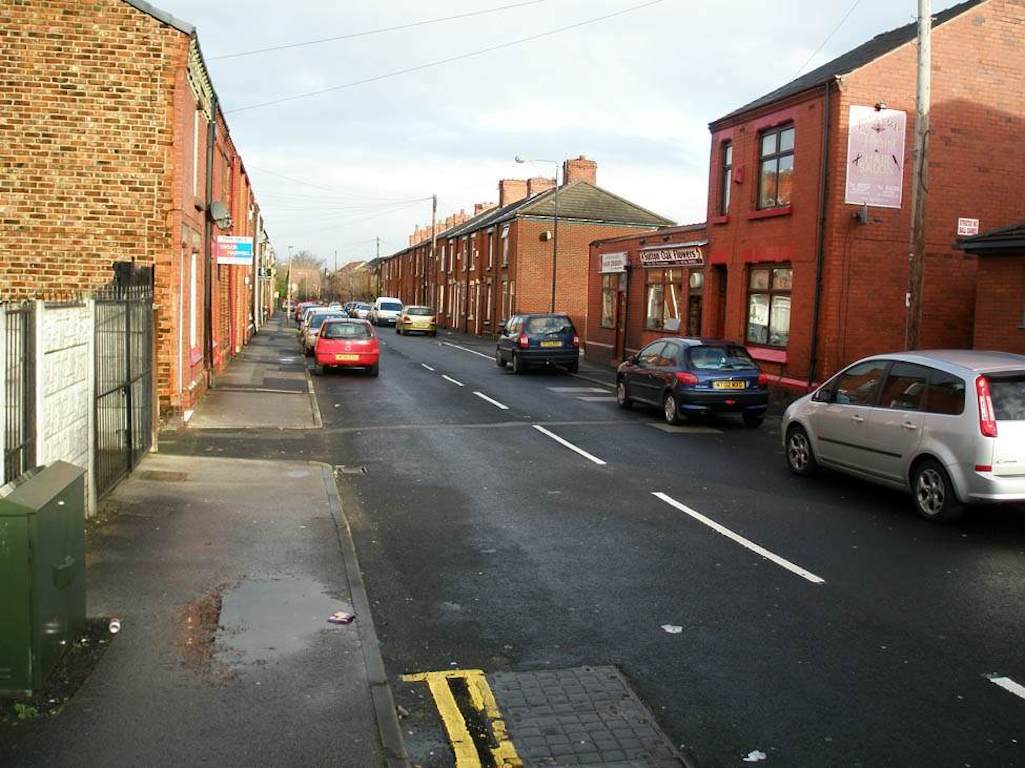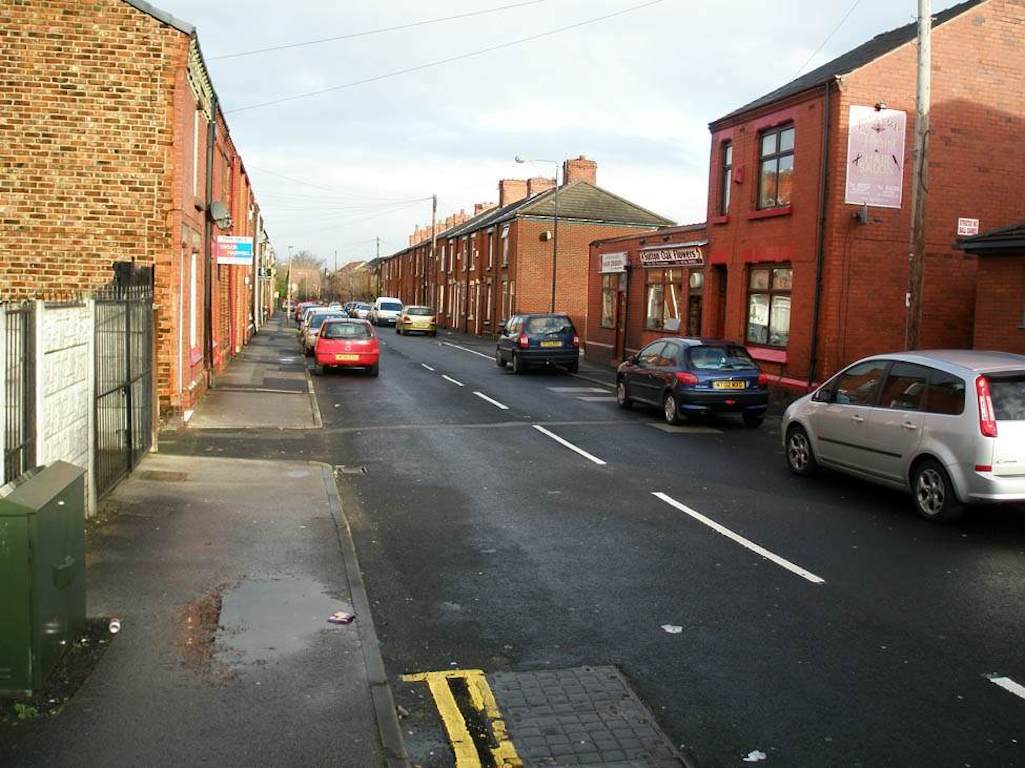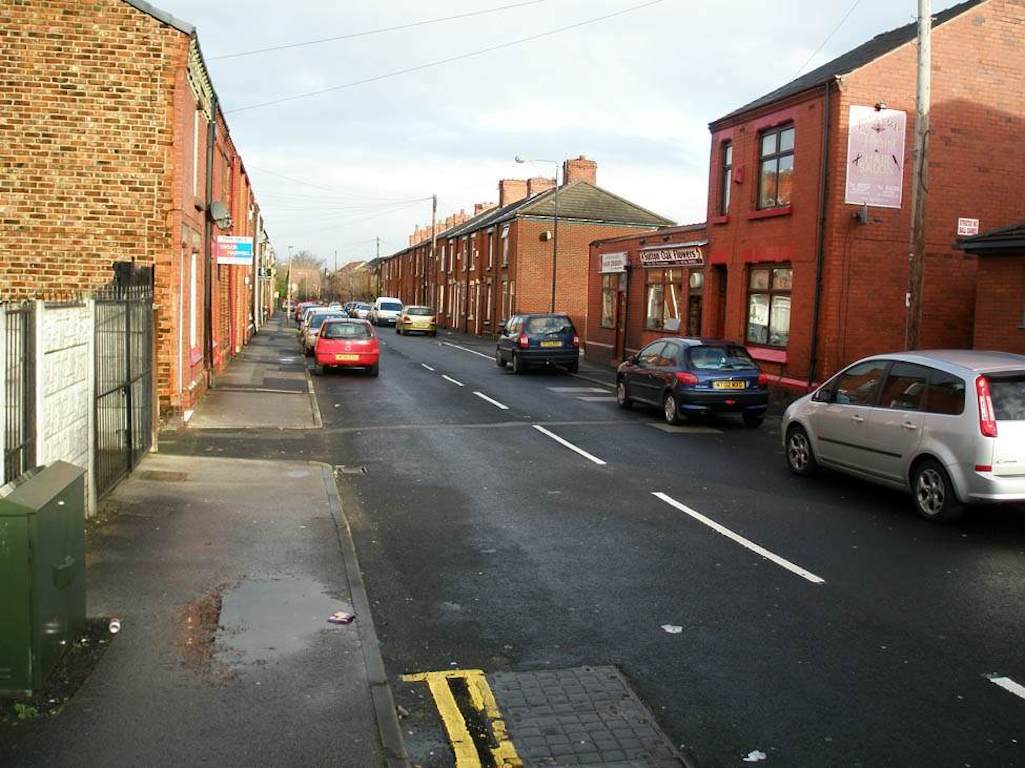 In Frank's mind's eye, he could also see a four wheel flat cart carrying vegetables in wicker hampers which was being pulled along Edgeworth Street at walking pace by a chestnut horse. Holding the reins was
Charlie Swift
, a Peckershill Road greengrocer, assisted by his young son whose red hair earned him the nickname of 'Carrot Swift'. Frank described how Charlie rang a handbell to summon the customers to come out of their houses and select some produce. Frank could also 'see' a wheeled float with the name
A. Barrow
painted on the side, drawn by a rough coated pony, pulling up at 64 Edgeworth Street. He pictured himself as a child running out with a newspaper and holding it out to the small, stocky owner who deposited seven firelighters on the newspaper for the price of sixpence.

Frank recalls that there used to be eight shops, mainly grocery and sweet shops, that were essentially converted front rooms of houses. There was
Miss Jones
at number 58, then
Mrs. McVitie
at 74,
Mrs. Beasley
at 88,
Fred Hill
at 31 and
Millie Price's
pork shop at no. 51. At no. 73 was a large dairy run by
John Davies
which had stables for four ponies and an enclosure for milk floats. There was also a Methodist chapel, Conservative Club, Little Pig pub and close by was Fletcher's slaughterhouse, Phoenix Brewery, Providence Foundry and the Showground where entertainment was staged. Frank again:
What struck me regarding the lifeless scene in Edgeworth Street was the absence of the unhurried horse and cart traffic making their way along the street, the absence of children playing happily on the pavements and in the roadway, the neighbourly wives talking together around the doorstep, perhaps dispensing some good news or unburdening some of their worries or asking advice on some problem....Yes in this year 1987 parts of the street have died. Gone are the small front room shops where people in neighbourly fashion could go in and buy one or two items and what was more valuable they could unburden their troubles to a kindly person behind the counter or a few friendly neighbours gathered in the shop. A worry shared is a worry halved. Gone are the dairies and the whistle of Mrs Davies summoning all to the milk float and a cheery good morning to each and everyone.
'The Little Pig' pub named after Fletcher's former slaughterhouse, is all that remains. Of course the twentieth century social changes that Frank laments have been common to the whole country, not just specific to Edgeworth Street. Their causes include the increased use of the motor car, the internet, computer games and other competing forms of entertainment, so-called 'stranger-danger', growth of supermarkets and many other factors.

This website was not created to undertake such socio-economic analyses. However, Frank's reminiscences vividly bring old Sutton to life, which is very much part of Sutton Beauty & Heritage's remit!
How Lea Green Has Changed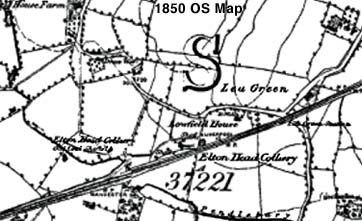 Lea Green is thought to be derived from the Old English word 'leah', meaning a woodland or forest clearing. Historically a rural district, Lea Green has only recently developed a significant resident population. Indeed most of the miners at
Lea Green Colliery
- which opened during the 1870s - lived in Thatto Heath and commuted to work. The lack of a local populace is reinforced by the fact that there has never been a pub or beerhouse in Lea Green. The nearest waterhole has been the Boars Head in Sutton Heath, although the Micklehead Green Beefeater Grill has recently opened. The main occupations in Lea Green have traditionally been farming and coal mining. The latter dates back far further than the 19th century, with the
Eltonhead
family extracting coal in different parts of Sutton Heath and Lea Green from 1540. Their mining was initially opencast and it was said that local people had to exercise care when out walking as the ground often gave way and swallowed them up!


The 1849 Ordnance Survey map shows Elton Head Colliery adjacent to the Liverpool to Manchester railway line in Lea Green. A number of disused coal shafts are also marked on the map. However by the 1892 OS, Elton Head Colliery vanishes and Lea Green Colliery off Lowfield Lane makes an appearance. From about 1870 clay was extracted from what became known as the Lord St.Helens North and South quarries, adjacent to Lea Green Road and Fog Cottages. This was used by Roughdale's Brickworks to make bricks, chimney pots, pavings and pipes. However the Lea Green clay may have been used much earlier to make pottery. In 2002 archaeologists from Liverpool Museum unearthed a large haul of 15th and 16th century pottery on the site of Big Lea Green Farm. Their find included 15th century storage jars, clay pipes and cups. The expert team believe that people had been living on the site off Lea Green Road since the 1400s.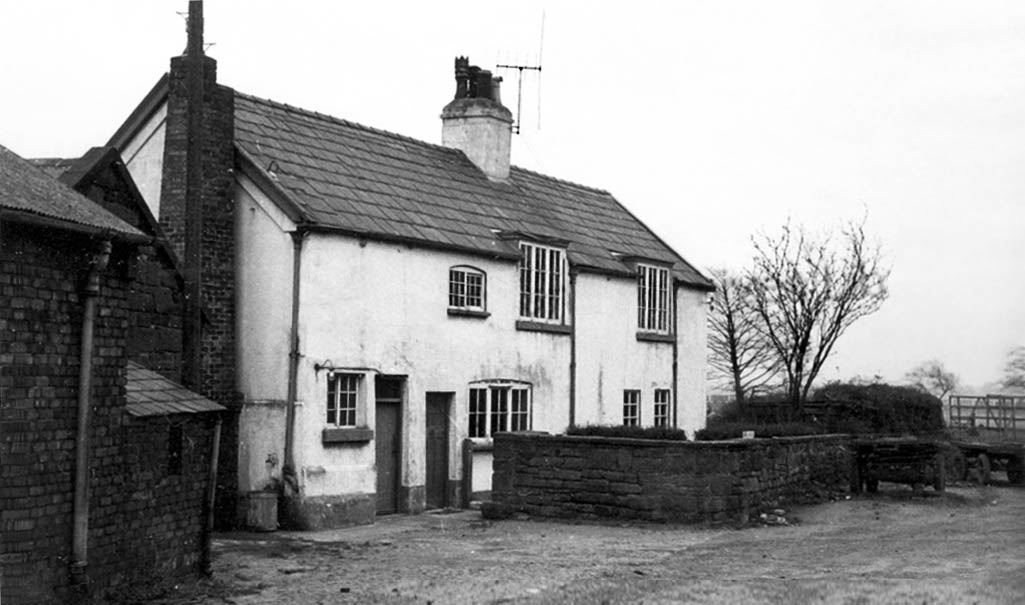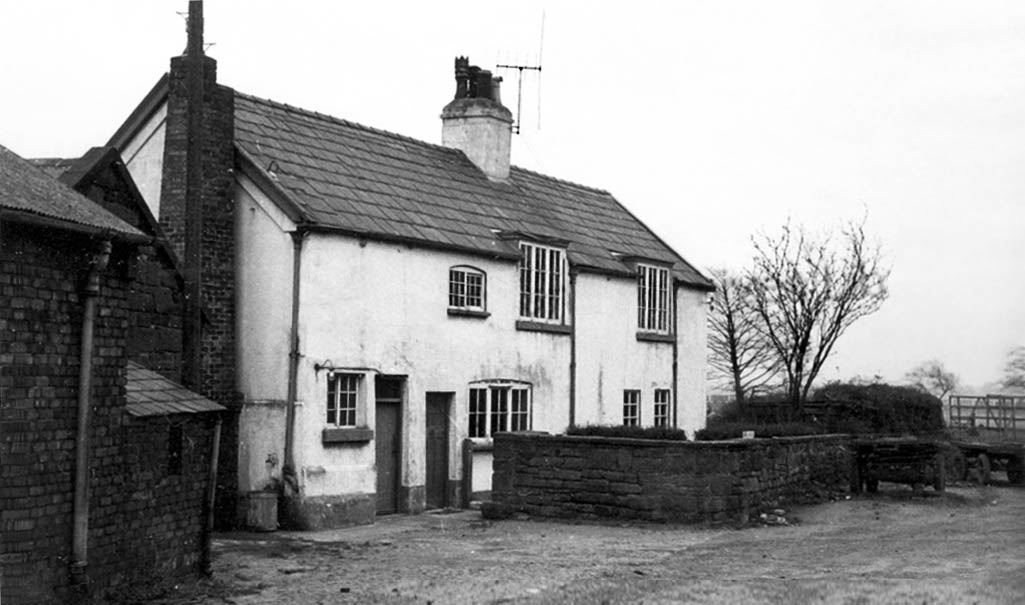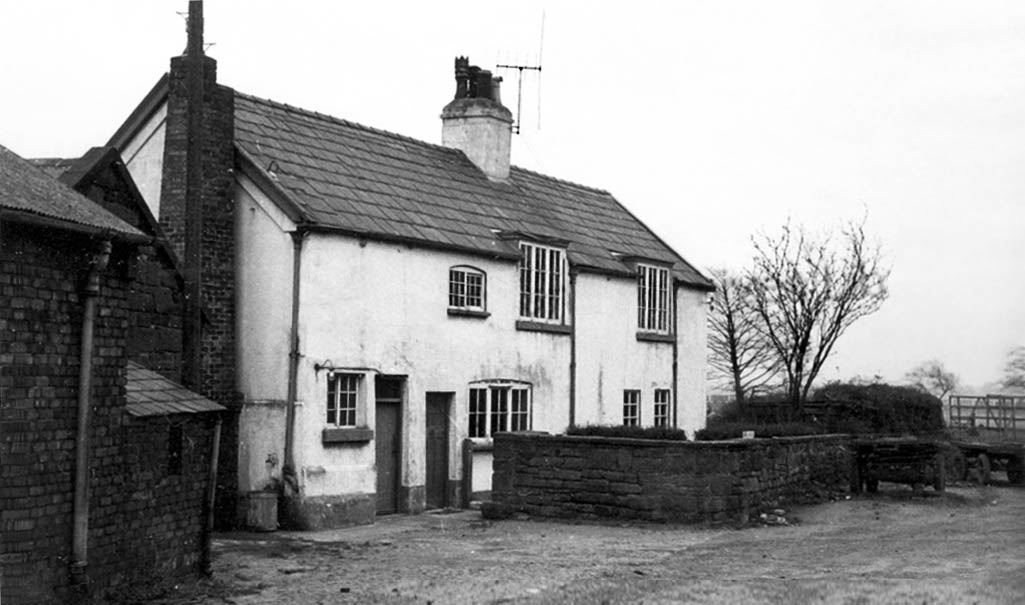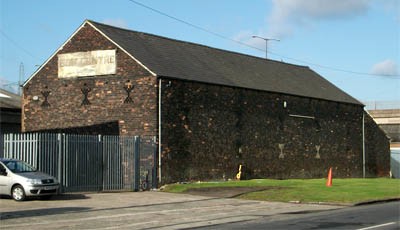 Other farms in Lea Green have included Little Lea Green Farm in Lea Green Road / Elton Head Road (also recently described as Lea Green Farm East), Glasshouse Farm and Lowfield Farm in Lowfield Lane, Micklehead Farm, Micklehead Green Farm and Elton Head Farm / Hall. The latter located near Rainhill, was owned by the
Marquis of Salisbury
and occupied by the Lowe family.
John Lowe
was councillor for West Sutton from 1885 until his quick death from typhoid in December 1888.


For much of the 19th and 20th centuries, Lea Green was synonymous with its railway station, as well as the colliery. The Rainhill Trials took place through the district and the station opened in 1830 and closed for good in 1958 (the present Lea Green station which opened in 2000 is really in Marshalls Cross). Sadly there are no known photographs of the historic station.

So how has Lea Green changed? In a sentence mining and farming has been replaced by private enterprise and residential development. The colliery's closure in 1964 did not hit Lea Green as hard as pit closures in other parts of St.Helens. In part this was through there only being a small local population. Although in those days redundant miners easily transferred to other pits. The railway station's closure a few years earlier had been similarly uneventful. Farming became the main occupation but has now died out. One or two farm buildings and farm names have continued but now have other uses.



Private industry and business are, however, thriving through companies such as NGF Europe, Hivis Workwear, Klaussner Furniture, Eddie Stobart's St.Helens depot and Ena Shaw's curtains and blinds factory. The latter's family-run business supplied curtains for the 13,000 rooms in the Olympics Village in London 2012. There's also the Lea Green Business Park on Eurolink and Lea Green Industrial Estate in St.Michaels Road. Plus the Mere Grange 31-acre business park in Leaside - the largest office development in St Helens - which opened in 2008. Even the police have found a home in Lea Green. Their extensive Training Centre and Academy in Lea Green Road instructs new recruits and provides public order training.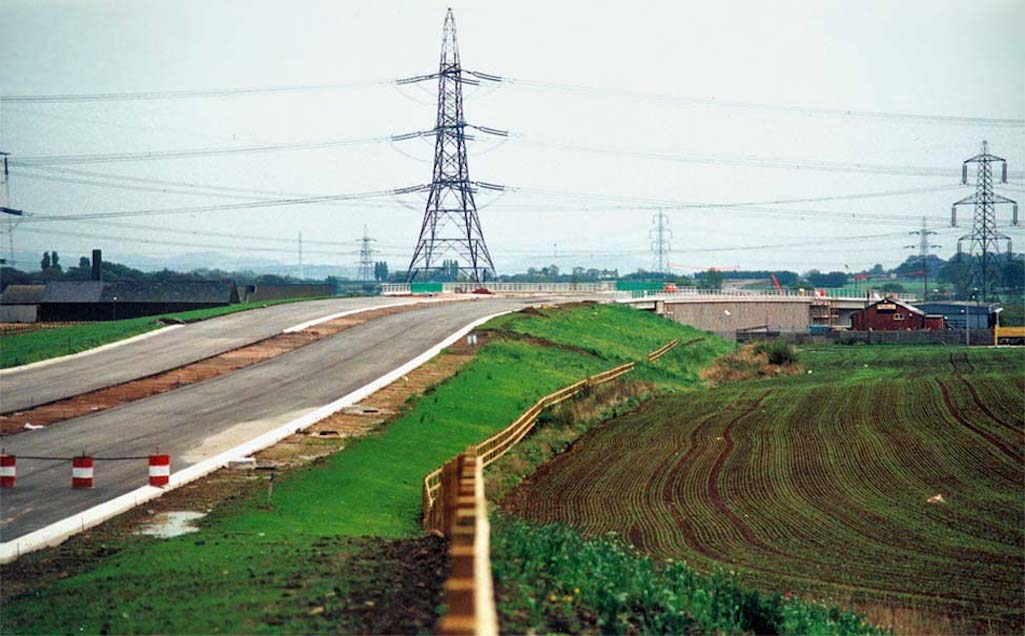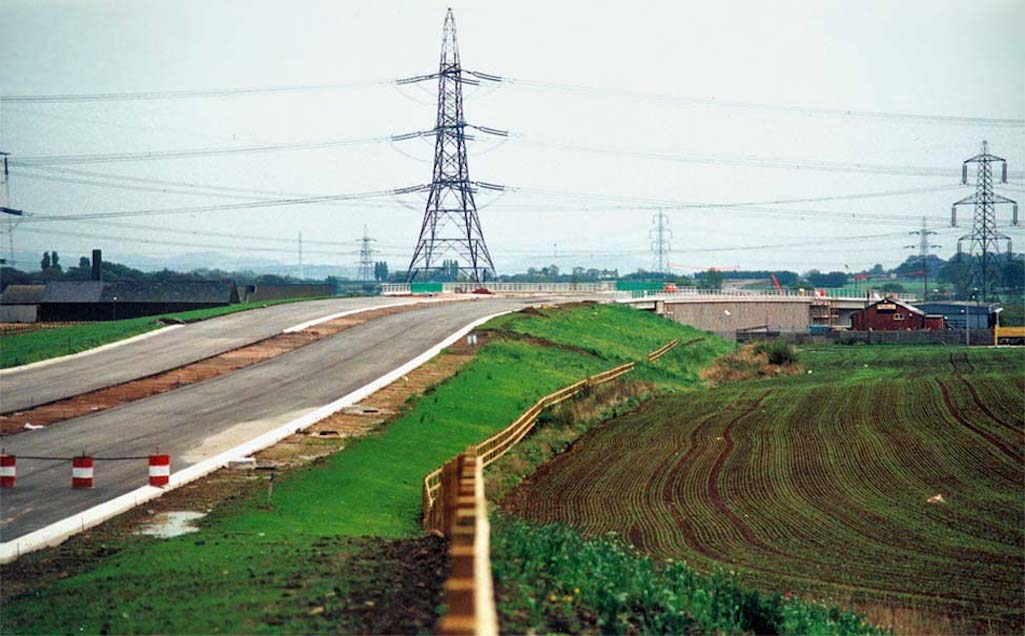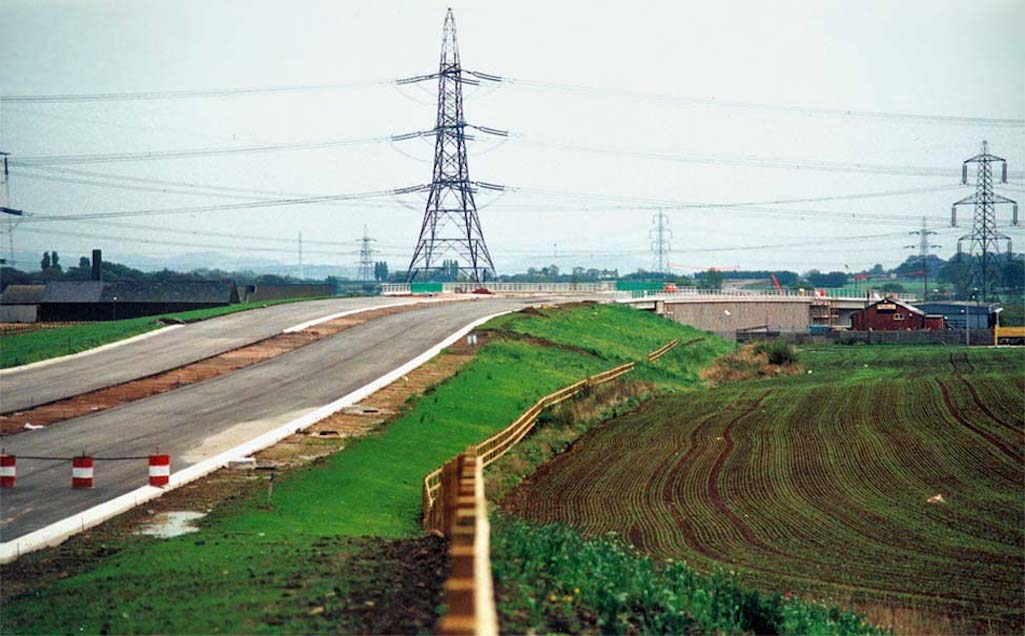 A big boost for Lea Green was the opening of the local stretch of the M62 in November 1973. Lea Green is just over a mile from Junction 7 and in 1992/3 the St.Helens Linkway was constructed, connecting the motorway with the town. At the time of opening the linkway was dubbed "the road to riches". Whether that's been realised is debatable, but it's certainly made Lea Green an attractive business base. The subsequent building of the road called Eurolink, connected Lea Green Road directly to the linkway.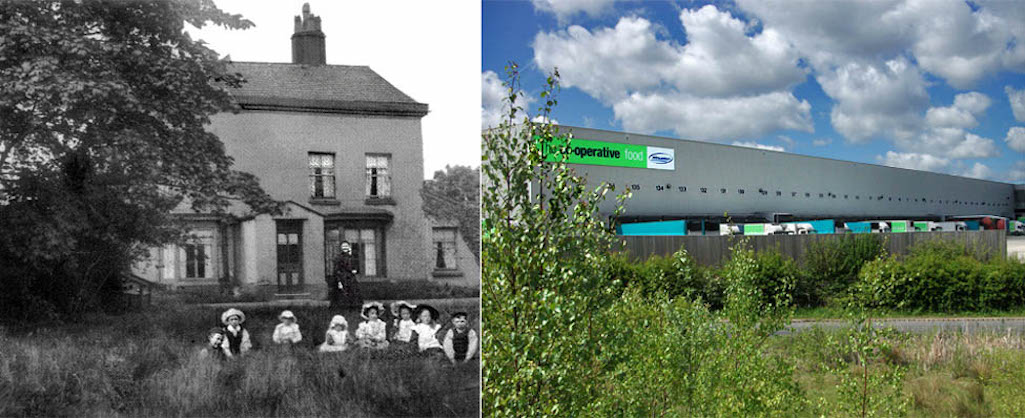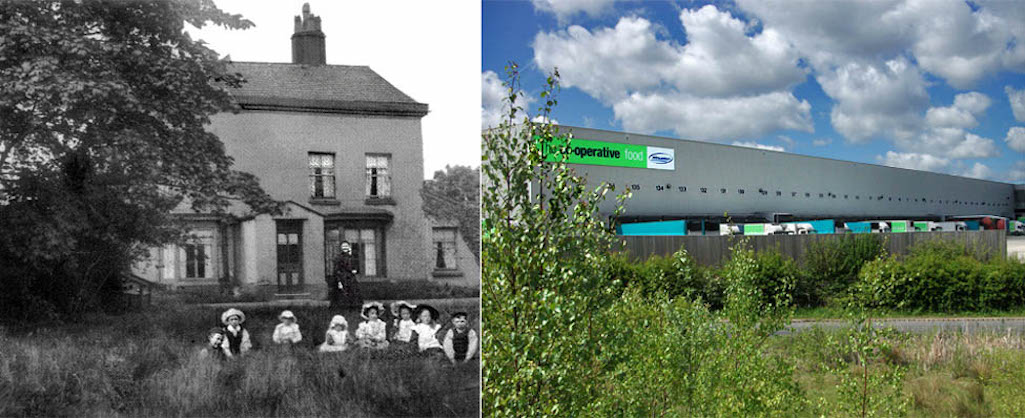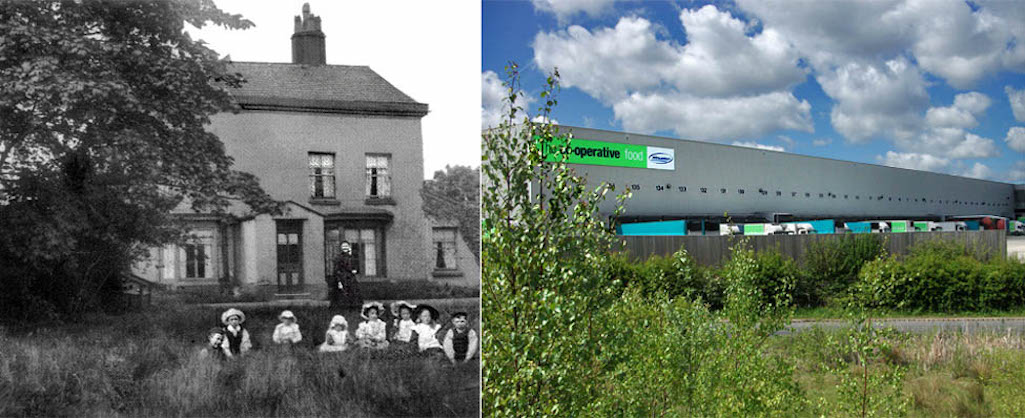 Then in 2002 Somerfield obtained planning permission from St.Helens Council to build a 600,000 sq. ft. supermarket distribution centre. The £40 million depot created 500 jobs and was built on the site of Big Lea Farm. The land was acquired from the Sherdley Estates, whose great-uncle had originally owned Sherdley Park. The huge complex stretches between Elton Head Road and Lowfield Lane and in 2010 it was taken over by the Co-operative Group.

As well as a shift from coal mining to private enterprise, the second major change has been a move towards housing estates. For the last few years Morris Homes have been busy creating an 'urban village' on the former site of Lea Green Colliery and Lowfield Industrial Estate. The development is roughly the size of 30 football pitches and the build will eventually see 700 homes plus a lake. There are a number of open brown and green field areas in Lea Green. So it's likely that this will only be the start of a residential and business expansion of a district that's steeped in history.
Sutton Mill Dam & Community Action
As the housing estate expansion developed, so the local community became increasingly concerned for the protection of its green and open spaces. The story of Sutton Mill Dam is a good example. The cellophane manufacturer British Sidac, who'd been in Sutton since 1934, had ownership of the historic lake and Dam, which had originally powered a corn mill. Deterioration had occurred since the war with much siltation of the water. Then in the early 1960s there was subsidence at the head of the Dam which, combined with the silt, served to reduced the water capacity. In 1976 Sidac applied for permission to fill it with inert waste.
Brian Spencer
,
the recent leader of St.Helens Council, and his wife began a campaign to stop the dumping and whilst out petitioning bumped into neighbours who were also collecting signatures for their own petition. They joined forces, meetings were arranged and the Sutton Mill Dam Action Group was formed.


After lengthy negotiations, St.Helens Council acquired Sutton Mill Dam as well as Monastery Dam for a nominal sum. The original intention was for the Mill Dam to become an area of natural beauty without pedestrian access, in order to protect the wildlife and the Dam area itself. However, the Council had applied for a Derelict Land Grant from the government and one of the criteria was that any work done must bring land back into public use, hence the present footpaths and bridges.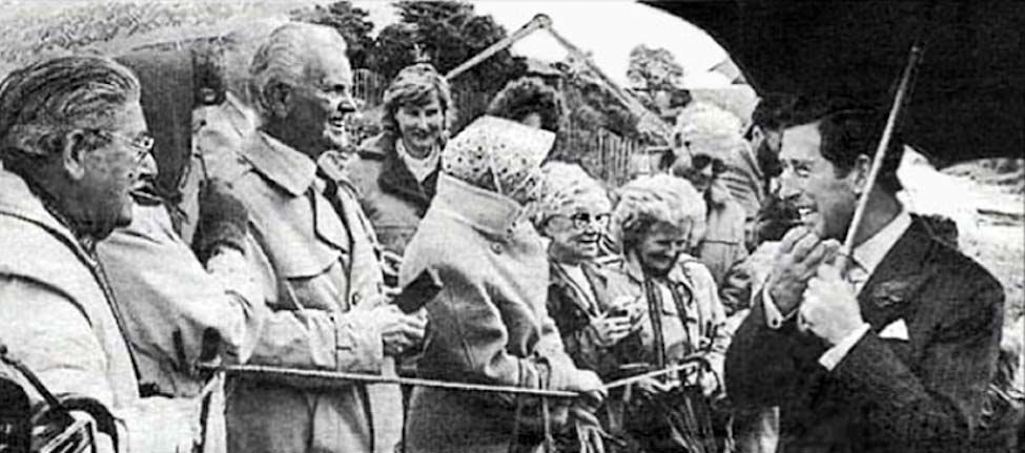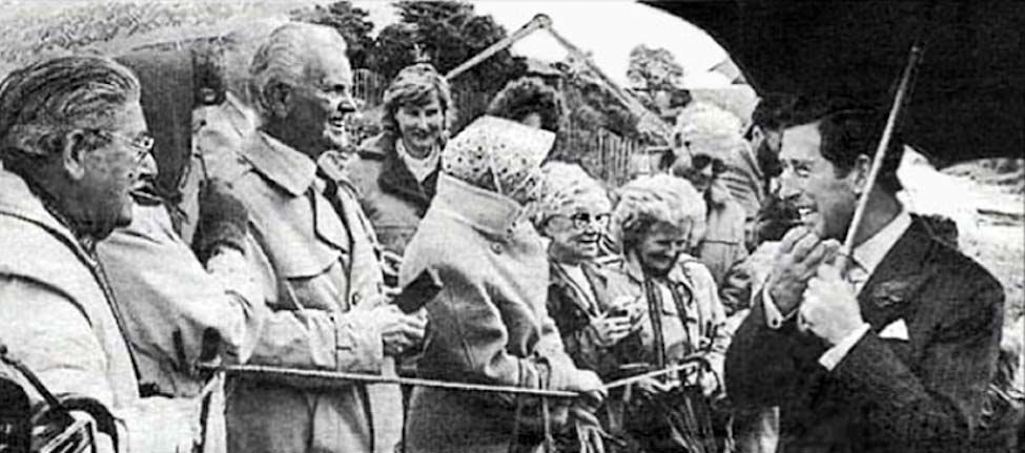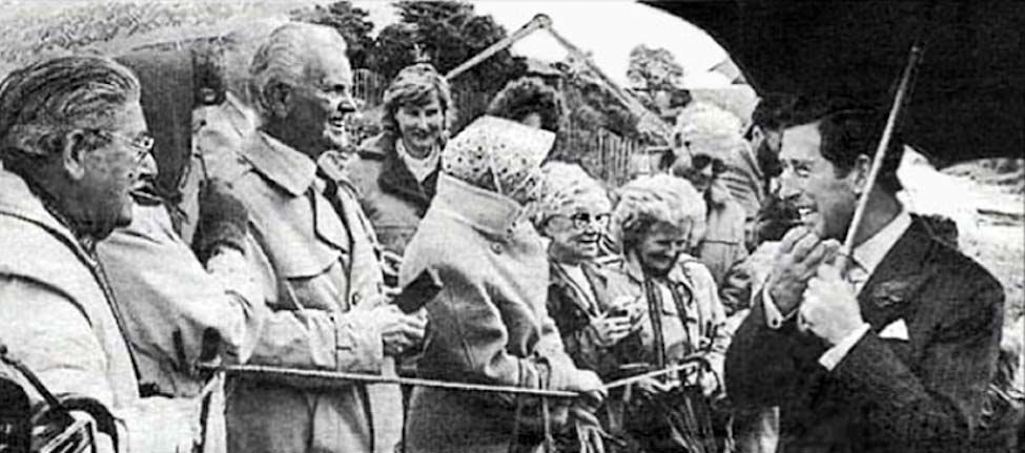 St.Helens Council then commissioned the newly-created Groundwork Trust to work on Sutton Mill Dam as part of their Operation Groundwork project. They received assistance from pupils at Sutton High school and a competition was held in the local primary schools to create a mascot emblem. This was won by four-year-old
Alison McDonald
of Willow Tree Primary whose design is pictured here.

In 1984 Sutton Mill Dam Action Group raised £400 to pay for the Groundwork Trust to design and produce special nature packs for schoolchildren. Pictured is
Professor A. D. Bradshaw
of Groundwork at the Mill Dam presenting youngsters with the packs. These were designed to make the kids aware of the wildlife potential of the historic Dam. Also established was the Friends of Groundwork (FROGS). The campaigners did not want to allow fishing, due to the danger of wildfowl being snared on discarded hooks. However Sidac had already awarded fishing rights to East Sutton Angling Club and the fishermen did a lot of good work to keep the Dam clean.

During 1987, thousands of trees and wildflowers were planted by the Community Landscape Unit of St.Helens Council, with the assistance of 400 local schoolchildren. They also made footpaths and steps and built a drystone wall around the edge of the site. Dredging of the silt from the dam took place during 1988 and a boardwalk, bridge and a number of fishing platforms were installed. Floating islands were built which provided nesting sites and shelter for wildfowl.

In May 1988
Sutton Mill Dam
was visited by
HRH Prince Charles
who was able to learn of the local community's efforts, although the official opening of the wildlife park was by
Pete Waterman
on July 23rd 1990. This demonstrated what community action could do and sent a message to industry that the days of dumping in Sutton's waterways were well and truly over. (See
Sutton Celebrations!
for more pictures)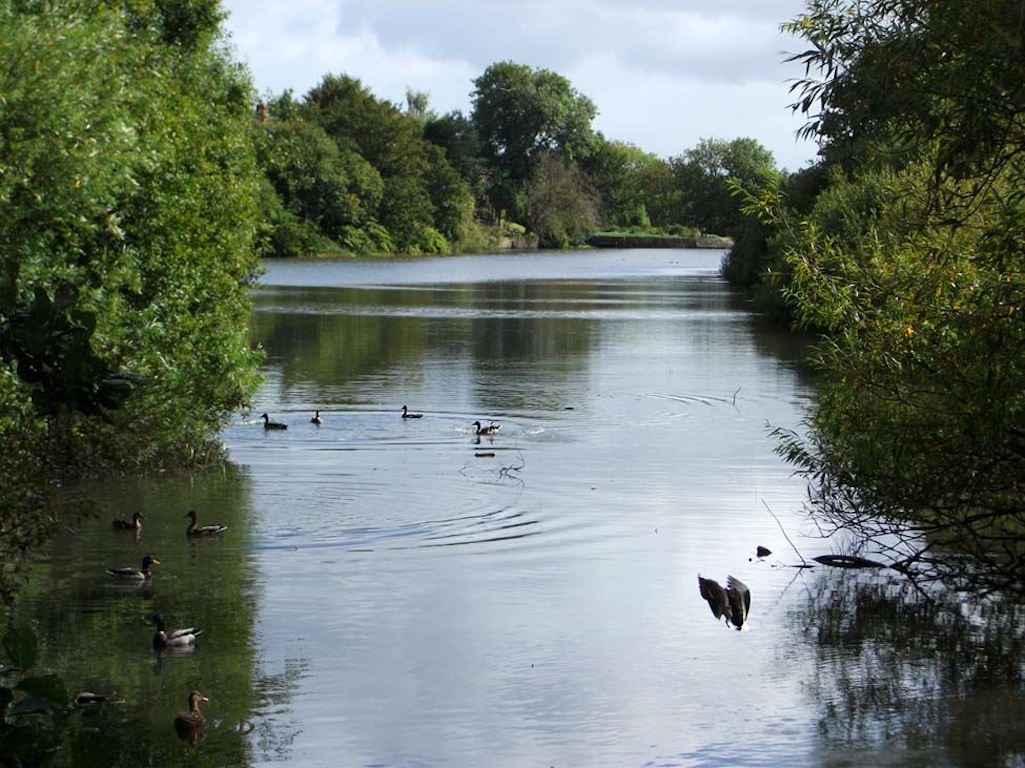 Green open spaces are flourishing in the Sutton district and the closure of the two former collieries at Sutton Manor and Clock Face have been been seen as opportunities to develop them as public spaces. With the support of agencies such as the Forestry Commission and The Mersey Forest, the
Clock Face Country Park / Maypole Wood
and
Sutton Manor Woodland
(which also hosts
Dream
) plus
Brickfields
have been developed as public access land where one can walk, jog, sit, cycle or fish.

The balance in providing housing for the local community and the retention of open, green space is always a tricky one, but the powers-that-be in St.Helens seem to be doing their bit to ensure that Sutton remains a 'picturesque' location for many future generations of 'Suttonites' to enjoy.
Copyright Notice / Factual Accuracy Statement

This website has been written and researched and many images photographed by myself, Stephen Wainwright, the Sutton Beauty & Heritage site owner. Individuals from all over the world have also kindly contributed their own photographs. If you wish to reuse any image, please
contact me
first as permission may be needed from the copyright owner. High resolution versions of many pictures can also be supplied at no charge. Please also contact me if you can provide any further information or photographs concerning Sutton, St.Helens. You might also consider contributing your recollections of Sutton for the series of
Memories
pages. Sutton Beauty & Heritage strives for factual accuracy at all times. Do also get in touch if you believe that there are any errors. I respond quickly to emails and if you haven't had a response within twelve hours, check your junk mail folder or resend your message. Thank you!
SRW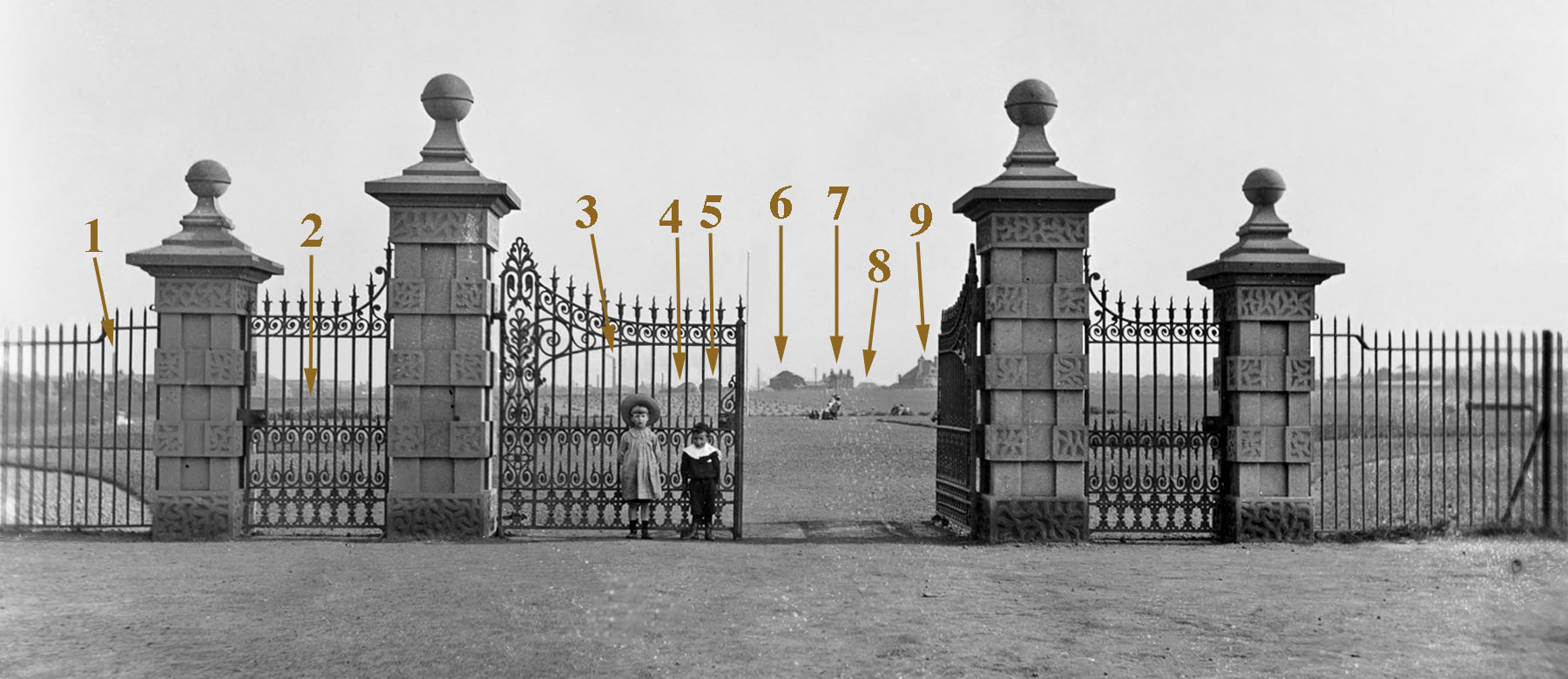 1. The former Sutton Glass Works in Lancots Road, which closed in 1903; 2. Embankment for the St.Helens to Widnes Railway as it journeyed to the Intersection Bridge; 3. Turner Glass Works, later Sutton Oak C.D.R.E., a.k.a. the 'Magnum'; 4. New Street Farm; 5. Sutton Vicarage (now the site of Elizabeth Court Care Home); 6. Yew Tree Cottage in New Street; 7. Houses between Eaves Lane and New Street Bridge; 8. The farmer Heyes family's barn; 9. St Nicholas Church and Ivy Cottage at the top of Eaves Lane.