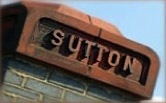 Various Pictures of Sutton in St. Helens
Additional images of modern-day Sutton
Various Pictures of Sutton in St. Helens
Additional images of modern-day Sutton
Various Pictures of
Sutton in St.Helens
Additional images of Sutton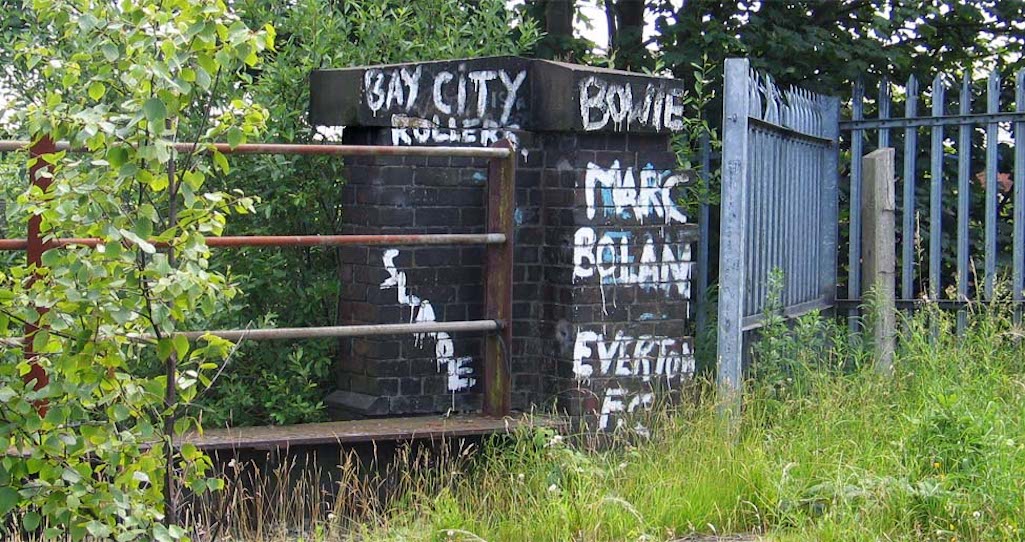 VARIOUS PICTURES
-
On this page I am placing images of Sutton which don't easily fit into the other categories. In particular images which are
sad
, happy, unusual, quirky and which invite questions. Such as the image above on the side of a railway bridge in St.Helens Junction off Monastery Lane. What do the authors of this 1970s graffiti - who might now be grandparents - think of the Bay City Rollers today, I wonder? (see
postscript
at bottom of this page for the answer!
)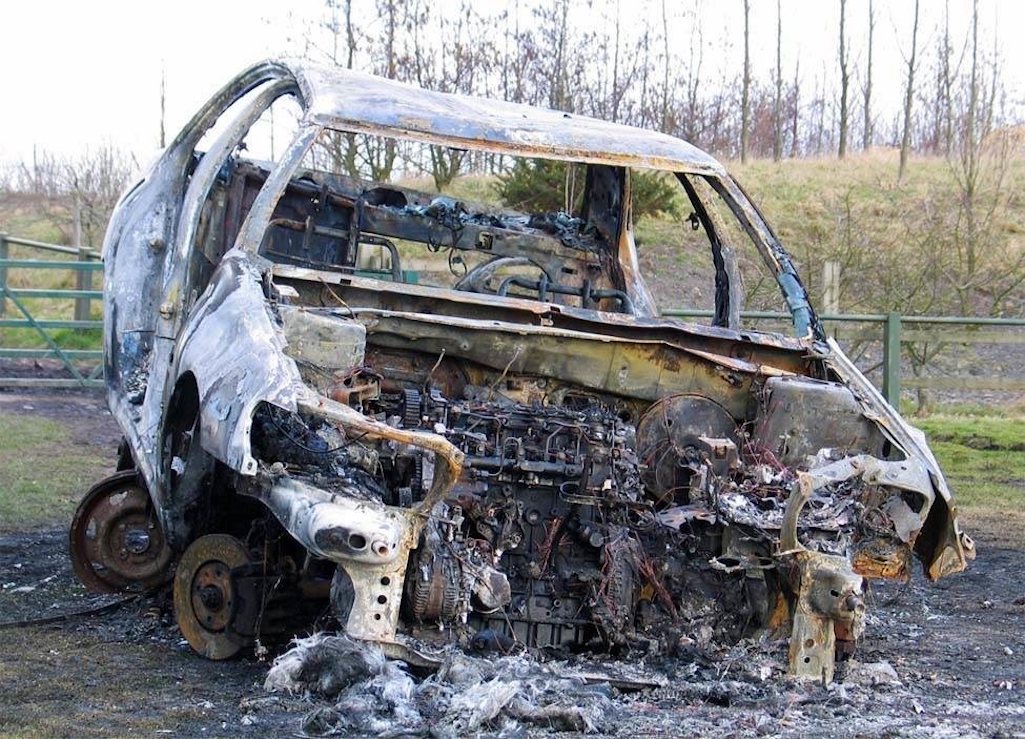 Why was this car, pictured in February 2005, burnt out in the
Clock Face Country Park
? Had it been used for some nefarious, criminal purpose? Or had the owners tired of it breaking down, perhaps, and decided to give it a cremation? It doesn't exactly fit into the concept of Sutton 'Beauty' but there is something engaging, if not tragic, about seeing a car in such a miserable condition.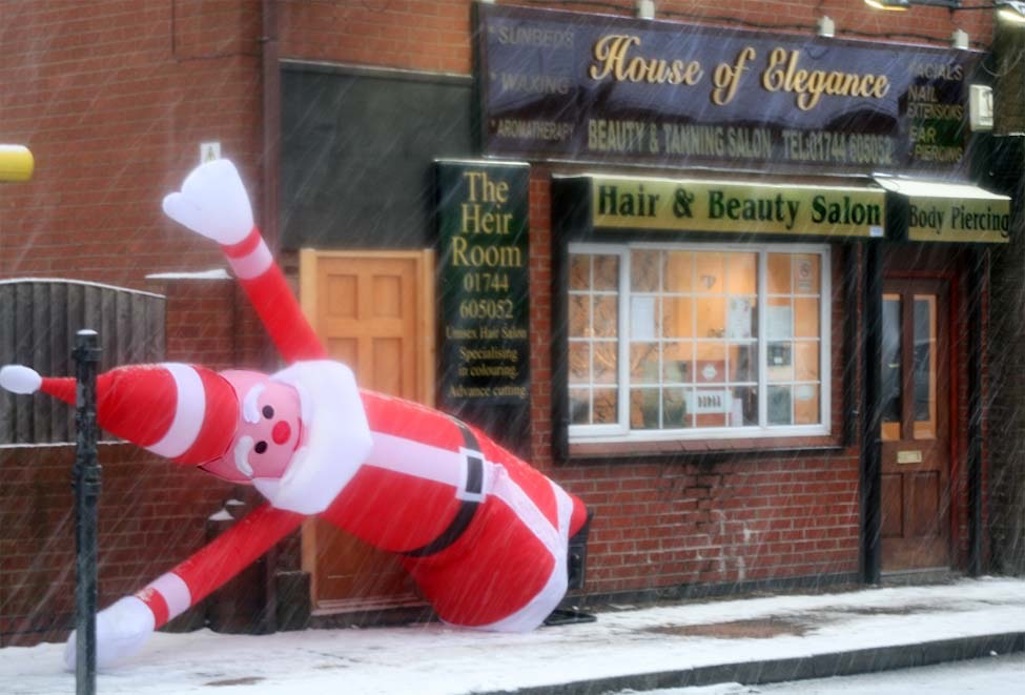 Then there's the comedic type of photograph as in this picture of Santa taken just before Christmas 2009. Moments earlier the inflated Father Christmas had been standing proud and greeting shoppers outside the House of Elegance hair and beauty salon, close to All Saints church in Ellamsbridge Road. Then driving snow forced him to adopt a less elegant position, like he was attempting to save a penalty or had supped one too many in the Prince of Wales nearby!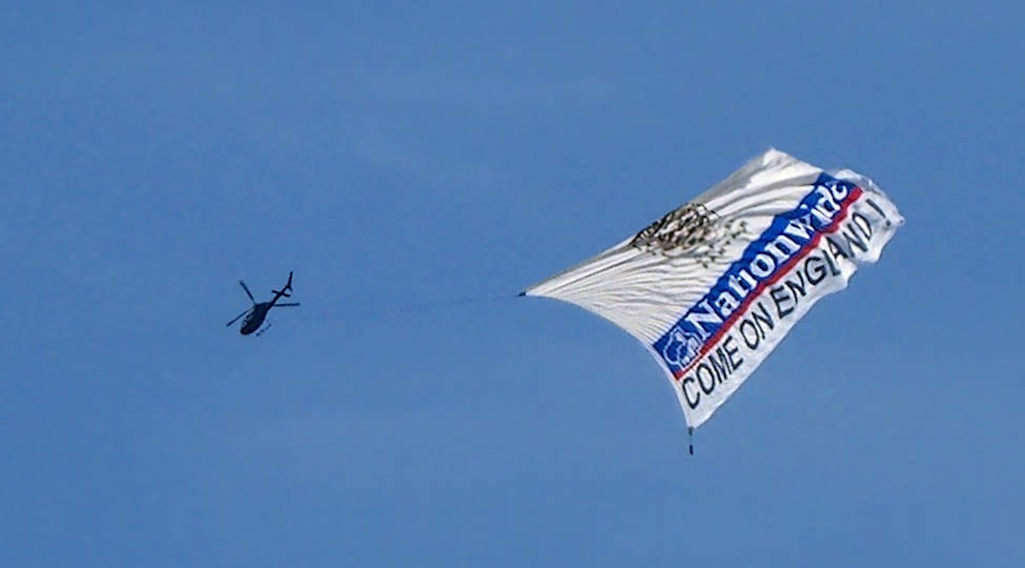 This page will also be keeping an eye on Sutton's skies as you never know what you might find! Such celestial images will also be placed in this section, including the accompanying photo-album. During England's first world cup match in 2006, a helicopter repeatedly circled Sutton, parading a banner for the whole duration of the game. Unfortunately for the sponsors Nationwide, virtually all of Sutton was inside watching the match and so the advertising stunt was a bit of an own goal!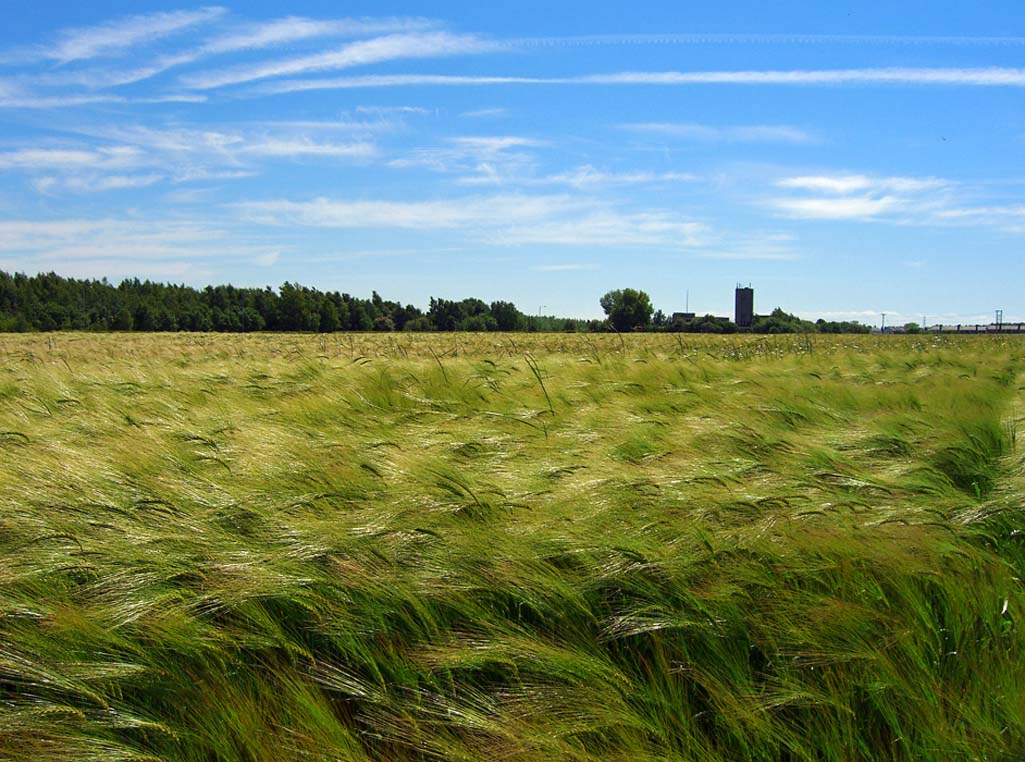 Plus interesting aesthetic views of Sutton will appear in this section. Such as this windy cornfield above off Abbotsfield Road.

Postscript
In April 2008, the author of the Bay City Rollers / Marc Bolan bridge graffiti in this page's header, emailed this website using an email address that had the Bay City Rollers name within it:
Hi, I just came across this site, and was ASTOUNDED to see my graffiti on the railway bridge near Sutton Junction / Monastery Lane. As you can see from my email address, the Bay City Rollers are still very much part of my life and I still collect everything on the band and know them all personally. I was on Granada Reports in 1993, chatting about my obsession, and have been on two news programmes since. So, to see this BAY CITY ROLLERS graffiti honoured on your site.........I was GOBSMACKED! And, yes, I like Marc Bolan, too, but not as much as the Rollers.
The author wishes to rename anonymous but was only 16-years-old when during the 1970s he inscribed his heroes' names on the railway bridge. So is this vandalism or a form of artistic expression and after the passing of nearly four decades has it become a part of Sutton's heritage? Answers on a postcard.....
Various Sutton images in this 'Sutton in Snow' Slideshow
Various Sutton images in this 'Sutton in Snow' Slideshow
Various Sutton images in this 'Sutton in Snow' Slideshow
Copyright Notice / Factual Accuracy Statement

This website has been written and researched and many images photographed by myself, Stephen Wainwright, the Sutton Beauty & Heritage site owner. Individuals from all over the world have also kindly contributed their own photographs. If you wish to reuse any image, please
contact me
first as permission may be needed from the copyright owner. High resolution versions of many pictures can also be supplied at no charge. Please also contact me if you can provide any further information or photographs concerning Sutton, St.Helens. You might also consider contributing your recollections of Sutton for the series of
Memories
pages. Sutton Beauty & Heritage strives for factual accuracy at all times. Do also get in touch if you believe that there are any errors. I respond quickly to emails and if you haven't had a response within twelve hours, check your junk mail folder or resend your message. Thank you!
SRW