An Illustrated History of Old Sutton in St. Helens, Lancashire
Part 54 (of 92 parts) - Memories of Sutton Part 5
Introduction: Memories of Sutton is a series of recollections of Sutton's past that have been contributed by visitors to this website. If you have any memories or personal experiences - perhaps from your childhood - that you'd like to share, do please contact me. I'll be delighted to hear from you! SRW
An Illustrated History of Old Sutton in St.Helens
Part 54 (of 92 parts) - Memories of Sutton Part 5
Introduction: Memories of Sutton is a series of recollections of Sutton's past that have been contributed by visitors to this website. If you have any memories or personal experiences - perhaps from your childhood - that you'd like to share, do please contact me. I'll be delighted to hear from you! SRW
An Illustrated History of
Old Sutton in St.Helens
Memories of Sutton 5

Introduction: Memories of Sutton is a 25-part series of recollections of Sutton's past contributed by visitors to this website. If you have any memories or personal experiences that you'd like to share, do please get in touch.
'The Rolling Mill Tavern and the Junction Inn' by Alan McDermott
Below is a picture of my grandfather Michael McDermott, who kept the Rolling Mill Tavern in Watery Lane, Sutton from 1910. Also in the photo is my grandmother, Louisa, and their children Joseph, Elsie and Edward, who was my father.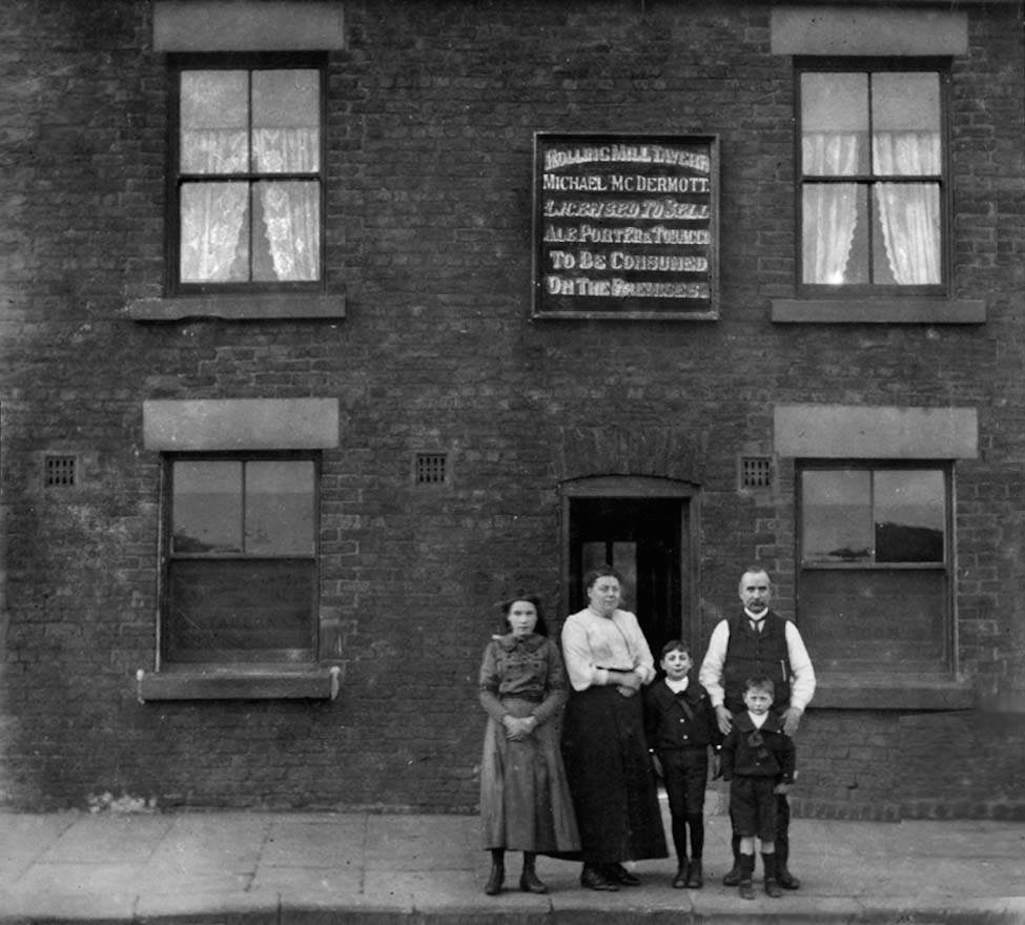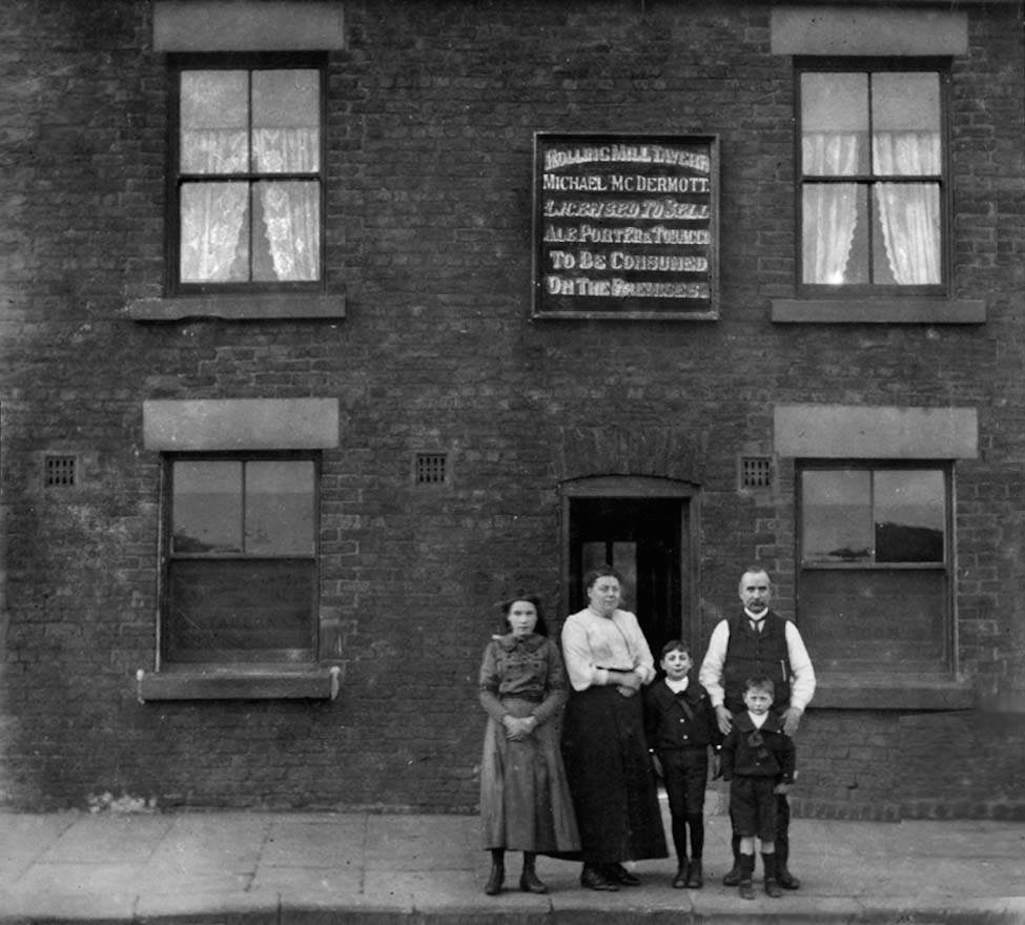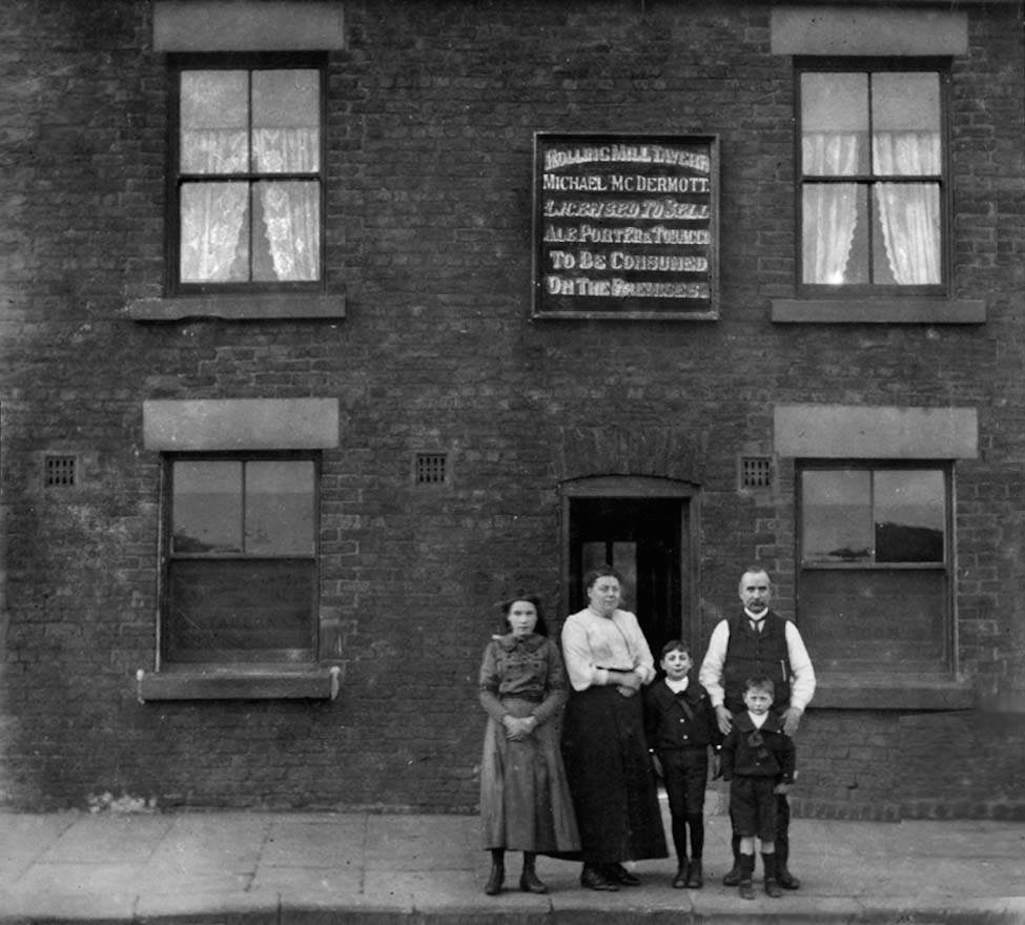 My grandfather's brother, Patrick McDermott, took over the Tavern's premises and ran it as a coal delivery business. He used a horse and cart and collected the coal from a coal yard at the end of Peckers Hill Road. Some of the happiest hours of my youth were spent sitting on the cart on a pile of sacks as the horse clip-clopped its way around Sutton! In his earlier days, Uncle Paddy had driven a horse and trap for Dr. Bates.

After leaving the Rolling Mill Tavern in 1932, the McDermott family then ran the Junction Inn for many years. Boxer Ernie Proudlove was a regular and his photo in fighting pose was hung over the bar. A party of customers accompanied him on his major bouts and Ernie gave me lessons in shadow boxing.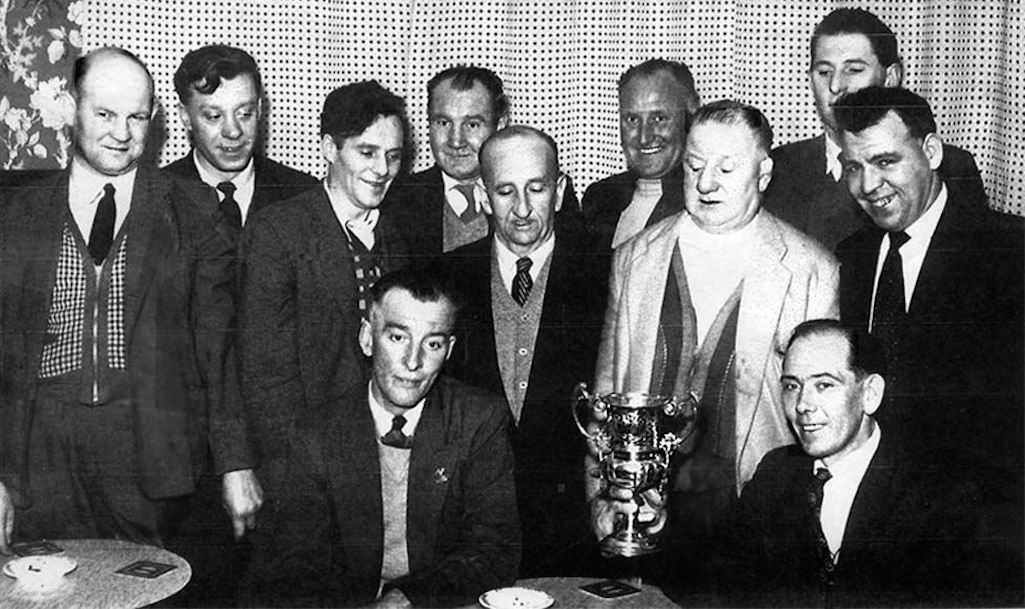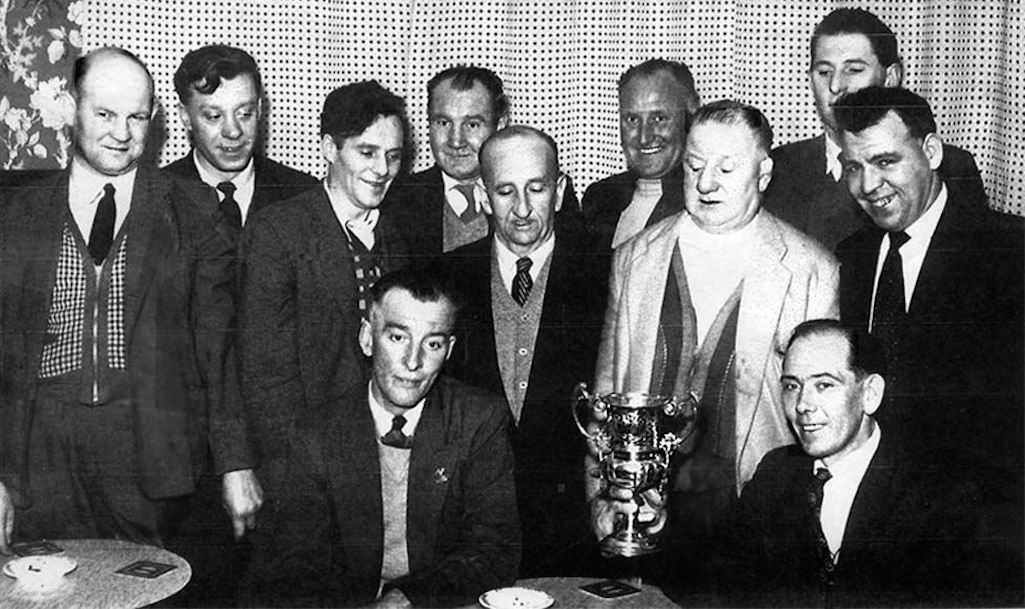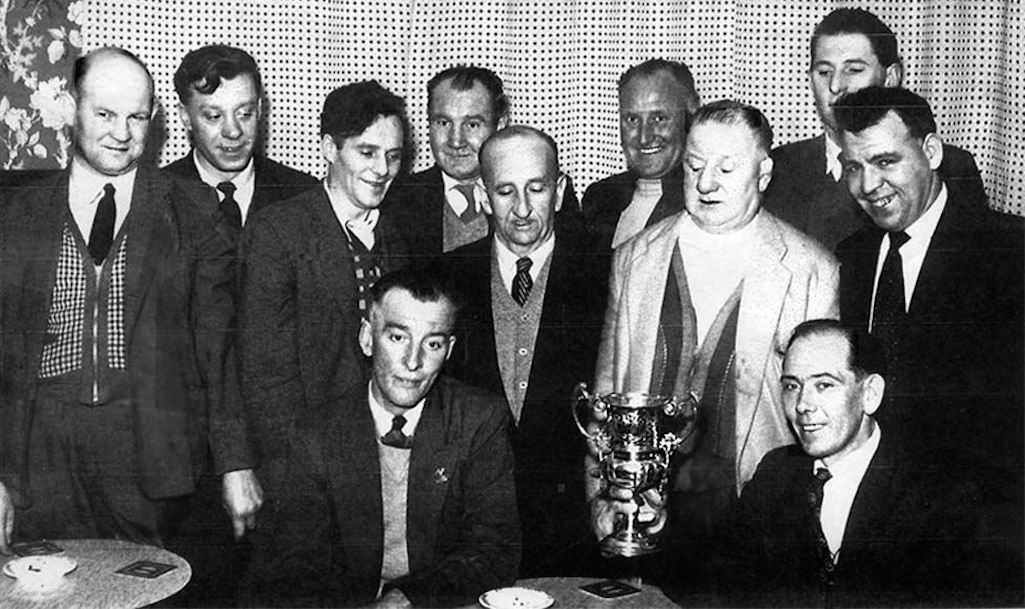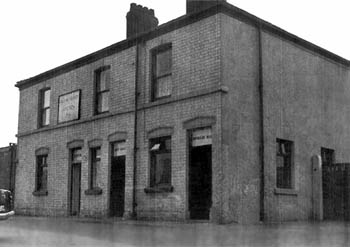 During the war years, supplies of beer were severely restricted and public houses opened reduced hours on an agreed rota. When a pub was due to open, I remember large crowds gathering on the forecourt. A pint of mild then cost 10d and bitter was 12d (5p). Footballer Bert Trautmann was another famous regular whom I often served in the bar of the Junction Inn. My father was on the St.Helens Town committee and was very friendly with him. When Bert left to join Manchester City in 1949, he gave me a pair of his boots and shorts.


To the best of my recollection, the sequence of premises in Junction Lane starting from the station end was Lennon's cake shop, Murphy's garage, Heywood coalman, Rigby's butcher, Jack Heyes barber shop, Shawcross's greengrocer, Rowley's baker, Hawley's chip shop (serving fish, chips & peas for twopence), Nora Tubberdy piano teacher, a cycle shop and Spencer's chemists.

The Sutton Empire was the centre of social life for Sutton youth. The fireman Tommy Waring was not allowed to leave the building while the film was in progress and he liked a drink. To overcome this problem, Tommy selected a likely boy from the queue and gave him a large bottle which the boy took to the Junction Inn for us to fill. The reward for bringing Tommy his beer was free entry to the cinema. However, on one occasion a boy dropped the bottle at the back of the cinema and it clattered its way down the aisle, to the accompaniment of loud laughter!
ALAN MCDERMOTT
'Traders Holidays' by George HoughtonA local tradition that seems to have disappeared with the passing of time is the 'Traders Holiday,' the day when all shops in St Helens and district closed for the day, usually the first Thursday in July. Nevins, who had a number of shops in the area, organised a day coach trip to Blackpool for staff and customers every year on that day and it was quite a spectacle to see the cavalcade of coaches all full of happy day trippers en-route for the seaside.

My mother and I boarded the Sutton Manor coach paid for with coupons which she saved all year and then traded them in for the trip tickets A special blend of tea only available at Nevins Stores had a coupon attached that could be used only in exchange for the trip ticket. Naturally the blend of tea became known as "Trip Tea".

The day out always meant a couple of hours spent on the Pleasure Beach, a visit to Yates's wine lodge for the ladies (quite daring back then), a lovely meal in the Winter Gardens, a visit to the beach for a donkey ride, a visit to the Tower Ballroom for the afternoon dance to the resident organist, and a visit to a rock shop where they usually demonstrated how they put the name in Blackpool Rock. (I never understood how you could buy toffee rock during the war rationing period without giving up all your sweet coupons).

The coaches left Blackpool about 5.30pm and stopped at a pub that catered for the coach trippers' need of liquid refreshments and toilets and then continued the journey with much frivolity laughter and singing. A memorable treat, never to be forgotten!
GEORGE HOUGHTON
'The Tin Chapel' by Brenda Macdonald & Joan Heyes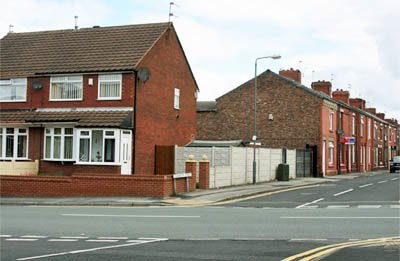 As we've described in our previous Sutton Memories article, in 1919 at the age of three, Mum (Joan Heyes, née Williams) began living with the Withingtons in Ellen Street in Sutton. The family attended the little Methodist church that everyone called the 'Tin Chapel' as it had a corrugated iron roof. Its front entrance was on Robins Lane and it backed onto an entry between Edgeworth Street and Ellen Street.

The Tin Chapel was broader at the front and not very deep because of the outside toilets and coke shed at the rear. Over the doorway it said 'Primitive Methodist' and there were two front doors into chapel, plus a pathway and grass area down each side of the building. A small entry from Ellen Street into Edgeworth Street made it possible for Grandma Withington, holding someone's arm, to walk the short distance to chapel each week. There was no particular minister at the Tin Chapel, as the building was too small but there was a Methodist circuit and ministers took turns to travel round and preach where needed. When none were available, someone from the congregation would take the service.

There was always something going on in the church. Emily Withington played the organ and the piano in the chapel and there was also an organ and piano at home. So on any occasion, such as the harvest festival, it was understood that Mum would sing a solo, as she had a very good Welsh voice. It was very convenient to be tutored at home as the whole family were musical and all played an instrument or two, or sang. Grandad Withington could play hymns by ear and he made sure everyone had music lessons. Albert was first violin, Arthur was second violin, then Emily, or Mum, on the organ or piano and everybody else sang.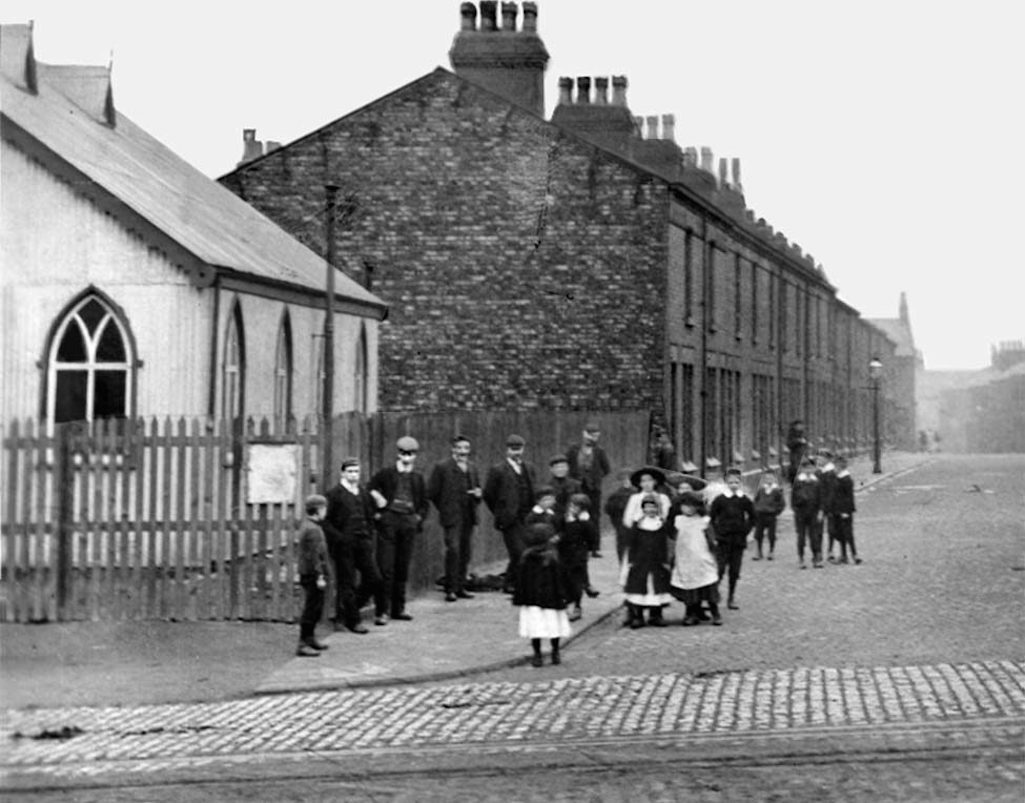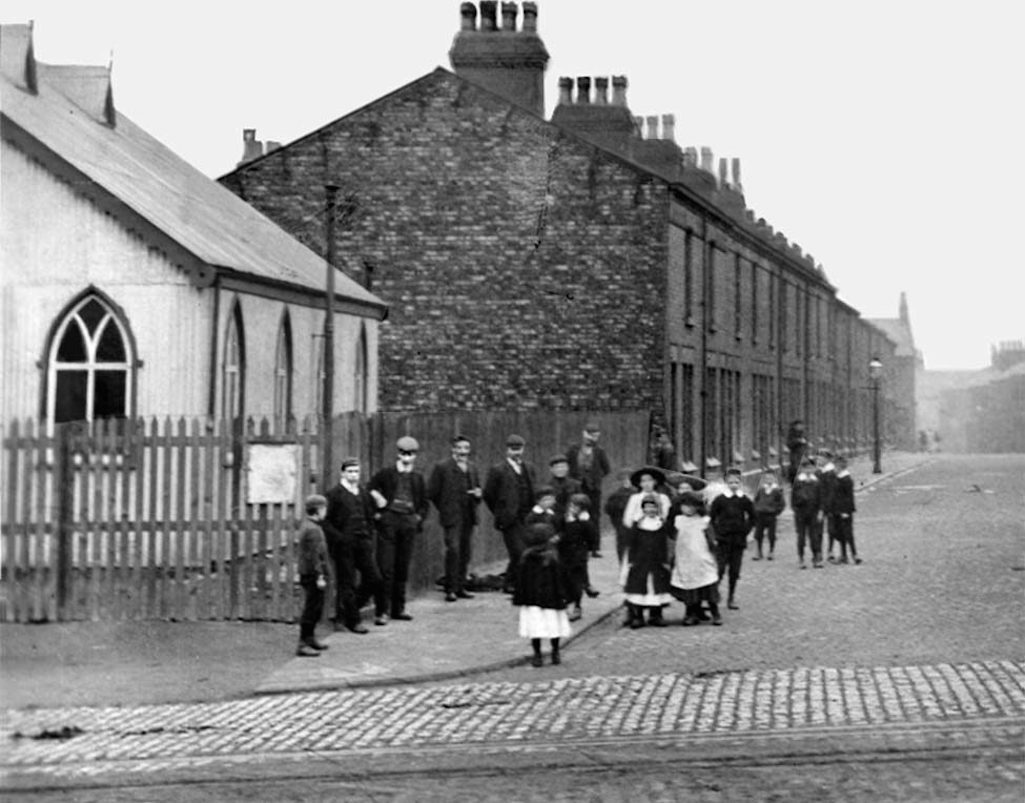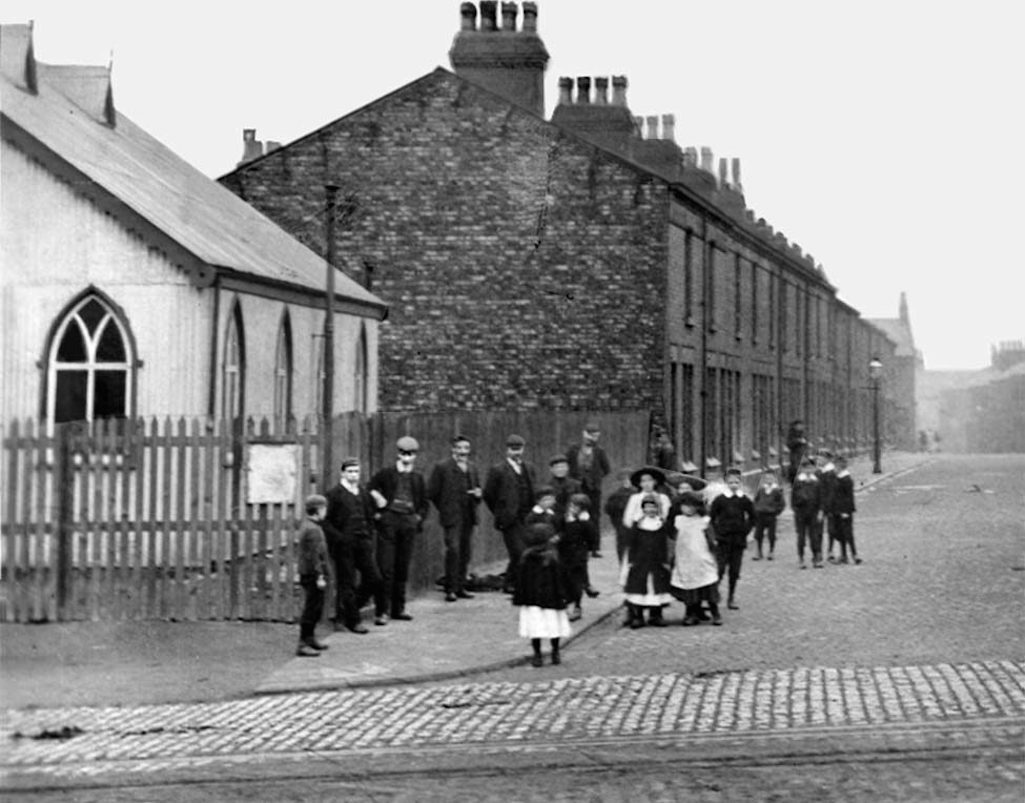 A family called Watkins, who lived off Robins Lane, seemed to organise the Tin Chapel events and one son, Freddy Watkins, was usually the lay preacher when needed. When it was harvest festival, a large trestle table was set out and filled to overflowing with fruit and vegies. On it was a large fancy, lace tablecloth that the ladies took turns in washing and ironing. As well as the lovely display of fruit and vegetables, the families all got together and gathered up their house plants to further decorate the chapel. The Withingtons had a large number of big plants. Mum remembers the aspidistras especially. Grandma Withington was very proud of her plants and they were very well looked after. The leaves were all washed with soap and water, then rinsed, dried and buffed to a shine and taken to chapel to make a good show. Mum remembers the plants being wheeled up the entry and into Edgeworth Street in somebody's pram as the pots were too heavy to carry. The family always entertained the visiting pastor for lunch or dinner, on anniversary and harvest festival days and if he happened to bring his wife with him, apologies were made for the lack of plants in the home.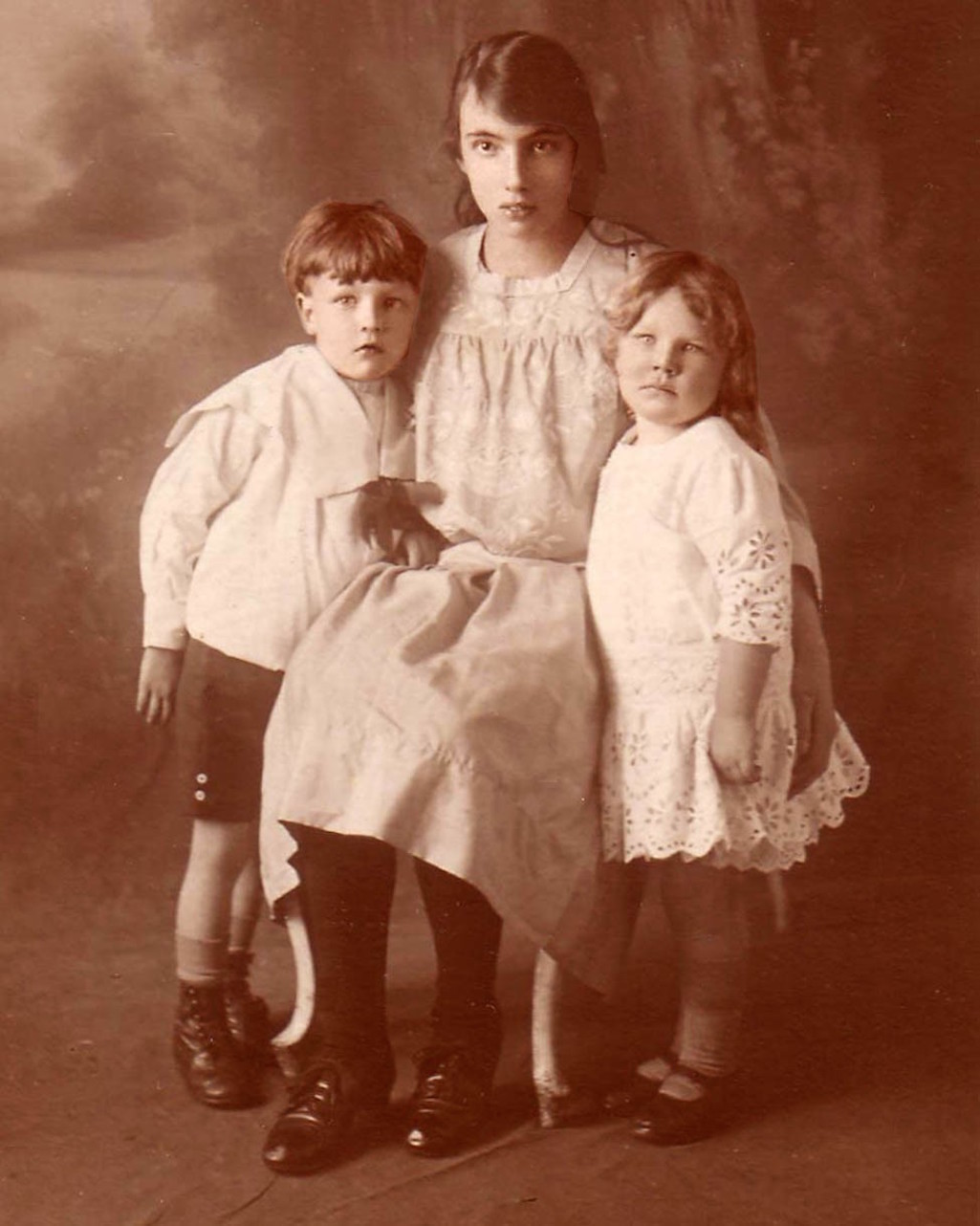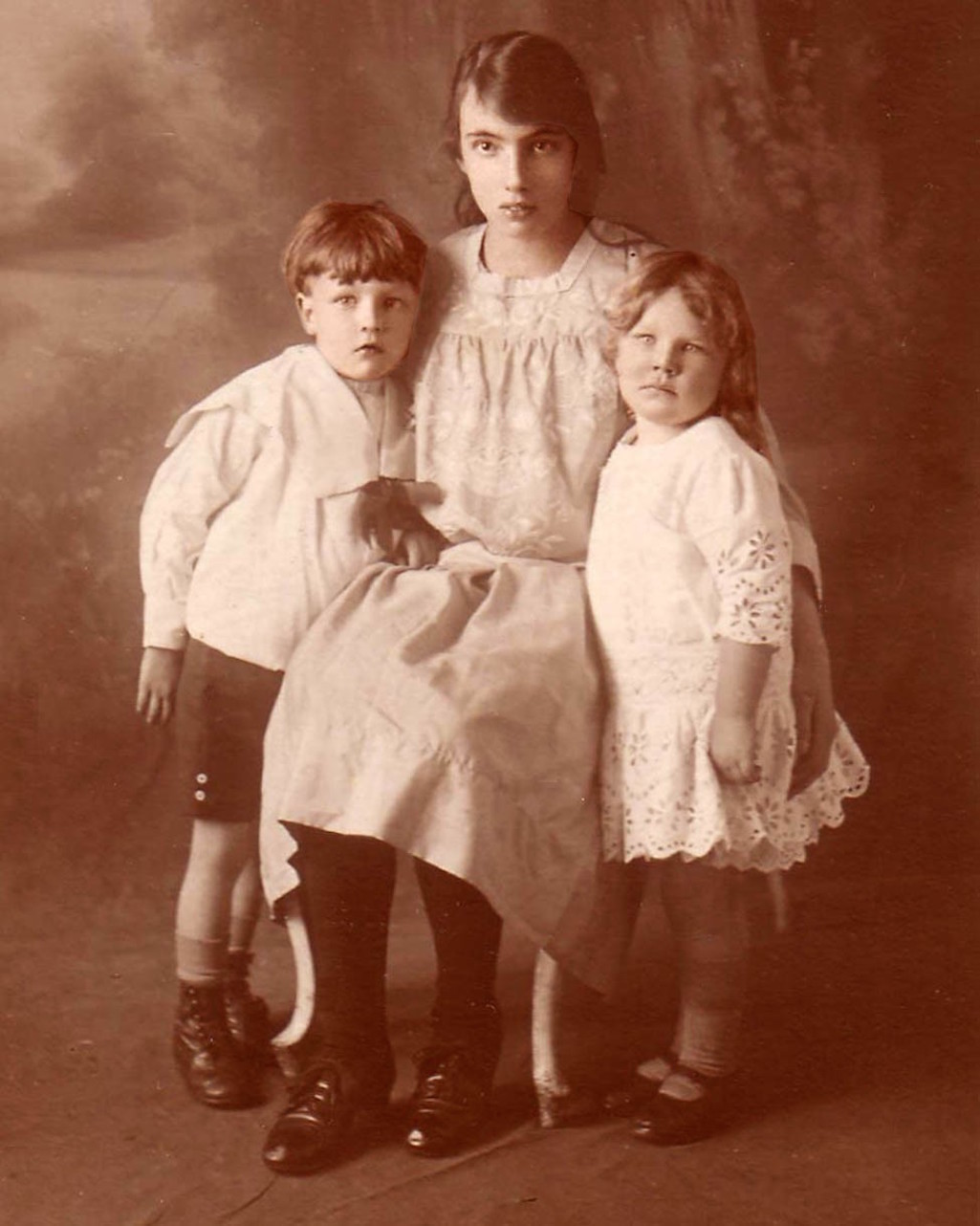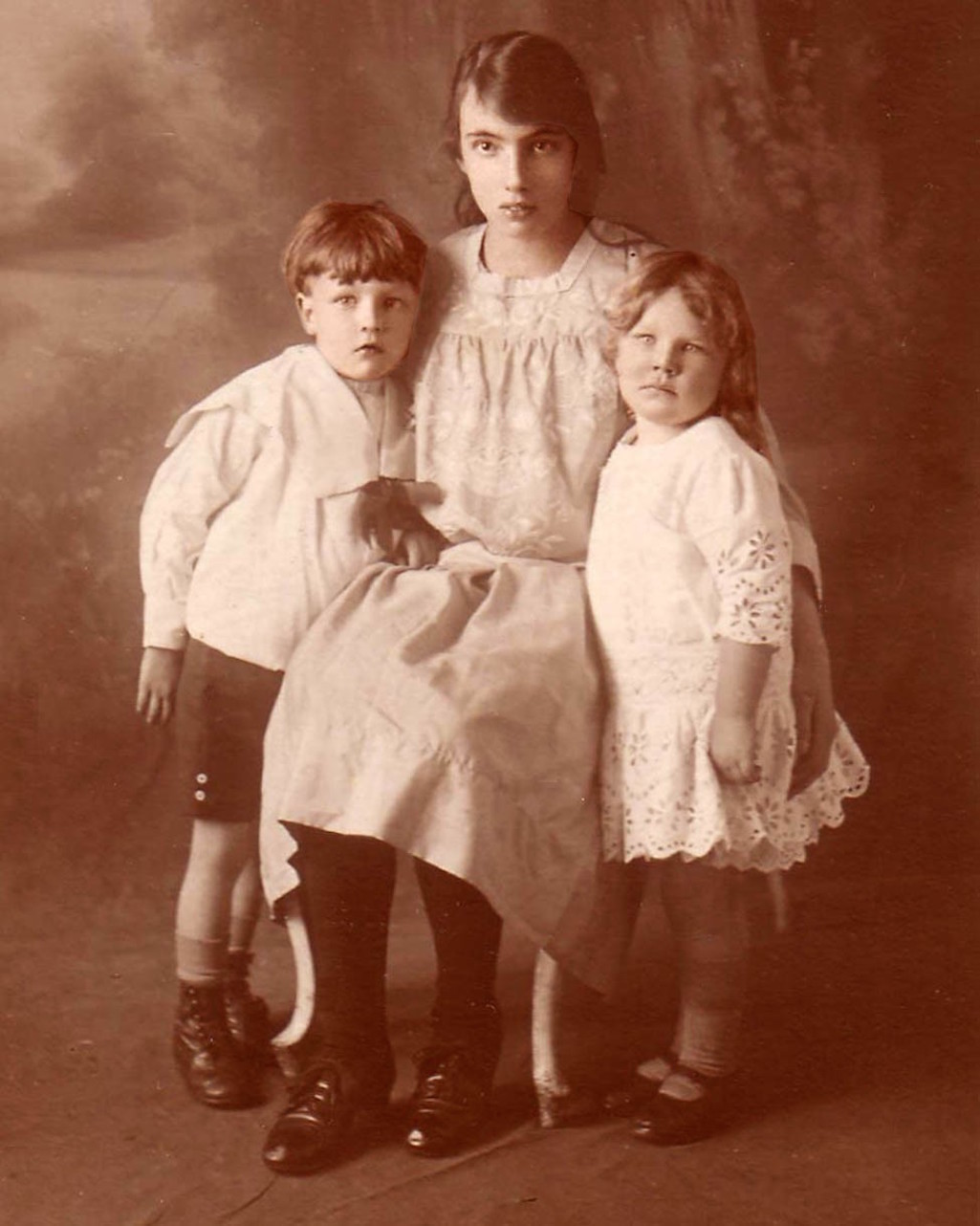 One time, someone said "The Lord wasn't thanked for coal", so from then on, a large piece of coal was the centre-piece of the display. On the Monday evening after harvest festival, a sale was held and people bought back the fruit and vegies they had donated and the women made Lancashire hotpots etc. to make a nice evening of it. If it was cold and raining and not too many people turned up, sometimes there were hotpots left over. Then a few people would go up and down the streets knocking on doors to ask if anyone would like to buy a hotpot for supper. If the family were known to be very hard up, a smaller hotpot was offered. The hotpots were then warmed in an oven and enjoyed. Was this Sutton's first takeaway?

To heat the chapel in winter there was a cast iron brazier on one side of the room. It was one of Mr. Powell, the caretaker's jobs, to get the fire going before the morning services. He did this with a few pieces of coal from his own house and then he'd keep it stoked with coke all day. The chapel was also used as a meeting place for young people and sometimes a games night was organised. The middle wooden pews were moved to one side and the games were played in the middle of the room. Musical chairs was a favourite. The mums would send along some eats and a good time was had by all. There was a small charge for attending and the money went towards the electricity bill and the coke bill etc. Families who were members of the church, shared the costs of these things.

In the four years after the Withingtons moved from Ellen Street to Mill Lane and until Mum was seventeen, they all still attended the tin chapel, walking there and back, hail, rain or shine, every Sunday. As it is with these things, the congregation grew smaller until only five or six people were attending each week and it was decided by the Methodist hierarchy that the chapel had to close. A flyer was sent out by Sutton Road Methodist church, saying that anyone who was interested would be made very welcome there and that is how Mum came to meet the Sutton Methodist cricket team and my Dad!
BRENDA MACDONALD & JOAN HEYES (née Williams)
'Watery Lane Memories' by Valerie Evans

A flooded Watery Lane

My mother Elsie was born in Flint in Wales in 1918 and came to live in Sutton with Elizabeth Jones (née Kenwright) at 4 Watery Lane. When Elizabeth died after falling in the brook, Elsie was adopted by George and Alice Wilson and lived with them at 52 Watery Lane. Elsie remembers the allotments on Watery Lane and the geese and hens that escaped into the road. She attended Robins Lane School and the Methodist Church. George worked at Crone and Taylor and he used to send Elsie to the Bowling Green Inn for jugs of beer when he came home. She used to take part in the Church Walks and her new clothes were pawned the day after.

Some of the neighbours remembered are the Roberts, Noonans, Kenwrights and Mrs Maloney. Also Bobby Trails the local policeman who used to patrol the area. The brook running behind the house used to change colour and she remembers it flooding Watery Lane and living up to its name of "Stinking Brook". Elsie went into service at 14 years but continued to visit for many years after.
VALERIE EVANS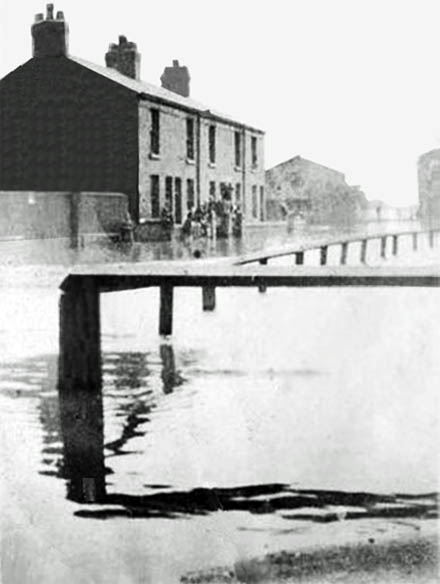 Copyright Notice / Factual Accuracy Statement

This website has been written and researched and many images photographed by myself, Stephen Wainwright, the Sutton Beauty & Heritage site owner. Individuals from all over the world have also kindly contributed their own photographs. If you wish to reuse any image, please
contact me
first as permission may be needed from the copyright owner. High resolution versions of many pictures can also be supplied at no charge. Please also contact me if you can provide any further information or photographs concerning Sutton, St.Helens. You might also consider contributing your recollections of Sutton for the series of
Memories
pages. Sutton Beauty & Heritage strives for factual accuracy at all times. Do also get in touch if you believe that there are any errors. I respond quickly to emails and if you haven't had a response within twelve hours, check your junk mail folder or resend your message. Thank you!
SRW