An Illustrated History of Old Sutton in St. Helens, Lancashire
Part 63 (of 92 parts) - Memories of Sutton Part 14
Introduction: Memories of Sutton is a series of recollections of Sutton's past that have been contributed by visitors to this website. If you have any memories or personal experiences - perhaps from your childhood - that you'd like to share, do please contact me. I'll be delighted to hear from you! SRW
An Illustrated History of Old Sutton in St.Helens
Part 63 (of 92 parts) - Memories of Sutton Part 14
Introduction: Memories of Sutton is a series of recollections of Sutton's past that have been contributed by visitors to this website. If you have any memories or personal experiences - perhaps from your childhood - that you'd like to share, do please contact me. I'll be delighted to hear from you! SRW
An Illustrated History of
Old Sutton in St.Helens
Memories of Sutton 14

Introduction: Memories of Sutton is a 25-part series of recollections of Sutton's past contributed by visitors to this website. If you have any memories or personal experiences that you'd like to share, do please get in touch.
'Uncle Peter of Graces Square' by Stan & Bill Bate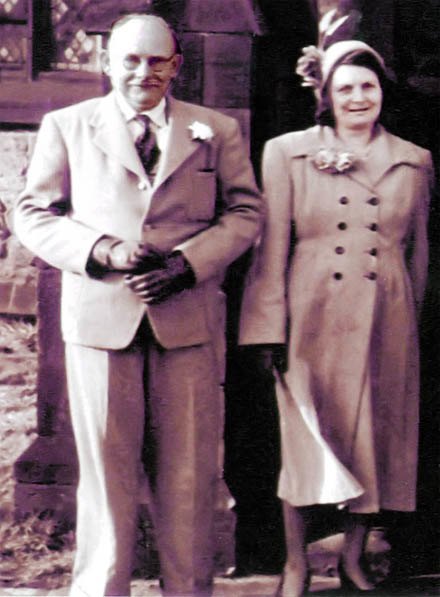 In the early hours of Sunday the 2nd of February 1947, in the midst of one of the worst winters for many years, an explosion occurred in the compressor room at the factory of Holman & Mitchell Co., manufacturers of lead, brass and aluminium, in Lead Street, St Helens. The explosion resulted in the death of Mr Josiah Prescott, a Blockman, aged 32, of 65 Lyon Street, St Helens, and Mr Peter Rigby, aged 49, of 313 New Street (Graces Square), Sutton losing both hands. Two other men were also injured in the explosion; Mr William Majkin, a furnaceman of Taylor Street, Sutton Oak suffered a fractured skull and Mr James Sims of Huyton received minor injuries.

Peter Rigby was our uncle, and before the Second World War he was a self-employed Stone Mason specialising in monumental headstones, as did his father before him. He worked out of a small shop at the corner of New Street and Graces Square, where he dressed and carved the headstones. The shop also traded as a general store and next to the tins of beans and other food items, stood a display of carved angels, vases and urns. Further down New Street he had a wooden shed with a large glass frontage, where he displayed some of his work; it stood between the two rows of houses that stand opposite the entrance to St Nicholas's church car park.

Unfortunately for Uncle Peter the war brought with it a freeze on imports of stone from Italy and he soon found himself out of business. At one point during the war he was involved in the building of Wellington Bombers at a factory in Wrexham and later went on to work at Holman & Mitchell. After losing his hands it was clear that he would never return to his trade as a Stone Mason and was later taken to the world-famous Roehampton Hospital in Surrey, where they specialised in making and fitting prosthetic limbs. After making several visits to Roehampton for measurements to be taken, he was eventually fitted with specially shaped sleeves into which his arms were placed.
The sleeves were made out of stiff leather, and they had straps attached that went over his shoulders and around his back. These sleeves had metal sockets fixed firmly to the ends, into which many different kinds of apparatus could be slotted. The attachments included hooks that opened when his arms and shoulders were stretched forward, as did the thumbs of the false hands, which were fitted with leather gloves. He could also attach specially-shaped eating implements such as a knife, fork and spoon, and tools such as a hammer, saw, screwdriver - even a spade and garden fork could be fitted. He became very adept at using the various attachments and became a celebrity around Sutton. Onlookers were very curious whenever he paid his bus fare, or when shopping. Obviously there were many things that he couldn't do for himself and consequently those tasks fell to our aunt Ada. She was the uncomplaining wife whose life had been made much, much, harder in the blink of an eye, but who continued to give her husband all the support and help he needed throughout the rest of his life.

Many years later, while visiting uncle Peter and aunt Ada in Barnes, I spoke to him about the accident. He told me it wasn't clear at the time how the accident had happened, it was thought it involved molten lead being poured into damp moulds. However, immediately after the blast he found himself in complete darkness, whether this was due to dust, or the electrical supply being disrupted, was unclear. All he remembered was trying to pull himself up from the floor, and thinking that everything he touched was electrified, not realising that the sensation he felt was due to losing his hands. Uncle Peter received for his loss what today would be described by most people as a miserable, derisory, amount in compensation. Holman & Mitchell retained him as a Storeman when he was later considered fit for work again – there was no disability allowance in those days. Shortly after, they moved from New Street (Graces Square) to a house in Jubits Lane, opposite the Green Dragon public house. In 1957 they moved to Barnes, West London, to be nearer their two daughters, and where uncle Peter began work as a messenger in the Home Office.

This was one of the sad times of our family history. Our uncle overcame the loss of his hands and always had a cheerful attitude and never complained of the misfortune that changed his life.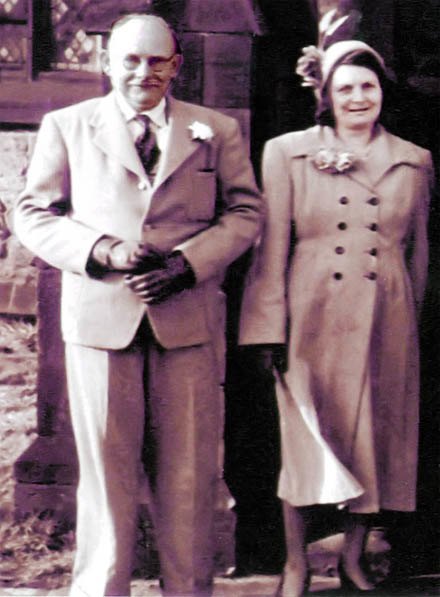 STAN AND BILL BATE
'Keeping Nicks at Sutton Mill Dam' by Jim Lamb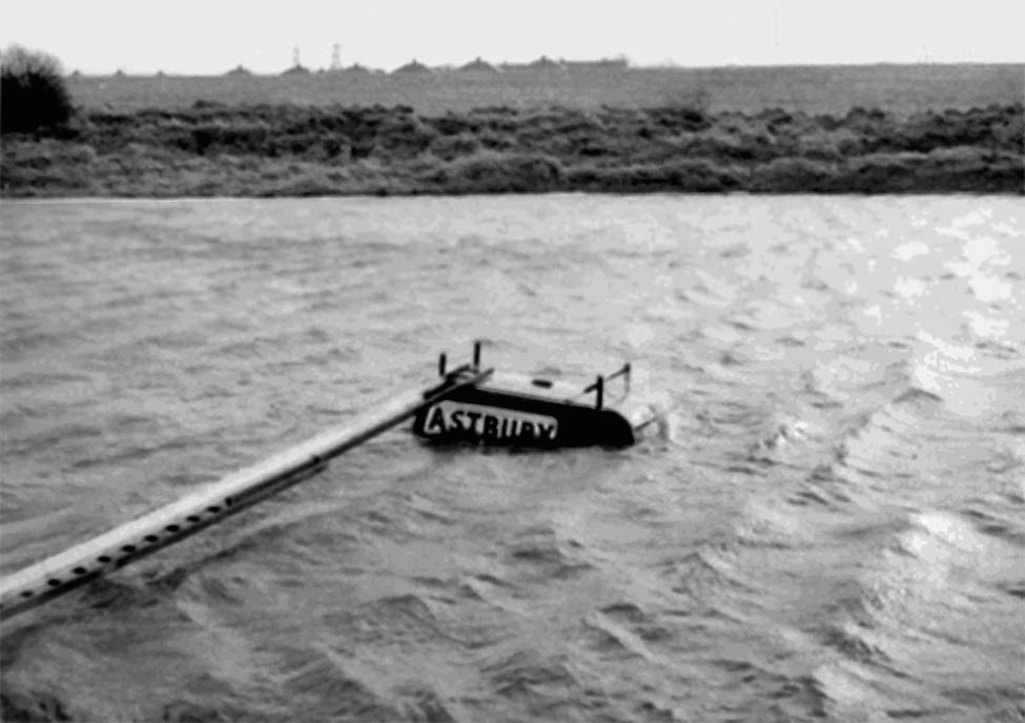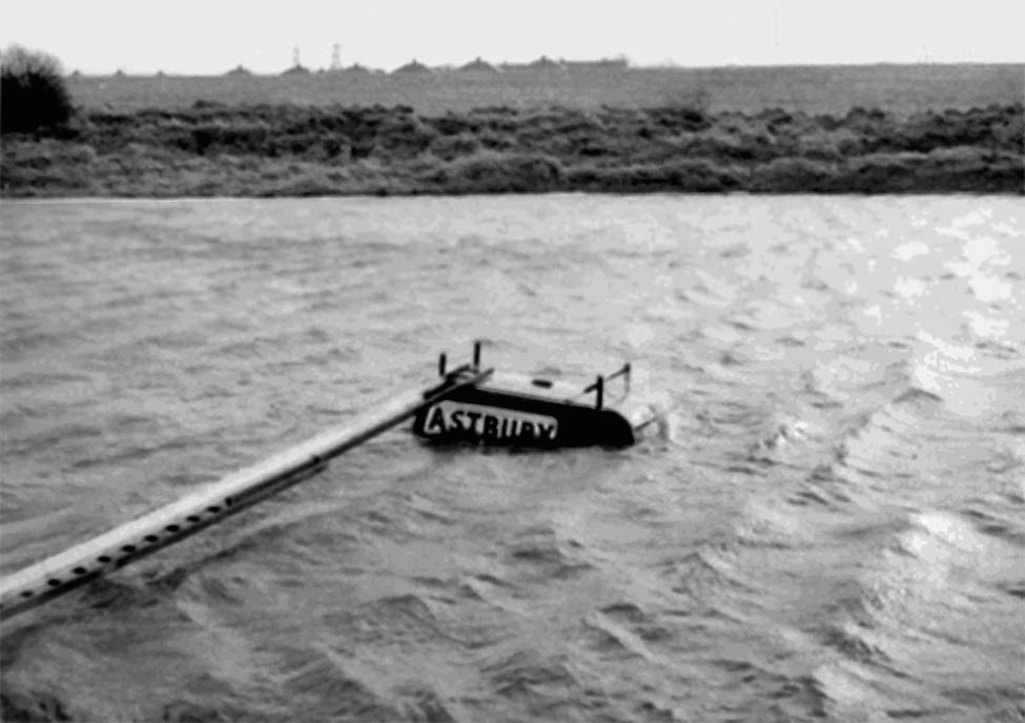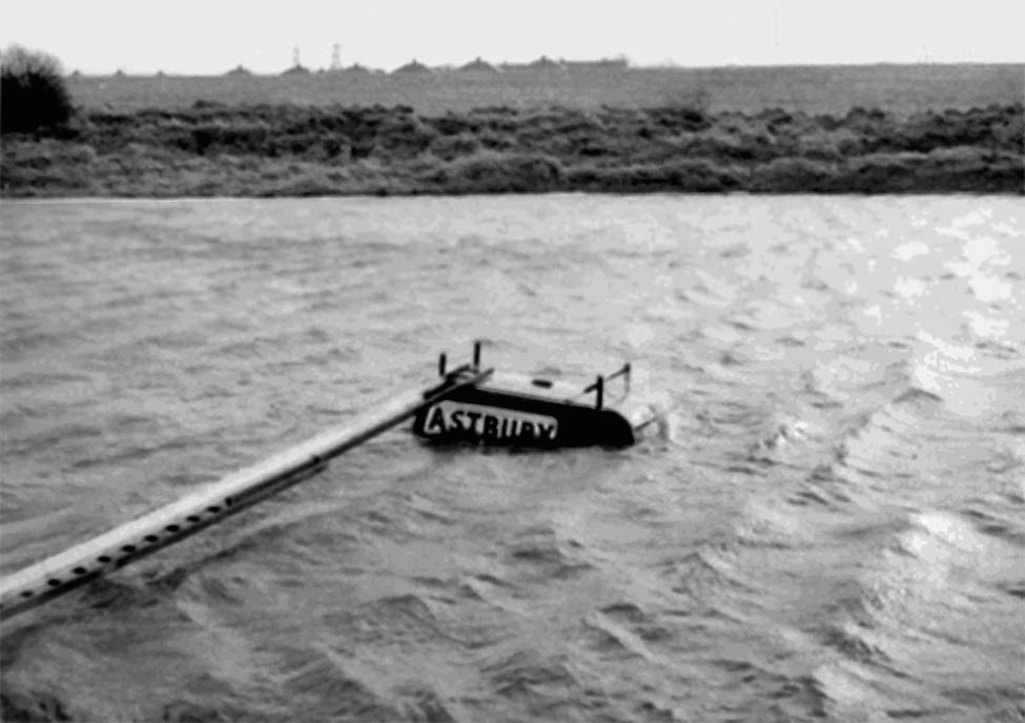 The Sutton Mill Dam used to be much longer than it is now with the water stretching almost as far as the White House on Clock Face Road. It was also deeper too, especially at the Wash end by the waterfall. You get an idea of the depth from this photograph of Astbury's van which was pushed into the waters one Saturday morning in June 1952. During the '40s and '50s the Mill Dam was a really nice place, better, I think, than Sherdley Park. There were farmers fields on the south side and on the other bank of the water, where Leopold Grove is today, there was a grassy field where football and rugby was often played.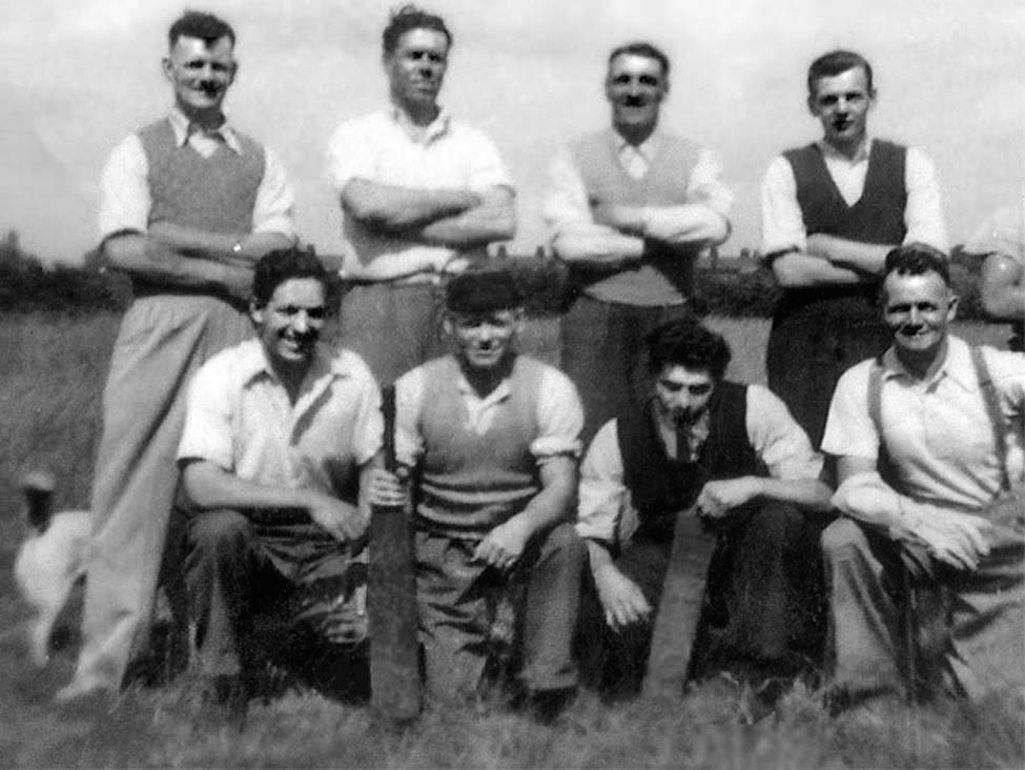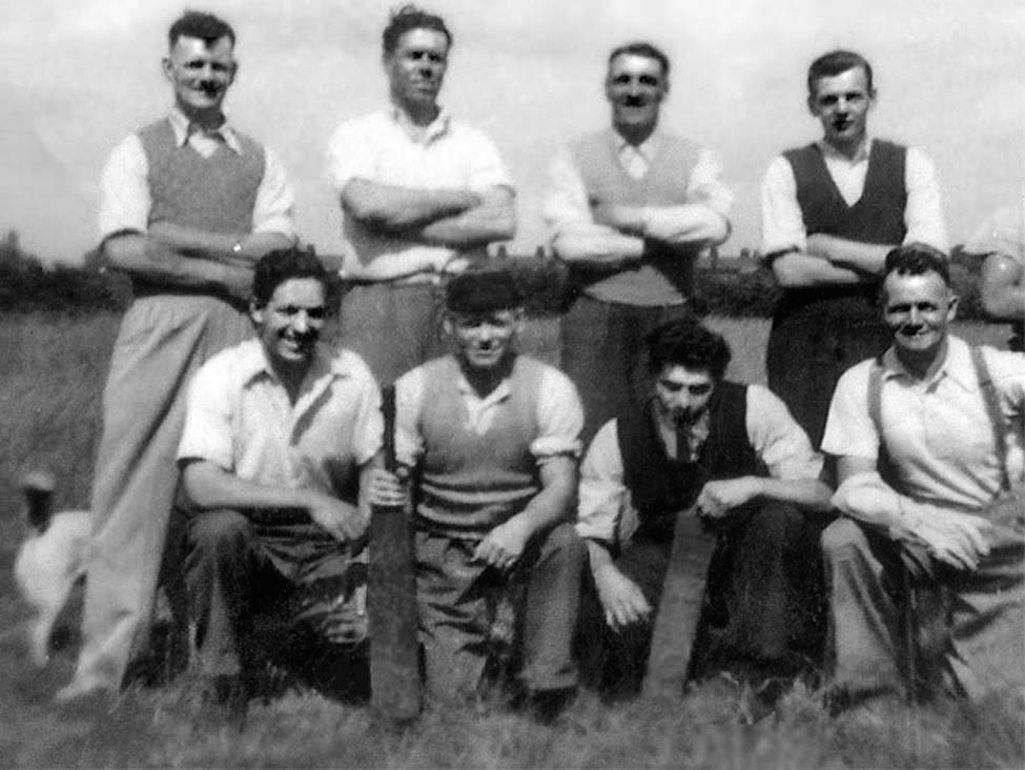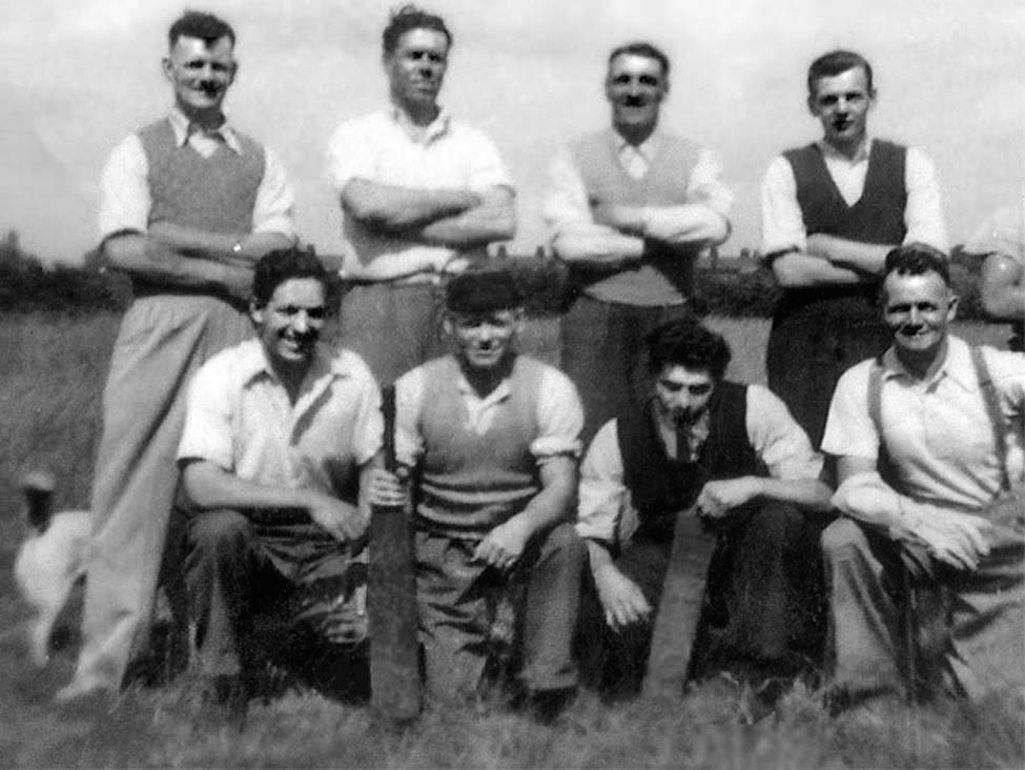 I'd only be 14 or 15, but still me and my mates would go into the Bull & Dog for a few shandies each Sunday. These included Jack and Joe Bannister, Ernest Randles, Joe Prescot, my brother Les, Eric Dingsdale, George, Bert and Harry Andrews. Sometimes the men would offer us a game of rugby down the Dam after the pub shut at 2pm. When they tackled us they'd often chuck us in the water! The men also played cricket on the field at the Dam and pictured in the above photo are: Left to Right Back Row: Tom Harrison, Sammy Spencer, Joe Troilet, Les Slatter. Left to Right Front Row: Albert Fenny, James 'Bud' Lamb (my father), ?, William 'Bill' Lamb.

Sunday afternoons after the Bull & Dog shut was a busy time at the Dam. There'd be five or six groups playing cards and my job was to 'keep nicks' and be the look out for "Bobby" Hickson or "Bobby" Smith who'd be on the look out for gambling. Sutton Mill Dam was a popular place for swimming too, especially in the better weather and even sailing took place. Around 1945–6 it was common for wagons from Burtonwood Air Base to dump rubbish there. This was where the bungalows now stand in Leopold Grove. An enormous amount of timber was dumped and even old engines from bombers. We used to fashion boats out of it all and sail them on the water!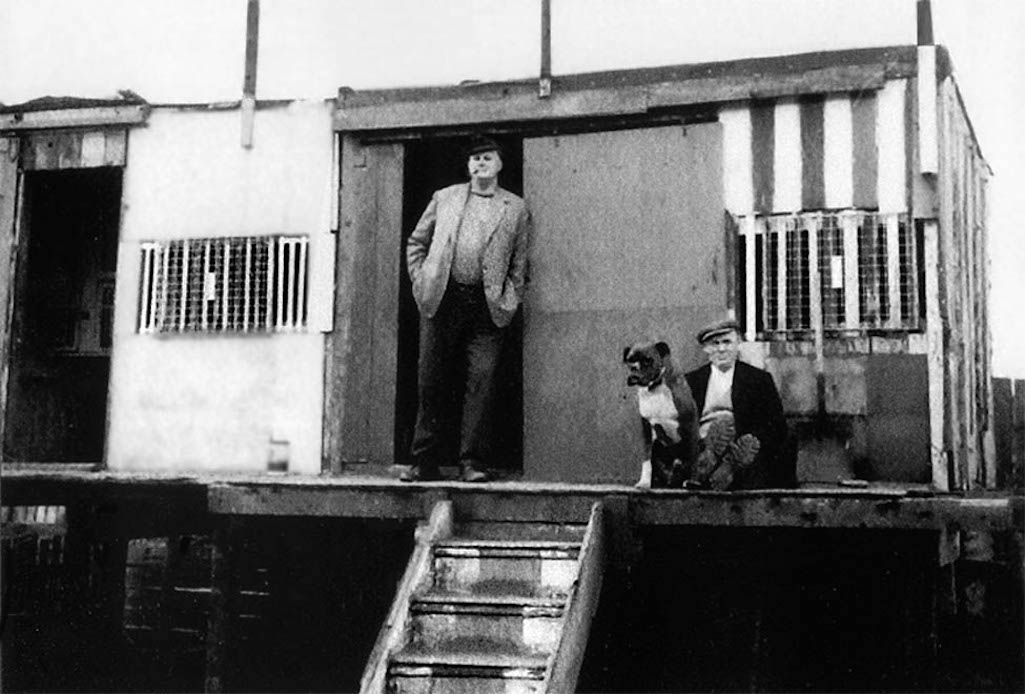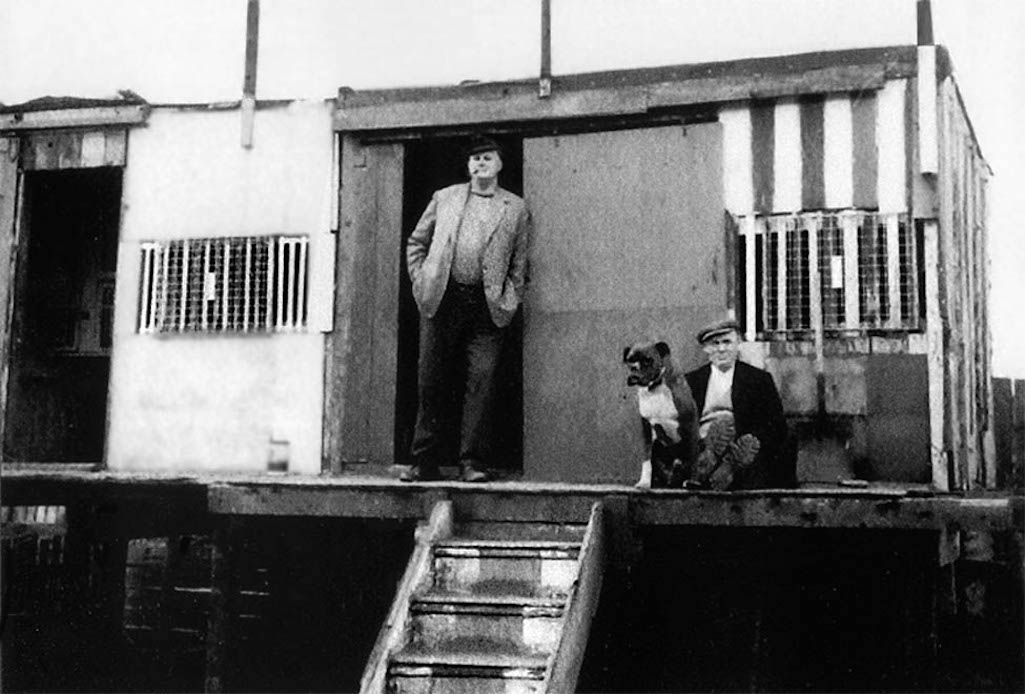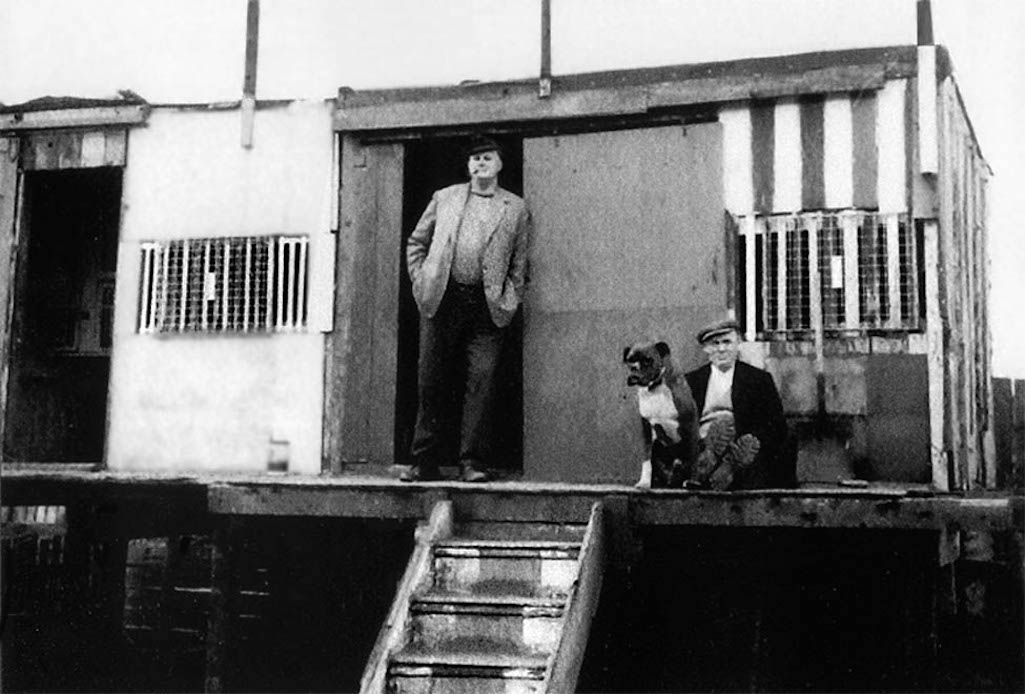 My father, James 'Buddy' Lamb, of 7 Chester Lane is pictured in the cricket photo and also in the picture above with best friend Bill Hamer. They used to race pigeons together and Bill would go to France to release them. My Dad had a pigeon loft on a plot of land on the opposite side of Chester Lane to the plot that coal merchant Polly Fenney had. (I write about Polly in my
Memories of Sutton 2 article
). He had hundreds of chickens and turkeys and people would say "Go and get some eggs off Buddy Lamb".

There was lots of funny stories about my Dad. One was when they introduced a Sutton Manor bus service and my father bet he could beat the bus by running from the colliery to the Bull & Dog. He set off at the same time as the bus and won the race and his bet. However, what wasn't known was that he'd arranged for his friends to be at every bus stop in between, so the bus had to keep stopping!
JIM LAMB
'My Childhood Memories of Sutton Manor' by Arthur PadmoreI have wonderful memories of my childhood in Sutton Manor. I remember going to the colliery baths because we had no bathroom at our home. We lived in Tennyson Street and either used a tin bath or were stood up in the sink. A special treat was going to the colliery to use their showers and afterwards we'd call in the canteen for a pie. The smells and noises are still in my mind.

Another treat was getting chips from Feeny's chip shop with homemade fish cakes and fish bits. Yummy! The best thing was going spud picking in half-term at Haslem's farm. I was about 10 and our Mam would get us up early to catch a lift on the tractor and trailer. We'd all wait for the farmer and then pile in to the trailer, kids and adults. We'd be given half a length of spud burrows to pick and the adults a full length. You had to be finished in time for the tractor turning round and coming back across the field.

I remember waiting for the pea cart to stop outside the Co-op on Forest Road. After the farmers had picked their pea crop, they used to drive a trailer past the Co-op and stop at the road junction. Well when it had stopped, all us kids would appear from nowhere and grab handfuls of peas and run off! One time the tractor stopped and the wheel fell off the trailer. Well the farmer tried his hardest to stop us but a lot of peas were taken that day, not only by kids but adults too!

From 1963 to 1968 I was at St.Theresa's School. This class photo was taken in the garden of the nearby convent about 1966–7. Each day when we went to school, we'd hope that the crossing gates near to the park would be shut, so we'd get to see the colliery engine. I now live in Essex and miss being in Sutton Manor. I remember the old concrete base at the side of the Co-op. During the war it housed a gun to protect the colliery. We played for hours on it and during the '60s it still had its holdings on top and the groove where the gun runner had been. We also played in another much larger concrete bunker by the side of the now vanished railway bridge over Walkers Lane. This carried the colliery line to Lea Green from Sutton Manor colliery. We used to walk along the raised railway track to Roughdales quarries where we had fun rock climbing.

All these memories are still vivid in my mind. Nanny Bowler's farm on Bell Lane where we fed the ducks on Sundays. The bullet holes on Lea Green bridge. All good memories, apart from when I cut my finger in the Sutton Manor car scrap yard and had to go to the colliery nurse for stitches!
ARTHUR PADMORE
Copyright Notice / Factual Accuracy Statement

This website has been written and researched and many images photographed by myself, Stephen Wainwright, the Sutton Beauty & Heritage site owner. Individuals from all over the world have also kindly contributed their own photographs. If you wish to reuse any image, please
contact me
first as permission may be needed from the copyright owner. High resolution versions of many pictures can also be supplied at no charge. Please also contact me if you can provide any further information or photographs concerning Sutton, St.Helens. You might also consider contributing your recollections of Sutton for the series of
Memories
pages. Sutton Beauty & Heritage strives for factual accuracy at all times. Do also get in touch if you believe that there are any errors. I respond quickly to emails and if you haven't had a response within twelve hours, check your junk mail folder or resend your message. Thank you!
SRW